September, 10, 2014
Sep 10
6:00
PM ET
TALLAHASSEE, Fla. -- All offseason, Florida State coach Jimbo Fisher did not want to touch any question about comparisons between his 2013 national championship team and the 2014 version with its sights set on a repeat.
"Last year's team ain't on the schedule," Fisher says.
The fifth-year coach began standard filibuster procedures Tuesday, deflecting a comparison question between last season's defense and the current unit, one that allowed 250 rushing yards to The Citadel. (They're an FCS team … and not a particularly good one.)
[+] Enlarge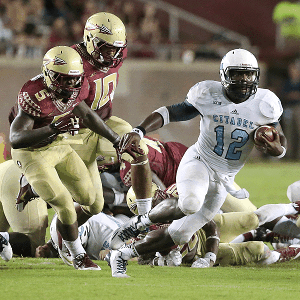 AP Photo/Steve CannonThe Citadel gashed Florida State's inexperienced defense on the ground last Saturday.
"Early in the season [the 2013 defense] wasn't that angry," Fisher said. "I keep going back to that. Early in the year there were a lot of questions on this defense."
The argument is solid that last year's defense was better. Five starters from that defense were on NFL opening-day rosters. This 2014 team doesn't have a single senior starter, and just two seniors are among the 23 players listed on the two-deep defense.
But the 2013 case study in dominant defense is a bigger file, a collection of evidence over a four-month and 14-game period. It's only been two games into the 2014 season.
"Go back to the first games of last year," Fisher said. "Bethune Cookman ran for 180 or 190 yards on us and everybody thought the sky was falling on us. Then Boston College ran for [200 yards]."
At Fisher's behest, we looked at the early portion of Florida State's 2013 season. Florida State was 42nd in yards allowed per rush (3.7) and 60th in rushing yards allowed per game (151.5) through September last season, but when you account for Florida State's nine sacks during that timeframe, its yards allowed per rush jumps to 4.4. Bethune Cookman had 53 non-sack rushing attempts for 211 yards (4.0 yards per carry), and Boston College ran 42 times for 222 yards (5.2).
So far in 2014, Florida State is 84th in yards per rush (4.2) and 103rd in yards per game (205.5). When you account for Florida State's one sack, however, it allows on average 4.4 yards per rush -- the same as last season. And those 2014 numbers are skewed by big rushing numbers for both Oklahoma State and The Citadel at the end of games. Oklahoma State ran 13 times for 79 yards in the fourth quarter, and all 13 runs came with Florida State leading by double digits. Nearly half of the Cowboys' rushing yards came in the final quarter.
The Citadel totaled 250 yards rushing against Florida State, but 113 came against the second-string defense.
In 2013, Pitt ran just once in the fourth quarter and seven times overall in the second half. Nevada rushed the ball six times in the fourth quarter, and Bethune Cookman ran 14 times for 49 yards over the final 15 minutes.
There have been missed tackles through the first two weeks this season. Oklahoma State's
Tyreek Hill
eliminated angles like few players nationally can do, and the Citadel outran and outmuscled would-be tacklers Saturday.
But that might be a common thread between the Florida State defenses. After the Bethune Cookman game, Fisher said: "We have to tackle in space better," Fisher said. "I wasn't happy with the way we tackled in space at times tonight. We have to do a better job."
Third-down defense has been iffy for Florida State so far this season, too. The Citadel converted 11-of-17 third-down attempts, many of which came on rushing plays despite third-and-long situations. Against the starters, the Bulldogs converted 6-of-12 third-down attempts, including five that were at least five yards. All came on rushing plays.
However, over the course of last season, Florida State allowed 18-of-26 third-down attempts and 3.5 yards per rush on third-and-3 or less. When opponents ran on third-and-4-6, they converted 6-of-12 attempts.
It should be noted Florida State has been without linebackers
Ukeme Eligwe
(foot) and
Matthew Thomas
(suspension), and Fisher said those are among the most athletic linebackers he has coached during his tenure at Florida State. Eligwe practiced for the first time since the spring Tuesday and could play Sept. 20 against Clemson. Against The Citadel, the Seminoles were also without three of its five starting defensive tackles, including starters
Eddie Goldman
and
Nile Lawrence-Stample
.
There are realistic concerns on this defense -- few would argue otherwise -- although it is not as if the unit has played poorly eight consecutive quarters to start the season. But it's unrealistic to assume a defense missing five NFL-caliber players and a single senior starter would immediately look like the top-five defense nationally it was the three previous seasons. It's time to temper expectations, which were too high to begin with all things considered, and allow the defense time to evolve before a much tougher second half of the season.
Ultimately, the defense could be what prevents Florida State from repeating, but it's too early to make that distinction.
Winston Out Vs. Clemson