Florida State Seminoles:

jeff driskel
June, 26, 2014
6/26/14
12:00
PM ET
Sports on Earth put together a list of its
10 players under the most pressure
as 2014 gets set to kick off, and the lone ACC representative is Virginia Tech's Trey Edmunds. On the sophomore tailback:
"With [Logan] Thomas' mobility gone, the onus on the running backs is even greater to jumpstart an aimless offense that has coincided with a 15-11 record the last two years."
Indeed, Virginia Tech needs some serious help on offense in virtually every phase, but finding some traction on the ground would be a huge first step.
Last year, Thomas, the quarterback, was responsible for 33 percent of Virginia Tech's carries, 22 percent of its rushing yards (including lost yardage on sacks) and 45 percent of its third- and fourth-down conversions on the ground. The tailbacks, meanwhile, averaged just 3.98 yards per carry, second-worst in the ACC (ahead of only Wake Forest) and well behind the next worst team (NC State). For perspective, conference champ Florida State got a whopping 6.43 yards per carry from its running backs -- nearly 2.5 yards more every time a running back carried the football.
Edmunds, of course, is the face of the group after leading the way for Virginia Tech with 675 yards on the ground before getting hurt against Virginia, but his 4.07 yards-per-carry average ranked 31st among ACC players last year.
It's tough to pin all the pressure on Edmunds, though. Other tailbacks need to step up, too. Virginia Tech needs to find a quarterback capable of keeping defenses honest. Receivers need to be more reliable to keep the Hokies out of unmanageable down-and-distance situations. Coordinator Scot Loeffler needs to be more creative with his scheme. And if anything, the real pressure here falls on Frank Beamer, who is on his second coordinator and has cycled through myriad running backs and still hasn't found a definitive answer to Tech's offensive woes.
Though Edmunds is the lone ACC rep on Sports On Earth's list, it's also worth noting the conference should shine a little extra light on their No. 1 choice, Jeff Driskel. Not only will the Florida quarterback's season be defined by how the Gators' offense performs, but two other quarterbacks who were stuck behind him on the depth chart -- Jacoby Brissett and Tyler Murphy -- now have starting jobs in the ACC and could certainly upstage their former teammate.
More links, starting with a bunch of Jameis Winston news:
October, 29, 2013
10/29/13
11:00
AM ET
No. 3 Florida State is set to meet No. 7 Miami in yet another Top 10 matchup for the ACC. Miami is the final ranked team on the Seminoles' regular-season schedule, leaving us to wonder whether the Hurricanes actually are the Seminoles' toughest remaining opponent on the road to an unbeaten season.
Heather Dinich and Andrea Adelson debate that very question.
Heather says: Miami on Saturday
[+] Enlarge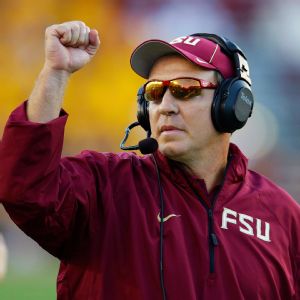 AP Photo/Stephan SavoiaCoach Jimbo Fisher and the Seminoles defeated Miami 33-20 last season.
It's not going to get any more difficult than this.
No. 7 Miami is the biggest obstacle still standing in the way between the Seminoles and an undefeated season.
A road trip to Gainesville you say? Psh. Even the Canes beat the Gators -- and that was when Florida was good.
Everything Miami has -- or, more accurately, hasn't -- done this season is a moot point. The key is that the Canes have done enough to set up a top 10 showdown between two undefeated rivals in front of an ESPN College GameDay crowd. Florida State is going to get Miami's best shot -- and the Seminoles know it. Not that Florida won't be aiming for that same bullseye, but Miami is simply a better team than Florida and has proven it in head-to-head competition.
The Gators have lost back-to-back games against ranked opponents. They're 4-3 and dropped out of the rankings in Week 8 after losing to Missouri, 36-17. They've also lost to Florida State in two of the past three seasons. This is a Florida team that's projected to go to the BBVA Compass Bowl right now -- a freefall from last season's Sugar Bowl appearance. Eight players have suffered season-ending injuries since summer camp, including starting quarterback
Jeff Driskel
, and the team's top defender,
Dominique Easley
. The Gators rank 12th or worse in the SEC in scoring, passing, rushing and total offense.
By comparison: Virginia Tech ranks No. 110 in the country in total offense -- right behind Florida.

Unlike the Gators, Miami can move the ball. The Canes are No. 19 in the country in scoring offense. They've got one of the most productive running backs in the country in
Duke Johnson
. And the defense is averaging 3.14 sacks per game -- a huge improvement from last year, when Miami averaged just 1.08 per game.
If Florida State can get past the Canes on Saturday, the most difficult stretch of the season will be behind the Noles. The ACC -- the entire country for that matter -- has been waiting for this rivalry to be relevant again.
Now it's Florida's turn to wait.
Andrea says: at Florida, Nov. 30
Florida does not appear to be a tough opponent today, not with all the injuries that have taken a preseason Top 10 team and turned it into an also ran.
But this will undoubtedly be the toughest test on the remaining Florida State schedule. First, this game will ultimately define the Florida season, especially if the Gators lose to Georgia this weekend. Should Florida State come into the regular-season finale against Florida unbeaten, then you can be assured the Gators would love nothing more than to wreck any shot Florida State has at winning a national championship. Laughable?
Rewind to 1997, when double-digit underdog Florida beat No. 1 Florida State 32-29, denying the Noles a shot at the title. It is true that 1997 Florida team is better than this 2013 Florida team but, nonetheless, upsets in rivalry games do happen. And they have happened in this series.
Secondly, and most importantly, Florida presents much tougher matchups for the Seminoles. The Gators rely on a power ground game, and the Florida State defense has been built to best defend a different type of offense. Linebacker
Terrance Smith
confirmed that point, saying after the NC State win, "I feel our defense is kind of made for the spread." Against power run teams like Boston College and even Bethune-Cookman at times, the Florida State defense had its share of struggles. The Noles gave up 392 total rush yards in those two games.
There is no doubt Florida will have the best defense Florida State has faced this year, despite the injuries. That includes the all-important secondary, where Florida features future Freshman All-American
Vernon Hargreaves III
. He is tied for the SEC lead in passes defended and tied for second in the league with three interceptions.
Opposite him,
Loucheiz Purifoy
is one of the best cornerbacks in the country. Through the first seven games this year, opposing quarterbacks have completed just 47.5 percent of their passes on this Florida secondary -- good for No. 5 in the nation. Quarterbacks are averaging just 5.5 yards per attempt, which is No. 4 in the nation. Coach Will Muschamp is a defensive guru. Perhaps he can devise a plan to slow down
Jameis Winston
. That is what Florida did last year to
Johnny Manziel
(173 yards passing, one total touchdown).
Third, all the pressure in the world is going to be on Florida State to beat an overmatched rival. Everybody expects Florida to roll over. Florida State has done well handling pressure all season, but what it will face in this game is nothing compared to Death Valley. The finish line will be in site, against a bitter in-state rival that has won seven of the last nine games in the series. Simply put, no matter the record, Florida is not NC State. Nor is it Wake Forest or Syracuse.
Florida will be a tough out. The toughest out on the remaining slate.
July, 17, 2013
7/17/13
9:00
AM ET
We're taking a look ahead to the next three meetings and projecting which Gators and Seminoles could possibly leave their mark on the rivalry.
Today, we'll highlight the UF offensive players and the FSU defensive players. We did the reverse on Tuesday.
2013
UF RB Matt Jones
The 6-foot-2, 228-pound Jones had a fantastic spring and is poised for a breakout season. He's the perfect fit for the Gators' power-run offense. He's a punishing runner who quickly hits the hole and runs through contact. He's likely going to average 20 carries per game behind a physical offensive line and should have no trouble topping Mike Gillislee's total of 1,152 yards in 2012.
FSU LB Telvin Smith
Without question, Smith is the vocal leader of Florida State's defense, and for a senior who plays with so much emotion, there are few bigger stages than the Florida game. The 6-3, 215-pound Smith has been through the battles with the Gators, but he came up small and made just two tackles in last year's loss. He won't want to go out on a sour note, and he figures to be in the center of the action for the Seminoles this time around.
November, 24, 2012
11/24/12
10:23
PM ET
TALLAHASSEE, Fla. -- It was only last week that Florida State coach Jimbo Fisher lamented the use of computers to help determine the BCS standings and argued his squad's case as one of the best one-loss teams in the country.
With five turnovers in a wild
37-26 loss
to rival Florida on Saturday, the Seminoles' case against the computers was officially deleted.
It's not that No. 10 Florida State (10-2, 7-1 ACC) shouldn't be ranked -- it absolutely should -- but the Seminoles proved Saturday that the fourth-ranked Gators (11-1, 7-1 SEC) deserve their spot ahead of FSU, and the program is still not consistent enough to be considered a true national title contender. Florida State's mistake-laden four quarters were a microcosm of the Seminoles' entire regular season: an opportunity at something bigger fumbled away.
"There were ample opportunities -- ample opportunities," Fisher said. "We just didn't capitalize on them."
He was talking about the game -- not the season.
[+] Enlarge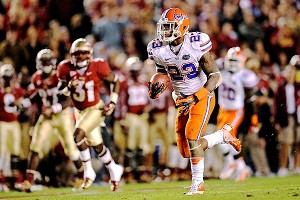 Kevin Liles/US PresswireMike Gillislee's 140 yards (including this 37-yard TD) led Florida's 244-yard assault on the Noles.
Those within Florida State's locker room after the loss emphasized the team's "24-hour rule," reminding each other there is still plenty to play for, as the Atlantic Division champs are heading to Charlotte, N.C., to play Georgia Tech in the Dec. 1 Dr Pepper ACC championship game. The Seminoles still have a chance to win the Discover Orange Bowl. The possibility of a 12-2 season is still within reach. It's going to be hard, though, for some of the players -- and most all of the Noles' fans -- not to wonder what could have been this season had FSU not lost on the road to NC State and found a way to beat its rivals at home. The Noles were so close to finally meeting preseason expectations, yet so far away.
"That's just something that's going to be in the back of your head forever," defensive tackle
Everett Dawkins
said. "But we can't worry about that right now. We just have to keep on moving."
Just like Florida's running game.
The Gators controlled the line of scrimmage and ran the ball with ease, racking up 244 yards on the ground. Florida's success on the ground made quarterback
Jeff Driskel
look better than usual, as it opened up the play-action and allowed him not to have to execute a true drop-back game. By the fourth quarter, the Gators had scored 24 points in a span of less than nine minutes and Florida State's usually staunch defense looked gassed.
"We weren't able to execute," said Noles receiver
Rashad Greene
. "That basically sums it all up on one piece right there."
In what was only its second game of the season against a ranked opponent, Florida State's mistakes were too much to overcome. It wasn't the first time this season turnovers plagued the Noles (two against Miami, two against Virginia Tech), but against better competition, FSU couldn't get away with it.
"We've got to have them better prepared and we have to take care of the ball better," Fisher said. "It was rare -- it wasn't fumbles, it was interceptions. Something we haven't done very much."
It was also an emotional and difficult game for Florida State quarterback
EJ Manuel
, who threw three interceptions and fumbled the ball, leading to a Florida touchdown.
"It was not one of his most stellar performances," Fisher said.
Manuel agreed.
"I've got to get better these next two games," he said. "It was tough. This is hard right now."
While Florida State tries to refocus on the ACC championship game, the Gators left Doak Campbell Stadium believing they should be playing for the national title.
The Seminoles did their part to help the Gators build their résumé.
"We didn't finish," Fisher said, "we didn't finish."
It was only the second time this season that happened to FSU, but that's two times too many for a team playing for more.
November, 24, 2012
11/24/12
7:23
PM ET
TALLAHASSEE, Fla. -- Here's a quick look back at No. 4 Florida's
37-26 victory
over No. 10 Florida State on Saturday in Doak S. Campbell Stadium:


It was over when:
With seven minutes left in the game, Florida quarterback
Jeff Driskel
threw a 14-yard touchdown pass to
Quinton Dunbar
to put the Gators ahead 30-20. In five plays, the Gators went 32 yards to score -- a short field that was set up by
Marcus Roberson
's 50-yard punt return. It was a huge special-teams play that put Florida in position to separate itself and gave the Gators the momentum.
Game ball goes to:
Florida's defense. It lived up to the billing, as the Gators forced five turnovers, and held Florida State to just 112 rushing yards and well under its season average of 42.91 points per game.
Stat of the game:
Florida State turned the ball over five times -- two lost fumbles and three interceptions. Overall, Florida scored 10 points off FSU's turnovers.
EJ Manuel
's fumble in the fourth quarter led to an immediate score for running back
Mike Gillislee
, a 37-yard run that put the Gators up 23-20.
What it means:
Florida still has an outside shot at playing for the national championship and further stated its case for a BCS bowl. It also snapped a two-game losing streak to coach Jimbo Fisher. For Florida State, it was a squandered opportunity to prove it deserves to be higher in the BCS standings and make an argument against the computers. It also was another letdown for the ACC on a national stage.
November, 23, 2012
11/23/12
9:00
AM ET
TALLAHASSEE, Fla. -- For
EJ Manuel
and the rest of Florida State's seniors, the moment is emotional by design. They'll take the field Saturday knowing its the last time they'll do so at Doak Campbell Stadium, a mix of nostalgia and finality.
The same could be true for junior
Bjoern Werner
, too, should he decide to enter the NFL draft at year's end, but he's choosing not to look at it that way.
[+] Enlarge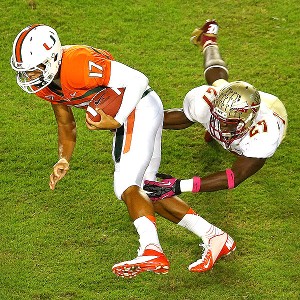 Mike Ehrmann/Getty ImagesAn injury at the end of last season kept CB Xavier Rhodes at FSU another year, but now the emotional player faces a huge decision.
"I'm just going to finish the season and think about it after the season," Werner said. "If I start thinking about it too early, I'm just going to mess up my game. We have big games -- Florida, an ACC championship, and hopefully an Orange Bowl. I can't think about that stuff."
Werner is one of a handful of Florida State underclassmen who could forgo a final season with the Seminoles in favor of an NFL career, which could make Saturday's game all the more significant if they let the weight of the decision sink in.
So far, however, they all appear to be following Werner's lead.
"I never put that pressure on me," said safety
Lamarcus Joyner
, whose draft future is perhaps the most uncertain of any of FSU's potential early departures. "That's something that has to be evaluated definitely at the end of the season."
Werner figures to be a sure first-round pick if he departs early, and cornerback
Xavier Rhodes
could be as well.
A year ago, as a redshirt sophomore, Rhodes weighed the decision, too, but an injury during FSU's bowl game made the choice easy. This time around, he's acutely aware that the finality of a season and a career can sneak up on a player -- whether or not he's thinking of heading to the NFL.
"Every game to me is emotional," Rhodes said. "You've got to cherish every second of it. That's how I go into every game."
Rhodes, Werner, Joyner and linebacker
Christian Jones
could all choose to leave at year's end, but that's still a decision that doesn't need to be made for a few weeks.
In the interim, there's a game with Florida -- a team none of the four juniors have lost to as active players. Keeping that streak alive means a lot more at this point than a career that may soon be ending.
November, 22, 2012
11/22/12
9:00
AM ET
The regular season comes to a close Saturday, and Florida State's schedule saved the best for last.
For the first time since 2000, Florida State and Florida will face off while ranked in the top 10, and with both teams likely shut out of the BCS national championship picture, Saturday's game represents something of its own title game to determine the state's champion.
So, as FSU preps for its stiffest competition of the season, here are five key storylines to watch this weekend.
To continue reading this article you must be an Insider
November, 21, 2012
11/21/12
11:30
AM ET
You really have to dig deep to find the last time Florida-Florida State really meant something in the grand scheme of college football.
People were using MSN Messenger and thought Fred Durst was actually cool. TRL and trucker hats were all the craze.
It was the year 2000 and college football fans were probably carrying around a Ja Rule CD in their cars. (It's OK. We all have our faults.)
It was also the last time Florida and Florida State met as top-10 BCS opponents.
[+] Enlarge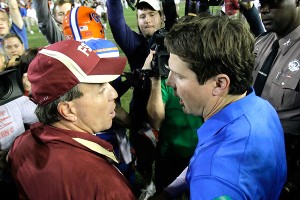 AP Photo/John RaouxIf Jimbo Fisher's or Will Muschamp's team loses on Saturday, it will be eliminated from consideration for the BCS title game.
This was one of college football's true gems. Thanks to Steve Spurrier and Bobby Bowden, from 1990 to 2000 these two teams met 13 times when both were ranked in the top 10, including the 1996 Sugar Bowl for the national championship. These two programs were mammoths and are Nos. 1 and 2 nationally when it comes to consecutive bowl streaks. Florida State is No. 1 (30) and Florida is second (21).
The rivalry took a bit of a nosedive when Bowden and his Noles teams fell off during the 2000s and Urban Meyer arrived at Florida. Under Meyer, the Gators won five straight, as they stayed nationally relevant, while FSU flirted with mediocrity until Jimbo Fisher took over in 2010.
But this rivalry is back, as No. 4 Florida (10-1, 7-1 SEC) heads to Tallahassee to face No. 10 Florida State (10-1) in a game that has major BCS implications on the line.
If Florida wins, the Gators are likely BCS-bound. With some help from USC, they could back their way into the national championship game. Florida State is very much on the outside when it comes to the BCS title game, but a win and a ton of help could move the Noles closer to Miami.
The magnitude of Saturday's matchup hit the Gators well before they returned to the locker room after beating Jacksonville State.
"As soon as that clock hit zero, you couldn't help but think about Florida State," fifth-year senior defensive tackle
Omar Hunter
said. "If you're a Gator, you grow up not liking Florida State. I'm sure it's the same way with them. That's just what you're taught. When you go to Florida State, you're anti-Gators. That's just what it is."
Outside of the BCS implications, major pride is on the line for both teams. There's real bad blood here. Players on both sides know each other, but they refuse to talk during the regular season and usually hurl barbs at each other when they do speak during the offseason.
The hatred is still there, even if the success isn't.
The Gators are also hurting after back-to-back losses to the Noles. After winning six straight over FSU, Florida dropped the last two, getting outscored 52-14. Florida enters this weekend with an offense going backward, and quarterback
Jeff Driskel
is hobbled. He sprained his ankle two weeks ago.
That's not good when you consider how good the Noles have been on defense, even without star defensive end
Brandon Jenkins
for basically the entire season. FSU ranks first nationally in total defense (236.3 yards per game) and rushing defense (70.6). The Noles are allowing 2.3 yards per rush and 3.7 yards per play.
In the past five games -- two of them against Louisiana-Lafayette and Jacksonville State -- Florida has averaged just 278.4 yards. The Gators are near the bottom of the SEC in total offense (332.9) and are last in passing (143.4).
That doesn't bode well for Florida, but as coach Will Muschamp continues to point out, it's all about wins, and somehow the Gators have 10 of those.
"Like I said Saturday, understand who you are and where you are, and it may not be where you want to be at times and it's frustrating at times, but at the end of the day, you've got to do what it takes to win football games and that's what we're judged on at the end of that," Muschamp said.
While the offense has sputtered, the defense has been terrific, ranking near the top with the Noles. It can be irritating to see the offense fail, but Florida's defenders love putting the game in their hands.
"That's how you go into every day if you're a great defense," Hunter said. "You want to put everything on your shoulders. You don't want to go into the game relying on the offense to score. You want to score on the defense. That's what we're taught here at Florida and that's what we try to win by -- defense and special teams."
Offensive issues aside, a lot is riding on Saturday. The BCS might be at the forefront of the conversation, but as far as the Gators are concerned, the only letters they're focused on are F-S-U.
"It's Florida-Florida State. It's more than what's just going on in the BCS," Hunter said. "It's bragging rights for the state of Florida. It's going to be a very big game and it's one of my favorite games to play in."
Goodell Has Sit-Down With Jameis Winston
ACC SCOREBOARD
Thursday, 9/3
Saturday, 9/5
Monday, 9/7