Florida State Seminoles:

Jacob Fahrenkrug
May, 15, 2013
5/15/13
9:00
AM ET
Florida State has gone far from home for offensive linemen before.

Jacob Farhenkrug, a junior college prospect playing in North Dakota, was sought out by the Seminoles in the Class of 2011. He has started 16 games in his career and will provide depth in 2013 if he can overcome a shoulder injury.

Then there was Menelik Watson, a recent draft pick of the Oakland Raiders.
March, 25, 2013
3/25/13
8:30
AM ET
TALLAHASSEE, Fla. -- After three months of change on the roster and the coaching staff, Florida State finally took the field last week to begin spring practice. While it's tough to tell too much from just a few days of shaking off the rust, a few key storylines did emerge. Here's a look back at what we learned from the first week of practice for the 2013 Seminoles:
1. Six coaches definitely make a difference.
Fisher assured that Florida State's core philosophies wouldn't change just because there are six new assistant coaches overseeing practice, but the new assistants brought a much different feel to the proceedings in the first few days. From Randy Sanders keeping his eye on the QB competition to Sal Sunseri's booming voice reverberating across the practice fields, players certainly had to make a few adjustments to their new coaches. "They're probably in there saying, 'Boy, the man is crazy,' " Sunseri said after the first day of workouts.
Players said some terminology is new, and Telvin Smith suggested the defense planned on playing more aggressively under Pruitt, too. But until FSU hits the field in September, we might not fully know just how big an impact this new staff will have.
To continue reading this article you must be an Insider
March, 7, 2013
3/07/13
6:32
PM ET
Florida State's much-hyped quarterback competition was hardly at full speed during Thursday's drills.
Jameis Winston
was absent from the proceedings, part of a balancing act with his baseball career, and
Jacob Coker
was limited to a stationary bike due to a foot injury. But Jimbo Fisher said things are about to get much more interesting once spring practice begins, and he expects it to be a wide-open competition.
"I think I know what their abilities are, but you never know what somebody is capable of until they're put out there in a position to lead and take off," Fisher said. "You just have to let it happen and trust your eyes. Don't force it. Let them tell you. You can't tell them."
[+] Enlarge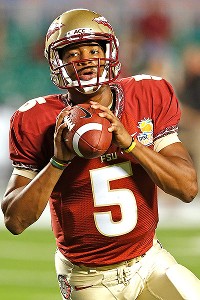 Joel Auerbach/Getty ImagesHeralded quarterback Jameis Winston was redshirted last season.
Among the three leading contenders for the job vacated by
EJ Manuel
,
Clint Trickett
was the only full participant Thursday, but both Winston and Coker should be back at work in time for spring practice, which begins March 20.
Coker has a minor foot injury and has been wearing a walking boot, but Fisher said he expects the sophomore "should be out there every day" this spring. Winston, who has been an integral part of the FSU baseball team thus far, will shift his focus back to football then, too, with Fisher assuring the freshman won't miss a single meeting or practice.
While Winston has only been a limited participant during fourth-quarter drills, his work has been impressive.
"He came over the other day and blew this thing away," Fisher said. "He flew around here like a wild man. He's in great shape, he's throwing, he's probably up there watching film by himself an hour or two hours a day. He's been right involved in the middle of everything."
While Winston has impressed, Fisher certainly isn't indicating he has a favorite in the race. In fact, he said he'll let what happens on the practice field -- both in the spring and potentially into fall camp -- decide who will win the starting job.
"It's going to be very interesting not only to see how they do their job but how they can make the other 10 guys around them do their job and make the guys on defense feel uncomfortable about them doing their job," Fisher said. "That's all important for a quarterback."
August, 26, 2012
8/26/12
11:29
AM ET
Every Sunday, NoleNation will take a look back at the week that was around Florida State, recapping the top stories and shedding a little light on a few that might have fallen between the cracks.
Florida State held its second and final scrimmage of the fall Thursday, and after Jimbo Fisher addressed the team at its conclusion, the mood among the players was clearly different.
"It's game week," quarterback
EJ Manuel
said.
In six days, Florida State's season will be under way, and Manuel and Co. are eager to start playing some real football.
But with the anticipation high and expectations even higher, there are still some questions surrounding this FSU team that Fisher couldn't find answers to during practice, questions that can only be answered through the grind of a full season.
[+] Enlarge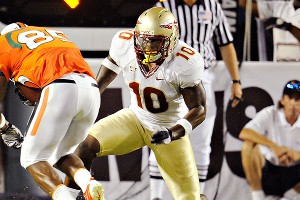 Richard C. Lewis/Icon SMINick Moody's adjustment to strongside linebacker is one of the questions facing FSU's LB corps.
Here are five key issues that still loom over the Seminoles as they get set for Murray State.
1. The battle at right tackle
To hear Fisher tell it, it really doesn't matter which of his two junior college transfers --
Daniel Glauser
or
Menelik Watson
-- wins the starting job here, as both have looked solid during fall practice. But it was also just a year ago that another juco transfer had a supposedly strong fall and opened the season in the starting lineup, and
Jacob Fahrenkrug
's 2011 didn't exactly go as planned. There's a big difference between fall practice and Saturdays in the ACC. The bottom line is that FSU has added talent to the offensive line, but last year's struggles were vast, and there's still very little experience on this year's unit. Glauser and Watson have potential, but the success of the line will largely be defined by how much they turn that potential into production.
2. The experience at punter
As is usually the case during fall practice, the specialists get relatively little fanfare and relatively limited time to perfect their craft in a game-like atmosphere. That's of particular concern when you're tasked with replacing an All-American, as freshman
Cason Beatty
will be this season. Given the level of talent FSU has on defense, it's imperative that Beatty help the Seminoles win key field-position battles and give the defense a chance to shine. If he can't, it will be interesting to see if Fisher gets a bit less conservative on fourth downs.
3. The health at running back
Chris Thompson
and
Devonta Freeman
have both had impressive returns from significant injuries, so there's reason for optimism that last year's running game, which finished 10th in the ACC, can improve. It still sounds as if FSU will go with a running back-by-committee approach in the early going, with James Wilder getting reps in short-yardage and goal-line situations, too. The rotation should also help to keep the backs healthy and fresh and seems necessary since there aren't many options further down the depth chart.
4. The depth at linebacker
Christian Jones
says he loves his new role at weakside linebacker.
Nick Moody
says he's made a smooth transition from safety to the strong side.
Vince Williams
says he and
Telvin Smith
will continue to split time in the middle but insists both players have gotten better. If they're right, this could be a solid unit. If they're wrong, however, it could get ugly. Of every name on FSU's depth chart at linebacker, only Williams and Smith have taken significant reps at their current position, and true freshmen
Reggie Northrup
and Markuss Eligwe could be counted on to play a bigger role than coaches would like if there are any injury issues among the starters. It's a house of cards at linebacker right now, and defensive coordinator Mark Stoops needs to keep his fingers crossed that it doesn't all come tumbling down.
5. The questions at corner
Greg Reid
's departure was probably the biggest story entering fall camp, but
Nick Waisome
and
Ronald Darby
appear to have soothed the bulk of the concerns. Both players have performed well throughout practice, and while neither has officially earned starting role yet, Fisher seems to be pleased with his options. Still, Waisome has little more than a handful of game reps under his belt, and Darby has been on campus for just two months. Will they really be ready to take over for one of FSU's most experienced veterans at a key position on the field?
"They don't have a choice," Manuel said. "Those guys have to step up and we expect them to do that. They understand the situation and I think they're excited about it."
August, 23, 2012
8/23/12
10:04
AM ET
Florida State heads inside Doak Campbell Stadium for its second scrimmage of the fall today, with the season opener just nine days away.
On one hand, there are few major questions still looming for coach Jimbo Fisher as FSU closes in on the start of the 2012 season. On the other hand, there's precious little time to find answers for the handful that still remain.
So, with that in mind, here are five particularly interesting storylines that today's scrimmage might help answer.
1. How healthy is EJ Manuel?
The FSU quarterback hasn't shown much discomfort since rolling his ankle Aug. 15, an injury that caused him to miss the first scrimmage of the fall. But given Manuel's history of injuries, it'll be nice to see him get on the field under game conditions and test the ankle out.
After the last scrimmage, Fisher said he was happy to get some extra work for backups
Clint Trickett
and
Jacob Coker
, but at some point getting Manuel and the offense ready for the season will take on more significance.
2. Who's going to win the field corner job?
Ask a coach or player about FSU's secondary, and odds are you'll hear the name of
Ronald Darby
come up quickly.
August, 17, 2012
8/17/12
5:16
PM ET
EJ Manuel
jogged out across the practice fields Friday afternoon, tossed a football with his fellow quarterbacks for a few minutes, then joined the line of players doing warm-ups along the far sideline.
There was no limp, no walking boot and no brace on the ankle.
As Manuel high stepped his way across the field, Jimbo Fisher turned to a small contingent of reporters and smiled.
"See, I told you (Manuel) wasn't dead," he joked.
Indeed, Fisher's appraisal of Manuel's mild ankle injury was perhaps even a bit pessimistic after Thursday's practice, when he guessed it might be two or three days before the quarterback was practicing at full strength.
Instead, Manuel appeared no worse for the wear Friday as the Seminoles went through a light workout in shorts and shells.
"There wasn't no sense to push him," Fisher had said of his decision to hold Manuel out of Thursday's scrimmage. "We got a chance to push some of these other quarterbacks. If we had a game though, he'd have played."
The games are still two weeks away, and by the looks of things Friday, the minor mishap when a lineman rolled onto Manuel's ankle Wednesday will be a distant memory by then.
"We were lucky," Fisher said. "It was a freak thing, a freak accident."
Wilder, Goldman sit out
Aside from his pointed barb regarding Manuel's health, Fisher didn't address the media Friday, which leaves some questions regarding the health of running back
James Wilder Jr.
and defensive tackle
Eddie Goldman
.
Wilder reported to practice with his right arm in a sling Friday, a bit of a surprise following what seemed to be a solid performance a day earlier.
August, 16, 2012
8/16/12
7:04
PM ET
On the practice fields in mid-August, everyone looks good.

Ask Jimbo Fisher who has impressed thus far, and he might parse through the bulk of his depth chart before he runs out of compliments.

It makes reading the tea leaves on position battles particularly tough this time of year, but there are the occasional hints when one player has stood out above the rest.

And so it was when Fisher was asked about freshman cornerback Ronald Darby following Thursday's first scrimmage of the fall.
Fisher eyes lit up, a broad smile crosses his face, and the truth comes out.

"I've been very pleased with him," Fisher said. "I think he's going to be a very, very good player."

Sure, Fisher has offered praise for sophomore Nick Waisome, who has taken the majority of the reps with the first-team defense thus far. Fisher has even talked up Keelin Smith, despite a knee injury that has kept him sidelined for the past week of practice.

But things are different with Darby.


Goodell Has Sit-Down With Jameis Winston
ACC SCOREBOARD
Thursday, 9/3
Saturday, 9/5
Monday, 9/7