April, 3, 2013
Apr 3
1:44
PM ET
It's been a turbulent year for former Florida State cornerback Greg Reid, who passed on a shot to enter the NFL draft early last January only to see his Seminoles career come to an end due to off-field issues, and his 2012 season evaporate following a knee injury.
For the past seven months, however, Reid has been rehabbing his knee and his reputation with his sights set on rejuvenating his NFL prospects, and he's been detailing his road to the NFL draft here. Reid's first installment chronicled his workouts at Athlete's Edge near Miami, and in his second diary entry, he writes about the experience of the NFL combine and Florida State's pro day workouts.
***
The last few weeks have been crazy. I've gone from Miami to Indianapolis to Miami to Valdosta to Tallahassee, then finally back to Miami. This is the first chance I've had to update you all since the combine and pro day.
[+] Enlarge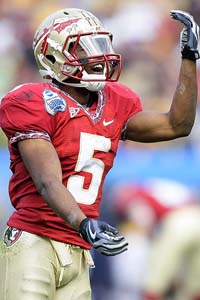 Josh D. Weiss/US PresswireFormer Seminole cornerback and kick returner Greg Reid has been busy auditioning and interviewing for an NFL job.
The combine was a great experience. The best part was definitely meeting the coaches. At first it was a little intimidating. You walk into the room, and you're like, "Man, that's Bill Belichick -- in his hoodie and everything." Then you realize he's just a regular guy. You're in a very relaxed environment, and the coaches were almost like friends. But in the back of my mind, I never forgot I was in Indy for business. The interviews were only 15 minutes, so you don't have that much time to get to know everyone in the room, but I feel like it was enough time for me to make an impression.
Seeing Rex Ryan in person was funny since I'm used to seeing him on TV every day. Mike Shannahan was definitely the funniest coach. When I walked into the room, he asked me if I went to high school at Valdosta or Lowndes, as if he didn't know Valdosta was my biggest rival school. I said, "Come on Coach, you already know, Lowndes!"
I bet most people don't even know football players have to go through hours and hours of written tests at the combine. There were six different testing rooms. Each room had the same hour-and-half to two-hour test. The questions all seemed the same, just in a different order.
It was tough not participating in all the drills because I'm so competitive. It took a lot for me to understand it wasn't worth another possible setback after all I've done to rehab my knee.
I got to catch up with friends from college and high school that I hadn't seen in a while. I also got to meet a lot of new people. When I got back to Miami, I started YouTubing highlights of all the people I met at the combine. It was funny comparing their highlights to my first impressions from Indy.