Florida State Seminoles:

Georgia Tech Yellow Jackets
September, 9, 2013
9/09/13
9:04
AM ET
It's time for a fresh set of power rankings with another week in the books. The top four teams remain the same from last week, but there was some shuffling the rest of the way down.

1. Clemson (2-0, 0-0 ACC; last week: 1):
The Tigers did what we all expected in a 52-13 win over South Carolina State. They also ended up moving up one spot in the AP poll to No. 3. Their big win over Georgia in Week 1 remains the crown jewel in the ACC crown after two weeks.
2. Florida State (1-0, 1-0 ACC; last week: 2):
The Seminoles were off this past week after beating Pittsburgh in the opener. Let's see what Game 2 has in store for
Jameis Winston
this weekend against Nevada.
3. Miami (2-0, 0-0 ACC; last week: 3):
The Hurricanes had the most impressive win in Week 2, over No. 12 Florida, which vaults them to No. 15 in the latest AP poll. But that win does nothing to change their standing in the ACC. There remains a clear gap between Clemson, Florida State and the rest of the league. Miami looks like it is starting to close the gap, but the Canes still have a long way to go -- especially after their offense struggled for most of the day against the Gators.
4. Georgia Tech (1-0 0-0 ACC; last week: 4):
The Jackets were also off in Week 2, so all we have to judge them on is a blowout win over FCS Elon. The next five weeks will tell us what we need to know about this team, as the Jackets prepare to play at Duke, North Carolina, Virginia Tech, at Miami and at BYU. That is one of the most brutal stretches any ACC team has to play this season.
5. North Carolina (1-1, 0-0 ACC; last week: 7):
The truth is, you could flip flop the Tar Heels and Virginia Tech at this point. Despite their victories over the weekend, both have problems that must be addressed. For starters, North Carolina has to get the coin toss figured out. The defense was once again up and down. They need a more consistent, better effort out of that group.
6. Virginia Tech (1-1, 0-0 ACC; last week: 5):
North Carolina gets the nod ahead of Virginia Tech for this week based on the quality of opponent it just played. The Tar Heels beat an FBS team, Virginia Tech an FCS team. I think we can all agree the Hokies have a formidable defense -- better than North Carolina's -- but the offense still has a ways to go to be respectable.
Logan Thomas
now has one touchdown pass and three interceptions on the season.
7. Virginia (1-1, 0-0 ACC; last week: 6):
No. 2 Oregon boatraced the Hoos on Saturday, but the truth is, nobody really expected them to win the game. They stay in the top half of the rankings this week based on their win over BYU in the opener. That win looks a lot better today after BYU clobbered No. 15 Texas. Virginia enters a five-game stretch now with winnable games. If the Hoos can take advantage, they will be looking good for a bowl spot.
8. Maryland (2-0, 0-0 ACC; last week: 8):
The Terps have beaten their first two opponents by a combined 90-20 and have not faced much of a test. The opponents' strength has been really weak, hence their spot here. Still, this is a team that has showed off its talent on offense in the first two weeks.
C.J. Brown
, in his return from a knee injury, ranks No. 3 in the nation in total QBR to lead all ACC quarterbacks. Chew on that one for a while.
9. Duke (2-0, 0-0 ACC; last week: 10):
Give the Blue Devils credit for pulling out a road win in Memphis with backup quarterback
Brandon Connette
this past Saturday. You can write the win off by saying it was "only Memphis," but the Tigers are a rapidly improving team and Duke was on the ropes. Any road win is a good win for a team that won only once away from home last season.
10. NC State (2-0, 0-0 ACC; last week: 9):
The Wolfpack get downgraded slightly for struggling to beat Richmond. While it is true the Spiders have caused FBS opponents fits, the Wolfpack nearly handed the game away with their own miscues. NC State had four turnovers, including three inside Richmond territory. Quarterback
Pete Thomas
struggled, throwing two interceptions. While he did lead the team into field goal range for the game winner, he has some work to do to improve.
11. Boston College (2-0, 1-0 ACC; last week: 14):
The Eagles climb out of the cellar for the first time in a long time after their 24-10 win over Wake Forest. You can already see the difference new coach Steve Addazio has made in the program. His team is playing a lot more physically and with a lot more energy. That is best illustrated in
Andre Williams
, who is now averaging 5.5 yards per carry -- one full yard better than last season. The BC run game has gone from awful to respectable in a matter of weeks. The Eagles have now matched their win total from 2012.
12. Pittsburgh (0-1, 0-1 ACC; last week: 12):
The Panthers were off last week, so they stay put here. The good news is they will not have to play a team as strong as Florida State the rest of the way in the ACC. They get New Mexico this week.
13. Wake Forest (1-1, 0-1 ACC; last week: 11):
The Deacs were supposed to be better this season with so many veterans returning, but they looked completely lost against BC. The defense got gashed on the ground. The offense could not run, nor could it execute the option effectively. Not sure why coaches insisted on sticking with it when it was not working. Their inability to run the ball was a bugaboo last season, and it looks to be the same this season.
14. Syracuse (0-2, 0-0 ACC; last week: 13):
The Orange have been the biggest disappointment in the ACC so far based on the first two games. No doubt they played a tough schedule to start against two Big Ten teams, but they were not even competitive in a loss to Northwestern this past weekend in which
Drew Allen
got benched after throwing four interceptions and the defense gave up 581 yards of total offense. Scott Shafer has some serious questions to answer before the season gets away from him.
November, 30, 2012
11/30/12
9:00
AM ET
TALLAHASSEE, Fla. --
EJ Manuel
walked off the field last week wounded.
His head was woozy and his body beaten after a physical game against Florida, but it was the mental scars that were so evident when it was over. Manuel was beaten, his final home game concluding as one of his worst.
[+] Enlarge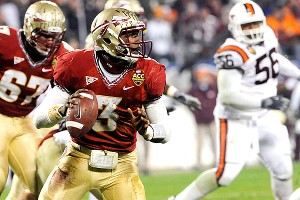 Sam Sharpe/US PresswireEJ Manuel was the starter in FSU's last appearance in tha ACC title game, but threw two interceptions in the loss to Virginia Tech.
Manuel's misery was intense, but it was short lived.
"He's been through this enough where he'll put it behind him because there is a lot to accomplish," Jimbo Fisher said.
Manuel gets his second crack at an ACC championship and his first shot at redemption following the loss to Florida when he takes on Georgia Tech's woeful defense Saturday with a conference title hanging in the balance.
It won't erase the scars of Florida, but it would be an accomplishment no other FSU quarterback has managed in seven years.
"It is a championship game and it hasn't been done here since '05," Manuel said. "You just have to move on, process [the loss] and understand why you made those mistakes. Can't go out there and do that [this] week."
Manuel is making his second ACC championship game start. The first came as something of a surprise against Virginia Tech in 2010, and Manuel managed to impress -- completing 75 percent of his passes and throwing for 288 yards -- but this time he expects even more.
"It's kind of like a second bowl game," Manuel said. "The implications of this game are huge and I understand that, my teammates understand that, so we have to get the job done."
November, 29, 2012
11/29/12
9:00
AM ET
For the bulk of Florida State's roster, Saturday's ACC Championship Game will be a new experience -- not because of the big-game environment but because of the offense run by Georgia Tech.
For
Bjoern Werner
, it's the first time he's ever faced an option attack. For
Timmy Jernigan
, it's been since his high school days. Only FSU's most veteran defenders have faced off against Tech before, and few of them saw extensive action back in 2009.
So how much of a challenge will the Yellow Jackets be in this week's ACC title tilt? To find out, we asked Georgia Tech beat writer Ken Sugiura of the Atlanta Journal-Constitution for some insight.
NoleNation: FSU hasn't faced a team like Georgia Tech all season, while Tech is coming off a (rather ugly) game against Georgia, which runs a similar pro-style offense to FSU. Is there any thought among the Jackets that this could be an advantage, or does what happened against Georgia simply underscore that Tech might be outclassed in terms of talent in this game?
Ken Sugiura:
In terms of FSU offense vs. Tech defense, I confess, I don't know. Tech has seen a lot of spread offenses this season and not much in the way of pro-style offenses, so it can't hurt, although I don't think that scheme was the issue Saturday against Georgia. It was more a difference in talent and an inability to get to the quarterback followed by a lapse in effort.
The other way around, I think that could well play to Tech's advantage. Coaches facing Tech invariably talk about the challenge of facing this offense with just three practices to prepare for it. FSU is having to do that while its defensive coordinator's attention is presumably divided. Plus, I don't believe Mark Stoops has coached against an option offense in several years.
November, 29, 2012
11/29/12
9:00
AM ET
In the past week, Florida State lost a huge game to its archrival, saw its leading tackler go down with a torn ACL, had its defensive coordinator accept the head-coaching job at Kentucky while its own head coach continues to dodge rumors he might leave next, and once again conference affiliation debates have risen to the forefront as yet another shakeup has shuffled things in the ACC.


It's been a busy news week to say the least, and oddly enough, the ACC championship game has largely gotten lost in the shuffle.
So, with so many other distractions going on around them, are the Seminoles still prepped for Georgia Tech? Here are five key issues they'll be facing.
Goodell Has Sit-Down With Jameis Winston
ACC SCOREBOARD
Thursday, 9/3
Saturday, 9/5
Monday, 9/7