Florida State Seminoles:

Geno Smith
October, 16, 2012
10/16/12
9:00
AM ET
Florida State got a handful of impressive performances in its bounce-back win over Boston College, which won't go too far in erasing the damage done in a loss the previous week, but should help bolster the cases for a number of Seminoles still in the hunt for postseason awards.
RISING
DE Cornellius Carradine, Sr. (Bednarik)
Carradine didn't record a sack, but he did have two QB hurries and racked up five tackles.
K Dustin Hopkins, Sr. (Groza)
Hopkins connected on all three of his field-goal tries and was perfect on PATs, giving him 15 points for the game to establish a new Florida State and ACC record for career scoring.
DT Timmy Jernigan, So. (Outland)
Jernigan was in on his first sack of the season and recorded 1.5 tackles-for-loss in the win over Boston College. He had three tackles overall. His 41 tackles this season ranked second among defensive linemen in the ACC.
LB Christian Jones, Jr. (Butkus)
For the second straight game, Jones was Florida State's leading tackler. He made eight tackles, giving him 39 for the season -- just two behind Carradine for the team lead. More importantly, Jones and the linebacking corps handled BC's short passing game far better than it did a week earlier against NC State.
S Lamarcus Joyner, Jr. (Bednarik, Nagurski, Thorpe)
Joyner's interception of a
Chase Rettig
pass at the end of the second quarter likely sealed the win for FSU. Boston College had driven to the Seminoles' 21-yard line and was aiming to trim the FSU lead to 14 when Joyner picked off the pass, returned it 33 yards and set up a last-second field goal for Florida State.
QB EJ Manuel, Sr. (Heisman, Maxwell, O'Brien, Unitas)
It probably wasn't enough to make anyone forget his struggles against NC State, but on a Saturday when Heisman favorite
Geno Smith
came up short, Manuel did his best to get back into the discussion, passing for a career high 439 yards and four TDs.
DE Bjoern Werner, Jr. (Bednarik, Lombardi, Nagurski)
For the fourth straight game, Werner was held without a sack, but his impact was nevertheless felt. On BC's opening drive, Werner was at the center of three of FSU's four stops from inside its own 1-yard line.
HOLDING STEADY
DT Everett Dawkins, Sr. (Outland)
Dawkins had two tackles in the game and was part of a solid pass rush from the middle of the FSU line. Boston College's 75 yards rushing in the first half did keep the Eagles in the game and was one of the more unimpressive efforts by the usually stout FSU run defense.
CB Xavier Rhodes, Jr. (Bednarik, Nagurski, Thorpe)
BC's leading receiver,
Alex Amidon
, had just 44 yards in the game, including a 22-yarder that represented the Eagles' longest passing play of the day. Rhodes finished with just one tackle, but he was largely effective in keeping Rettig from finding any big plays downfield as BC played catch-up in the second half.
FALLING
WR Willie Haulstead, Jr. (Biletnikoff)
Nine different receivers caught passes Saturday, but Haulstead wasn't one of them.
DE Brandon Jenkins, Sr. (Bednarik)
Jenkins is out for the season with a foot injury.
LB Nick Moody, Sr. (Butkus)
Moody assisted on one tackle, but he saw only limited playing time as Boston College fell behind early and FSU spent much of the game in nickel packages.
October, 2, 2012
10/02/12
9:00
AM ET
Florida State's ugly road win at USF wasn't the type of game that will build many awards campaigns for the stars, but it was a solid overall effort with a handful of standout performers. Here's how the Seminoles' awards hopes stack up after five games:
RISING
DE
Cornellius Carradine
, Sr. (Bednarik)
Added to the Bednarik watch list last week, Carradine quickly added to his campaign against USF. The senior, who is replacing
Brandon Jenkins
in the starting lineup, finished with a team-high nine tackles, including 1.5 sacks and a forced fumble that led to a touchdown. Carradine earned ACC defensive lineman of the week honors and is FSU's leading tackler this season.
DT
Everett Dawkins
, Sr. (Outland)
Dawkins had another strong game and has been one of FSU's most impressive, if altogether unheralded, performers so far this season. Dawkins had three tackles and helped out on a sack while controlling the middle of the line of scrimmage. QB
B.J. Daniels
found little room to maneuver, and Dawkins stuffed the run game up the middle.
K
Dustin Hopkins
, Sr. (Groza)
The ACC's specialist of the week had a nice rebound after an ugly game against Clemson. Hopkins converted three of four field goal chances, including a long of 43 yards. His lone miss was from 48. USF also spent the first half with a long field thanks to Hopkins' leg. Its average starting field position in the first half was its own 19.
CB
Xavier Rhodes
, Jr. (Bednarik, Nagurski, Thorpe)
Rhodes made three tackles against USF and had a crucial interception of Daniels late in the first half, setting up an FSU field goal with just a few seconds left before the break. Rhodes also blanketed USF's top receiver,
Andre Davis
, holding him to just one catch for three yards.
HOLDING STEADY
QB
EJ Manuel
, Sr. (Heisman, Maxwell, O'Brien)
It's hard to fault Manuel for his performance against USF. He completed 73 percent of his passes for 242 yards and converted three big third downs in a road win over an in-state rival. The problem, of course, is that Heisman front-runner
Geno Smith
threw eight TDs and dismantled the record books. Manuel's game was good, but as Jimbo Fisher continues to say, he's the hunting dog when the awards tend to honor the show dogs.
DT
Timmy Jernigan
, So. (Outland)
Another solid game from Jernigan, who was exceptional against the run once again, helping to control the line of scrimmage against a USF team aiming to negate the pass rush with quick passes and lateral runs. Jernigan finished with two tackles, including one for a loss, and helped stifle the Bulls running game, which managed just 43 yards on the ground after the first quarter.
LB
Christian Jones
, Jr. (Butkus)
The big tackle numbers needed to win the Butkus simply haven't materialized for Jones, but he had a strong game against USF. He was routinely in good position on misdirections and option runs -- something that wasn't always the case a week earlier against Clemson -- and he scooped up a fumble for FSU's first defensive touchdown of the year.
S
Lamarcus Joyner
, Jr. (Bednarik, Nagurski, Thorpe)
Offenses are staying away from Joyner's side of the field, which is a strong sign of respect, but also won't help much come awards season. Joyner had three tackles, and both of USF's long passing plays went to the other side of the field.
LB
Nick Moody
, Sr. (Butkus)
Moody saw more playing time than he did a week earlier against Clemson, and he finished with two tackles in a solid effort.
DE
Bjoern Werner
, Jr. (Bednarik, Lombardi, Nagurski)
USF attacked Carradine in part because Werner has commanded so much attention on film. The junior mustered just two tackles, but he broke up a pass and was consistently in the face of Daniels.
FALLING
WR
Willie Haulstead
, Jr. (Biletnikoff)
Haulstead remains buried on FSU's receiver depth chart.
DE Brandon Jenkins, Sr. (Bednarik)
Fisher said Jenkins is making progress in his rehab, but they haven't discussed the possibility of the senior taking a medical redshirt and returning for 2013.
September, 20, 2012
9/20/12
12:00
PM ET
Time to take a look at what to watch in the ACC in Week 4. I think you probably already have a good idea of what is in store.
1. Top-10 clash.
By now, you probably already know the matchup between No. 10 Clemson and No. 4 Florida State is only the ninth meeting featuring two ACC teams ranked in the top 10. So yes, it is a big game, one of the biggest games in league history, even. I have been asked this question several times during the week: What is the best possible outcome for the ACC? Clearly one team has to win and one has to lose. But in the best-case scenario, this game is competitive, thrilling and pretty clean, and goes down to the wire. To me, that validates having two teams ranked in the top 10 and keeps the loser somewhere in the top-15 range.
2. Offense vs. defense.
This is your classic matchup of terrific offense against terrific defense. So which unit gets the edge? We find out Saturday. According to ESPN Stats & Information, Florida State is one of two teams that has yet to allow a touchdown this season (TCU is the other) and has forced 22 three-and-outs in 42 opponent drives. Clemson, meanwhile, is averaging 39.7 points per game this season. The Tigers have 17 plays that gained 25 yards or more this season, tied for the most in the nation.
[+] Enlarge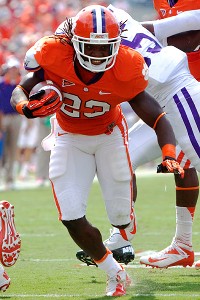 Joshua S. Kelly/US PresswireAndre Ellington and Clemson can give the ACC a lift by knocking off SEC power LSU.
3. Andre Ellington vs. FSU run D.
One of the matchups that has not been given too much attention this week is between Clemson running back Andre Ellington and the Florida State run defense. While much of the media focus has been on
Sammy Watkins
and
DeAndre Hopkins
, Ellington is an absolute player to watch. According to ESPN Stats & Information, Ellington has gained more yards after contact (199) than Florida State has allowed in total rushing yards (101) this season. As for the FSU defense, the Noles have forced their opponents into no gain or negative yardage on 40 of 85 rushes (47.1 percent), the highest percentage in the Football Bowl Subdivision. Ellington has failed to gain yards on just four of his 53 rushes this season (7.5 percent) and has been hit in the backfield on just seven runs.
4. Bounce-back week.
Now on to some of the other matchups. This could be called "bounce-back week in the ACC" for a few of the other teams in the league: Virginia Tech, Wake Forest, North Carolina and Virginia -- teams that all lost last week. I left out Maryland because the Terps play No. 8 West Virginia and face the biggest challenge of all these teams. Virginia Tech, Wake Forest and North Carolina all are expected to win. Virginia? The Hoos are a double-digit underdog at No. 17 TCU.
5. Logan Thomas.
Speaking of Virginia Tech, which Logan Thomas will we see Saturday against Bowling Green? Thomas played poorly against Pitt last week, throwing three interceptions. The mistakes were absolute killers, as Pitt used the turnovers to pull the upset. One of the big problems for Thomas and the Hokies has been an inability to run the ball. That, combined with ineffective quarterback play, has left this team stagnant on offense. We'll see what the Hokies try to do to jump-start both Thomas and the run game this weekend.
6. Can Georgia Tech beat Miami?
The Hurricanes have won three straight in the series, but all signs are pointing to Georgia Tech this season. Last week against Virginia, the Jackets scored seven rushing touchdowns -- tied for the most under coach Paul Johnson. This is a pretty confident group on offense going into the game. The bigger question for Tech is how to slow down Miami freshman sensation
Duke Johnson
, who scored three different ways against Bethune-Cookman. Tech has not faced anybody nearly as good as Johnson in its first three games this season, and the Jackets have had problems slowing down some of the speed and athleticism Miami has presented in the past.
7. Does Maryland have a chance?
There is always a chance in any game, but the Terps are going to have their work cut out for them. I got to watch
Geno Smith
play last year when West Virginia was in the Big East, and the only time I saw him flustered was when he faced heavy pressure. Maryland does have a good defense that can apply pressure, but there are two problems: 1. Smith is better this season and 2. He gets rid of the ball so fast. Maryland's only chance in this game is with a studly defensive performance, but I just don't think the Terps have the players to slow down Smith,
Stedman Bailey
and
Tavon Austin
.
8. Does Virginia have a chance?
Late news Wednesday night -- TCU will be without running back
Waymon James
for the rest of the season. The Horned Frogs have depth concerns at that position, but the bigger problem for Virginia will be slowing down
Casey Pachall
and the passing game. Virginia is so green in the secondary, the advantage might go in TCU's favor.
9. Will the real North Carolina please stand up?
Are the Tar Heels the team that trailed Louisville 36-7 at halftime last week or the one that outscored the Cardinals 27-3 in the second half and nearly won? Coach Larry Fedora sure would love to find out against East Carolina on Saturday. This is a game that should have plenty of juice in-state. East Carolina sold out its ticket allotment for the game.
10. Could be a good day for the state of North Carolina.
Wake Forest plays Army, NC State plays the Citadel and Duke plays Memphis in games almost everybody expects to go the ACC's way. The hope for these teams is that there is no look-ahead factor with conference games set for next week: Duke travels to play Wake, and NC State will be at Miami.
Goodell Has Sit-Down With Jameis Winston
ACC SCOREBOARD
Thursday, 9/3
Saturday, 9/5
Monday, 9/7