Florida State Seminoles:

Garrett Faircloth
March, 25, 2013
3/25/13
8:30
AM ET
TALLAHASSEE, Fla. -- After three months of change on the roster and the coaching staff, Florida State finally took the field last week to begin spring practice. While it's tough to tell too much from just a few days of shaking off the rust, a few key storylines did emerge. Here's a look back at what we learned from the first week of practice for the 2013 Seminoles:

1. Six coaches definitely make a difference.

Fisher assured that Florida State's core philosophies wouldn't change just because there are six new assistant coaches overseeing practice, but the new assistants brought a much different feel to the proceedings in the first few days. From Randy Sanders keeping his eye on the QB competition to Sal Sunseri's booming voice reverberating across the practice fields, players certainly had to make a few adjustments to their new coaches. "They're probably in there saying, 'Boy, the man is crazy,' " Sunseri said after the first day of workouts.

Players said some terminology is new, and Telvin Smith suggested the defense planned on playing more aggressively under Pruitt, too. But until FSU hits the field in September, we might not fully know just how big an impact this new staff will have.


February, 18, 2013
2/18/13
8:30
AM ET
By
NoleNation Staff
| ESPN Insider
When it comes to recruiting, coaches are always thinking long-term. It's not just about which holes must be filled immediately, but rather where the needs might be in two or three more years.
With that in mind, NoleNation writers David Hale and Corey Dowlar are going through each position, looking at what FSU has on its roster now, and who might provide reinforcements down the line, projecting starters and evaluating the depth through 2015.
Up next, a look at the interior of FSU's offensive line: Guards and centers.
Current scholarship Guards/Centers (11):
Tre Jackson
(Jr.),
Ruben Carter
(RSSo.),
Josue Matias
(Jr.), Daniel Foose (RSJr.),
Trey Pettis
(RSSo.), Garrett Faircloth (RSSr.),
Ira Denson
(Fr.),
Sterling Lovelady
(Jr.), Bryan Stork (Sr.),
Austin Barron
(Jr.),
Ryan Hoefeld
(Fr.)
To continue reading this article you must be an Insider
October, 11, 2012
10/11/12
7:19
PM ET
TALLAHASSEE, Fla. -- The halftime speech at NC State was similar to many Jimbo Fisher has given. He pushed his team to come out strong, to drive a dagger through the hearts of the Wolfpack.
[+] Enlarge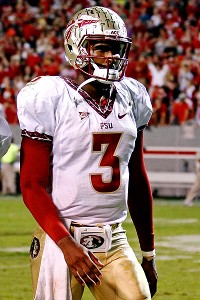 AP Photo/Gerry Broome)EJ Manuel likely saw his Heisman candidacy -- and FSU's national title hopes -- disappear.
Of course, that didn't happen.
But Florida State's slow starts to the second half aren't entirely new. While the Seminoles have been decent enough in the second half, the opening drives of the third quarter have been problematic.
Florida State has received the second-half kickoff in each of its last four games, and it has punted on all four occasions.
"I don't know what can be changed,"
EJ Manuel
said. "Maybe we come out with some different types of plays, something to get our juices following, get us back moving and gets us back into a rhythm."
Manuel's call for more of an up-tempo approach is reasonable. Of the 16 plays FSU has run on its opening drives of the second half in the last four games, seven were runs. Those plays netted a total of 4 yards, with none going for more than 3.
But the passing game hasn't been significantly better. Manuel has completed just 4 of 9 throws for 40 yards -- the longest a 13-yard reception.
September, 20, 2012
9/20/12
6:51
PM ET
TALLAHASSEE, Fla. -- In terms of development and experience,
Jameis Winston
is a long way from
Tajh Boyd
.
The skill sets for the two quarterbacks, however, aren't so different. Winston is a few inches taller, but both are thick and strong. Winston has the arm, too -- a cannon that made him the nation's top quarterback recruit a year ago. Add the mobility, the ability to get outside the pocket and run with the football, and the Florida State freshman actually plays an awful lot like Clemson's Heisman hopeful.
At least, that has been the thought for much of this week's practice as FSU gets set to host Boyd and the Tigers on Saturday. Winston -- along with third-stringer
Jacob Coker
-- has served as Boyd's stand-in with FSU's scout team this week, giving the Seminoles defense a close-up look at the challenge it will face when Saturday's battle of top-10 teams kicks off.
"They both provide athleticism and arm strength," Jimbo Fisher said of Winston and Coker. "They can simulate arm strength, athleticism, running and good size. The defense is getting a good look from that perspective."
Meanwhile freshman track star
Marvin Bracy
has played the role of Clemson receiver
Sammy Watkins
, testing the FSU secondary downfield, while the bulkier
Kelvin Benjamin
has pushed the defensive backs to play with more physicality, too.
"I get that same type of physical nature from [Benjamin]," cornerback
Nick Waisome
said of his preparation for Watkins this week.
Florida State's roster depth has been lauded as a major asset by Fisher all year, but trickle-down effect on the scout team provides its own rewards.
For FSU's starters, the challenge of taking on gifted freshmen and back-ups during practice provides a more realistic comparison to game day than a group of walk-ons might be able to offer.
For those freshmen and reserves, it's a valuable chance to see how they measure up against some of the best players in the country, while still making a contribution to the team.
"A post is a post, a slant is a slant, and they're running against good people every day," Fisher said. "Suddenly they say, 'You know something, I can play with that guy.' "
The extra push in practice should come in handy this week against the high-flying Clemson offense, but Fisher sees benefits down the road, too.
"Scout team people look at as a negative, but most guys it turns out to be a real positive," he said. "And it prepares your team better when you get more quality guys."
Secure the tackle:
Waisome said his goal Saturday is to hold Watkins without a catch, but even he recognizes that might be a lofty goal. The more significant issue for FSU's defensive backs might be ensure the play ends shortly after Watkins comes down with the ball.
In last year's game, 105 of Watkins' 141 receiving yards came after the catch, and nearly 63 percent of his career yardage has come after the ball is in his hands.
That's makes wrapping up on open-field tackles a top priority.
"It's going to be critical," Fisher said. "When they have great skill guys, they create those one-on-ones, and being able to get them down in space, that's big. Real big. It'll be a huge challenge."
More to come:
After the first two weeks of the season,
EJ Manuel
estimated Florida State had used roughly three percent of its playbook. After another easy win against Wake Forest, he joked that number may have risen to 4.8.
Truth be told, it's probably a good bit more than that, but that doesn't mean Florida State is close to clicking on all cylinders offensively.
"As far as where we're trying to go, I don't think we're close,"
Rashad Greene
said. "That's the mentality we have. We're not settling for anything. We strive to get better every day. That's the motto of the team."
Injury updates:
Defensive back
Justin Bright
(head) and
Garrett Faircloth
(hip) will miss Saturday's game.
August, 18, 2012
8/18/12
2:58
PM ET
One day after arriving to practice with his right arm in a sling,
James Wilder Jr.
was absent from early workouts Saturday.
Turns out, however, it was little more than a hefty dose of NyQuil that had Wilder sidelined this time.
The sophomore running back suffered a mild shoulder strain in Thursday's scrimmage, but the injury is causing Wilder more problems at night than it is during practice.
"He took some NyQuil to help him sleep and reduce the pain a little bit, and he overslept," head coach Jimbo Fisher said. "We had to send somebody [to wake him up]."
Wilder slept through his alarm, but he still managed to make it to practice in time for the bulk of the day's workouts with few problems.
When he arrived about 25 minutes late, the sling was gone, but Wilder was wearing a blue non-contact jersey. It was simply a precaution following a particularly grueling scrimmage two days earlier, Fisher said.
"He got out here to practice and took every rep, we just kept him in a blue jersey so he wasn't getting contact," Fisher said. "But that was just from how he ran [Thursday]."
Upon further review
After reviewing the tape of Thursday's scrimmage, Fisher said he was even more pleased with the performance of his offensive line than he'd been watching the workouts live.
The starting unit of
Cameron Erving
,
Josue Matias
,
Bryan Stork
,
Tre' Jackson
and
Menelik Watson
opened good running lanes and provided solid pass protection during the scrimmage, with the tape showing the group winning a majority of the battles against FSU's starting defensive line.
August, 17, 2012
8/17/12
5:16
PM ET
EJ Manuel
jogged out across the practice fields Friday afternoon, tossed a football with his fellow quarterbacks for a few minutes, then joined the line of players doing warm-ups along the far sideline.
There was no limp, no walking boot and no brace on the ankle.
As Manuel high stepped his way across the field, Jimbo Fisher turned to a small contingent of reporters and smiled.
"See, I told you (Manuel) wasn't dead," he joked.
Indeed, Fisher's appraisal of Manuel's mild ankle injury was perhaps even a bit pessimistic after Thursday's practice, when he guessed it might be two or three days before the quarterback was practicing at full strength.
Instead, Manuel appeared no worse for the wear Friday as the Seminoles went through a light workout in shorts and shells.
"There wasn't no sense to push him," Fisher had said of his decision to hold Manuel out of Thursday's scrimmage. "We got a chance to push some of these other quarterbacks. If we had a game though, he'd have played."
The games are still two weeks away, and by the looks of things Friday, the minor mishap when a lineman rolled onto Manuel's ankle Wednesday will be a distant memory by then.
"We were lucky," Fisher said. "It was a freak thing, a freak accident."
Wilder, Goldman sit out
Aside from his pointed barb regarding Manuel's health, Fisher didn't address the media Friday, which leaves some questions regarding the health of running back
James Wilder Jr.
and defensive tackle
Eddie Goldman
.
Wilder reported to practice with his right arm in a sling Friday, a bit of a surprise following what seemed to be a solid performance a day earlier.
Haskins, McElwain Shine At IMG Regional
ACC SCOREBOARD
Thursday, 9/3
Saturday, 9/5
Monday, 9/7