Florida State Seminoles:

fsu basketball
October, 13, 2012
10/13/12
9:09
PM ET
Florida State
added its first basketball commitment
of the Class of 2013 when sixth-ranked shooting guard
Xavier Rathan-Mayes
(Scarborough, Ontario/Huntington Prep) made his decision public on a live webcast.
Rathan-Mayes, a four-star prospect and the
ESPN 100's
No. 24-ranked player, adds to head coach Leonard Hamilton's reputation of securing high-profile players from the prep ranks.
October, 12, 2012
10/12/12
9:00
AM ET
TALLAHASSEE, Fla. -- There were days this summer when Leonard Hamilton would shuffle into his office not long after the sun came up, and he'd hear the familiar sounds of sneakers squeaking and balls clanging off a rim.

On the court, he'd find a slew of veterans and rookies, elder statesmen instructing the kids on how things are done and what's going to be expected of them this season.

It was music to Hamilton's ears.

"That speaks volumes," Hamilton said. "Whenever we have a workout, you look in the gym, and you have six freshmen out there with six different goals, working on their game. That gives you a feeling that attitudes are right and they understand the work ethic. Now what we have to do is make sure we're patient with them."

There is still a long road to travel before Florida State's reshuffled roster is clicking on all cylinders, Hamilton said, but as his team kicks off the 2012-13 season at 7 p.m. ET with Seminole Madness, some solace can be taken in knowing a sizable portion of the groundwork has been laid.

The defending ACC tournament champions lost a healthy dose of veteran talent from last season, but Hamilton thinks the influx of five freshmen and three transfers have infused plenty of talent onto the roster.

The group is led by big men Kiel Turpin, a 7-foot center who transferred from junior college last year before redshirting, and 7-1 forward Michael Ojo, who is raw but immensely talented.

The question now is, how quickly can Florida State turn all that potential into production?

"The thing we have to do as a staff is maintain a certain level of patience," Hamilton said. "You look and see the potential of how this team can develop, but when you put five on five, you realize that we still have a ways to go."

The development started early, however, and All-American Michael Snaer raves about the drive and determination of his new teammates. Hamilton said he has been impressed with how developed many already are, while junior Terrance Shannon called the newcomers a group of gym rats.

"They're like sponges," Shannon said. "They're always looking to learn."

When the members of last year's ACC title team got their championship rings during the FSU-Clemson football game last week, it marked something of a turning point in the program's history. It was, of course, a memento of the team's first conference championship, but more importantly, it served notice for what the expectations would be moving forward.

In the days that followed, the freshmen talked about little else. They got a chance to see the rings handed out, and now they wanted rings for themselves.

"That's the best thing about creating a culture, creating a tradition," Snaer said. "The next generation expects to do that and more. Hopefully that's where our program is going. I'm seeing great signs of that from our young guys."

The journey begins in earnest tonight, but Hamilton understands these first few weeks will simply be building blocks.

The goal of repeating as ACC champions won't be easy to achieve, and Hamilton has his sights set even higher. But the beauty of this season's team, he said, is that the work it will take to get there should be a pleasant chore.

"This is the type of challenge that as coaches, you look forward to," Hamilton said. "You have a group of returning players that are fairly mature and focused and hungry. They've passed that wisdom they've learned along to the new players."
October, 3, 2012
10/03/12
5:40
PM ET
TALLAHASSEE, Fla. -- Jimbo Fisher got his wish, and the ACC will move forward with an eight-game conference football schedule, the league announced Wednesday.
Fisher had railed against the proposed nine-game slate, which would severely limit non-conference scheduling for teams like Florida State, Clemson and Georgia Tech, who already play an annual rivalry game against an out-of-conference foe.
With Notre Dame coming on board as a partial member of the ACC -- set to play five games a year against ACC opponents -- another wrinkle was added to the mix, making it financially problematic for member schools who want to maintain seven home games each season for revenue purposes.
[+] Enlarge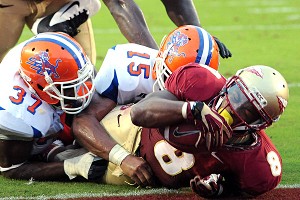 Melina Vastola/US PresswireThe matchup with Savannah State was a lowlight on the FSU schedule this season.
But while the change of course back to the current eight-game slate offers Florida State more flexibility, it also means the Seminoles will need to find at least one more opponent to fill out their 2013 schedule.
Currently FSU has non-conference games against Wofford, Nevada and Florida scheduled for next season, but losing the ninth ACC game opens up a vacancy. Meanwhile, Nevada is hoping to withdraw from its scheduled trip to Tallahassee next season and is working with Florida State to find a viable alternative opponent.
The Seminoles endured similar last-minute scheduling issues this season when West Virginia pulled out of a planned Week 2 meeting in February, forcing FSU to scramble for a replacement. The school eventually settled on Savannah State, an FCS program that won just one game last year. The game had low attendance and FSU won in a route, despite weather putting an end to the contest midway through the third quarter.
With the tepid response to the Savannah State game among fans and questions swirling about how Florida State's lackluster schedule will affect its chances at a national championship, it seems likely AD Randy Spetman will want to avoid scheduling a second FCS foe for 2013, but he said the process of filling out next year's slate is only in its infancy.
"The change in the ACC's schedule plans obviously happened very quickly over the last few days," Spetman said. "We are immediately assessing what that will mean for Florida State, but speculating about potential opponents is premature right now. It is particularly difficult to plan too far in the future without knowing where and when Notre Dame is going to fit into schedules."
The plan for Notre Dame at this point would be for each ACC team to play one home game and one road game against the Irish every six years. When and where the first of those meetings would take place for Florida State remains a mystery.
Things will be a bit simpler in basketball, where the new schedule -- which includes Notre Dame as a full member -- will be an 18-game slate that includes one game annually against every other ACC team. Each team also will play an annual home-and-home series against two partner teams, which for FSU will be Clemson and Miami.
September, 12, 2012
9/12/12
4:29
PM ET
The road to a conference title may have gotten a bit tougher, but Florida State basketball coach Leonard Hamilton said he's thrilled about the addition of Notre Dame to the ACC.

With the additions of Notre Dame, Syracuse and Pittsburgh from the Big East, the ACC soon will have 15 teams competing in basketball, including three of the five winningest in the sport's history.

"The ACC has always been known as a top basketball conference," Hamilton said. "Add Syracuse and Pittsburgh, and it makes it an elite conference. Now you bring Notre Dame in, and it makes an elite conference even greater. I don't know how much more excitement there could be in the league, but it's brought it to a new level that's off the Richter scale."

But while Syracuse, Notre Dame and Pittsburgh will add depth to a league that sent just five teams to the NCAA tournament a year ago, it also means the elite ACC teams will cycle through home-and-home dates on the schedule less often.

FSU athletics director Randy Spetman said it's likely that home-and-home series against teams like Duke and North Carolina will go from happening once every three years to once every six instead.


August, 11, 2012
8/11/12
7:16
PM ET
Oklahoma was never in a really good position to land 2013 point guard
Stevie Clark
. But with the news Saturday of
Clark transferring from Oklahoma City Douglass to Quest Prep Academy in Las Vegas
, that will close the door on the Sooners and Clark.
Things between the Clark family and the OU coaching staff were going well in the winter and into the spring. Stevie was offered by the Sooners in February and attended several of OU's final home games.
[+] Enlarge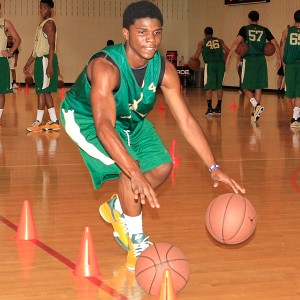 Courtesy of Robert CrawfordStevie Clark is ranked No. 63 overall in the 2013 class and No. 1 overall from Oklahoma.
But when the summer came around, OU and Clark slowly started to go their separate ways. Clark's mother, Dorshell, said there were other programs showing more interest and that the No. 1 factor in their decision is going to be the relationship with the coaching staff.
July, 26, 2012
7/26/12
1:23
PM ET
Justin Coleman
(Birmingham, Ala./John Carroll Catholic) lies in the heart of SEC territory.
And having offers from the likes of Alabama, Arkansas, Auburn, Radford, Tennessee and UAB, it makes sense geographically for the 2014 point guard.
Florida State, the reigning ACC champion, traveled to check out Coleman at a tournament two weeks ago. The 5-foot-10, 155-pound guard says he would definitely be interested in the Seminoles.
To continue reading this article you must be an Insider
July, 24, 2012
7/24/12
3:41
PM ET
In a Florida State basketball class that is expected to be smaller than normal,
Demarcus Croaker
(Orlando, Fla./Jones) appears headed for at least one of the vacancies.
The 6-foot-3, 180-pound prospect has tried to be in near-constant contact with the Seminoles' coaching staff for the last calendar year. Relationships, specifically with assistant coach Stan Jones, have really blossomed.
"I really like Florida State and I have really liked them for a while," said Croaker, confirming that the Seminoles are his leader. "I have a very good relationship with the coaches and a couple of the players I know. I love the coaches and I love their style of play. They play defense and push the ball up the floor.
To continue reading this article you must be an Insider
Goodell Has Sit-Down With Jameis Winston
ACC SCOREBOARD
Thursday, 9/3
Saturday, 9/5
Monday, 9/7