Florida State Seminoles:

ej levenberry
August, 5, 2014
8/05/14
3:30
PM ET
TALLAHASSEE, Fla. -- Florida State had the No.1 pass defense in 2013. It's hard to believe it, but the secondary could be even better in 2014, with four possible first-round picks starting in the backfield.
Seminoles coach Jimbo Fisher knows what he is going to get out of his defensive backs. However, the front seven is looking for players to emerge to alleviate the burden of losing tackle Timmy Jernigan and linebacker Telvin Smith. The defensive line needs a handful of role players to complement the starters, and the linebacking corps doesn't have a definitive first-team unit just yet.
"I want to see those [starting linemen] take responsibility, and I want to see the quality depth behind it so we can get a quality rotation," Fisher said. "I know we have plenty of guys capable.
[+] Enlarge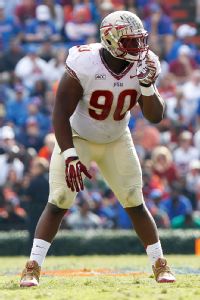 Kim Klement/USA TODAY SportsEddie Goldman will start at defensive tackle, but Jimbo Fisher is hunting quality behind the junior.
"The leadership role at linebacker,
Terrance [Smith
] is there but who steps up at Mike linebacker? Who's going to become the pass rushers, who's going to be the DPR [designated pass rushers], who's going to be the nickel 'backers, who's going to be the first- and second-down 'backers?"
Standing at the podium for his first fall camp news conference, Fisher still displayed a palpable confidence as he elaborated on the defense's questions, but he was cataloging them so he could return to them in another two weeks to see which have been answered.
Florida State has what looks to be a clearly defined set of starters on the defensive line with
Mario Edwards Jr.
,
Eddie Goldman
,
Nile Lawrence-Stample
and
Chris Casher
. Defensive line inherently is a position that requires a bevy of fresh bodies, though, which is why Fisher is determined to uncover quality rotational players who will allow his starters to come off the field without the defense taking a step back.
There is no shortage of options behind Florida State's starters. There are 10 backups along the line who are either freshmen or sophomores, and they average almost 6-foot-4 and 293 pounds.
Keith Bryant
,
Justin Shanks
and
DeMarcus Walker
were blue-chip recruits out of high school, and the defense needs those three to become primary rotational players with the idea they could be the starters in 2015. Florida State also brought in a number of freshmen, and Fisher said, physically, they already fit the Florida State defensive lineman archetype.
The luxury Fisher has is the younger players will all be able to learn from Edwards, who is in his second year in this defensive system but in his first as the unquestioned leader of the defensive line. The former No. 1 high school recruit, few players nationally are as physically gifted as Edwards.
"He's so daggone big and athletic. He's still 300 pounds, but we played a lot with those guys at LSU, 300-pound ends," said Fisher, calling upon his days as an assistant in Baton Rouge, Louisiana. "When you can do a standing back flip and a run a 5-flat [in the 40-yard dash] and bend like he does, you don't worry."
Behind the defensive line, Smith returns as a starter in the linebacker corps, but it is a tossup as to who will partner with him.
Ukeme Eligwe
, who is recovering from a Lisfranc injury,
E.J. Levenberry
and
Reggie Northrup
all played at least 13 games last season, and
Matthew Thomas
was shelved after four games in 2013 to repair a balky shoulder and preserve his redshirt. Thomas was a five-star recruit and one of the top players during the spring. When a player has a good practice, Fisher likes to say he "flashed," and routinely this spring Fisher said "No. 6 flashed," referring to Thomas.
As Fisher balances each player's talents and weaknesses, the potential deciding factor ultimately could boil down to chemistry. Fisher said it's often overlooked, but certain players raise their level of play when lining up next to certain teammates.
"We'll mix and match and also see who plays well together," Fisher said. "Sometimes people don't look at that. Some guys play better beside certain guys, and creating those packages is going to be critical."
April, 14, 2014
4/14/14
1:00
PM ET
Florida State's spring camp
came to a close
on Saturday with the annual Garnet and Gold game, and now the Seminoles are prepping for a second straight national title.
The game is secondary compared to the rest of spring practices, so with that in mind, here are some of the biggest answers the 15 spring sessions presented.
[+] Enlarge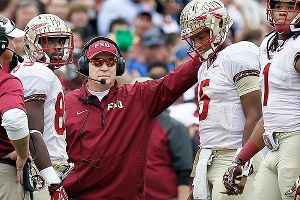 Don Juan Moore/Getty ImagesFlorida State coach Jimbo Fisher escaped the spring with a healthy roster.
1. FSU will be at full strength this fall.
In early March, Noles coach Jimbo Fisher noted how healthy his team was and how rare it is to have a squad almost entirely intact for spring practice. As the practices mounted, though, so did the injuries. The silver lining is that none of the injuries are expected to linger into preseason camp. Running backs
Dalvin Cook
and
Ryan Green
had shoulder surgery but will be 100 percent by around July.
Nick O'Leary
missed the final half of spring practices with a second motorcycle accident, but he avoided any serious injuries. There were a few concussions in camp, but
Terrance Smith
, who suffered one of them, was back for the spring game. The lone setback that could impact fall camp is the foot injury
Ukeme Eligwe
sustained, which Fisher hinted could be the dreaded Lisfranc injury, which has a tendency to persist for quite some time. The thought is he should be fine for August, though.
2. The secondary is among the best in the country.
Quarterback
Jameis Winston
said after the spring game that "we got the best [defensive] backs in the country." He should know, having thrown against the unit for much of the spring and the entire Garnet and Gold game. The secondary of
P.J. Williams
,
Jalen Ramsey
,
Nick Waisome
and
Tyler Hunter
shut down the No. 1 offense's passing attack the entire first half, and the unit was without sophomore
Nate Andrews
. Fisher said throughout the spring that Ramsey is a star-in-the-making and should become a nationally recognized name replacing
Lamarcus Joyner
. Ramsey showcased his skills by moving around at cornerback, safety and nickel during the game. Fisher and Winston are raving about freshman
Trey Marshall
, too. Williams is a star in his own right, shutting down No. 1 receiver
Rashad Greene
.
3. The receivers need to step up.
Speaking of Greene and the receivers, that position is probably the biggest weakness heading into the season. Fisher was upset with the production and consistency his receivers showcased through much of the spring, and the starting unit did not get any separation from the Noles' secondary.
Jesus Wilson
has the potential to be a playmaker from the slot, but can he replace
Kenny Shaw
's production?
Isaiah Jones
is 6-foot-4, but his production did not match that of departed 6-foot-5 receiver
Kelvin Benjamin
.
Levonte Whitfield
announced himself to the world in the national title game, but he is still needs some refinement as a receiver. The coaches can spend two hours a week breaking down film with players during the offseason, and Fisher said that will be a critical step in Florida State's development at receiver.
4. The talent is there at linebacker.
The Noles lose beloved figure
Telvin Smith
and consistent producer
Christian Jones
, but the depth at linebacker is there so those losses might not be felt all that much.
Matthew Thomas
is a budding star, and the former five-star recruit will not be kept off the field this fall.
Terrance Smith
is the leader of the unit and could be a viable replacement for Telvin Smith. Before Eligwe's injury, Fisher voiced his opinion that Eligwe was having as good of a spring as any player.
Reggie Northrup
and
E.J. Levenberry
should each see significant snaps in the rotation, and
Ro'Derrick Hoskins
could be a dangerous third-down specialist from the position.
5. Sean Maguire is a quality backup for Noles.
Earlier this spring, Winston missed a practice to travel to Clemson with the baseball team, putting the pressure squarely on No. 2 quarterback Maguire to perform at a competent level. Following the practice, the third of the spring, Fisher was lukewarm on Maguire's performance. But Maguire looked the part of a quality No. 2 option for Florida State during the spring game. The Noles got him in rhythm with three straight passes to the flats to open the game, and then Maguire dropped in a 26-yard touchdown on a post route over the defender. Maguire, a redshirt sophomore, said he made the most progress this spring than he's ever made at any point in his college career.
March, 7, 2014
3/07/14
11:00
AM ET
It is officially time for Florida State to put its 2013 championship season behind it and begin pursuit of a second consecutive national title as spring practice is just two weeks away.
While many of the Seminoles' top players will return to Doak Campbell Stadium this fall, graduation, early departures and transfers have left coach Jimbo Fisher searching for answers at a handful of positions. There is talent and depth across the board, but the FSU staff is hoping key replacements emerge this spring before being thrust into pivotal roles in the fall.
[+] Enlarge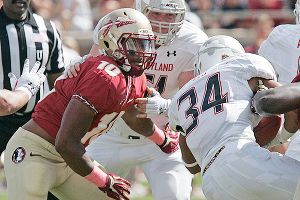 AP Photo/Steve CannonE.J. Levenberry made a big impact for the Seminoles as a freshman.
This week we look at five key position battles for the Seminoles this spring, and concluding our series is a look at linebacker. The
backup quarterback battle
was dissected Monday, the depth chart at
running back
was examined Tuesday,
receiver
was under the microscope Wednesday, and Thursday was dedicated to
defensive tackle
.
Position:
Linebacker
Replacing:
Telvin Smith
Candidates:
E.J. Levenberry
,
Reggie Northrup
,
Kain Daub
Gone for the NFL is Smith, who registered 15 tackles against Auburn in the VIZIO BCS National Championship. The good news for Florida State is there is a strong crop linebackers who have patiently waited to crack the starting lineup.
Terrance Smith
could slide from middle linebacker to the weakside, Telvin's old position. Terrance (6-foot-4, 215 pounds) is physically similar to Telvin (6-3, 218) and would likely adjust well to the outside. Regardless, Telvin's departure leaves one spot open at linebacker for the Noles whether it is on the inside or the weakside of the offense's formation. The strongside position could go to a hybrid DE/LB, similar to graduated linebacker
Christian Jones
.
Northrup, a junior out of Jacksonville, Fla., was listed on the depth chart as Telvin's backup during the 2013 season. Northrup played as a reserve in all 14 games and totaled 46 tackles last season. If Terrance Smith remains at inside linebacker, Northrup could slide right into the starting position on the weak side.
What could work against Northrup's chances to land in the starting lineup is the hype surrounding sophomore Levenberry. A meteoric rise throughout fall camp last season had the 6-3, 236-pound already in the two-deep at middle linebacker as a freshman. He played in 13 games and even posted a start in the win against Boston College. Late in the season, Levenberry announced himself to FSU fans with an athletic showcase that resulted in a 78-yard interception return for a touchdown. Levenberry tipped a pass to himself and raced down the sideline outrunning the Idaho offense. Now with a full season and another spring practice under his belt, it is going to be tough to keep Levenberry out of the starting lineup.
Daub is a member of Florida State's 2014 recruiting class who enrolled in January. He will be able to participate in spring practice, although it seems unlikely he will find a place in the starting lineup when the Noles travel to Dallas for the season opener. Daub certainly has the credentials to make an impact as a freshman, however. He was ranked third among inside linebackers nationally and was No. 32 in the ESPN 300.
One key component of this positional battle will be how much of an emphasis Fisher and linebackers coach Charles Kelly put on leadership to replace Telvin Smith. Few voices were stronger than his in the locker room last season, and linebacker is the type of position that calls for a leader who will not only direct his teammates at linebacker but the entire defense.
Along with defensive tackle, this could be the most intriguing position battle of the spring.
August, 30, 2013
8/30/13
11:00
AM ET
TALLAHASSEE, Fla. -- At long last, college football is here, and while Florida State still must wait a few extra days before kicking off its season against Pittsburgh, it's never too early to throw out some wild speculation. With that in mind, we're making our predictions for the 2013 season. Feel free to point out our mistakes in December.
Most Valuable Freshman:
Is there any answer possible other than
Jameis Winston
? The only problem is, no one who knows Florida State's new starting quarterback will admit that he looks like a freshman, and the hype surrounding him certainly wouldn't indicate he'd never taken a snap in a college game. Nevertheless, he's the heavy favorite in this category for good reason.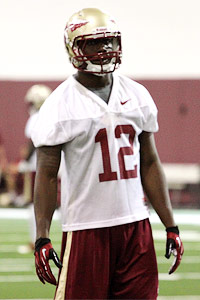 Courtesy of Florida StateLinebacker Matthew Thomas could make a significant impact as a freshman for Florida State.
Most Valuable Non-Winston Freshman:
Scrap the big-name quarterback from the discussion, and the competition gets a bit more interesting. Florida State's young wide receivers should all see action, along with linebackers
Matthew Thomas
and
E.J. Levenberry
and tailback
Ryan Green
. But by year's end, it'll be cornerback
Jalen Ramsey
who makes the biggest impact of any of the true freshmen. He's worked his way up the depth chart to assume a top backup role in spite of massive competition. And with injury concerns surrounding
Ronald Darby
, Ramsey's playing time could grow quickly.
Biggest Surprise:
It's been 17 years -- the longest stretch in the country -- but this is the season a Florida State running back finally cracks the 1,000-yard mark. In fact, to make up for lost time, both
James Wilder
Jr. and
Devonta Freeman
will do it. Jimbo Fisher wants to run more to take the pressure off Winston, and the competition for carries won't be nearly as stiff as it was a year ago, when the pair combined for 1,347 yards.
Biggest Disappointment:
There's seemingly universal enthusiasm about the new defensive scheme from coordinator Jeremy Pruitt, and it's a system that should provide some big plays along the way. But it's a complex scheme, too, and odds are the learning curve will last beyond opening week. The blitzing and aggressive style should offer some highlight-reel hits, but will likely result in some busted coverages and ugly moments, too. Matching the success of the past two seasons will be a tall order.
Breakout Star:
Wilder and
Mario Edwards
Jr. already have some box office cache because of their lineage, but both should make a name for themselves in 2013. But for a real breakout prospect, watch for cornerback
P.J. Williams
, who won a starting job amid fierce competition in the secondary. He's incredibly talented, and Fisher raves about his NFL potential.
Under-Appreciated Star:
For a team with as much buzz as Florida State, it doesn't seem like there should be too many under-the-radar stars, but there's ample competition for this award.
Rashad Greene
,
Tyler Hunter
,
Demonte McAllister
, the interior linemen and a handful of others could rightfully call themselves under-appreciated, but at year's end, the man with the most out-of-whack impact-to-hype ratio will be
Telvin Smith
. He gets overshadowed on his own defense by a host of big names, but ask anyone in Florida State's locker room whose voice carries the most weight, and the results will be unanimous: Smith.
Top Prospect:
FSU had 11 players drafted last year, including three in the first round. That doesn't mean the Seminoles won't send a slew of players to the NFL again in next year's draft. A handful of players --
Cameron Erving
,
Timmy Jernigan
,
Lamarcus Joyner
-- have first-round talent, but by year's end, the FSU player most likely to be hovering near the top of draft boards will be linebacker
Christian Jones
, whose diverse skill set and immense athleticism will be put to far better use in Pruitt's system this season.
MVP Offense:
If all goes well for FSU, there will be plenty of options here, but the safe bet is Greene. He's led the Seminoles in receiving yards each of his first two seasons, but 2013 could still be a breakout year. He was targeted an average of 5.4 times per game in 2012, but there will be far fewer reliable options in the passing game in 2013, and that number could go up dramatically. If it does, look out. He led FSU receivers in completion percentage (75 percent) and is among the top scorers in the nation, finding the end zone once every eight touches in his career.
MVP Defense:
This might be the toughest decision, but given his versatility, his leadership and his role in Pruitt's scheme, Joyner is the best bet. His decision to return for his senior year was a boon for FSU, and his move to corner should showcase his skill set nicely. His size may still hinder his draft stock, but no one will be able to argue with his production.
Bowl Destination:
A look at the schedule shows three significant matchups -- at Clemson, vs. Miami and at Florida. It wouldn't be a surprise if FSU took two of three, but the problem is that Fisher somehow manages to also lose one he shouldn't. Will this be the year Florida State doesn't have an ugly slip-up? If it is, a BCS bowl game awaits. We'll say FSU vs. Louisville in the Orange Bowl.
January, 25, 2013
1/25/13
5:22
PM ET
Harsh winter weather on the eastern seaboard has changed Tennessee's official visit list.


January, 23, 2013
1/23/13
9:00
AM ET
Who is leaving
: Florida State is losing three top-flight defensive ends to the NFL draft this season, led by draft-eligible junior
Bjoern Werner
. Senior Tank Carradine's stock would have been much higher if not for a late knee injury in the regular season finale against Florida.
Brandon Jenkins
, who was lost for most of the 2012 season because of a foot injury, will also be heading to the pros.
The offensive line only loses one player, junior
Menelik Watson
, but it is a big one. He's likely to go in the first couple of rounds and had a major impact for Florida State in just one season.
Xavier Rhodes
is the lone corner departing, but it's also a big one. Aside from Rhodes, the secondary will return largely intact.
To continue reading this article you must be an Insider
November, 18, 2012
11/18/12
4:51
PM ET
A top prospect could soon be in the mix for Tennessee after the school fired head coach Derek Dooley on Sunday.
ESPN 300 linebacker prospect
E.J. Levenberry
was never a prime target for the Vols after it hired defensive coordinator Sal Sunseri in January. Sunseri, who has long recruited the Washington, D.C., and Baltimore, Md., area, never made the ESPN 300 linebacker a priority, according to the Levenberry family. Depending on who Tennessee hires as its next coach, that could change. If so, the Levenberrys will listen.
"Only other school that he is interested in," Levenberry's father, Eric Levenberry, stated via text message.
To continue reading this article you must be an Insider
Goodell Has Sit-Down With Jameis Winston
ACC SCOREBOARD
Thursday, 9/3
Saturday, 9/5
Monday, 9/7