Florida State Seminoles:

Derrick Mitchell
March, 14, 2014
3/14/14
11:00
AM ET
Florida State opens spring practice next week, and there are plenty of big questions waiting to be answered. Before Jimbo Fisher gets his chance to weigh in on those discussions, however, we're taking a crack at finding the answers.
So far, we've looked at
Jameis Winston's second act
,
Karlos Williams' emergence
,
transitions on the defensive front
and the
spring's breakout stars
.
Last up:
What will be the biggest question mark still lingering for Florida State once spring practice ends?
Jared Shanker says the potential for complacency could haunt FSU throughout the summer.
JS:
There is no question Florida State has the talent to repeat. Barring anything unforeseen, the Seminoles will be the preseason No. 1 team, and quite possibly a unanimous selection. The Heisman winner returns and is in his third year in the program, and outside of mentor Nick Saban no coach has recruited better than Jimbo Fisher since 2010.
Sure the Noles lose key skill players on offense and arguably their best player at every level of the defense, but Florida State has established itself as a reload-not-rebuild type of program. Questions at receiver, defensive tackle and linebacker are not going to be completely settled by the end of spring practice, but the biggest question mark will be whether the Noles carry that same hunger into 2014 as they did a season ago.
[+] Enlarge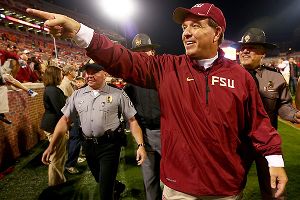 Streeter Lecka/Getty ImagesThe talent is there for an FSU repeat, but can Jimbo Fisher keep his team pointed in the right direction?
Fisher coached under Saban while at LSU, and Saban has spent the last few seasons guarding his Alabama teams against complacency. Coming off an Orange Bowl win and an undefeated national championship season the last two years, there could be a tendency for younger players to take their foot off the proverbial pedal. When spring practice ends next month, Fisher will not be able to work with his players again until fall camp. He has to count on his leaders to keep the team motivated, but outside of Winston -- who's spending equal amount of time on the diamond -- the Noles have lost their most influential locker room presences.
Florida State has the talent to go 12-0, win another ACC title and go wire-to-wire as No. 1 through the regular season and playoffs. For the next nine months, the Noles will need to look in the mirror and honestly assess their effort, because what ultimately could derail FSU's chances at a repeat is itself.
David Hale wonders how the receiving corps will fill out in fall camp.
DH:
Entering spring practice, the biggest question in my mind is on the defensive line, where the absence of
Timmy Jernigan
means a major hole for Florida State to fill. But there are solid options in
Nile Lawrence-Stample
,
Desmond Hollin
,
Keith Bryant
,
Justin Shanks
and
Derrick Mitchell
-- all of whom will be competing for reps this spring. We may not have a definitive answer there when it's all over, but we'll have a better idea of what the Seminoles have to work with.
The second biggest question I have entering the spring is at receiver, where
Kenny Shaw
and
Kelvin Benjamin
are moving on to the NFL, taking 43 percent of Winston's 2013 targets with them. Who's going to fill that void? Unlike at defensive tackle, there's virtually no chance we'll have a definitive answer to that question by the time FSU wraps up its Garnet and Gold game.
Yes, we'll get a better look at last year's new arrivals.
Kermit Whitfield
has the speed to be a star (and after his kick return in the title game, he might already be one), but can he be as reliable in the slot as Shaw? Will
Jesus Wilson
or
Isaiah Jones
(five combined catches last season) step up as a reliable option on the outside? Can
Christian Green
or
Jarred Haggins
break through as seniors? Will
Nick O'Leary
play more of a role as a receiver as FSU employs more two-tight end sets? (For what it's worth, Fisher said he'd like to see O'Leary get 40 to 50 catches in 2014.)
Even if Florida State finds answers to all those questions this spring, the most intriguing options in the receiving corps don't arrive until the fall. FSU inked three ESPN 300 receivers on national signing day --
Ja'Von Harrison
,
Ermon Lane
and
Travis Rudolph
-- who will bring a massive talent influx to the depth chart. All are in the 6-foot-1 to 6-2 range, adding some height to a receiving corps that, for the first time since Fisher arrived, lacks a true big man. All have ample ability to blossom quickly, though receivers tend to have among the hardest times adjusting from high school to college. In other words, the big mystery at the position is tabled until the fall, which is why I expect it will be one of the hottest talking points among FSU fans throughout the summer.
March, 13, 2014
3/13/14
11:00
AM ET
Florida State opens spring practice next week, and there are plenty of big questions waiting to be answered. But before Jimbo Fisher gets his chance to weigh in on those discussions, we're taking a crack at finding the answers.
So far, we've looked at
Jameis Winston's second act
,
Karlos Williams' emergence
and
life after Timmy Jernigan on D
.
Next up: Who will be this spring's surprise stars?
Jared Shanker tabs Matthew Thomas and Kermit Whitfield.
JS:
Florida State fans need to keep an eye on Thomas this spring, and, unlike this time last year, it is for all the right reasons.
It is funny how much difference a year makes, as Thomas is poised to be one of the breakout players for the Seminoles this spring and a dark horse to be the team's leading tackler in the fall. This time last year, he and his father were having second thoughts about FSU and eventually demanded Fisher release Thomas from his scholarship in favor of a transfer to USC.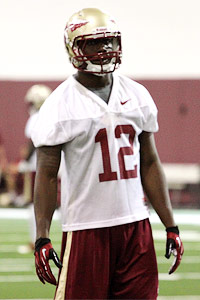 Courtesy of Florida StateMatthew Thomas has the physical ability to make a huge impact for the Seminoles in 2014.
Obviously Thomas stuck with Florida State, and he was an early contributor before a shoulder injury prematurely ended his season. Thomas racked up two tackles for a loss and a sack through the first four games.
Entering spring practice, the former five-star recruit and No. 1 outside linebacker is slated to compete for a starting role. Departed is
Christian Jones
, and the 6-foot-3, 215-pound Thomas has the physical presence to be an elite hybrid linebacker and edge rusher. Against the run and in coverage, there might not be a linebacker on FSU's roster with better closing speed and pop at the point of impact.
Offensively, I'm very interested to see where Whitfield fits. If not for a late touchdown from Auburn in the VIZIO BCS National Championship, Whitfield would have been the hero for his kick return touchdown. Still, his break down the sideline for the 100-yard score offered a glimpse to the nation the dynamic running back/receiver that Whitfield is capable of becoming.
Whitfield scored on runs of 31 and 74 yards, respectively, the first two times he carried the ball last season. With his sub-4.4 speed, he is the game-breaking threat Florida State might need to rely heavily on as the offense receives a facelift with the departures of several key contributors at the skill positions. As a running back, receiver and returner, Whitfield is the kind of player with the ability to turn a seemingly small gain into a momentum-swinging touchdown from any point on the field. It has been a while since Florida State had a player like that.
David Hale looks for big things from Desmond Hollin and Dalvin Cook.
DH:
The defensive line might be the biggest mystery for Florida State this spring for a myriad of reasons. The loss of
Timmy Jernigan
leaves a gaping hole in the middle. The shift from Jeremy Pruitt to Charles Kelly leaves open questions about how the scheme, which changed so dramatically up front in 2013, will look this season. Jones' departure leaves FSU looking for a new edge rusher.
Mario Edwards Jr
. and
Eddie Goldman
have shown promise, but can they take the next step?
But the way spring practices go, it's not entirely clear we'll get answers to any of those questions before the team takes off for the summer. Perhaps the most interesting thing to watch this spring is just how well the defensive linemen who served in small roles last season will take advantage of the opportunity to shine now. And if that's the case, the player with the best head start might be Hollin.
A juco transfer last year, he came in at about 270 pounds, but Fisher said Hollin is now up to 290 -- meaning he could be a realistic fit inside as a potential replacement for Jernigan. He saw only limited action in 2013, racking up two sacks and 16 tackles, but his work in offseason conditioning and fourth-quarter drills has been exceptional, according to Fisher.
"Hollin has been off the charts," Fisher said. "He's running better than he's ever run. I expect him to have a great year."
It wouldn't be the first time FSU had significant success with juco linemen, with Tank Carradine and Amp McCloud recent examples. Hollin has been in the system for a year and brings some versatility to a line still figuring out how to best deploy its personnel.
There will be strong competition on the line from
Keith Bryant
(another Fisher favorite),
Nile Lawrence-Stample
,
Derrick Mitchell
and a bevy of freshmen set to arrive this fall, but Hollin offers some significant intrigue this spring. Fisher has already set a high bar for Hollin with the heaps of praise he's eagerly offered, and if he can make the leap this spring and gain an inside track on a starting job, he could turn out to be a breakout star in 2014.
On the other side of the ball, Cook arrived in January with plenty of hype. He's as good a running back recruit as there was in the country. In his two months in Tallahassee, he has done little to change anyone's mind. He's already added some good weight, has flashed impressive speed and looks right at home in Florida State's backfield. That's a good sign considering the number of carries up for grabs this spring.
Devonta Freeman
and
James Wilder Jr
. combined for 254 rushing attempts in 2013, and while a significant portion of those might be chewed up by
Karlos Williams
, Cook could be in line for the lion's share of the No. 2 tailback duties. He's the new face this spring, but
Ryan Green
and
Mario Pender
come with their own share of questions, and both have struggled at times with blitz pickup and decision-making. Cook could easily leap past the veterans with a strong spring, and all initial reports are that he's poised to make an instant impression.
Cook won't likely shine in scrimmage or the spring game, though. FSU has made a point of putting young running backs through the ringer in short-yardage drills during spring practice. As the team looks to develop young leaders, Cook will be given a chance to prove he belongs.
February, 24, 2014
2/24/14
11:00
AM ET
Spring practice is just a few weeks away for Florida State, and while the defending national champs return plenty of talent to make another run at a title, there are still some big question marks looming as the Seminoles begin work on the 2014 season. With that in mind, we're looking at the five most intriguing players to watch this spring and projecting how they might fit into Jimbo Fisher's plans in the fall.
First up:
DT
Nile Lawrence-Stample
[+] Enlarge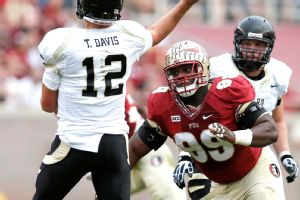 Don Juan Moore/Getty ImagesNile Lawrence-Stample will have every opportunity to secure a starting spot at defensive tackle during the spring.
Credentials:
Two years before arriving at Florida State, Lawrence-Stample was a middle linebacker for his high school team. He has come a long way, but he remains something of a work in progress. Through three seasons with the Seminoles, he has just 25 tackles to his credit, but a strong spring in 2013 earned him six starts at defensive tackle last season. He has shown the potential to be a disruptive force at the line of scrimmage.
How he fits:
With
Timmy Jernigan
off to the pros where he's widely expected to be a first round selection, Florida State has a major vacancy in the middle of the line. While there are a handful of solid candidates for the gig, none has more experience than Lawrence-Stample, and while his combination of size and athleticism might not rival Jernigan, Lawrence-Stample has plenty of talent to work with.
Competition:
Redshirt sophomore
Justin Shanks
, redshirt freshman
Keith Bryant
and oft-injured junior
Derrick Mitchell
will be Lawrence-Stample's main competition this spring, but none has any significant on-field experience, which could allow the veteran to pull well ahead on the depth chart. In the fall, however, a new push will come from a group of five incoming defensive tackles, led by
Demarcus Christmas
and
Derrick Nnadi
.
Outlook:
There's a lot to like about Lawrence-Stample, from his strong recruiting pedigree (he was an ESPN 150 player in 2011) to his work ethic in practice. Coaches raved about his progress last spring when he wrapped things up with four sacks and nine tackles in the Garnet & Gold game. But all that practice field success didn't translate into a big 2013 season. Expect Lawrence-Stample again to be a hot name this spring as he works to secure a full-time starting job, but questions will linger on whether he can translate those performances to game days in the fall. Replacing Jernigan is one of the biggest concerns for Florida State in 2014, and Lawrence-Stample's play this spring could help make it an easier transition.
February, 13, 2014
2/13/14
11:00
AM ET
The celebration of a BCS championship victory is in the rearview mirror for Florida State, and Jimbo Fisher,
Jameis Winston
and Co. have already turned their attention toward adding another trophy in 2014. So as Florida State preps for spring practice, we're digging into the biggest questions, position battles and storylines facing the defending national champs.
This week, we'll look at the five position groups with the biggest question marks looming in advance of spring practice.
Previously, we reviewed the
running backs,
linebackers and
wide receivers
.
Next up:
Defensive line
Projected starters:
Mario Edwards Jr.
(Jr.),
Eddie Goldman
(Jr.),
Nile Lawrence-Stample
(RSJr.)
[+] Enlarge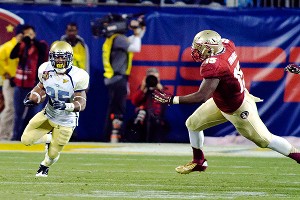 Jeremy Brevard/USA TODAY SportsFSU's Mario Edwards Jr. has been a solid player, but he needs to take the next step and become a star.
Edwards and Goldman arrived in the Class of 2012 as two of the top-10 recruits in the nation, and they've both managed to make their marks already at Florida State. But while both have been solid performers thus far, 2014 marks a turning point when Goldman and Edwards need to take the next step forward and blossom into stars. The loss of
Timmy Jernigan
on the line is a major blow, and while Lawrence-Stample showed promise in 2013 and figures to be the next man up, a big chunk of Jernigan's lost production will need to be filled by Edwards and Goldman this season.
Strength in numbers:
Desmond Hollin
(Sr.),
Derrick Mitchell
(RSJr.),
Chris Casher
(RSSo.),
DeMarcus Walker
(So.),
Justin Shanks
(RSSo.),
Keith Bryant
(RSFr.)
Florida State sent five defensive linemen to the NFL in 2013 and projects to add a couple more in this year's draft, and while that's an impressive array of talent coming from one place, it's also sapped some of the depth at the position. But if there's not a ton of veteran experience here, there's still ample talent. Casher showed signs of a bright future in a limited role in 2013, finishing with 25 tackles (5 for a loss) and two sacks. Walker started two games as a true freshman. Bryant is well regarded by the coaching staff and could push for regular playing time in the middle of the line, too.
New on the scene:
Demarcus Christmas
(Fr.),
Adam Torres
(Fr.),
Lorenzo Featherston
(Fr.),
Fredrick Jones
(Fr.),
Rick Leonard
(Fr.),
Derrick Nnadi
(Fr.),
Arthur Williams
(Fr.)
The 2014 signing class was a boon for Florida State on both sides of the line of scrimmage. On the D line, FSU added seven new players, and there's a legitimate possibility at least three or four could contribute immediately. That group is led by Christmas, who Fisher raved about, saying, "if he would've gone to more camps, he would be been the No. 1 or 2 player in the whole country." Featherston and Nnadi figure to be in the mix when fall camp opens, too.
What to watch:
While finding a replacement for Jernigan in the middle remains a top priority, FSU also will be looking to fill the hybrid role
Christian Jones
played throughout 2013, with Casher perhaps the top lineman in the mix. Edwards struggled with his weight throughout his first two years at Florida State, and now that he's being looked at as a veteran leader on the D, it will be interesting to see how prepared he is this spring. Goldman and Lawrence-Stample both need to take a big step forward this spring, too, but FSU may benefit the most from the continued development of reserves like Walker, Shanks and Bryant. If they don't earn the coaches' attention now, there's a massive group of freshmen on the way this summer who could steal plenty of playing time.
January, 31, 2014
1/31/14
11:30
AM ET
Last week, we previewed Florida State's
offensive depth chart for the spring
. This week, we'll dig into the defense.
The biggest question might be how similar the 2014 defensive scheme will look to 2013. Yes, promoting Charles Kelly certainly offers stability, but he's also likely to want to put his own stamp on the unit rather than offering a shot-for-shot remake of Jeremy Pruitt's system. With some significant transition in personnel and some major losses of talent, there's room to tinker this spring. Here's what we'll be watching:
Defensive line
[+] Enlarge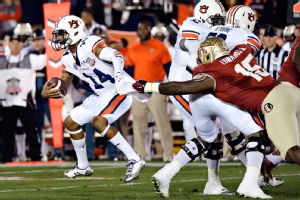 Richard Mackson/USA TODAY SportsExpect Mario Edwards to have a bigger hand in things this fall on the Florida State defensive line.
Projected starters:
Mario Edwards Jr.
(Jr.),
Nile Lawrence-Stample
(RSJr.),
Eddie Goldman
(Jr.)
Backups:
Desmond Hollin
(Sr.),
Chris Casher
(RSSo.),
DeMarcus Walker
(So.),
Derrick Mitchell
(RSJr.),
Keith Bryant
(RSFr.),
Justin Shanks
(RSSo.)
Storylines:
Replacing
Timmy Jernigan
is an impossible task, but expect plenty of hype for Lawrence-Stample this spring. He was one of Jimbo Fisher's favorites last spring, and he'll be counted on to step up even more this time around. The loss of
Christian Jones
as a hybrid rusher impacts the D line, too, and how Kelly plans to handle that role now should be interesting to watch. Edwards and Goldman are both five-star players with two years of experience under their belt, but now they'll be looked to as leaders -- both on and off the field.
Status:
B
If you want to include Jones as a defensive lineman, FSU is set to lose seven DLs to the NFL in a two-year span -- including two first-rounders in
Bjoern Werner
and, likely, Jernigan. That's sapped some depth from the position, but Goldman and Edwards are as good as any D-linemen in the ACC and there's plenty of talent behind them, too.
Linebacker
Projected starters:
Reggie Northrup
(Jr.),
Terrance Smith
(RSJr.),
Matthew Thomas
(So.)
Backups:
E.J. Levenberry
(So.),
Ro'Derrick Hoskins
(RSFr.),
Nigel Terrell
(RSSr.),
Ukeme Eligwe
(RSSo.),
Kain Daub
(Fr.)
Storylines:
Smith is the only lock for a starting job here -- and even that might depend on your definition of "lock." But while the unit is short on experience, it's high on talent. The battle to replace Jones in the hybrid LB/DE position should be an interesting one, with Thomas offering perhaps the most upside, but Casher and Eligwe certainly in the mix, too. Northrup is the most experienced option to replace
Telvin Smith
, and he's certainly capable of blossoming into a disruptive force, but Fisher raved about Levenberry throughout 2013, and that figures to be one of the more intriguing battles of spring camp. Add Daub to the mix as an early enrollee, and Kelly's biggest problem here might be figuring out how to get enough snaps for all his talented linebackers.
Status:
B
There's plenty of talent here, but it's impossible to replace the veteran savvy of Smith and Jones. By year's end, this should be a terrific group, but there's lots to be learned this spring.
Safety
[+] Enlarge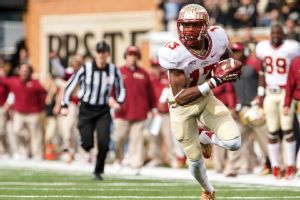 Jeremy McKnight/Icon SMISafety Jalen Ramsey will play a big role in the Seminoles secondary, which will be among the best in the nation.
Projected starters:
Jalen Ramsey
(So.),
Nate Andrews
(So.),
Tyler Hunter
(RSJr.)
Backups:
Lamarcus Brutus
(RSJr.),
Keelin Smith
(RSJr.), Tyrell Lyons (RSFr.)
Storylines:
Ramsey and Andrews were exceptional as true freshmen, but the job now is to build on that progress under a new position coach. There's little reason to believe that won't happen. The bigger question mark at the moment is the health of Hunter, who is recovering from a neck injury that nearly ended his career. He was the leader of the secondary last spring and summer, and his impact on a young group could be huge again in 2014.
Status:
A
Terrence Brooks
was always undervalued, and he'll be missed, but Hunter, Ramsey and Andrews projects as potentially the best trio of safeties in the nation.
Cornerback
Projected starters:
P.J. Williams
(Jr.),
Ronald Darby
(Jr.)
Backups:
Marquez White
(So.),
Nick Waisome
(Sr.),
Colin Blake
(RSSo.)
Storylines:
Losing
Lamarcus Joyner
is a big blow, but there's little to be concerned with here. Williams and Darby are both exceptional and figure to get even better in 2014. Darby was limited all season with a groin injury, so some downtime may be the priority for him. Waisome saw a ton of action in 2012 but largely disappeared in 2013. How he responds this spring might tell a lot about his future.
Status:
A
It says a lot about the work Fisher, Pruitt and Mark Stoops have done over the past few years that FSU can lose a player of Joyner's caliber and still likely have the best secondary -- and best pair of starting corners -- in the country.
June, 11, 2013
6/11/13
9:00
AM ET
Throughout the summer, Nole Nation will be
counting down the 40 players
we're projecting to make the biggest impact on the Seminoles' 2013 season, taking into consideration everything from experience to potential to their spot on the current depth chart.
Next up:
No. 39 Nile Lawrence-Stample
Position/Class:
Defensive tackle/redshirt sophomore
What he's done:
After redshirting in 2011, Lawrence-Stample showed flashes of his potential in 2012. A victim of a numbers game as much as anything, he played in just eight games and recorded 10 tackles -- including a career-high four against Boston College. But all that time in the shadows of his more established teammates on the interior line only served to hide the progress he was making. Lawrence-Stample enjoyed a breakout performance in FSU's spring game, recording nine tackles, including four for a loss.
Where he's at:
All those big numbers from FSU's spring game certainly managed to open some eyes within the fan base, but it's still a question as to how much it helped Lawrence-Stample climb his way up the depth chart. He remains solidly behind more established veterans such as
Timmy Jernigan
and
Demonte McAllister
, and he has ample competition from youngsters such as
Eddie Goldman
and
Derrick Mitchell
. But Lawrence-Stample's spring at least opens the door to a more intriguing fall camp.
What's to come:
The numbers still don't favor Lawrence-Stample taking a major step forward in 2013, as Florida State is well stocked at defensive tackle. But while was destined for the margins of the Seminoles' roster in 2012, this year he's shown he can play his way into a larger role. At the conclusion of spring, Jimbo Fisher raved that no defensive lineman had made more progress than Lawrence-Stample, and if that trend continues into the fall, new defensive coordinator Jeremy Pruitt will find playing time for him regardless of how much talent surrounds him on the depth chart.
May, 8, 2013
5/08/13
9:00
AM ET
When summer workouts began a year ago, players like Menelik Watson,
Demonte McAllister
and
Nick Waisome
were flying under the radar with little in the way of expectations. By season's end, however, they were among Florida State's most productive players.
It happens every year that a few relatively obscure names find their way into bigger roles, and as the Seminoles get set to start another summer NoleNation is counting down five under-the-radar players who could be in line for breakthrough seasons.
Next up: Nile Lawrence-Stample
Career arc:
A well-regarded recruit, Lawrence-Stample played just one season at defensive tackle in high school. That translated to a slightly steeper learning curve upon arrival at FSU. He redshirted as a true freshman in 2011, and he saw extremely limited playing time in 2012, recording 10 tackles for the season.
Why he's overlooked:
Despite losing its two starters, Florida State is still deep at defensive tackle. McAllister and
Timmy Jernigan
are veterans with solid seasons already under their belt, and they figure to step into starting roles in 2013. Meanwhile, senior
Jacobbi McDaniel
returns from an injury and highly touted sophomore
Eddie Goldman
looks to take the next step in his career, pushing both Lawrence-Stample and fellow sophomore
Derrick Mitchell
to the back of the pack.
Why he'll produce:
Earning playing time may still be an uphill battle at a crowded position, but Jimbo Fisher was effusive in his praise of Lawrence-Stample following an impressive spring game performance in which he recorded three sacks. Fisher said no player on FSU's defense improved more over the course of the spring, and at 315 pounds, he could be a force in the middle of the defensive line if an opportunity arises.
Projection:
With so much talent surrounding him, it's tough to project a significant role for Lawrence-Stample at the moment, but both Jernigan and McAllister missed significant time this spring with injuries, and Mitchell and McDaniel both have problematic injury histories, too. It's not an ideal way to earn playing time, but as the Seminoles learned at defensive end a year ago, depth on the line is tested often, and Lawrence-Stample's progress in Year 3 offers plenty of reason for optimism.
February, 14, 2013
2/14/13
11:00
AM ET
By
David M. Hale & Corey Dowlar
| ESPN Insider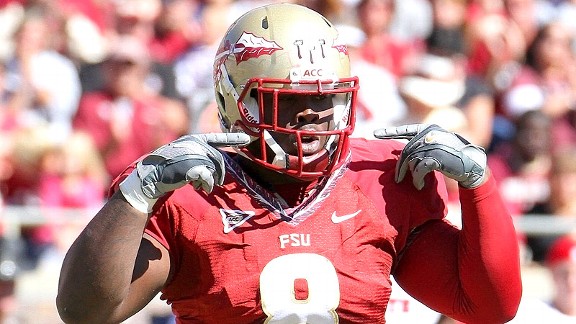 AP Photo/Don Juan MooreTimmy Jernigan should be one of the ACC's elite defenders in 2013.
When it comes to recruiting, coaches need to be thinking long-term. It's not just about which holes must be filled immediately, but rather where the needs might be in two or three more years.

With that in mind, NoleNation writers David Hale and Corey Dowlar are going position by position, looking at what FSU has on its roster now, and who might provide reinforcements down the line, projecting starters and evaluating the depth through 2015.
Up next, a position that will see plenty of turnover in 2013: Defensive tackle.
February, 14, 2013
2/14/13
7:00
AM ET
With national signing day now beyond us, NoleNation takes a closer look at the next crop of Seminoles.
Vitals:
Defensive tackle
Keith Bryant
(Delray Beach, Fla./Atlantic), 6-foot-2, 292 pounds
To continue reading this article you must be an Insider
October, 11, 2012
10/11/12
7:19
PM ET
TALLAHASSEE, Fla. -- The halftime speech at NC State was similar to many Jimbo Fisher has given. He pushed his team to come out strong, to drive a dagger through the hearts of the Wolfpack.
[+] Enlarge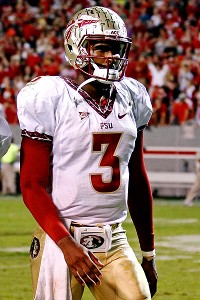 AP Photo/Gerry Broome)EJ Manuel likely saw his Heisman candidacy -- and FSU's national title hopes -- disappear.
Of course, that didn't happen.
But Florida State's slow starts to the second half aren't entirely new. While the Seminoles have been decent enough in the second half, the opening drives of the third quarter have been problematic.
Florida State has received the second-half kickoff in each of its last four games, and it has punted on all four occasions.
"I don't know what can be changed,"
EJ Manuel
said. "Maybe we come out with some different types of plays, something to get our juices following, get us back moving and gets us back into a rhythm."
Manuel's call for more of an up-tempo approach is reasonable. Of the 16 plays FSU has run on its opening drives of the second half in the last four games, seven were runs. Those plays netted a total of 4 yards, with none going for more than 3.
But the passing game hasn't been significantly better. Manuel has completed just 4 of 9 throws for 40 yards -- the longest a 13-yard reception.
August, 6, 2012
8/06/12
3:23
PM ET
TALLAHASSEE, Fla. --
Rashad Greene
will be on the practice field this afternoon as Florida State opens fall camp, but he won't be at full speed for another week after undergoing an appendectomy two weeks ago.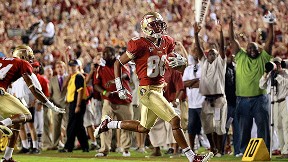 Ronald Martinez/Getty ImagesSophomore receiver Rashad Greene led Florida State last season with 38 catches for 596 yards.
The sophomore receiver was home in Albany, Ga. when he was began experiencing symptoms of appendicitis and was taken to the hospital, head coach Jimbo Fisher said. The appendix never ruptured, so doctors were able to remove it without invasive surgery, and Greene's recovery figures to be brief.
Fisher said Greene, who led Florida State in receiving last season despite missing four games, has been training for the past week after taking a week off from workouts.
"We're going (to be) precautionary ourselves the first week to make sure we don't overload him," Fisher said. "But he's at 70, 75 percent. Two or three practices, maybe a week -- he should be going."
Other notable injuries still lingering from this offseason:
Goodell Has Sit-Down With Jameis Winston
ACC SCOREBOARD
Thursday, 9/3
Saturday, 9/5
Monday, 9/7