Florida State Seminoles:

David Amerson
August, 15, 2013
8/15/13
12:02
PM ET
October, 15, 2012
10/15/12
11:00
AM ET
The ACC has done it again.
From hope to heartache in a matter of weeks, ACC fans and their teams have run the gamut of emotions in the first half of the season.
The conference started out strong with a nationally televised showdown between top-10 teams Florida State and Clemson. It was prime-time entertainment with ESPN's "College GameDay" crew in Tallahassee, Fla., and both teams lived up to the billing and looked worthy of their preseason hype and rankings. The conference puffed out its chest even more with the news that Notre Dame would commit to playing five games against the ACC annually, a solid steppingstone to the Irish possibly joining the conference full-time one day.
[+] Enlarge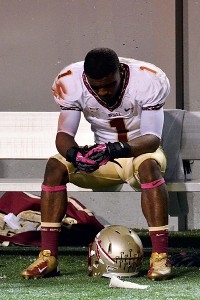 Rob Kinnan/US PresswireFlorida State's stunning loss at NC State not only hurt Seminoles receiver Kelvin Benjamin, it resonated throughout the ACC, depriving the league of its best hope for a national champion.
For six weeks, the ACC had its national title contender in unbeaten and No. 3-ranked Florida State. It had its Heisman hopeful in FSU quarterback
EJ Manuel
. And it had enhanced its stability and reputation for the future with its partnership with Notre Dame.
And then came the crash.
What was pure bliss for NC State in Week 6 was devastating to the ACC. In stunning, dramatic fashion, NC State quarterback
Mike Glennon
completed three fourth-down passes in the final drive of the fourth quarter, leading the Pack to a 17-16 upset of Florida State. Instantaneously, the league faded back into irrelevance in the national picture. No longer could the ACC mask an otherwise abysmal season with its top-five team.
Suddenly, the rest of the ACC's warts seemed uglier.
Georgia Tech fired its defensive coordinator, Al Groh. After coming up short in losses to two Big East teams, Bud Foster's Virginia Tech defense allowed North Carolina to score more points -- 48 -- than any other ACC team has ever scored against the Hokies. Boston College lost to a previously winless Army team, further indicating this could be Frank Spaziani's last season as head coach. Wake Forest suspended six players for its game at Maryland and two more the following week. Two of the league's brightest stars -- NC State cornerback
David Amerson
and Clemson receiver
Sammy Watkins
-- have yet to shine like they did a year ago, but two rookies -- Maryland's
Stefon Diggs
and Miami's
Duke Johnson
-- emerged as household names in ACC country.
With Duke and Miami briefly leading the Coastal Division standings, and Maryland atop the Atlantic Division standings, the ACC was officially turned upside down in the first half of the season. Preseason Coastal favorite Virginia Tech was out of the Top 25 by Week 3 and Georgia Tech sank into a four-loss crater, leaving the door wide open. The Blue Devils knocked it down with a 5-1 start, and the wildly unpredictable Cardiac Canes elbowed their way to the top of the division standings. Miami overcame its youth, and Duke found a way to overcome numerous injuries -- including ones to several key starters on defense and also to starting quarterback
Sean Renfree
-- for its best start since 1994. Duke entered Week 7 with the best record in the state of North Carolina, but couldn't hold onto the magic and was shut out for the final three quarters of a 41-20 loss at Virginia Tech. Meanwhile, the postseason-ineligible Tar Heels looked like the most complete team in the division.
Four teams in the Coastal Division have one league loss. Maryland is the only ACC team still undefeated in conference play. About the only predictable thing in this conference is its unpredictability -- and its failure to maintain a national title contender through November.
Offensive MVP: Clemson WR DeAndre Hopkins.
Hopkins needed only the season opener to set the Clemson single-game record for receptions with 13 against Auburn. Hopkins has been near the ACC lead in receiving yards per game all season, and has a 129.5 average entering the game with Virginia Tech. He has 370 receiving yards on 18 catches in the past two games and was leading the nation in total receiving yards entering games of Oct. 13.
Defensive MVP: FSU DE Bjoern Werner:
Werner has looked like a pro this season. Nobody had more sacks in the opening weekend of FBS college football, and he has been relentless in pursuit of opposing quarterbacks. Of Werner's 21 tackles on the season, 10 are tackles for loss, including 6.5 sacks.
Biggest surprise: Duke.
The Blue Devils' 5-1 start was their best since 1994, also the last time the program went to a bowl game. Duke started out 2-0 in ACC play with wins against Wake Forest and Virginia. That the team was able to overcome so many injuries to key players and leap Virginia Tech in the Coastal Division standings was evidence the recruiting and depth have improved significantly.
Biggest disappointment: Virginia Tech.
The Hokies were ranked No. 16 in The Associated Press Top 25 preseason poll, but fell out entirely after an embarrassing road loss to Pitt in Week 3. Instead of that being an anomaly, Virginia Tech went 0-2 against the Big East and lost back-to-back games against Cincinnati and North Carolina. With eight starters having to be replaced on offense, struggles were expected, but the defense fell far below expectations.
Best game: Florida State at NC State.
This one changed the entire season, and it couldn't have come in more thrilling fashion. On fourth down with 16 seconds left, Mike Glennon threw what would be the game-winning 2-yard touchdown pass to
Bryan Underwood
for the 17-16 win. It was the highest-ranked opponent NC State has defeated since beating No. 2 Florida State 24-7 in 1998, and it opened up the Atlantic Division race.
Newcomer of the year: Maryland wide receiver Stefon Diggs.
He became the only Maryland freshman to record back-to-back 100-yard receiving games since at least 1985, and one of those performances came against West Virginia. Diggs is the only player in the ACC, and one of two nationally, with 350 receiving yards, 150 punt return yards and 150 kickoff return yards (joining
Bernard Reedy
of Toledo). Diggs leads the ACC and ranks third nationally with 21.5 yards per catch.
Best coach: David Cutcliffe, Duke:
He kept his players believing, and the program turned the corner in his fifth season. It is only the third Duke start of 5-1 or better in the past 30 years (5-1 in 2012; 6-0 in 1994; 5-1 in 1988). With home wins against FIU, N.C. Central, Memphis and Virginia this season, the Blue Devils also have opened the year with four consecutive home wins for the first time since 1994.
October, 5, 2012
10/05/12
9:00
AM ET
TALLAHASSEE, Fla. -- It's something of a perfect storm for NC State coach Tom O'Brien.
Looming on the horizon is Florida State's vaunted defensive line, which through five games has a conference-best 15 sacks, led by
Bjoern Werner
and the reigning ACC defensive lineman of the week,
Cornellius Carradine
.
O'Brien's offensive line, meanwhile, is in turmoil. The unit has allowed 16 sacks this season, the most in the ACC, and will line up Saturday without three of its starters.
Add a traditional pocket passer like Wolfpack QB
Mike Glennon
, with the lingering memories of last year's 34-0 shutout at the hands of FSU, and it's a scenario that should give any coach nightmares.
"The problem we have right now is that we're starting our fifth offensive line in six games," O'Brien said. "We only have one guy that we came into the season with [as a starter]. That's definitely going to be a concern against this great front of Florida State."
Of course, Florida State has some concerns of its own.
October, 3, 2012
10/03/12
1:09
PM ET
Florida State heads on the road to face a reeling N.C. State team that just dropped a heartbreaker to Miami. The Wolfpack are reshuffling their offensive line, trying to find answers for a defense that has been torched by the Hurricanes and Tennessee this season, and still haunted by the memories of last year's 34-0 loss to Florida State.
So, how is NC State planning on staying competitive this year? For some insight, we checked in with David Morrison, who covers the Wolfpack for the Greensboro News & Record.
NoleNation: Jimbo Fisher and EJ Manuel both rave about how talented Mike Glennon is, but he didn't find much success against FSU a year ago. What has Glennon said about last year's meeting, and how's he planning on improving this time around?
David Morrison:
Glennon has said that FSU is the fastest team he's ever faced, before or since. To the point where he wasn't really prepared last year for that speed. He said he'll have a better idea of how much time he'll have to throw this year before the rush gets to him.
NN: David Amerson got plenty of hype after recording 13 INTs last year, but he's been picked on routinely this year, including a pretty bad performance last week against Miami. What's been the difference for Amerson?
Morrison:
Amerson's a very intuitive player that makes his living guessing and jumping routes. When he's right, he comes up with interceptions. When he's wrong, he gets torched. He's been wrong much more often this year and has yet to compensate in his aggressiveness.
NN: Speaking of that Miami game, from a defensive standpoint it was pretty much a disaster for N.C. State. How much do you think the Wolfpack will be looking to tweak from a technical standpoint this week, and what did the outcome do to the team from an emotional standpoint?
Morrison:
It'd be a mistake to change too much schematically in the week leading up to the toughest game of the year. From an emotional standpoint, it has to wear on the defense that, in both of State's losses this year, it has gotten shredded. Saturday's loss bothered the teams' captains enough to call a players only meeting Sunday to make sure everyone is on the same page.
NN: Amerson's flair for INTs was a big help last year, but this season it's been N.C. State's penchant for giving the ball away that has been front and center. Through five games, Glennon has six INTs and the team has seven fumbles lost (and another seven they put on the ground but managed to hang on to). How big of a focus have the turnovers been, particularly going against a defense like FSU's this week?
Morrison:
It's got to be a big emphasis, especially after giving the ball up six times to Miami. Cutting down on mistakes, in general, seems to be the focal point this week. The Wolfpack had an uncharacteristically high amount of penalties and turnovers last week and were still in it. Things could get ugly if Saturday's a repeat of that.
NN: Given what you've seen of N.C. State so far, what do you think are the two or three biggest keys to the Wolfpack pulling the upset?
Morrison:
First, find a way for the piecemeal offensive line to give Glennon enough time against a scary front. Second, keep Manuel in the pocket, because bad things happened when Stephen Morris broke contain. Third, find some way to negate the sizable speed advantage the Seminoles enjoy. Good luck with all three...
A big thanks to David for all the insight. You can read more of his N.C. State coverage
HERE
or follow him on Twitter at
@DavidCMorrison
.
October, 2, 2012
10/02/12
7:42
PM ET
TALLAHASSEE, Fla. -- A week earlier, Jimbo Fisher suggested his punt returner needed to do a better job of ignoring defenders as he fielded a catch. Fisher just didn't expect the defense to be quite so aggressive with
Rashad Greene
in his next game.
[+] Enlarge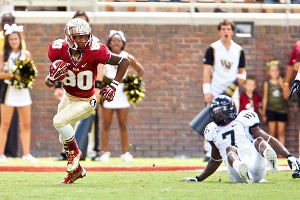 Cal Sport Media via AP ImagesRashad Greene has returned two punts for touchdowns, but his fumble issues have opposiing teams bending the rules to fluster him.
USF's punt coverage unit held Greene without a return, but the Bulls still pressured Greene on each of his fair catches, with defenders setting up just a step or two from Greene as he secured the ball.
"I thought there had to be some room," Fisher said. "But he made some nice [catches], and they were right up on him."
Fisher suggested he might check in with the league for a clarification on how close defenders could be when a player signals for a fair catch -- it was an ACC officiating crew against USF last week -- but also said Florida State may try to pressure returners more now, too.
"We're going to have to do some of that," Fisher said.
Whether or not USF worked the periphery of the rule book was less significant than the job Greene did of avoiding distractions.
After fumbling two punts earlier this season, Fisher made a point of grilling his sophomore on the importance of making a clean catch -- no matter how tight the defense plays him.
"I was more focused on my technique, keeping my nose on the ball, catching the ball first," Greene said. "It doesn't bother me. I'm getting more comfortable catching the ball with defenders around me in traffic."
Greene said he felt USF pushed the envelope in coverage, too, and Saturday's game marked the first time FSU was held without a punt return in more than a year. Still, the lack of negative plays was progress.
"He kept his elbows in, and he was very smooth with it, too," Fisher said of Greene. "His body wasn't out of whack, got squared up on the ball, read the nose of the ball very well and got his angle very well."
August, 30, 2012
8/30/12
10:15
AM ET
With all 12 teams playing in Week 1, including two conference games, there will be plenty to watch in the ACC, from Friday through Labor Day. Here are 10 things to keep an eye on, in no particular order:
1. NC State's secondary vs. Tennessee quarterback Tyler Bray.
The Pack will be without starting cornerback
C.J. Wilson
, who has an "eligibility issue," according to coach Tom O'Brien, but All-American
David Amerson
returns to help the Pack against Bray. Despite missing five games last season with a fractured thumb, Bray threw for 1,983 yards and 17 touchdowns.
2. Clemson in the trenches.
Much of the focus leading up to the Auburn game has been on how Clemson will survive without suspended leading receiver
Sammy Watkins
, but more important is how Clemson will fare up front, on both the offensive and defensive lines. Depth on the offensive line remains a concern, and overall, Clemson had to replace six starters up front from last season.
3. True freshmen in College Park and Chestnut Hill.
Maryland and Miami both will be depending heavily on true freshmen in their season openers. The Terps will have true freshman
Perry Hills
starting at quarterback, are likely to use two freshman running backs and will use receiver
Stefon Diggs
in several roles. Miami has more than a dozen freshmen in its two-deep.
[+] Enlarge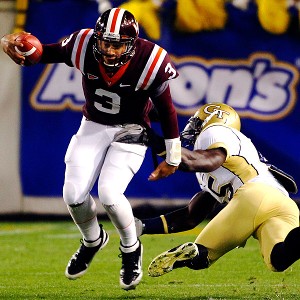 AP Photo/John BazemoreGeorgia Tech's Jeremiah Attaochu gets another chance to bring down Virginia Tech QB Logan Thomas this weekend.
4. Special teams in Blacksburg.
Georgia Tech's group was abysmal last season, but the Jackets hired special-teams coach Dave Walkosky, the first special-teams coach Paul Johnson has hired during his tenure in Atlanta. The Hokies are trying to get Beamerball back, but questions in the kicking game persisted through summer camp.
5. Jeremiah Attaochu vs. Logan Thomas, Part 2.
In this game last season, Attaochu was about to complete a third-down sack of Thomas but couldn't bring the lumberjack down. Attaochu let his frustration and adrenaline get the better of him, and took a swing at Thomas, drawing a personal foul. The two have been friendly since, but getting pressure on Thomas will be key in this game.
6. Florida State's offensive line.
If there is one reason not to snooze on the Murray State game, this is it. The Seminoles showed a lot of progress up front this offseason, but they must continue it if FSU is going to live up to the expectations this season.
7. ACC vs. SEC.
The ACC hasn't had a winning record against the SEC since it went 5-4 in 2003. The ACC could help itself change that this weekend with a 2-0 start against the SEC with victories by NC State and Clemson in the Chick-fil-A Kickoff.
8. North Carolina's tempo.
We finally get to see the "Fed Spread" in Chapel Hill, as UNC will unveil its new up-tempo spread offense under first-year coach Larry Fedora. How many more plays will the Tar Heels be able to run, and how well will they execute them? Bottom line: How fast can this team score? Time of possession could be deceiving.
9. Duke's backups.
The Blue Devils will be missing about a dozen injured scholarship players against Florida International, including receiver
Blair Holliday
, tight end
Braxton Deaver
, defensive tackle
Jamal Bruce
, safety
Jordon Byas
and linebacker
Kelby Brown
.
10. Virginia's revamped secondary.
UVa has no seniors in its secondary after having three senior starters last season. Only three other schools (Florida State, LSU and North Texas) have a senior-less secondary. More specifically, there are no upper-classmen at the cornerback position. Sophomore
Demetrious Nicholson
is now the elder statesman of the group.
August, 21, 2012
8/21/12
2:30
PM ET
Florida State is the popular choice to win the ACC, so it comes as little surprise to see ESPN college football analyst Kirk Herbstreit go with the Seminoles as his choice as well.
Herbstreit unveils his Herbie Awards tonight at 7 on ESPN but we got a little
sneak peek
this afternoon. There are plenty of ACC players featured prominently.
Virginia Tech quarterback
Logan Thomas
is Herbstreit's choice to win ACC player of the year; and Thomas is also listed as the No. 1 dual-threat quarterback. A Florida State duo makes the list for game-changing defensive ends:
Brandon Jenkins
is ranked No. 2, while
Bjoern Werner
is ranked No. 5.
Kevin Reddick
, set for a more productive year getting after the quarterback at North Carolina, is Herbstreit's top choice at inside linebacker. No surprise here: NC State's
David Amerson
tops the list of cornerbacks, with
Xavier Rhodes
of Florida State right behind at No. 2. Though folks in ACC country know all about Amerson, Herbstreit ranks him as the No. 1 player in the country in search of more respect. Werner checks in at No. 5 in that category, also known as "Rodney Dangerfields."
Clemson's
Sammy Watkins
checks in at No. 4 among the most exciting players in the nation.
How about a best kept secret? North Carolina running back
Giovani Bernard
ranks No. 2 in the category. Virginia Tech's
Kyle Fuller
leads the way on the "Don't Turn your Back: Backyard Football" list. Virginia Tech running back
Michael Holmes
is also No. 3 in the "Ahead of the Curve" category.
And who made the All-Herbie team? Thomas is on at quarterback; Rhodes and Fuller at cornerback; and Virginia's
Oday Aboushi
at tackle.
July, 14, 2012
7/14/12
7:34
AM ET
Looking forward to real, live football, NoleNation takes a run through Florida State's 2012 schedule, going game-by-game to find the best storylines and matchups of the upcoming season.
North Carolina State Wolfpack
Saturday, Oct. 6:
Carter-Finley Stadium, Raleigh, N.C.
2011 record:
8-5 (4-4 in ACC). After dropping their first three FBS games of the season, N.C. State rebounded to finish out its slate by winning six of their last eight, including a bowl victory over Louisville. But that hot finish was marred by a drubbing at the hands of the Seminoles in Tallahassee, the Wolfpack's worst loss of the season.
Coach:
Tom O'Brien (sixth season, 33-30)
Goodell Has Sit-Down With Jameis Winston
ACC SCOREBOARD
Thursday, 9/3
Saturday, 9/5
Monday, 9/7