Florida State Seminoles:

Daryl Gross
May, 12, 2014
5/12/14
9:00
AM ET
The ACC opens its spring meetings today with critical decisions to be made about its future. And we are not just
talking about scheduling
.
Divisional structure, potential changes to the championship game and more discussion about a possible ACC Network are all on the table as league athletic directors, coaches and administrators gather in Amelia Island, Florida, for the next four days.
Each topic is carefully interlaced and fraught with its own complicated issues. No decision about one can be made without impacting another. Just as an example: Any new information on a possible ACC Network could end up determining whether the league stays with an eight-game or moves to a nine-game conference schedule. Then that decision could ultimately determine what the ACC does with its division and championship game format.
"It's like dumping out a Lego set and trying to piece it all together and do it right," Syracuse athletic director Daryl Gross said. "And it's not as simple as red goes with red, yellow goes with yellow. It's a little more complex. But all these things are such good, challenging things to look at. It's exciting, the discussions are really exciting right now because there are so many creative things that can happen out of all this."
[+] Enlarge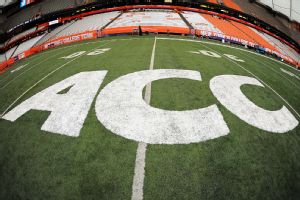 Rich Barnes/CSM/AP ImagesThe Atlantic Coast Conference begins spring meetings on Monday that will last through Thursday.
As it stands today, there is no clear consensus among athletic directors on what will best position the league moving forward into the College Football Playoff era. Because of that, nobody inside the league knows whether a vote on future scheduling will even happen when the meetings conclude Thursday. Considering the ACC is the last conference to determine what its future conference schedule will be, what happens here will be watched much more closely.
While there does seem to be more movement toward a nine-game schedule among the athletic directors than there was last year,
the league does not yet
have a simple majority in favor of adding another conference game.
There also is very little traction for changing the division format or championship game setup -- even though the
ACC petitioned the NCAA
to be granted the flexibility to determine its title game participants.
In interviews ESPN.com conducted with all 14 athletic directors leading up to the meetings, none were in favor of rearranging divisions. Nine were opposed to getting rid of divisions entirely, four remain undecided and one had no preference. Clemson athletic director Dan Radakovich, in the undecided camp, wants an answer on league scheduling before moving forward to the division and championship game discussion.
He agrees, however, with the decision to petition the NCAA to change title game legislation.
"Depending upon where the conversation goes with the eight versus nine games, I think that the lineup, whether it is 1-14, whether it's two seven-team divisions, whether the divisions are the same as they currently are, I think will be a totally separate discussion," Radakovich said. "But first, we have to make that other decision on the eight or nine games."
Getting rid of divisions altogether would relieve some of the headaches that go along with the current eight-game scheduling model, which features only one rotating crossover opponent. That has drawn criticism from both coaches and athletic directors who do not want to go as long as eight years between games against conference opponents.
Without divisions, teams could rotate through a cycle that would allow student-athletes to play every conference team at least once in their careers. But it could also mean getting rid of permanent crossover rivalries like Miami-Florida State, North Carolina-NC State and Duke-Wake Forest. And it could also mean chaos when it comes to determining who will play in the championship game.
[+] Enlarge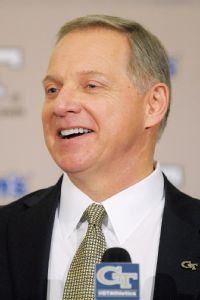 AP Photo/David TulisGeorgia Tech athletic director Mike Bobinski is satisfied with the current division setup in the ACC.
"You open up Pandora's box," Miami athletic director Blake James said. "At the end of the day you have two divisions that have shown over nine years they're very equitable. The Atlantic has won five, the Coastal has won four. That's the best way to determine who's in the championship game."
Only two athletic directors are in favor of the top two teams in the league playing in the title game, while five remain undecided on the format. If the goal of the pending NCAA legislation is ultimately for the ACC to try to get its two top teams in the championship game to improve its stature and bump up strength of schedule, there are perils that go along with that, too.
"What's the best way to make sure we have a team in that four-team playoff?" Georgia Tech athletic director Mike Bobinski said. "Obviously, multiple teams would be awesome, but if you really want them playing each other in that last week of the season, I'm not sure that's the best setup for having teams advance into that playoff. It's served us reasonably well.
"I would tell you that I'm OK with the flexibility and the possibility to rethink it in different ways, but I'm not sold sitting here today that we need to do it differently."
Over the past several months, the ACC has sent so many scheduling and championship game models to athletic directors to study, there are literally too many to count. Newer athletic directors like Brad Bates at Boston College and Whit Babcock at Virginia Tech remain undecided about what is best not only for their programs but the ACC in general.
Therein lies some more of the complexities. How do all these athletic directors put aside self interests to vote for what is in the best interest of the league?
"You can make compelling arguments for a lot of different models," Bates said. "Different institutions are going to look at the different models in ways that best impact each of us selfishly, but at the same time, we have to look at everything holistically and see how it best impacts the league. And I think that's probably where the discussion rests right now."
More discussion will follow over the next few days. But will it be enough to change minds?
"It's not a real simple solution," Babcock said. "That's why there wasn't anywhere near a unanimous thought process during our winter meetings, so it got pushed off. I'm not sure it will be any easier to solve in May than it was in January."
May, 2, 2014
5/02/14
12:00
PM ET
May, 1, 2014
5/01/14
12:00
PM ET
Get it all out of your system yesterday, Twitter?
January, 17, 2014
1/17/14
4:00
PM ET
Step into my (unusually chilly) office ...
James Hanson in Tallahassee, Fla., writes:
Does Auburn
stealing FSU's signals
change the way we view the BCS championship game? When comparing the scores of before the towels went up to after ... there is a huge difference. Maybe this team was much better than thought.
Andrea Adelson:
It doesn't change my view. Florida State should have probably predicted Auburn would try and do something like this with former assistant Dameyune Craig on the Tigers' sideline. I give credit to Auburn for doing what it had to do to try and win the game.
[+] Enlarge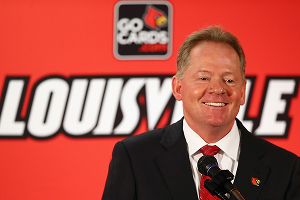 Andy Lyons/Getty ImagesOnly time will tell if Louisville coach Bobby Petrino has truly changed.
Luke in Louisville writes:
Hey Andrea, Nice to be back in the same mailbag as you. I was wondering if you could try a not wholly pessimistic review of the Petrino hire? Perhaps you could, instead of portraying him as a cartoon villain, single-dimensional and unchanging, characterize him as a multi-dimensional human being capable of both making mistakes and correcting them? Or is it basically the ESPN line? I noticed that Mark Schlabach and the Grantland writer have also written essentially the same piece. And note: I'm not dissing you --
your piece
as usual was solid; I'm just curious if anyone's given any consideration to the possibility of change.
Adelson writes:
Nice to see you again, Luke. If you are implying that ESPN has dispersed an email giving us talking points about the Petrino hire, I have to laugh. My thoughts are mine alone, same goes for Schlabach and everybody else who has written on this subject. I would love to believe every single thing Petrino said during his press conference. If he stays for 10 years and retires a Cardinal, that would be a great time to praise him for truly being a changed man who recognized his terrible mistakes and went about fixing them not just for himself, but for his family and his players first and foremost. Until then, I have to remain skeptical about a coach who has left behind a long trail of deceit. I do wish him luck, and I do hope he has changed. If he has, then I look forward to being proven wrong.
Matt in Winston-Salem writes:
AA, looking at some of the Commissioner's
comments about scheduling
led me to believe that A) FSU is griping that the Atlantic is disproportionately tough, and B) that the conference is going to do whatever it can to protect FSU as we move into the playoff era. The schedules were just done! How else can you explain this sudden shift in thinking? Please don't refer me to that commish-speak, either. I have a simple solution for Mr. Swofford ... if he wants flexibility, add a conference game.
Adelson:
I don't think this has much at all to do with Florida State, actually. How would it protect Florida State to potentially make the ACC championship game more difficult with, say, a rematch against Clemson? I think this has more to do with griping from a lot of teams about going so long between playing games against cross-divisional opponents. Syracuse athletic director Daryl Gross made
very candid comments
to Swofford and the league's athletic directors in an email to that end, and suggested going back to the idea of adding a ninth league game and eliminating mandated rivalry games. I am not sure abolishing divisions will solve all the problems, but there are major scheduling problems this league will face moving forward that should be discussed.
Carla in Houston writes:
Just curious: How do you think the ACC will be viewed going into next year? Will the committee be impressed by a team doing well in-conference, or is the ACC still thought to be weak? On one hand we have Florida State, THE national champion! Boy it feels good to say that! The Seminoles were unstoppable this year and have a Heisman winner to prove it. Not to forget Clemson, who finally seemed to break its big-game curse! But the rest of the conference worries me. Virginia Tech underperforming yet again? Miami face-planting? Georgia Tech being unable to move the national radar for another year? We have Louisville coming in so that will be a plus, but even that might not be enough. I am worried the ACC will start being viewed as a top-heavy conference, where beating Florida State and Clemson is the *only* way a team can get respect. Thoughts?
Adelson:
You bring up an excellent point, Carla. The ACC already is viewed as a top heavy conference, one reinforced by the way the 2013 season ended. I wonder whether Florida State winning the national championship gives extra brownie points, though. Remember midway through this past season, Alabama and Oregon were thought to be better than Florida State when the three were unbeaten. Would that be different in 2014, with the Seminoles as defending champs? I think it would be different. But at the same time, the overall conference schedule will not be viewed as more difficult than the SEC or the Pac-12 based on the reasons you mentioned above. As Heather wrote Thursday, it is absolutely critical for the ACC moving forward to have
at least four Top 25 teams
WITH a "traditional" power like Miami and Virginia Tech in that group. I think an unbeaten ACC team would be in the top four for a playoff, but I can't make guarantees about the seeding. The ACC does remain behind the SEC, Pac-12 and Big 12 in overall conference strength, even with BCS wins from Florida State and Clemson.
Ricky in Tallahassee, Fla., writes:
Good Morning Andrea, FSU season ticket holder here. Please clarify for me the following regarding the new college football playoff. If the Seminoles go the distance and make it to the NC game again next year, will I now have to pay to travel to TWO bowl locations to see them play?! Sure, the distance to even the furthest assumed semifinal location (Orange Bowl) is "driveable" (6-8 hours from Tallahassee), but there's still gas, hotel, ticket, and incidentals to pay for. Then I'd have to turn around and do it again to see the NC game??? The trip to Pasadena this year was costly enough (roughly $2,000). I don't think the average fan or students can afford to do that twice in one season. Am I missing something or does it seem like the fans are getting the short end of the stick?
Adelson:
You forgot travel for the ACC championship game, Ricky. Sorry if this depresses you further. But if you are a fan who wants to see your team advance all the way in person, it will cost you more. Next season, semifinals will be held at the Rose Bowl in Pasadena, Calif., and the Sugar Bowl in New Orleans on Jan. 1. The national championship game is set for Arlington, Texas, on Jan. 12. Better start saving those pennies now if you want to hit the league title game-semifinal-national championship game trifecta. But I think tough decisions are going to await a lot of students and fans who simply cannot afford to go to all these games.
Tom in Santa Monica, Calif., writes:
As a Miami fan, I commend your
recent piece on Coach Al Golden
. The last two years have fielded the worst defensive units in the program's history. The numbers are horrific. ... The bloom is most definitely off the rose with this guy. He's made some notable improvements in terms of recruiting, strength & conditioning, and some aspects of the culture (though that has understandably dampened with all of the losing), but his game day woes continue and show no sign of abating. While at Miami, Golden is 0-9 against Top 25* teams (*teams that have ended the year ranked in the Top 25). And those contests haven't even been close -- we're losing them on an average of nearly 3 TDs a game. Outcoached and outplayed in every facet. His ShamWow infomercial talk has almost exhausted itself. He'll reel in a great class in February, and he'll continue to get a lot of mileage out of the NCAA situation (the "cloud" that wiped out his "time table"), but for those willing to look closer, as you have done with your article, Al Golden is looking more and more to be the wrong guy to return Miami to any place of actual relevance. Keep up the good work.
Adelson writes:
Thanks for your note, Tom. I am not writing Golden off yet. The defense has been abysmal, and I think staff changes were warranted. But he did get this team to nine wins this year, which should count as progress. At the same time, he needs to definitively prove he is closing the gap on Florida State and can deliver more than nine wins. He's on the clock.
December, 10, 2013
12/10/13
12:00
PM ET
Two ACC Heisman finalists. How about that?
December, 2, 2013
12/02/13
1:20
PM ET
Better a little late than never ...
November, 7, 2013
11/07/13
10:15
AM ET
Clemson and Georgia Tech have the weekend off. The other 12 ACC teams take the field for Week 11, which includes two nonconference contests, with one serving just
slightly
bigger than the other.
Here is what to keep an eye on as we enter the home stretch in the ACC:
1. FSU looks to avoid letdown:
The Seminoles have a lot to lose the rest of the way, starting Saturday in Winston-Salem, N.C., where they lost two years ago. It is telling, in a good way, that the word "adversity" has been thrown around so much in regard to Florida State's most recent contest. It was a 41-14 win against a previously undefeated and seventh-ranked Miami team. And its quarterback, despite whatever criticisms were lobbied his way, finished with an adjusted total QBR of 94.6, sixth best in the nation for the week. If this team ever got its act together …
2. Wake adjusts to life without Campanaro:
Wake Forest is without all-time leading receiver
Michael Campanaro
, probably for the season, after the redshirt senior broke his collarbone in a loss at Syracuse. Coach Jim Grobe was honest about how difficult things now are offensively without Campanaro, who, despite missing the first game of the season, had 67 catches -- or 52 more than
Jonathan Williams
and
Sherman Ragland III
, the Demon Deacons' next-highest catchers, with 15 apiece.
[+] Enlarge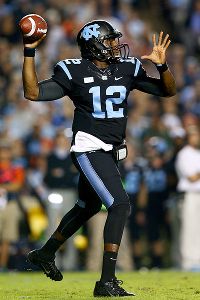 Streeter Lecka/Getty ImagesCan Marquise Williams lead North Carolina to a bowl game?
3. Marquise Williams' time at UNC:
Bryn Renner
's North Carolina career is over because of a detached labrum and fracture in his non-throwing shoulder suffered in a win over NC State. He had split plenty of time lately with Williams, who started the Virginia Tech game, but now it is the redshirt sophomore's chance to carry the Tar Heels to the postseason. They can inch a step closer toward with a win over Virginia that would make them 4-5. Williams has completed better than 60 percent of his passes this season for 537 yards with six touchdowns and three picks, adding 201 yards and a score on the ground.
4. C.J. Brown's return:
Maryland is on the brink of its first bowl berth under third-year coach Randy Edsall, and the expected return of its quarterback should provide a big boost against Syracuse.
Caleb Rowe
has been so-so in Brown's place as starter, going 1-2. Brown's return after a concussion and then a "trunk injury" cannot come at a better time for a Terrapins team that has dropped three of four, though he will have to adjust to a receiving corps that has been decimated by season-ending injuries to
Stefon Diggs
and
Deon Long
.
5. Terps honor former Cuse halfback:
Kudos to Maryland, which will pay tribute Saturday to Wilmeth Sidat-Singh, who was barred from the Syracuse-Maryland 1937 game because he was black. Orange players will wear No. 19 decals on their helmets in memory of Sidat-Singh, whose family will join both schools' athletic directors and Maryland pioneer Darryl Hill between the first and second quarters for an on-field tribute. Sidat-Singh had joined the Army after Pearl Harbor and was in the first graduating class of the group later known as Tuskegee Airmen. He was killed on a training flight in 1943 and is buried at Arlington National Cemetery.
6. Duke looks to finish strong:
Whether it is fair to criticize the Blue Devils' late-season slide last season, the fact remains that they went winless after clinching bowl eligibility in 2012. Things are different this time around, especially with a defense playing night and day from earlier this season and with the Coastal Division potentially up for grabs. Duke will need to keep its foot on the pedal as it comes off a historic win and a bye week to face a desperate NC State team that has dropped four straight and remains winless in ACC play.
7. Logan Thomas looks to rebound:
Virginia Tech's redshirt senior quarterback
was unusually defiant this week when speaking to reporters in Blacksburg, Va., about criticism that has come his way
. Thomas had appeared to turn a corner midseason but his turnovers woes have bubbled to the surface these last two weeks, as he threw four picks in a loss to Duke and threw two more, and lost two fumbles, in a loss at Boston College. Still, a strong performance at a Miami team coming off its first loss of the season could play the Hokies right back into the thick of things in the Coastal Division race.
8. Crawford, Miami look to rebound:
It's
Dallas Crawford
's time to step up, as the Hurricanes will turn to the redshirt sophomore first after losing
Duke Johnson
for the season. In looking to rebound from its loss No. 1 and maintain control of the Coastal Division, coach Al Golden said all three backs will probably see time in the first quarter Saturday against Virginia Tech. Crawford is expected to get the bulk of the carries after rushing for 294 yards and nine touchdowns so far this season.
9. ND-Pitt theatrics:
Will it be like the four-overtime game from 2008? The ugly 15-12 contest from 2011, a game that, fittingly, featured 666 total yards of offense? Or last year's triple-overtime near upset? When the Irish and Panthers take the field, craziness ensues, and who knows what awaits a prime-time audience at Heinz Field in a game featuring two banged-up teams.
10. Pitt's offense looks to get it together:
The Panthers defended the option well in recent weeks, holding Navy and Georgia Tech to 24 and 21 points, respectively. But the offense simply has to score points after breaking the 21-point plateau just once in its past five games, against Old Dominion (35). The run game in particular has struggled, tallying minus-5 yards last week against the Yellow Jackets, but the passing game could use some big plays as well.
March, 7, 2013
3/07/13
5:00
PM ET
Head coaching salaries have been on the rise for years. So have assistant coach salaries, sparking a further separation between the programs that can pay and the programs that cannot.
Therefore, it should come as no surprise that athletic directors have seen their salaries grow as well.

USA Today, which annually compiles head coaching salaries, recently found FBS athletic directors make
an average of $515,000
. That is an increase of more than 14 percent since USA Today last reported on AD salaries in 2011.
The ACC beats that average. Of the
available salaries compiled by USA Today
, ACC athletic directors were set to make an average of $602,829 in 2013. All but two made more than $500,000 -- Kevin Anderson at Maryland ($499,490), and Randy Spetman at Florida State ($350,00).
That doesn't count incoming Louisville athletic director Tom Jurich, who makes a cool $1.4 million -- the highest paid athletic director at a public school. Only nine athletic directors make $1 million or more. The next highest paid public school AD is Dan Radakovich at Clemson, checking in at $725,000.
Boston College and Miami, two private schools, did not disclose figures.
While Spetman's salary has remained the same for the past several years, it still surprises me that the athletic director at one of the most high-profile football programs in the nation is the lowest paid in his league. And one of the lowest paid in the entire state of Florida. Florida AD Jeremy Foley makes more than $1 million; USF AD Doug Woolard makes nearly $500,000; Todd Stansbury at UCF makes just a smidge more ($375,000); and FIU AD Pete Garcia makes $441,832.
I know Spetman has faced his share of criticism, and the Noles have fought through some financial problems. They do pay Jimbo Fisher $2.75 million -- the highest paid coach in the ACC. But something seems off when the ADs at FIU, UCF and USF make more than the guy at Florida State.
Here are is the complete list of AD salaries in the ACC, thanks to USA Today.
Tom Jurich, Louisville: $1.4 million*
Kevin White, Duke, $906,536
Dan Radakovich, Clemson: $725,000
Ron Wellman, Wake Forest: $688,000
Mike Bobinski, Georgia Tech: $625,000
Jim Weaver, Virginia Tech: $621,529
Steve Pederson, Pitt: $596,595
Craig Littlepage, Virginia: $586,750
Daryl Gross, Syracuse: $570,057
Bubba Cunningham, North Carolina: $565,000
Debbie Yow, NC State: $500,000
Kevin Anderson, Maryland: $499,490**
Randy Spetman, Florida State: $350,000
Brad Bates, Boston College: NA
Blake James, Miami: NA
*Louisville expected to join ACC in 2014
** Maryland will depart ACC in 2014
Goodell Has Sit-Down With Jameis Winston
ACC SCOREBOARD
Thursday, 9/3
Saturday, 9/5
Monday, 9/7