Florida State Seminoles:

Daniel Foose
February, 18, 2013
2/18/13
8:30
AM ET
By
NoleNation Staff
| ESPN Insider
When it comes to recruiting, coaches are always thinking long-term. It's not just about which holes must be filled immediately, but rather where the needs might be in two or three more years.
With that in mind, NoleNation writers David Hale and Corey Dowlar are going through each position, looking at what FSU has on its roster now, and who might provide reinforcements down the line, projecting starters and evaluating the depth through 2015.
Up next, a look at the interior of FSU's offensive line: Guards and centers.
Current scholarship Guards/Centers (11):
Tre Jackson
(Jr.),
Ruben Carter
(RSSo.),
Josue Matias
(Jr.), Daniel Foose (RSJr.),
Trey Pettis
(RSSo.), Garrett Faircloth (RSSr.),
Ira Denson
(Fr.),
Sterling Lovelady
(Jr.), Bryan Stork (Sr.),
Austin Barron
(Jr.),
Ryan Hoefeld
(Fr.)
To continue reading this article you must be an Insider
Insider
October, 11, 2012
10/11/12
7:19
PM ET
TALLAHASSEE, Fla. -- The halftime speech at NC State was similar to many Jimbo Fisher has given. He pushed his team to come out strong, to drive a dagger through the hearts of the Wolfpack.
[+] Enlarge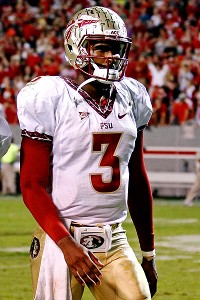 AP Photo/Gerry Broome)EJ Manuel likely saw his Heisman candidacy -- and FSU's national title hopes -- disappear.
Of course, that didn't happen.
But Florida State's slow starts to the second half aren't entirely new. While the Seminoles have been decent enough in the second half, the opening drives of the third quarter have been problematic.
Florida State has received the second-half kickoff in each of its last four games, and it has punted on all four occasions.
"I don't know what can be changed,"
EJ Manuel
said. "Maybe we come out with some different types of plays, something to get our juices following, get us back moving and gets us back into a rhythm."
Manuel's call for more of an up-tempo approach is reasonable. Of the 16 plays FSU has run on its opening drives of the second half in the last four games, seven were runs. Those plays netted a total of 4 yards, with none going for more than 3.
But the passing game hasn't been significantly better. Manuel has completed just 4 of 9 throws for 40 yards -- the longest a 13-yard reception.
Goodell Has Sit-Down With Jameis Winston
ESPN NFL Insider Field Yates discusses Roger Goodell's meeting with presumptive No. 1 draft pick Jameis Winston.
Goodell Has Sit-Down With Jameis Winston
VIDEO PLAYLIST
FSU FB RECRUITING SCORECARD
Nike Youth Florida State Seminoles #5 Garnet Football Game Jersey Shop »
BSnowScout

Brian Snow


I have covered Sean Miller A LOT. That is not his normal post game interview, that was not a fun game for him AT ALL
about 3 hours ago

TomahawkNation

TomahawkNation.com


We play like a team that is rebounding(next card)the basketball quite well and shooting good a (next card)number of times
about 3 hours ago

TomahawkNation

TomahawkNation.com


Sean Miller talks like he is reading slowly-turned cue cards.
about 3 hours ago

IraSchoffel

Ira Schoffel


Could CBS give Stainbrook one of those studio analyst gigs for the rest of the tournament? #NeedMoreStainbrook
about 3 hours ago

DanWolken

Dan Wolken


One Shining Moment (that the referees will check three times to make sure)
about 3 hours ago

TomahawkNation

TomahawkNation.com


Bob Huggins would be a perfect fat tony but fat tony is a better dresser (h/t @celebrityhottub )http://t.co/G8b7Ux4dQv
about 4 hours ago

TomahawkNation

TomahawkNation.com


Askedhttps://t.co/OyKhQLKA3KAnsweredhttps://t.co/ISinhg7rTe
about 4 hours ago

TomahawkNation

TomahawkNation.com


They should air Kentucky v. Notre Dame on 60 minutes
about 4 hours ago

TomahawkNation

TomahawkNation.com


Sorry bra, illuminati RT @FSUCOYS: "@TomahawkNation: Has anyone ever DOUBLED UP an opponent in the Sweet 16 round?"Psychic much?
about 4 hours ago

TomahawkNation

TomahawkNation.com


Some people will trash talk anyone.
about 4 hours ago

DeionSanders

Deion Sanders


All Mothers please stay strong and continue to stand for what's right,honest and what's best for you & your kids. You Matter! #Truth
about 4 hours ago

accmbb

ACC Men\'s Basketball


#ACCMBB Recap: @NDmbb Races by Wichita State 81-70 for #Elite8 Spot: http://t.co/ji1kQ7dXsq http://t.co/0mHaHZgjHK
about 5 hours ago

TomahawkNation

TomahawkNation.com


Charles Barkley embracing analytics even though he doesn't know it!"You don't want to speed up the more talented team."
about 5 hours ago

Lindsay_Schnell

Lindsay Schnell


@TomahawkNation Then you're not paying attn! So much parity in women's game: 10 double digit seeds won 1st round games, 2 mid majors in 16
about 5 hours ago

History_Pics

ClassicPics


18 year old Kurt Cobain, 1985. http://t.co/t1fS4erkbv
about 5 hours ago

TomahawkNation

TomahawkNation.com


Imagine if the tourney was like this every year. Oh wait, that's the WBB tournament and UConn.
about 5 hours ago

LouieG023

LouieG


An we finally stop talking about the overall quality of the CBB product? Biased or not, it isn't fun to watch .5 PPP ball.
about 5 hours ago

TomahawkNation

TomahawkNation.com


Has anyone ever DOUBLED UP an opponent in the Sweet 16 round?
about 5 hours ago

TomahawkNation

TomahawkNation.com


Did anyone ever .gif Bob Huggins vomiting during his DUI in 2004? Figured I'd see that tweeted by now if so.
about 5 hours ago

TomahawkNation

TomahawkNation.com


Kentucky be like https://t.co/y4gig2Oa3D RT @BenJamin0916: @TomahawkNation I thought West Virginia wanted to play a game
about 5 hours ago

WayneMcGaheeIII

Wayne McGahee III


@TomahawkNation It's like watching a Women's basketball game with Uconn and whoever else in the Sweet 16.
about 5 hours ago

SolidVerbal

The Solid Verbal


Baylor football just instinctively scheduled West Virginia basketball.
about 6 hours ago

TomahawkNation

TomahawkNation.com


If whoever ESPN assigns to the "[team] can beat Kentucky" talking point can keep a straight face he deserves an award.
about 6 hours ago

bigskip33

Mitch


@TomahawkNation they will eventually start to play their back up All Americans
about 6 hours ago

TomahawkNation

TomahawkNation.com


We watched LLWS games more competitive than this.
about 6 hours ago

TomahawkNation

TomahawkNation.com


Kentucky on pace to win 94-31. This is excessive.
about 6 hours ago

TomahawkNation

TomahawkNation.com


Kentucky on pace to win 87-33
about 6 hours ago

MichaelWarchant

Michael Langston


Press works when the other team doesn't have ball handlers and length. UK has a buffet worth of both. Going to be target practice for UK.
about 6 hours ago

gsmitter

Garry Smits


Well, maybe the Huggins sisters can come up with potty mouthed tweets about UK players. I'd pay Ashley Judd to slap one of them right now.
about 6 hours ago

DeionSanders

Deion Sanders


Athletes as you get older & wiser u will find out that alot of folks around u right now really ain't got nothing in common with u! #Truth
about 6 hours ago

MichaelWarchant

Michael Langston


Miles from WVU says UK doesn't play hard. Not from my view Miles. Don't poke the bear as they say.
about 6 hours ago

23Noflyzone

kevin holliday


@Pdub80 Is one of the best coaches I've been coach by 💯
about 6 hours ago

Gatorkiller2003

P.K. Sam


It smells like spring football practice in the air! Damn I miss those days @CoachHall41 @Pdub80 @AnquanBoldin @WarrickDunn
about 6 hours ago

WellOffForever

Well Off


Join the family! Get your new Well Off shirt here today at http://t.co/ys2bt5BouI #WellOffForever http://t.co/aDR9MJvYHi
about 6 hours ago

TomahawkNation

TomahawkNation.com


.@TropicalNole lol she wants me to tell you that she has changed purses many times she just transfers the junk wallet to wallet
about 6 hours ago

TomahawkNation

TomahawkNation.com


.@Lindsay_Schnell oh no. it's the wallet inside the purse. this discovery was made while changing from the Christmas purse gift 2 the new 1
about 6 hours ago

TomahawkNation

TomahawkNation.com


My fiancee is cleaning out her purse and found a blockbuster card. Seriously.
about 6 hours ago

accmbb

ACC Men\'s Basketball


Final: @UNC_Basketball falls to Wisconsin 79-72.
about 6 hours ago

TomahawkNation

TomahawkNation.com


Dude looks embalmed RT @danaarsenault: Bo Ryan looks old.
about 6 hours ago

Moojenowski

Moojenowski


The Badgers have never been called for a foul before prior to this game. Or at least that's how their players react.
about 6 hours ago

TomahawkNation

TomahawkNation.com


Ballgame
about 6 hours ago

jadande

J.A. Adande


TNT broadcasters leaned back and dropped their shoulders after that foul call. Let the players decide this
about 6 hours ago

JCameronShow

Jeff Cameron


This tourney.... A giant commercial. It's like being aware of a laugh track; ruined.
about 6 hours ago

TomahawkNation

TomahawkNation.com


Awesome.
about 6 hours ago

TomahawkNation

TomahawkNation.com


Center is not a set position but the money for it is increasing and 3/32 starting centers in NFL next year will likely be #Noles. #FSU
about 7 hours ago

TomahawkNation

TomahawkNation.com


FSU is sort of becoming CenterU. Highest paid center in league. Stork the center for Super Bowl Champ Patriots. Erving may go 1st round.
about 7 hours ago

JLeonard08

JDiesel


Congrats to Rodney Hudson on being the Highest Paid Center in the #NFL #Noles http://t.co/BcV3Doqd63
about 7 hours ago

TN_Hoops

TomahawkNation Hoops


Next year the ACC will find all about conference depth. Going to be a blood bath
about 7 hours ago

TN_Hoops

TomahawkNation Hoops


@TomahawkNation Big 12 stronger top to bottom. Bottom half of ACC - woof
about 7 hours ago

TroyVincent23

Troy Vincent


Changes could be coming to the extra point rule. Stay tuned for news from Competition Committee in next 30 days. http://t.co/dkuDLh1TQa
about 7 hours ago

TomahawkNation

TomahawkNation.com


So was the ACC the best hoops conference this year?
about 7 hours ago

accmbb

ACC Men\'s Basketball


Final: @NDmbb is on to the #Elite8! #Irish defeat Wichita State 81-70 behind a double-double from Pat Connaughton (16 points/10 rebounds).
about 7 hours ago

DeionSanders

Deion Sanders


Let's Love,Encourage,Respect,Honor,Forgive and Support Ourselves. This shows others how u expect to be treated. "DO IT"#TRUTH"
about 7 hours ago

Noles247

Noles247.com


Jameis Winston to be featured in ESPN's Draft Academy (FREE) http://t.co/50L1C4YIFe via @Noles247 http://t.co/UtUn5Nixw2
about 7 hours ago

theACCDN

ACC Digital Network


|LIVE NOW| Wisconsin-UNC Halftime Chat on @theACCDN Tune in live! #Katch #meerkat http://t.co/biFRxSNlbt
about 8 hours ago

Seminoles_com

Seminole Athletics


RT @FSU_track: Everything you need for FSU Relays is right here! http://t.co/cTKuOQ1uZG #Noles http://t.co/wWJ2xm2G5d
about 8 hours ago

WellOffForever

Well Off


Don't ever let anyone crush your dreams! #WellOffForever http://t.co/IOrhYcuBPH
about 8 hours ago

WellOffForever

Well Off


Join the family. Check out our new Well Off Shirts. Purchase here at http://t.co/ys2bt5BouI http://t.co/112gFuA46z
about 8 hours ago

accmbb

ACC Men\'s Basketball


Don't forget to follow @theACCDN for their "#Meerkat Halftime Show" during the @UNC_Basketball/Wisconsin game!
about 8 hours ago

accmbb

ACC Men\'s Basketball


Tune to TBS to see 4-seed @UNC_Basketball face 1-seed Wisconsin in the #Sweet16! #MarchMadness
about 8 hours ago

_DCReeves

D.C. Reeves


Tonight's Alabama-UF baseball game has been canceled due to weather. Doubleheader tomorrow starting at 2pm CT.
about 8 hours ago

FSU_Swimming

FSU Swimming/Diving


Tyler Roberge finishes in 16th place for an #AllAmerica Honorable Mention on 1-meter, scoring 323.95. #Noles http://t.co/StlqT7NDGA
about 9 hours ago

accmbb

ACC Men\'s Basketball


Tune to CBS to see 3-seed @NDmbb take on 7-seed Wichita State in the #Sweet16! #MarchMadness
about 9 hours ago

theACCDN

ACC Digital Network


Come on @FightingIrish, keep up the winning ways for @theACC! http://t.co/PvxkFmXVqG
about 9 hours ago

Noles247

Noles247.com


Don't miss out on signing up for the @Noles247 newsletter. It is FREE and daily. http://t.co/kGqJIndOt5
about 9 hours ago

georgewhitfield

George Whitfield Jr.


#FloridaState http://t.co/cWDcgcqdqF
about 9 hours ago

CStewartSports

Chris Stewart


Weather is not looking good for @AlabamaBSB vs. Florida on @UA_CTSM stations around the state. Will have an update at 5:55 CT.
about 9 hours ago

Warchant

Warchant.com


It's that time. Mike Martin is about to stop calling a few key players "freshmen." https://t.co/TxTzMJGLfS ($) http://t.co/8lhO16887W
about 9 hours ago

ESPN_ACC

ESPN ACC


Early Commit: OLB Rahshaun Smith to Clemson http://t.co/UjfRExUhwn
about 9 hours ago

theACC

The ACC


.@theACCDN is now on #Meerkat! Be sure to follow them for "live" thoughts during halftime of tonight's @UNC_Basketball/Wisconsin game!
about 10 hours ago

accwbb

ACC WomensBasketball


ACC Senior Associate Commissioner of WBB Nora Lynn Finch took the @NCAAWomensBKB trophy to the ACC Hall of Champions! http://t.co/Y62PTUqrvn
about 10 hours ago

SBNRecruiting

SB Nation Recruiting


It is March 26. The top 5 QBs in the country are now committed. And 6 of the best 9. http://t.co/9sayECMNXC
about 10 hours ago

CoachWillieHill

Coach WillieHill


#TBT to that one time @LocksNoKeys Samuels knocks Roscoe's shoulder pads loose @SSIII_ http://t.co/1HRAEPfDis http://t.co/rdFl0vw7AH
about 10 hours ago

SBNation

SB Nation


ENORMOUS MLB PREVIEWPages on every team!Top prospects!Big questions!Predictions! http://t.co/Bp95uIF5Vf http://t.co/eMvOGWEeqd
about 10 hours ago

theACCDN

ACC Digital Network


Join us tonight for our "Meerkat Halftime Show" during the UNC/Wisconsin game. Download the @AppMeerkat & tune in! http://t.co/DMdIxH7VPu
about 10 hours ago

NolesTV

NolesTV


#Noles in the Sweet 16. Check out @FSU_WBasketball's first day on the road: http://t.co/pE75S9fPkf. http://t.co/zvv8WmDJGn
about 10 hours ago

theACC

The ACC


According to @ncaaresearch, ACC has 3 of the Top Academic Progress Rates by region for men's #Sweet16:E: @GoCards MW: @NDmbb S: @Duke_MBB
about 10 hours ago

accmbb

ACC Men\'s Basketball


The five #ACCMBB schools in the 2015 #NCAATournament #Sweet16 ties an NCAA record! http://t.co/nCXcP5TpCh
about 11 hours ago

TroyVincent23

Troy Vincent


Great video showing how high school coaches have the power to mold the next generation on & off the field. #EndDVhttps://t.co/MLIcwmeolE
about 11 hours ago

Noles247

Noles247.com


2017 QB visiting #FSU today http://t.co/gCPDornXB2 via @Noles247 http://t.co/nJGavBYQfQ
about 11 hours ago

DeionSanders

Deion Sanders


Let's Love,Encourage,Respect,Honor,Forgive and Support Ourselves. This shows others how we expect to be treated. "DO IT"#TRUTH..
about 11 hours ago

Noles247

Noles247.com


What does the #FSU two-deep look like? This is what we think after a few practices (FREE) http://t.co/5JDIb96Kp3 via @Noles247
about 11 hours ago

Noles247

Noles247.com


2017 Top247 DE to see #Alabama & #FSU in immediate future (VIP) http://t.co/Ck5Xi2yPkF via @Noles247
about 11 hours ago

Noles247

Noles247.com


Sweet 16 Q&A with #FSU women's basketball coach Sue Semrau (FREE) http://t.co/Dt2ohHLY8w via @Noles247
about 11 hours ago

Noles247

Noles247.com


Latest on Matt Hegarty's search for his next stop (FREE) http://t.co/EFt4Qrvtik via @Noles247
about 11 hours ago

fsufball

FSU Football


(b/r) On-the-Field Breakdown of Top Florida State Prospects from the Opening Atlanta: Florida State had an im... http://t.co/ByobAbdXMK
about 12 hours ago

WellOffForever

Well Off


Get your new Well Off shirt here at http://t.co/ys2bt5BouI http://t.co/3rE15DBdH9
about 12 hours ago

TomahawkNation

TomahawkNation.com


Not that FSU will do this, but you can practice after a spring game.
about 12 hours ago

theACCDN

ACC Digital Network


For the 1st time in 62 years, @theACC has five teams in the Sweet 16. How will they fare this weekend? http://t.co/cFkv3YpGqY
about 12 hours ago

ACCBaseball

ACC Baseball


Did you know: @WakeBaseball's Will Craig (40) and @CanesBaseball's David Thompson (39) rank 1-2 in the country in RBIs.
about 13 hours ago

TomahawkNation

TomahawkNation.com


#Tribe16 needs another DE recruit (not an OLB/DE Hybrid) & another DT http://t.co/sLopgUesLW
about 13 hours ago

TomahawkNation

TomahawkNation.com


FSU football practice canceled again due to stomach flu going around. http://t.co/ptMbsQGELy http://t.co/RsvZkdfLA8
about 13 hours ago

Warchant

Warchant.com


FSU has canceled spring practice again today. It was supposed to take the place of yesterday's practice. Another scheduled tomorrow.
about 13 hours ago

Noles247

Noles247.com


#FSU Practice cancelled for today - http://t.co/6BM9at1j9Q via @Noles247
about 13 hours ago

TomahawkNation

TomahawkNation.com


Re: Last RT. It'll be another day before Jimbo Fisher speaks on whether Matthew Thomas & Ryan Hoefeld are injured & to what extent.
about 13 hours ago

dtackett_

Dustin Tackett


The only thing an IPF can't save you from: a stomach virus hitting several members of the FSU football team.
about 13 hours ago

Warchant

Warchant.com


FSU practice canceled for second straight day because of a stomach bug hitting the team.
about 13 hours ago

accmbb

ACC Men\'s Basketball


Check out today's #ACCMBB #MarchMadness Press Conferences LIVE on http://t.co/10Um6KcFyN: http://t.co/Uen8PFxiDw http://t.co/UwZBm6CY12
about 14 hours ago

NolesTV

NolesTV


#Noles offense has been clicking since 2 new bats entered @FSU_Baseball's lineup. Video: http://t.co/oEz97tsAAV http://t.co/3KbUo0tYOe
about 14 hours ago

_DCReeves

D.C. Reeves


Another thought, the actual check written out to MJ from Dean Smith would be worth a lot more than $200. So he probably would keep it.
about 14 hours ago
ACC SCOREBOARD
Thursday, 9/3
Saturday, 9/5
Monday, 9/7
BLOG ARCHIVE:
CATEGORIES: