Florida State Seminoles:

Dameyune Craig
June, 11, 2013
Jun 11
8:00
AM ET
MOBILE, Ala. -- Nearly in the middle of the Florida and Mississippi borders is Mobile, Ala., a port city whose founding can be traced back to French settlers in the early 1700s. Its roots, in other words, run deep. As does the richness of its soil, both in the figurative and literal sense. Football players are born here. Today, the seaside territory of South Alabama and its epicenter, Mobile, represent the key to the recruiting success of many of the top programs in the country.
The Crimson Tide wouldn't have won consecutive championships without holding sway over the region. Though the area lies well below sea level, South Alabama represents the territorial high ground for Nick Saban and the University of Alabama.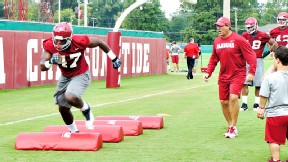 Alex Scarborough/ESPN.comAlabama coach Lance Thompson has long been a recruiting commodity in Mobile.
When Saban arrived at Alabama in 2006, he came in with a plan to first win back Mobile, then the state, and then the country. Looking up and down the roster he inherited from Mike Shula, Saban was struck by the lack of players from South Alabama.
In his first year at UA, Saban sent his best recruiter, assistant coach Lance Thompson, to the area. Thompson helped gain the commitments of three of the top prospects in the region: Foley High star wideout Julio Jones, St. Paul's stud safety Mark Barron and Vigor High super athlete B.J. Scott. Jones and Barron would become All-Americans at Alabama before being taken in first round of the NFL draft. Even Scott, who wound up transferring back home to the University of South Alabama, was signed by the Chicago Bears in late April.
Fast-forward to the present and all three of Alabama's most valuable players -- quarterback
AJ McCarron
, linebacker
C.J. Mosley
and running back
T.J. Yeldon
-- are all from within earshot of Mobile. Right tackle D.J. Fluker of Foley would have been a senior this season had he not entered the NFL draft in April.
"When we came to Alabama we only had one player, Wallace Gilberry, from this area on our team," Saban said at a speaking engagement in the area last week. "Now we have anywhere from 13-15 (players) pretty consistently. We've had, I think, three first-round draft picks from this area, and probably a couple more guys on the team who could be first-round draft picks in the future.
"There's great (high school) programs here and we certainly want to do a great job in our state in terms of recruiting and it just seems that historically there's been a lot of great players from this area. We certainly feel fortunate that we've been able to get some of those players to come to Alabama and it's made a huge difference in the success of our program."
After the top prospect from Mobile signed with Arkansas in 2006 and then Auburn in 2007, the tables turned. Alabama took over and signed the highest-rated recruit from the city all but one time from 2008-11.
But what's happened in the years since shows how other schools have taken notice.
Chris Casher
, the top prospect from the city in 2012, signed with Florida State. And
Jason Smith
, a four-star athlete from McGill-Toolen High, signed with Auburn this February.
Alabama's grip on South Alabama hasn't loosened, but the pull from programs like FSU, Auburn and others has grown stronger, thanks mainly to shifts in the recruiters charged with scouting the area in the past six months. Dameyune Craig, who made a name for himself as a recruiter on the FSU staff, was hired by Auburn's new head coach Gus Malzahn in January; Jeremy Pruitt, who made a name for himself as an assistant coach at Alabama, took the defensive coordinator job for the Seminoles in December; and Thompson, who returned to Alabama last year after a stint at Tennessee, shifted his territory back to where he started in Mobile. The trio is some of the best in the business, and they're all spending much of their time in the same area.
"They're all great guys," Vigor High coach Ashley Johnson said. "...They're great with the kids, interacting with them when they're able to interact with them. They really, really learn them. They don't forget a name, a face. They are really good at what they do."
ESPN 150 defensive end
Justin Thornton
stars at Vigor and has been recruited heavily by all three schools since before his junior season. The four-star prospect recently committed to Auburn, thanks in large part to the connection Craig was able to form.
"When Justin Thornton's mom just had a baby, Dameyune Craig's buzzing me. 'Tell Justin I'm excited,'" said Johnson, marveling at how quickly the coach acted on the news. "They are up and on the know. I don't know when they sleep."
May, 13, 2013
May 13
7:00
AM ET
When
Malachi Dupre
(River Ridge, La./John Curtis Christian) was initially offered by Florida State, it came from a coach who is no longer on staff. Dameyune Craig, now an assistant at Auburn, has since moved on.
To continue reading this article you must be an Insider
May, 8, 2013
May 8
7:00
AM ET
Jameis Winston
's ascent to Florida State's heir apparent at quarterback, and Clint Trickett's subsequent transfer from the program, have changed things for the Seminoles' recruiting tactics at the position for 2014.
J.J. Cosentino is the first and only commitment for Seminoles coach Jimbo Fisher at quarterback so far. But FSU very well could take two.
So who will be the second?
Targets
J.J. Cosentino (Pittsburgh/Central Catholic), 6-foot-5, 220 pounds
To continue reading this article you must be an Insider
January, 15, 2013
Jan 15
7:00
AM ET
Arshad Jackson
(Lovejoy, Ga./Lovejoy), an undeclared tight end prospect, was in Tallahassee over the weekend to reacquaint himself with the Seminoles football program. And in a lot of ways, it was like hitting the reset button.
To continue reading this article you must be an Insider
January, 3, 2013
Jan 3
10:29
PM ET
ESPN 300 defensive end
Davin Bellamy
(Chamblee, Ga./Chamblee) found out before just about everyone.
About an hour before the news broke that Florida State assistant coach, and Bellamy's primary recruiter,
Dameyune Craig was headed to Auburn
, Bellamy got the call from the coach himself explaining the situation.
"I definitely understand, and I told him good luck," Bellamy said. "He told me that they are going to come at me hard once he gets to Auburn and gets set up."
Though Craig insists he will continue to recruit Bellamy once at Auburn, the four-star prospect said it could be a "bad fit" for him there. Five-star defensive end Carl Lawson (Alpharetta, Ga./Milton) already is committed to Auburn, along with four-star Tashawn Bower (Somerville, N.J./Immaculata), Bellamy did cite "politics" as a hold up.
But there is some curiosity, admittedly.
"I would say it opens my eyes a little," he said, "but my heart is still at FSU."
With the departure of defensive ends coach D.J. Eliot to Kentucky, too, Bellamy's relationships with assistant coaches at Florida State are a shell of what they used to be.
New assistants Jeremy Pruitt and Sal Sunseri both knew of Bellamy while they were at Alabama and Tennessee, respectively, but neither offered. Meeting them and getting to see how he would fit is a major priority for Bellamy.
The contact period opens again on Friday, and Bellamy would like nothing more than to hear from the Seminoles coaches.
"I want to see if they really want me, or are they just happy that I am already on the roster," he said. "I would like to see how much they talk to me then, because I think that will show how much they want me. If they really wanted me still, they will try to keep me from jumping ship."
Bellamy committed to Florida State on Aug. 11, choosing the Noles over Vanderbilt. He has official visits set for Tennessee on Jan. 18 and Virginia Tech on Jan. 25.
November, 16, 2012
11/16/12
7:00
AM ET
Due to his busy schedule -- and distance from Tallahassee --
Ryan Hoefeld
(New Orleans/Brother Martin) can't get to Florida State games as much as he'd like to.
That's fine, though. Just last week, the Seminoles came to see him.
"It was actually pretty cool. It is kind of hard for me to get out there. I try to get out there as much as I can, but it is definitely cool to see Coach [Dameyune] Craig to take some time to come out there and see me. Especially since they got in at like 4 a.m. from the game and he just came straight from there to New Orleans."
To continue reading this article you must be an Insider
October, 30, 2012
10/30/12
7:00
AM ET
There isn't too much room to doubt
De'Andre Johnson
's commitment to Florida State.
Perhaps more than any other player, committed or not in any classification, the 2015 quarterback has been on the sidelines and on campus of Florida State all fall long. Saturday was no different, of course.
Taking in the lopsided win over Duke, Johnson was happy to see how the Seminoles offense wasted little time in dismissing the then-ACC Coastal Division leaders.
To continue reading this article you must be an Insider
September, 26, 2012
9/26/12
3:02
PM ET
Nick Glass
(Atlanta/St. Pius X), a Georgia commitment, made his way down to Tallahassee this past weekend to take in Florida State's showdown with Clemson.
The 6-foot-1, 195-pound safety picked a good one to go to as the Seminoles came out on top of a 47-39 thriller.
"I loved it," Glass said. "Everything about it."
To continue reading this article you must be an Insider
September, 25, 2012
9/25/12
8:00
AM ET
Ryan Hoefeld
's knowledge of Doak Campbell Stadium used to be limited to a giant brick structure capable of holding tens of thousands of fans on any given Saturday.
A Seminoles commitment who pledged in early July, the 6-foot-3 center from New Orleans Brother Martin attended the Jimbo Fisher Camp during the summer and saw all the facilities. But they were empty.
Potential met reality Saturday night. Eighty-thousand-plus fans packed Florida State's stadium for a top-10 showdown between the Seminoles and the 10th-ranked
Clemson Tigers
.
To continue reading this article you must be an Insider
September, 19, 2012
9/19/12
9:00
AM ET
THOMSON, Ga. -- The Golden Lions of St. Pius X came up short against the Thomson Bulldogs 21-14 in the first ever meeting of the two Class AAA powers. The game featured three lead changes, four turnovers and one stellar effort from St. Pius X cornerback
Nicholas Ruffin
.
[+] Enlarge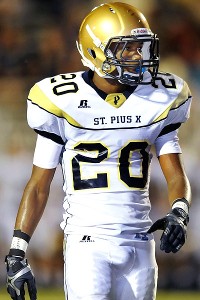 Radi Nabulsi/ESPN.com2014 CB Nicholas Ruffin says Florida State and Vanderbilt are making the biggest recruiting impressions so far.
The 6-foot-1, 175-pound junior was everywhere. He and the Golden Lions secondary held Thomson to just two completions through the air for 18 yards. On offense, Ruffin had seven carries for 40 yards and he hauled in two passes for 50 yards. He was on special teams and might as well have been running the concession stand, ticket booth and scoreboard. His potential at multiple positions has attracted top FBS schools.
"I have offers from Florida State, Vanderbilt, Georgia Tech, North Carolina, South Carolina, Ole Miss and Tennessee," Ruffin said. "A lot of colleges are looking at me as a defensive back and some see me as a wide receiver. None so far at running back but hopefully they will come through. I will just keep working until that point."
To continue reading this article you must be an Insider
September, 10, 2012
9/10/12
7:57
AM ET
A.J. Bush
(Alpharetta, Ga./Milton) is the centerpiece of an offense that, on paper, should be able to compete with anyone in the state.
After a long summer, the 6-foot-4, 200-pound quarterback couldn't be happier to have the season under way to try his hand at directing the offense.
"It is exciting," he said. "Everyone is excited, the school is excited, the coaches are excited and everyone is just trying to work hard. We just want to get to the wins.
To continue reading this article you must be an Insider
Independent Investigation Highly Unlikely