Florida State Seminoles:

Cornelius Carradine
August, 1, 2013
8/01/13
9:00
AM ET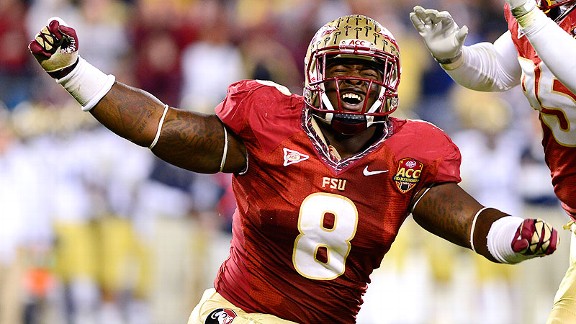 Bob Donnan/USA TODAY SportsDefensive tackle Timmy Jernigan hasn't only emerged as one of the best players of FSU's deep 2011 class; he's become one of the nation's best at his position.
TALLAHASSEE, Fla. -- Jimbo Fisher lost 11 players from last year's ACC champions to the NFL draft, but he's not too worried about a dip in talent on this season's roster.
Sure, Florida State waved goodbye to its share of veterans, but the 2013 lineup remains remarkably well established.
"From a talent standpoint, this is still a talented football team," Fisher said. "We have the least amount of starters back in the ACC, but we have more junior and senior starters than we had a year ago. We have a lot of guys who played significant snaps. They still played a lot of plays in big games."
In fact, of the 22 projected starters currently atop Florida State's depth chart, only two -- quarterback
Jameis Winston
and defensive end
Mario Edwards
Jr. -- were part of Florida State's two most recent signing classes. Instead, the bulk of the talent -- 10 projected starters -- comes from Fisher's 2011 signing class, a group that figures to define this season's team.
While Fisher's fingerprints were all over the 2010 class, that was a group that largely came together while former coach Bobby Bowden still headed the program. It wasn't until 2011 that Fisher had the chance to build a class from start to finish, and the results were impressive.
The first thing to notice about the 2011 class was its size. Fisher brought in 29 players, including two junior college transfers, in hopes of filling a massive talent gap that had developed in Bowden's final years. A few never arrived on campus, a few more quickly departed, but the bulk of the class has already made its mark.
On offense, three-fifths of Florida State's line comes from the Class of 2011. Both of its primary tailbacks, two of its top three receivers and its top tight end were also in that group.
On defense,
Timmy Jernigan
,
Karlos Williams
and
Nick Waisome
are ensconced in the lineup already, and a bevy of rising stars including
Tyler Hunter
,
Terrance Smith
,
Giorgio Newberry
and
Nile Lawrence-Stample
are in line for regular reps.
In all, 20 of the 27 freshmen signed in 2011 figure to be part of Florida State's two-deep to open the 2013 season -- from the hidden gems of the class such as Hunter and Tre Jackson to the heralded stars such as Williams and Jernigan.
"It shows you your evaluations," Fisher said. "That's something we constantly analyze in recruiting because whether it's three-star, four-star, five-star recruit doesn't matter. At the end of the day, we go back to our classes -- how we progress, who do we miss on, how they're growing? That's something we evaluate on how we do our business. That class seems like it's a very successful class."
While the depth of the class has proven to be strong, there's plenty of top-end talent. Defensive end Cornelius Carradine, a juco transfer, likely would have been a first-round pick in April's NFL draft had he not suffered a late-season injury. Jackson,
Rashad Greene
,
Josue Matias
,
Nick O'Leary
,
Devonta Freeman
and
James Wilder
Jr. all attracted preseason All-ACC votes this summer and have NFL futures. And then there's Jernigan, who is already being pegged as one of the top interior linemen in the nation.
"I feel like it's my D-line now," Jernigan said this spring. "I'm trying to be a leader."
That's exactly what Fisher wants to hear from his rising veterans, and the 2011 class has responded.
Not only has Jernigan taken charge of Florida State's revamped defensive line, but Greene, Wilder, Freeman and Hunter have all established themselves as the locker room's most important voices.
"I've been very pleased with that, and a couple of guys have blossomed into leaders that I never thought would," Fisher said. "Hopefully that's the player development, the enhancements no one sees, that a couple of those guys evolved into those roles that are team leaders."
The classes that followed 2011 offer their own highlights, too, and more are likely on the way. But as Florida State prepares to open fall camp, the rewards of Fisher's first full season of scouting, recruiting and development have gone a long way to establish precedent.
"It was a pretty high success rate in that group, it has been so far," Fisher said. "That reinforces why we keep doing things right."
April, 26, 2013
4/26/13
9:00
AM ET
TALLAHASSEE, Fla. -- There weren't many mock drafts that pegged
EJ Manuel
as the top quarterback available, but Jimbo Fisher had a hunch his guy would impress a few teams.
Manuel's athleticism made him a popular prospect for teams looking to exploit the option offense, and his strong arm and experience in Fisher's pro-style scheme made him a viable option in more traditional sets. In the end, that was enough to convince the Buffalo Bills to take Manuel with the 16th overall selection in Thursday's NFL draft -- the first quarterback taken.
"You think about the journey, when I was a little kid, the ups and down," Manuel said after the selection. "I'm just so happy."
[+] Enlarge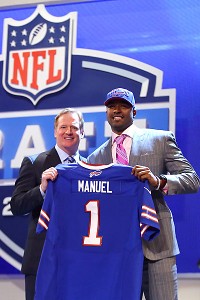 Al Bello/Getty ImagesThe Bills selected Florida State quarterback EJ Manuel with the 16th pick in the 2013 NFL draft.
Manuel's emotions were held in check throughout a rocky 2012 season in which he led Florida State to its first ACC championship in seven years. Throughout the season, Manuel's mother was battling breast cancer, missing several of his games late in the season, but she was on hand Thursday in New York as NFL commissioner Roger Goodell announced his name.
"I knew she was doing what she had to do to get better," Manuel said before the draft. "Football is a special part of my life, but having my mom for a lot longer, that's what's really important to me. I'm just happy she'll be there."
Manuel's surprising early selection is another boon for Fisher, too, who has become a guru for creating NFL quarterbacks. Manuel's predecessor, Christian Ponder, went 12th overall in the 2011 draft, and former protege at LSU, JaMarcus Russell, was a top overall selection in 2007.
"I'm extremely happy for EJ," Fisher said in a statement released by the school. "He's a tremendous young man who has been a great representative of Florida State University. He's worked extremely hard to get to this goal. He's one of the main reasons that this program has been able to get back to national prominence because of the sacrifices he's made through his career as well as his development as a player. I'm extremely happy for him and his family. This couldn't have happen to a better group of people."
Florida State's return to national prominence was on display throughout the first round of Thursday's draft, even after Manuel was selected.
Defensive tackle
Bjoern Werner
went 25th overall to the Indianapolis Colts, while the Minnesota Vikings took cornerback
Xavier Rhodes
with the 26th pick. Both players were juniors who departed FSU a year early.
Werner was pegged as a potential top-five selection late in the season after leading the ACC with 13 sacks, but his stock dipped slightly following an underwhelming performance at the combine.
Rhodes, who came to FSU as a wide receiver before Fisher convinced him to switch to cornerback, might have been a first-round pick a year ago had a bowl-game injury not derailed his plans. He returned for 2012 and helped Florida State's secondary to a No. 1 ranking in the nation in pass defense.
"We were laughing about the day when he didn't want to move over to corner," Fisher said. "He was mad at me for a couple of months. But it's funny how you go back and reminisce when things work out like that."
The three first-round selections were the most for Florida State since 2006, when four Seminoles were taken. They had just three first rounders in the six drafts since.
FSU figures to have at least two more players go in tonight's second round. Right tackle
Menelik Watson
and defensive end Cornelius Carradine are widely projected as early second-round talent.
As many as a half-dozen more Florida State players could fill out the later rounds of the draft, including fullback
Lonnie Pryor
, linebacker
Vince Williams
, kicker
Dustin Hopkins
and defensive end
Brandon Jenkins
.
That would mark a massive shift in Florida State's NFL prospects after a dry spell in recent years. FSU has had just 11 players selected in all in the last four drafts prior to this year.
"Hopefully we can do that every year as we establish ourselves as a program," Fisher said. "We've revamped the type of recruiting we're doing and identified certain types of athletes we thought were difference makers and great kids. We've come a long way."
September, 6, 2012
9/06/12
8:00
AM ET
It's a second straight week against an overmatched opponent for Florida State, which takes on a Savannah State team coming off one of the ugliest losses in recent college football history, an 84-0 smack-down at the hands of Oklahoma State.

Like with the opener against Murray State, there's little upside for FSU in this week's game beyond the easy win and a chance to pad some stats, but there will nevertheless be a handful of intriguing questions for the Seminoles as kickoff approaches.

1. How much will the starters play?
September, 3, 2012
9/03/12
7:05
PM ET
TALLAHASSEE, Fla. -- He's huge, nearly 270 pounds. His numbers are impressive, including 5.5 sacks and 38 tackles off the bench last season. But with two potential All-Americans ahead of him on the depth chart,
Cornellius Carradine
still manages to fade into the background.
That might change this season, however.
"Me and
Brandon [Jenkins]
are nominated for a lot of individual awards, but Tank, you guys don't know him yet," junior
Bjoern Werner
said. "You'll be surprised. He'll be sitting here at the end of the season and you won't want to talk to us anymore."
To continue reading this article you must be an Insider
September, 3, 2012
9/03/12
2:16
PM ET
Mario Edwards Jr.
might have been the No. 1 recruit in the nation a year ago, but Jimbo Fisher said the freshman is No. 5 on Florida State's defensive end depth chart, which means he won't get any playing time in 2012.
Fisher said the lack of available reps behind incumbents
Bjoern Werner
,
Brandon Jenkins
and
Cornellius Carradine
led the coaching staff to decide to redshirt Edwards despite a strong performance during fall camp.
[+] Enlarge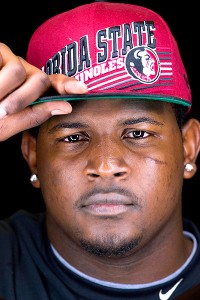 Kevin Jairaj/US PresswireMario Edwards Jr., a top recruit in the 2012 class, will redshirt as a freshman at Florida State.
"You've got three guys that are possible first- or second-round draft pick guys," Fisher said of his depth chart at the position. "To waste a year on a guy for five, six, seven plays a game makes no sense. We can play him five, six or seven plays, but how much do you gain? There's a lot more to lose in our opinion."
Edwards is one of 10 FSU freshmen expected to redshirt this season, but he was the only one not dressed for Florida State's opener against Murray State on Saturday.
Fisher said it was Edwards' decision not to dress, and that each redshirt player is given the choice before each game. Fisher said players might opt not to dress based on family members attending the game or other issues, but he did not offer any indication as to why Edwards, who along with all FSU freshmen is not made available to the media, chose against dressing for the first game of his college career.
"You don't have to dress. We'll have guys that will and guys that won't," Fisher said. "There was a situation last week, and [Edwards] will probably dress this week. But I give every guy their choice on that."
Edwards is the son of former FSU cornerback Mario Edwards Sr., who currently works for the university as a player development coordinator -- an administrative position that works closely with the coaching staff.
While the redshirt for Edwards comes as somewhat of a surprise given the defensive end's hype on the recruiting circuit, Fisher said the decision isn't indicative of any shortcomings Edwards displayed on the field.
"I'm not one bit disappointed," Fisher said. "What we saw on film and what we thought he was, we think he's exactly that right now. He could be even more. He's actually stronger and more powerful than I even realized."
Still, Edwards checked in at nearly 300 pounds upon arrival this summer, and Fisher said he hopes the redshirt season will provide the freshman with an opportunity to shed a few pounds while getting a better grasp on the playbook.
Fisher said Edwards was not upset by the decision, saying the two "had a good conversation" about the redshirt.
In addition to Edwards, Fisher said fellow defensive end
Chris Casher
, defensive tackle
Justin Shanks
, defensive back
Colin Blake
, linebacker
Markuss Eligwe
and receiver
Marvin Bracy
are all expected to redshirt as well.
Bracy has been limited since the spring with a nagging hamstring injury, and Fisher said there's still a chance he could work his way into a smaller role on offense this year, assuming the injury is fully healed now.
"If his hamstring will hold up, we may try to give him four or five things -- the return game and teach him four or five things on offense to get real good at and judge that as we go," Fisher said. "But we've got to do that hopefully this week. I'm anxious to see where he's at -- full, full speed."
Quarterbacks
Jameis Winston
and
Sean Maguire
and kicker
Roberto Aguayo
will also redshirt, along with freshman running back
Mario Pender
, who will miss the season with a groin injury, and senior defensive tackle
Jacobbi McDaniel
, who is still recovering from an ankle injury suffered last season.
September, 3, 2012
9/03/12
9:41
AM ET
Ranking Florida State's top performers after the first week of the season:
1. Bjoern Werner, DE
: The junior defensive end was dominant, recording four sacks, five tackles for a loss, forcing a fumble and breaking up a pass. There were some questions entering the game about how a trimmed-down Werner -- who dropped 20 pounds this offseason -- would perform. The answer was impressive.
2. The running game
: It's impossible to pick just one of Florida State's runners to tout after Saturday's win.
Lonnie Pryor
had three touchdown runs,
Debrale Smiley
had two more,
Devonta Freeman
and
Chris Thompson
each ran effectively and James Wilder Jr. took over in the second half against a gassed Murray State D to finish with 106 yards on 12 carries. Overall, the ground game accounted for 285 yards.
To continue reading this article you must be an Insider
August, 29, 2012
8/29/12
1:24
PM ET
During the final 10 weeks before the season kicks off, NoleNation will march through the depth chart to analyze Florida State's top 50 contributors for the 2012 season. From Austin Barron to Vince Williams, we'll review each player's career, evaluate his role in 2012 and project what might be in store down the road.
To continue reading this article you must be an Insider
August, 23, 2012
8/23/12
5:20
PM ET
At this point,
EJ Manuel
is taking a mental note of virtually everything.
After five years on campus, Manuel knows this is his last go-round with the Seminoles, so even the mundane becomes a bit more sentimental.
"Everything signifies something to me," Manuel said. "It's like, all right, it's my last third practice of the second week. It's cool. It's definitely a different feel knowing it's my last year, no matter what."
Thursday's scrimmage probably won't be a moment Manuel looks back upon with fondness years from now, but it was the last one of his career at Florida State. After missing last week's scrimmage with a sprained ankle, it was particularly rewarding to get back on the field again.
August, 10, 2012
8/10/12
9:30
AM ET
With the start of the 2012 season right around the corner, and loads of potential NFL-level talent on Florida State's roster, NoleNation checked in with ESPN draft expert Mel Kiper Jr. to talk about the top draft-eligible members of the Seminoles team and what they'll need to do this season to secure their status in next year's draft.
NoleNation: With all the talent on Florida State's defense, the guy you seem to like the most is Xavier Rhodes. Do you view him as a sure first-rounder?
Mel Kiper:
I like him. I've got him right now as the 20th best player overall, and of course, he's an underclassman and has eligibility still remaining. He's big, he's got great physical ability, he's a rock-solid kid. He's just a good, good, fundamentally sound corner. He's got super-long arms, was a gifted high school wide receiver, so you know the ball skills are good. He's got it all. He's one of those guys who needs to stay at full strength, and he's a tough kid. But he's got to stay at full strength and go out there and put together the type of year he's capable of."
NN: Pound-for-pound, Lamarcus Joyner might be FSU's best defensive player, but his size is obviously not ideal at safety. How much will that hurt him in the eyes of NFL scouts?
Kiper:
He's not real big. He's one of those compact guys. He's kind of a Bob Sanders type of guy, one of those heat-seeking-missile destroyers who has really good ball skills. He was their second-best defensive player last year. He's rugged and tough, but the question with him is going to be, can he stay healthy? With his rugged, aggressive style, when you get to the pro level and you're only his size -- 5-7, 5-8, 195 pounds -- and you start laying hits on NFL guys -- Bob Sanders did the same thing coming out of Iowa as a second-round pick and couldn't stay healthy. So that's the thing. You've got that vicious, tough, aggressive, hard-nosed, undersized guy -- that's great to have that, but at the end of the day, can you be at full strength and stay out there and be durable?
NN: Two years ago Brandon Jenkins looked to be a potential first-rounder, but his numbers dropped off a bit last season. He was getting more attention from the opposition, but how has that changed his status in terms of the NFL?
August, 8, 2012
8/08/12
10:16
AM ET
During the final 10 weeks before the season kicks off, NoleNation will march through the depth chart to analyze Florida State's top 50 contributors for the 2012 season. From Austin Barron to Vince Williams, we'll review each player's career, evaluate his role in 2012 and project what might be in store down the road.
To continue reading this article you must be an Insider
Goodell Has Sit-Down With Jameis Winston
ACC SCOREBOARD
Thursday, 9/3
Saturday, 9/5
Monday, 9/7