Florida State Seminoles:

chris weinke
December, 17, 2013
12/17/13
10:00
AM ET
The BCS era began with Florida State in a national title game and now ends with Florida State in a national title game, tidy bookends to be sure. But the time in between has not been about the Seminoles' domination, as the bookends suggest.
It has been about reinvention.
No other program has remade itself in quite the same way over this 15-year period, starting as a champion, then sinking to mediocrity, then rising to play for a championship again. The overriding question up until this season -- up until the start of November, really -- was whether the Seminoles could truly return to their former glory.
Now the overriding question is whether this team could eclipse the best Florida State ever had to offer.
"They're back," former Florida State coach Bobby Bowden said in a recent phone interview with ESPN.com. "They're back the way we were in the '90s, where we played in five national championship games. If they win their next game, they'll probably go down as the best team in Florida State history. The way they've won their games is unbelievable."
[+] Enlarge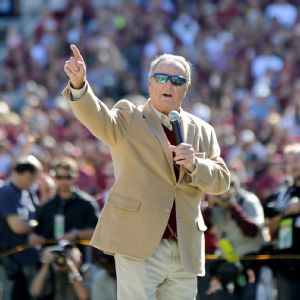 Melina Vastola/USA TODAY SportsBobby Bowden believes the current Florida State team could go down as the best in school history if the Seminoles beat Auburn.
That is a pretty bold statement from a man who coached two national champions and established the first Florida State dynasty. His program began competing for and winning national championships before the BCS was invented, headlining the late 1980s and 1990s. It came as little surprise, then, to see Florida State play for the first three BCS national championships.
Yet Florida State lost the first BCS title game to Tennessee in the 1999 Fiesta Bowl, playing without injured quarterback Chris Weinke. The following season, the Seminoles began the year ranked No. 1 and used the national championship game disappointment as motivation.
Players knew they had the talent, but Bowden pushed them further, instituting mat drills on Tuesdays before practice. Come Saturday, Florida State was the best-conditioned team on the field. Players believed they would prevail in the fourth quarter every single time. When they beat Virginia Tech in the Sugar Bowl, Florida State became the first team to go wire-to-wire as the No. 1 team in the nation.
"It was amazing that we could really put Florida State where they needed to be," said Ron Dugans, a Florida State receiver from 1995-99 and now an assistant at Louisville. "I feel like it could have been more, but you really appreciate getting a chance to go 12-0. Nowadays, it rarely happens. We take that for granted. Going undefeated doesn't come easy. You look at how many draft picks, how many All-Americans, how many all-conference guys that have played at Florida State, all the great coaching. We only went undefeated once."
The following season, the Seminoles lost the national championship game to Oklahoma in the Orange Bowl. While they made a few more BCS appearances in the ensuing years, they could not quite match the standards their predecessors built. NCAA sanctions also took a toll, forcing Florida State to vacate five wins in 2006 and six wins in 2007. Bowden was eventually forced out in 2009, closing his record-setting career with a 7-6 mark.
Jimbo Fisher has led the way back up to relevance, doing so in a vastly different landscape than the one Florida State navigated the last time it played for a title. The SEC has become the most dominant league in the nation, college coaches have become multimillionaires several times over, television dollars have redefined and reshaped conferences and long-standing rivalries, and the sport is headed for a four-team playoff.
But what has not changed is what got Florida State back on top.
Excel at recruiting and your chances of winning are greatly enhanced. Florida State currently has backups who could start somewhere else, the way it did when the BCS era began.
Excel at recruiting a talented quarterback, and your chances are enhanced further. Florida State has a Heisman Trophy winner in
Jameis Winston
, the way it had a future Heisman winner in Weinke when the BCS era began.
"My philosophy is if you get the best players you're going to win," Bowden said. "The thing Jimbo has done such a great job of is recruiting. How does he go to Alabama and get the best quarterback in the country?"
Winston now has Florida State in position for comparisons. Bowden points to the way the 2013 team has won its games, ranking as the No. 2 scoring offense in the country and No. 1 scoring defense. Average margin of victory: 43 points. No team came within single digits.
"The only thing about our last team in '99, we were No. 1 at the start of the season and were No. 1 every week and went through undefeated," Bowden said. "This team beat everybody so bad if they win this next ballgame, they're going to have a right to say whatever they want to say."
Bowden is not the only one who believes. Corey Simon, a defensive tackle on the 1998 and 1999 teams, told Dugans the other day, "This team is just as good as the teams we had at Florida State when we were playing."
"I think it's slowly become the way it used to be," Dugans said. "Those guys now, they've embraced the tradition at Florida State. They've got a chance to become a part of a legacy. They go out and play hard for the school colors, the school tradition, and the guys who helped put the school on the map."
Now they have a chance to put Florida State back on the map. The national championship map.
July, 10, 2013
7/10/13
9:00
AM ET
By
Jeremy Willis
| ESPN.com
Jeff Cameron, David Hale and Heather Dinich agonized and analyzed the rosters of Florida State greats to pick their all-time Seminoles teams. Here's a look at the surprises, steals and moves that made up each team.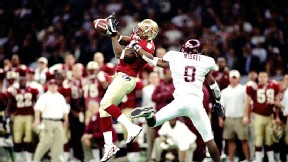 Matthew Stockman/Getty ImagesPeter Warrick, who was MVP of the 2000 Sugar Bowl National Championship, is one of the many playmakers on Team Hale. Warrick is FSU's all-time leader in TD receptions.
Biggest surprise: Marvin Jones No. 1.
With two Heisman-winning quarterbacks waiting to be taken, it was almost assumed that Charlie Ward or Chris Weinke would be the first pick of any all-time Florida State team. No so fast. While NFL GMs might disagree with taking a middle linebacker so high, this is a statement of the team's history and maybe some sentimentality as well. "Shade Tree" recorded 100-plus tackles in each season at FSU and won the Butkus Award as a junior. But, more importantly, his combination of fierce hitting, speed and athleticism would set the standards for FSU's defenses throughout the 1990s.
Biggest steal: Anquan Boldin in Round 21.
Boldin gets lost in the litany of great receivers that have played for the Seminoles. He overcame a torn ACL in 2001 and returned the following year to put up a 1,011-yard season, which is the seventh-best in school history.
Best unit: Team Cameron Linebackers.
Both Jones and Derrick Brooks are two-time All-Americans, and Brooks is a sure-fire Hall of Famer, but Reggie Herring had more career tackles at Florida State than both of them. He was also a three-year starter in Bobby Bowden's early days in Tallahassee. Jones and Brooks' reputations and resumes speak for themselves, but its Herring that rounds out this tackling machine of a unit.
Gutsiest pick: Clay Shiver No. 4 overall.
With Deion Sanders, Derrick Brooks and Warrick Dunn following immediately after, it would be easy to wonder just what Team Dinich was thinking taking a center with the first pick of the second round. However, the all-time draft rule required one center and four other offensive linemen. Florida State has had one center selected as an All-American -- Shiver in 1995.
Best team: Team Hale.
Think back to Florida State's fast-break offense with Charlie Ward at the controls. Now give the dual-threat Heisman winner Peter Warrick, Marvin Minnis and Kez McCorvey to throw to and Travis Minor in the backfield. Minnis helped Weinke to his Heisman as a deep-ball threat in 2000, and McCorvey was Ward's go-to guy during the 1993 title run. Then there's Warrick, perhaps the most electrifying player with the ball in his hands. In other words, the passing game would be hard to beat. Add in Minor, the Seminoles' all-time leader in carries, and the offense becomes lethal and balanced. The Hale squad lacks the same star power on defense, but when you've got Prime Time, Deion Sanders, trash-talking, high-stepping and locking down one side of the field, Terrell Buckley on the other side and Peter Boulware rushing the passer, the defense will be just fine.
July, 8, 2013
7/08/13
9:00
AM ET
Charlie Ward's credentials are impeccable. He's second in school history in total offense. He was the first Florida State player to win a Heisman. He led Florida State to its first national championship.
In a draft of the all-time greatest Seminoles, Ward's an easy pick at No. 1, right?
[+] Enlarge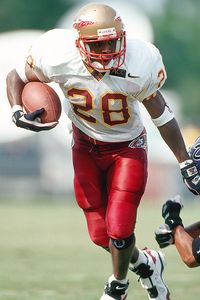 US PresswireWarrick Dunn is Florida State's all-time leading rusher, but is that enough to make him a No. 1 pick in the all-time FSU draft?
Actually, it's not quite so simple. Ward, of course, never played a down in the NFL, so shouldn't future professional stars like Derrick Brooks or Warrick Dunn earn some consideration, too? And while Ward was certainly one of the elite quarterbacks in college football history, it's perhaps Chris Weinke that was the better pure passer, finishing his career with nearly 10,000 passing yards to go with a Heisman and national title of his own. Then there's the men who helped pave the way for those national championships by building Florida State into a powerhouse program -- from Fred Biletnikoff in the 1960s to Ron Simmons in the 1970s, and of course, Deion Sanders in the 1980s.
In other words, when it comes to picking the best players to come through Tallahassee in the past half-century, there's ample room for debate, and that's exactly what we'll be doing at NoleNation this week as we look at our all-time Florida State football team.
Our panel of experts will participate in a draft of Florida State's best players, and we'll analyze the picks. We'll dig into the archives to look at how FSU landed some of those key players on the recruiting trail, and we'll look ahead at which members of the current crop of Seminoles might go down in history as some of Florida State's all-time best.
Of course, to get it all started, we needed to figure out some way of ranking the best of the best, and it wasn't easy. Here are a few of the key debates that raged in advance of our draft:
What's the criteria?
Does Ward get penalized because he didn't go on to professional stardom? Does Walter Jones get extra credit for what he did in the pros, despite spending just a year in Tallahassee? And what's a fair comparison between Biletnikoff and Warrick, who played the same position nearly 40 years apart? When you're splitting hairs between the best of the best, simply finding a standard set of rules to judge them by isn't easy.
Who's at the top?
Never mind finding Florida State's all-time top player. That's an impossible task. Simply narrowing down the list to a top 10 was a painstaking experience, and surely the final results will earn some scorn from fans befuddled about the absence of their personal favorites. When a program spends the better part of two decades in the hunt for a national title, there's no shortage of difference makers.
Offense or defense?
Sure, Ward and Weinke have the Heisman trophies, but should some glamor awards trump all the battered bodies Mickey Andrews' boys left in their wake? From Simmons' rise to stardom in the late 1970s to Sanders ushering in the "Prime Time" era in the '80s to Brooks, Terrell Buckley, Corey Simon, Peter Boulware and a few dozen more defensive stalwarts, there's plenty of cases to be made that the defense was the building blocks for FSU's championships, and the Seminoles' defenders deserve the lion's share of the top spots.
Who comes next?
Even after ironing out a list of FSU's best, finding the next batch of greats for the later rounds of our draft was equally challenging. Who follows Ward and Weinke at quarterback? Once Dunn and Greg Allen were off the board, how do you decide between Sammie Smith, Travis Minor, Larry Key, Greg Jones or a host of other running backs? If Sanders and Buckley were the clear-cut top DBs, when's the right time to jump on Corey Sawyer, LeRoy Butler or Tay Cody?
None of the answers were easy, but this week we'll do our best to put an end to a few of the debates.
January, 31, 2013
1/31/13
8:00
AM ET
There isn't just one reason for Florida State's gradual decline after playing for the national championship following the 2000 season, but one that can't be overlooked was recruiting -- and the recruiting of quarterbacks, in particular.
Solid, consistent play at the position evaporated with the departure of Heisman Trophy winner Chris Weinke, though many expected the Seminoles to restock as they always had. However, one defection turned those plans upside down.
[+] Enlarge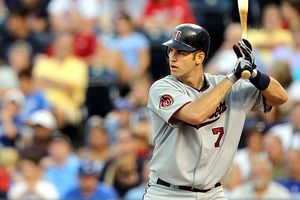 Jamie Squire/Getty ImagesJoe Mauer threw 73 touchdown passes in high school before becoming a three-time AL batting champion with the Minnesota Twins.
This wasn't a decommitment; this was another option, and another sport.
October, 14, 2012
10/14/12
11:27
AM ET
From
EJ Manuel
's 400-yard passing game to
Rodney Smith
's career day receiving to
Dustin Hopkins
' record-setting kick, there were plenty of Seminoles putting up big numbers against Boston College. Here are five stats that made the difference in FSU's 51-7 victory.
[+] Enlarge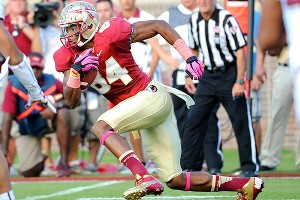 Melina Vastola/US PresswireRodney Smith had a career-high nine receptions against Boston College.
9.
That's the number of passing plays called by Jimbo Fisher to start the game. Fisher insists he wasn't out to send a message following a week's worth of criticism surrounding his more conservative approach against NC State, but it was certainly noteworthy given that Boston College ranks among the worst run defenses in the nation. FSU also opened its first drive pinned inside the 1-yard line, but Manuel looked deep on four of his first six throws, finally connecting on a 77-yard bomb to
Kenny Shaw
for a touchdown to wrap up the first drive.
1,632.
That's the number of rushing yards Florida State has racked up this season after finishing Saturday's game with 201 yards on the ground. That total through seven games is a whopping 174 more rushing yards than the Seminoles mustered in all of 2011. The 233.1 yards per game FSU is averaging on the ground is more than double last year's average, and
Chris Thompson
's 68 yards Saturday gives him 640 for the season, 61 more than
Devonta Freeman
's team-leading total from last season. Thompson needs to average just 60 yards per game (51.4 if FSU plays in the ACC championship) to become the school's first 1,000-yard rusher since 1996.
2.
That's the number of Florida State's plays Saturday that went for a loss -- a 6-yard sack of Manuel and a 1-yard TFL on a Freeman run. That's not necessarily proof of a big step forward for the offensive line. BC entered the game with just four sacks on the year (second worst in the ACC) and just 12 tackles for a loss (worst in the conference), but it was remarkable what the extra time in the pocket did for Manuel and the FSU offense. In the previous two games, the Seminoles allowed 19 negative plays, and not coincidentally, they turned in their two worst offensive performances of the season.
439.
That's the number of passing yards for Manuel, a career high. But that's just the beginning of the huge numbers in the passing game. Manuel said he'd never thrown for 400 yards in a game -- even in high school. For Florida State, it's the first time a quarterback has topped the 400-yard mark since Chris Weinke threw for 521 against Clemson in 2000. Manuel's four touchdown passes and 27 completions also tied his career highs. He completed passes to nine different receivers -- Fisher was shocked to see that
Nick O'Leary
wasn't one of them -- including nine completions to Smith, also a career high. Smith and Kenny Shaw became the first pair of FSU receivers to top the 100-yard mark in the same game in a year, and Shaw's 77-yard TD catch represented a career high for both he and Manuel. And while Fisher insists airing it out had nothing to do with sending a message after last week's loss, it's also worth noting that Manuel's 439 yards more than doubled his passing yardage total against NC State.
16.
That's the number of consecutive second-half kickoffs Florida State had fielded and failed to follow with a touchdown before marching down the field for an eight-play, 75-yard scoring drive to open the second half against BC. FSU had come up empty on four straight opening possessions of the second half this year, but Fisher said the team worked on upping the intensity in practice with eyes on ending the streak, which finally happened on a 3-yard run by
Lonnie Pryor
.
July, 10, 2012
7/10/12
7:22
AM ET
As Florida State gets set to open camp for the 2012 season, perhaps no player has more pressure on his shoulders than senior quarterback EJ Manuel. It's a role former FSU quarterback and current ESPN analyst Danny Kanell knows well.
[+] Enlarge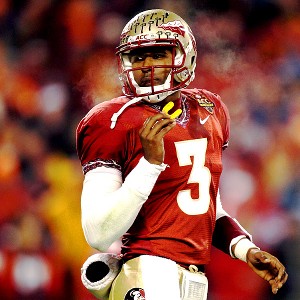 Streeter Lecka/Getty ImagesQuarterback EJ Manuel enters his senior season at Florida State with high expectations.
Kanell upped his touchdown total from 17 to 32 from his junior to senior seasons with the Seminoles, and he says Manuel will need to make a similar leap forward this season if Florida State is to meet preseason expectations.
Here's more of Kanell's analysis of Manuel's progress and Florida State's potential.
Q. You've gotten to see Manuel play a good bit during the last few years. What do you think is the key for him this season to take that next step?
A.
I really like EJ a lot. The one thing about EJ that you can't coach is that he's got the intangibles. He's got the leadership qualities, the toughness, the mental IQ to run an offense successfully. Those are some of the things I really like about him. He's got the size, the physical capabilities to make all the throws. He can run, he's athletic. I think the one area where EJ's going to need to step up, and where if Florida State has national title aspirations this year, which they do, they're going to have to see EJ step up as a pure passer.
That's something they worked on in the spring game. I got to cover the spring game and he threw it 51 times. It was obviously something they were working at, was his pocket-passing ability. If he improves that just a little bit -- it's just the finer details. You're talking about a guy with a 65 percent completion rate and pretty good touchdown-to-interception numbers. But if he wants to take the next step, he's got to have a season where he throws about 30 touchdowns vs. single-digit interceptions to be considered a true premier quarterback in the whole country.
Q. How much do you think his progress in becoming a better pocket passer last season was hindered by the problems on the offensive line?
A.
I think there were two things that greatly affected his play last year. One was the play of his offensive line. Two was the fact that he was battling injury all year. He's one of the toughest quarterbacks in the entire country. For him to bounce back as quick as he did, only missing one-and-a-half games with the shoulder injury and playing through a tremendous amount of pain, showed you his toughness. But the offensive line has got to do a better job of protecting him so that he can sit in the pocket and go through his progressions and get to that second, third, fourth option in his reads.
Q. How much more important is it for him to develop in the pocket when Florida State has such a deep corps of receivers who can make plays with the football?
A.
It kind of goes back to the days of old when you had so many weapons to work with, back when Charlie (Ward) was there, myself, Chris Weinke. You really just had to be a distributor. You had to get the ball to the right guy, whatever the defensive would give you.
That's going to be a similar situation to what EJ's going to be in this year. If he just goes out there and makes good decisions -- that's all you have to do is be a good decision maker and get the ball in the right hands and let those guys do the rest.
The thing EJ's got going for him is that he's a better runner than all of us except for maybe Charlie. If you combine that with the weapons they've got and you can have a little bit of a running game -- last year they finished 104th in running. I'm sure they'd love to have a top-20 running game, but even if you're just top-50 where it's respectable, this offense could be extremely difficult to stop.
Q. How difficult is it for a quarterback to stay in the pocket that extra half-second when he's used to using his legs to escape trouble and has the athletic ability to make plays as a runner?
A.
I think because you know you can do it so much on your own, but that's where you get into trouble is when you try to do too much on your own. I think even Christian Ponder did that because he was such an outstanding runner. It's an art form of knowing when to do what, knowing when to stay in the pocket and wait for that receiver to come open, and when to tuck it and run.
You're seeing the quarterback position evolve in college football and in the NFL to guys who can do both. And if you can do both, you're almost unstoppable for a defensive coordinator to try to defend you. If they have to account for you as a legitimate passer and as a legitimate run threat, it's almost unstoppable.
To continue reading this article you must be an Insider
Top Position Battles Heading In To Spring
ACC SCOREBOARD
Thursday, 9/3
Saturday, 9/5
Monday, 9/7