Florida State Seminoles:

Bryan Underwood
October, 26, 2013
10/26/13
7:00
AM ET
TALLAHASSEE, Fla. -- Florida State is fresh off its biggest win in years and ranked No. 2 in the BCS standings. NC State has dropped three of its last four games and arrives as the decided underdog. That's actually been a dangerous scenario for the Seminoles in recent seasons, when NC State has made a habit of pulling the upset. Here are five keys likely to decide if Florida State keeps riding high or if the Wolfpack have another surprise in store.


1. Contain the QBs:
Florida State's
Jameis Winston
has thrown for at least 300 yards and three touchdowns in each of his first four ACC games. No other first-year quarterback has done that in the past 10 years. Winston's four previous ACC foes, however, allowed an average of 230 pass yards per game, 61 percent completions and 7.4 yards per attempt. NC State (204 yards per game, 57 percent completions, 6.0 yap) could provide a more substantive obstacle. Meanwhile, Wolfpack QB
Brandon Mitchell
expects to play for the first time since suffering a foot injury in the opener. He's athletic with a strong arm and could provide the NC State offense with a spark it hadn't shown recently.
2. Eliminate the clutter:
It's Jimbo Fisher's favorite mantra, but it's particularly appropriate this week. Not only will Florida State have to shrug off the legions of fans dreaming of a national title after last week's dominant win in Clemson, but the weight of the past will also loom large. Longtime coach Bobby Bowden is set to attend his first game at Doak Campbell Stadium since his ouster in 2009, and more than 300 former players plan to be in attendance. That's a lot of fanfare and pageantry that has little to do with the actual game, and that's meant a week of Fisher reminding his team to ignore all the distractions.
3. Remember the pain:
That's the other message Fisher has preached this week, but Florida State's players haven't needed the reminder. So many of this year's Seminoles were on the field for last year's 17-16 loss -- the one that sunk any hopes for a national title and sullied an otherwise successful season. Fisher has used last year's loss as a reminder of what can happen if FSU overlooks an opponent, but it's also a good reminder for the Wolfpack that they're not an easy mark. In fact, since 2002, NC State is 5-2 against ranked Florida State teams.
4. Success in the slot:
In last year's win, Mike Glennon's longest completion was a check down to his tailback that went 24 yards. On NC State's two touchdown drives, Glennon had just three completions of more than 9 yards. The game-winning score was a 2-yard toss to slot receiver
Bryan Underwood
. In other words, it was death by a thousand dinks and dunks for FSU last year, with NC State's slot receivers and tailbacks catching one pass after another against the Seminoles linebackers and nickel. Meanwhile, FSU's slot receiver,
Kenny Shaw
, has been a master of the big play this season as 61 percent of his catches have gone for 15 yards or more, the third-highest rate in the ACC.
5. Get the run game going:
In its five games against FBS teams this year, NC State is averaging 44 rushing attempts -- the second most in the ACC. The Wolfpack's offense has lived and died with the ground game. During a 3-1 start to the year, NC State averaged 4.5 yards per carry and scored 10 times on the ground. In its last two games, both losses, it has mustered just 3.2 yards per rush without a touchdown. Florida State, meanwhile, has allowed just two rushing touchdowns all season and has held its last two opponents to 2.4 yards per carry. The Seminoles' offense has some potential concerns on the ground, too, though.
James Wilder Jr
. will miss the game with concussion symptoms, and FSU has seen its yards-per-carry drop in each of its last four games.
October, 24, 2013
10/24/13
8:00
AM ET
TALLAHASSEE, Fla. -- The cover page of the defense's installation booklet Monday featured a hauntingly familiar image for Florida State. It was a screen capture of NC State's final offensive play last year with the score scrawled across the bottom: Florida State 16, NC State 10. Fourth down, goal to go.
Christian Jones
looked down at the photo then looked away, shaking his head. There was no need for reminders of what came next.
[+] Enlarge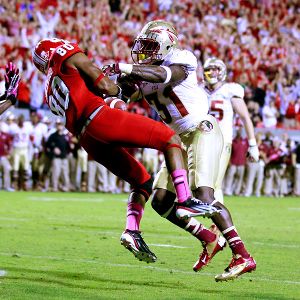 Ethan Hyman/Raleigh News & Observer/MCTBryan Underwood's game-winning touchdown reception for NC State against FSU last year haunts and drives the Seminoles at the same time.
"Seeing that right now," Jones said, "I'm like, 'Dang, one play away.'"
That play ended with a pass from Mike Glennon to
Bryan Underwood
for the game-winning touchdown.
Terrence Brooks
might have batted it away if he'd left his man.
Tyler Hunter
nearly tipped it away, too.
Telvin Smith
went for the pick, but he came up short.
Up and down the roster, the memories linger, and that's a good thing, Jimbo Fisher said. He wants his team to remember the pain.
"It's just like yesterday that it happened," Smith said. "I know what it felt like. I was on the field, I saw him catch it, I saw Terrence try to knock it out, I saw [Underwood] jump up yelling and everyone going crazy. It's not something I need to re-watch. I vividly remember that."
Florida State went on to win an ACC championship last season and followed that with a victory in the Orange Bowl, but for all of 2012's success, the loss to NC State is perhaps what is remembered most by a sizable contingent of both fans and players.
As Florida State looks to build on last season's accomplishments in 2013, however, that loss might prove to be an asset.
The Seminoles are coming off an emotional victory over Clemson last week. Next week, they have a date with undefeated Miami. Normally, this week's game would be a classic trap scenario, but the opponent offers too many reminders of what can happen when FSU lets its guard down.
"Every time someone even says [NC State] it kind of makes my stomach turn a little bit," Brooks said.
But the growth of this season's team, in many ways, began with last season's loss.
There's a learning curve to success, Smith said. After Florida State lost to Oklahoma in 2011, it learned a valuable lesson about carrying the weight of a tough defeat into the next game, dropping two more before righting the ship.
After last year's NC State loss, the team learned that the exploits of success can't linger either. FSU was riding high when it arrived in Raleigh, N.C., and players admit they probably didn't take the Wolfpack seriously enough.
As the momentum shifted in the second half last year, and Florida State's once-commanding 16-0 lead dwindled, heads hung and focus waned.
Jameis Winston
, then a redshirting freshman, was one of the few voices to speak up, trudging up and down the sideline, cheering and pushing his teammates to regroup. It didn't go over well.
"Everybody was down, and you have this one freshman that's all turned up," receiver
Kenny Shaw
said. "We were like, 'We don't need that right now. Nothing can pick us back up.' But it seemed like he wanted to win more than us. It was sad thing for us."
A year later, players understand. Winston isn't the outspoken freshman who doesn't know his place. He's the unquestioned leader of the offense, and his competitive drive has changed the mindset of the entire team.
So this year's game is about both the past and the future. EJ Manuel called Winston this week to remind him how last year's game ended, imploring him not to let it happen again. Brooks said he's playing this week for the seniors on that team who won't have a chance at redemption. FSU is No. 2 in the BCS right now, but unlike last season, the Seminoles aren't paying much attention to their ranking. One game at a time is a mantra they're actually living by.
And that's where perhaps the most growth has come since that devastating loss last season. Yes, Florida State's players want a win to ease that sick feeling in their stomachs, but that's not entirely what Saturday's game is about.
"I wouldn't call it a revenge because this is a totally different team,"
Rashad Greene
said. "It's just a lesson learned."
October, 3, 2013
10/03/13
9:00
AM ET
Andrea correctly picked the Virginia Tech upset over Georgia Tech, but neither she nor Heather called the East Carolina upset over North Carolina. For the week, Andrea went 7-1 to bring her season total to 41-5. Heather went 6-2 and is now two behind at 39-7 overall.
Let's see what Week 6 has in store.


No. 25 Maryland (4-0) at No. 8 Florida State (4-0, 2-0), noon, ESPN.
Maryland has never won in Tallahassee. Florida State has now won eight straight conference games, the first time the Noles have accomplished that feat since the 2001-02 seasons. Those two stats alone give Florida State the edge. Still, most expect this to be a competitive game. All eyes are on dual-threat quarterbacks
C.J. Brown
and
Jameis Winston
, who rank 1-2 in the ACC in total offense and are a big reason why their teams are unbeaten. Maryland is vastly improved on defense -- ranking just ahead of Florida State. But the Terps have not played anybody as good as this FSU offense. You could say the same for the FSU D. Still, the Noles have faced better competition (3 FBS teams .500 or better; Maryland two winless FBS teams) and have more depth and speed.
AA says: Florida State 30, Maryland 21
HD says: Florida State 28, Maryland 27


Ball State (4-1) at Virginia (2-2, 0-1), noon, ESPN3.
Virginia is on upset alert after its dreadful offensive performance against Pitt. Given the way Ball State scores, Virginia cannot win a shootout. It will have to rely on its stellar defense to slow down the prolific Cardinals and hope changes made to the offensive line and other positions on offense work. The good news for the Hoos is that Ball State has not been particularly adept at stopping the run, giving up about 200 yards a game. Of course, Pitt had been a sieve, too, and UVa only managed three points last week.
AA says: Virginia 20, Ball State 17
HD says:
Virginia is having trouble scoring on air right now, and Ball State is hot. Yes, UVa's defense has been much-improved under coordinator Jon Tenuta, but it's October and coach Mike London has just opened up some of his starting jobs on offense to competition. That's not a good sign. Meanwhile, Ball State is No. 10 in the country in passing offense, and averaging 40 points per game. Virginia's defense will keep it in the game, but a costly turnover or two and the Hoos' inability to convert on third downs will be the difference.
Ball State 14, Virginia 13


North Carolina (1-3, 0-1) at Virginia Tech (4-1, 1-0), 12:30 p.m., ESPN3.
Nobody has to remind Virginia Tech coach Frank Beamer about what happened in this game a year ago, when the Tar Heels racked up 339 yards rushing and won 48-34. But much has changed since their last meeting.
Giovani Bernard
-- who had a career-high 262 yards rushing -- is gone, and the North Carolina run game has fallen off in dramatic fashion. Virginia Tech, meanwhile, is vastly improved and ranks No. 4 in the nation in total defense. Given the way North Carolina has played on offense and the way Virginia Tech has played on defense this year, it is hard to give the Tar Heels much of a shot.
AA says: Virginia Tech 24, North Carolina 7
HD says: Virginia Tech 28, North Carolina 17


Army (2-3) at Boston College (2-2, 1-1), 1 p.m., ESPN3.
After some uncertainty as a result of the government shutdown, BC announced Thursday morning this game would be played as scheduled. Coach Steve Addazio says preparation during the week has focused on slowing down the Army option. Army is averaging 325 yards on the ground this season, and BC has had a tough time slowing down the run. To make matters worse, the Eagles have lost starting defensive tackle
Mehdi Abdesmad
for the season with a torn left patellar tendon. This is going to be a ground 'n' pound type of game. If
Josh Harris
at Wake Forest can lead the Deacs to a win over Army, then
Andre Williams
can do the same for BC.
AA says: Boston College 28, Army 17
HD says: Boston College 28, Army 21


NC State (3-1, 0-1) at Wake Forest (2-3, 0-2), 3:30 p.m., ESPN3.
The home team has won every game going back to 2007, but that streak is going to come to an end Saturday. Here is why. Wake Forest coach Jim Grobe conceded this week his offense still has not found its niche and the coaches are trying to figure out what works well. Never good to hear that nearly midway through the season. The Deacs have improved on defense, but their offense remains sub-par and Grobe acknowledged they need
Tanner Price
to play better. NC State, meanwhile, has gotten terrific production from
Bryan Underwood
lately and has seen
Pete Thomas
improve each week. Plus, its defense leads the ACC with 37 tackles for loss.
AA says: NC State 31, Wake Forest 17
HD says: NC State 28, Wake 17


No. 3 Clemson (4-0, 2-0) at Syracuse (2-2), 3:30 p.m., ABC/ESPN2.
We have heard a lot of Syracuse players speak confidently about their chances at pulling the upset this weekend. The Orange have, after all, pulled an upset or two over a ranked team at home the last several years. The plan will be the same as the one that flustered
Teddy Bridgewater
and
Geno Smith
-- put pressure on
Tajh Boyd
and hope that does enough to limit the skill players on the perimeter and keep the scoring down. But if the Tigers can handle the pressure, watch out. The Syracuse secondary has been a weak spot defensively this year.
Terrel Hunt
has played well in the last two games for Syracuse. But he has not seen anybody that compares to
Vic Beasley
or this Clemson defensive front yet. The Dome crowd will be loud, but ultimately Clemson will prevail in large part because it will win the matchups up front.
AA says: Clemson 30, Syracuse 20
HD says: Clemson 35, Syracuse 21


Georgia Tech (3-1, 2-1) at No. 14 Miami (4-0), 3:30 p.m., ESPNU.
Perhaps the most surprising stat headed into this game relates to the defenses -- both teams rank in the Top 10 in the nation in total D and scoring D. Consider where both were a year ago at this time, and that is a remarkable turnaround. Though Heather projects another shootout in this one, Andrea believes this is going to be a close, low-scoring game because of said defenses. The difference here is Miami is much better on offense, and has many more reliable playmakers.
Stephen Morris
and
Duke Johnson
will make enough plays on the Jackets' defense to get the Canes to 5-0.
AA says: Miami 24, Georgia Tech 20
HD says: Miami 41, Georgia Tech 31
September, 30, 2013
9/30/13
11:00
AM ET
Here is one last look back at the weekend that was in the ACC:
[+] Enlarge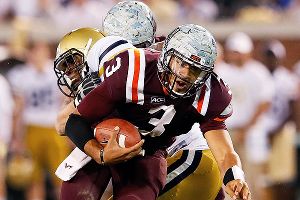 Kevin C. Cox/Getty ImagesLogan Thomas came through for Virginia Tech against Georgia Tech.
The good
:
Logan Thomas
completed his first nine passes, his defense made its case as one of the nation's best and Virginia Tech pulled off the 17-10 upset Thursday night at Georgia Tech, potentially revitalizing a Hokies program that had been facing several questions following a 7-6 campaign and mostly underwhelming performances through its 3-1 start entering Atlanta. Thomas finished 19-of-25 for 221 yards and a touchdown, adding 58 yards and another score on the ground. Virginia Tech's defense held the vaunted triple-option offense of the Yellow Jackets to 10 points and 273 total yards -- on a short week, no less. The Coastal division race is very interesting, to say the least.
The bad
: Paging North Carolina. What in the world happened to the Tar Heels? They dropped a 55-31 home contest Saturday to East Carolina to fall to 1-3, and their offense and defense might share equal blame. The offense for failing to score in the final 39-plus minutes last week at Georgia Tech, then not scoring a touchdown until late in the second quarter Saturday, while already facing a 21-3 hole. The defense for, well, giving up 55 points and 603 total yards to the Pirates. Games on deck at Virginia Tech and then against Miami (Fla.) won't be any easier on the offense, but UNC needs answers fast.
The ugly
: Miami's 49-21 win at USF was rather uneventful in terms of competitiveness, but Hurricanes quarterback
Stephen Morris
added some spice to the postgame talk after he accused the Bulls of being a "dirty team." Morris had thrown 222 yards and two scores before leaving in the second quarter after reinjuring his ankle, which he hurt the week before against Savannah State.
Said Morris, according to the Palm Beach Post
: "South Florida's a dirty team. When you're down and tackled and everyone's on top, they're going to try to go for your ankles. We were up three, four touchdowns. Ain't no point for me to mess with these guys who are going to play dirty. It is what it is. I wanted to score 70 points on them. They disrespected us, so I had no respect for them. At that point, I felt like we should just keep pushing it, keep killing them."
The slugfest
: OK, maybe we're being generous here, but credit Pittsburgh for being able to outlast Virginia 14-3 one week after running away from Duke in a 58-55 win. The Panthers outgained the Cavaliers 199-188. They rushed for just eight yards. They had three turnovers and forced two themselves. The teams combined for 17 punts.
Tom Savage
was sacked nine times and left with concussion-like symptoms late in the fourth quarter. But Pitt has won three in a row after a rough opener against Florida State, and that's all that matters.
The history
:
Tajh Boyd
eclipsed the 100-touchdown mark for his career in Clemson's 56-7 win Saturday over Wake Forest, making him the second quarterback in ACC history to accomplish the feat for his career, joining
Philip Rivers
. Boyd completed 17 of 24 passes for 311 yards with three touchdowns and no picks, and he added 69 rushing yards and another touchdown. He bounced back from a so-so outing at NC State a week earlier and reignited the Heisman talk surrounding him. He took offensive coordinator Chad Morris' advice to "have fun" and helped the Tigers make easy work of the Demon Deacons.
The big quarter
: NC State scored four touchdowns in the second frame of its 48-14 win over Central Michigan, recovering from the loss to Clemson and improving to 3-1.
Pete Thomas
threw his first touchdown pass of the season, an 80-yard strike to
Bryan Underwood
late in the fourth quarter, as the Wolfpack rolled. The quarterback finished 14-of-20 for 244 yards with one touchdown and one pick, plus another rushing score. He connected all day with Underwood, who caught five passes for 148 yards and added 42 rushing yards.
The rebound
: It was only against Troy, but
Brandon Connette
completed 20 of 28 passes for 324 yards with three touchdowns and just one pick in Duke's 38-31 win over the Trojans, while adding 55 rushing yards and two more scores on the ground. The redshirt junior's numbers were similar last week against Pitt, but his four picks against the Panthers proved to be costly. Saturday was far from pretty, but the Blue Devils got a win they simply had to have it they want to go bowling for a second straight season. Their 514 yards of offense helped them get to 3-2.
The quote
: In losing a tightly contested, 48-34 shootout to Florida State, Boston College exceeded everyone's expectations. Everyone's but their own. Said coach Steve Addazio,
according to ESPN Boston's Jack McCluskey
: "Don't let people tell you, 'Oh boy, you played Florida State nose up.' Who cares? We didn't come out there to play them nose up. I heard that crap early in the media. People asking me about, 'What are you gonna do to keep it close?' I had all I could do not to explode. What do you think, you coach or play to keep it close? What are you talking about here? You play to win. We played that game physically enough to win it. We let up too many big plays, and that cost us a football game. And it didn't have to happen. I don't care who the heck we played."
September, 29, 2013
9/29/13
9:00
AM ET
The two ACC quarterbacks contending for the Heisman turned in outstanding performances in Week 5, while one of the league's most maligned quarterbacks joined them. Here are this week's helmet stickers.

Virginia Tech QB Logan Thomas:
Perhaps no player in the ACC has faced more criticism in the first month of the season, but in spite of his struggles, Thomas now has his Hokies in position to win the Coastal thanks to an upset of Georgia Tech in which he was nearly flawless. Thomas completed 19-of-25 passes (just his second career game completing better than 70 percent of his throws) for 221 yards and a TD. He also rushed 16 times for 58 yards and another touchdown. Plenty of credit again goes to the Virginia Tech D, which sealed the game with a late interception, but it was Thomas' sterling performance that provides hope the Hokies still have a shot at a BCS game.
Pitt DT Aaron Donald:
One week after being gashed for 55 points by Duke, the Pitt defense stepped up and shut down Virginia. The Cavaliers mustered just three points and 188 yards of offense, with Donald leading the charge in the middle of the line. Donald finished the game with two sacks, two QB hurries, three tackles and a forced fumble. Virginia managed just 2 yards per rush.
Florida State QB Jameis Winston:
The defense struggled, the special teams were bad, but FSU's dynamic freshman quarterback staved off Boston College's upset bid almost single-handedly. Winston completed 17-of-27 passes for 330 yards and four touchdowns, including a 55-yard Hail Mary throw at the end of the first half to
Kenny Shaw
. Winston was dazzling, leading FSU back from a 17-3 deficit with three completions of 40-plus yards. He also paced FSU's rushing game, carrying 14 times for 67 yards.
NC State WR Bryan Underwood:
The Wolfpack kept things close with Clemson last week but came up just short. They've found a good bit more success outside the conference, including Saturday's 48-14 thrashing of Central Michigan when Underwood led the way with 190 yards of offense and a touchdown. Underwood caught five passes for a career-high 148 yards. Underwood hauled in an 80-yard touchdown pass from
Pete Thomas
, the first of the season for the NC State quarterback.
Clemson QB Tajh Boyd:
After a somewhat shaky outing against NC State a week ago, Boyd bounced back into Heisman form against woefully overmatched Wake Forest. The senior QB completed 17-of-24 passes for 311 yards and three touchdowns. He also served as Clemson's leading rusher, carrying the ball 17 times for 69 yards and a score. Boyd has accounted for at least three touchdowns in each of his three starts against FBS opponents (and 14 of his last 15 dating to last season).
January, 14, 2013
1/14/13
3:30
PM ET
It was a rough year for the ACC, but in retrospect, there were too many highlights to narrow it down to 10. From
Blair Holliday
's return, to the ACC's impressive performances during bowl season, to individual performances and games, the conference had plenty of memorable moments in 2012.
The following is a list of 10 moments and memories that best captured the 2012 ACC season, according to ESPN.com. ACC fans are bound to have more, and we'd love to hear them. What did we miss? Feel free to
drop us a note in the mailbag
, and we'll highlight the best nominations in a separate mailblog. Until then, here are your top 10 moments from 2012, starting with the best:
1. Chandler Catanzaro's game-winning field goal versus LSU in the Chick-fil-A Bowl:
It was the ACC's biggest win of the season, and the highest-ranked team Clemson has beaten in a bowl game since the 2004 (2003 season) Chick-fil-A Bowl, when the Tigers defeated sixth-ranked Tennessee 27-14. Catanzaro's 37-yard field goal as time expired gave No. 14 Clemson a wild 25-24 win against No. 8 LSU, and it was the highest-ranked SEC team an ACC team has beaten in the past nine years.
2. Duke becomes bowl eligible for the first time since 1994
:
Sean Renfree
's 5-yard touchdown pass to
Jamison Crowder
on fourth down with 13 seconds left lifted Duke past North Carolina 33-30 and made the Blue Devils bowl eligible for the first time since 1994. Renfree converted three third-and-longs during the game-winning, 87-yard drive.
[+] Enlarge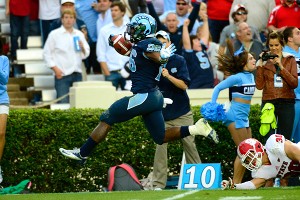 Bob Donnan/US PresswireGiovani Bernard's 74-yard game-winning punt return to lift UNC past rival NCSU was a play to remember.
3. Giovani Bernard versus NC State:
Bernard returned a punt 74 yards for the go-ahead touchdown with 13 seconds left, helping North Carolina stun rival NC State 43-35 to end a five-year losing streak in the series. That day, Bernard also ran for 135 yards and two touchdowns, and had eight catches for 95 yards.
4. Karlos Williams' tip and interception in the ACC title game:
In what turned out to be the final game for FSU defensive coordinator Mark Stoops, FSU's D came up big against Georgia Tech, and no play was bigger than Williams'. The game wasn't decided until Williams intercepted
Tevin Washington
with less than a minute remaining. It was FSU's first ACC title since 2005.
5. The ACC posting its first winning bowl record since 2005:
With marquee wins over LSU and USC and a victory in the Discover Orange Bowl, the ACC finally came out on the right end of bowl season, and will enter 2013 will some much-needed positive momentum. The Noles took another step toward national relevance with a 31-10 win against No. 15 Northern Illinois in the Orange Bowl -- their first BCS bowl win since they beat Virginia Tech in 2000.
6. FSU quarterback EJ Manuel's performance versus Clemson:
It was Manuel's one true Heisman moment of the season, as he completed 27 of 35 passes for a career-high 380 yards while rushing for another 102 to become the first Seminoles quarterback since Charlie Ward in 1992 to pass for more than 300 yards and run for more than 100 in a game.
7. Clemson QB Tajh Boyd accounts for eight touchdowns:
The ACC Player of the Year set school and ACC records when he scored five passing and three rushing touchdowns in a 62-48 win over NC State. The Tigers gained 754 yards and ran 102 plays, the most in school history. Boyd was responsible for every Clemson touchdown. Boyd was 30-for-44 for 426 yards and ran for 105 yards -- the combined 531 yards set another school record.
8. Johnson leads Canes to Coastal title:
In the regular-season finale against Duke, Miami freshman
Duke Johnson
rushed for season highs of 176 yards and three touchdowns. He scored on runs of 18, 6 and 65 yards. He finished his freshman year with 947 yards rushing, easily surpassing Clinton Portis' 13-year-old school freshman rushing record of 838 yards.
9. NC State's game-winning TD in its upset of No. 3-ranked FSU.
This isn't a "best moment" for FSU fans, but it was by far one of the most memorable plays in the ACC and a highlight for the Wolfpack. Quarterback
Mike Glennon
found
Bryan Underwood
for a 2-yard touchdown pass on fourth down with 16 seconds left, helping the Wolfpack beat the Seminoles 17-16 on Oct. 6.
10. Duke receiver Conner Vernon rewrites the record books:
In a 42-17 win against Virginia, Vernon surpassed Clemson's Aaron Kelly as the ACC's all-time leader in career receptions when he made a catch for minus-2 yards in the first quarter. In the 42-24 loss to Georgia Tech, Vernon became the ACC's all-time leader in yards receiving, passing former Florida State star Peter Warrick's record of 3,517 yards.
TOP 3 OFF-FIELD MOMENTS
[+] Enlarge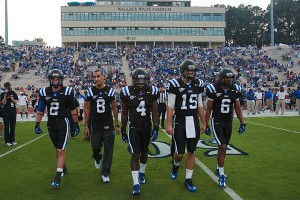 Courtesy of Duke Sports InformationBlair Holliday (No. 8) walks with his Duke teammates in his return to the field following a terrible jet ski accident that sidelined the wide receiver.
So as not to trivialize these moments by tossing them in with touchdowns, here are three more memories you won't want to forget:
1. Blair Holliday joins his Duke captains for the coin toss against NC Central:
It was a miraculous recovery, and the most inspirational story in the conference. Holliday, who suffered a traumatic brain injury in a jet ski accident on July 4 that left him in critical condition, led the team on the Devil Walk in what was an emotional comeback for the entire team.
2. Clemson receiver Daniel Rodriguez leads the Tigers on Military Appreciation Day:
The Army veteran
led the team down the hill carrying the American flag prior to the Virginia Tech game on Military Appreciation Day at Clemson on Oct. 20.
3. The ACC adds Louisville:
The ACC's presidents and chancellors voted to add Louisville to replace Maryland, a move that looked better and better as the Cardinals' football season ended with a win against Florida in the Allstate Sugar Bowl. ACC officials conceded the move was an athletics-first, academics-second decision, but it was one the conference should eventually benefit from.
December, 11, 2012
12/11/12
9:56
AM ET
With 2012 winding to a close, we're counting down the five biggest moments of the past season for Florida State -- those plays that defined 2012. Coming in at No. 4: Bryan Underwood's game-winning touchdown that ended FSU's hopes for a national title.
Perfection ended for Florida State in the most painful way possible.
In early October, the Seminoles left for Raleigh, N.C., with a sterling 5-0 record, but their only road test had been a short trip to USF, where nearly half the stadium was packed with FSU fans. The trip to NC State would be different -- far more hostile. But few players were concerned.
[+] Enlarge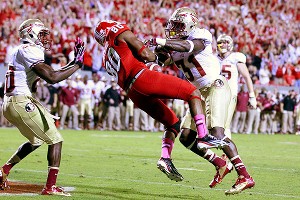 Ethan Hyman/Raleigh News & Observer/MCT via Getty Images Bryan Underwood's game-winning TD reception with 16 seconds left was the last of countless tiny cuts FSU suffered against the Wolfpack.
Just a year earlier, the Wolfpack were routed by Florida State at Doak Campbell Stadium, and just a week earlier, NC State's secondary was torched by Miami to the tune of 566 passing yards. With
EJ Manuel
under center and the Seminoles' explosive offense ready for a road show, even a somewhat sluggish first half, which left FSU with a 16-0 lead, did little to dampen anyone's enthusiasm.
But if the first 22 quarters of football in 2012 had been an emphatic confirmation of all the preseason expectations, the next two would erode months of good will, reignite a decade's worth of frustrations and, most importantly, add nothing to that 16-point lead that slowly disappeared amid an endless array of dinks and dunks by the NC State offense that ultimately led to
Bryan Underwood
's 2-yard touchdown reception that sent the Seminoles to their first loss of the season.
October, 6, 2012
10/06/12
11:56
PM ET
RALEIGH, N.C. -- After last Saturday's games,
Mike Glennon
sent a text message to his good friend
EJ Manuel
, predicting an upset.


It was a boastful claim considering NC State had just looked awful in a loss to Miami (Fla), and Florida State was flying high and ranked third in the nation. Manuel was so amused, he shared the message with his defense as a bit of bulletin-board material.
Turns out, Glennon was right.
NC State's senior quarterback led a furious assault on the vaunted Seminoles defense in the second half, rallying the Wolfpack from a 16-point deficit for a
17-16
win.
It was over when:
Glennon hit
Bryan Underwood
for a 2-yard touchdown pass on fourth-and-goal with 16 seconds remaining in the game. It was the third time NC State was faced with a fourth down on the drive, which began after the Wolfpack blocked a late FSU punt. The touchdown tied the game, and the ensuing extra point gave them the lead as NC State knocked off a top-five opponent at home for the first time since 1998, when NC State dumped No. 2-ranked FSU.
Game ball goes to:
Glennon. After being demolished in the first half, completing just 6 of 13 passes for 41 yards with an interception, the senior quarterback was a calm, cool and collected in the second half, delivering one big throw after another. Glennon finished the game 30-of-55 passing for 259 yards and two second-half touchdowns, including the game winner on fourth down with 16 seconds left.
Turning point:
Halftime. The first half was all Florida State, as the Seminoles dominated the line of scrimmage,
Chris Thompson
burned the NC State defense on the ground, and FSU went into the locker room leading 16-0. When the two teams emerged for the second half, it was a brand new ballgame. The NC State defense tormented Manuel, with FSU mustering just five first downs and 101 yards. NC State, meanwhile, sprung to life, quadrupling its first-half output with 257 yards of offense, most of it coming on short passes over the middle that FSU's linebacking corps had no answer for.
Stat of the game:
Four. That's the number of times FSU has started a season 5-0 since its 1999 national championship season, and on all four occasions it lost its next game. The questions will be awfully tough for Jimbo Fisher and the Seminoles to answer after this -- a game it dominated early. A week earlier, NC State allowed an ACC-record 566 yards passing, but Manuel couldn't solve the Wolfpack defense and another season of immense expectations fizzled with an unlikely loss.
Unsung hero:
The NC State offensive line. Missing three starters, the Wolfpack's offensive line stepped up and shut down a rather passive Florida State pass rush. The Seminoles had just one sack, which came early and from a defensive tackle. Fill-in offensive tackles
R.J. Mattes
and
Tyson Chandler
managed to keep
Cornellius Carradine
and
Bjoern Werner
off of Glennon long enough for the Wolfpack quarterback to engineer one strong drive after another in the second half, including three huge fourth-down conversions late.
October, 5, 2012
10/05/12
9:00
AM ET
TALLAHASSEE, Fla. -- It's something of a perfect storm for NC State coach Tom O'Brien.
Looming on the horizon is Florida State's vaunted defensive line, which through five games has a conference-best 15 sacks, led by
Bjoern Werner
and the reigning ACC defensive lineman of the week,
Cornellius Carradine
.
O'Brien's offensive line, meanwhile, is in turmoil. The unit has allowed 16 sacks this season, the most in the ACC, and will line up Saturday without three of its starters.
Add a traditional pocket passer like Wolfpack QB
Mike Glennon
, with the lingering memories of last year's 34-0 shutout at the hands of FSU, and it's a scenario that should give any coach nightmares.
"The problem we have right now is that we're starting our fifth offensive line in six games," O'Brien said. "We only have one guy that we came into the season with [as a starter]. That's definitely going to be a concern against this great front of Florida State."
Of course, Florida State has some concerns of its own.
Goodell Has Sit-Down With Jameis Winston
ACC SCOREBOARD
Thursday, 9/3
Saturday, 9/5
Monday, 9/7