Florida State Seminoles:

Brad Bates
June, 18, 2014
6/18/14
12:00
PM ET
May, 12, 2014
5/12/14
9:00
AM ET
The ACC opens its spring meetings today with critical decisions to be made about its future. And we are not just
talking about scheduling
.
Divisional structure, potential changes to the championship game and more discussion about a possible ACC Network are all on the table as league athletic directors, coaches and administrators gather in Amelia Island, Florida, for the next four days.
Each topic is carefully interlaced and fraught with its own complicated issues. No decision about one can be made without impacting another. Just as an example: Any new information on a possible ACC Network could end up determining whether the league stays with an eight-game or moves to a nine-game conference schedule. Then that decision could ultimately determine what the ACC does with its division and championship game format.
"It's like dumping out a Lego set and trying to piece it all together and do it right," Syracuse athletic director Daryl Gross said. "And it's not as simple as red goes with red, yellow goes with yellow. It's a little more complex. But all these things are such good, challenging things to look at. It's exciting, the discussions are really exciting right now because there are so many creative things that can happen out of all this."
[+] Enlarge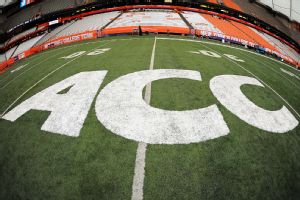 Rich Barnes/CSM/AP ImagesThe Atlantic Coast Conference begins spring meetings on Monday that will last through Thursday.
As it stands today, there is no clear consensus among athletic directors on what will best position the league moving forward into the College Football Playoff era. Because of that, nobody inside the league knows whether a vote on future scheduling will even happen when the meetings conclude Thursday. Considering the ACC is the last conference to determine what its future conference schedule will be, what happens here will be watched much more closely.
While there does seem to be more movement toward a nine-game schedule among the athletic directors than there was last year,
the league does not yet
have a simple majority in favor of adding another conference game.
There also is very little traction for changing the division format or championship game setup -- even though the
ACC petitioned the NCAA
to be granted the flexibility to determine its title game participants.
In interviews ESPN.com conducted with all 14 athletic directors leading up to the meetings, none were in favor of rearranging divisions. Nine were opposed to getting rid of divisions entirely, four remain undecided and one had no preference. Clemson athletic director Dan Radakovich, in the undecided camp, wants an answer on league scheduling before moving forward to the division and championship game discussion.
He agrees, however, with the decision to petition the NCAA to change title game legislation.
"Depending upon where the conversation goes with the eight versus nine games, I think that the lineup, whether it is 1-14, whether it's two seven-team divisions, whether the divisions are the same as they currently are, I think will be a totally separate discussion," Radakovich said. "But first, we have to make that other decision on the eight or nine games."
Getting rid of divisions altogether would relieve some of the headaches that go along with the current eight-game scheduling model, which features only one rotating crossover opponent. That has drawn criticism from both coaches and athletic directors who do not want to go as long as eight years between games against conference opponents.
Without divisions, teams could rotate through a cycle that would allow student-athletes to play every conference team at least once in their careers. But it could also mean getting rid of permanent crossover rivalries like Miami-Florida State, North Carolina-NC State and Duke-Wake Forest. And it could also mean chaos when it comes to determining who will play in the championship game.
[+] Enlarge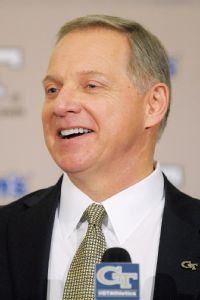 AP Photo/David TulisGeorgia Tech athletic director Mike Bobinski is satisfied with the current division setup in the ACC.
"You open up Pandora's box," Miami athletic director Blake James said. "At the end of the day you have two divisions that have shown over nine years they're very equitable. The Atlantic has won five, the Coastal has won four. That's the best way to determine who's in the championship game."
Only two athletic directors are in favor of the top two teams in the league playing in the title game, while five remain undecided on the format. If the goal of the pending NCAA legislation is ultimately for the ACC to try to get its two top teams in the championship game to improve its stature and bump up strength of schedule, there are perils that go along with that, too.
"What's the best way to make sure we have a team in that four-team playoff?" Georgia Tech athletic director Mike Bobinski said. "Obviously, multiple teams would be awesome, but if you really want them playing each other in that last week of the season, I'm not sure that's the best setup for having teams advance into that playoff. It's served us reasonably well.
"I would tell you that I'm OK with the flexibility and the possibility to rethink it in different ways, but I'm not sold sitting here today that we need to do it differently."
Over the past several months, the ACC has sent so many scheduling and championship game models to athletic directors to study, there are literally too many to count. Newer athletic directors like Brad Bates at Boston College and Whit Babcock at Virginia Tech remain undecided about what is best not only for their programs but the ACC in general.
Therein lies some more of the complexities. How do all these athletic directors put aside self interests to vote for what is in the best interest of the league?
"You can make compelling arguments for a lot of different models," Bates said. "Different institutions are going to look at the different models in ways that best impact each of us selfishly, but at the same time, we have to look at everything holistically and see how it best impacts the league. And I think that's probably where the discussion rests right now."
More discussion will follow over the next few days. But will it be enough to change minds?
"It's not a real simple solution," Babcock said. "That's why there wasn't anywhere near a unanimous thought process during our winter meetings, so it got pushed off. I'm not sure it will be any easier to solve in May than it was in January."
March, 7, 2013
3/07/13
5:00
PM ET
Head coaching salaries have been on the rise for years. So have assistant coach salaries, sparking a further separation between the programs that can pay and the programs that cannot.
Therefore, it should come as no surprise that athletic directors have seen their salaries grow as well.

USA Today, which annually compiles head coaching salaries, recently found FBS athletic directors make
an average of $515,000
. That is an increase of more than 14 percent since USA Today last reported on AD salaries in 2011.
The ACC beats that average. Of the
available salaries compiled by USA Today
, ACC athletic directors were set to make an average of $602,829 in 2013. All but two made more than $500,000 -- Kevin Anderson at Maryland ($499,490), and Randy Spetman at Florida State ($350,00).
That doesn't count incoming Louisville athletic director Tom Jurich, who makes a cool $1.4 million -- the highest paid athletic director at a public school. Only nine athletic directors make $1 million or more. The next highest paid public school AD is Dan Radakovich at Clemson, checking in at $725,000.
Boston College and Miami, two private schools, did not disclose figures.
While Spetman's salary has remained the same for the past several years, it still surprises me that the athletic director at one of the most high-profile football programs in the nation is the lowest paid in his league. And one of the lowest paid in the entire state of Florida. Florida AD Jeremy Foley makes more than $1 million; USF AD Doug Woolard makes nearly $500,000; Todd Stansbury at UCF makes just a smidge more ($375,000); and FIU AD Pete Garcia makes $441,832.
I know Spetman has faced his share of criticism, and the Noles have fought through some financial problems. They do pay Jimbo Fisher $2.75 million -- the highest paid coach in the ACC. But something seems off when the ADs at FIU, UCF and USF make more than the guy at Florida State.
Here are is the complete list of AD salaries in the ACC, thanks to USA Today.
Tom Jurich, Louisville: $1.4 million*
Kevin White, Duke, $906,536
Dan Radakovich, Clemson: $725,000
Ron Wellman, Wake Forest: $688,000
Mike Bobinski, Georgia Tech: $625,000
Jim Weaver, Virginia Tech: $621,529
Steve Pederson, Pitt: $596,595
Craig Littlepage, Virginia: $586,750
Daryl Gross, Syracuse: $570,057
Bubba Cunningham, North Carolina: $565,000
Debbie Yow, NC State: $500,000
Kevin Anderson, Maryland: $499,490**
Randy Spetman, Florida State: $350,000
Brad Bates, Boston College: NA
Blake James, Miami: NA
*Louisville expected to join ACC in 2014
** Maryland will depart ACC in 2014
Goodell Has Sit-Down With Jameis Winston
ACC SCOREBOARD
Thursday, 9/3
Saturday, 9/5
Monday, 9/7