FSU Seminoles:

bobby bowden
April, 30, 2013
Apr 30
2:00
PM ET
Florida State set a school record with 11 NFL draft picks over the weekend. That also happened to lead the entire nation, ranking ahead of national champion Alabama, LSU and yes, even Florida.
So what does this say about the Noles as a program? Are they finally back, or just a pack of underachievers? Andrea Adelson and Heather Dinich debate.
Andrea says: The proof is in the picks.
[+] Enlarge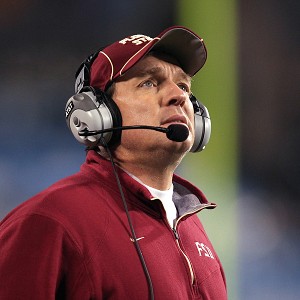 Streeter Lecka/Getty ImagesFlorida State's Jimbo Fisher had as much talent to work with as any coach in the country last season.
We all know the Seminoles have their detractors, who believe every season must be a perfect season or else it is a complete and utter disappointment. Raising the bar the way this program did in the late 1980s through the mid-2000s means living with the type of expectations reserved for only the most elite programs in the entire country.
Coach Jimbo Fisher lives with these expectations every day. But he also lives in reality. And reality says that Florida State stumbled badly in the final few years under coach Bobby Bowden, and it takes more than snapping your fingers, rolling a Florida State helmet onto a field and planting a spear to get a program back into national championship contention.
It takes time. And it takes talent. And, well, Florida State had a lack of talent. In Bowden's final four seasons, 2006-09, the Noles had 12 total draft picks -- including one in the 2009 draft. That's just one more than Florida State had this past weekend. So, Fisher has gotten the talent on par with what Florida State used to produce.
April, 26, 2013
Apr 26
1:15
PM ET
I had one reaction when I saw that Bobby Bowden would be
returning to Florida State
for the first time since his controversial departure in 2009.
It's about time.
[+] Enlarge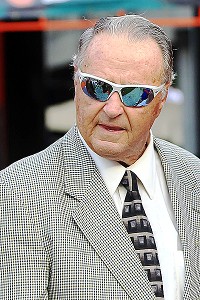 Kim Klement/USA TODAY SportsBobby Bowden will join members of Florida State's 1993 national title team to celebrate their 20th anniversary in November.
I know there were bitter feelings from the Bowden side. I know Florida State handled the whole situation about as poorly as it could have been. I know Bowden wanted to give Jimbo Fisher enough time to establish himself as the head coach without having to answer constant questions about replacing a legend, or having to look over his shoulder at what Bowden was saying or doing.
All of that makes sense.
But what does not make sense is the complete disassociation we have seen over the course of three years. One year is completely understandable. Time and space were needed for both sides. Three years? Just seems way too long.
Florida State would not be where it is today without Bowden. On my recent visit to Tallahassee, on a random Wednesday and Thursday in March, I saw tourists stopping by the Bowden statue in front of Doak Campbell Stadium to take photos on both days. There was no game, there was no open practice. But they knew exactly where they wanted to go and what they wanted to see.
Sure the Seminoles hit a downslide during his final years as head coach. A change had to be made. That much was obvious. The debate about whether Florida State should have let Bowden go on his own terms is old and useless at this point. Accusations were hurled, feelings were hurt. Relationships were strained or severed.
But what remains is what Bowden did for the Noles. Time has passed, perhaps wounds have been closed. Fisher has been the head coach for three years now; Bowden still lives in Tallahassee. The Seminoles are back in the national picture. Perhaps both sides felt the timing was right to have Bowden back at Doak Campbell Stadium.
So he will be there for two games this fall -- Oct. 26 against NC State and again on Nov. 16 for the homecoming game against Syracuse, when he will join members of his 1993 national championship team for a celebration of their 20th anniversary.
Something tells me Bowden will get a rousing ovation, perhaps longer and louder than the one he got when he rode off with his wife, Ann, following his final game as the Seminoles coach, Jan. 1, 2010, in Jacksonville.
It's about time.
January, 21, 2013
Jan 21
9:15
AM ET
For so many years, during the height of Bobby Bowden's run of championships and great teams, Florida State recruited at an elite level.
The Seminoles would lure the top prospects, not only from their talent-rich home state but from across the country. Their roster was loaded, as evidenced by the players Florida State sent to the NFL.
To continue reading this article you must be an Insider
November, 21, 2012
11/21/12
11:30
AM ET
You really have to dig deep to find the last time Florida-Florida State really meant something in the grand scheme of college football.
People were using MSN Messenger and thought Fred Durst was actually cool. TRL and trucker hats were all the craze.
It was the year 2000 and college football fans were probably carrying around a Ja Rule CD in their cars. (It's OK. We all have our faults.)
It was also the last time Florida and Florida State met as top-10 BCS opponents.
[+] Enlarge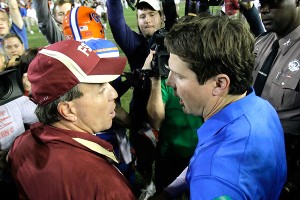 AP Photo/John RaouxIf Jimbo Fisher's or Will Muschamp's team loses on Saturday, it will be eliminated from consideration for the BCS title game.
This was one of college football's true gems. Thanks to Steve Spurrier and Bobby Bowden, from 1990 to 2000 these two teams met 13 times when both were ranked in the top 10, including the 1996 Sugar Bowl for the national championship. These two programs were mammoths and are Nos. 1 and 2 nationally when it comes to consecutive bowl streaks. Florida State is No. 1 (30) and Florida is second (21).
The rivalry took a bit of a nosedive when Bowden and his Noles teams fell off during the 2000s and Urban Meyer arrived at Florida. Under Meyer, the Gators won five straight, as they stayed nationally relevant, while FSU flirted with mediocrity until Jimbo Fisher took over in 2010.
But this rivalry is back, as No. 4 Florida (10-1, 7-1 SEC) heads to Tallahassee to face No. 10 Florida State (10-1) in a game that has major BCS implications on the line.
If Florida wins, the Gators are likely BCS-bound. With some help from USC, they could back their way into the national championship game. Florida State is very much on the outside when it comes to the BCS title game, but a win and a ton of help could move the Noles closer to Miami.
The magnitude of Saturday's matchup hit the Gators well before they returned to the locker room after beating Jacksonville State.
"As soon as that clock hit zero, you couldn't help but think about Florida State," fifth-year senior defensive tackle
Omar Hunter
said. "If you're a Gator, you grow up not liking Florida State. I'm sure it's the same way with them. That's just what you're taught. When you go to Florida State, you're anti-Gators. That's just what it is."
Outside of the BCS implications, major pride is on the line for both teams. There's real bad blood here. Players on both sides know each other, but they refuse to talk during the regular season and usually hurl barbs at each other when they do speak during the offseason.
The hatred is still there, even if the success isn't.
The Gators are also hurting after back-to-back losses to the Noles. After winning six straight over FSU, Florida dropped the last two, getting outscored 52-14. Florida enters this weekend with an offense going backward, and quarterback
Jeff Driskel
is hobbled. He sprained his ankle two weeks ago.
That's not good when you consider how good the Noles have been on defense, even without star defensive end
Brandon Jenkins
for basically the entire season. FSU ranks first nationally in total defense (236.3 yards per game) and rushing defense (70.6). The Noles are allowing 2.3 yards per rush and 3.7 yards per play.
In the past five games -- two of them against Louisiana-Lafayette and Jacksonville State -- Florida has averaged just 278.4 yards. The Gators are near the bottom of the SEC in total offense (332.9) and are last in passing (143.4).
That doesn't bode well for Florida, but as coach Will Muschamp continues to point out, it's all about wins, and somehow the Gators have 10 of those.
"Like I said Saturday, understand who you are and where you are, and it may not be where you want to be at times and it's frustrating at times, but at the end of the day, you've got to do what it takes to win football games and that's what we're judged on at the end of that," Muschamp said.
While the offense has sputtered, the defense has been terrific, ranking near the top with the Noles. It can be irritating to see the offense fail, but Florida's defenders love putting the game in their hands.
"That's how you go into every day if you're a great defense," Hunter said. "You want to put everything on your shoulders. You don't want to go into the game relying on the offense to score. You want to score on the defense. That's what we're taught here at Florida and that's what we try to win by -- defense and special teams."
Offensive issues aside, a lot is riding on Saturday. The BCS might be at the forefront of the conversation, but as far as the Gators are concerned, the only letters they're focused on are F-S-U.
"It's Florida-Florida State. It's more than what's just going on in the BCS," Hunter said. "It's bragging rights for the state of Florida. It's going to be a very big game and it's one of my favorite games to play in."
August, 31, 2012
8/31/12
8:22
AM ET
Going against 6-foot-6
Kelvin Benjamin
in practice, it helps to have a plan.
The key,
Nick Waisome
said, is getting inside his arms, keeping him away from the ball. The outcome -- well, that's not always perfect.
"It's a coin toss," Waisome said.
Murray State won't provide Waisome with quite as tough a matchup Saturday, but that doesn't mean Waisome won't be tested in his first career start. Then again, he's also expecting to win more than half those battles, too.
August, 30, 2012
8/30/12
10:53
AM ET
It's been three years since Bobby Bowden was on the sideline for the first Saturday in September, but he's no less a fixture in the college football landscape. Bowden remains a prominent figure in the sport, and football remains a prominent part of his life.

So as Florida State and the rest of the nation gets set for another season -- and on the eve of Bowden's induction into the FSU Hall of Fame -- NoleNation sat down with the legendary coach for his take on what's in store for the Seminoles, the ACC and the rest of college football in 2012.

NoleNation: I'm sure it's a lot different for you these days, but do you still get excited for the start of a new college football season?

Bobby Bowden: I really do. Now that I've retired -- when you're coaching you don't have time to watch other people, you only watch yourself. Now I'm able to watch everybody, and I really enjoy it, and I'm very excited about this football season.

NN: Now that you're not coaching, what is a typical Saturday in the fall like for you?

Bowden: During football season, No. 1, if I have an early golf game, I'm not going to miss it. I get done around 12. But a Saturday for me, I get up early, we have a standard tee-off time on Saturday morning, so you're going to play golf. Then I come home and I sit down and start watching football games. I watch all day, probably up until 12 at night. I have to vote. I vote for the Legends Poll, a bunch of head coaches that don't coach anymore -- probably 20 of us. So I try to watch everybody I can so I can vote in that poll.


July, 23, 2012
7/23/12
2:16
PM ET
With the sanctions levied against Penn State's football program Monday, former Florida State coach Bobby Bowden now owns the record for most wins in FBS history.

It's an honor his son, former Clemson coach Tommy Bowden, said will be forever overshadowed by the circumstances in which Bobby Bowden overtook Joe Paterno in the record books.

"His record speaks for itself, and it's my father so you'd like to be happy for him," Tommy Bowden said. "But under the circumstances, it pales in comparison to how significant those problems are and the lives that have been affected."

Paterno, the longtime Penn State head coach, had 111 wins dating back to 1998 vacated from his record as part of the NCAA's sanctions announced Monday, which also included $60 million in fines, a four-year bowl ban and a loss of scholarships in light of the Jerry Sandusky sexual assault case.

That leaves Paterno with an official win tally of 298, well behind Bobby Bowden's official career tally of 377.

Of course, Bowden's actual record on the field included 12 additional wins that were also vacated due to an academic fraud investigation surrounding several FSU players in 2009.

"Even though he did not know about his (infractions), he was the head coach and, as the head coach, you're held responsible," Tommy Bowden said of his father's vacated wins. "The NCAA merited a just discipline for that infraction, and with Penn State they did the same thing."

Bowden said he believed the NCAA's sanctions against Penn State were fair, but he said it was important not to view the wins record as a victory for his father.

"It's such an insignificant thing," Bowden said. "You have to put it in context."
July, 23, 2012
7/23/12
2:16
PM ET
STATE COLLEGE, Pa. -- Joe Paterno is no longer major college football's winningest coach.

As part of the punishment delivered to Penn State on Monday for its inaction in the Jerry Sandusky sexual abuse scandal, the NCAA ordered the Nittany Lions to vacate their victories from the 1998 to 2011 seasons.

Paterno, who died of lung cancer in January, had a career record of 409-136-3 in 46 seasons at Penn State when he was fired on Nov. 9. Under the NCAA's decision, the Nittany Lions will have to vacate 111 victories, leaving Paterno with a career record of 298-136-3.

Former Florida State coach Bobby Bowden, who went toe-to-toe with Paterno for the NCAA coaching record at the end of their careers, becomes major college football's winningest coach with a career record of 377-129-4. Bowden was forced to vacate 12 victories from the 2006 and 2007 seasons, after the NCAA ruled the Seminoles used academically ineligible players during those seasons.

Former Grambling coach Eddie Robinson is NCAA Division I's all-time winningest coach with a 408-165-15 record in 55 seasons from 1941 to 1997. John Gagliardi, who is still coaching at Division III St. John's University in Collegeville, Minn., has a 484-133-11 record after 63 seasons.

Bowden and Paterno were close friends until Paterno's death.

Bowden, who was forced to retire as FSU's coach after the 2009 season, was playing golf with a former assistant coach on Monday morning, when the NCAA ruled Penn State would have to vacate the victories.

"He's not happy about what happened to Penn State and he's not happy that Joe's wins are being taken away," Bowden's wife, Ann, said. "Joe was very sympathetic when the NCAA took away wins from Bobby."