Florida State Seminoles:

Alec Eberle
November, 16, 2013
Nov 16
3:56
PM ET
Senior offensive guard
Alec Eberle
(Mechanicsville, Va./Altee) was presented his honorary game jersey Friday at his school during the American Family Insurance Selection Tour for the 2014 Under Armour All-America High School Football Game. The event was part of a three-month selection tour.
Eberle, a Florida State commitment, is one of 90 players selected to compete in the seventh annual Under Armour All-America Game, a nationally televised game featuring the country's top high school seniors. The 2014 game is set for 4 p.m. ET Jan. 2 at Tropicana Field in St. Petersburg, Fla., and will be televised on ESPN.
[+] Enlarge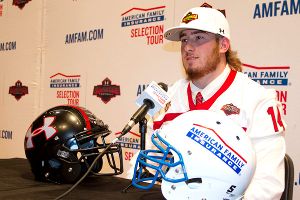 Courtesy of IntersportOffensive guard Alec Eberle committed to Florida State in May.
"I would just like to take this time to thank everybody that has helped me along the way," Eberle said. "I'm extremely honored to be playing in this prestigious game. I would like to thank all of the coaches that helped me from little league, middle school, high school: everybody. Especially my parents, who have helped me along the way. They've done so much for me. They have taken me all over the country. My team, especially, has been a great support system for me. This game, I just don't want to do this to honor myself and my family. This is for y'all. This is for Mechanicsville and Hanover County because I will always remember where I came from."
Altee coach Roscoe Johnson points to Eberle's motor and work ethic as reasons for his success.
"Alec is a special kid. It's his work ethic. He's that kid that when you see him out on the field, he is always going 100 miles per hour. His motor is constantly running, and he is just mean when he is out on that field. But yet, he's also that gentile giant who loves his teammates. He treats them like his brothers. And you can tell he wants to win … he loves to win."
For the 6-foot-4, 271-pound Eberle, the UA game is the chance to test himself against the best competition possible.
"I decided to accept the invitation to the Under Armour All-America Game because there really isn't a much better choice I can make. I waited and waited for an invitation to this game, and as soon as I found out I had been invited, I committed right away. The biggest thing I'm looking forward to is competing with the best, lining up next to the best, and just being able to show what I can do against the best players in the country because this is 90 of the best guys in the country. You can't get much better competition than this. I'm extremely excited to get down to Florida and play. It will give me a taste of what it will be like at Florida State next year and the years to come after that.
"I'm definitely looking forward to it."
The 6-foot-4, 271-pound Eberle is a three-star prospect and the No. 27 guard in the class. He committed to Florida State over offers from Maryland, Connecticut and others.
August, 30, 2013
Aug 30
11:00
AM ET
ACC recruiting reporters Corey Dowlar and Jared Shanker took time Friday to answer questions in their weekly mailbag. You can send questions to them on Twitter with the #AskACC hashtag and mentioning
@cdowlar
and
@JShankerESPN
. Or reach them via email at
cdowlar@gmail.com
and
JShankerESPN@gmail.com
.
@fsurock38: How is FSU's offensive line recruiting going? Why does this always seem to be an issue every couple of years for Coach Trickett?
Corey Dowlar:
Right now, it's adequate. They've got a couple of offensive linemen on board now, most notably four-star guard
Corey Martinez
.
Ethan Frith
, a three-star offensive tackle, is a good-looking prospect. He performed well at camp and proved he belongs in Florida State's class. Finally,
Alec Eberle
is a tough interior offensive lineman who probably will end up at center. What FSU needs, and what I think they will get (as of now anyway), is a big-time offensive tackle. Four-star
Roderick Johnson
is said to be favoring the Seminoles and would be just what the doctor ordered.
To continue reading this article you must be an Insider
July, 17, 2013
Jul 17
6:47
PM ET
Florida State began its second summer recruit camp Wednesday. Here are a few items that stood out on the first day.
Leonard works with Sunseri
Rick Leonard
(Middletown, Md./Middletown) has emerged as one of the top prospects at defensive end on Florida State's board. At 6-foot-6, his length and wingspan would be a welcome addition.
To continue reading this article you must be an Insider
July, 3, 2013
Jul 3
10:59
PM ET
BEAVERTON, Ore. -- Four-star offensive guard
Corey Martinez
(Tampa, Fla./Tampa Catholic) played coy this week at The Opening, claiming that six schools were still on the final list of schools that he would decide from. But if you talked to the other players at the event, they all agreed that one school stood out over the others for Martinez.
That school was Florida State.
And Florida State was school he announced for Wednesday at The Opening.
"It's a great school," said Martinez, who is ranked as the No. 274 player overall in the ESPN 300, earlier this week.
"You can't say anything bad about them. With all the recruiting classes they are bringing in, they are definitely getting up there near the top. Coach [Rick] Trickett and I have a great relationship. We've bonded over the years and the times that I've been over there. Our relationship is really good. Not a lot of kids like Coach Trickett's coaching style, but I don't mind it. It's something that appeals to me."
What is also appealing is the offensive class that Florida State is building. After landing a commitment earlier today from defensive back
Trey Marshall
, the Noles have 17 commitments. Many of those pledges are slated to help reload an offensive line that could use more depth.
Martinez is the third quality offensive lineman to join the FSU class, but is also the highest-ranked prospect to join the group. Combined with three-star offensive guard
Alec Eberle
(Mechanicsville, Va./Atlee) and three-star offensive tackle
Ethan Frith
(Summit, Miss./North Pike), the Noles now have about as solid of a foundation as they can with their offensive line class.
But the Noles hope they aren't done on the offensive line.
FSU is in good shape with highly regarded offensive tackles
Roderick Johnson
(Florissant, Mo./Hazelwood Central) and
Damian Prince
(Forestville, Md./Bishop McNamara) and is still fighting to make up ground for tackle
David Sharpe
(Jacksonville, Fla./Providence School). If the Noles can land even one, but possibly pull in two of the three, then it could go down as one of the nation's best offensive line classes.
July, 1, 2013
Jul 1
10:00
AM ET
Target:
ESPN 300 OG
Corey Martinez
(Tampa, Fla./Tampa Catholic) 6-foot-4, 297 pounds
Status:
Undeclared
Offers:
Alabama, Boston College, Connecticut, Florida State, Georgia, Georgia Tech, Kentucky, Louisville, LSU, Marshall, Miami, Mississippi State, North Carolina State, Notre Dame, Ole Miss, Rutgers, South Florida, Tennessee, UCF, Vanderbilt, Wake Forest and West Virginia
Interesting note:
Martinez will announce his commitment out in Oregon at The Opening on July 3.
To continue reading this article you must be an Insider
June, 18, 2013
Jun 18
9:00
AM ET
With the release of the ESPN 300 rankings on Monday, NoleNation takes a look at some targets the Seminoles could be in position to land.
To continue reading this article you must be an Insider
June, 7, 2013
Jun 7
9:00
AM ET
TALLAHASSEE, Fla. -- It's Rankings Week at Nole Nation, and each day we'll be counting down the top teams, players and matchups of the 2013 season. In our last installment, we look at FSU's top recruiting needs for the Class of 2014.
1. Offensive tackle
It's been a relatively prolonged dry spell on the recruiting trail for FSU when it comes to the offensive line, with tackle in particular being a concern. As it stands, the Seminoles have three natural tackles projected on the roster beyond 2013, but Bobby Hart remains a wild card after an up-and-down two years, Wilson Bell has yet to arrive on campus and Cameron Erving could be headed to the NFL early if he turns in a strong junior campaign. Florida State needs to make a splash with this class, adding not only at least one or two game-ready options, but depth as well.
To continue reading this article you must be an Insider
June, 4, 2013
Jun 4
3:30
PM ET
Florida State's mission to restock talent on the offensive line doesn't stop on the outside with the tackles. The Seminoles know they will need quality guards and centers to accomplish their mission of having a balanced and productive offense.
The Seminoles' only offensive line commitment,
Alec Eberle
, happens to call the interior home.
Here's a look at some more of their options for 2014.
To continue reading this article you must be an Insider
May, 30, 2013
May 30
9:00
AM ET
TALLAHASSEE, Fla. --
Ryan Hoefeld
was a late arrival at Florida State's recruiting camp last June. Still, the 6-foot-3 center was eager to finally meet the Seminoles' infamous offensive line coach.
Rick Trickett was already heading into the film room to watch tape of the day's workouts, but former FSU assistant Dameyune Craig was happy to make an introduction -- with just one, small warning.
"Just count the number of F-bombs he drops," Craig told Hoefeld.
[+] Enlarge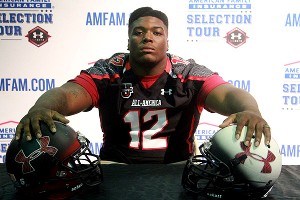 Jeff Peoples/IntersportUnder Armour All-American Ira Denson is one of only three offensive linemen to sign with Florida State in the 2013 class.
The grizzled line coach and the prospect watched film, with Trickett breaking down each play, nearly all of his insight emphasized with some language not entirely appropriate for mixed company. And Hoefeld counted.
"It ended up being like 27," Hoefeld said. "That was when I first started really liking him."
Hoefeld is not alone. Trickett pulls no punches, and that's made him a hero for many of the hard-scrabble, blue-collar linemen who have called Florida State home during the past six years. But that gruff personality doesn't always endear him to players with a softer side or fans concerned about Trickett's negative effect on recruiting. In fact, there might not be a more divisive figure in Tallahassee than the diminutive ex-Marine with a penchant for breaking down weak players and building the strong ones into NFL prospects.
"What young guys don't understand is, the way Coach Trickett teaches it, it's a business," said former FSU tackle Menelik Watson, a second-round selection by the Oakland Raiders in this year's NFL draft. "If you don't come with the mindset that you want it, you're going to struggle. … A lot of players don't understand that."
A Vietnam veteran, Trickett began his coaching career in 1973 and in the 37 seasons since, he's coached seven All-Americans and sent nearly three dozen players on to the NFL, with Watson, a junior college transfer with virtually no football experience, his latest success story.
But Trickett's old-school approach doesn't always play well with 17-year-old prospects. While a handful of players like Hoefeld have been drawn to Trickett's stern demeanor, the overall depth on offensive line has lagged noticeably in spite of Florida State's immense success in other areas on the recruiting trail.
Two seasons ago, FSU's only signings on the line were Watson and
Daniel Glauser
, both junior college players who have already moved on. Last season, Trickett landed three players -- Hoefeld, three-star tackle
Wilson Bell
and four-star guard
Ira Denson
-- but missed out on a handful of top targets. As the 2014 class begins to take shape, there is no bigger area of concern for the Seminoles than finding some much-needed depth on the line.
Before Bell committed in February, he had a long talk with FSU guard
Josue Matias
. It wasn't a sales pitch as much as it was a warning.
"[Matias] was like, 'If you do come, he's going to be the best coach you've ever had, but he's going to be hard on you, he's going to stay on you, he's going to grind on you.' "
Hoefeld heard similar horror stories, but he was prepared. In high school, Hoefeld's line coach was a mild-mannered religion teacher, but on game days, he was restricted to the press box because his on-field outbursts were a little too explosive. Hoefeld found Trickett to be a kindred spirit.
But for all the advanced warning, Trickett's approach is still jarring. On the practice field, his players tower over him and even Jimbo Fisher cracks jokes about Trickett's small stature, but no one commands more attention.
There's cursing and yelling and zero tolerance for mistakes, and no one manages to escape Trickett's wrath for long. In the midst of it all, however, there are lessons.
"I've had coaches who would scream and yell and curse, but they didn't have a clue how to teach a kid something," Watson said. "He does. People hear the screaming and hollering, but forget he's trying to teach something. I figured that out early."
At 23, Watson had the luxury of maturity. Not all of Trickett's players are so lucky.
Bobby Hart
was just 16 when he arrived on campus two years ago. A wave of injuries on the line forced him into a starting job in 2011, and he showed promise, but by the time spring practice began last year, he'd shown little progress and had put forth only minimal effort. This was something Trickett wouldn't tolerate.
Trickett shipped Hart to the bench, where he remained for virtually the entire season. He might have been a backup again in 2013 had Watson not departed early for the NFL, but when his second chance came, Hart knew what he had to do.
"It's hard, but he's just a perfectionist, and he wants you to understand that there's a right way to do everything," Hart said. "He's big on work ethic. He wants you to give 100 percent, and that's all you have to do."
For most high-school sophomores and juniors, however, life with Trickett can be an intimidating prospect -- and that's a concern other coaches are happy to exploit.
"Nobody bashed him for not being a good coach, but I heard he was going to push you, going to yell at you and all of that," Bell said of his recruitment. "Other recruiters said, 'He's going to punch you, he's going to kick you.' And I said, the guy knows what he's talking about. He can do whatever he has to do to get me to the next level. Whatever it takes."
For Bell, he'd heard such horrific tales that he was determined to separate fact from fiction. For other players, however, the negative recruiting works, and Trickett's divisive personality can become a serious liability.
For Florida State, however, there appears to be little obvious concern. Trickett turned a group of players with just 16 career starts between them into one of the ACC's top lines in 2012. FSU finished with the fourth-best yards-per-rush average in the nation, while coughing up 14 fewer sacks than the year before. Trickett was rewarded with a three-year contract extension that will pay him more than $450,000 per season and keep him in Tallahassee through 2015.
There are detractors who worry the deal has doomed FSU's recruiting prospects for the foreseeable future. So far, the Seminoles' lone offensive line commitment for 2014 is Alec Elerbe, a 270-pound guard from Virginia with only Maryland and Connecticut as his only other BCS offers.
Still, Trickett would be the first to argue with the significance of recruiting results. In their first meeting in FSU's film room, Trickett was quick to shrug off Hoefeld's recruiting ranking.
"I don't care about the stars," Trickett told him.
Not every player wants to play for a coach like Trickett, and Trickett isn't interested in every five-star prospect. The yelling and the cursing are as much a weeding out process as they are a tool for teaching.
Trickett demands that the path be difficult. It ensures the rewards are great for those who survive.
"I felt like I was one of the best prepared offensive linemen [at the NFL combine] just because of who I worked with last year, working with Coach Trickett," Watson said. "I don't believe anyone got coached the way I did or as hard as I did."
May, 29, 2013
May 29
9:00
AM ET
Alec Eberle
(Mechanicsville, Va./Altee) knew what he was getting into when he committed to Florida State on May 1.
Offensive line coach Rick Trickett, a former Marine, has a reputation that sounds a lot like a drill sergeant. He's rough and tough on his players, and sometimes, perhaps, says a few things that wouldn't be appropriate at the dinner table.
But from Eberle's perspective, that's just fine. Coaches like that are all he's ever known.
To continue reading this article you must be an Insider
May, 1, 2013
May 1
9:14
PM ET
Offensive line, a position of need for Florida State during this recruiting cycle, got a boost Wednesday night.
Alec Eberle
(Mechanicsville, Va./Altee), a two-way lineman, committed to Florida State, calling Rick Trickett and Jimbo Fisher to give them the news.
"I really like it as a school," he said. "I talked to Coach Trickett a couple of times and I pretty much knew when I left that school that it was where I wanted to go. It seemed like the best opportunity to go and win games and championships. And to have them help me get to my next goal which is to play in the NFL.
"It was the best school for all that stuff."
That was music to the coaches' ears.
Fisher had expressed some concerns that Eberle wouldn't make the trip all the way down to Florida for school. But that's what Eberle intends to do.
"They were excited," he said. "Coach Trickett and Coach Fisher was extremely excited. Coach Trickett said that Coach Fisher was a little worried that I wouldn't come all the way -- I live 10 or 11 hours away, but I made the commitment and I am going to stick to my commitment and I can't wait to get down there and play."
At 6-foot-4 and 270 pounds, Eberle will be coming in to play on the interior.
"They told me I was coming in as a guard or a center," he said. "I'll probably play center."
Florida State didn't face too stiff of opposition for his commitment. But that didn't stop it from knowing what they wanted.
And Eberle could tell that just from the way the Seminoles came to recruit him.
"There wasn't a lot of schools in the picture yet, UConn, Maryland, Temple, ODU," he said. "When FSU offered me, a school that doesn't really recruit my state that much, that sends a message. They are going to use you and you are going to get playing time. It's a great opportunity."
FSU Students React To Winston Decision