Florida State Seminoles:

ACC championship 2012
November, 30, 2012
11/30/12
9:30
AM ET
TALLAHASSEE, Fla. -- An injury relegated
Vince Williams
to the sideline when Florida State last faced off against Georgia Tech's frustrating triple option offense in 2009.
It allowed Williams to skip out on the carnage as Tech racked up more than 400 yards rushing, but he bore witness to the dangers his defense will face Saturday, and the memories have stuck with him.
[+] Enlarge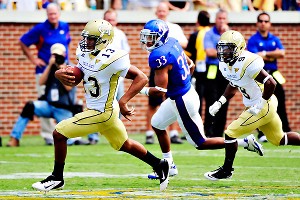 AP Photo/David TulisGeorgia Tech QB Tevin Washington is averaging 9.6 yards per pass and 4.1 yards per rush.
"There was a play [Jonathan] Dwyer broke they cut the defensive end, middle linebacker and safety on one play," Williams said. "I was like, 'Man, that's crazy.' "
Williams is among a select group of FSU's defenders who knows firsthand the challenge that awaits. Only four active members of Florida State's defense played in that game in 2009, and only
Nick Moody
had a significant role.
For everyone else, preparing for the option is a new experience, and Williams said it's as much about forgetting what you've already learned and starting from scratch with a new system.
"Your same keys don't really work for this offense," Williams said. "You're going to have to do a complete overhaul of what you've already learned about football."
Based on last week's defensive performance, that might not be a terrible idea. FSU allowed 244 rushing yards to Florida, the most it had given up since 2009, and the Gators' 5.19 yards per carry was nearly double FSU's season average.
Of course, the Tech offense -- which boasts the fifth-best yards-per-carry average in the country -- provides a far different challenge, and Moody said it's not one Florida State should fear. The triple option offense is unique, but it also leaves room for good teams to succeed on defense.
"It's kind of simplified, actually," Moody said. "You don't have to think about as many possibilities. You can kind of tell what to expect -- it'll be here, here or there."
"Here, here and there" are the A-back, B-back and quarterback -- all of whom can get the ball on any given play. Few other teams run a true triple option, which makes preparing for Tech in just one week a tall task.
The two keys to success revolve around defenders sticking to their assignments and defeating the immense amount of cut blocks that Georgia Tech runs effectively, but few teams practice during the season.
That puts a ton of pressure on the defensive linemen and linebackers to both get up field and control the perimeter.
"You've got to make sure your defensive linemen make a lot of tackles inside the box before a linebacker has to pursue out to the numbers," Williams said.
The triple option doesn't make life easy on the secondary, either. Tech doesn't throw the ball often -- it is attempting the fifth-fewest passes in the country -- but the Jackets lead the ACC in yards per attempt. When they do throw, it tends to be for big yardage because defenses were caught looking for the run.
"It's definitely a game where you have to key in on your keys, read your keys," safety
Lamarcus Joyner
said. "If you're not, you can easily be embarrassed."
That means the responsibility for shutting down Tech's offense won't fall on one defender, but rather on the unit working together as a group. Maturity and patience will be tested Saturday, but Moody said he's already been driving that point home with the myriad teammates who haven't already seen first hand how tough Tech's offense can be.
"Across the board we know we have to take care of our assignment for it to work, to stop them," Moody said. "That's what gets the job done."
November, 30, 2012
11/30/12
9:00
AM ET
My player to watch in the Dr Pepper ACC championship game is Florida State quarterback
EJ Manuel
.

Manuel has been here before, and last time it didn't turn out so well. Filling in for an injured Christian Ponder in the 2010 ACC championship game against Virginia Tech, Manuel threw two interceptions in a 44-33 loss to the Hokies, including one that was returned for a touchdown.
"In the future, we'll learn from it," Manuel
said that day
. "Just remember how to get back in this position and win."
He's back, and there's no question he's better.
Manuel enters Saturday's title game against Georgia Tech as one of the most efficient passers in the country. His career pass-efficiency rating of 151.54 would be the best in ACC history if maintained, surpassing the mark of 151.15 set by former FSU Heisman Trophy winner Chris Weinke during the 1997 to '99 seasons. Manuel has led Florida State to a 23-6 record as a starter, including consecutive bowl wins against West Virginia, South Carolina and Notre Dame. This season, he has thrown for 2,967 yards, 22 touchdowns and nine interceptions. Surprisingly, a third of those picks came last weekend.
Manuel is coming off an uncharacteristically poor performance in a loss to rival Florida during which he threw three interceptions and lost a fumble that eventually led to a touchdown. FSU coach Jimbo Fisher said one of the biggest differences between Manuel now and the last time he played for the ACC title is his maturity in tough situations.
"I think how he deals with things from day to day and the ups and downs, and he understands there are ups and downs," Fisher said. "There's going to be tough moments like [the loss to Florida] for him, and how he responds back and bounces back. I just think he's a much [more] mature player, and he has great knowledge of what we're doing."
Manuel followed his own advice and got the Noles back to Charlotte. Now he's got to finish the job and help them win.
November, 29, 2012
11/29/12
9:00
AM ET
In the past week, Florida State lost a huge game to its archrival, saw its leading tackler go down with a torn ACL, had its defensive coordinator accept the head-coaching job at Kentucky while its own head coach continues to dodge rumors he might leave next, and once again conference affiliation debates have risen to the forefront as yet another shakeup has shuffled things in the ACC.


It's been a busy news week to say the least, and oddly enough, the ACC championship game has largely gotten lost in the shuffle.
So, with so many other distractions going on around them, are the Seminoles still prepped for Georgia Tech? Here are five key issues they'll be facing.
November, 28, 2012
11/28/12
2:00
PM ET
According to Florida State safety
Lamarcus Joyner
, you'd never know by watching practice on Tuesday that the Seminoles lost a starting defensive end to a torn ACL, or that their prized defensive coordinator was just hired as head coach at Kentucky – all just days before facing Georgia Tech's spread option offense in Saturday's Dr Pepper ACC championship game.
"It was a great environment today in practice," Joyner told NoleNation's David Hale. "Guys like [Ronald] Darby, P.J. [Williams], young future stars just enjoying themselves. They know they can play ball. That's where we're at now as a program because we have a lot of great kids. Everybody was into it. No one's walking around with their heads down. We're just trying to win a championship that hasn't been done here in a long time."
[+] Enlarge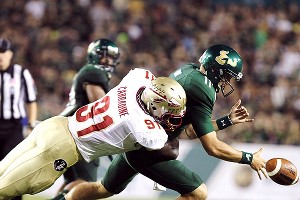 Kim Klement/US PresswireFlorida State will have to move on after losing its leading tackler, Cornellius Carradine, for the rest of the season to a torn ACL.
Florida State's defense has to bounce back big time in order for the Noles to win the program's first ACC title since 2005. With defensive coordinator Mark Stoops having one foot out the door, and leading tackler Tank Carradine sidelined with a torn ACL he suffered against the Gators, Florida State has to somehow find a way to play disciplined enough to slow down Georgia Tech's unfamiliar triple option. These two programs haven't faced each other in over three years, and FSU's usually stingy defense is coming off an unflattering performance in a 37-26 loss to rival Florida.
The Gators ran for 244 yards on Saturday – easily the most FSU had allowed all season. By comparison, Florida State didn't allow Atlantic Division opponents Maryland, Boston College, Wake Forest and NC State that many rushing yards
combined
(239). Clemson was the only team in the division to rush for more than 100 yards against the Noles, and three other teams -- FCS schools Savannah State and Murray State, and rival Miami, were each held under 40 rushing yards.
For the first time all year, the Seminoles' defensive line was beaten up front for a majority of the game.
"Well, it wasn't a bad game," said defensive end
Bjoern Werner
. "[We] didn't have a good rushing defense, but we're going to fix things up this week and prepare well against Georgia Tech and their triple option and hopefully have a good game.
"Everybody in the box has to play their assignment," he said. "They can't get greedy and try to make a play. Everybody has to just play his assignment, what they're supposed to do, and then we'll be successful."
Successful at slowing the Jackets down, maybe, but not stopping them entirely. Georgia Tech is averaging 323.33 rushing yards per game, trailing only Army and Air Force nationally. The Yellow Jackets have rushed for more yards than any FBS team since 2008, and the program is 115 yards shy of rushing for
20,000 total yards
in the five seasons under head coach Paul Johnson.
"Oh, it's a huge challenge, and it's going to be a very -- we have to have a lot of discipline, we have to have a lot of confidence in what we're doing," FSU coach Jimbo Fisher said. "We've been developing a plan, and we're looking at it and we're going to have to be very disciplined how we go about it and deep great leverage on the ball, and it will be a huge challenge. That's one of the advantages that Georgia Tech does have is that when you don't play them off an off week or a long period of time, that one week turnaround is extremely tough."
Having to do it without Carradine and knowing it will be the last game for Stoops could make for an emotional sideline. Those kinds of intangibles have also been known to be inspiring, too, and everyone within FSU's program was thrilled for Stoops' opportunity. It just so happens he still has one more game to coach with FSU, and it's the most important one.
Fisher said the news about Stoops hasn't been a distraction to the team's preparation this week.
"We've got to get through this week," Fisher said. "It's all about Georgia Tech right now and we're doing a great job of keeping focus on Georgia Tech."
"They know that's part of this business," he said of his players. "Our kids are very good, and they came out and responded very well."
The question is how they'll respond against the No. 3 rushing offense in the country.
Jameis Winston SportsCenter conversation
ACC SCOREBOARD
Thursday, 9/3
Saturday, 9/5
Monday, 9/7