Florida State Seminoles:

FSU big board
August, 16, 2012
8/16/12
10:07
AM ET
It came during the low point of Florida State's season in 2011, rock bottom for all parties concerned.

Wake Forest running back Josh Harris carried just 13 times in a win over FSU, racking up a whopping 136 yards on the ground, including a stellar 57-yard run.

While the Seminoles' five turnovers in that game proved their undoing, Harris' big day on the ground might have been more noteworthy. He was the only player to rush for more than 100 yards against the FSU defense all season.

Florida State rebounded following the loss to Wake, and only Miami managed to top the 100-yard mark on the ground as a team against the Noles the rest of the season. After holding Notre Dame to just 2.7 yards per carry in their bowl game, the Seminoles finished up the 2011 season ranked No. 2 in the country in rush defense.


August, 9, 2012
8/09/12
1:27
PM ET
The route was bad, and the throw never came close to the receiver, and Jimbo Fisher got mad.
"It's a good thing we've got all these great receivers," Fisher yelled during Thursday morning's practice session. "I haven't seen anyone make a play in four days."
That's not entirely true, of course.
After practice, Fisher raved about the big plays made by junior
Greg Dent
, and he lauded the potential of
Kelvin Benjamin
, who has spent a good portion of this week taking reps with the first-team offense.
Fisher's frustration isn't about potential though. He knows his receiving corps is loaded with talent -- from the 6-foot-6 Benjamin to standout sophomore
Rashad Greene
to veteran
Rodney Smith
. ESPN's Travis Haney has FSU ranked as the
seventh-best receiving corps in the country
.
But with an offensive line that's still a work in progress and a running game littered with question marks, Fisher knows that talented receiving corps might need to carry the offense at times, so he's asking the group to make big plays that can change the game.
August, 3, 2012
8/03/12
8:32
AM ET
EJ Manuel
isn't making excuses for a mediocre 2011 season. In fact, Manuel is shouldering more than his share of the blame for last year's disappointments, and he's gearing up to ensure there won't be a repeat performance, as
we wrote earlier this week
.
But just because Manuel doesn't want to make excuses doesn't mean they don't exist. In fact, few quarterbacks in the country dealt with quite as much adversity as Manuel did last year.
"The guys around him -- he had a different offensive line, a different receiver set, a different running back group," Jimbo Fisher said. "It's not an excuse, and you have to learn through that, but it's part of the confidence level because a quarterback has to trust."
There wasn't much Manuel could trust last year. Florida State's offensive line coughed up more sacks than anyone in the conference, and Manuel was dropped 29 times in 10 games against FBS opponents. Meanwhile, the running game never really got off the ground, and FSU finished 104th nationally in rushing yards.
That's a lot for any quarterback to overcome, so it's no surprise that Manuel, who also played a sizable portion of the season with a shoulder injury, wasn't able to put it all together last year.
But here's the question: How much have those problems really affected Manuel over his career? Is he right to avoid the excuses?
Looking back through the numbers, Manuel has played in 17 career games against an FBS opponent in which he has thrown at least 10 passes. He has a career record of 11-5 in those games, has completed 66 percent of his passes, averaged 205 yards per game through the air and thrown 16 touchdowns with 15 interceptions.
Those are decent numbers, though probably well below the standard Manuel has set for himself -- and perhaps not quite where he'll need to be for FSU to win a national championship, even if the defense remains stout.
What is surprising about Manuel's performance, however, is that he's remained remarkably consistent despite adverse circumstances.
Check out Manuel's career numbers based on how many times he was sacked in a game:
(Note: Manuel has been sacked two times or fewer in 10 of his 17 starts.)
He's definitely better when he's sacked less often, but the difference isn't enormous.
Now take a look at how Manuel's performance has changed based on the success (or lack thereof) of Florida State's ground game:
(Note: FSU has rushed for more than 120 yards in nine of Manuel's 17 starts.)
Again, Manuel is better when he has support from his rushers, but it's not a dramatic change.
As you might expect, Manuel has battled through adverse circumstances about as well as could be expected during his tenure at Florida State, and these numbers are a testament to that.
But if there's one stat that stands out here, it's probably the touchdown-to-interception ratios.
It's not that Manuel isn't capable of putting up stats in a game in which he's had little support, it's that he knows the pressure is all on him to make things happen.
The result is probably more completions and more yards than most quarterbacks might provide in those cases, but also more mistakes.
Manuel believes he can be better this season, that he can iron out a number of small details and blossom into a premier college quarterback. Given his maturity and ability, there's a good chance that happens.
But the biggest thing Florida State can do to improve offensively this season probably isn't to ask more of Manuel, but rather to ask less of him.
July, 27, 2012
7/27/12
3:01
PM ET
Last week, ESPN ACC blogger Heather Dinich suggested one of Florida State's primary concerns entering the 2012 season is discipline.
Not surprisingly, the comments section of the post included a few hundred Seminoles supporters who took some exception with that notion -- a reasonable reaction considering the veteran leadership of players like EJ Manuel and Brandon Jenkins, players who far exceed the typical expectations for discipline and maturity among college athletes.
But there's no denying the raw numbers here. Florida State finished tied for 118th out of 120 FBS teams in penalties last season, and combined with a few offseason, off-field incidents, it's easy to paint a dreary picture. In fact, it's one FSU players are all too willing to paint.
"Last year, penalties killed us in the Clemson game and Wake Forest game," Jenkins said. "Mental mistakes, being in the wrong spot -- it was just two or three plays that kept us from being great."
Jenkins, like most people, view penalties on a micro sense. They remember the ones that came at the worst possible time, and the flags then become an easy scapegoat for poor performance.
In that micro sense, however, odds are, every team can point to at least one or two penalties that came at bad times, flags that have stuck with players and coaches throughout an offseason as a painful "what if" moment. Penalties are like bad putts in golf. Everyone has a few, and they tend to linger.
But do penalties really have a dramatic impact on the bottom line?
July, 21, 2012
7/21/12
7:36
AM ET
More than a few eyes rolled when the watch list for this year's Biletnikoff Award was released, and a number of notable names -- primarily underclassmen -- were left off.

Among the absentees was FSU sophomore Rashad Greene, who as a true freshman in 2011 led the Seminoles in receptions, receiving yards and touchdowns. (It didn't help that Willie Haulstead, who missed all of last season for FSU, was on the watch list.)

Of course, even those numbers don't sufficiently capture Greene's performance as a freshman, particularly given that he missed four games with an ankle injury.

Before the injury, Greene was on fire. He caught a touchdown pass in each of his first five games. He'd gone for at least 98 yards in three of them. The preceding week, in a loss to Wake Forest, Greene caught 12 passes for a whopping 163 yards.


July, 13, 2012
7/13/12
8:23
AM ET
If there's one overwhelming reason for all the hype around Florida State this summer, it's the defense.
Mark Stoops' squad finished fourth in the country in total defense last season, leading the ACC in rushing defense, passing defense, scoring defense, total defense and sacks.
Of course, that meteoric rise wasn't an accident.
In 2010, Florida State finished 42nd in the nation in total defense, allowing 353.7 yards per game. In 2011, they returned 76.6 percent of their total tackles from the year before,
according to Phil Steele's numbers
, which ranked them as the 19th most experienced unit in the country.
All that experience coming back took a big leap forward, and by the end of 2011, Stoops' D was an elite unit.
Now, Florida State's defense is littered with NFL-level talent, from
Brandon Jenkins
and
Timmy Jernigan
up front to
Lamarcus Joyner
and
Xavier Rhodes
in the secondary. And once again, the bulk of last year's D will be back again in 2012.
But here's the question: Does having tons of experience on defense really translate into better performance, or was FSU's rise in 2011 just a matter of having the talent to be great?
July, 5, 2012
7/05/12
8:57
AM ET
In July, optimism comes easily -- particularly given the depth of talent Florida State has on its roster this season.
[+] Enlarge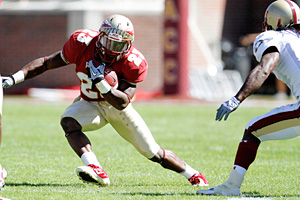 Daniel Shirey/US PRESWIREChirs Thompson and the FSU running backs weren't as far behind their ACC competition during 2011 as the Seminoles' rushing stats implied.
But as ESPN's ACC blogger Heather Dinich
points out
in her "Hope and Concern" series, not every area of the Seminoles roster is filled with firmly established stars.
While
EJ Manuel
could be one of the ACC's top quarterbacks, and FSU has perhaps the deepest stable of receivers in the nation, the running game is a huge question mark.
A year ago, Florida State finished 10th in the ACC in rushing offense, averaging just 112 yards per game on the ground and 3.3 yards per carry. Add spring injuries to
Chris Thompson
and
Devonta Freeman
and the level of concern only builds.
But dig a little deeper into the numbers, and perhaps there's some room for optimism, too.
June, 27, 2012
6/27/12
8:45
AM ET
As we get set for the start of the 2012 season, we'll be digging into the numbers at NoleNation to determine some of the underlying storylines as Florida State aims for an ACC title. Today's topic: Tight end use.
Florida State locked up it's latest commitment for the 2013 class Tuesday when tight end
Christian Morgan
(Plano, Texas/Prestonwood Christian Academy) announced he
plans to join the Seminoles
next fall.
The 6-foot-5, 250-pound Morgan should be a beast on the line, but as his high school coach, Chris Cunningham, pointed out, he's got his share of versatility, too.
Goodell Has Sit-Down With Jameis Winston
ACC SCOREBOARD
Thursday, 9/3
Saturday, 9/5
Monday, 9/7