Florida State Seminoles:

Will Muschamp
December, 11, 2013
Dec 11
2:30
PM ET
Nick Saban's name is sure to come up in every high-profile coaching job that opens until he decides to retire.
That's just the nature of the business when you've had the kind of success Saban has had with four national championships in the last 11 years.
[+] Enlarge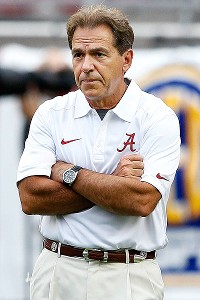 Kevin C. Cox/Getty ImagesAlabama coach Nick Saban has several protégés who are now head coaches, including Florida State's Jimbo Fisher, Florida's Will Muschamp and Michigan State's Mark Dantonio.
He won't be playing for a national title this season, but one of his protégés will -- Florida State's Jimbo Fisher.
In fact, it's been an eventful season all the way around for the Saban coaching tree.
Since we're all into power rankings this time of year, let's roll out the power rankings for the Saban coaching tree coming out of this season. In other words, those guys who have coached under Saban at some point in the college ranks and have gone on to be head coaches either in major college football or the NFL.
1. Jimbo Fisher, Florida State head coach:
We'll go with Fisher at No. 1 on this list since he has the No. 1 Seminoles unbeaten and headed to the VIZIO BCS National Championship game to face Auburn. It's their first trip to the national title game since the 2000 season. Fisher is a finalist for the Eddie Robinson Coach of the Year Award. His Seminoles have been dominant this season. They've won all 13 of their games by 14 or more points and 12 of their 13 games by 27 or more points. Fisher was Saban's offensive coordinator at LSU from 2000-04.
2. Mark Dantonio, Michigan State head coach:
Another finalist for the Eddie Robinson Coach of the Year Award, Dantonio has Michigan State in the Rose Bowl for the first time since the 1988 season and led the Spartans to a school-record 12 wins this season. This will be their seventh straight bowl appearance. Dantonio was Saban's secondary coach at Michigan State from 1995-99.
3. Jim McElwain, Colorado State head coach:
In his second season at Colorado State, McElwain has the Rams in a bowl game for the first time since the 2008 season. They will face Washington State in the New Mexico Bowl. McElwain was a part of two national championship teams at Alabama under Saban as the Crimson Tide's offensive coordinator from 2008-11.
4. Pat Shurmur, Philadelphia Eagles offensive coordinator:
Now in his first season with the Eagles, Shurmur was the Cleveland Browns head coach from 2011-12. He coached under Saban at Michigan State from 1995-97 as the Spartans' tight ends coach.
5. Josh McDaniels, New England Patriots offensive coordinator:
This is McDaniels' second season as the Patriots' offensive coordinator. He was the Denver Broncos' head coach from 2009-10 and was a graduate assistant under Saban at Michigan State in 1999.
6. Will Muschamp, Florida head coach:
After a breakthrough second season at Florida and a trip to the Sugar Bowl, Muschamp's Gators suffered through a dismal 4-8 season this year that was marred by a litany of injuries. It was Florida's first losing season since 1979. The Gators lost their last seven games, including a home loss to Georgia Southern. It goes without saying that Year No. 4 will be a critical one for Muschamp, whose Gators have struggled on offense. Muschamp coached under Saban at LSU as the linebackers coach in 2001 and defensive coordinator from 2002-04. He was also Saban's assistant head coach with the Miami Dolphins in 2005.
7. Derek Dooley, Dallas Cowboys receivers coach:
Now in his first season with the Cowboys, Dooley was the head coach at Tennessee from 2010-12. The Vols suffered through losing seasons all three years and managed just five SEC wins, leading to Dooley's firing. Dooley was the head coach at Louisiana Tech for three years prior to his stint at Tennessee. He coached under Saban at LSU from 2000-04 as tight ends coach and then running backs coach. From there, he went with Saban to the Miami Dolphins and coached tight ends before getting the Louisiana Tech head job in 2007.
November, 26, 2013
Nov 26
10:00
AM ET
The most obvious sign their paths would diverge appeared in the first week of September. Jameis Winston announced himself as a future Heisman candidate with a near perfect performance in Pittsburgh, setting Florida State on its way from afterthought to contender.
Five days later, Jeff Driskel and his teammates bumbled their way to five turnovers in yet another avert-your-eyes performance at Miami. A string of team-crushing injuries ensued, setting Florida on its way from contender to catastrophe.
[+] Enlarge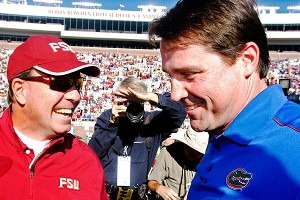 AP Photo/Phil SearsFSU's Jimbo Fisher (left) and Florida's Will Muschamp are good friends and have a lot in common, but this year they have seen their programs head in opposite directions.
The two best friends could not have more contradictory fortunes. Jimbo Fisher and Will Muschamp -- groomed in the same coaching tree and working their first head coaching jobs -- have had seasons for the ages but for opposite reasons.
Muschamp has had to watch his Florida team come apart so spectacularly, his job security has been a daily topic for weeks. Meanwhile, his close pal has brought Florida State together so completely, the gap between the two programs is as wide as the 150 miles that separate Gainesville and Tallahassee.
That dichotomy must be hard to swallow for Muschamp, especially when you consider how his team thoroughly beat the Seminoles physically and on the scoreboard just one year ago. How must Muschamp feel watching Fisher enjoy so much success, knowing it further amplifies his own problems?
"I worry about Florida," Muschamp said Monday. "I worry about what we need to do and where we are and what we need to improve. That's what all my concentration is on. Obviously the game each week, you focus on the other team and prepare for that team -- and they've got a heck of a football team and they are having a heck of a year. That's how I view things."
A look at the Florida roster reveals little in the way of the offensive talent or overall depth Florida State has this season. It is true the Gators have sustained more injuries to starters than just about any team in America. Of the 22 players who started against Louisville in the Allstate Sugar Bowl in January, only six were available last week in a horrendous loss to Georgia Southern.
But injuries cannot be the only excuse. Questions about the offense and depth have followed Muschamp since he arrived in Gainesville. Florida did win 11 games a season ago, but the Gators had one of the worst offenses in the country and their defense was exposed in the loss to Louisville.
Quarterback has been a consistent issue since Tim Tebow left. Driskel came in as the No. 10 player on the ESPN 150 in the class of 2011 but has yet to live up to his advance billing.
Contrast that with Winston, who was actually rated lower on the ESPN 150 in the class of 2012 at No. 14 overall. Fisher could end up with a third quarterback taken in the first round in his Florida State tenure, and has some of the best talent and depth at receiver in the country. Incredibly, his team in 2013 is better after losing a record 11 picks to the NFL draft in April.
Most impressive is how the Noles have performed despite a staff full of new coaches, hired to replace assistants who went on to bigger, better jobs this past offseason. And yet the one constant on offense remains Fisher, who works without an offensive coordinator and has called the plays since his arrival. Contrast that to Florida, which is likely to make offensive staff changes for the third time under Muschamp.
What seems clear now is that Fisher benefited from serving as coach-in-waiting under Bobby Bowden. As maligned as the idea was not only at Florida State but elsewhere, Fisher had the necessary preparation for his first head-coaching job. In Year 3, he won 12 games, an ACC championship and a BCS game. Not only has Florida State put together top recruiting classes over the last several years, Fisher has maximized the talent he has brought on campus and built a two-deep that rivals Alabama.
Muschamp also served as a coach-in-waiting, but under Texas coach Mack Brown. He got his first head coaching job at Florida, a surprise hire to many, and has seemed in over his head throughout his tenure. Now in Year 3, Muschamp has never won an SEC title or a BCS game and will post the first losing season at Florida since 1979.
After the loss to Georgia Southern, the calls for his job grew more intense. Muschamp was SEC coach of the year a season ago but right now, that feels like 100 years ago.
"We have no patience in this world anymore," Fisher said Monday. "Everything is what have you done for me lately. It's just the way things go. I don't think it's right. I think that's some of the things as far as when you look at the history of organizations, ones that have had patience seem to be the ones that really have the best true teams over longevity than ones that don't come to rash decisions very quickly."
Fisher offered words of support, saying he was confident Muschamp would get through the trying times. "He's a great guy and a heck of a football coach. Will knows this business, he'll handle it very well," Fisher said.
Indeed, it was not long ago Florida ruled the state, winning six straight in the series between 2004-2009. That, of course, was before Fisher and Muschamp started down their own head coaching paths. Where Fisher has succeeded, Muschamp has been left alone, trying to find the right way out.
November, 14, 2013
Nov 14
5:30
AM ET
1. Florida fans are taking their frustrations out on head coach Will Muschamp when it's plain to see that the Gators have suffered as many injuries as any team in recent memory. Athletic director Jeremy Foley and university president Bernie Machen went to bat for Muschamp on Wednesday. Even Steve Spurrier, whose No. 10 South Carolina team plays his alma mater on Saturday, endorsed Muschamp. They stated the obvious, as I am doing here. But the fans haven't grasped it yet.
2. According to the reporting of Mark Schlabach and David Hale, Tallahassee police waited nine months to send to the state attorney a complaint of sexual assault that involves Florida State quarterback
Jameis Winston
. The complaint lists the offender as being between 5-foot-9 and 5-11. Winston is 6-4. Skepticism is justified. But here's why it matters to the No. 2 Seminoles football team. University policy dictates that a student-athlete charged with a felony is suspended. Backup quarterback
Jacob Coker
isn't available. He underwent knee surgery this week.
3. One ugly streak will end in the Pac-12 this week when Colorado, which has lost 14 consecutive conference games, welcomes California, which has lost 12 league games in a row. Both teams' last Pac-12 victory came against Washington State last season. Both teams have first-year head coaches. This season, Cal came within a touchdown of one Pac-12 team (Arizona); every Colorado conference loss has been by at least three touchdowns. I still see a spark in Boulder that injuries have prevented in Berkeley.
July, 15, 2013
Jul 15
9:00
AM ET
It's probably hard for Florida fans to admit, but there are players on Florida State's roster that are better than ones on the Gators roster.
And vice versa, too.
So what if trades could happen in college football? What if UF coach Will Muschamp and FSU coach Jimbo Fisher, because of their long-standing friendship, could work something out? You know, during an afternoon at their shared beach house in the Florida panhandle they hammered out a couple of deals to exchange players.
Here are two we think they could work out, and the ramifications for each team:
To continue reading this article you must be an Insider
May, 30, 2013
May 30
9:00
AM ET
DESTIN, Fla. -- If Florida coach Will Muschamp and athletic director Jeremy Foley have their way, both LSU and Florida State will stay on the Gators' schedule regardless of how many SEC games are on Florida's slate.
It's a good call by Muschamp and Foley because both games are big for the program, and big for the money pot. Anyone who knows anything about Florida football recognizes the bitterness and enthusiasm the Gators' rivalry with the Seminoles, which dates back to 1958, exudes.
"The Florida State game is very important to us," Foley said. "I don't see that changing."
[+] Enlarge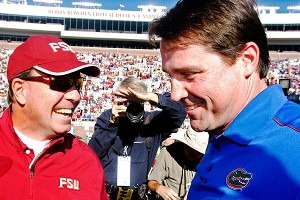 AP Photo/Phil SearsFSU's Jimbo Fisher (left) and Florida's Will Muschamp are good friends and have a lot in common, but this year they have seen their programs head in opposite directions.
Keeping Florida State on the schedule is a no-brainer for the Gators, but there has been plenty of talk about potentially ending the Florida-LSU series, especially from LSU's camp. This game has been played for 42 consecutive years, and the two became permanent cross-division opponents when the SEC split into divisions in 1992. But LSU coach Les Miles and athletic director Joe Alleva have been very public this week about getting rid of permanent crossover opponents.
Muschamp understands LSU's stance on moving from the current 6-1-1 format to a 6-2 format, which has two crossover rotators and no permanent opponent, but he believes this game is too important to scrap.
"It's a great game for our league," Muschamp said. "I've been on both sides of it as a coordinator and now as a head coach. It's a national game for our league.
"At the end of the day, a 6-2 format is probably the fairest format -- if you want to be honest -- but I do enjoy the rivalry."
Miles, whose Tigers already share a division with Alabama and Texas A&M, doesn't want to have to continue playing one of the East's top teams every year if other squads don't face similar challenges.
"I think you play your division, rotate two teams [from the other division]," Miles said. "Everybody in the country can honor and visually see that that's the honest, straightforward way to do it."
I understand where Miles is coming from. Alabama and Georgia are dealing with permanent opponents who have fallen in recent years, while LSU played 11-win teams in Florida and South Carolina last year, going 1-1 against them. This fall, the Tigers host Florida and play at Georgia, both of which will probably be top-10 teams entering the fall.
Alabama's East opponents are Kentucky and Tennessee (permanent), which both have new head coaches.
"I'm totally opposed to permanent opponents," Alleva said. "It has nothing to do with Florida. I think it's a competitive disadvantage to every team in the league to have a permanent opponent. I think they all should rotate. It's better for our fans, it's better for our players. We have players who never get to play against some SEC teams. So from a competitive standpoint, from a student-welfare standpoint, from our fans' standpoint I think we should just play six in our division and rotate the other two."
It's going to be tough for LSU to get rid of Florida because of other more historical crossover rivalries, such as Alabama-Tennessee and Georgia-Auburn. SEC commissioner Mike Slive has been adamant about not getting rid of those games and said a hybrid format with only some teams having permanent crossover opponents hasn't been discussed.
"The rivalry games are important," Slive said. "Otherwise I would have given you the [scheduling] format last Monday."
One rivalry the Gators aren't high on is the one against Miami. This fall, Florida will play Miami for the fifth time since 2002, but Foley doesn't consider the rivalry, which was hot before the 1990s, much of a priority -- especially if the SEC moves to nine conference games.
"You never say never, but that's not high on the agenda right now," Foley said. "For me to sit here and say, 'Well, we'll do that down the road,' there's too many unknowns in scheduling right now. If you're at nine conference games plus Florida State, I'd probably tell you it's unlikely. There's been no conversation between us and the University of Miami."
January, 11, 2013
Jan 11
9:00
AM ET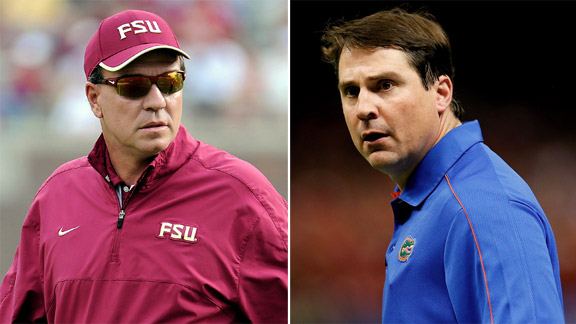 USA TODAY Sports, Getty ImagesCoaches Jimbo Fisher and Will Muschamp led their respective teams to double-digit wins in 2012.
The good ol' days returned to the Sunshine State in 2012, as both Florida and Florida State were nationally relevant again. Both teams finished ranked in the AP Top 10 for the first time since the 2000 season as Florida State won 12 games, and Florida won 11.
But who had the better season? Orlando Sentinel columnist Mike Bianchi
asked that question
earlier this week. Now, SEC blogger Edward Aschoff and I are here to settle the debate once and for all.
Adelson says: Chop over Chomp
The answer to this question is as easy as 1+1. There is no way Florida had a better year than Florida State. Not with that big fat L tattooed all over Florida. Make that a double LL tattoo: LOUISVILLE LOSS.
Here is what Florida State did in 2012 that the mighty Gators did not do:
Florida State won its BCS game, avoiding the shame and embarrassment that still stings in Gainesville.

Florida State tied the school record for wins in a season with 12.

Florida State won its conference.

That is a winning trifecta right there, and should deem any argument from the SEC moot.
What? Florida beat Florida State head-to-head? Noles fans cannot hear you because they have championship rings plugging up their ears. Still one of my favorite comeback lines of all time.
I watched that game in Tally. Florida was the better team that day, and deserved to win. Florida had the more surprising season, too, considering nobody expected the Gators in a BCS game. Will Muschamp did a terrific job turning around a seven-win team into an 11-win team. I give them credit for all that.
But a head-to-head win against Florida State does not automatically mean the Gators had a better season. A season where expectations were exceeded is not better than a year in which every single expectation was met. Did folks think Florida State could compete for a national championship this year? Yes. Was it disappointing when Florida State fell short of that? Yes.
That disappointment does not define a season, however. At the start of every single season, coaches will tell you the goal is to win a conference championship. Bigger goals follow. Florida may have beaten Florida State on the scoreboard, but the Seminoles won in the much bigger category.
They are champions, two times over.
Aschoff says: Chomp, chomp!
If you turned on your computer for the first time since August and saw just the final records of Florida and Florida State, I guess you could say the Seminoles had a better season in 2012. If you look at the final games for both schools, you'd probably go with the Noles again, considering they blew out Northern Illinois in the Discover Orange Bowl, while Florida was beaten down by Louisville in the Allstate Sugar Bowl.
Seems easy enough, but when you look at the total body of work, Florida clearly had the better year in 2012. For starters, this team wasn't even supposed to win nine games. It was an eight-win team at best but won 11, was a win away from going to the SEC title game in Atlanta, went to a BCS bowl game and handily beat Florida State IN Tallahassee in the process. Despite having the worst passing game in the SEC, the Gators went 7-1 in the country's toughest football conference, with that lone loss coming to a Georgia team that was 5 yards away from taking Alabama's spot in the BCS title game. Oh, and Florida was a missed Pittsburgh field goal away from playing in the national championship.
Florida State was supposed to be in a BCS bowl. The Noles were supposed to be national title contenders and they fell flat against NC State (the same NC State that was pummeled by Vanderbilt in the Franklin American Mortgage Music City Bowl) and were roughed up 37-26 by Florida at home. If anything, 2012 was a major disappointment for the Noles.
Florida took down Johnny Football IN College Station and beat up LSU at home before blowing out South Carolina by 33. Florida beat four top-10 teams with basically an elite defense and a running game led by a first-year starter in
Mike Gillislee
.
Florida had some ugly wins, but this team found ways to win and ended the regular season No. 3 in the BCS standings.
Did I mention that Florida did all of this in the SEC, while Florida State underachieved in the ACC?
November, 24, 2012
11/24/12
2:20
PM ET

Heather Dinich talks about who needs a win more in Tallahassee.
November, 23, 2012
11/23/12
9:00
AM ET
Who will transform tomorrow with a huge performance in Week 13?

We are going with a duo: Florida State defensive ends
Tank Carradine
and
Bjoern Werner
. Given the way both have played this season, there is no doubt Florida will have its hands full trying to slow them both down. And that will be a major problem for an offense that has not been very productive this season.
The No. 4 Gators have struggled all season on offense, from scoring points, to establishing their passing game to protecting the quarterback. Florida has allowed 32 sacks, ranking No. 104 in the nation. Carradine and Werner are the most prolific sack duo in the country. So yes, that is going to be a major problem for the Gators to solve.
Just look at what these two players have done so far:
Carradine leads the team in total tackles with 69, and has 11.5 tackles for loss, 10.5 sacks and eight hurries. Werner has 33 tackles -- 14.5 are tackles for loss, with 9.5 sacks. Werner has seven pass breakups and five hurries.
Carradine leads the ACC in sacks, and Werner ranks second. The last time a pair of teammates finished the year ranked 1-2 was in 2005, when Mario Williams and Manny Lawson did it for NC State.
Only three pairs of FSU defensive players have ever combined for more sacks in a season than Werner and Carradine.
Werner and Carradine are one of only two sets of teammates in the top 15 for sacks in the FBS.
"They're very athletic, they've got girth, they've got size, they've got speed, they've recruited," Gators coach Will Muschamp said. "They've got a lot of depth. They throw a lot of guys in there who play and play well, and when you lose a guy like
Brandon Jenkins
to start the season and you're able to still play at a high level and rush the passer well with four guys rushing, that says something about your recruiting. So they do a good job. They're very similar to what we've seen in our league."
With all due respect, Werner and Carradine are better than what Muschamp has seen in the SEC this season, and a huge key in this game.
November, 21, 2012
11/21/12
1:00
PM ET
Back in March, I did a three-city tour around Florida, stopping in Gainesville, Tallahassee and Miami with a very serious question:
When will the state of Florida
rise again
?
At the time, Florida State finished 2011 as the top-ranked team among the Big Three, at No. 23. Will Muschamp was getting heat from Florida fans after a disappointing season. Miami was under the cloud of an NCAA investigation. (And still is.)
[+] Enlarge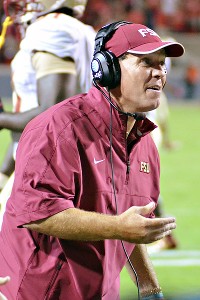 Rob Kinnan/US PresswireJimbo Fisher is 5-0 against FSU's in-state rivals, Florida and Miami, since taking over as head coach.
Perhaps only Muschamp and Jimbo Fisher anticipated the rise back up would happen in just a handful of months. Indeed, No. 4 Florida and No. 10 Florida State meet Saturday as Top 10 teams for the first time since 2000. That probably has surprised many college football observers, but not Fisher.
"You have great programs, you have great availability of players, both groups have gotten good players and they've got a great staff and I feel we've got a great staff," Fisher said Wednesday on the ACC coaches call. "Things are never as good as they seem, they're never as bad as they seem. We knew we would be back, and it doesn't surprise me one bit they're back."
Simply put, this rivalry is better when national championship stakes are on the line. Thirteen times between 1990-2000, both were ranked in the Top 10. They played for the national championship in 1996, after the regular-season finale between the two featured No. 2 Florida State upsetting No. 1 Florida.
In fact, six times in those 13 meetings the lowe- ranked team won the game. Several times national championship hopes were dashed -- aside from the title game in the Sugar Bowl. In 1997, Florida upset No. 2 and unbeaten Florida State, in a stunning upset, thanks to the way Steve Spurrier rotated his two quarterbacks.
Those were the good ol' days. Then we saw a streak of five times within seven seasons that only one team was ranked headed into the game, taking away much of the luster surrounding the matchup, especially from a national perspective.
But now here we are again, with national championship hopes on the line for the Gators. If they can win and Notre Dame loses, there could be another potential SEC vs. SEC national championship game. If Florida State wins, the Noles would have their first three-game winning streak in the series since 1998-2000.
Fisher has yet to lose to Florida or Miami, going 5-0 against the two in-state rivals. In fact, the Seminoles have gone 1,091 days since losing to a team from Florida.
"When you're both having outstanding seasons like we both are it definitely does (add something extra), because it has more national ramifications," Fisher said. "But our own personal deal, no. We take pride in playing against Florida much like they take pride in playing against us, but from a fan standpoint and everything that goes on, hopefully it's back to where it should be, where it's like this every year. It is a good thing, and I'm not against it, I promise."
November, 21, 2012
11/21/12
11:30
AM ET
You really have to dig deep to find the last time Florida-Florida State really meant something in the grand scheme of college football.
People were using MSN Messenger and thought Fred Durst was actually cool. TRL and trucker hats were all the craze.
It was the year 2000 and college football fans were probably carrying around a Ja Rule CD in their cars. (It's OK. We all have our faults.)
It was also the last time Florida and Florida State met as top-10 BCS opponents.
[+] Enlarge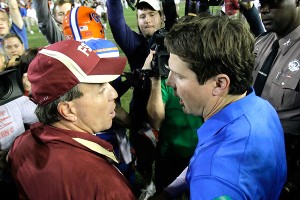 AP Photo/John RaouxIf Jimbo Fisher's or Will Muschamp's team loses on Saturday, it will be eliminated from consideration for the BCS title game.
This was one of college football's true gems. Thanks to Steve Spurrier and Bobby Bowden, from 1990 to 2000 these two teams met 13 times when both were ranked in the top 10, including the 1996 Sugar Bowl for the national championship. These two programs were mammoths and are Nos. 1 and 2 nationally when it comes to consecutive bowl streaks. Florida State is No. 1 (30) and Florida is second (21).
The rivalry took a bit of a nosedive when Bowden and his Noles teams fell off during the 2000s and Urban Meyer arrived at Florida. Under Meyer, the Gators won five straight, as they stayed nationally relevant, while FSU flirted with mediocrity until Jimbo Fisher took over in 2010.
But this rivalry is back, as No. 4 Florida (10-1, 7-1 SEC) heads to Tallahassee to face No. 10 Florida State (10-1) in a game that has major BCS implications on the line.
If Florida wins, the Gators are likely BCS-bound. With some help from USC, they could back their way into the national championship game. Florida State is very much on the outside when it comes to the BCS title game, but a win and a ton of help could move the Noles closer to Miami.
The magnitude of Saturday's matchup hit the Gators well before they returned to the locker room after beating Jacksonville State.
"As soon as that clock hit zero, you couldn't help but think about Florida State," fifth-year senior defensive tackle
Omar Hunter
said. "If you're a Gator, you grow up not liking Florida State. I'm sure it's the same way with them. That's just what you're taught. When you go to Florida State, you're anti-Gators. That's just what it is."
Outside of the BCS implications, major pride is on the line for both teams. There's real bad blood here. Players on both sides know each other, but they refuse to talk during the regular season and usually hurl barbs at each other when they do speak during the offseason.
The hatred is still there, even if the success isn't.
The Gators are also hurting after back-to-back losses to the Noles. After winning six straight over FSU, Florida dropped the last two, getting outscored 52-14. Florida enters this weekend with an offense going backward, and quarterback
Jeff Driskel
is hobbled. He sprained his ankle two weeks ago.
That's not good when you consider how good the Noles have been on defense, even without star defensive end
Brandon Jenkins
for basically the entire season. FSU ranks first nationally in total defense (236.3 yards per game) and rushing defense (70.6). The Noles are allowing 2.3 yards per rush and 3.7 yards per play.
In the past five games -- two of them against Louisiana-Lafayette and Jacksonville State -- Florida has averaged just 278.4 yards. The Gators are near the bottom of the SEC in total offense (332.9) and are last in passing (143.4).
That doesn't bode well for Florida, but as coach Will Muschamp continues to point out, it's all about wins, and somehow the Gators have 10 of those.
"Like I said Saturday, understand who you are and where you are, and it may not be where you want to be at times and it's frustrating at times, but at the end of the day, you've got to do what it takes to win football games and that's what we're judged on at the end of that," Muschamp said.
While the offense has sputtered, the defense has been terrific, ranking near the top with the Noles. It can be irritating to see the offense fail, but Florida's defenders love putting the game in their hands.
"That's how you go into every day if you're a great defense," Hunter said. "You want to put everything on your shoulders. You don't want to go into the game relying on the offense to score. You want to score on the defense. That's what we're taught here at Florida and that's what we try to win by -- defense and special teams."
Offensive issues aside, a lot is riding on Saturday. The BCS might be at the forefront of the conversation, but as far as the Gators are concerned, the only letters they're focused on are F-S-U.
"It's Florida-Florida State. It's more than what's just going on in the BCS," Hunter said. "It's bragging rights for the state of Florida. It's going to be a very big game and it's one of my favorite games to play in."
November, 19, 2012
11/19/12
10:42
AM ET
GatorNation's Michael DiRocco and NoleNation's David Hale break down Saturday's Florida-Florida State game in Tallahassee, Fla.:
UF offense vs. FSU defense
Florida:
The Gators have really struggled to move the ball during the second half of the season, especially through the air. Teams are stacking the box and concentrating on stopping RB
Mike Gillislee
(964 yards, 8 TDs). The pass protection has been inconsistent and the receivers, other than TE
Jordan Reed
, have trouble separating. UF isn't able to mount more than one or two sustained drives against good defenses.
Florida State:
The numbers speak volumes for Florida State's defense, which ranks among the nation's best for the second straight season. It starts with defensive ends
Bjoern Werner
and
Cornellius Carradine
, the most prolific pass-rush duo in the country. But from the powerful interior line to a strong secondary, there are few weaknesses. The Seminoles rank first nationally in total defense, fifth in scoring defense, first against the run and fifth against the pass.
To continue reading this article you must be an Insider
November, 4, 2012
11/04/12
4:59
PM ET
Florida State's coaches took advantage of the bye week by getting out on the road to scout and offer pitches to some of their top-rated recruits.
Offensive line coach Rick Trickett, always on the hunt for prospects to beef up his group in the trenches, even extended a new offer. While up in Georgia, Trickett made his interest in
Trenton Brown
(Albany, Ga./Georgia Military College) formal.
"I knew it was coming about two weeks ago, but it meant a lot to me from my favorite team growing up offering me a scholarship," he said. "They came on late for a reason and he told me why, but right now, I'd have to say it is between them, Florida and Oklahoma.
To continue reading this article you must be an Insider
October, 21, 2012
10/21/12
12:47
PM ET
Denzel Ware
(Crestview, Fla./Crestview), a 2014 Florida State commitment, made his way to Gainesville this weekend to see Florida host South Carolina.
The 6-foot-2, 215-pound defensive end really liked what he saw out of the Gators and their emphatic win. And even went as far as to say he saw some things out of the program he hadn't seen yet out of the Seminoles.
"I don't know about options, but they showed me a lot of stuff that Florida State hasn't shown me. It was real great. I liked the campus. I got a chance to actually be around their team. They seem like a pretty good team to be around."
To continue reading this article you must be an Insider
July, 28, 2012
7/28/12
10:00
AM ET
GAINESVILLE, Fla. -- Defensive end
Chad Thomas
(Miami, Fla./Booker T. Washington) said he enjoyed himself at Florida's Friday Night Lights and got good feedback from the coaching staff, but that's nowhere near enough get him to move the Gators up on his list.
Florida State and Miami remain the front-runners for the 6-foot-5, 223-pound 2014 defensive end, but he said he's got plenty of time to make his decision. And he did admit that the Gators still have a chance.
"I always like (Florida) a little bit," Thomas said. "But I've got my top two schools. I'm not even close to picking."
To continue reading this article you must be an Insider
Recruiting Storylines: ACC - Dec. 19
ACC SCOREBOARD
Saturday, 12/21
Monday, 12/23
Tuesday, 12/24
Thursday, 12/26
Friday, 12/27
Saturday, 12/28
Monday, 12/30
Tuesday, 12/31
Wednesday, 1/1
Thursday, 1/2
Friday, 1/3
Saturday, 1/4
Sunday, 1/5
Monday, 1/6