Florida State Seminoles:

Warrick Dunn
July, 11, 2013
7/11/13
9:00
AM ET
Recruiting and recruiting rankings are anything but an exact science. And sometimes, both miss on prospects that go on to be excellent.
Florida State has had its fair share of those. Amid all the top draft picks and five-star talents, there have been the run-of-the-mill three-star prospects that have exceeded all expectations.
Oh, and there was this one walk-on player, too.
Here's a look at three notable players that went on to college and pro greatness from humble beginnings in Tallahassee.
[+] Enlarge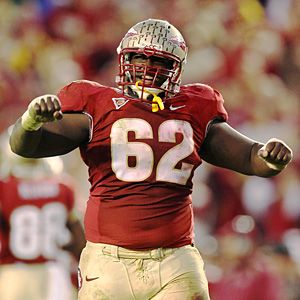 Mike Ehrmann/Getty ImagesUnder Rick Trickett's tutelage, Rodney Hudson became an All-American at FSU.
DE Andre Wadsworth
Hailing from St. Croix in the U.S. Virgin Islands, few expected Wadsworth to go on to be one of the names mentioned in Florida State lore.
In high school, Wadsworth made second-team all-state as a defensive lineman, but also played some tight end. His athleticism was apparent then because he even returned a kickoff 98 yards for a touchdown.
When it came to recruiting, just Liberty and Bethune-Cookman College wanted to offer Wadsworth a scholarship. He turned down both and walked on to the Florida State football team.
He went on to be named a consensus All-American and the ACC Player of the Year, ACC Defensive Player of the Year and First-Team All-ACC in 1997, and Second-Team All-ACC in 1994, 95 and 96. Not bad.
He could have left for the NFL after his junior year, but decided to stay for another season. And in the 1998 NFL Draft, Wadsworth became the highest drafted Seminole in school history going No. 3 overall to Arizona.
QB Christian Ponder
The expectations for Ponder upon his arrival at FSU were that he would be a career backup. He was a three-star prospect with offers from Baylor, Georgia Tech, Iowa State, North Carolina and TCU. And he came in with a highly regarded dual-threat colleague D'Vontrey Richardson.
Prior to the 2008 season, Ponder was named the starting quarterback over Drew Weatherford and went on to throw for just over 2,000 yards and 14 touchdowns. Interceptions were a problem (13 in total), but he showed flashes.
The 2009 campaign was cut short after Ponder was hurt trying to make a tackle on DeAndre McDaniel in the Clemson game, but it did cement his plans to come back for his senior year.
Ponder became the first quarterback since
Chris Weinke
in 1999 to defeat both in-state rivals Florida and Miami in the same season. He would finish his career with over 6,800 yards passing and 49 touchdowns.
During the 2011 NFL Draft, Ponder was selected No. 12 overall by the
Minnesota Vikings
.
OL Rodney Hudson
Hudson's career is closely intertwined with offensive line coach Rick Trickett. A one-time West Virginia commitment, Trickett's former employer, both ended up in Tallahassee in 2007.
Florida State was able to trump the Mountaineers and Southern Miss to get the three-star recruit to campus. He would go on to become exactly what Trickett had hoped.
Hudson started 10 games as a true freshman in 2007, even playing some tackle. As a sophomore, Hudson would be named First-Team All-ACC.
He'd go on to earn First-Team All-ACC two more times in 2009 and 2010 and would also become a First-Team All-American in 2009 and 2010. Hudson also captured the Jacobs Blocking Trophy as a junior.
By the time he was done, Hudson became the most-decorated offensive lineman in Florida State history.
Hudson was selected by the
Kansas City Chiefs
in the second round with the No. 55 overall pick.
Honorable mentions:
CB Xavier Rhodes:
He arrived at FSU as a three-star wide receiver, but left as a first-round pick as a cornerback.
Warrick Dunn:
Dunn was highly sought after by many, but as a defensive back. He played running back from Day 1 in Tallahassee and is the Seminoles' all-time leading rusher.
Derrick Alexander:
The legend goes that he was cut by his junior varsity team. He would come to Florida State and anchor the defensive line during the 1993 national championship season and be selected in the first round of the NFL draft.
July, 8, 2013
7/08/13
9:00
AM ET
Charlie Ward's credentials are impeccable. He's second in school history in total offense. He was the first Florida State player to win a Heisman. He led Florida State to its first national championship.
In a draft of the all-time greatest Seminoles, Ward's an easy pick at No. 1, right?
[+] Enlarge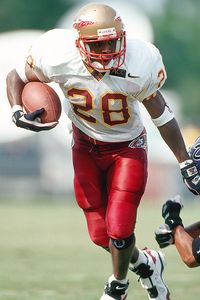 US PresswireWarrick Dunn is Florida State's all-time leading rusher, but is that enough to make him a No. 1 pick in the all-time FSU draft?
Actually, it's not quite so simple. Ward, of course, never played a down in the NFL, so shouldn't future professional stars like Derrick Brooks or Warrick Dunn earn some consideration, too? And while Ward was certainly one of the elite quarterbacks in college football history, it's perhaps Chris Weinke that was the better pure passer, finishing his career with nearly 10,000 passing yards to go with a Heisman and national title of his own. Then there's the men who helped pave the way for those national championships by building Florida State into a powerhouse program -- from Fred Biletnikoff in the 1960s to Ron Simmons in the 1970s, and of course, Deion Sanders in the 1980s.
In other words, when it comes to picking the best players to come through Tallahassee in the past half-century, there's ample room for debate, and that's exactly what we'll be doing at NoleNation this week as we look at our all-time Florida State football team.
Our panel of experts will participate in a draft of Florida State's best players, and we'll analyze the picks. We'll dig into the archives to look at how FSU landed some of those key players on the recruiting trail, and we'll look ahead at which members of the current crop of Seminoles might go down in history as some of Florida State's all-time best.
Of course, to get it all started, we needed to figure out some way of ranking the best of the best, and it wasn't easy. Here are a few of the key debates that raged in advance of our draft:
What's the criteria?
Does Ward get penalized because he didn't go on to professional stardom? Does Walter Jones get extra credit for what he did in the pros, despite spending just a year in Tallahassee? And what's a fair comparison between Biletnikoff and Warrick, who played the same position nearly 40 years apart? When you're splitting hairs between the best of the best, simply finding a standard set of rules to judge them by isn't easy.
Who's at the top?
Never mind finding Florida State's all-time top player. That's an impossible task. Simply narrowing down the list to a top 10 was a painstaking experience, and surely the final results will earn some scorn from fans befuddled about the absence of their personal favorites. When a program spends the better part of two decades in the hunt for a national title, there's no shortage of difference makers.
Offense or defense?
Sure, Ward and Weinke have the Heisman trophies, but should some glamor awards trump all the battered bodies Mickey Andrews' boys left in their wake? From Simmons' rise to stardom in the late 1970s to Sanders ushering in the "Prime Time" era in the '80s to Brooks, Terrell Buckley, Corey Simon, Peter Boulware and a few dozen more defensive stalwarts, there's plenty of cases to be made that the defense was the building blocks for FSU's championships, and the Seminoles' defenders deserve the lion's share of the top spots.
Who comes next?
Even after ironing out a list of FSU's best, finding the next batch of greats for the later rounds of our draft was equally challenging. Who follows Ward and Weinke at quarterback? Once Dunn and Greg Allen were off the board, how do you decide between Sammie Smith, Travis Minor, Larry Key, Greg Jones or a host of other running backs? If Sanders and Buckley were the clear-cut top DBs, when's the right time to jump on Corey Sawyer, LeRoy Butler or Tay Cody?
None of the answers were easy, but this week we'll do our best to put an end to a few of the debates.
Top Position Battles Heading In To Spring
ACC SCOREBOARD
Thursday, 9/3
Saturday, 9/5
Monday, 9/7