Florida State Seminoles:

Vic Beasley
December, 2, 2013
Dec 2
3:28
PM ET
Florida State led all schools with seven players on the
All-ACC first team
, including quarterback
Jameis Winston
, running back
Devonta Freeman
and cornerback
Lamarcus Joyner
.

In all, the Seminoles had 17 players chosen to the first, second and third teams as voted on by the Atlantic Coast Sports Media Association and announced Monday. Eleven players were selected from Coastal Division champion Duke, including four on the first team.
Boston College back
Andre Williams
, who leads the nation and set an ACC single-season record with 2,102 yards rushing, was the only unanimous selection to the All-ACC team. Clemson receiver
Sammy Watkins
received 63 votes, while Winston received 61. Duke receiver
Jamison Crowder
, who leads the ACC in receptions with 88 and has returned two punts for touchdowns this season, was the only player selected at multiple positions. Crowder was voted to the first team at receiver made the second team as a specialist.
First team
Offense
QB – Jameis Winston, Florida State
RB – Andre Williams, Boston College
RB – Devonta Freeman, Florida State
WR – Sammy Watkins, Clemson
WR - Jamison Crowder, Duke
WR –
Rashad Greene
, Florida State
TE -
Eric Ebron
, North Carolina
T-
Cameron Erving
, Florida State
T-
James Hurst
, North Carolina
G- Tre' Jackson, Florida State
G-Shaq Mason, Georgia Tech
C-
Bryan Stork
, Florida State
Defense
DE -
Vic Beasley
, Clemson
DE -
Kareem Martin
, North Carolina
DT -
Aaron Donald
, Pitt
DT –
Nikita Whitlock
, Wake Forest
LB -
Kelby Brown
, Duke
LB –
Denzel Perryman
, Miami
LB –
Kevin Pierre-Louis
, Boston College
CB – Lamarcus Joyner, Florida State
CB –
Ross Cockrell
, Duke
S –
Anthony Harris
, Virginia
S –
Jeremy Cash
, Duke
Special Teams
PK -
Nate Freese
, Boston College
P -
Pat O'Donnell
, Miami
SP -
Ryan Switzer
, North Carolina
November, 20, 2013
Nov 20
12:00
PM ET
October, 22, 2013
Oct 22
11:00
AM ET
TALLAHASSEE, Fla. -- There were plenty of leaders who spoke up in the locker room before Florida State's resounding 51-14 win over Clemson on Saturday, but it was, unsurprisingly,
Jameis Winston
whom the cameras captured for posterity.
At this point, the Seminoles have come to expect Winston to hog a bit of the spotlight.
"They happened to show Jameis, but we love it," linebacker
Telvin Smith
said. "Put the camera on him and keep it going. If he can embrace it, we can, too."
It's a sign of the stature Winston has achieved inside Florida State's locker room. Six games ago, he was a redshirt freshman. Now, he's a savvy veteran who can command a locker room and gobble up the national spotlight without teammates batting an eye.
But Winston hasn't grabbed the leadership mantle by making pregame speeches. He's done it by proving he's a veteran on the field.
In the two weeks leading up to Saturday's showdown in Death Valley, Winston heard his share of talk about Clemson's vaunted defensive front. The Tigers led the nation in sacks per game, and
Vic Beasley
was going to be tough to block.
As usual, Winston wasn't worried.
"Everyone was saying how they lead the nation in sacks, but I always feel like if someone sacks me, it's my fault," Winston said. "My offensive line is tremendous."
That was Winston's message to his troops before the game, when the lone talking point was simple: Do your jobs, Winston told his linemen, and Clemson won't have a chance.
Sure enough, the Tigers brought the pressure, and Winston made them pay. For the game, he finished with 293 yards against the blitz, the most by any quarterback in the past three years, according to ESPN Stats and Information. Florida State responded again and again to Clemson's aggressive style by holding blocks just long enough for Winston to get off a quick pass to an open receiver, who then tacked on more yards after the catch.
The formula simply asked the line to block and the receivers to be in the right spot, and Winston took care of the rest.
"He's just a really smart guy," said left tackle
Cameron Erving
, who helped hold Beasley to just two tackles -- and no sacks -- in Saturday's win. "He's a film junky, a football junky. He knows what he's doing. He knows what's coming before they do it. He reads defenses as well as the veterans."
It has been Winston's calling card thus far, Jimbo Fisher said. When the defense makes its move, it can be a disaster or a celebration. Winston has routinely enjoyed the latter.
On the practice field and even in the huddle, Winston will goof around with teammates and crack jokes. But when he steps to the line and surveys a defense, he does it with such unique precision that even his veteran teammates are in awe.
"You know what's crazy? He knows football like a veteran. Sometimes he sees things I don't," fifth-year senior
Bryan Stork
said. "He's reading coverages, knows what's coming from the blitz, and I'm like, 'OK.' "
Even amid the deafening roar of the Clemson crowd, Winston was in complete control. He'd read the defense, communicate to his line, make sure his receivers knew the call, and almost without exception, the whole plan came together seamlessly.
For the season, Winston is completing 71 percent of his throws against the blitz, including nine touchdowns and just three sacks. In each of his last two games, he has completed eight first-down throws in the face of a blitz.
Put Winston in a position of pressure, and he thrives. On third downs this season, when the offense needs at least 10 yards to convert, Winston is a perfect 10-of-10 throwing. Nine of those throws have gone for first downs. No other quarterback in the country is converting more than half his throws in those situations.
[+] Enlarge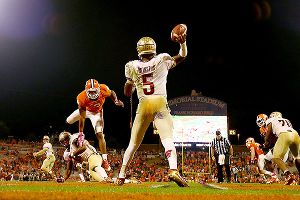 Streeter Lecka/Getty ImagesJameis Winston stood tall in the face of Clemson's pressure and picked the Tigers' defense apart.
On the high-pressure final drive of the half, Winston has been magical. He has completed 18-of-22 throws for 333 yards and four touchdowns. Florida State has scored on all six of the drives.
"His ability to process information is tremendous, and it allows us to get the ball out," Fisher said.
The numbers are astonishing, but Florida State's players aren't amazed. It's Winston doing his job, Erving said, and the rest of the team has followed suit.
"It shows his maturity," Smith said. "He just has total confidence in his line and himself, and he produces."
After Saturday, Winston's ability and maturity are no longer a question. He has proven he can handle the biggest stage.
Instead, a new challenge arises. Florida State is in position to make a run at a national title. Winston is a household name and a top contender for the Heisman. Through six games, he has been a master at turning chaos into precision, potential disaster into the sublime. Now that everything is going Florida State's way, he'll need to manage success just as flawlessly.
From what he has seen so far, Fisher isn't worried.
"He keeps a great head on his shoulders, keeps learning," Fisher said, "and he prioritizes extremely well."
October, 19, 2013
Oct 19
7:00
AM ET
To say this is the biggest game of the season for Florida State and Clemson might be an understatement. It's potentially the biggest game in a decade for two programs with sights set on a BCS title. There are myriad storylines at play, but these five areas to watch might be the biggest in determining which team emerges from Death Valley with a win.


1. The quarterbacks:
The showdown between Heisman contenders
Tajh Boyd
and
Jameis Winston
has been discussed at length this week, and for good reason. Boyd's
legacy might be on the line
in this one. He has won big games before, but a loss would put Clemson's ACC title hopes in peril, and Boyd would hate to spend his final two seasons with the Tigers finishing in second place. Winston, meanwhile, faces a test unlike anything he's seen during his impressive five-game run to start his FSU career. Will Boyd's veteran savvy overwhelm Florida State? Will Winston
live up to the moment
the way he has at every turn thus far? Odds are, neither quarterback will disappoint, but only one of them can come out on top.
2. FSU's ground game:
Lost in the talk of the quarterbacks is perhaps the more substantive issue of Florida State's ground game against a Clemson defense that has
been feast or famine vs. the run
this season. Clemson looks decent overall, ranking in the middle of the pack in rush yards allowed and racking up a national-best 61 tackles for loss. But dig deeper, and the Tigers don't look nearly so imposing. Against FBS teams, not counting sacks, Clemson is allowing 5.62 yards per rush -- good for 107th nationally. Meanwhile, FSU rushed for 287 yards in last year's win without this year's starter,
Devonta Freeman
, getting a single touch. Freeman,
Karlos Williams
and a healthy
James Wilder Jr.
could do a lot in opening things up for Winston in this year's game.
[+] Enlarge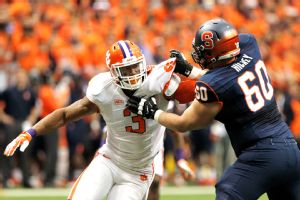 Jerome Davis/Icon SMIClemson DE Vic Beasley has recorded nine sacks in six games, including three multi-sack games.
3. Clemson's pass rush:
Looking back on the Tigers' Week 1 win over Georgia, the difference might have been the fearsome pass rush from
Vic Beasley
, which thwarted the Bulldogs momentum and allowed Clemson to take command. The same trend has followed all year, as Beasley leads the nation with with 9 sacks. Florida State's offensive line has been solid this season, but this is by far its biggest test. Allowing Winston time to look downfield will be crucial, particularly given the quarterback's penchant for avoiding check-downs in favor of the big play.
4. Ramsey's test:
Jalen Ramsey
opened the season by becoming the first Florida State freshman to start at corner since Deion Sanders. He acquitted himself nicely, but when
Tyler Hunter
went down with a season-ending neck injury, Ramsey was shuffled to safety, where he also has managed to hold his own. Of course, none of those games involved Boyd or
Sammy Watkins
, which makes this week's test a whole different animal. Last season,
Terrence Brooks
was burned for a long touchdown early, and
that memory has lingered
ever since. This season, both Ramsey and Brooks figure to be tested downfield. Boyd has 23 touchdown passes of 20 yards or more since the start of 2012 -- four more than any other quarterback in the nation.
5. The special teams:
It has been 25 years since the famous "Puntrooskie" play that helped Florida State topple Clemson in 1988. But the significance of special teams in this rivalry shouldn't be lost to history. Perhaps the biggest play in last year's Florida State win was a 90-yard kickoff return by
Lamarcus Joyner
that swung all the momentum to Florida State's side midway through the third quarter. Clemson was up 10, but Joyner's return set up an EJ Manuel TD pass to ignite a 28-6 FSU run to end the game.
October, 18, 2013
Oct 18
9:00
AM ET
Death Valley is their fortress. And come Saturday night, Clemson players know they must use their home field to their great advantage.
That is simply how it works at Memorial Stadium.
Flash back to the opener against top-five opponent Georgia, with all the noise, the overstuffed grandstands, the goose-bump-raising run down The Hill with Dabo Swinney memorably showing off his 4.4 40 skills. Clemson won 38-35 thanks to an assist from its manic crowd.
Georgia offensive lineman
Chris Burnette
, a fifth-year senior used to his fair share of ear-popping SEC stadiums, admitted, "Clemson was one of the more electric games and stadiums and atmospheres that I've been in since I've been playing."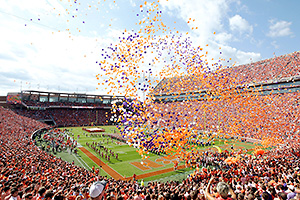 Tyler Smith/Getty ImagesClemson fans aim to break a record for the loudest crowd roar at a stadium.
Everybody at Clemson expects a more electric atmosphere against No. 6 Florida State, given the higher stakes on the line. Both teams not only want to keep their national championship hopes alive, but the winner here gets the upper hand in the race to the ACC title game.
To that end, the Clemson athletic department announced this week that it wants to break the Guinness World Record for loudest crowd roar at a sports stadium on the first defensive snap of the game. The current record -- 137.5 decibels -- was set just last week at Arrowhead Stadium in Kansas City during a Chiefs game.
Florida State practiced all week with noise piped in, standard procedure when it hits the road. But Clemson is not Pitt, nor is it Boston College. Clemson is a place where noise truly does become a factor.
The Seminoles have not won at Clemson since 2001, but they are not alone in their Death Valley struggles. Swinney is 18-2 in ACC home games (.900), the highest winning percentage in league history. He recently moved ahead of former Clemson coach Ken Hatfield, who had a 12-1-1 record at home against league foes from 1990 to '93. Bobby Bowden is third on the all-time list for home winning percentage at .861, with a 62-10 record in home ACC games at Florida State.
"Playing here in Death Valley, we're trying not to ever lose a game," defensive end
Vic Beasley
said. "It's a great atmosphere; the fans support us and it's a great place to play. When we come out here, we don't want anybody to invade our territory."
South Carolina was the last team to do the invading, winning last year in Death Valley. But you have to go back to 2010 to find the last ACC team to win in Death Valley: Miami, 30-21. The Hurricanes went into the game as the higher-ranked team and did not let the surroundings intimidate them.
"It's not intimidating because once you're on the field, you eliminate all the distractions in the stands," said Miami receiver
Allen Hurns
, who played special teams as a freshman in that game. "You have to focus on what you have to get accomplished."
Florida State quarterback
Jameis Winston
also tried to downplay the advantages the Tigers have playing at home, saying, "All the noise stuff, the way we communicate on the field and the way we do things, I don't really think that's going to be a big factor. From the momentum standpoint, if the crowd gets into it and their players start getting amped up, that will probably be a big factor in the game, but the noise I don't think has nothing to do with our offense."
Winston has never experienced Death Valley, nor an atmosphere anywhere close to the one he will be a part of Saturday, so he can only assume what awaits him and his teammates.
His counterpart,
Tajh Boyd
, already knows.
"Clemson is different from any stadium I've ever played at because the fans truly are a factor," Boyd said. "A lot of teams like to call their field the 12th man and this and that, but Clemson really does have an influence. If you look at that redshirt sophomore year, when we won those three games in a row -- Auburn, Florida State and Virginia Tech -- the Auburn game, I really, truly believe the interception came because it was so loud. It was crazy. The defense feeds off of that. The offense feeds off of that. It's a ridiculous place to play in.
"The Florida State game [in 2011], whoever sacked
Clint Trickett
that year, the place just went into an uproar. Same way with the Georgia game this year. It's live every game, but you get one of those real huge teams coming in here and it's a ridiculous place to play at."
For the record, it was Rennie Moore who had the key sack on Trickett on fourth down late in the game, with the Seminoles trying to drive for the winning score.
There was plenty to play for in that game. Both teams were in the Top 25, with ACC title hopes hanging in the balance. This game, though, means so much more. It just might be the best home atmosphere any Clemson player has experienced.
"Our fans, the environment they create, it's very, very loud, and then we've got good players that have really bought into taking a lot of pride in playing here at home," Swinney said. "If you're going to be a consistent program, you have to be consistent at home. Our guys have done a great job of that over the last few years."
Indeed, home-field advantage could be the difference in the game.
University of Georgia reporter David Ching and ACC reporter Heather Dinich contributed to this report.
October, 17, 2013
Oct 17
9:00
AM ET
AA missed on her upset pick last week, and both of us missed the Syracuse upset over NC State. Heather won the week, going 5-1, and now we are tied 50-9 overall.
Let's see what Week 8 has in store.
Thursday night


No. 10 Miami (5-0, 1-0) at North Carolina (1-4, 0-2), 7:30 p.m., ESPN. #MIAvsUNC.
The Tar Heels host just the second Thursday night home game in school history, desperately hoping to turn around their season. They face a tall task against the surging Hurricanes, who are making their first trip outside the state of Florida this season. North Carolina has won four of the past six meetings, including an 18-14 victory last season. Quarterback
Bryn Renner
is expected back in the starting lineup, but the big question is whether this Tar Heels squad will find its running game against a much-improved Miami D that's ranked No. 12 in the nation in total defense. Miami should be able to put up some points on a shaky North Carolina D. It is just hard to imagine the Tar Heels being able to keep up.
AA picks: Miami 35, North Carolina 21
HD picks: Miami 38, North Carolina 24
Saturday


Syracuse (3-3, 1-1) at Georgia Tech (3-3, 2-2), 12:30 p.m., ESPN3. #CUSEvsGT.
This game most certainly has bowl implications for both teams as the second half of the season gets underway. The Orange have momentum on their side after a big road win over NC State last week, while the Jackets have dropped three straight. But those three losses have come against teams with a combined 15-3 mark. This is going to be a ground-and-pound type of game, and Georgia Tech gets the edge based on the scheme. Syracuse has put up monster rushing numbers in the past two games, but the Tech defense has allowed just five running plays of 20 yards or more this season and is in the top 25 in rush defense. So is Syracuse's defense, but I think the Jackets' run offense will be able to make more plays.
AA pick: Georgia Tech 28, Syracuse 23.
HD pick: Syracuse 31, Georgia Tech 28:
The Orange will win because of their ability to run the ball and control the clock -- the most effective defense there is against Paul Johnson's spread-option offense. In a game that will feature two struggling quarterbacks in
Vad Lee
and
Terrel Hunt
, Cuse's ground game will be the difference. Syracuse has rushed for more than 300 yards in each of the past two games and will continue that success on the road.


Maryland (5-1, 1-1) at Wake Forest (3-3, 1-2), 3:30 p.m, ESPNU. #MDvsWAKE.
Quarterback
C.J. Brown
is back in the starting lineup -- great news for Maryland, which is trying to become bowl eligible. But injuries have started to take a toll on the defense. The Terps already lost starting cornerback
Dexter McDougle
for the season and now starting linebacker
Yannik Cudjoe-Virgil
, who was playing very well before he got hurt last week. Maryland gave up more than 500 yards to Virginia Saturday, a team with no playmakers. While the Wake offense has been shaky at times, we saw much improvement last time out against NC State. Wake Forest has won three straight in the series at home. AA likes the Deacons in an upset:
Wake Forest 24, Maryland 23.
HD pick: Maryland 28, Wake Forest 21
-- Brown's return to the lineup after missing last week with a concussion will be the difference in the game. The Terps' ability to run the option and Brown's skills as a dual-threat quarterback will make life difficult for the Deacs. Wake Forest has one of the ACC's best receivers in
Michael Campanaro
, but Brown has more playmakers around him. The Terps will become bowl eligible for the first time under Randy Edsall -- and they'll get it done in Winston-Salem.


Duke (4-2, 0-2) at Virginia (2-4, 0-2), ESPN3. #DUKEvsUVA.
Duke has won four of the past five in the series and got a major boost when
Anthony Boone
returned to the starting lineup last week, earning ACC weekly honors. Boone made his first career start against the Hoos in 2012 and had four touchdown passes. Virginia, meanwhile, has looked a little better on offense the past few weeks, but it has not been able to get into the win column since Sept. 21. The defense has been inconsistent as well. Boone makes the difference in this game for the Blue Devils.
AA picks: Duke 35, Virginia 28
HD picks: Duke 28, Virginia 24


Old Dominion (4-2) at Pitt (3-2), 7 p.m., ESPN3. #ODUvsPITT.
The Panthers get a break from ACC play against Old Dominion, which lost to Maryland earlier this season 47-10. Pitt has worked on shoring up the offensive line and establishing the run game at practice this week. Believe it or not, it is the defense that has played more consistently the past several weeks. The Panthers really do need to get their run game going to help take some pressure off
Tom Savage
.
AA picks: Pitt 40, Old Dominion 3
HD picks: Pitt 48, Old Dominion 7


No. 5 Florida State (5-0, 3-0) at No. 3 Clemson (6-0, 4-0), 8 p.m., ABC. #FSUvsCLEM.
One of the biggest games in ACC history is nearly here, putting the spotlight squarely on the conference at the midway point of the season. We don't think either team will disappoint. The big story everybody has focused on pits Clemson quarterback
Tajh Boyd
against Florida State quarterback
Jameis Winston
, but really, we should be talking about how each will fare against the best defenses they have seen to date. It may all come down to how they both handle pressure. Winston has been slightly better than Boyd in this respect, completing 69.6 percent of his passes when teams bring five or more pass-rushers. Boyd is completing just 57 percent of his passes in similar situations, and both his interceptions this season have come against the blitz, according to ESPN Stats & Information. But Winston has not seen a pass rush as good as the one Clemson has this season, nor anybody as talented as end
Vic Beasley
. Boyd, meanwhile, has been in these big-game situations before, so he gets a slight edge. Home-field advantage also gives the Tigers a big edge in the intangibles department.
AA picks: Clemson 31, Florida State 30
HD picks: Clemson 35, Florida State 31
October, 14, 2013
Oct 14
2:00
PM ET
By
ESPN.com staff
| ESPN.com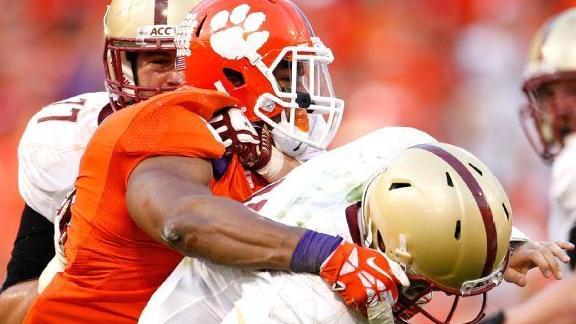 Andrea Adelson discusses One Good Thing in the ACC from this past weekend -- a Clemson win, giving the ACC three teams in the AP top 10 for the first time since 2005.
October, 10, 2013
Oct 10
1:00
PM ET
TALLAHASSEE, Fla. --
Cameron Erving
was entrenched in the chaos, and even he isn't sure what happened.
He knows his man came wide on a bull rush. He remembers the Maryland defender going airborne, leaping over Erving's outstretched arms and onto
Jameis Winston
. He remembers his quarterback tucking the football, ready to run for whatever yards he could muster. He remembers seeing the ball in the air, and suddenly the crowd erupting as
Nick O'Leary
clutched Winston's fourth touchdown throw of the game.
On the sideline afterward, Erving sauntered up behind his quarterback and, shaking his head in amazement, asked what had just happened.
"He couldn't even answer," Erving said.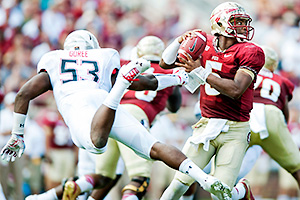 Jeff Gammons/Getty ImagesFSU QB Jameis Winston just has a skill for getting out of harm's way to make a big play.
Through five games, the scenario has become routine, and yet it remains no less astonishing.
Against Bethune-Cookman, there was the scramble away from a trio of defenders in which Winston zipped a touchdown throw to
Kelvin Benjamin
. Against Boston College, Winston shimmied out of trouble, rolled to his right and unleashed a 55-yard bomb to
Kenny Shaw
for a score as time expired in the first half. Then there was the miracle touchdown against Maryland last week, when Winston disappeared under one Terrapin, darted past a few more, then delivered the inexplicable touchdown to O'Leary.
It's something more than just athleticism or arm strength or an acute awareness of his surroundings in the pocket. It's the Jameis Winston magic.
"I can't say it enough," Erving said. "It amazes me some of the things he does."
While fans have drooled over each new Winston highlight this season, his teammates have largely shrugged off the bulk of his work as commonplace. They'd seen so much of it in practice for months that they'd come to expect it. But the Houdini-like escape acts -- that's something new.
In practice, Winston's green, non-contact jersey is like Clark Kent's glasses and tie. It's only once he slips out of the buttoned-up wardrobe that his super powers are on display.
"You don't see those plays when he breaks tackles and scrambles in practice, so when you see it in a game, it's great feeling," receiver
Rashad Greene
said. "He has the ability to keep his eyes upfield while he's scrambling and just give us a chance to make plays."
It's actually something Florida State practices routinely. Plays break down, receivers work their scramble drills, and Winston eludes trouble and tosses a spiral downfield. He'd show off a few moves even then, but nothing quite as impressive as his game-day theatrics.
"He'll always be shaking," Benjamin said, "but it'll be ugly shakes."
What Winston has done on Saturdays, however, has been downright gorgeous.
The conventional wisdom says defenses should pressure a young quarterback, forcing him into mistakes. Winston thrives on that mind-set.
Just two of his eight sacks this season have come against the blitz, but seven of his 17 touchdown passes were thrown when the opposition rushed at least one extra defender.
Inside the pocket, according to ESPN Stats and Information, Winston is deadly, completing 73 percent of his passes with 13 TDs. But when forced to scramble, he's been even better. Again, he connects on 73 percent of his throws, but his yards per attempt jumps from 11 to 17 and he's thrown four touchdown passes without an interception.
Part of the magic belongs to Winston, of course. But FSU defensive end
Mario Edwards Jr
. said he's amazed that defenders keep underestimating just how strong the Seminoles' quarterback is -- aiming high on tackles rather than trying to bring him down by his legs.
The results thus far have been backbreaking for Florida State's opposition, and Winston loves every second of it.
"We love killing the momentum of a defense," he said. "We want to make them quit. If we can make a defense quit, we've done our job."
The irony of Winston's ever-expanding highlight reel, however, is that his first thought after each dazzling play is whether he'll get a lecture from his coach.
If a play breaks down, Winston said, there's a good chance it's because he should've gotten rid of the football sooner. So when he watches the tape of any of his throws from outside the pocket, he's careful to decipher whether Jimbo Fisher will have an obvious critique.
"One thing in the film room, Coach Fisher doesn't care about those fantastic plays," Winston said. "He's going to tell me what I did wrong, how I did it wrong, and tell me what I should've done."
After Saturday's touchdown throw to O'Leary, however, even Fisher couldn't find fault. It was a play that underscored everything Winston does well, and the end result was six points and a begrudging smile from the head coach.
"It was a tremendous play," Fisher said. "It really was."
Winston's artistry under duress may be a necessity in next week's showdown against No. 3 Clemson. The Tigers lead the nation with 19 sacks, including eight by defensive end
Vic Beasley
.
Still, Erving downplayed Florida State's concerns. Yes, Clemson's pass rush is good, but the Seminoles have their own secret weapon.
"When the bullets are flying, we really harp on that," Winston said. "When I'm getting pressure, somebody's going to be one-on-one, and with the guys we have, a big play is about to happen."
October, 8, 2013
Oct 8
10:30
AM ET
TALLAHASSEE, Fla. -- The premise for last week's game was set in advance by the lingering critics of Florida State's fast start. The quality of competition hadn't been great, the theory went, but No. 25 Maryland would offer some real insight.
In the wake of the Seminoles' 63-0 dismantling of Maryland, however, Jimbo Fisher isn't entirely thrilled with how emphatically his team provided those answers.
[+] Enlarge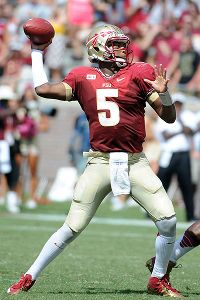 Melina Vastola/USA TODAY SportsIn dismantling Maryland last Saturday, FSU quarterback Jameis Winston padded his already Heisman-worthy numbers.
"Now we're going to be world-beaters," Fisher said. "We've got to remember why we've been good."
Such is the life of a football coach, particularly one coming off a dominant win with a bye week standing between his team and its most significant game of the season. The thin line between confidence and comfort becomes microscopic, and Fisher began working to ensure the Seminoles stayed on the right side of it from the moment Saturday's game against Maryland was over.
There was virtually no aspect of the game Florida State didn't win handily.
Jameis Winston
burnished his Heisman credentials with a career-best 393 yards passing and five touchdowns. The defense pitched a shutout, allowing Maryland just 33 yards on the ground one week after Boston College racked up 200. Even the special teams looked improved after a shaky game against the Eagles, and nothing gets Fisher more concerned than when everything's coming easily.
So when it was over, Fisher offered sufficient praise, then began the task of downplaying everything Florida State had just accomplished.
"Sometimes a few inches here and there can be drastic, and the momentum of the game, things that go on and your focus -- we were much more consistent," Fisher said. "We had a chip on our shoulder and we did what we had to do. That's what you've got to do all the time."
Up next for Florida State is a trip to Clemson on Oct. 19. It's a battle likely to decide the ACC Atlantic Division, and the winner will vault into the center of the national championship discussion. The stakes couldn't be bigger, and Fisher wants his team to forget its impressive win over Maryland and eschew the hype that promises to build until kickoff in Clemson.
"Our goal is not on Clemson right now," Fisher said. "It's on what we do in practice Tuesday."
Fisher will do his best to insulate his team, but the national hysteria is already working toward a crescendo.
Start with Winston, whose highlight tape keeps getting longer with each game. His brilliant game against Maryland offered everything from the mundane (a willingness to check down to his backs more often) to the sublime (a dazzling escape from a sack before a TD throw to
Nick O'Leary
). Fisher, of course, suggested Winston played well but had much more work to do.
"That's one thing I love about Coach Fisher," Winston said with unwavering earnestness, "even if I make an outstanding play, or we make a great touchdown, he's always going to correct me, and I need that."
Winston knows all too well the dilemma his coach faces this week.
A year ago, Winston was on the bench as a redshirt. He watched his predecessor, EJ Manuel, lead a triumphant win over Clemson that certified Florida State had regained its prominence on the national stage. Then, two weeks later, it all unraveled in a moribund performance at NC State.
The difference was emotion, energy and focus, and even Winston knew it. In that game, he marched the sideline, going from player to player pushing them to get their heads in the game and avert disaster, but it wasn't enough. This year, though, Winston will have the ball in his hand, and he's eager to ensure there's no letdown during the long wait between FSU's most impressive win and its biggest game of 2013.
"The team is so ready," Winston said. "We've been ready for this, and now the time has come. Everybody told us, don't look forward to the Clemson game. The time is here, and we know we've got to get everything right."


Game:
Florida State at Clemson
What's at stake:
For both teams, the season will likely be defined by the outcome of their Oct. 19 showdown in Death Valley. Clemson has already felt the enthusiasm of a big-game environment, toppling Georgia at home in the season opener. Florida State is riding the wave of excitement its freshman QB has generated. The winner of this matchup has won the Atlantic Division in each of the past four seasons, and this year a win could be the biggest accomplishment on a national-championship résumé.
Roadblocks/derailment opportunities:
Clemson's stumbling block is obvious. The Tigers still have a game to play, with upstart Boston College paying Clemson a visit this weekend. The Tigers are heavily favored, but BC is no pushover. The Eagles pushed Florida State just two weeks ago, and their power running game should be a good test of Clemson's defensive front. For Florida State, the stumbling blocks are more abstract. Players admit they've gotten too enamored with their own hype in years past, pointing again and again to a 2011 loss to Oklahoma as evidence. The Seminoles have two weeks to hear how good they are, and their biggest goal will be to tune all of that out.
How it unfolds:
The battle will almost certainly be sold as a showdown between two of the country's top quarterbacks. Winston and
Tajh Boyd
are Heisman favorites, and the two have combined for 31 touchdowns and just four interceptions. But while the QBs figure to get the hype, the game might be decided by the defenses. Clemson's pass rush, led by
Vic Beasley
, is among the nation's best, and the Tigers will be eager to rattle Florida State's young quarterback in his biggest game to date. Boyd isn't nearly as likely to be intimidated by the surroundings, but FSU's dominant secondary still quieted him a year ago. The Seminoles D is fresh off a shutout against Maryland, and it appears to finally have a firm grasp on new coordinator Jeremy Pruitt's system.
With almost half the season in the books, the Coastal Division race is starting to become more clear. Georgia Tech has lost two straight games to Coastal Division opponents, joining Duke and North Carolina with two league losses each. The only teams left in the division that haven't lost a conference game yet are Virginia Tech and Miami, setting those programs up on a collision course for a season-defining game next month.
- -David M. Hale
Game:
Virginia Tech at Miami Nov. 9


What's at stake:
The lead for the Coastal Division title and a chance at the ACC championship game could be on the line, as Miami and Virginia Tech are currently the front-runners to win the division. Miami has not played for the ACC title since joining the conference, and for Virginia Tech it would be validation for a team that many had doubted entering this season. The Hokies' offense has long been its Achilles' heel, but so far this team has proved it has enough to be a contender.
Roadblocks/derailment opportunities:
Virginia Tech will face its toughest roadblock on Saturday, when Pitt comes to Blacksburg. The Hokies have lost four straight to the Panthers, including last year's game in which Virginia Tech was ranked No. 13. A road trip to Boston College also won't be easy, as the Eagles are a gritty home team, but their one-dimensional offense should be overmatched by Virginia Tech's defense. Miami's biggest obstacle will be the Nov. 2 game at Florida State, but the Canes also have a tricky Thursday night game at North Carolina coming up. Considering how much the Tar Heels have struggled, though, Miami's best chance at a loss before hosting Virginia Tech is in Tally.
How it unfolds:
Virginia Tech's defense will force Pitt quarterback
Tom Savage
into a key interception, and the Hokies will snap their losing streak to their former Big East foes. The Hokies will head to Miami on an eight-game winning streak, but their inability to run the ball will finally catch up to them. Miami, fresh off a loss at Florida State, will rebound at home against the Hokies and
Duke Johnson
will be the game's MVP.
-- Heather Dinich
October, 3, 2013
Oct 3
9:00
AM ET
Andrea correctly picked the Virginia Tech upset over Georgia Tech, but neither she nor Heather called the East Carolina upset over North Carolina. For the week, Andrea went 7-1 to bring her season total to 41-5. Heather went 6-2 and is now two behind at 39-7 overall.
Let's see what Week 6 has in store.


No. 25 Maryland (4-0) at No. 8 Florida State (4-0, 2-0), noon, ESPN.
Maryland has never won in Tallahassee. Florida State has now won eight straight conference games, the first time the Noles have accomplished that feat since the 2001-02 seasons. Those two stats alone give Florida State the edge. Still, most expect this to be a competitive game. All eyes are on dual-threat quarterbacks
C.J. Brown
and
Jameis Winston
, who rank 1-2 in the ACC in total offense and are a big reason why their teams are unbeaten. Maryland is vastly improved on defense -- ranking just ahead of Florida State. But the Terps have not played anybody as good as this FSU offense. You could say the same for the FSU D. Still, the Noles have faced better competition (3 FBS teams .500 or better; Maryland two winless FBS teams) and have more depth and speed.
AA says: Florida State 30, Maryland 21
HD says: Florida State 28, Maryland 27


Ball State (4-1) at Virginia (2-2, 0-1), noon, ESPN3.
Virginia is on upset alert after its dreadful offensive performance against Pitt. Given the way Ball State scores, Virginia cannot win a shootout. It will have to rely on its stellar defense to slow down the prolific Cardinals and hope changes made to the offensive line and other positions on offense work. The good news for the Hoos is that Ball State has not been particularly adept at stopping the run, giving up about 200 yards a game. Of course, Pitt had been a sieve, too, and UVa only managed three points last week.
AA says: Virginia 20, Ball State 17
HD says:
Virginia is having trouble scoring on air right now, and Ball State is hot. Yes, UVa's defense has been much-improved under coordinator Jon Tenuta, but it's October and coach Mike London has just opened up some of his starting jobs on offense to competition. That's not a good sign. Meanwhile, Ball State is No. 10 in the country in passing offense, and averaging 40 points per game. Virginia's defense will keep it in the game, but a costly turnover or two and the Hoos' inability to convert on third downs will be the difference.
Ball State 14, Virginia 13


North Carolina (1-3, 0-1) at Virginia Tech (4-1, 1-0), 12:30 p.m., ESPN3.
Nobody has to remind Virginia Tech coach Frank Beamer about what happened in this game a year ago, when the Tar Heels racked up 339 yards rushing and won 48-34. But much has changed since their last meeting.
Giovani Bernard
-- who had a career-high 262 yards rushing -- is gone, and the North Carolina run game has fallen off in dramatic fashion. Virginia Tech, meanwhile, is vastly improved and ranks No. 4 in the nation in total defense. Given the way North Carolina has played on offense and the way Virginia Tech has played on defense this year, it is hard to give the Tar Heels much of a shot.
AA says: Virginia Tech 24, North Carolina 7
HD says: Virginia Tech 28, North Carolina 17


Army (2-3) at Boston College (2-2, 1-1), 1 p.m., ESPN3.
After some uncertainty as a result of the government shutdown, BC announced Thursday morning this game would be played as scheduled. Coach Steve Addazio says preparation during the week has focused on slowing down the Army option. Army is averaging 325 yards on the ground this season, and BC has had a tough time slowing down the run. To make matters worse, the Eagles have lost starting defensive tackle
Mehdi Abdesmad
for the season with a torn left patellar tendon. This is going to be a ground 'n' pound type of game. If
Josh Harris
at Wake Forest can lead the Deacs to a win over Army, then
Andre Williams
can do the same for BC.
AA says: Boston College 28, Army 17
HD says: Boston College 28, Army 21


NC State (3-1, 0-1) at Wake Forest (2-3, 0-2), 3:30 p.m., ESPN3.
The home team has won every game going back to 2007, but that streak is going to come to an end Saturday. Here is why. Wake Forest coach Jim Grobe conceded this week his offense still has not found its niche and the coaches are trying to figure out what works well. Never good to hear that nearly midway through the season. The Deacs have improved on defense, but their offense remains sub-par and Grobe acknowledged they need
Tanner Price
to play better. NC State, meanwhile, has gotten terrific production from
Bryan Underwood
lately and has seen
Pete Thomas
improve each week. Plus, its defense leads the ACC with 37 tackles for loss.
AA says: NC State 31, Wake Forest 17
HD says: NC State 28, Wake 17


No. 3 Clemson (4-0, 2-0) at Syracuse (2-2), 3:30 p.m., ABC/ESPN2.
We have heard a lot of Syracuse players speak confidently about their chances at pulling the upset this weekend. The Orange have, after all, pulled an upset or two over a ranked team at home the last several years. The plan will be the same as the one that flustered
Teddy Bridgewater
and
Geno Smith
-- put pressure on
Tajh Boyd
and hope that does enough to limit the skill players on the perimeter and keep the scoring down. But if the Tigers can handle the pressure, watch out. The Syracuse secondary has been a weak spot defensively this year.
Terrel Hunt
has played well in the last two games for Syracuse. But he has not seen anybody that compares to
Vic Beasley
or this Clemson defensive front yet. The Dome crowd will be loud, but ultimately Clemson will prevail in large part because it will win the matchups up front.
AA says: Clemson 30, Syracuse 20
HD says: Clemson 35, Syracuse 21


Georgia Tech (3-1, 2-1) at No. 14 Miami (4-0), 3:30 p.m., ESPNU.
Perhaps the most surprising stat headed into this game relates to the defenses -- both teams rank in the Top 10 in the nation in total D and scoring D. Consider where both were a year ago at this time, and that is a remarkable turnaround. Though Heather projects another shootout in this one, Andrea believes this is going to be a close, low-scoring game because of said defenses. The difference here is Miami is much better on offense, and has many more reliable playmakers.
Stephen Morris
and
Duke Johnson
will make enough plays on the Jackets' defense to get the Canes to 5-0.
AA says: Miami 24, Georgia Tech 20
HD says: Miami 41, Georgia Tech 31
September, 26, 2013
Sep 26
12:00
PM ET
September, 3, 2013
Sep 3
9:00
AM ET
Clemson stole the show in Week 1, solidifying its hold on the top spot, but it was Virginia that made the most noise by knocking off BYU. Here's how the power rankings shake out after the first round of games.

1. Clemson (1-0, 0-0 ACC; LW No. 1):
They are who we thought they were.
Tajh Boyd
and the Tigers proved they were every bit the national championship contender with a huge win over Georgia on Saturday, and while a handful of significant obstacles remain, Clemson is clearly in control of its destiny from here. Boyd was the star, but the Tigers should be thrilled, too, to see a rejuvenated
Sammy Watkins
, a disruptive
Vic Beasley
and a punishing running performance by
Roderick McDowell
.
2. Florida State (1-0, 1-0 ACC; LW No. 2):
If Boyd set the bar for ACC quarterbacks on Saturday,
Jameis Winston
eagerly leapt over it Monday. The much-hyped freshman had a debut for the ages against Pitt, completing 25 of 27 passes for 356 yards and four TDs, while rushing for another. Jimbo Fisher spent the offseason trying to quiet the buzz around his QB, but it's only getting louder.
3. Miami (1-0, 0-0 ACC, LW No. 3):
This just in:
Duke Johnson
is pretty darned good. The Miami sophomore stole the show in a 34-6 win, burnishing the hopes that Miami has finally turned things around. That theory will be put to the test this week though, when SEC foe Florida comes to town. The Hurricanes have won 11 of the past 15 games against Florida, but this marks only the second time the two schools have faced off since 2004.
4. Georgia Tech (1-0, 0-0 ACC, LW No. 6):
It's hard to take too much from a big win over Elon, but it's also hard to find any faults after one week for the Yellow Jackets.
Vad Lee
looked good, the running game didn't miss a beat, the defense was impressive, and the end result was the largest margin of victory for an ACC team in history.
5. Virginia Tech (0-1, 0-0 ACC, LW No. 5):
This was one of those good news-bad news games for the Hokies. The good news was, the defense looked great, holding the two-time defending champs to only 206 yards of offense (and sending Alabama fans into panic mode in the process). The bad news is, Virginia Tech still got smoked thanks to repeated special-teams breakdowns and a woeful performance by the passing game.
Logan Thomas
struggled mightily, and the receiving corps looks dreadful. But hey, at least they don't have to play Alabama again.
6. Virginia (1-0, 0-0 ACC, LW No. 13):
The task is daunting in Week 2, when the Cavaliers host Oregon, but for now, fans should bask in the beauty of a tremendous defensive performance in a win over BYU -- easily the second-best win of the week for an ACC team.
Anthony Harris
was the star with 11 tackles, a sack, a blocked punt and an interception that set up the winning score, but he was just one of five UVA defenders with double-digit tackles in the game.
7. North Carolina (0-1, 0-0 ACC, LW No. 4):
The good news is, North Carolina largely contained
Jadeveon Clowney
-- even if a few pundits chalked it up to the South Carolina defender's condition or apathy. Beyond that, however, it wasn't much of a debut for the Heels, who were burned by big plays and never really recovered from an early 14-0 hole.
8. Maryland (1-0, 0-0 ACC, LW No. 9):
Well, it looks as though the Terrapins found their quarterback.
C.J. Brown
turned in a dominant performance in his return from an ACL injury that forced him to miss all of 2012. He accounted for five first-half touchdowns, while throwing for nearly 300 yards and running for more than 100. With a relatively manageable schedule ahead, it's not impossible to think Maryland could be riding high at 4-0 when it heads to Florida State on Oct. 5.
9. NC State (1-0, 0-0 ACC, LW No. 8):
Dave Doeren's Wolfpack did a nice job in thumping a Louisiana Tech team that didn't figure to be a pushover. The key was the time of possession, where NC State held a whopping 30-minute edge, keeping Louisiana Tech's offense off the field. The only downside was the loss of starting QB
Brandon Mitchell
, which is why the Wolfpack drop a spot behind the suddenly QB-stacked Terrapins.
10. Duke (1-0, 0-0 ACC, LW No. 12):
No Sean Renfree? No Connor Vernon? No problem for the Blue Devils in their 2013 debut. A 45-0 win over NC Central was hardly a major test, but Duke looked good in all phases of the game -- outgaining NC Central by nearly 300 yards and racking up a 76-yard punt return TD from super sophomore
Jamison Crowder
.
11. Wake Forest (1-0, 0-0 ACC, LW No. 7):
The Deacons won easily, so why the drop in the Power Rankings? Mostly, it's splitting hairs. The early struggles against Presbyterian weren't exactly inspiring, and with a cluster of teams in the middle of the pack, Wake Forest simply was the least impressive of a group that mostly looked pretty good.
12. Pittsburgh (0-1, 0-1 ACC, LW No. 10):
It's hard to say whether Pittsburgh was that bad or Winston was that good. Either way, the result was a blowout in the Panthers' ACC debut. Pitt should be encouraged that it moved the ball relatively well against an athletic FSU defense, and the Panthers appear to have some legitimate playmakers.
13. Syracuse (0-1, 0-0 ACC, LW No. 11):
It was obvious Scott Shafer was going to have to do some rebuilding in 2013, but a 23-17 loss to start the season against Penn State only underscored how far the Orange have to go. Oklahoma transfer
Drew Allen
was supposed to be an answer at QB, but he didn't look good (16-of-37 for 189 yards and two INTs). This week's game against Northwestern won't get any easier.
14. Boston College (1-0, 0-0, LW No. 14):
Sure, the Eagles won. That's worth celebrating. But they struggled early against Villanova, and it's clear Steve Addazio still has his work cut out for him. Make it two in a row this week against Wake Forest, however, and BC is guaranteed to climb out of the basement.
June, 14, 2013
Jun 14
9:33
AM ET
It is pretty clear college football guru Phil Steele things Florida State is mighty talented, considering he has the
Noles sitting at No. 3

in his preseason rankings.

Here is a glimpse at how talented he thinks this team is headed into 2013: He has Florida State ranked among his Top 15 teams in the nation at:
running back

,
receiver

and
defensive line

. That means Florida State is featured in three of the four position rankings Steele has unveiled on ESPN.com so far.
Of those three groups, he has receiver rated highest of all, which surprises me quite frankly. Florida State has talent, yes, but there is no true national headliner among them. Steele admits as much, writing, "Although there are not a lot of household names in this group, the Noles could have some by the end of the year, including
Kelvin Benjamin
, who is 6-foot-5, 242 pounds."
No doubt Benjamin is a freak of an athlete, but he has got to be more consistent this season to really strike some fear into the heart of the opposition.
Greg Dent
is suspended indefinitely following his arrest this week, but Florida State has plenty of talent to make up for his loss. This is pretty high billing for a group that has a bunch of players that still need to prove themselves. We'll see if the Noles receivers can live up to these expectations.
One more ACC team to note in the receiver rankings: Maryland at No. 15, thanks to
Stefon Diggs
and Deon Long.
As for the other rankings, Steele has Florida State ranked No. 12 at running back and No. 8 at defensive line. Interestingly enough, he has the Florida State running back group ranked ahead of Miami, which checks in at No. 13. I understand the reason for that. Florida State returns two very solid backs in
Devonta Freeman
and
James Wilder Jr.
, and they add
Mario Pender
.
Miami counters with ACC Freshman of the Year
Duke Johnson
and
Eduardo Clements
, along with spring surprise
Dallas Crawford
. The Canes get the nod in the headliner category with Johnson; but Florida State has more depth.
There is one ACC team ranked ahead of Florida State on the defensive line -- No. 7 Virginia Tech. No arguments here on that ranking. The Hokies should have a pretty solid front, with seven of their top eight linemen back from a year ago, including end
James Gayle
. Clemson also made into the rankings at No. 15.
Vic Beasley
is on course to have a huge season.
June, 5, 2013
Jun 5
3:00
PM ET
TALLAHASSEE, Fla. -- It's Rankings Week at Nole Nation, and each day we'll be counting down the top teams, players and matchups of the 2013 season. Next up, a look at FSU's 10 most dangerous defensive opponents.
To continue reading this article you must be an Insider
Matchups To Watch In BCS Title Game