Florida State Seminoles:

USF Bulls
October, 2, 2012
10/02/12
7:42
PM ET
TALLAHASSEE, Fla. -- A week earlier, Jimbo Fisher suggested his punt returner needed to do a better job of ignoring defenders as he fielded a catch. Fisher just didn't expect the defense to be quite so aggressive with
Rashad Greene
in his next game.
[+] Enlarge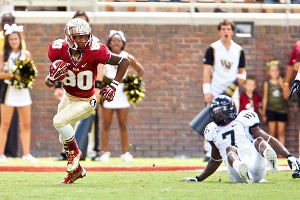 Cal Sport Media via AP ImagesRashad Greene has returned two punts for touchdowns, but his fumble issues have opposiing teams bending the rules to fluster him.
USF's punt coverage unit held Greene without a return, but the Bulls still pressured Greene on each of his fair catches, with defenders setting up just a step or two from Greene as he secured the ball.
"I thought there had to be some room," Fisher said. "But he made some nice [catches], and they were right up on him."
Fisher suggested he might check in with the league for a clarification on how close defenders could be when a player signals for a fair catch -- it was an ACC officiating crew against USF last week -- but also said Florida State may try to pressure returners more now, too.
"We're going to have to do some of that," Fisher said.
Whether or not USF worked the periphery of the rule book was less significant than the job Greene did of avoiding distractions.
After fumbling two punts earlier this season, Fisher made a point of grilling his sophomore on the importance of making a clean catch -- no matter how tight the defense plays him.
"I was more focused on my technique, keeping my nose on the ball, catching the ball first," Greene said. "It doesn't bother me. I'm getting more comfortable catching the ball with defenders around me in traffic."
Greene said he felt USF pushed the envelope in coverage, too, and Saturday's game marked the first time FSU was held without a punt return in more than a year. Still, the lack of negative plays was progress.
"He kept his elbows in, and he was very smooth with it, too," Fisher said of Greene. "His body wasn't out of whack, got squared up on the ball, read the nose of the ball very well and got his angle very well."
September, 30, 2012
9/30/12
11:19
AM ET
Saturday's 30-17 win over USF wasn't Florida State at its sharpest, with the defense looking sluggish early, the offense faltering in the red zone, and a special teams mishap providing a spark for the Bulls.
[+] Enlarge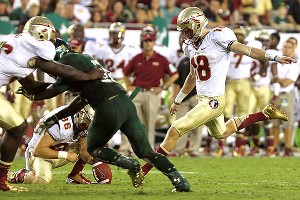 Kim Klement/US PresswireFSU had to rely on field goals more times than it would have liked against USF.
But while the game may not have been the most accurate representation of FSU's potential, there were a few numbers worth nothing.
5.34.
That's Florida State's yards per carry against USF, less yardage lost on sacks. The average is a bit deceptive, however. The Seminoles' ground game was something of a mixed bag Saturday, with 12 of their 38 rushes going for 1 yard or less, and 10 more going for at least 10 yards. The all-or-nothing performances were highlighted by a 44-yard run by
Lonnie Pryor
and two long end-arounds by the receivers, which managed to overshadow the negative plays. USF, which didn't have a single tackle-for-loss against Ball State a week ago, dropped an FSU ball carrier in the backfield 10 times Saturday. That's just four fewer TFLs than Florida State had allowed in its first four games combined.
9.
That's the number of plays Florida State ran inside the USF 10-yard line, with
Kevin Haplea
's 1-yard reception on a third-down pass being the only one that went for a touchdown. The goal-line struggles were a touchy subject for Jimbo Fisher afterward, and for good reason.
EJ Manuel
was 1-of-3 passing on plays inside the 10, missing a wide open
Rodney Smith
in the end zone on one throw. The ground game was even worse. On six rushes inside the 10, FSU tallied a total of 7 yards.
6.
That was the number of receptions made by Florida State's tight ends in Saturday's win, accounting for nearly a third of Manuel's total completions. Manuel has hyped his tight ends dating back to the spring, but Saturday marked the high point for the group in terms of production.
Nick O'Leary
hauled in a career-high four catches, while Haplea grabbed a 1-yard touchdown.
5.
That's the number of completions on eight third-down throws for Manuel in Saturday's win, and they accounted for all but one of FSU's third-down conversions. Overall, FSU moved the chains on just five of 15 third-down tries, but when Manuel threw the ball, the offense looked sharp. Manuel completed passes of 11, 39 and 47 yards on third down, plus the 1-yard throw to Haplea for his lone passing touchdown of the game. Manuel also chipped in with an 11-yard run on third down.
0.
That's the number of punt return yards for Florida State on Saturday. In the first four games of the season,
Rashad Greene
took some risks, which came with some big results (two touchdowns) and some ugly ones (two fumbles). On the whole, though, FSU had been averaging 61.5 punt-return yards per game. On Saturday, it was clear Greene wasn't interested in rolling the dice. Greene had five fair catches on six USF punts, and the sixth was downed by the Bulls deep in FSU territory. It marked the first time the Seminoles didn't have a single punt return in a game since Sept. 24 of last year vs. Clemson. On the upside, Greene did have a 10-yard touchdown run on offense, making him the first FSU player since Peter Warrick in 1999 to score on a reception, a rush and a return all in the same season.
September, 27, 2012
9/27/12
7:07
PM ET
TALLAHASSEE, Fla. -- Clemson brought a blitz early in last week's game, and the left tackle failed to pick up the block.
[+] Enlarge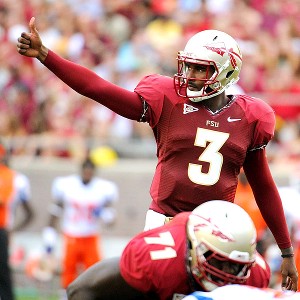 Melina Vastola/US PresswireBlitzing EJ Manuel has been a losing proposition for opposing defenses this season.
EJ Manuel
wasn't fazed. He sat in the pocket, found his receiver and stepped into the throw. It was marked progress for a quarterback often criticized for his struggles in the pocket.
"He wasn't having those happy feet," Jimbo Fisher said.
That's been par for the course this season for Manuel, whose numbers against the blitz have improved dramatically.
According to ESPN Stats and Information, Manuel is completing 78.3 percent of his passes this season when facing five or more pass rushers. That's up from 59.8 percent a year ago. When under duress this year, Manuel has completed 10-of-13 passes for 122 yards and two touchdowns.
It's patience mixed with trust in the players around him, Fisher said.
"He doesn't have to be blinking and looking and are guys supposed to be blocked," Fisher said. "There has to be a huge trust factor, know that's the guy I've got to handle, and then you get your sight, your hot, whatever you have to do."
It helps that Manuel is making better pre-snap reads and quicker decisions in the pocket, too. His checkdowns to third and fourth options this season have routinely turned into big plays.
"We're getting 10-15 yards off of check downs, which is a 5-yard pass," Manuel said.
That experience could loom large this week. USF has struggled to get pressure from its front four, meaning the Bulls will be tempted to bring the blitz and test Manuel's ability to hang in the pocket.
In years past, the plan may have worked. This season, Manuel's feeling a lot more comfortable.
"It allows him to have that confidence to keep doing it," Fisher said, "and they're executing around him."
August, 27, 2012
8/27/12
4:04
PM ET
Four-star offensive lineman
Shawn Curtis
(Orlando, Fla./Olympia) has around 20 scholarship offers, but the 6-foot-6, 279-pound tackle prospects said four schools are sticking out.
"USF, NC State, Mississippi State and Syracuse are probably sticking out to me the most right now," Curtis said. "Duke is also standing out some, too.
Curtis says a big reason for Mississippi State being in his top schools is because the Bulldogs are in the SEC.
Goodell Has Sit-Down With Jameis Winston
ACC SCOREBOARD
Thursday, 9/3
Saturday, 9/5
Monday, 9/7