Florida State Seminoles:

Under Pressure
May, 24, 2013
5/24/13
9:00
AM ET
Each season brings with it new expectations, and a handful of Seminoles will bear the brunt of the pressure to perform in 2013. We're counting down the top 10 FSU players being counted on the most to help the Seminoles live up to expectations.
No. 1: QB Jameis Winston
2012 performance:
Winston's first season in Tallahassee was all about building the hype. The prized recruit from the 2012 class redshirted, but he still managed to generate plenty of excitement. The video of him throwing a football over a fraternity house, the images of him enthusiastically celebrating touchdowns on the sideline during games, his impressive turn on the baseball field, the hype from analysts projecting him as a future No. 1 overall draft pick -- Winston had about as much buzz as a player can command while not actually playing.
[+] Enlarge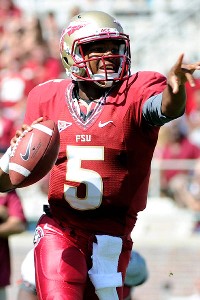 Melina Vastola/USA TODAY SportsJameis Winston is already a campus star and he hasn't even taken a snap in a varsity game.
Pressure point:
Recruiting stud with immense hype takes over a veteran offense on a contending team -- that's pretty much a perfect recipe for pressure in the college game. Of course, Winston hasn't seemed to mind much. He already managed to shine during the pressure-packed QB competition this spring while concurrently playing on the baseball team, but the spotlight will only get brighter as the season approaches. And for good measure, Winston's likely first start will come in a hostile road environment, on national TV, against ACC newcomer Pittsburgh.
If he succeeds:
All the muted enthusiasm currently swirling around FSU becomes unabashed excitement, and the Seminoles would quickly vault back into the national title conversation. Clemson has been the early favorite in the ACC for good reason, but Florida State has every bit as much talent and experience on offense. The X-factor is at quarterback, where Clemson has a Heisman hopeful and FSU has the newcomer. But there are plenty of fans already pegging Winston as the next
Johnny Manziel
, and if he even comes close to the Texas A&M star's 2012 performance, Florida State could be in for a special season.
If he fails:
It's hard to even define what failure would be for Winston, given the immense hype he's received already. If he turns in a typical season for a redshirt freshman -- an inconsistent learning experience -- many fans will view it as a massive disappointment. Even if he matches the statistics posted last year by fifth-year senior EJ Manuel, it might not be enough to satisfy the buzz. And that could be the biggest issue for Winston to overcome. With a veteran offense around him, he needs to be consistent, if unspectacular. If he worries about living up to the expectations and, in turn, makes too many poorly timed miscues, it could significantly damage his growth as a quarterback and FSU's hopes for an ACC title.
Projection:
All that hype surrounding Winston is there for a reason. He's special. His talent is obvious, his football smarts were on display this spring and his personality -- fun, enthusiastic and immensely competitive -- perfectly arms him for the spotlight he's going to be playing under. Still, the bar Manziel set a year ago is an awfully high standard, and one made even tougher in Jimbo Fisher's more restrained system. Winston will find success in 2013, but even Manziel had his struggles in the early going. The highs for Winston this season could well eclipse Manuel's work a year ago, but there will be a few ugly moments, too. The key will be ensuring progress each week, with an eye toward the Oct. 19 date with Clemson to have him clicking on all cylinders.
May, 23, 2013
5/23/13
9:00
AM ET
Each season brings with it new expectations, and a handful of Seminoles will bear the brunt of the pressure to perform in 2013. We're counting down the top 10 FSU players being counted on the most to help the Seminoles live up to expectations.
No. 2: DE Mario Edwards Jr.
[+] Enlarge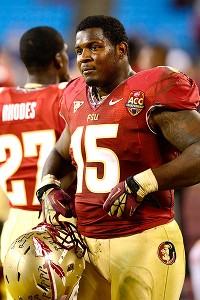 Bob Donnan/US PresswireMario Edwards Jr. was going to redshirt in 2012, but those plans were scuttled when Brandon Jenkins was injured.
2012 performance:
The past year was a roller coaster for Edwards. He arrived at Florida State as the most touted recruit in the country, a 300-pound behemoth expecting to make an instant impact at defensive end. Of course, FSU already had its share of talent at the position -- including three 2013 NFL draft picks -- and when the season began, Edwards was slated to redshirt. That didn't last long, though. Brandon Jenkins' injury opened up some playing time, and slowly but surely, Edwards dropped some weight and began to make an impact. When Cornellius Carradine's season ended with an ACL injury, Edwards emerged as the starter in the Seminoles' last two games, finishing the year with 17 tackles and 1.5 sacks.
Pressure point:
The mere fact that Edwards was poised to redshirt to open 2012 underscores just how much depth FSU had at the position. This year, however, it's a much different story. Jenkins, Carradine and Bjoern Werner are all gone, and Edwards is the cornerstone of the Seminoles' pass rush. He certainly has the talent to make an instant impact, but last year he showed signs of a lack of maturity and an excess of weight. That's not necessarily an ideal scenario for a player whom Florida State will rely upon to key the pass rush.
If he succeeds:
The Seminoles are in good position to move forward even without a bevy of veteran defensive linemen, with Edwards leading the charge. While Werner, Jenkins and Carradine all were exceptional players with bright NFL futures, Edwards' ceiling might be higher than any of them. Add the new defensive scheme from coordinator Jeremy Pruitt and there's a distinct possibility that Edwards doesn't just fill a void in 2013, but blossoms into one of the most fearsome defenders in the country.
If he fails:
The truth is, there isn't much room for failure for Edwards in 2013. Florida State needs him to take the next step and become a productive pass rusher as much as it needs any player to perform. There simply isn't any significant established depth at defensive end, and several others --
Giorgio Newberry
,
Chris Casher
-- remain works in progress. Even with Pruitt looking for ways to bring pressure from elsewhere, the line remains an essential keystone to FSU's defensive success, and if Edwards can't build on his late surge in 2012, there may not be a realistic Plan B.
Projection:
Edwards showed enough in his late-season stint as starter last year that there's ample room for enthusiasm. Yes, he still needs to drop a few pounds, and yes, he still has a lot to prove. But Edwards' natural ability is so immense that he should find some measure of success regardless of how much he develops from here. That, of course, doesn't mean Jimbo Fisher will be satisfied with a solid performance. Edwards could be special, and while he might not reach elite status in 2013, the FSU coaches will be pushing him hard to get there.
May, 22, 2013
5/22/13
9:00
AM ET
Each season brings with it new expectations, and a handful of Seminoles will bear the brunt of the pressure to perform in 2013. We're counting down the top 10 FSU players being counted on the most to help the Seminoles live up to expectations.
No. 3: RT Bobby Hart
2012 performance:
Hart's sophomore season was a huge step back in terms of productivity, but it may have been the most important step of his career. A starter at age 17 in 2011, Hart quickly adopted a lackadaisical attitude toward practice and found himself in line coach Rick Trickett's doghouse. He lost his job to transfer Menelik Watson, didn't start a game in 2012 and saw only limited playing time. The time spent on the sideline may have been a setback on his career path, but it also opened Hart's eyes to the fact that he hadn't accomplished anything yet.
[+] Enlarge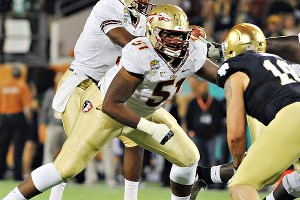 Al Messerschmidt/Getty ImagesBobby Hart is looking to replace Menelik Watson at right tackle and return to Florida State's starting lineup in 2013.
Pressure point:
With Hart out and Watson in, the offensive line improved markedly in 2012. That's certainly not all due to Hart's limited role. There were big changes all over the line. Still, a new standard was set, particularly from the veteran Watson, who went from football novice to second-round selection in the NFL draft in the span of just nine months at FSU. Those are huge shoes for Hart to fill in his junior season, and with a first-year starter at QB, the Seminoles can't afford more struggles on the O-line.
If he succeeds:
An offensive line that was solid if unspectacular in 2012 could make the leap forward to become one of the top units in the country in 2013. Hart's the swing vote in that potential growth. The other four starters from last year return, all expecting to improve after a year in the trenches. But Watson was, in many ways, the glue that held last year's line together, and its struggles when he was hurt underscored that notion. If Hart can become a viable replacement -- on the field and, perhaps as importantly, in terms of maturity off it -- the rest of the group should coalesce nicely, and the star-crossed tackle's career could once again be on an upward climb toward an NFL future.
If he fails:
All that experience and growth from 2012 could fall by the wayside if Hart proves incapable of handling the job. If Trickett pulls the plug and sends Hart to the sidelines once again, there are few easy alternatives.
Bryan Stork
, a steadying force at center last season, would likely slide out to replace Hart on the right side, and
Austin Barron
would step in at center. FSU already has depth concerns on the O-line, and that makes any major shakeup a concern. But after a year of building continuity for a group that struggled badly in 2011, another major renovation is the last thing the Seminoles need.
Projection:
There will be obvious comparisons between Hart and Watson this season, but that's a bit unfair. Watson was 23, and while his football experience was limited, he was a veteran of the ups and downs of life. He was as mature a leader as FSU had on offense, and he had the skill set to develop quickly. Hart is another story. He arrived on campus at 16, and he had a ton of learning still to do -- not just on the field. The trials and tribulations of the past year have taught some valuable lessons, but replacing Watson won't be an easy task. NFL-level tackles don't grow on trees. Hart's ceiling might be nearly as high as Watson's, but he's got farther to go to reach it. FSU will likely be satisfied with marked progress from 2012, and as long as Hart keeps heading in the right direction, he might reach Watson's level by season's end.
May, 21, 2013
5/21/13
9:00
AM ET
Each season brings with it new expectations, and a handful of Seminoles will bear the brunt of the pressure to perform in 2013. We're counting down the top 10 FSU players being counted on the most to help the Seminoles live up to expectations.
No. 4: CB Lamarcus Joyner
2012 performance:
For the second straight season, Joyner was an All-ACC selection at safety, and few defensive backs in the conference commanded more attention from opposing coaches and quarterbacks. Joyner finished with 51 tackles and five pass breakups, while anchoring a secondary that ended the season ranked tops in the nation. Add in key contributions on special teams, where he averaged nearly 24 yards per kick return, and Joyner's impact was felt often. If there's a knock on his 2012 season, however, it's that while he did all the little things well, there weren't a ton of big plays. Joyner had just one INT on the year.
Pressure point:
There was cause for celebration when Joyner decided to return to Florida State for his senior season, but testing the NFL waters did have some consequences. At 5-foot-8, Joyner was undersized for a safety, according to NFL scouts, so when he returned to FSU, he asked if he could try his hand at corner. It wasn't an unreasonable request, considering that's where Joyner began his career, but it does shake up what figured to be a stable secondary. Now, Joyner finds himself as a key cog on a defense that's undergone a massive overhaul, and if he struggles in his new role, more than a few fans will wonder if he put his personal future above the team's current needs.
[+] Enlarge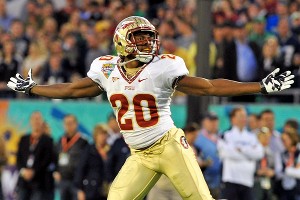 Al Messerschmidt/Getty ImagesMoving from safety to cornerback could be the best thing for FSU's defense and Lamarcus Joyner's future at the next level.
If he succeeds:
It's a win-win for everyone if things work out. Joyner's skill set certainly fits the role. He's quick and physical and won't shy away from competition against any receiver. Moreover, while FSU's linebacking corps and nickelbacks struggled at times last season, Joyner seems like a natural fit to cover slot receivers and work in traffic over the middle. His move also opens up a spot for the immensely talented
Karlos Williams
at safety, getting yet another talented player on the field for the Seminoles. In the end, it'd be tough for FSU's secondary to improve much on its stellar 2012 performance, but a good year from Joyner could up his draft stock considerably and offer new coordinator Jeremy Pruitt ample options when toying with his scheme.
If he fails:
Plenty of criticism will fall on Joyner and Jimbo Fisher for the decision to swap positions, and those NFL concerns about his ability to physically match up as a safety will only be exacerbated if he struggles at corner. It didn't exactly help that Joyner struggled a bit in FSU's spring game, being burned on both of QB
Jameis Winston
's touchdown passes, leaving a bit of concern lingering through the offseason. Moreover, Joyner's move to corner could signal less playing time for
Ronald Darby
,
Nick Waisome
or
Tyler Hunter
-- all talented players who produced when called upon last year.
Projection:
Sure, Joyner's Garnet and Gold game performance wasn't an ideal coda to the spring, but it also wasn't particularly representative of his overall body of work. Throughout the spring, Fisher praised Joyner as one of FSU's top performers, and everyone from top receiver
Rashad Greene
to last year's starting corner Xavier Rhodes has endorsed the move as a natural fit. In fact, the real questions shouldn't be so much about whether Joyner can play corner. He's bound to lose a battle here and there, but he seems more than prepared for the job. The bigger issue is how much FSU will miss his presence at safety, where he was among the most feared, physical players in the league. Williams can be the same, of course, but if he's not, a big chunk of the blame may fall to Joyner for making the move. But really, from Joyner to Williams, Darby to Waisome, and on down the depth chart, there's simply too much talent in FSU's secondary for this experiment not to work.
May, 20, 2013
5/20/13
9:00
AM ET
Each season brings with it new expectations, and a handful of Seminoles will bear the brunt of the pressure to perform in 2013. We're counting down the top 10 FSU players being counted on the most to help the Seminoles live up to expectations.
No. 5: LB Christian Jones
2012 performance:
After switching from strongside to weakside linebacker before the season, 2012 figured to be a breakout performance for Jones. In the end, it turned out to be a big step forward, but it wasn't quite a star turn for the immensely talented Jones. He led the Seminoles in tackles with 95 (including seven for a loss) and recovered two fumbles, including one in the end zone for a score against USF. And while Jones was active on defense throughout the season, part of his limited overall numbers came from a scheme that emphasized the defensive line.
[+] Enlarge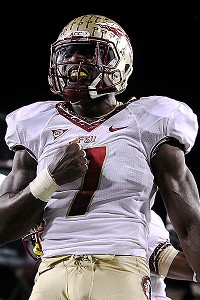 Kim Klement/US PresswireA new defensive scheme should put linebacker Christian Jones squarely in a centerpiece role.
Pressure point:
If Jones wasn't the centerpiece of the defensive scheme a year ago, that should change this season under new coordinator Jeremy Pruitt. This spring, Pruitt had Jones lining up nearly everywhere -- in coverage, playing the run, rushing the passer with his hand on the ground. Jones may be one of FSU's best overall athletes, and Pruitt seems giddy at the possibilities that offers, but that also means the senior will be picking up a hefty chunk of responsibility -- particularly considering the completely revamped defensive front. Add in the potential for Jones to dramatically improve his NFL stock, and there's a lot riding on this season.
If he succeeds:
The sky is the limit, really. Jones has the talent to be one of the ACC's most prolific defenders, and a 100-tackle season seems a good starting point. But it's not just the tackles that could turn Jones into a difference-maker this season. He's capable of so much more, and Pruitt appears ready to open up the playbook. If all goes well, Jones will anchor a linebacking corps that figures to be a strength of the defense, help to maintain FSU's production against the run and push himself into the discussion as a first-round pick in next year's NFL draft.
If he fails:
It's hard to envision a scenario in which Jones is an all-out failure this year, short of a significant injury. If that scenario unfolds, it's as close to a doomsday scenario as FSU's defense gets. There simply isn't another player experienced enough to take over. But the Seminoles would prefer not to imagine that possibility for now, meaning the bigger question is what constitutes success for Jones this year. He chose to return to school after being projected as a mid-round selection had he headed to the NFL, and he's got his sights set on upping his stock dramatically. To do so, he'll need to have a bigger impact on a more consistent basis. If he doesn't, much of the aggressive scheme Pruitt has planned could fall apart, and Jones' own future gets a bit murkier.
Projection:
Triple-figure tackle numbers look like the starting point for Jones this year, and it's certainly an achievable goal. But more than that, Jones should be more of a factor rushing the quarterback, too. The biggest gray areas at this point surround how Jones will hold up in coverage -- there were occasional struggles in 2012 in that area -- and whether he and fellow linebacker
Telvin Smith
can help pick up enough of the slack against the run to overcome the loss of so many big playmakers on the line. With Jones' talent and Pruitt's approach, though, it seems a safe bet a big season is in store.
May, 17, 2013
5/17/13
9:00
AM ET
Each season brings with it new expectations, and a handful of Seminoles will bear the brunt of the pressure to perform in 2013. We're counting down the top 10 FSU players being counted on the most to help the Seminoles live up to expectations.
No. 6: DT Timmy Jernigan
2012 performance:
For the second season in a row, Jernigan was impressive in a role that was largely as a reserve. He did start two games while Anthony McCloud sat out with an injury, but Jernigan's primary work came off the bench, where he might have been one of the best backup defensive lineman in the country. He led FSU's interior line in tackles (46) and tackles for loss (8) and was a force against the run, where the Seminoles finished in the top three in the country in rushing defense for the second straight season.
Pressure point:
In his first two years at FSU, Jernigan developed into a star, but he had the luxury of a prominent supporting cast. That won't be the case in 2013. The Seminoles lost five defensive linemen to the NFL, including both starters at tackle. That leaves Jernigan as the man every opposing offensive line coach will be scheming for.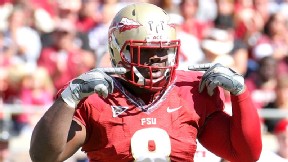 AP Photo/Don Juan MooreTimmy Jernigan talked in the spring about wanting to become a leader for the FSU defense and a star performer on the field.
If he succeeds:
A strong season would mean a lot for the Seminoles' D and for Jernigan personally. He's
already being discussed as a potential first-round draft pick
and one of the top underclassmen in the nation, but there remains a bit of skepticism about how he'll hold up in a bigger role in a more novice defensive line. If Jernigan answers those questions, it would be a boon for a young line in need of leadership and a strong push for Jeremy Pruitt's defense which, unlike last year, won't rely solely on pressure from the front four. Moreover, it would secure Jernigan's spot near the top of many NFL draft boards.
If he fails:
Few people are expecting failure from Jernigan, but rather question how much he'll advance in a full-time role and whether that will be enough to weather the storm after so much turnover on the line. A year ago, FSU's strength was its ability to get pressure without the blitz and its dominance against the run. Jernigan won't shoulder the entirety of the responsibility for maintaining that standard, but anything less than a marked step forward for the junior would certainly make a repeat performance from the rest of the line awfully tough.
Projection:
During the spring, Jernigan said all the right things about wanting to become a leader for the defense and a star defender in the ACC. Unfortunately, his spring was cut short by a high ankle sprain. It's the second spring in a row in which Jernigan has gone down with a relatively serious injury, and that's perhaps the biggest concern right now. No one questions Jernigan's talent or ability, and while the larger role brings with it increased pressure, it's also a bigger opportunity for him to produce. And while life will be tougher without Bjoern Werner and Cornellius Carradine flanking him, Jernigan does have the benefit of some veteran talent on the interior of the line. Expect another strong performance, even if the overall defensive line takes a small step back.
May, 16, 2013
5/16/13
8:00
AM ET
Each season brings with it new expectations, and a handful of Seminoles will bear the brunt of the pressure to perform in 2013. We're counting down the top 10 FSU players being counted on the most to help the Seminoles live up to expectations.
No. 7: RB James Wilder Jr.
[+] Enlarge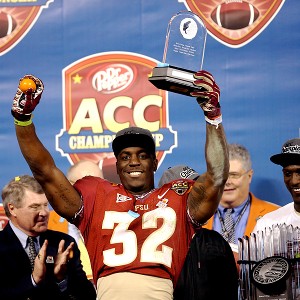 Streeter Lecka/Getty ImagesJames Wilder Jr. was the MVP of the ACC championship game.
2012 performance:
Wilder rebounded nicely from a slew of off-field distractions to become a consistent producer in FSU's backfield. He topped 100 yards in his first game of the season and finished as perhaps the Seminoles' most consistent performer in the backfield, rushing for 635 yards and 11 touchdowns and hauling in 19 catches for 136 yards and two TDs.
Pressure point:
Wilder finally quieted the critics who thought he wasn't suited for offense, but there's still plenty more to accomplish, and the weight of this year's offense rests largely on his shoulders -- both on and off the field. Wilder still figures to split carries with
Devonta Freeman
, but with a first-year starter at quarterback, there's likely to be a major emphasis on running the ball successfully. Moreover, Wilder has quickly embraced the role of vocal leader on offense, and he'll need to show he's matured beyond the off-field problems that dogged the early part of his career.
If he succeeds:
Life gets a lot easier for
Jameis Winston
(or whoever wins the QB job) if the running game is producing, and Jimbo Fisher figures to put the onus for that on Wilder and Freeman in the early going. Fisher has raved about Wilder's ability -- not just to run between the tackles but to get outside for big runs, pick up blitzes and work as a receiver out of the backfield. He arrived at FSU as a five-star prospect and he hasn't quite reached that potential yet -- but there's ample reason for optimism. While FSU will need its new quarterback to rise to the occasion from time to time, Wilder can do a lot to minimize the occasions on which the game falls entirely on the QB's shoulders.
If he fails:
Wilder and Freeman enjoyed relative success in 2012 even after Chris Thompson's season ended abruptly, but there were some troubling games, too -- such as the debacle at Virginia Tech. The Hokies stacked the box and rendered FSU's ground game completely ineffective, and with an offseason of film study and a new QB running the show, odds are more defenses will take a similar approach this year. The onus for overcoming that will likely fall to Wilder, who embraces the opportunity to get the hard-earned yards through contact. If he can't do it -- or if the pounding takes its toll on his body -- the rest of FSU's backfield lacks anything close to that same physicality or blocking ability, and Fisher's options would be far more limited.
Projection:
It's tough to predict a 1,000-yard type of season for Wilder because he'll likely share the workload with Freeman and, of course, no FSU runner has reached that mark in nearly two decades. Still, Wilder has an NFL skill set and he'll get his chance to show he's on that path. Staying healthy will be a big key -- he was bruised and battered throughout 2012 and missed this year's spring game -- and he'll need to show he's more versatile outside the tackles. If Wilder can do both, he should easily exceed last year's totals, be FSU's best red-zone threat and, with a little luck, he might even be able to finally put an end to that inexplicably long drought of 1,000-yard runners.
May, 15, 2013
5/15/13
1:00
PM ET
Each season brings with it new expectations, and a handful of Seminoles will bear the brunt of the pressure to perform in 2013. We're counting down the top 10 FSU players being counted on the most to help the Seminoles live up to expectations.
No. 8: K Roberto Aguayo
[+] Enlarge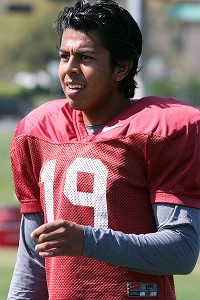 Courtesy of Brandon Mellor/Seminoles.comFlorida State kicker Roberto Aguayo spent the 2012 season as the apprentice to Dustin Hopkins.
2012 performance:
Aguayo's first season in Tallahassee proved to be an ideal scenario. Originally set to grayshirt, a late scholarship opened and Jimbo Fisher was happy to hand it to his kicker of the future. Aguayo spent the season watching and learning from Dustin Hopkins, getting a feel for the demands of the job from one of the best to put on a Seminoles uniform.
Pressure point:
For kickers, the pressure is always on, but Hopkins spent four years at FSU doing the job as if he hadn't a care in the world. That consistency set a high bar, including the NCAA scoring mark for kickers, and Aguayo has some big shoes to fill. Hopkins didn't bother trying to temper expectations of Aguayo, either. Hopkins, drafted by the Buffalo Bills, has already predicted Aguayo would break many of his records over the next four years.
If he succeeds:
Aguayo will be well on his way toward toppling some of those records Hopkins set along the way, and Florida State fans can relax and enjoy the fact that the kicker spot is set for another four seasons. Aguayo showed plenty of leg in the spring game, including drilling a 58-yarder as time expired, and if he can gain Fisher's trust early, he could be a major weapon for a team that might struggle to find its offensive footing with a new quarterback.
If he fails:
There is no Plan B. Aguayo was tabbed as the successor to one of the nation's top kickers from Day 1, and that comes with its own set of pressures. And in a season in which the margin for error for the Seminoles figures to be far less than it was a year ago, it's hard to believe there won't be at least one game that comes down to a big kick. While Aguayo talks a good game about embracing the role, there's a big difference between watching from the sidelines and drilling a big kick in a key moment. And, of course, FSU fans probably understand that distinction better than anyone.
Projection:
The future appears bright for Aguayo, who certainly has the leg for the job and appears to have the confidence to go with it. Still, it's worth remembering that even Hopkins wasn't a star from Day 1. As a freshman, he connected on just 70 percent of his field goals (and just 8 of 14 longer than 40 yards), and along the way he missed a few big ones. It would be surprising if Aguayo completely fell apart under the pressure this year, and topping Hopkins' freshman-year performance seems an appropriate standard, but the biggest tests won't come until he's faced some adversity and is forced to rebound. Projecting how a kicker responds to that is tough to do.
May, 14, 2013
5/14/13
9:00
AM ET
Each season brings with it new expectations, and a handful of Seminoles will bear the brunt of the pressure to perform in 2013. We're counting down the top 10 Florida State players being counted on the most to help the Seminoles live up to expectations.
No. 9: TE Nick O'Leary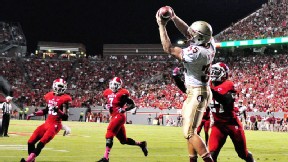 Rob Kinnan/US PresswireFlorida State tight end Nick O'Leary caught 21 passes in 2012.
2012 performance:
Those expecting a marked improvement from O'Leary's freshman season in which he caught 12 pass were disappointed as the talented sophomore managed just 21 catches for 252 yards and three touchdowns. It's not that those totals were awful -- O'Leary, in fact, enjoyed one of the most productive seasons by an FSU tight end in a while -- but they certainly didn't match rather lofty expectations. O'Leary also seemed to disappear for long stretches.
Pressure point:
O'Leary arrived amid much hype, and for good reason. He's got the size to be a solid blocker, but his athleticism and pass-catching ability should make him a major mismatch against linebackers and defensive ends. Through two seasons, however, FSU hasn't enjoyed many fruits of those mismatches. The pressure to find more success as a junior will be ratcheted up even further in 2013. With fullback Lonnie Pryor gone, Jimbo Fisher has said he plans to use O'Leary at halfback and will scheme numerous sets with two tight ends. That's a potentially successful wrinkle to the FSU offense -- but only if O'Leary blossoms into the star he's been projected to become.
If he succeeds:
Several potential stumbling blocks for FSU's offense could be instantly solved if O'Leary puts together an all-conference-caliber season. If O'Leary's blocking improves, he could help ease the loss of Menelik Watson on the right side. If he becomes a more consistent threat in the passing game, he could provide a valuable safety valve for a young quarterback. If he can avoid making dumb mistakes -- such as fumbling while trying to hurdle defenders -- he could supply the same type of consistency that made Pryor such a valuable part of FSU's offense. Those are all big ifs at the moment.
If he fails:
Fisher raved about the progress of senior
Kevin Haplea
this spring, and the Penn State transfer at least provides FSU with a solid Plan B at tight end. Haplea will never be the receiving threat O'Leary already is, but after a year in the program, he's at least consistent as a blocker and can do enough in the passing game to be an asset. Still, Haplea is the safe option. O'Leary is the potentially explosive one. If O'Leary fails to develop, FSU misses out on a major weapon who could be even more valuable with a young quarterback running the show. More importantly, struggles from any of FSU's tight ends ties Fisher's hands in terms of scheme.
Projection:
The first step in meeting expectations for O'Leary would be to simply stop making so many ugly plays. It's one thing to disappear in the offense (something O'Leary has done at times) but it's another to turn a potentially big play into a disastrous one (something O'Leary has become known for among frustrated fans). New tight ends coach Tim Brewster knows he has a potential gold mine in O'Leary, though, and those struggles in 2012 might have served to light a fire under a player who was No. 20 in the ESPN 150 in the 2011 class. O'Leary will be given plenty of chances to shine, and a solid step forward -- 30 catches, more looks in the red zone -- would be a welcome addition. Anything more, and FSU's offense could become a lot more dynamic than many are projecting.
May, 13, 2013
5/13/13
9:00
AM ET
Each season brings with it new expectations, and a handful of Seminoles will bear the brunt of the pressure to perform in 2013. We're counting down the top 10 FSU players being counted on the most to help the Seminoles live up to expectations.
No. 10: WR Kelvin Benjamin
2012 performance:
As a redshirt freshman, Benjamin showed flashes of meeting his immense potential, but overall it was something of a disappointing season. Benjamin finished the year with 30 catches for 495 yards and four TDs, but he averaged just 10 yards per game over his final five contests of the year.
[+] Enlarge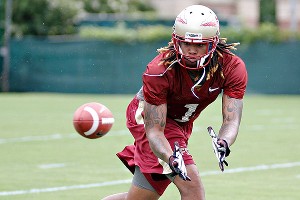 AP Photo/Don Juan MooreAs a redshirt freshman in 2012, Seminoles receiver Kelvin Benjamin's production didn't match his size and potential.
Pressure point:
Odds are, FSU's receiving corps is deep enough that a down season by Benjamin wouldn't wreak havoc on the passing game, but a breakout season from the highly touted sophomore could be the difference between a solid unit and an elite one.
Rodney Smith
is gone, leaving a major vacancy on offense for a receiver with size -- something Benjamin has in spades -- to help out a first-year starting quarterback. But Benjamin has suffered from maturity issues in his first two years in the program, and the jury is still out on whether he can figure it all out.
If he succeeds:
Jameis Winston
-- or whoever lands the starting QB job -- will have a huge target to work with, opening the door for a potentially explosive offense. While
Rashad Greene
,
Greg Dent
and
Kenny Shaw
offer some sure-handed options in the receiving corps, Benjamin's combination of size and speed are a unique weapon few defenses can handle. He's a deep threat, but he's also got the height and strength to be one of the top red-zone targets in the country.
If he fails:
Greene still figures to be one of the ACC's top receivers, so FSU won't be bereft of talent even if Benjamin falters. Still, it would be incredibly frustrating to see a player with so much obvious talent languish for another year. And while Benjamin would still have two more seasons to develop, it's hard to envision the same enthusiasm from fans following him into 2014 if he doesn't show some immense signs of improvement.
Projection:
Consistency is really the key for Benjamin, who readily admitted he'd lose focus often last season. What's more concerning is that, as Jimbo Fisher entrusted him with more and more big-play opportunities in crucial moments, Benjamin struggled more and more. Can a guy grow up that much during one offseason? It's certainly possible, and Benjamin now has the luxury of a year on the field under his belt. He knows what it'll take to succeed, but the question is whether he'll put in the work. Regardless, he's got the talent to be a solid receiver, even if he never develops into the superstar so many projected. A reasonable improvement on last year's numbers -- say, 40 catches and 700 yards -- would be a solid season, but FSU would much prefer Benjamin do a better job of maintaining a higher level of play rather than occasionally contributing monster outings.
These 2016 QBs Can Start From Day One
ACC SCOREBOARD
Thursday, 9/3
Saturday, 9/5
Monday, 9/7