Florida State Seminoles:

Ukeme Eligwe
September, 25, 2013
Sep 25
1:00
PM ET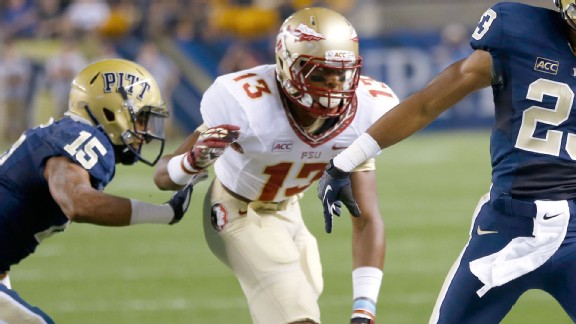 AP Photo/Keith SrakocicFreshman cornerback Jalen Ramsey jumped right in to a starting spot, beating out veterans Nick Waisome and Ronald Darby in the process.
TALLAHASSEE, Fla. -- Throughout the 68-yard dash,
Telvin Smith
never looked back. Seconds earlier, he'd stepped in front of a pass from Bethune-Cookman quarterback
Quentin Williams
, and a path cleared ahead of him as he charged to the end zone.
It was only after Smith crossed the goal line that he realized he wasn't alone. Two steps behind him was fellow linebacker
Matthew Thomas
, who'd kept pace with Smith step for step throughout the return.
"I turned around and he's standing right next to me," Smith said. "That's what the coaches and myself love about him."
That was hardly the only highlight of the game for Thomas, who dropped Bethune's quarterback in the backfield twice in a span of five plays in the third quarter. In a game in which Jimbo Fisher criticized his defense for ceding too much ground to an overmatched opponent, Thomas stood out.
That's been a theme of the early season for Florida State's defense. It's a unit in transition, having lost a bevy of veterans to the NFL draft and its coordinator to Kentucky. Changes have come at nearly every turn, and the youngest Seminoles are taking advantage.
"They're stepping up," Smith said. "The best man is going to play, and right now, they're proving themselves to be the best man. The young guys are coming. They're on our toes."
It's not just Thomas making an impact.
Jalen Ramsey
become the first FSU cornerback to start as a true freshman since Deion Sanders, then delivered the Seminoles' first interception of the season against Pittsburgh. He's sixth on the team so far with 12 tackles, including one sack.
Demarcus Walker got a start in the opener, too, and he's seen consistent work on the defensive line ever since.
Chris Casher
, a redshirt freshman, racked up 10 tackles -- including two for a loss -- against Bethune-Cookman and was named FSU's defensive player of the week. Second-year players
P.J. Williams
and
Mario Edwards Jr
. are now established starters, and a handful of other youngsters are getting regular reps on defense, too.
Fisher was so pleased with the work of his young defensive backs that he felt comfortable flipping veteran
Karlos Williams
from safety to tailback. Casher, Thomas and sophomore
Eddie Goldman
have helped pick up the slack for FSU's pass rush after its top three defensive ends all left for the NFL. Overall, nearly half of Florida State's tackles this season have come from defenders with zero previous starting experience.
"The platform is even because new [defensive coordinator], new philosophy, and you have to learn it," cornerback
Lamarcus Joyner
said. "Experience on the football field, those young guys haven't had it, but with their talent level and where they're coming in, it's good to see them playing and be able to play fast."
Of course, it's easy enough to chalk up the early success for the freshmen and sophomores to the lack of quality competition on the field, but Fisher said this isn't a passing fad. Florida State's schedule gets markedly tougher in October, and rather than shuffling the young defenders to the sidelines for the big games, he wants to ensure they're ready to play when it counts.
"Ability is never the issue," Fisher said. "It's about technique and assignments and getting playing time to be able to relax on the field and do what you do, taking it from the practice field to the game field. You see that more and more, you feel more comfortable. We're going to keep developing all those guys."
Ramsey already appears to have a starting job locked up moving forward, beating out junior
Nick Waisome
, who started all 14 games last season, and
Ronald Darby
, a freshman All-American in 2012. Fisher raved about Ramsey's combination of speed and physicality, but said it's the freshman's football acumen that has set him apart.
Thomas is a bit more of a work in progress. He's flashed potential, but he's spent much of his first few months on campus simply soaking in all he can about how to do his job.
"He's observing a lot of stuff," Smith said. "He's taking it in, and he's going to erupt when he gets the chance."
Fisher sees it coming, too.
Since arriving on campus in June, Thomas has already packed on nearly 25 pounds to his frame, but it hasn't slowed him down.
"He's gotten faster," Fisher gushed.
Walker and Casher are following a similar path, too, though they've had longer to learn the ropes.
Casher has been sidelined for the better part of the past two years -- first because of an eligibility issue his senior year in high school, then because of a knee injury that cost him nearly all of 2012. Walker arrived this spring to get a jump start on his college career, but an issue with the NCAA Clearinghouse meant he didn't practice with the team at all.
The down time might have been a blessing, however, as both were eager to learn.
"They came in with their eyes open and their notepad ready, listening to the older guys," Smith said.
That's been a trademark of the Class of 2013 in particular. When Joyner arrived in 2010, Florida State was in the midst of a culture change in the locker room that took a while to take hold. The latest batch of freshmen, however, look right at home from Day 1.
"Those guys are coming in here with the same talent level that guys took two to three years to develop," Joyner said.
That's exactly what Fisher wants to see. He doesn't promise playing time to his recruits, he said, but he offers opportunity. This latest crop of Seminoles was prepared when that opportunity arrived.
"When you get here, you get an opportunity, and if you're the best player, you're going to play," Fisher said. "A play don't care who makes it, and there isn't an age limit on being a good player."
September, 22, 2013
Sep 22
2:00
PM ET
It's tough to take too much from a 54-6 win over an FCS foe, but there were a few lessons to be gleaned from Florida State's dominance of Bethune-Cookman.

The receivers aren't perfect:
Against Bethune-Cookman,
Jameis Winston
threw nine incomplete passes, nearly doubling his season total from the first two games of the season. Indeed, Winston wasn't nearly as crisp as he'd looked down the stretch just a week ago, when he completed his final 13 throws, but a good bit of the blame goes to the receivers. FSU's receivers hadn't dropped a pass all season, but
Rashad Greene
,
Kelvin Benjamin
and
Kenny Shaw
all allowed potentially easy touchdown throws slip through their fingers. None of it ended up mattering all that much -- aside from Winston's completion percentage plummeting 10 points -- but it was a reminder that, as good as the group had been in the early going, there's still room to get better.
FSU's young defenders are going to be good:
There won't be many games this year when
Terrance Smith
,
Matthew Thomas
,
Ukeme Eligwe
and Co. get as many snaps as they did Saturday against Bethune-Cookman, but the blowout win for Florida State -- coupled with the absence of
Christian Jones
,
Eddie Goldman
and
Mario Edwards Jr
. -- offered a glimpse into what the talented cast of youngsters might one day become. In his first career start, Smith finished with a game-high 12 tackles. Thomas was a beast coming off the edge, recording a sack and two TFLs. Eligwe had six stops,
Reggie Northrup
and
E.J. Levenberry
each had five, and
Chris Casher
made 10 tackles, including two for a loss. For all the defensive success, however, Bethune-Cookman still mustered 18 first downs -- far too many by Jimbo Fisher's estimation. The group has talent, but it's a work in progress.
The biggest lessons are yet to come:
What could FSU learn, really, from a game against a clearly overmatched FCS opponent? Three of the Seminoles' starting defenders sat out. Winston was on the bench midway through the third quarter. The tempo of the game never quite clicked, and the score was still out of hand by the half. These first three games have offered a glimpse at what FSU could be, but the Seminoles have yet to be truly tested. That should change moving forward, with an Oct. 5 date against undefeated Maryland looming, and a trip to Clemson awaiting on Oct. 19.
September, 22, 2013
Sep 22
10:00
AM ET
Florida State's blowout win over Bethune-Cookman
was far more of a showcase for the reserves than the starters, but more than a few of those backups turned in exceptional performances, and a couple of them earned helmet stickers.

RB Devonta Freeman:
Florida State has rushed for 643 yards in the past two games, so there's been plenty of accolades to go around for the ground game. Still, no one has looked better than Freeman, who has topped 100 yards in each game -- all of which came while the starters were still in. Freeman is averaging 9.8 yards per carry this season, has scored twice and, perhaps most notably, none of his 28 rushing attempts have lost yardage.
LB Terrance Smith:
Making the first start of his career, Smith was all over the field in the early going. He finished with a team-high 12 tackles and recorded one of Florida State's three sacks. Playing for suspended senior
Christian Jones
, Smith looked perfectly comfortable in the role. The 12 tackles were two more than his career total from his first two seasons at Florida State.
The freshmen defenders:
They didn't look perfect, but Florida State's freshmen defenders provided some quality performances with four starters out for the majority of the game.
Chris Casher
racked up 10 tackles, including two for a loss.
Ukeme Eligwe
had six tackles.
E.J. Levenberry
had five.
Matthew Thomas
finished with three tackles -- two for a loss -- and a sack.
Jalen Ramsey
recorded a sack, too, and forced a fumble. In all, freshmen accounted for 33 of FSU's 85 team tackles.
Hat tips to:
Telvin Smith
returned an interception for a touchdown, FSU's first defensive score of the year.
Karlos Williams
followed up on his stellar debut at tailback with another impressive performance, rushing for 83 yards and two touchdowns on nine carries.
Kenny Shaw
had 89 receiving yards and would've topped 100 if he could've hung onto a throw along the sideline that would've gone for an easy score.
September, 17, 2013
Sep 17
9:00
AM ET
TALLAHASSEE, Fla. -- The experiment was effectively over before the game even started.
It's not that Nevada posed much of a threat to begin with. Florida State entered Saturday's game as a five-touchdown favorite. But there was some intrigue, thanks to the Wolfpacks' up-tempo, pistol offense that promised to give an untested FSU defense a taste of what might be waiting on that crucial Oct. 19 showdown with Clemson.
Only the test never materialized. About an hour before kickoff, Nevada quarterback
Cody Fajardo
tweeted the news that he'd miss the game, and the Wolfpack offense that took the field didn't look anything like the frenetic, fast-paced unit that had averaged 84 plays per game since the start of the 2012 season.
Instead, Florida State's defense was subjected to slogging, methodical snooze. Nevada ran 26 fewer plays than its season average, in spite of a sizable edge in time of possession. The Wolfpack usually ran a play every 21 seconds of possession time, but against FSU, they averaged a snap every 32 seconds. In the end, the Nevada offense looked baffled, and the FSU defense remained something of a mystery.
"They were trying to shorten the game a little bit, try not to get as many at-bats and eat the clock," Jimbo Fisher said. "But I thought the defense did a really nice job and made some nice adjustments. The defense has played very solidly."
[+] Enlarge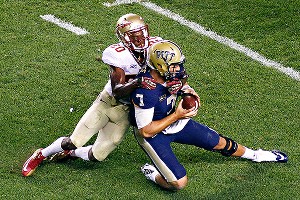 Justin K. Aller/Getty ImagesLamarcus Joyner gets a sack, which has been a rarity so far this season for Florida State.
It's tough to nitpick a defense that allowed just 511 yards and 20 points in its first two games, both against FBS opponents. And yet, questions linger.
Through two games, Florida State's supposedly aggressive new attack under coordinator Jeremy Pruitt has amassed just three sacks, two of which came from cornerback
Lamarcus Joyner
. Despite bringing the blitz on half of Nevada's passing plays Saturday -- against two backup quarterbacks, to boot -- the Seminoles didn't record a sack. (In fairness, one potential sack was overturned because
Timmy Jernigan
continued pursuit after his helmet came off.)
More often, Florida State has been burned on the blitz. When rushing five or more defenders this year, FSU has allowed the opposition to complete 64 percent of its passes. Both of the touchdowns FSU has allowed came vs. the blitz. When just four defenders rush, however, the opposition completes just 47 percent of its passes and has thrown two interceptions, according to ESPN Stats and Information.
Florida State has mustered just 10 tackles for loss thus far, a number bettered by 93 other FBS teams. Of the four TFLs the Seminoles managed against Nevada, two came late in a blowout game from backup defenders.
In both of its games, Florida State's defense has finished strong. But it's still tough to ignore that two supposedly overmatched offenses marched down the field for extended early drives. On the first four drives of the game, Pittsburgh and Nevada averaged 5.7 yards per play. Throughout the remainder of the game, that average dipped to just 3.1 yards per play.
"We've got to come out a little faster," corner
P.J. Williams
said. "We're letting teams [move], especially in the running. … We know the defense, but we've got to execute it better. It's different going against them in practice than when you go into the game."
That the FSU defense remains a work in progress at this point isn't really a surprise. A half-dozen regulars missed spring practice, and the shakeups on the depth chart have continued since then. Fisher announced Monday that defensive end
Mario Edwards Jr
. would likely miss this week's game against Bethune-Cookman after surgery on his hand, leaving a trio of freshmen --
Chris Casher
,
DeMarcus Walker
and
Ukeme Eligwe
-- to pick up the slack.
Edwards' absence may not last beyond this week, Fisher said, and Bethune-Cookman doesn't figure to provide much of a challenge for the defense anyway. But therein lies the problem.
That Oct. 19 date still lingers on the horizon, a game that is likely to define Florida State's season. Between now and then, Florida State plays an FCS opponent, a Boston College team that ranks 121st nationally in plays per game this year, and resurgent Maryland, the final tune-up before high-flying Clemson.
After Nevada downshifted its up-tempo attack, the Terrapins likely represent the only opportunity Florida State's defense will have to test its mettle against an offense with a modicum of the firepower Clemson possesses. That certainly figures to add some intrigue to the game, but it isn't likely to have too many Florida State fans feeling entirely comfortable in the interim.
"These last couple games, coming in with this new defense and just learning, we can do better," Williams said. "It has a lot to do with the new defense."
September, 15, 2013
Sep 15
2:00
PM ET
After
Jameis Winston
's dynamic debut against Pitt, Florida State fans had to wait an interminable two weeks for his encore. The wait actually ended up lasting through most of the first half, but once Winston and FSU got going, things escalated quickly. Here's what we learned along the way ...

Winston isn't perfect ... but he's close:
Sure, even the most optimistic fans had to expect a flubbed throw from the reshirt freshman eventually, but it was no less shocking when Winston lobbed a high throw down the middle of the field for an easy interception in the second quarter Saturday. But if there were questions about how Winston would respond to adversity, he answered them ardently against Nevada. After the pick, Winston was 13-of-13 passing for 184 yards and led six straight touchdown drives, including a picture-perfect two-minute drill before the half.
Jimbo Fisher knows what he's talking about:
Nevermind that Fisher turned wide receiver Xavier Rhodes into an NFL first-round pick at corner. Or that he might do the same for defensive tackle-turned-offensive lineman
Cameron Erving
. Fisher's latest position swap may end up his best.
Karlos Williams
practiced just eight days at tailback after spending his career at safety, but he still turned his first carry into a 65-yard TD run and finished the game with eight carries for 110 yards.
Jeremy Pruitt can play it safe, too:
After three years under Mark Stoops' conservative philosophy, the promise from Pruitt was lots of blitzing and lots of aggression. That still may be the case, but against Nevada, FSU's D didn't push the envelope much. The lone takeaway was gift-wrapped for
Tyler Hunter
, FSU had no sacks and just two tackles for loss before garbage time with the backups, and yet the uptempo Wolfpack still managed just 219 yards in the game. Nevada ran nearly 20 fewer plays than its season average, in spite of a sizable time-of-possession edge. And like the opener in Pittsburgh, FSU's D got better as the game wore on -- allowing Nevada just 76 yards on its final nine drives.
FSU has some depth:
Sure, it was Nevada. And sure, the Wolfpack had their reserves in the game for much of the second half. But it's nevertheless rewarding for Fisher to see some of his younger players and reserves make some noise.
Ruben Carter
got the start at right guard for injured Tre Jackson and looked good.
Freddie Stevenson
and
Ryan Green
got their first touchdowns in the fourth quarter.
Reggie Northrup
and
Ukeme Eligwe
made some big plays on defense. In all, Florida State's eight touchdowns were scored by eight different players.
August, 4, 2013
Aug 4
9:00
AM ET
TALLAHASSEE, Fla. -- Florida State opens fall camp this week, and while the bulk of the starting lineup appears firmly in place, there are a handful of key position battles to watch as the Seminoles set their sights on the season opener in Pittsburgh.
[+] Enlarge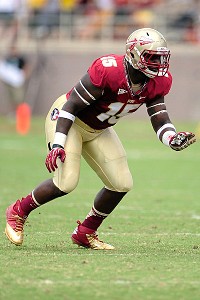 Stacy Revere/Getty ImagesDefensive end Mario Edwards Jr. was the No. 1 high school prospect in the nation in the Class of 2012.
Defensive end
The candidates:
Mario Edwards Jr.
(So.),
Dan Hicks
(RSSr.),
Giorgio Newberry
(RSSo.),
Chris Casher
(RSFr.),
DeMarcus Walker
(Fr.),
Davarez Bryant
(Fr.),
Desmond Hollin
(Jr.)
The situation:
Florida State lost three top pass rushers to the NFL from last year's team, leaving a major void in a key area. Edwards appears all but certain to earn one of the two starting jobs after closing out 2012 in that role. On the opposite side, however, things are up for grabs. Newberry figured to be the top candidate entering spring practice, but Hicks -- nine months removed from ACL surgery -- made a big push. Walker might have been in the mix, too, but NCAA eligibility issues kept him on the sideline after he enrolled early.
The projection:
Hicks' strong spring vaulted him to the top of the depth chart for now, and it's clear he's ready to play a sizable role after being shuffled to tight end a year ago. Odds are, however, this will be an area of some mixing and matching early on, with Hicks, Newberry and Casher all likely to see playing time alongside Edwards.
Linebacker
The candidates:
Terrance Smith
(RSSo.),
Reggie Northrup
(So.),
Ukeme Eligwe
(RSFr.),
Nigel Terrell
(RSJr.) and five incoming freshmen
The situation:
Seniors
Telvin Smith
and
Christian Jones
offer a formidable pairing atop the depth chart, but the rest of the linebacker position remains in flux. None of the candidates have any significant experience, and while Terrance Smith looked to take an early lead as the starter on the strong side throughout the spring, there are endless possibilities on how the two-deep at each position might shake out.
The projection:
Because FSU will run a majority of its defensive plays in nickel and dime sets, there may not be a need for a third linebacker routinely. Still, the coaching staff knows it needs to develop depth behind its two seniors, and identifying a pecking order is crucial. Northrup, Smith and Eligwe are likely the top contenders for regular playing time, but freshman
Freddie Stevenson
was an early enrollee who impressed this spring, and freshman
Matthew Thomas
might have more upside than anyone at the position.
Quarterback
The candidates:
Jameis Winston
(RSFr.),
Jacob Coker
(RSSo.),
Sean Maguire
(RSFr.)
The situation:
What was a wide-open, four-man race this spring now looks to be Winston's job to lose. He was impressive throughout spring practice, dominated the spring game and has enjoyed immense hype and enthusiasm from the fan base ever since. Still, Fisher has been quick to point out that nothing is set in stone at the position yet, and Coker, who endured a foot injury that limited him this spring, figures to keep the pressure on Winston as fall camp begins.
The projection:
In spite of Fisher's pronouncements, it would be a shock if anyone other than Winston got the starting nod in Week 1. By all indications, the redshirt freshman has continued to develop this summer, has handled all the publicity with aplomb, and his potential is undeniable.
Defensive back
The candidates:
Lamarcus Joyner
(Sr.),
Nick Waisome
(Jr.),
Ronald Darby
(So.),
Tyler Hunter
(Jr.),
P.J. Williams
(So.) and others
The situation:
This falls under the category of good problems to have, but FSU's wealth of talent in the secondary is causing at least some confusion on the depth chart. Joyner switches from safety to corner this year, leaving five talented and experienced corners vying for limited playing time alongside presumptive starters at safety
Terrence Brooks
and
Karlos Williams
. The versatility of the group -- particularly Joyner, Hunter and P.J. Williams -- offers some options for new DC Jeremy Pruitt, but finding enough playing time for all the talent on the roster may be a tall order.
The projection:
There is likely to be a healthy dose of mixing and matching this year, with Karlos Williams getting reps at linebacker, Joyner, Hunter and P.J. Williams shifting between corner, nickel and safety, and other options like
Keelin Smith
and
Colin Blake
vying for reps, too. Still, Joyner is the unquestioned leader, so his playing time should be secure, and Darby, Waisome and Hunter will likely grab the lion's share of what remains.
Wide receiver
The candidates:
Kelvin Benjamin
(RSSo.),
Christian Green
(RSJr.),
Willie Haulstead
(RSSr.),
Levonte Whitfield
(Fr.),
Jarred Haggins
(Sr.),
Isaiah Jones
(Fr.),
Jesus Wilson
(Fr.)
The situation:
Rashad Greene
and
Kenny Shaw
have a firm grip on starting jobs, but injuries, defections and suspensions have seriously limited FSU's depth in the passing game. Fisher needs at least one or two more receivers to step up into bigger roles, with none looming larger than the uber-talented Benjamin. Green and Haulstead -- afterthoughts a year ago -- are aiming for comeback seasons, while Whitfield's speed makes him an immediate threat, and Wilson has garnered early praise for his work in summer seven-on-seven drills.
The projection:
Benjamin is perhaps the biggest wild card on Florida State's roster. His talent is immense, but he's had difficulty showing consistency during his first two years in Tallahassee. If he blossoms into a star in 2013, it would be a huge boon to the Seminoles' offense, but don't be surprised if at least one of the freshmen manages to make some noise, too.
June, 18, 2013
Jun 18
9:00
AM ET
Throughout the summer, NoleNation will be counting down the 40 players we're projecting to make the biggest impact on the Seminoles' 2013 season, taking into consideration everything from experience to potential to their spot on the current depth chart.
Next up:
No. 34 Reggie Northrup
Position/class:
Linebacker/sophomore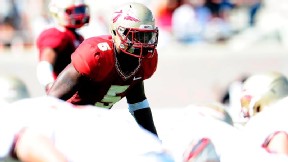 Stacy Revere/Getty ImagesReggie Northrup showed plenty of potential as a freshman.
What he's done:
Northrup's freshman season offered only a brief glimpse at his potential, but it nevertheless made an impact. He had just 10 tackles, but in a rare bit of extended playing time in the second half of FSU's win over Boston College, Northrup put on a clinic. In only a handful of series, Northrup tallied six tackles, including four solo tackles and one for a loss. The performance largely came against Boston College's second team, and the Seminoles were well ahead, but Northrup's prolific outing turned heads and moved him to the top of a deep well of inexperienced linebackers.
Where he's at:
Northrup saw plenty of action last season on special teams and garnered praise as one of FSU's hardest hitters, but he's in a position in 2013 to expand on that role by refining his skill set. Even during his brilliant outing against Boston College, Northrup was hardly putting on a clinic for well-coached technique. Instead, he's spent this spring developing a better understanding of his role rather than relying on his immense natural ability. He'll open fall camp as the No. 2 weakside linebacker, and he'll get the chance to learn behind a potential NFL first-rounder in
Christian Jones
.
What's to come:
As mentioned in discussions of
Terrance Smith
,
Freddie Stevenson
and
Markuss Eligwe
, there are plenty of young, inexperienced talent at linebacker for FSU, but there are relatively few snaps to be shared by them in 2013. Jones and
Telvin Smith
are the veterans, and they'll be on the field a lot. The strongside linebacker position faces an increasingly diminished role in FSU's defense. That means as many as nine reserve linebackers will be fighting for what's left. Northrup isn't guaranteed a lion's share of those scraps, but for now he appears to be in the best position to win them. And if he can add some more substantive experience in 2013, he could be amassing games similar to that Boston College performance with regularity in 2014.
February, 21, 2013
Feb 21
7:00
AM ET
With national signing day now beyond us, NoleNation takes a closer look at the next crop of Seminoles.
Vitals:
Linebacker
Tyrell Lyons
(Jacksonville, Fla./First Coast), 6-foot-2, 220 pounds.
Committed:
Feb. 25, 2012.
ESPN.com grade:
81, four-star prospect.
ESPN.com rankings:
No. 33 outside linebacker in the country, No. 186 player in the Southeast and the No. 74 player in the state of Florida.
To continue reading this article you must be an Insider
February, 20, 2013
Feb 20
7:00
AM ET
With national signing day behind us, NoleNation takes a closer look at the next crop of Seminoles.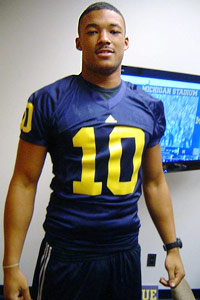 Courtesy of Eric LevenberryWhile he might redshirt in 2013, incoming linebacker E.J. Levenberry could get into games late.
Vitals:
Linebacker
E.J. Levenberry
(Woodbridge, Va./C.D. Hylton), 6-foot- 3, 230 pounds.
Committed:
April 24, 2012.
To continue reading this article you must be an Insider
February, 19, 2013
Feb 19
7:00
AM ET
With national signing day now beyond us, NoleNation takes a closer look at the next crop of Seminoles.
Vitals:
Linebacker
Ro'Derrick Hoskins
(Orlando, Fla./Evans), 6-foot-3, 215 pounds.
Committed:
Feb. 25, 2012.
ESPN.com grade:
83, four-star prospect.
ESPN.com rankings:
No. 14 outside linebacker in the country, No. 79 player in the Southeast region, No. 35 player in the state of Florida and No. 168 in the ESPN 300.
Picked Florida State over:
Auburn and Louisville.
To continue reading this article you must be an Insider
February, 11, 2013
Feb 11
7:00
AM ET
With national signing day now beyond us, NoleNation takes a closer look at the next crop of Seminoles.
Vitals:
Outside linebacker
Matthew Thomas
, 6-foot-3, 205 pounds.
Committed:
Feb. 6, 2013.
ESPN.com grade:
90, five-star prospect.
ESPN.com rankings
: No. 1 outside linebacker in the country, No. 6 player in the Southeast region, No. 4 prospect in the state of Florida and the No. 6 player in the country.
Picked Florida State over:
Miami and Southern Cal.
To continue reading this article you must be an Insider
January, 23, 2013
Jan 23
8:00
AM ET
To gear up for signing day, and beyond, NoleNation takes a look at each Seminoles commitment in the Class of 2013.
Vitals:
Linebacker
Freddie Stevenson
, Bartow, Fla./Bartow, 6-foot-1, 230 pounds
Committed:
July 4, 2012
To continue reading this article you must be an Insider
December, 5, 2012
12/05/12
7:00
AM ET
NoleNation takes a look back at the class of 2012 and how it made an impact in its first season in Tallahassee.
[+] Enlarge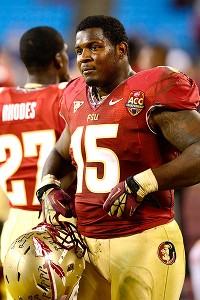 Bob Donnan/US PresswireMario Edwards Jr. is still raw, but he has proven to be one of the best defensive ends in the nation.
Mario Edwards Jr.
2012 season recap:
Initially began the season with plans to redshirt, but an early season-ending injury to
Brandon Jenkins
changed everything. With depth an issue, the redshirt came off and Edwards was pressed into duty. He progressed as the season went on and eventually started in the ACC Championship Game after an injury to
Cornellius Carradine
.
Future forecast:
Formerly the nation's No. 1 prospect, Edwards showed glimpses of his talent for Florida State this season. There is every reason to expect him to make a major impact next season on the defensive line.
To continue reading this article you must be an Insider
High-Powered Offenses In BCS Title Game