Florida State Seminoles:

Tevin Washington
December, 14, 2012
12/14/12
9:00
AM ET
With 2012 winding to a close, we're counting down the five biggest moments of the past season for Florida State. Today, we fill in the top spot on the list: Karlos Williams' interception to clinch the ACC championship.
Williams might be the best athlete on the Florida State roster, but through the better part of two full seasons with the Seminoles, all that talent had earned him only marginal playing time. He'd seen work as a kick returner and proven to be a dangerous weapon. He's filled in sporadically at safety, and his playing time had increased incrementally throughout his sophomore season. Regular playing time remained out of reach, however, until he was called into action midway through the first quarter of Florida State's biggest game of the year.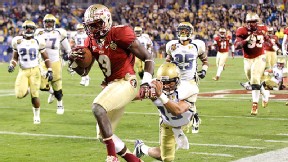 AP Photo/Chuck BurtonKarlos Williams' fourth-quarter interception sealed Florida State's first ACC championship in seven years.
For the pessimists who watched Florida State in 2012, it was a year of missed opportunities, a season that saw an immensely talented team play an immensely manageable schedule and still finish with two losses. For the glass-half-full types, however, it was FSU's best season in a decade, a return to the top of the conference, and a turning point for the future.
What is certain, however, is that 2012 will be remembered as the season in which Florida State won its first ACC title in seven years, and that might not have happened without Williams.
After Williams spent nearly all of the season at safety, outgoing defensive coordinator Mark Stoops shifted him to linebacker in preparation for the title game against Georgia Tech's run-heavy offense. With little depth at the position, Stoops knew an injury would be catastrophic against the Yellow Jackets' triple option, and Williams was an insurance plan.
As it turned out, the Seminoles cashed in that plan early in the first quarter when senior strongside linebacker
Nick Moody
left the game with a concussion. Williams entered, and he quickly made his impact felt.
Williams finished his first game as a linebacker with a team-high 11 tackles, playing the position with both natural athleticism and veteran savvy required to stop Tech's option, which feasts on catching linebackers out of position. Behind Williams, the Seminoles held Tech to just 183 yards on the ground -- nearly half its season average.
But as the Yellow Jackets lined up on first down at their own 37 with little more than a minute to play, none of that mattered. Florida State's offense had crumbled in the second half, and Tech had steadfastly chipped away at the Seminoles' lead -- and now it was threatening to send FSU home without its prized possession. It was a scenario eerily similar to a loss at NC State two months earlier, when the defense simply couldn't make a play to get off the field in time to prevent disaster.
"You just have flashbacks," safety
Lamarcus Joyner
said.
Of course, Williams wasn't on the field much in that game against NC State. In the ACC championship game, however, he got his chance.
Tevin Washington
's pass was off line, and Williams tipped it in the air before settling under the ball for an interception, which he returned 41 yards before being nudged out of bounds just 4 yards shy of the end zone.
"[The receiver] came across and the quarterback threw a pretty bad ball," Williams said. "I just broke on it and tried to tip it up and bat it down. I just tried to make a sure catch, and that's what happened. I'm just happy I got the call, and we're ACC champions."
It was Williams' first big game, but it was also Stoops' last at Florida State, and he said afterward that he couldn't have written a better farewell.
"It's unbelievable story," Stoops said of Williams' dramatic conclusion to the game. "I just loved it."
Williams' older brother, Vince, summed up the performance by lauding his sibling's versatility.
"He can really do anything,"
Vince Williams
said. "He's an outside linebacker that returned kickoff returns. The man is unbelievable talent wise. It's just get him a role, get him adjusted and get him out on the field to see if he can make plays."
Even if Florida State's season fell shy of immense expectations, its finale proved meaningful. It provided the Seminoles with a long-awaited conference title, and it punched their ticket to the Orange Bowl.
Just as importantly, perhaps, Williams opened the door for a sneak peak at what lies ahead, too.
"Karlos is a wonderful kid and he's going to have a bright future," Stoops said. "It was just fitting."
December, 3, 2012
12/03/12
10:00
AM ET
Here's a look back at Florida State's 20-15 win in the Dr Pepper ACC championship game:
The good:
Florida State's defense. Wow, what a smothering job on the triple option. And the Noles did it with two of their starters -- linebacker
Nick Moody
and defensive end
Tank Carradine
-- sidelined with injuries. The Jackets were held to just 118 rushing yards after entering the game with an average of 312.54, good for No. 3 in the nation. It was only fitting that the defense came to play, as it was the final farewell for coordinator Mark Stoops, who on Sunday was introduced as Kentucky's next head coach.
The bad:
Florida State's offense in the second half. The Noles were shut out. It was only the second time all season FSU was held scoreless in a half. The other time? At NC State, of course. It was the first time the ACC champ didn't score in the second half.
[+] Enlarge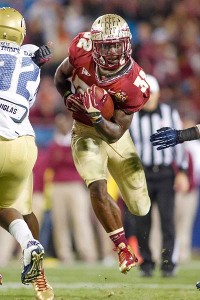 Jeremy Brevard/US PresswireSeminoles running back James Wilder Jr. had a stellar game against Georgia Tech in the ACC championship game.
The ugly:
Georgia Tech is bowl eligible at 6-7, thanks to a waiver by the NCAA. Even uglier: They've gotta lineup against USC in El Paso, Texas, to try to snap Paul Johnson's 0-4 record in bowl games.
The ugly II:
The attendance. It was well-documented, well-Tweeted, and well, about half empty.
The moment:
Following the game, Stoops stood in front of the Florida State band and tipped his brand new ACC champions hat to them. The band members honored him with a chant of "thank you coach!" It was too much for him. "I gotta get out of here," he mumbled. "This is embarrassing."
The stat:
194-183. The Seminoles outgained one of the most of the nation's most prolific rushing offenses, with MVP
James Wilder Jr.
leading the way.
The stat II:
Florida State entered Saturday's game with 3,284 yards passing and 2,445 rushing. With 194 yards rushing in the game, the Seminoles became just the second FSU squad to pass for 3,000 yards and rush for 2,500 yards in a season, joining the 1993 squad (3,909 yards, 2,667 rushing).
The random stat:
Florida State moved to 11-0 when
Devonta Freeman
scores a touchdown.
The play
:
Karlos Williams
, who was playing linebacker for the first time all season, snagged his first career interception with less than a minute remaining to seal the win.
The record:
Tevin Washington
's 1-yard touchdown run in the third quarter was his 19th of the season, setting the ACC single season record for most rushing touchdowns by a quarterback. Washington is also fourth among ACC quarterbacks with 2,159 career rushing yards.
The record II:
FSU senior kicker
Dustin Hopkins
made three extra points in the first half to give him 133 points this season, setting a new ACC record. The previous mark was held by former Virginia Tech running back
Ryan Williams
(132) set during the 2009 season.
The quote:
"Everybody has told them they're not very good and they don't belong, and I think they wanted to show that they did, that they did belong. And, like I said, they came out and played their tail off. They played with some effort and some heart." -- Georgia Tech coach Paul Johnson
December, 2, 2012
12/02/12
9:00
AM ET
Some of Saturday's numbers were ugly -- namely the second-half shutout for the Seminoles' offense. Some were impressive, like
Karlos Williams
' 11 tackles in emergency duty at linebacker. They all added up to Florida State's first ACC title in seven years.
Digging a bit deeper, here are five key stats that told the story of FSU's 21-15 win over Georgia Tech in Saturday's ACC championship game.
7.
That's the number of turnovers coughed up by
EJ Manuel
in his past three games, including two in the second half against Georgia Tech. Manuel had been exceptional at protecting the football through the first 10 games of the season, even if he wasn't always particularly aggressive downfield. In the past three weeks, however, Manuel has made few big throws and has been prone to mistakes. In those three games, Manuel is a combined 51-for-77 (66 percent). He has just two completions of 25 yards or more and has averaged just 153 passing yards per game while tossing four INTs and just three touchdowns. On Saturday, he threw for just 134 yards against a Georgia Tech defense that had been allowing 248 yards per game through the air, and his longest completion of the day was a 21-yarder to fullback
Lonnie Pryor
, with the bulk of that yardage being picked up on the ground.
117.
That was FSU's total second half offensive output. The Seminoles averaged a woeful 4.03 yards per play in the half and, for the second time this year, failed to score during a full half of football. Florida State had six second-half possessions Saturday, three of which ended in turnovers, two in punts, and the final came when the Seminoles ran out the clock to end the game. While Manuel did little to jump start the offense in the second half, the bigger problem was the running game, which averaged just 2.8 yards per carry after a strong first half in which it racked up 147 yards on 20 touches.
183.
Georgia Tech's rushing yardage total was its second-worst performance of the season, with more than 150 yards fewer than its per-game average for the year. Tech ran 52 times, but mustered just 3.5 yards per carry as the Florida State defense was strong up front even without star defensive end
Cornellius Carradine
, and the linebackers turned in an exceptional performance. Karlos Williams,
Telvin Smith
,
Vince Williams
and
Christian Jones
combined for 37 tackles, including three for a loss, and a game-clinching interception. Tech entered the game second in the nation with 38 runs of 20 yards or more. It had just one Saturday -- by QB
Tevin Washington
for exactly 20.
3.
That was the total number of catches by all of Florida State's wide receivers other than
Rashad Greene
, who set a season high with nine grabs. The remainder of FSU's receiving corps struggled to get open, and the three grabs it managed accounted for 16 yards, while
Kelvin Benjamin
's lone catch ended with a fumble. In the Seminoles' first 12 games of the season, the fewest catches by receivers other than Greene was six.
3.
That's the number of times Manuel was sacked, on just 24 passing attempts. If there's a common thread in Manuel's recent struggles, it might be the pass protection. In FSU's past four games, Manuel has been sacked 14 times -- once every 9.6 passing plays. In the Seminoles' first nine games, Manuel was sacked just 13 times, or once every 17.7 passing plays. Of course, part of Saturday's troubles stemmed from
Menelik Watson
's ankle injury which forced
Bobby Hart
into action in the second half. Concurrently, FSU's offense withered.
December, 1, 2012
12/01/12
11:19
PM ET
No. 13 Florida State held off a late push from Georgia Tech to win the ACC championship game
21-15
on Saturday night in Charlotte, N.C. Here is a quick look at how it happened:


It was over when:
You did not step into an NC State time warp, Florida State fans. The Seminoles found themselves in a dogfight with the Yellow Jackets after cruising to a 21-6 halftime lead. The Noles did not score again on a defense that ranks No. 10 in the ACC in scoring D. You remember the last time FSU was scoreless in a half: the loss to the Wolfpack. Georgia Tech threatened to pull the major upset, after
Jemea Thomas
intercepted
EJ Manuel
with 2:17 to go. But the Jackets do not have a prolific quarterback like
Mike Glennon
, and
Tevin Washington
could not deliver.
Karlos Williams
sealed the game with an interception to give Florida State its first ACC championship since 2005.
Game ball goes to:
Safety Karlos Williams. What a momentous time for Williams to intercept the first pass of his career. His incredible play allowed the Seminoles to hold on for the victory.
Stat of the game:
194-183. This is not a typo -- the Seminoles outrushed one of the most prolific rushing offenses in the country. Running back
James Wilder Jr.
ended up being selected game MVP after rushing for 69 yards and two touchdowns. Florida State won this game in large measure because of the way it was able to shut down the triple-option.
Second guessing:
Interestingly, Georgia Tech coach Paul Johnson had Washington in the game for the final drive -- even though
Vad Lee
has the much stronger arm. In fact, Washington played a large portion of the game. And in the end, it was Washington who threw the game-ending interception.
What it means:
Florida State is headed to the Orange Bowl, and its most likely opponent is Louisville -- a future Atlantic Division rival. Georgia Tech got its bowl waiver and could end up in the Hyundai Sun Bowl.
November, 30, 2012
11/30/12
9:30
AM ET
TALLAHASSEE, Fla. -- An injury relegated
Vince Williams
to the sideline when Florida State last faced off against Georgia Tech's frustrating triple option offense in 2009.
It allowed Williams to skip out on the carnage as Tech racked up more than 400 yards rushing, but he bore witness to the dangers his defense will face Saturday, and the memories have stuck with him.
[+] Enlarge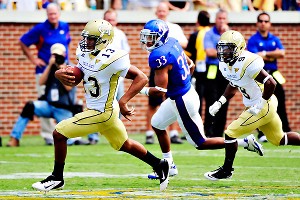 AP Photo/David TulisGeorgia Tech QB Tevin Washington is averaging 9.6 yards per pass and 4.1 yards per rush.
"There was a play [Jonathan] Dwyer broke they cut the defensive end, middle linebacker and safety on one play," Williams said. "I was like, 'Man, that's crazy.' "
Williams is among a select group of FSU's defenders who knows firsthand the challenge that awaits. Only four active members of Florida State's defense played in that game in 2009, and only
Nick Moody
had a significant role.
For everyone else, preparing for the option is a new experience, and Williams said it's as much about forgetting what you've already learned and starting from scratch with a new system.
"Your same keys don't really work for this offense," Williams said. "You're going to have to do a complete overhaul of what you've already learned about football."
Based on last week's defensive performance, that might not be a terrible idea. FSU allowed 244 rushing yards to Florida, the most it had given up since 2009, and the Gators' 5.19 yards per carry was nearly double FSU's season average.
Of course, the Tech offense -- which boasts the fifth-best yards-per-carry average in the country -- provides a far different challenge, and Moody said it's not one Florida State should fear. The triple option offense is unique, but it also leaves room for good teams to succeed on defense.
"It's kind of simplified, actually," Moody said. "You don't have to think about as many possibilities. You can kind of tell what to expect -- it'll be here, here or there."
"Here, here and there" are the A-back, B-back and quarterback -- all of whom can get the ball on any given play. Few other teams run a true triple option, which makes preparing for Tech in just one week a tall task.
The two keys to success revolve around defenders sticking to their assignments and defeating the immense amount of cut blocks that Georgia Tech runs effectively, but few teams practice during the season.
That puts a ton of pressure on the defensive linemen and linebackers to both get up field and control the perimeter.
"You've got to make sure your defensive linemen make a lot of tackles inside the box before a linebacker has to pursue out to the numbers," Williams said.
The triple option doesn't make life easy on the secondary, either. Tech doesn't throw the ball often -- it is attempting the fifth-fewest passes in the country -- but the Jackets lead the ACC in yards per attempt. When they do throw, it tends to be for big yardage because defenses were caught looking for the run.
"It's definitely a game where you have to key in on your keys, read your keys," safety
Lamarcus Joyner
said. "If you're not, you can easily be embarrassed."
That means the responsibility for shutting down Tech's offense won't fall on one defender, but rather on the unit working together as a group. Maturity and patience will be tested Saturday, but Moody said he's already been driving that point home with the myriad teammates who haven't already seen first hand how tough Tech's offense can be.
"Across the board we know we have to take care of our assignment for it to work, to stop them," Moody said. "That's what gets the job done."
November, 30, 2012
11/30/12
9:00
AM ET
TALLAHASSEE, Fla. --
EJ Manuel
walked off the field last week wounded.
His head was woozy and his body beaten after a physical game against Florida, but it was the mental scars that were so evident when it was over. Manuel was beaten, his final home game concluding as one of his worst.
[+] Enlarge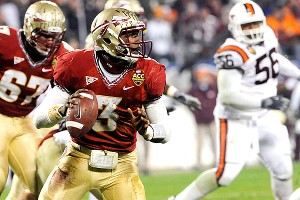 Sam Sharpe/US PresswireEJ Manuel was the starter in FSU's last appearance in tha ACC title game, but threw two interceptions in the loss to Virginia Tech.
Manuel's misery was intense, but it was short lived.
"He's been through this enough where he'll put it behind him because there is a lot to accomplish," Jimbo Fisher said.
Manuel gets his second crack at an ACC championship and his first shot at redemption following the loss to Florida when he takes on Georgia Tech's woeful defense Saturday with a conference title hanging in the balance.
It won't erase the scars of Florida, but it would be an accomplishment no other FSU quarterback has managed in seven years.
"It is a championship game and it hasn't been done here since '05," Manuel said. "You just have to move on, process [the loss] and understand why you made those mistakes. Can't go out there and do that [this] week."
Manuel is making his second ACC championship game start. The first came as something of a surprise against Virginia Tech in 2010, and Manuel managed to impress -- completing 75 percent of his passes and throwing for 288 yards -- but this time he expects even more.
"It's kind of like a second bowl game," Manuel said. "The implications of this game are huge and I understand that, my teammates understand that, so we have to get the job done."
November, 29, 2012
11/29/12
1:00
PM ET
Florida State is in. The Jackets are in. How they got here is a moot point. One of them will be crowned ACC champ on Saturday. Here's a primer for those of you who need to get caught up:
Who:
No. 13 Florida State (10-2, 7-1 ACC) vs. Georgia Tech (6-6, 5-3 ACC)
What:
Dr Pepper ACC Championship game
When:
Saturday at 8 p.m. ET


Where:
Bank of America Stadium, Charlotte, N.C.
TV/Radio:
ESPN
Twitter:
#ACCFCG
The coaches:
Jimbo Fisher:
29-10 (third year) at Florida State and overall
Paul Johnson
: 39-25 (fifth year) at Georgia Tech; 146-64 (16th year) overall
The series:
All games:
Florida State leads 12-9-1;
In bowls and at neutral sites:
First meeting
In ACC play:
Florida State leads 12-2
Last meeting:
Georgia Tech 49, Florida State 44 (Oct. 10, 2009 at FSU)
FSU title game history:
Florida State will be seeking its 13th ACC championship. The Seminoles won or shared the title for the first nine seasons after they joined the conference (1992-2000), and went on to capture the national championship in 1993 and 1999. The Seminoles were also ACC champions in 2002, 2003 and 2005. FSU is making its third appearance in the ACC championship game. The Seminoles defeated Virginia Tech 27-22 in the inaugural event in 2005 in Jacksonville, Fla., and suffered a 44-33 loss to the Hokies in 2010 in Charlotte.
GT title game history
: The Yellow Jackets captured their first of two ACC titles in 1990, when they went on to claim the national championship. Georgia Tech shared the title with Florida State in 1998. The Yellow Jackets are making their third appearance in the ACC championship game since its inception in 2005. Georgia Tech suffered a 9-6 loss to Wake Forest in the 2006 championship game in Jacksonville, Fla. The Yellow Jackets defeated Clemson 39-34 in 2009 in Tampa, Fla., but later vacated the win and the ACC title because of NCAA sanctions.
FSU stat stars
DE Bjoern Werner:
He ranks third nationally and leads the ACC in QB sacks per game with 1.08 and is tied for 15th in total tackles for lost yardage per game (1.50). Werner's 18 TFL this season have accounted for 134 yards in lost yardage. Werner now has 13 sacks this season.
QB EJ Manuel:
He ranks eighth nationally in passing efficiency with a 160.01 rating and leads an offense that averages 41.5 points per game and has scored at least 51 points in four regular-season games.
PK Dustin Hopkins:
He now ranks third on the all-time NCAA FBS scoring list with 456 points. Hopkins trails Travis Prentice of Miami (Ohio) by 12 points for second place all-time. He enters Saturday's game tied for the all-time lead in field goals among NCAA FBS kickers with 87.
WR Rodney Smith:
He has caught a pass in 37 consecutive games, one shy of the school record. E.G. Green (1994-97) holds the school record for most consecutive games with a reception at 38.
Georgia Tech stat stars
RB Orwin Smith:
His 9.43 career yards per carry is the best for any ACC running back who has gained 1,000 or more yards. Smith has 1,830 yards on 194 carries and 20 touchdowns. His 61.2 yards per game leads the team.
QB Tevin Washington:
His 36 career rushing touchdowns are an ACC and school record by a quarterback. Washington leads all active conference players in rushing touchdowns, and his 216 points scored rank seventh. He has improved his completion percentage by more than 12 percentage points (47.1 in 2011 to 59.6 in 2012).
KR Jamal Golden:
He ranks second in the ACC and 10th nationally in kickoff returns with 29.0 yards per runback, including two returns for touchdowns.
LB Jeremiah Attaochu:
He leads the team and ranks third in the ACC with eight sacks in 11 games (.73 per game).
October, 18, 2012
10/18/12
10:15
AM ET
Here are the top storylines to watch in the ACC during Week 8.
1. What happens at quarterback for Miami?
Starter
Stephen Morris
has been
held out of full contact practice
all week because of a sprained ankle, and his status against Florida State seems pretty doubtful. Coach Al Golden has said Morris would be a game-time decision, but the Hurricanes are preparing for
Ryan Williams
to start. If that happens, Williams will be making his first Miami start against in-state rival Florida State and one of the best defenses in the nation.
[+] Enlarge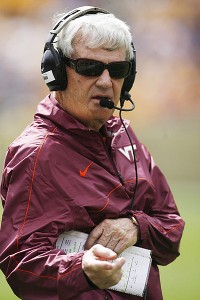 Charles LeClaire/US PresswireCoach Frank Beamer and Virginia Tech face Clemson in a game that could shape their season.
2. Can Virginia Tech keep its momentum?
Last week, most everybody had written off the Hokies. This week, everybody is wondering whether they can pull out the Coastal Division. Beating No. 19 Clemson would be a huge step in that direction. Clemson is not going to be an easy out by any stretch. The Tigers won both meetings with the Hokies last season -- the first time Virginia Tech had ever lost to the same team twice in one season. Factor in play at Death Valley as well. Clemson has won 13 of 15 ACC home games under coach Dabo Swinney.
3. How does NC State respond after a bye?
This is our first chance to see the Wolfpack since their 17-16 upset of then-No. 3 Florida State two weeks ago. So what can we expect? Their opponent, Maryland, is the only undefeated team in ACC play and has one of the best defenses in the nation. So there is no overstating how important this game is in the Atlantic race. NC State is 4-2 under Tom O'Brien after a bye. The results have been decided by an average of only nine points per game.
4. Speaking of byes ...
Clemson, Wake Forest and Georgia Tech were off last week as well, so we will see whether the time off works to their advantage. In the cases of Wake Forest and Georgia Tech, the time away seemed to come at a perfect time. The Deacs are reeling, having lost three of four, with off-the-field issues threatening to overshadow the season. The Yellow Jackets have been working hard to simplify their defensive scheme under interim coordinator Charles Kelly and coach Paul Johnson. The new theme on defense: less is more.
5. Run games to watch, Part I.
Can Duke stop
Giovani Bernard
? A week after giving up 183 yards to freshman
J.C. Coleman
, how do the Blue Devils go about slowing down Bernard? The North Carolina running back has been sensational the past two weeks, with 439 yards rushing and two touchdowns combined. Bernard would be leading the league in rushing if he had enough carries to qualify. Duke is hoping for a win against North Carolina for the first time since 2003, a victory that would make the Blue Devils bowl eligible.
6. Run games to watch, Part II.
Can the Hokies run on Clemson? As noted above, Virginia Tech got its ground game going last week, racking up a season-high 269 yards rushing. Coach Frank Beamer says he is not going to just stick with
J.C. Coleman
-- he will continue to rotate his backs against the Tigers. Clemson has had its share of struggles stopping the run, holding only Boston College under 100 yards on the ground this season.
7. Run games to watch, Part III.
Will Maryland be able to solve its rushing woes against NC State? The Terps are one of the worst teams in the nation when it comes to running the football, averaging 71.3 yards per game and a paltry 1.9 yards per carry. They are on pace to set program lows in the modern era for average rushing yards per game and average yards per carry. The current program-low is 81.3 rushing yards per game and 2.2 yards per carry, set in 1966. The last time Maryland failed to average more than 100 yards rushing per game was in 1997 (88.5 ypg). (Note: the Maryland stats record book goes back to 1947.)
8. Losing streaks, Part I: Virginia.
The Hoos have lost five straight, the longest losing streak in the ACC. It is their longest losing streak since dropping six straight to close the 2009 season. Virginia gets Wake Forest this week, another team that is on a bit of a losing skid as well. For Virginia to maintain any bowl hopes, it has to win this game. If not, the Hoos face the prospect of having to win out to become bowl eligible.
9. Losing streaks, Part II: Boston College and Georgia Tech.
These teams also have had their share of adversity to overcome. The Yellow Jackets have lost three straight; the Eagles four straight. The good news is somebody will end their losing streak. The bad news is somebody will have a lot more questions to answer about the direction of the program.
10. Record watch.
Here are some marks to keep an eye on this weekend. Georgia Tech quarterback
Tevin Washington
needs 51 rushing yards to join Joshua Nesbitt as the only players in school history with 2,500 passing yards and 2,000 rushing yards. ... Clemson quarterback
Tajh Boyd
has 5,905 yards passing and should pass Woodrow Dantzler (6,037) for second place against Virginia Tech. ... Duke receiver
Conner Vernon
is 111 yards away from the school career mark of 3,318 yards receiving, set by Clarkston Hine. Vernon is 217 yards short of the ACC career mark of 3,517 held by Florida State's Peter Warrick.
August, 31, 2012
8/31/12
2:00
PM ET
Finally! No more waiting. The 2012 season is officially here in the ACC, as NC State will kick off against Tennessee tonight in the Chick-fil-A Kickoff in Atlanta.
This series
ends a countdown of the top 25 reasons to be excited about ACC football this year. There is no bigger reason than …

No. 1: Quarterbacks.
What was once a weakness throughout the ACC should be a position of strength in 2012. There are legitimate Heisman contenders, and players who could collectively or individually raise the profile of the entire league. For the first time in conference history, the ACC had five quarterbacks top 3,000 passing yards in 2011, and all five return -- also a new high for the conference. A total of six quarterbacks return who have thrown for 3,000 or more yards in a season as Duke's
Sean Renfree
threw for 3,131 yards as a sophomore in 2010.
Only Miami, which loses starter Jacory Harris, and Maryland, which lost
C.J. Brown
to a season-ending injury in pre-season camp, does not return its starting signal-caller. But the Hurricanes will start junior
Stephen Morris
(Miami) who has started five games (4 in 2010, one in 2011).
Clemson quarterback
Tajh Boyd
played his way into the Heisman conversation a year ago after the Tigers' 8-0 start, and he could do it again, but so could Virginia Tech's
Logan Thomas
and Florida State's
EJ Manuel
. Don't forget about the Tobacco Road duo of UNC starter
Bryn Renner
and NC State's
Mike Glennon
. Wake's
Tanner Price
, Virginia's
Michael Rocco
, BC's Chase Rettig and Georgia Tech's
Tevin Washington
also all return. There is a wealth of talent at the position and it should be one of the best seasons in recent memory for quarterback play in the ACC.
No. 2:
A national title contender
No. 3
The Discover Orange Bowl
No. 4:
Labor Day
No. 5:
The winningest active coach in college football
No. 6
: The ACC championship game
No. 7
: Florida State's defensive line
No. 8
: Thursday night games
No. 9
: Atlanta
No. 10
: NC State's secondary
No. 11
: SEC rivalry games
No. 12
: Virginia Tech's 10-game winning streak
No. 13
: Florida State vs. Clemson
No. 14
: North Carolina vs. NC State
No. 15
: Unofficial state championships
No. 16
: Talented true freshmen
No. 17
: Unpredictability
No. 18
: ACC vs. Notre Dame
No. 19
: Clemson's offensive playmakers
No. 20
: The ACC's record chasers
No. 21
: Larry Fedora
No. 22
: One of the nation's top rushing offenses
No. 23
: The last season before expansion
No. 24
: Brent Venables
No. 25
: A fresh start at Maryland
Haskins, McElwain Shine At IMG Regional
ACC SCOREBOARD
Thursday, 9/3
Saturday, 9/5
Monday, 9/7