Florida State Seminoles:

Tank Carradine
March, 29, 2013
Mar 29
1:00
PM ET
TALLAHASSEE, Fla. -- He was the most prized recruit in all the nation in 2012, a player every major program desperately wanted. And, well, Florida State defensive end
Mario Edwards Jr.
, readily acknowledges he let the hype get to his head.
That would be the biggest reason he arrived on campus last summer weighing 315 pounds -- 30 pounds more than his ideal weight in high school. Edwards Jr. was nowhere near being ready to play right out of the gate because he was so out of shape. He knew it. So when coach Jimbo Fisher decided to redshirt him, Edwards had no room to complain.
The world would have to wait to see why coaches so badly wanted him on their team.
It turns out, though, that we did not have to wait long. Losing
Brandon Jenkins
forced coaches to pull his redshirt almost immediately. Another injury late in the season to
Tank Carradine
made Edwards' journey all the more improbable.
Incredibly enough, Edwards ended up starting the two biggest games of the season after believing he would not play at all in 2012.
"It was definitely a blessing," Edwards Jr. told ESPN.com. "I thought I was going to redshirt so I wasn't really in the playbook like I needed to be but as the season progressed and injuries came, I had a chance to start. Jimbo told me to just be patient. So being patient really paid off."
[+] Enlarge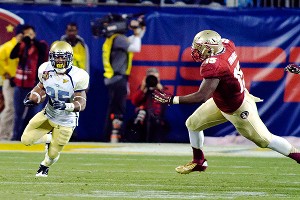 Jeremy Brevard/USA TODAY SportsMario Edwards Jr. made a big impact in the ACC championship game, his first start at Florida State.
Edwards played in 11 games, but made his first start in the ACC championship game against Georgia Tech after Carradine tore his ACL.
No pressure or anything.
Edwards admits he was nervous before the game. But he spoke to his father, Mario Edwards Sr., and Carradine and they just told him, "You've done it in practice just translate it over. I calmed down and did what I needed to do."
What he did was post seven tackles in a performance that gave the nation a glimpse at what they are going to see in 2013, when Edwards becomes a full-time starter. His weight, though, continues to vex him. Edwards ballooned up to 315 before he arrived in Tallahassee because he just ate what he wanted.
"I let the hype get to my head and enjoyed all the recruiting visits and did not really focus on coming here to play," Edwards Jr. said. "They recruited me to come here and play. My mind wasn't where it needed to be."
What got his mind where it needed to be?
"Coming here and seeing that everybody was just as big if not bigger, fast if not faster and just knowing that if I want to play I have to go out here and work. It's not going to be given," Edwards Jr. said.
By the time he started against Georgia Tech, he was down to 282 pounds. Chips and fast food were off his menu. Smaller portions, protein and veggies were on the menu. But the toughest part for Edwards Jr. is staying disciplined. He is up to 288 and working hard to get back down to 280, where coaches want him this season.
"Even though it's OK to have a cheat day if you want to eat some things you like to eat, you've got to understand it's a business and they want you here at this weight and in order for you to play and produce like they want you to and they need you to, you have to be at that weight," he said.
His two biggest critiques? "Keeping my weight down and using my hands more when it comes to getting off blocks and pass-rushing."
Two major areas to work on as the spotlight turns squarely on him this season.
March, 20, 2013
Mar 20
9:00
AM ET
You look at the Florida State roster, and you look at the Florida State coaching staff, and the automatic assumption is this could be a rebuilding year for the Noles.
Jimbo Fisher does not see it that way. Not one bit. As spring practice opens today, Fisher needs to find new starters at some key positions, including quarterback, defensive end and linebacker. But he sees players who have had valuable playing experience ready to step right into starting roles, not wet-behind-the-ears freshmen in over their heads.
To him, there is no dropoff between the talent on his 2012 ACC winning team, and the talent on his 2013 team.
[+] Enlarge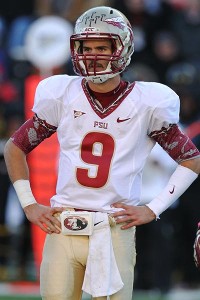 Mitch Stringer/USA TODAY SportsThere will be a competition for FSU"s starting quarterback, but Clint Trickett has more game experience than the others.
"I ask people this: Lawrence Dawsey is arguably one of the best receivers in Florida State history," Fisher said during his pre-spring news conference earlier this week. "How many years did he start here? He started one year. How about Odell (Haggins)? He was a linebacker that got moved. Nowadays he'd be, 'Oh, he wasn't what we said he was, you moved him.'
"Just because you don't start a game doesn't mean you're not starter material. Do you understand what I'm saying? We're establishing ourselves as a program again and guys still played as much ball as anybody else."
Fisher gave a host of examples. Every starter on the defensive line is gone -- ends
Bjoern Werner
and
Tank Carradine
, and tackles
Anthony McCloud
and
Everett Dawkins
. But the players expected to move into the starting lineup played extensively last season.
Mario Edwards Jr.
and
Giorgio Newberry
will start with the first-team at end;
Timmy Jernigan
, perhaps the best interior lineman last year, moves up to start at one tackle spot.
Vince Williams
and
Nick Moody
are gone at linebacker. Into the middle steps
Telvin Smith
, who has extensive game experience and should have no problems moving up.
Then of course, there is the quarterback spot, a position that folks across the ACC will be paying attention to as the competition begins.
Clint Trickett
starts out
No. 1 on the depth chart
, and here again is where playing time has helped him. Trickett has played in 16 games with two starts behind
EJ Manuel
the last two seasons.
The other three players competing for the starting job --
Jacob Coker
,
Sean Maguire
and
Jameis Winston
-- have either limited or no game experience. That does not take them out of the mix by any stretch. Fisher already said the position is wide open, and he has no timetable to make a decision. But having game experience is certainly not going to hurt him as the Noles try to find their leader on offense.
"From a talent standpoint, I think we're still a very talented football team and we have guys with a lot of experience still playing," Fisher said. "We look at returning starters sometimes, it's a very misleading factor about depth of a team and how much guys have played behind them. I'm excited about these young guys. Even though they're new starters, they've still played like starters."
As for the coaching changes, six new assistants will be on the field this spring, including new defensive coordinator Jeremy Pruitt. But Fisher downplayed those changes as well, saying nothing would change about philosophy or with the schemes the Noles run.
"We're going to do things the Florida State way, the way we've been doing," Fisher said.
That means plugging new guys into the starting lineup and believing there will be few hiccups along the way.
March, 20, 2013
Mar 20
7:37
AM ET
The group of early enrollees that stepped onto Florida State's campus in January consisted of just two players -- excluding the medically disqualified Richy Klepal.
DeMarcus Walker
and
Freddie Stevenson
got their lockers, staked out their freshman dorm rooms and entered the Seminoles' strength and conditioning program.
To continue reading this article you must be an Insider
March, 6, 2013
Mar 6
8:00
AM ET
Now that national signing day is behind us, NoleNation takes a closer look at the next crop of Seminoles.
Vitals:
Defensive end
Davarez Bryant
(New Smyrna Beach, Fla./New Smyrna Beach), 6-foot-4, 245 pounds
To continue reading this article you must be an Insider
February, 28, 2013
Feb 28
7:00
AM ET
With national signing day now behind us, NoleNation takes a closer look at the next crop of Seminoles.
Vitals:
Defensive end
Desmond Hollin
(Miami/ASA College), 6-foot-4, 260 pounds
Committed:
Dec. 10, 2012
ESPN.com grade:
76, three-star prospect
To continue reading this article you must be an Insider
January, 1, 2013
Jan 1
10:00
AM ET
Northern Illinois (12-1, 8-0 MAC) vs. Florida State (11-2, 7-1 ACC)


WHO TO WATCH:
The quarterbacks. Northern Illinois quarterback
Jordan Lynch
leads the nation in total yards (4,733) and ranks third in total yards per game (364.08) behind Baylor's
Nick Florence
and Texas A&M's
Johnny Manziel
. FSU quarterback
EJ Manuel
could become just the second quarterback to win four straight bowl games, joining former West Virginia quarterback Pat White. In just his second season as a full-time starter, Manuel is FSU's career leader for completion percentage at 66.8 percent -- which is significantly ahead of No. 2 Charlie Ward (62.3).
WHAT TO WATCH:
Florida State's defensive line vs. NIU's offensive line. Florida State defensive line coach D.J. Eliot was hired at Kentucky as Mark Stoops' defensive coordinator, but Eliot stayed in Tallahassee to help the Noles prepare for Lynch. FSU's defensive line has been one of the best in the country, despite season-ending injuries to star defensive ends
Brandon Jenkins
and
Tank Carradine
, who tore his ACL in the loss to Florida. FSU is No. 26 in the country with 2.54 sacks per game. NIU is tied for No. 16 in the country in sacks allowed with 1.08 per game, a total of 14 all season. FSU defensive end
Bjoern Werner
leads the ACC and ranks seventh nationally with 13 sacks this season.
WHY TO WATCH
: Because No. 13 FSU might actually lose. The Noles are the more talented team, but the No. 15 Huskies will be playing to prove they belong in a BCS bowl. This will be the first BCS bowl game for a member of the Mid-American Conference. It is also the first bowl game between the ACC and MAC. NIU is the only program in the country to win 21 of its past 22 games, and joins Oregon as the only schools with three straight 11-win seasons. The Huskies' seniors are the winningest class in school history with 41 victories. FSU is 1-5 all-time in BCS bowls since playing in the first-ever BCS national championship game (1999 Fiesta Bowl).
PREDICTION:
Florida State 31, Northern Illinois 17: The Huskies will come out fired up and ready to prove they deserved their title as BCS Busters, and they'll keep it uncomfortably close in the first half. FSU fans will prematurely panic, an upset watch will look possible, but then reality will set in. Florida State has too much talent and speed, and the gap will continue to widen in the third quarter. The Noles will win the battle up front, and the defense will fare well in its first game without former coordinator Mark Stoops. The Noles will finish with 12 wins, including an ACC title and a BCS bowl win -- not a bad consolation prize for a team that had hoped to win a national title.
December, 18, 2012
12/18/12
10:12
AM ET
Junior college prospects are never a certainty.
No, just like their high school counterparts, there is no science to planning out a player's career. And there is no way to project their productivity with any guarantee.
What they are is bigger, stronger and more seasoned than a four-year prep recruit. Hopefully, from the college football team's perspective, that leads to a higher likelihood of instant impact.
Florida State has had a mixed bag of results over the years. Guys like wide receiver Corey Surrency were supposed to be world beaters. And while he did produce in some manner, Surrency did not turn out to be the next Randy Moss or Calvin Johnson.
But for the sake of balance, there have been guys who have worked out to the tune of becoming NFL draft picks. Defensive end is one position that has experienced recent success.
To continue reading this article you must be an Insider
December, 3, 2012
12/03/12
10:00
AM ET
Here's a look back at Florida State's 20-15 win in the Dr Pepper ACC championship game:
The good:
Florida State's defense. Wow, what a smothering job on the triple option. And the Noles did it with two of their starters -- linebacker
Nick Moody
and defensive end
Tank Carradine
-- sidelined with injuries. The Jackets were held to just 118 rushing yards after entering the game with an average of 312.54, good for No. 3 in the nation. It was only fitting that the defense came to play, as it was the final farewell for coordinator Mark Stoops, who on Sunday was introduced as Kentucky's next head coach.
The bad:
Florida State's offense in the second half. The Noles were shut out. It was only the second time all season FSU was held scoreless in a half. The other time? At NC State, of course. It was the first time the ACC champ didn't score in the second half.
[+] Enlarge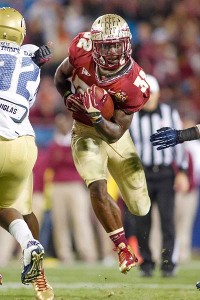 Jeremy Brevard/US PresswireSeminoles running back James Wilder Jr. had a stellar game against Georgia Tech in the ACC championship game.
The ugly:
Georgia Tech is bowl eligible at 6-7, thanks to a waiver by the NCAA. Even uglier: They've gotta lineup against USC in El Paso, Texas, to try to snap Paul Johnson's 0-4 record in bowl games.
The ugly II:
The attendance. It was well-documented, well-Tweeted, and well, about half empty.
The moment:
Following the game, Stoops stood in front of the Florida State band and tipped his brand new ACC champions hat to them. The band members honored him with a chant of "thank you coach!" It was too much for him. "I gotta get out of here," he mumbled. "This is embarrassing."
The stat:
194-183. The Seminoles outgained one of the most of the nation's most prolific rushing offenses, with MVP
James Wilder Jr.
leading the way.
The stat II:
Florida State entered Saturday's game with 3,284 yards passing and 2,445 rushing. With 194 yards rushing in the game, the Seminoles became just the second FSU squad to pass for 3,000 yards and rush for 2,500 yards in a season, joining the 1993 squad (3,909 yards, 2,667 rushing).
The random stat:
Florida State moved to 11-0 when
Devonta Freeman
scores a touchdown.
The play
:
Karlos Williams
, who was playing linebacker for the first time all season, snagged his first career interception with less than a minute remaining to seal the win.
The record:
Tevin Washington
's 1-yard touchdown run in the third quarter was his 19th of the season, setting the ACC single season record for most rushing touchdowns by a quarterback. Washington is also fourth among ACC quarterbacks with 2,159 career rushing yards.
The record II:
FSU senior kicker
Dustin Hopkins
made three extra points in the first half to give him 133 points this season, setting a new ACC record. The previous mark was held by former Virginia Tech running back
Ryan Williams
(132) set during the 2009 season.
The quote:
"Everybody has told them they're not very good and they don't belong, and I think they wanted to show that they did, that they did belong. And, like I said, they came out and played their tail off. They played with some effort and some heart." -- Georgia Tech coach Paul Johnson
December, 2, 2012
12/02/12
2:09
AM ET
CHARLOTTE, N.C. -- In a span of four days last week, Florida State lost three times.
On Saturday, the Seminoles lost a heartbreaker to rival Florida in the final game of the season on their home turf. On Sunday, they lost their leading tackler and star defensive end,
Tank Carradine
, to a torn anterior cruciate ligament. And on Tuesday, they lost their beloved defensive coordinator, Mark Stoops, to Kentucky. Never mind the constant swirl of rumors about head coach Jimbo Fisher following Stoops into the SEC for another head-coaching gig.
"There were a lot of distractions this week," FSU athletic director Randy Spetman said.
[+] Enlarge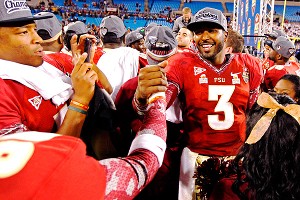 AP Photo/Chuck BurtonFlorida State QB EJ Manuel (3) celebrates the team's first ACC title since 2005 with teammates.
Despite it all, one thing Florida State didn't lose was sight of its goals.
With a
21-15 victory
over Georgia Tech on Saturday in the Dr Pepper ACC championship game, the Seminoles knocked any perceived distractions over like bowling pins. There was no sign of a hangover from the Florida game as FSU jumped out to a convincing 21-6 lead at the half. The news about Carradine and Stoops inspired the defense to a game-changing finish in the fourth quarter, as an interception by
Karlos Williams
sealed the ACC title with about a minute remaining. For a fleeting moment late Saturday night, as confetti scattered in the air and the Seminoles celebrated their first ACC title since 2005, the rest of the college football world was forced to pause and finally let the Noles enjoy themselves.
They earned it.
"We are still ACC champions, and that is one goal," FSU safety
Lamarcus Joyner
said. "We had a lot of goals and we met one of them. We have another one in front of us. That makes greatness, grasping opportunities in front of you."
In order to do that, they had to forget the missed opportunities behind them -- the loss to NC State, the loss to Florida.
There's no question there was a sense of relief from within the program Saturday night. This is a team that began the season ranked No. 3 in the country. The loss to NC State knocked the Noles out of the national title conversation and will continue to haunt them long after this season ends. Five turnovers in a loss to Florida was another statement opportunity squandered. And with Georgia Tech in position to put together a game-winning drive late in Saturday's game, NC State 2.0 looked like a very real possibility.
It was almost as if you could hear the entire city of Tallahassee exhale all the way in Charlotte when Williams snagged that pick.
"Oh man," defensive tackle
Timmy Jernigan
said. "Oh, man. We've been trying to get here for a long time. That's why I thank God for letting us win this game and I thank the seniors for helping this program get back to the top and get back into the national title conversations and winning these ACC championships and Orange Bowls and those types of games. We're Florida State. That's what's supposed to happen. It wasn't nothing miraculous. That's what we're supposed to do."
It wasn't easy, and it wasn't pretty, but it didn't matter.
Give 'em a break. In the end, Florida State is right where almost everyone predicted this summer it would be: heading to the Discover Orange Bowl. While many will continue to lament what could have been, Florida State is staring down what is: the possibility at a 12-2 season with an ACC title and a BCS win.
Not exactly a five-loss Rose Bowl team, now is it?
"I'm extremely happy for our players because I know how hard it is and how much flak they've taken: 'When are you going to be back, when are you going to win a championship, when are you going to do this,'" Fisher said. "... There's a point in time you point back and you look at it and you say, 'That was it.' That's the time that you got over the hump and you got there and you didn't let the circumstances blur your vision, and they did that."
It doesn't always have to be about playing in the shadow of the SEC or comparing what's happening in Charlotte to what's happening in Atlanta. It wasn't time to ask whether Fisher was the right man to replace Bobby Bowden. For once -- just once -- it can be simply about putting a trophy in the case and letting a group of players -- kids -- who have been through a lot enjoy it.
"I'll be extremely proud of it 10, 15 years from now," quarterback
EJ Manuel
said. "I'll be able to say I helped our team get back to where we needed to be as far as the BCS conversation, the national championship conversation and things like that. I want to see greatness from here on out. We have a lot of great players, a lot of great young players, and guys understand what it takes to get to this point, so I don't see us going back to where we used to be. I think Florida State is back in the conversation."
Thanks in large part to the defense, which held Georgia Tech and the nation's No. 3 rushing offense to just 183 rushing yards.
"You didn't want to work this hard for three years and not be able to finish this," Stoops said, "because our program, Coach Fisher and the players deserved this win."
And they deserve to celebrate it -- without any distractions.
November, 28, 2012
11/28/12
2:00
PM ET
According to Florida State safety
Lamarcus Joyner
, you'd never know by watching practice on Tuesday that the Seminoles lost a starting defensive end to a torn ACL, or that their prized defensive coordinator was just hired as head coach at Kentucky – all just days before facing Georgia Tech's spread option offense in Saturday's Dr Pepper ACC championship game.
"It was a great environment today in practice," Joyner told NoleNation's David Hale. "Guys like [Ronald] Darby, P.J. [Williams], young future stars just enjoying themselves. They know they can play ball. That's where we're at now as a program because we have a lot of great kids. Everybody was into it. No one's walking around with their heads down. We're just trying to win a championship that hasn't been done here in a long time."
[+] Enlarge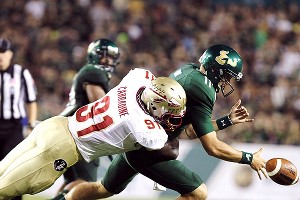 Kim Klement/US PresswireFlorida State will have to move on after losing its leading tackler, Cornellius Carradine, for the rest of the season to a torn ACL.
Florida State's defense has to bounce back big time in order for the Noles to win the program's first ACC title since 2005. With defensive coordinator Mark Stoops having one foot out the door, and leading tackler Tank Carradine sidelined with a torn ACL he suffered against the Gators, Florida State has to somehow find a way to play disciplined enough to slow down Georgia Tech's unfamiliar triple option. These two programs haven't faced each other in over three years, and FSU's usually stingy defense is coming off an unflattering performance in a 37-26 loss to rival Florida.
The Gators ran for 244 yards on Saturday – easily the most FSU had allowed all season. By comparison, Florida State didn't allow Atlantic Division opponents Maryland, Boston College, Wake Forest and NC State that many rushing yards
combined
(239). Clemson was the only team in the division to rush for more than 100 yards against the Noles, and three other teams -- FCS schools Savannah State and Murray State, and rival Miami, were each held under 40 rushing yards.
For the first time all year, the Seminoles' defensive line was beaten up front for a majority of the game.
"Well, it wasn't a bad game," said defensive end
Bjoern Werner
. "[We] didn't have a good rushing defense, but we're going to fix things up this week and prepare well against Georgia Tech and their triple option and hopefully have a good game.
"Everybody in the box has to play their assignment," he said. "They can't get greedy and try to make a play. Everybody has to just play his assignment, what they're supposed to do, and then we'll be successful."
Successful at slowing the Jackets down, maybe, but not stopping them entirely. Georgia Tech is averaging 323.33 rushing yards per game, trailing only Army and Air Force nationally. The Yellow Jackets have rushed for more yards than any FBS team since 2008, and the program is 115 yards shy of rushing for
20,000 total yards
in the five seasons under head coach Paul Johnson.
"Oh, it's a huge challenge, and it's going to be a very -- we have to have a lot of discipline, we have to have a lot of confidence in what we're doing," FSU coach Jimbo Fisher said. "We've been developing a plan, and we're looking at it and we're going to have to be very disciplined how we go about it and deep great leverage on the ball, and it will be a huge challenge. That's one of the advantages that Georgia Tech does have is that when you don't play them off an off week or a long period of time, that one week turnaround is extremely tough."
Having to do it without Carradine and knowing it will be the last game for Stoops could make for an emotional sideline. Those kinds of intangibles have also been known to be inspiring, too, and everyone within FSU's program was thrilled for Stoops' opportunity. It just so happens he still has one more game to coach with FSU, and it's the most important one.
Fisher said the news about Stoops hasn't been a distraction to the team's preparation this week.
"We've got to get through this week," Fisher said. "It's all about Georgia Tech right now and we're doing a great job of keeping focus on Georgia Tech."
"They know that's part of this business," he said of his players. "Our kids are very good, and they came out and responded very well."
The question is how they'll respond against the No. 3 rushing offense in the country.
November, 27, 2012
11/27/12
5:00
PM ET
There is never a good time to suffer a season-ending injury. But perhaps the worst time of all is at the end of the season, with the NFL draft looming.
Now we are left to wonder what happens to Florida State defensive end
Cornellius "Tank" Carradine
come April. Carradine tore his ACL against Florida on Saturday and will require months of rehab. What happens to potential work at the NFL combine, or at Florida State pro day next year?
And, what happens to his draft stock? Carradine was rated the No. 15 overall prospect available before he got hurt, and the
No. 1 senior prospect

at defensive end by Mel Kiper. Kevin Weidl of Scouts Inc. weighed in on this
unanswered question

, writing earlier this week:
He was in the first-round mix before the injury, but given that Carradine has less than one year of tape as a starter and will not be able to work out for scouts during the predraft process he's likely to fall into the day 3 range.
Before the injury, Carradine was rated higher than teammate
Brandon Jenkins
, who missed nearly the entire season with a foot injury. Jenkins has already decided to forgo his senior season for the NFL draft.
Though Weidl seems pessimistic about Carradine's draft prospects, coach Jimbo Fisher believes his star player
will be just fine
.
"It'll rehab and that won't effect those guys much at all," Fisher said Sunday. "Maybe a round at the most. But he's sad and he's down because he can't be with his teammates. But I think he'll still play in the NFL and be very highly drafted."
November, 23, 2012
11/23/12
9:00
AM ET
Who will transform tomorrow with a huge performance in Week 13?

We are going with a duo: Florida State defensive ends
Tank Carradine
and
Bjoern Werner
. Given the way both have played this season, there is no doubt Florida will have its hands full trying to slow them both down. And that will be a major problem for an offense that has not been very productive this season.
The No. 4 Gators have struggled all season on offense, from scoring points, to establishing their passing game to protecting the quarterback. Florida has allowed 32 sacks, ranking No. 104 in the nation. Carradine and Werner are the most prolific sack duo in the country. So yes, that is going to be a major problem for the Gators to solve.
Just look at what these two players have done so far:
Carradine leads the team in total tackles with 69, and has 11.5 tackles for loss, 10.5 sacks and eight hurries. Werner has 33 tackles -- 14.5 are tackles for loss, with 9.5 sacks. Werner has seven pass breakups and five hurries.
Carradine leads the ACC in sacks, and Werner ranks second. The last time a pair of teammates finished the year ranked 1-2 was in 2005, when Mario Williams and Manny Lawson did it for NC State.
Only three pairs of FSU defensive players have ever combined for more sacks in a season than Werner and Carradine.
Werner and Carradine are one of only two sets of teammates in the top 15 for sacks in the FBS.
"They're very athletic, they've got girth, they've got size, they've got speed, they've recruited," Gators coach Will Muschamp said. "They've got a lot of depth. They throw a lot of guys in there who play and play well, and when you lose a guy like
Brandon Jenkins
to start the season and you're able to still play at a high level and rush the passer well with four guys rushing, that says something about your recruiting. So they do a good job. They're very similar to what we've seen in our league."
With all due respect, Werner and Carradine are better than what Muschamp has seen in the SEC this season, and a huge key in this game.
September, 20, 2012
9/20/12
1:00
PM ET
The term "replacement player" in football conjures up images of bumbling and stumbling guys that are poor imitations of the real thing.
[+] Enlarge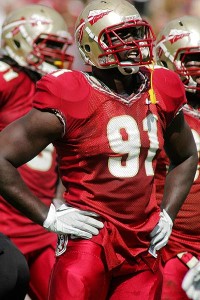 Phil Sears/AP PhotoDE Cornellius "Tank" Carradine is adjusting to the Seminoles' starting lineup quite well.
But at Florida State, replacement players for two standouts -- defensive end
Brandon Jenkins
, lost to injury, and cornerback/kick returner Greg Reid, dismissed from the team -- have more than proven their worth. Through the first three games of the season, the Noles have used three players to plug those holes -- defensive end
Tank Carradine
, cornerback
Nick Waisome
and punt returner
Rashad Greene
-- and gotten fantastic results.
Nobody is quite saying Brandon Jenkins who? Or Greg Reid who? But these three players have made what appears to be a seamless transition into their starting roles. Of course, the biggest test comes Saturday when No. 4 Florida State hosts No. 10 Clemson. Carradine and Waisome have never started a game against an offense filled with this many playmakers.
But at least they have notched the first starts of their careers going into this one, something that Carradine says has been hugely important for him. Carradine played behind
Bjoern Werner
last season but going into 2012, coach Jimbo Fisher labeled Werner, Jenkins and Carradine his 1A, 1B and 1C defensive ends, respectively. When Jenkins was lost for the season with a foot injury sustained in the season opener, it was time for Carradine to move into the starting lineup.
Not exactly the easiest transition, but Carradine says he is now fully acclimated to his new role.
"Being a starter and coming off the bench is totally different," Carradine said in a phone interview this week. "When you're a starter, the team expects more out of you and you come across plays you wouldn't come across if you weren't a starter. You come across certain situations by having more playing time. It's much better starting because you get to see the first snaps of the ball, what keys this person is going to take, and feeling of this person you are up against right off the bat."
Carradine was one of the ACC players of the week following his performance against Wake Forest, in which he had a career-high 2 1/2 sacks. He and Werner are the top two sack leaders in the ACC -- Werner has 6.5 total sacks, Carradine has 3.5. Carradine also ranks No. 3 in the league in tackles for loss, with 4.5. And he also leads the FSU defense with 12 total tackles.
His play has even drawn an "
I told you so
," from Werner, who has repeatedly said the Noles would be fine without Jenkins.
"I'm feeling very comfortable," Carradine said. "I think it was a shock to me at first because I wasn't expecting it, but I feel comfortable now that I'm out there playing, having a chance to start a game and be out there, I have the feeling of being a starter. Playing last year a lot, it also helped me prepare as well."
Waisome mostly played on special teams as a true freshman in 2011, and ended the year with one tackle. But he got his opportunity to start after Reid was kicked off the team this summer. Waisome won a summer competition with true freshman
Ronald Darby
and has done a nice job in the secondary.
With only three career starts under his belt, the 5-foot-10, 170-pound Waisome now
faces the biggest challenge
of his young career, in trying to defend
Sammy Watkins
,
DeAndre Hopkins
and all the other talented Clemson receivers.
What has he learned in his three starts that will help him going into this game?
"Probably just staying with the play, finishing the play all the way to the end," Waisome said. "When you get to the end of the route, when you figure out the receiver is done with the route, you can ease off a little bit sometimes. I feel like you have to stay on them because sometimes those quarterbacks scramble out -- with
Tajh Boyd
being such a great quarterback, we've got to stay on our receivers and play the play out."
As for Greene, he took over punt return duties from Reid and is leading the ACC with a 19.6-yard punt return average and two punt returns for touchdowns.
Marcus Murphy
of Missouri is the only other player in the nation with two punt returns for touchdowns so far in the season.
Fisher was quick to point out that he is really pleased with the way his team has responded, and believes they are much more confident this year than they were going into their game against Clemson a year ago.
"I think I've got some young guys that have really developed, some older guys that have really changed who they are and what they've done and really grown, like you want guys to grow and mature as they do in college," Fisher said.
We'll know more about them after Saturday.
July, 23, 2012
7/23/12
10:20
PM ET
Florida State will be looking to address the defensive end position in the class of 2013.
Two players,
Brandon Jenkins
and
Tank Carradine
, will be entering their senior seasons this fall. And the very talented
Bjoern Werner
, a junior, stands to be courted heavily by the NFL.
The Seminoles aren't afraid to look to the junior college ranks and have specifically targeted
Za'Darius Smith
(Scooba, Miss./East Mississippi CC), who visited Tallahassee this weekend.
To continue reading this article you must be an Insider
Auburn Fan Hopes To Cash In