FSU Seminoles:

Steve Spurrier
March, 14, 2013
Mar 14
4:17
PM ET
Jeremy Pruitt is after another prospect he has known from the state of Alabama.
Florida State's new defensive coordinator, who continues to make good on his institutional knowledge of the state from his days with the Crimson Tide, has identified inside linebacker
Deshaun Davis
(Prichard, Ala./Vigor) as a guy he'd like to have. With an offer in hand, Davis is just now getting to learn more about the Seminoles.
To continue reading this article you must be an Insider
November, 21, 2012
11/21/12
11:30
AM ET
You really have to dig deep to find the last time Florida-Florida State really meant something in the grand scheme of college football.
People were using MSN Messenger and thought Fred Durst was actually cool. TRL and trucker hats were all the craze.
It was the year 2000 and college football fans were probably carrying around a Ja Rule CD in their cars. (It's OK. We all have our faults.)
It was also the last time Florida and Florida State met as top-10 BCS opponents.
[+] Enlarge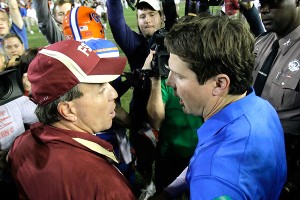 AP Photo/John RaouxIf Jimbo Fisher's or Will Muschamp's team loses on Saturday, it will be eliminated from consideration for the BCS title game.
This was one of college football's true gems. Thanks to Steve Spurrier and Bobby Bowden, from 1990 to 2000 these two teams met 13 times when both were ranked in the top 10, including the 1996 Sugar Bowl for the national championship. These two programs were mammoths and are Nos. 1 and 2 nationally when it comes to consecutive bowl streaks. Florida State is No. 1 (30) and Florida is second (21).
The rivalry took a bit of a nosedive when Bowden and his Noles teams fell off during the 2000s and Urban Meyer arrived at Florida. Under Meyer, the Gators won five straight, as they stayed nationally relevant, while FSU flirted with mediocrity until Jimbo Fisher took over in 2010.
But this rivalry is back, as No. 4 Florida (10-1, 7-1 SEC) heads to Tallahassee to face No. 10 Florida State (10-1) in a game that has major BCS implications on the line.
If Florida wins, the Gators are likely BCS-bound. With some help from USC, they could back their way into the national championship game. Florida State is very much on the outside when it comes to the BCS title game, but a win and a ton of help could move the Noles closer to Miami.
The magnitude of Saturday's matchup hit the Gators well before they returned to the locker room after beating Jacksonville State.
"As soon as that clock hit zero, you couldn't help but think about Florida State," fifth-year senior defensive tackle
Omar Hunter
said. "If you're a Gator, you grow up not liking Florida State. I'm sure it's the same way with them. That's just what you're taught. When you go to Florida State, you're anti-Gators. That's just what it is."
Outside of the BCS implications, major pride is on the line for both teams. There's real bad blood here. Players on both sides know each other, but they refuse to talk during the regular season and usually hurl barbs at each other when they do speak during the offseason.
The hatred is still there, even if the success isn't.
The Gators are also hurting after back-to-back losses to the Noles. After winning six straight over FSU, Florida dropped the last two, getting outscored 52-14. Florida enters this weekend with an offense going backward, and quarterback
Jeff Driskel
is hobbled. He sprained his ankle two weeks ago.
That's not good when you consider how good the Noles have been on defense, even without star defensive end
Brandon Jenkins
for basically the entire season. FSU ranks first nationally in total defense (236.3 yards per game) and rushing defense (70.6). The Noles are allowing 2.3 yards per rush and 3.7 yards per play.
In the past five games -- two of them against Louisiana-Lafayette and Jacksonville State -- Florida has averaged just 278.4 yards. The Gators are near the bottom of the SEC in total offense (332.9) and are last in passing (143.4).
That doesn't bode well for Florida, but as coach Will Muschamp continues to point out, it's all about wins, and somehow the Gators have 10 of those.
"Like I said Saturday, understand who you are and where you are, and it may not be where you want to be at times and it's frustrating at times, but at the end of the day, you've got to do what it takes to win football games and that's what we're judged on at the end of that," Muschamp said.
While the offense has sputtered, the defense has been terrific, ranking near the top with the Noles. It can be irritating to see the offense fail, but Florida's defenders love putting the game in their hands.
"That's how you go into every day if you're a great defense," Hunter said. "You want to put everything on your shoulders. You don't want to go into the game relying on the offense to score. You want to score on the defense. That's what we're taught here at Florida and that's what we try to win by -- defense and special teams."
Offensive issues aside, a lot is riding on Saturday. The BCS might be at the forefront of the conversation, but as far as the Gators are concerned, the only letters they're focused on are F-S-U.
"It's Florida-Florida State. It's more than what's just going on in the BCS," Hunter said. "It's bragging rights for the state of Florida. It's going to be a very big game and it's one of my favorite games to play in."
October, 17, 2012
10/17/12
11:00
AM ET
The first half of the season did not go perfectly. OK, that may be an understatement, but there is plenty to look forward to in the second half.
First and foremost is the real possibility that the ACC could land two teams in the BCS for a second straight year. National folks may lament the state of the ACC at this point, with only two ranked teams and a conference that is not as strong as the Big East in the latest set of power rankings.
But if Florida State and Clemson win out, the ACC will have the very real possibility of landing both in the marquee bowl spots: one as the conference champion and the other as an at-large selection. To get an at-large berth, a team must finish with at least nine wins and in the top 14 of the final BCS standings.
[+] Enlarge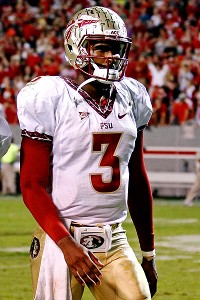 AP Photo/Gerry Broome)EJ Manuel and the Seminoles are in line to win the Atlantic Division, should they win out the second half of the season and NC State loses.
As it stands today, Florida State is ranked No. 14 and Clemson No. 19
in the BCS standings
. But a whole lot will change between now and December. Last year, Virginia Tech finished 11-2 and No. 11 in the final BCS standings. Clemson, the ACC champ, was No. 15 at 10-3. Also keep in mind, the SEC can get only two teams into the BCS, so that should open spots up for other conferences looking to get a second team in.
If the ACC can get two into the BCS, things would look a whole lot rosier for this league than they do today. (Winning those BCS games is another issue for another day.)
Secondly, there are very real races happening in both the Atlantic and Coastal Divisions. That should make for a topsy-turvy, unpredictable and fun end to the season. Right now, Maryland, Florida State, NC State and Clemson all have designs on playing in the ACC championship game out of the Atlantic.
To make things simple: Maryland needs to win out to get there; NC State needs to win out to get there; Florida State needs to win out and have NC State lose; Clemson needs to win out and have Florida State lose.
Over in the Coastal, Miami, Duke and Virginia Tech -- yes Virginia Tech! -- have a shot at representing their division in the title game. In the simplest scenario, Miami and Virginia Tech can win out to get there; Duke needs to win out and have Virginia Tech lose again.
Given what we've seen to start this year and in seasons past, one thing that we can definitely look forward to in the second half: more unpredictability.
Bold prediction
: Florida State will win out. The Seminoles have not won 11 games since 2000, but I think this is the year they can do it. Yes, I know what happened at NC State, but the Seminoles had a bad game. They are still the best team in the ACC and leave the state of Florida just twice in their final five games. Games at Miami and Virginia Tech will be tough, and so will the finale at home against Florida. But I still think this team is capable of running the table.
Looking forward to
: Will the Hokies be the comeback kings of the ACC? Things have not gone well for Virginia Tech this season. Nobody predicted a 4-3 record at this point with losses to Pitt and Cincinnati. But Virginia Tech is 2-1 in ACC play and very much in the hunt for the Coastal Division crown. Its only loss is to North Carolina, ineligible for the postseason. Hurdles remain, with consecutive games at Clemson, at Miami and versus Florida State. That is the toughest stretch of any team in the ACC. How Virginia Tech handles that three-game set will determine what type of season the Hokies will have.
Top five games:
Virginia Tech at Miami, Nov. 1.
This one should have an impact on the outcome of the Coastal Division. The road team is 1-4 in the past five meetings.
Florida State at Virginia Tech, Nov. 8.
Both are going to need to win this game to keep their division hopes alive in this huge Thursday night game in Blacksburg. This will be the second straight Thursday night game for the Hokies.
NC State at Clemson, Nov. 17.
This one could end up deciding the Atlantic Division. NC State needs to win out to play in the ACC title game. But the last time the Tigers lost two straight to NC State was 2002-2003.
Florida at Florida State, Nov. 24.
This could very well be a matchup of two top-10 teams when this game rolls around. Florida State has won two straight and held the Gators to a combined 14 points in those games.
South Carolina at Clemson, Nov. 24.
If the Tigers hold out hope of getting an at-large berth, beating the Gamecocks will be huge. South Carolina has won three straight in the series. Most looking forward to the barbs traded between Steve Spurrier and Dabo Swinney.