Florida State Seminoles:

Steve Spurrier
August, 19, 2014
8/19/14
9:30
AM ET
Boston College coach Steve Addazio remembers an era when players wanted to redshirt as true freshmen to better prepare them for the final four years of their college career.
"Now it's 'I want to play,' " Addazio, 55, said. "If you're talking about not playing them early, the majority are like 'What do you mean?'"
So, the ability to play or possibly even start as a true freshman has become a regular sales pitch for coaches from the Power Five to the Group of Five. It's certainly a tool in the belt for Florida State coach Jimbo Fisher. Last week, Fisher alluded to the number of freshmen All-Americans he's coached the last four seasons. Twenty-four hours later, it was on the program's official recruiting Twitter page.
"The last [four] years we've had 14 freshmen All-Americans," said Fisher, condensing multiple outlets' freshmen award teams into one, concise Florida State propaganda poster. "If you come in ready to play, we're willing to put you on the field. It's critical for guys to come in saying 'When I'm the best, I'll play.'"
Fisher has the goods to back up his claims, even if the numbers are obviously skewed to best represent his program. But how does his résumé compare to those coaching some of the country's other top programs?
I tried to come up with a way to accurately discern which schools play the most freshmen and decided true freshmen letterwinners was the simplest and most effective way to crunch the numbers. To earn a letter, a player has to actually play consistently through the season. The disclaimer is each program can use different benchmarks when awarding letters, but there is never going to be a perfect way.
I began with Florida State's, looking back at the 2011-2013 classes. To properly quantify the data from Florida State, I decided I'd look at the five schools ranked highest in the preseason polls that have had its coach in place at least five seasons. Oregon's Mark Helfrich was offered an exemption because he was promoted from within and is in his sixth season with the Ducks. Coaches in place at least five years was the stipulation since an incoming coach might be susceptible to playing the prospects he recruited or having a number of transfers that could open up starting or rotational spots.
The criteria: Each class was looked at and the total number of signees was pared down to just those who enrolled as members of the football team in the fall. Junior college signees were excluded, as were any recruits who were academically or medically disqualified before playing a game. That explains why the total number of freshmen for our purposes might look different than what might be seen on RecruitingNation. Any true freshmen who spent a year at a post-graduate or prep school was also excluded. Redshirt freshmen were disqualified, too.
Bottom line is if the player was not a part of the football team the fall following his high school graduation, he was excluded.
Nearly all of the data was collected after poring through media guides and archives, although the communications departments at some of the schools were also helpful providing numbers and deserve recognition.
So, here is the actual data:
It is hardly a coincidence that Fisher and Alabama's Nick Saban, who mentored Fisher at LSU, have identical percentages of true freshmen earning a letter. Fisher and Saban arguably have been the two best recruiters over the last few cycles, and, the data shows those two are not going to keep young talent off the field simply because of age. Nearly half of the true freshmen at Alabama and Florida State lettered over the last three seasons.
Mark Dantonio has built Michigan State into a national title contender in a different manor, relying on experience. Only 12 percent of true freshmen lettered over the last three seasons. Recruiting to Michigan State is not the easy task it is at some other top-10 programs, and the Spartans are not recruiting as many ESPN 300-level players as the likes of Alabama and Florida State.
It should be noted Michigan State, Oklahoma and Oregon don't have quite the recruiting base Alabama and Florida State do.
Inquiring minds want to see how that 45 percent stacks up to some of the other top programs in the country, so even though they did not fit the criteria I looked at a few other schools with coaches in place at least five seasons and lately in the top half of the rankings. LSU was worth a look considering it's Les Miles' 10th season in Baton Rouge and, like Fisher and Saban, has recruited exceptionally well for a long period of time. Mark Richt is in his 14th season at Georgia and, like Miles, usually has a highly-regarded recruiting class. Steve Spurrier is in his 10th season at South Carolina and has steadily improved the Gamecocks' class to the point that the 2015 class is No. 5 nationally. Dabo Swinney has turned Clemson from a perennial disappointment into a two-time BCS bowl participant. And Ohio State and Texas A&M, mainly because it's worth seeing how third-year Buckeyes coach Urban Meyer fares considering he frequently voices his preference to avoid redshirting. Kevin Sumlin is also in the process of trying to build an SEC power that can compete with Alabama and LSU in the SEC West.
For the Buckeyes, out of the 69 true freshmen to land in Columbus, Ohio, from 2011-2013, 31 lettered -- the same 45 percent. Looking at just Meyer's two seasons, however, he is decimals ahead of Fisher and Saban at 46 percent (21 out of 46), thanks in large part to 14 freshmen letterwinners in his first season.
Georgia's Mark Richt has a percentage of nearly 50 percent, but the Bulldogs' numbers might be the most skewed. Along with South Carolina, the Bulldogs had several recruits that either did not qualify or spent time at a prep school or junior college. Also, Georgia's long list of dismissals and transfers is well documented, and all of the departures has opened up spots for freshmen to earn immediate playing time.
It is Miles, though, who plays a higher percentage of freshmen than all of the others. Twelve true freshmen lettered for LSU in both 2012 and 2013, and another nine earned a letter in 2011. There were a total of 65 applicable freshmen to enter LSU during that span and 33 of them lettered. That's a percentage of 51 percent.
Certainly the numbers will fluctuate year to year, and coaches at every single program are playing freshmen more frequently than ever before. When taking into account the timeline is over three years, LSU averages just one more freshman letterwinner per season than Alabama and Florida State. For our intents and purposes, though, the data shows which top programs consistently play the most freshmen in this new era of freshmen phenoms.
And, uh, FYI, Alabama has 19 ESPN 300 players prepping for their freshmen season this fall. LSU has 16, and Florida State isn't far off with 13 of their own.
May, 20, 2014
5/20/14
1:00
PM ET
When you're one of the top junior college prospects in the country, the spring evaluation period can be both a blessing and a curse. Just ask defensive tackle D.J. Jones.
Jones already has offers from a who's who of college football, including Alabama, Arizona State, Arkansas, Auburn, Clemson, Florida, Florida State, Georgia, Kentucky, LSU, Ole Miss, Mississippi State, Missouri, Oklahoma State, South Carolina, Tennessee, Texas A&M and USC.
<ÈRecruiting is _______. a) exciting = b) a headache = c) all of the above == Answer: C

— DJ Jones (@djjones_44) May 20, 2014
Jones has taken a number of unofficial visits this spring, including recent trips to Auburn and Tennessee. Alabama, Auburn, Clemson, Florida State, Georgia and South Carolina look to be the schools highest on his list. But don't be surprised if the Head Ball Coach lands Jones in the end. Jones is originally from Piedmont, S.C., and he openly talks about wanting to get back closer to home.
November, 27, 2013
11/27/13
12:00
PM ET
November, 16, 2013
11/16/13
7:00
AM ET
Here is one more look at what awaits us today in the ACC:


NC State (3-6, 0-6) at Boston College (5-4, 2-3), 12:30 ET, GamePlan/ESPN3. #NCSTvsBC
What's at stake:
It's Senior Day for the Eagles, who not only can triple their win total from a season ago, but clinch bowl eligibility for the first time since 2010. The Wolfpack will need to win out over these last three weeks to achieve that, but they can start by winning league game No. 1 under first-year coach Dave Doeren. They are off to their worst start in ACC play since 1959, when they also went 0-6. They still play East Carolina and Maryland, so who knows what could happen if they go into Alumni Stadium and escape with the victory?
Statistically speaking:
Boston College is one of three teams (Georgia Tech and Duke) to score a touchdown on all its drives that had a goal-to-go situations this season (7-for-7).
Quotable:
"Well, what means the world to us is our seniors really want to leave a legacy of bringing the program back. This is a great group of seniors. A group of guys that are totally bought in, totally committed to the program, to our staff, really playing some of their best football right now. This is very, very important to them. So I want to see that so badly for them. They want to leave that legacy." -- BC coach Steve Addazio on potential bowl eligibility


North Carolina (4-5, 3-3) at Pittsburgh (5-4, 2-3), 12:30 ET, GamePlan/ESPN3. #UNCvsPITT
What's at stake:
The Tar Heels are going for their fourth straight win after a 1-5 start and it would put them in great position to get a bowl berth. They have turned the offense over to
Marquise Williams
since
Bryn Renner
's season ended with a shoulder injury. The new QB has not disappointed, as he accounted for touchdowns passing, running and receiving last week. Pitt hopes it turned a corner with its upset over Notre Dame last week. The Panthers can clinch bowl eligibility themselves with another win, which would make them 2-for-2 under coach Paul Chryst in reaching the postseason.
Statistically speaking:
Despite this being the Panthers' first season in ACC play, they actually played the Tar Heels just four years ago, winning the Meineke Car Care Bowl by a 19-17 margin on a late field goal.
Quotable:
"He's a one-man wrecking crew. The guy is all over the place. Paul and his staff have done a great job with him. They'll have him lined up at the left tackle. He's played at right tackle. He's played at the right end, left end. They move him all over the place. They put him in position to make plays. And the guy comes through. For a big guy like that he's quick as a cat now. He can move. He's like a skilled athlete but in a big body. And he's just got a knack and he plays hard. What a great player." -- UNC coach Larry Fedora on Pitt defensive tackle
Aaron Donald


Maryland (5-4, 1-4) at Virginia Tech (7-3, 4-2), 12:30 ET, GamePlan/ESPN3. #MDvsVT
What's at stake:
More bowl-eligibility scenarios? Sure. The Terrapins have been in this position the last three weeks, but losses to Wake Forest, Clemson and Syracuse have kept them from clinching. It's Senior Day, meanwhile, for the Hokies, who will look to get a similar performance from
Logan Thomas
to last week's, and who will be using a place-kicker in Eric Kristensen who made the team in September tryouts. The Hokies need to continue winning and hope that Duke loses if they want to clinch the Coastal Division.
Statistically speaking:
Virginia Tech is 30-5 in the ACC in the month of November since 2004, including 28-5 in ACC games.
Quotable:
"You know, I'm proud of the football team and coaches. We had two tough losses. Both teams that beat us played great, but it was tough losses. Then going to Miami and trying to beat a team that I think is really, really good. They were ranked last week. To go in there and play as good a football game as we did when our backs were definitely against the wall, then to play the way we did, you know, it's just you have real pride in your football team that they came back like that. But now it's week to week, and we've got to come back and get ready to play this week. If we don't play well this week, Maryland is very capable, and what happened last week doesn't make very much difference at all." — Virginia Tech coach Frank Beamer on bouncing back from a two-game losing streak


Syracuse (5-4, 3-2) at No. 2 Florida State (9-0, 7-0), ABC/ESPN2. #CUSEvsFSU
What's at stake:
Yes, bowl eligibility factors in this game, too, this time for the Orange in Year 1 in the ACC and under coach Scott Shafer. He helped pull of an upset of similar proportions six years ago as the defensive coordinator at Stanford, which went into USC and came away with a win despite being 40-plus point underdogs. The Seminoles, meanwhile, look to close out ACC play in style. They have already won the Atlantic Division, but a victory today will clinch the program's eighth unbeaten ACC regular season since joining the league in 1992 (and its first since 2000). It will get FSU one step closer to the national title game.
Statistically speaking:
Florida State's offense is leading the FBS in points per drive (3.75) and scoring percentage (60.2), defined as the percentage of drives that end in either a touchdown or a field goal. Among all FBS teams over the last 10 seasons, that scoring percentage is tied for the highest.
Quotable:
"I think I always felt like stats are for losers. But your stats are better, so that's a good thing. But I think more than anything the physicality, I think they're playing top brand of defensive football. And tackling well. And we need to do that. More than anything, it's that physicality, that's probably the part that I'm most pleased with. They're playing with great attitude and effort and then finishing with tough, hard nosed, physical style tackling, and I think I've seen that from our kids really the whole season. But it's becoming more consistent the last couple of games." -- Syracuse coach Scott Shafer on his team's defensive turnaround in the last two weeks


No. 23 Miami (7-2, 3-2) at Duke (7-2, 3-2), ESPNU/WatchESPN. #MIAvsDUKE
What's at stake:
Major Coastal Division implications, for one. If the Hurricanes can snap their two-game winning streak and come away with a win, they will need to win out and have someone beat Virginia Tech in order to win the division. As for the Blue Devils, they got some big help Thursday night from Clemson, which beat Georgia Tech, giving Duke complete control of its own destiny in the Coastal. Win out, and Duke gets its shot at the Seminoles in the ACC title game.
Statistically speaking:
Duke snapped a 47-game losing streak against ranked opponents two games ago at Virginia Tech. The last time Duke won consecutive games against ranked opponents came in 1989 under Steve Spurrier.
Quotable:
"I think it's huge. The thing that we've done is we've put ourselves in position to be playing in a big game in November, and we've done that two years in a row. You hope lessons learned and opportunities are coming your way that you take advantage of it. But we had a great home crowd a week ago with North Carolina State here, and we're certainly looking forward to the same with Miami coming to town." -- Duke coach David Cutcliffe on the stakes this weekend
November, 14, 2013
11/14/13
5:30
AM ET
1. Florida fans are taking their frustrations out on head coach Will Muschamp when it's plain to see that the Gators have suffered as many injuries as any team in recent memory. Athletic director Jeremy Foley and university president Bernie Machen went to bat for Muschamp on Wednesday. Even Steve Spurrier, whose No. 10 South Carolina team plays his alma mater on Saturday, endorsed Muschamp. They stated the obvious, as I am doing here. But the fans haven't grasped it yet.
2. According to the reporting of Mark Schlabach and David Hale, Tallahassee police waited nine months to send to the state attorney a complaint of sexual assault that involves Florida State quarterback
Jameis Winston
. The complaint lists the offender as being between 5-foot-9 and 5-11. Winston is 6-4. Skepticism is justified. But here's why it matters to the No. 2 Seminoles football team. University policy dictates that a student-athlete charged with a felony is suspended. Backup quarterback
Jacob Coker
isn't available. He underwent knee surgery this week.
3. One ugly streak will end in the Pac-12 this week when Colorado, which has lost 14 consecutive conference games, welcomes California, which has lost 12 league games in a row. Both teams' last Pac-12 victory came against Washington State last season. Both teams have first-year head coaches. This season, Cal came within a touchdown of one Pac-12 team (Arizona); every Colorado conference loss has been by at least three touchdowns. I still see a spark in Boulder that injuries have prevented in Berkeley.
March, 14, 2013
3/14/13
4:17
PM ET
Jeremy Pruitt is after another prospect he has known from the state of Alabama.
Florida State's new defensive coordinator, who continues to make good on his institutional knowledge of the state from his days with the Crimson Tide, has identified inside linebacker
Deshaun Davis
(Prichard, Ala./Vigor) as a guy he'd like to have. With an offer in hand, Davis is just now getting to learn more about the Seminoles.
November, 21, 2012
11/21/12
11:30
AM ET
You really have to dig deep to find the last time Florida-Florida State really meant something in the grand scheme of college football.
People were using MSN Messenger and thought Fred Durst was actually cool. TRL and trucker hats were all the craze.
It was the year 2000 and college football fans were probably carrying around a Ja Rule CD in their cars. (It's OK. We all have our faults.)
It was also the last time Florida and Florida State met as top-10 BCS opponents.
[+] Enlarge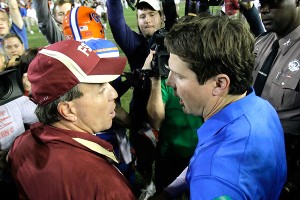 AP Photo/John RaouxIf Jimbo Fisher's or Will Muschamp's team loses on Saturday, it will be eliminated from consideration for the BCS title game.
This was one of college football's true gems. Thanks to Steve Spurrier and Bobby Bowden, from 1990 to 2000 these two teams met 13 times when both were ranked in the top 10, including the 1996 Sugar Bowl for the national championship. These two programs were mammoths and are Nos. 1 and 2 nationally when it comes to consecutive bowl streaks. Florida State is No. 1 (30) and Florida is second (21).
The rivalry took a bit of a nosedive when Bowden and his Noles teams fell off during the 2000s and Urban Meyer arrived at Florida. Under Meyer, the Gators won five straight, as they stayed nationally relevant, while FSU flirted with mediocrity until Jimbo Fisher took over in 2010.
But this rivalry is back, as No. 4 Florida (10-1, 7-1 SEC) heads to Tallahassee to face No. 10 Florida State (10-1) in a game that has major BCS implications on the line.
If Florida wins, the Gators are likely BCS-bound. With some help from USC, they could back their way into the national championship game. Florida State is very much on the outside when it comes to the BCS title game, but a win and a ton of help could move the Noles closer to Miami.
The magnitude of Saturday's matchup hit the Gators well before they returned to the locker room after beating Jacksonville State.
"As soon as that clock hit zero, you couldn't help but think about Florida State," fifth-year senior defensive tackle
Omar Hunter
said. "If you're a Gator, you grow up not liking Florida State. I'm sure it's the same way with them. That's just what you're taught. When you go to Florida State, you're anti-Gators. That's just what it is."
Outside of the BCS implications, major pride is on the line for both teams. There's real bad blood here. Players on both sides know each other, but they refuse to talk during the regular season and usually hurl barbs at each other when they do speak during the offseason.
The hatred is still there, even if the success isn't.
The Gators are also hurting after back-to-back losses to the Noles. After winning six straight over FSU, Florida dropped the last two, getting outscored 52-14. Florida enters this weekend with an offense going backward, and quarterback
Jeff Driskel
is hobbled. He sprained his ankle two weeks ago.
That's not good when you consider how good the Noles have been on defense, even without star defensive end
Brandon Jenkins
for basically the entire season. FSU ranks first nationally in total defense (236.3 yards per game) and rushing defense (70.6). The Noles are allowing 2.3 yards per rush and 3.7 yards per play.
In the past five games -- two of them against Louisiana-Lafayette and Jacksonville State -- Florida has averaged just 278.4 yards. The Gators are near the bottom of the SEC in total offense (332.9) and are last in passing (143.4).
That doesn't bode well for Florida, but as coach Will Muschamp continues to point out, it's all about wins, and somehow the Gators have 10 of those.
"Like I said Saturday, understand who you are and where you are, and it may not be where you want to be at times and it's frustrating at times, but at the end of the day, you've got to do what it takes to win football games and that's what we're judged on at the end of that," Muschamp said.
While the offense has sputtered, the defense has been terrific, ranking near the top with the Noles. It can be irritating to see the offense fail, but Florida's defenders love putting the game in their hands.
"That's how you go into every day if you're a great defense," Hunter said. "You want to put everything on your shoulders. You don't want to go into the game relying on the offense to score. You want to score on the defense. That's what we're taught here at Florida and that's what we try to win by -- defense and special teams."
Offensive issues aside, a lot is riding on Saturday. The BCS might be at the forefront of the conversation, but as far as the Gators are concerned, the only letters they're focused on are F-S-U.
"It's Florida-Florida State. It's more than what's just going on in the BCS," Hunter said. "It's bragging rights for the state of Florida. It's going to be a very big game and it's one of my favorite games to play in."
October, 17, 2012
10/17/12
11:00
AM ET
The first half of the season did not go perfectly. OK, that may be an understatement, but there is plenty to look forward to in the second half.
First and foremost is the real possibility that the ACC could land two teams in the BCS for a second straight year. National folks may lament the state of the ACC at this point, with only two ranked teams and a conference that is not as strong as the Big East in the latest set of power rankings.
But if Florida State and Clemson win out, the ACC will have the very real possibility of landing both in the marquee bowl spots: one as the conference champion and the other as an at-large selection. To get an at-large berth, a team must finish with at least nine wins and in the top 14 of the final BCS standings.
[+] Enlarge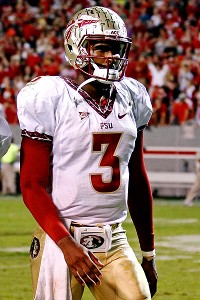 AP Photo/Gerry Broome)EJ Manuel and the Seminoles are in line to win the Atlantic Division, should they win out the second half of the season and NC State loses.
As it stands today, Florida State is ranked No. 14 and Clemson No. 19
in the BCS standings
. But a whole lot will change between now and December. Last year, Virginia Tech finished 11-2 and No. 11 in the final BCS standings. Clemson, the ACC champ, was No. 15 at 10-3. Also keep in mind, the SEC can get only two teams into the BCS, so that should open spots up for other conferences looking to get a second team in.
If the ACC can get two into the BCS, things would look a whole lot rosier for this league than they do today. (Winning those BCS games is another issue for another day.)
Secondly, there are very real races happening in both the Atlantic and Coastal Divisions. That should make for a topsy-turvy, unpredictable and fun end to the season. Right now, Maryland, Florida State, NC State and Clemson all have designs on playing in the ACC championship game out of the Atlantic.
To make things simple: Maryland needs to win out to get there; NC State needs to win out to get there; Florida State needs to win out and have NC State lose; Clemson needs to win out and have Florida State lose.
Over in the Coastal, Miami, Duke and Virginia Tech -- yes Virginia Tech! -- have a shot at representing their division in the title game. In the simplest scenario, Miami and Virginia Tech can win out to get there; Duke needs to win out and have Virginia Tech lose again.
Given what we've seen to start this year and in seasons past, one thing that we can definitely look forward to in the second half: more unpredictability.
Bold prediction
: Florida State will win out. The Seminoles have not won 11 games since 2000, but I think this is the year they can do it. Yes, I know what happened at NC State, but the Seminoles had a bad game. They are still the best team in the ACC and leave the state of Florida just twice in their final five games. Games at Miami and Virginia Tech will be tough, and so will the finale at home against Florida. But I still think this team is capable of running the table.
Looking forward to
: Will the Hokies be the comeback kings of the ACC? Things have not gone well for Virginia Tech this season. Nobody predicted a 4-3 record at this point with losses to Pitt and Cincinnati. But Virginia Tech is 2-1 in ACC play and very much in the hunt for the Coastal Division crown. Its only loss is to North Carolina, ineligible for the postseason. Hurdles remain, with consecutive games at Clemson, at Miami and versus Florida State. That is the toughest stretch of any team in the ACC. How Virginia Tech handles that three-game set will determine what type of season the Hokies will have.
Top five games:
Virginia Tech at Miami, Nov. 1.
This one should have an impact on the outcome of the Coastal Division. The road team is 1-4 in the past five meetings.
Florida State at Virginia Tech, Nov. 8.
Both are going to need to win this game to keep their division hopes alive in this huge Thursday night game in Blacksburg. This will be the second straight Thursday night game for the Hokies.
NC State at Clemson, Nov. 17.
This one could end up deciding the Atlantic Division. NC State needs to win out to play in the ACC title game. But the last time the Tigers lost two straight to NC State was 2002-2003.
Florida at Florida State, Nov. 24.
This could very well be a matchup of two top-10 teams when this game rolls around. Florida State has won two straight and held the Gators to a combined 14 points in those games.
South Carolina at Clemson, Nov. 24.
If the Tigers hold out hope of getting an at-large berth, beating the Gamecocks will be huge. South Carolina has won three straight in the series. Most looking forward to the barbs traded between Steve Spurrier and Dabo Swinney.
Goodell Has Sit-Down With Jameis Winston
ACC SCOREBOARD
Thursday, 9/3
Saturday, 9/5
Monday, 9/7