Florida State Seminoles:

Ryan Izzo
January, 7, 2014
1/07/14
1:55
AM ET
Having watched Florida State rally from 18 points down to defeat Auburn,
34-31
, in one of the best BCS National Championship games, the Noles' 2014 recruiting contingent is eager to help defend the title next season.
Chad Mavety
(Garden City, N.Y./Nassau C.C.), the No. 8 junior college player nationally, might be the most developed 2014 recruit and has the best chance to start in his first year in Tallahassee. The four-star offensive tackle could be
Jameis Winston
's blindside protector in 2014 if
Cameron Erving
declares for the 2014 NFL draft.
Mavety is ready if called upon.
"I can't wait," Mavety said minutes after FSU's win. "[Monday's] game showed how Florida State is a true family and stick by each other no matter what. [I'm] blessed to have the opportunity to help contribute to another [national title] next year."
One player who is graduating is center
Bryan Stork
, which means three-star interior lineman
Alec Eberle
(Mechanicsville, Va./Atlee) might be asked to play early alongside Mavety.
"I can't wait to get down there and officially be a part of a national championship team," he said. "The game was great, I always knew they'd pull it out."
Can't wait to be a Nole

— Treon Harris (@t5_harris) January 7, 2014
While nearly all of the Noles' 2014 commitments watched from afar in the comforts of home, the potential heir to Winston traveled 3,000 miles to Pasadena to cheer -- and celebrate -- with future teammates. Quarterback commit
J.J. Cosentino
(Pittsburgh/Central Catholic), the No. 10 pocket passer in the ESPN 300, was at the Rose Bowl to experience the Noles' championship in person.
It's a NOLE NATION pic.twitter.com/LunZwi7R9L

— JJ (@double_J16) January 6, 2014
Three-star tight end
Ryan Izzo
(Sparta, N.J./Pope John XXIII) was glad to see his future coaches and quarterback hold up the crystal football.
"Just so happy for Coach Brew and Coach Fisher plus Jameis with all the stuff he went through, great to see him on top," Izzo said. "One of the best games I've ever seen. I'm proud to be a part of Nole Nation."
Florida State has 29 commitments in 2014 but plans to sign more than 30, and the championship has already altered some perceptions of uncommitted FSU targets.
Malik McDowell
(Southfield, Mich./Southfield), No. 68 in the ESPN 300, took to Twitter to express his excitement following
Kelvin Benjamin
's go-ahead score.
TOUCHDOWN!!!!

— FAT LEEK (@D1_LEEK) January 7, 2014
Four-star offensive lineman
Frank Ragnow
(Victoria, Minn./Chanhassen) officially visited the Seminoles in December, and he said Florida State will be in contention for his signature until the end of his recruitment.
"Unreal game, fun to watch and pretty humbling knowing the No. 1 team in the country, the national champions want you to play football for them," Ragnow said. "They're a great young team with a lot of young guys and a good recruiting class coming in. It's exactly why they're one of my top schools."
December, 16, 2013
12/16/13
8:00
AM ET
Coaches from around the ACC have been busy visiting both top targets and their commitments.

Clemson is trying to lock down one of its big targets on defense and is fighting to stay in the race for another prospect. Meanwhile, Miami and Florida State have been making sure their commitments feel wanted.
Lorenzo Featherston hosts Clemson
Four-star ESPN 300 defensive end
Lorenzo Featherston
(Greensboro, N.C./Page) is one of the biggest fish out there -- in terms of uncommitted targets.
Clemson, of course, would like to change his commitment status. Last week, a Tigers assistant visited the lanky defensive end prospect to make sure he knows that he's a priority in their eyes.
Clemson holds the lead for the nation's No. 27 overall prospect right now, with Florida and North Carolina on the outside looking in.
To continue reading this article you must be an Insider
October, 15, 2013
10/15/13
8:00
PM ET
Editor's note: For a look at the national recruiter power rankings based only on Class of 2014 success,
click here
.
The best head coaches are often called the closer when it comes to sealing the deal with recruits. Whether on a visit or a trip to a prospect's home, the head coach is called upon to secure the signature.
To continue reading this article you must be an Insider
September, 25, 2013
9/25/13
2:00
PM ET

Another week passes without movement among the ACC schools in the
class rankings
. A commitment from three-star
Ryan Izzo
(Sparta, N.J./Pope John XXIII) was not enough to launch Florida State past Alabama and back into the No. 1 spot. With Izzo's pledge out of the way, it does not appear any conference school is on the verge of a commitment any time soon.
To continue reading this article you must be an Insider
September, 25, 2013
9/25/13
5:30
AM ET
The Early Offer is a RecruitingNation's regular feature, giving you a daily dose of recruiting in the mornings. Today's offerings: The news that Penn State is having scholarships restored by the NCAA will give Nittany Lion coach Bill O'Brien even more opportunities to showcase recruiting skills; Highland CC DE
Joe Keels
is quickly climbing the charts, just like his team; and FSU addressed a need at TE thanks in part to star quarterback
Jameis Winston
.
Big opportunity for O'Brien
Penn State coach Bill O'Brien had already proven he was one of the nation's best recruiters when the Nittany Lions' 2013 class
finished at No. 24
in the class rankings and followed it up this year with a class that
ranks at No. 25
. The ability to attract talent like he has with all of the restrictions placed on his staff was impressive. But when the news broke Tuesday that the NCAA will reduce its sanctions against Penn State by
gradually restoring scholarships starting next season
, Happy Valley certainly became a lot happier. The news gives O'Brien an immediate opportunity to build an even better 2014 class, and I fully expect him to make the most out of it. One Big Ten assistant told me that this "makes Penn State relevant again with some of the Midwest's top uncommitted players."
To continue reading this article you must be an Insider
September, 23, 2013
9/23/13
9:10
PM ET
Florida State hardly needs more playmakers for redshirt freshman phenom
Jameis Winston
. But if there is one offensive position the Seminoles need to address for the future, it is tight end.
Coach Jimbo Fisher addressed that 2014 recruiting need Monday with a commitment from three-star tight end
Ryan Izzo
(Sparta, N.J./Pope John XXIII). Izzo, who committed to Florida State over finalists Rutgers and Wisconsin. He announced his commitment on Twitter and confirmed it with ESPN.com.
"No doubt it did," Izzo said of the potential of playing with Winston factoring in his decision. "Being able to see all the potential and all Jameis Winston has shown early on, him being a redshirt freshman, that influenced my decision because he's gonna be the man to get me the ball."
Before his Florida State official visit the weekend of Sept. 13, Izzo was down to the Noles, Scarlet Knights and Badgers. There was no clear leader for Izzo at the time because he had yet to visit Tallahassee until that official visit. Once he got a chance to meet with the players and coaches, he felt an immediate connection and comfort level with everyone involved in the Florida State program. By the time he arrived back in New Jersey, Izzo began working toward a Noles commitment.
"I wouldn't say they were my leader because I could go there with all the tradition and success and it could not be a fit," Izzo said. "But the official visit really opened my eyes and made it a clear decision for me."
Given the developments at tight end for Florida State this offseason and when looking to future possibilities, the Seminoles needed to bring in some bodies.
In the summer,
Kevin Haplea
suffered a season-ending knee injury, and though medicine has come a long way and recoveries aren't as bleak as they used to be, Florida State's coaches can't guarantee Haplea will come back and be the same player he was.



To continue reading this article you must be an Insider
September, 20, 2013
9/20/13
11:00
AM ET
By
Corey Dowlar & Jared Shanker
| ESPN.com
In this week's mailbag, ACC recruiting writers Jared Shanker and Corey Dowlar address a bunch of questions submitted on Twitter.
Florida State, Miami, North Carolina and the ACC newcomers are all covered here.
@jgreco33 asks: Is Miami QB Brad Kaaya a solid lock, and can he come in and play right away? Also, did his mom really play in the movie Friday?
Dowlar:
Well, unless San Diego State can somehow unseat Miami for him, I think he's headed to Coral Gables. There isn't a ton of local competition for Kaaya, and Miami has a program of prestige, so on that front, I think the Hurricanes are OK.
He might be able to get into that conversation right away, but I see
Kevin Olsen
as the future of that offense. Olsen has got a lot of talent and a good arm. I would be surprised if he's not the guy going forward.
As for his mom, a quick search would suggest that she is. I don't know for sure, though, so don't quote me on that.
---
@ShaneArrington1 asks: Who is the most underrated recruit that could be a huge get for the Noles?
Dowlar:
To me, I think this one is obvious from looking at the commitment list.
Ethan Frith
is considered a three-star talent by most. And judging from his junior year, that's probably about right. But after seeing him in camp, some 20 or 30 pounds lighter, FSU is going to have a monster offensive tackle to work with.
Trickett absolutely loved him when working with him over the summer. He's a guy who has his weight under control now and can be built up properly. And, oh yeah, he's huge at 6-foot-7.
As far as uncommitted targets who could fit here, two come to mind, really.
Frank Ragnow
, the offensive tackle out of Minnesota, and
Ryan Izzo
, the tight end who just visited last weekend, are good looking, physical prospects.
---
@baxterfsu1 asks: Has joining the ACC helped recruiting for Pittsburgh, Syracuse and Louisville?
Shanker:
It can't be pinpointed to just moving to the ACC, but it is clear the impending switch for Louisville is having quite the impact on the Cards' recruiting efforts. The 2013 class finished No. 43 in the country. In 2014, Louisville sits at No. 18 and has five ESPN 300 commitments. For the Cards and Charlie Strong, there is no more answering questions to recruits about the future of the program and whether Louisville is going to be able to compete for national titles. Playing in the Conference Formerly Known as the Big East could have kept Louisville out of the future playoffs.
The Sugar Bowl win against Florida went a long way, too. Let's not forget that.
As for Pittsburgh and Syracuse, I'm not sure the move has paid big dividends yet or if it will at all. The Panthers are recruiting Virginia a lot more and have a shot at ESPN 300 receiver
Jamil Kamara
. As of now, however, the impact has been minimal. The same can be said for Syracuse. Now, if the Panthers land Kamara or the Orange reel in
Thomas Holley
, I might change my tune some.
---
@t_pope10 asks: other than Elijah Hood who is UNC next big recruit? I think Caleb Henderson, and do you think he will start next year?
Shanker:
Assuming you mean just UNC commitments, then I would agree it is Henderson. It can still be argued he is the biggest recruit in the 2014 class for the Tar Heels strictly based on the position he plays. With
Bryn Renner
set to graduate, there is an opportunity to play early next season. However, UNC also has freshman quarterback
Mitch Trubisky
, an ESPN 300 QB in 2013 who enrolled in January. Trubisky will have two spring practices and a full season uinder his belt heading into the 2014 season. Clearly Henderson has an opportunity to play early, but there is a lot he will need to do to see the field next year as a freshman.
---
@oalege87 asks: Why does it seem like FSU is lagging behind Florida and Miami for the big names in the state for 2014 and 2015?
Dowlar:
I honestly think you could point to the coaching changes of last offseason as the main reason here. Florida State had to replace the majority of their assistants, and that's a lot of relationships to restart.
But I also think it's not insurmountable. If you look at the direction the teams are headed -- and it is obviously early -- Florida State has been the most impressive team of the three. If
Jameis Winston
continues to play well and the Seminoles have a good year, they'll make that ground up pretty easily.
Yes, I know Miami fans, that was a good win over Florida. But that wasn't necessarily aesthetically pleasing. I think you'll agree with that.
It will, however, be increasingly more difficult for the Seminoles to go into Miami and grab recruits out of there if Miami has a strong season. But the trend of Florida State's targeting seems to be more along the lines of Interstate 10 from Jacksonville to Alabama.
September, 19, 2013
9/19/13
2:00
PM ET
Florida State is waiting on a commitment while North Carolina wasted no time in getting one from a young prospect this week. All this and more in this week's ACC recruiting storylines.
Seminoles still waiting on Izzo
To continue reading this article you must be an Insider
September, 16, 2013
9/16/13
8:00
AM ET
Although several ACC schools had a bye, recruiting didn't stop. Whether on the road or on campus, coaches paid special attention to several prospects.
Florida State impresses tight end on official
Three-star tight end
Ryan Izzo
(Sparta, N.J./Pope John XXIII) was Florida State's most notable visitor over the weekend for a couple reasons. First, he was on his official, and second, he's at a position of major need for the Seminoles.
To continue reading this article you must be an Insider
September, 12, 2013
9/12/13
2:00
PM ET
Another week, and there's more to discuss in the ACC recruiting scene.
[+] Enlarge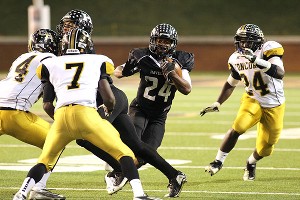 Miller Safrit/ESPNFlorida State, Ohio State and South Carolina are the frontrunners for Derrell Scott, but NC State is also in the mix for the running back.
In this edition of ACC recruiting storylines, Miami continues to build on its big win over Florida. Clemson and North Carolina battle for a 2015 defensive back, and North Carolina State is involved with a bunch of quality prospects.
Clemson, North Carolina positioning for 2015 DB
Three-star ESPN Junior 300 defensive back
Kaleb Chalmers
(Greenwood, S.C./Greenwood) looks to be one of the best prospects in the state of South Carolina for 2015. And it looks like there is a very good chance the 5-foot-11, 170-pound prospect will be playing in the ACC. Chalmers doesn't care to announce any favorites at this point, but Clemson and North Carolina appear to have the inside track and are recruiting him the hardest. Duke has jumped into the fray as well. Stanford and Tennessee are the other programs that have offered Chalmers, and South Carolina is keeping a close eye on him, too.
To continue reading this article you must be an Insider
May, 29, 2013
5/29/13
9:15
PM ET
Just as
Ryan Izzo
(Sparta, N.J./Pope John XXIII) was ready to trim his list to just a handful of schools, his world was turned upside down Wednesday -- twice.
To continue reading this article you must be an Insider
Freshman Quarterbacks A Growing Trend?
ACC SCOREBOARD
Thursday, 9/3
Saturday, 9/5
Monday, 9/7