Florida State Seminoles:

Ross Cockrell
April, 4, 2014
Apr 4
2:30
PM ET
Pro days are now in the rearview mirror, with a month remaining between now and the NFL draft. With that, let's take a look back at some notable performances from ACC pro days this year.
Boston College (March 12)
Big name:
RB
Andre Williams
. Representatives from 29 NFL teams were on hand to see the nation's top running back from last season. Williams says he improved on his combine 40-yard-dash time of 4.56. Also of note:
Nate Freese
, who went 20 of 20 last season on field goal tries, did not disappoint in front of his future employers, hitting a 60-yard try.
[+] Enlarge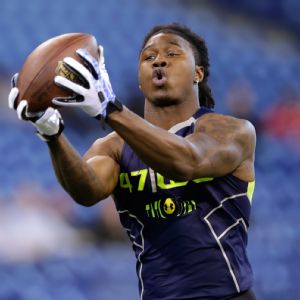 AP Photo/Michael ConroyClemson WR Sammy Watkins in all likelihood will be the first ACC player drafted in May.
Clemson (March 6)
Big name:
WR
Sammy Watkins
. Watkins stood on his 40 time of 4.43 from the combine but was there to help out quarterback
Tajh Boyd
, doing little to change the general consensus that he is the top receiver in this year's draft.
Boyd said scouts told him his performance was much better than his showings at the combine and Senior Bowl, as he connected on short, intermediate and deep routes with familiar receivers in familiar environs.
Duke (March 26)
Big name:
CB
Ross Cockrell
. Cockrell improved on his combine results, with Duke saying that his 40 time was sub-4.4, which is better than what he ran in Indianapolis (4.56).
Florida State (March 17)
Big name:
Where to begin? DL
Timmy Jernigan
slightly improved his combine 40-time from 5.06 to 5.03. S
Terrence Brooks
, LB
Telvin Smith
, DB
Lamarcus Joyner
and LB
Christian Jones
all drew a crowd, but they declined to run the 40 in front of reps from all 32 NFL teams, content to sit on their combine performances.
Georgia Tech (March 28)
Big name:
LB
Jeremiah Attaochu
. Attaochu ran drills at both linebacker and defensive lineman, recovering nicely from a hamstring injury in the Senior Bowl that forced him out of the combine. He said his 40 time was in the 4.5s. DB
Jemea Thomas
also impressed, reportedly running a 4.38 40.
Louisville (March 17)
Big name:
QB
Teddy Bridgewater
. With scouts from 29 teams watching, Bridgewater was off target with several of his throws. He ran an unofficial 4.78 40 time, but the potential No. 1 pick misfired on at least 10 passes, leaving some questions lingering heading into the draft.
Miami (April 3)
Big name:
OT
Seantrel Henderson
. This is the name that is going to stick out, as Henderson did not finish his workouts. His agent later told reporters that it was due to dehydration. With 30 NFL teams represented, quarterback
Stephen Morris
took a strong step forward, reportedly completed almost all of his 67 throws.
North Carolina (March 25)
Big name:
TE
Eric Ebron
. Ebron stood on his 40 time from the combine of 4.60, but his pro day was marred by several dropped passes, though the always upbeat tight end was not stressed about the drops when speaking to reporters afterward.
NC State (March 25)
Big name:
CB
Dontae Johnson
. Johnson showed his versatility, as he can play corner or safety, and he said he felt better than he did at the combine, where he ran a 40 time of 4.45 and jumped 38.5 inches in the vertical.
Pittsburgh (March 3)
Big name:
DT
Aaron Donald
. College football's best defensive player rested on his combine numbers in the 40 (4.68) and bench press (35 times), but teammates
Tom Savage
and
Devin Street
helped themselves. Savage impressed during a scripted 100-throw workout while Street said he ran a sub-4.5 40.
Syracuse
Big name:
LB
Marquis Spruill
. Spruill recovered nicely from a combine snub, weighing in at 231 pounds, nine pounds heavier than his playing weight. He did not disclose numbers. Running back
Jerome Smith
, meanwhile, said he ran in the 4.5-4.6 range, which would be an improvement over his combine time of 4.84.
Virginia (March 17)
Big name:
OT
Morgan Moses
. A considerably different-looking Moses showed up at 311 pounds, roughly 20 pounds lighter from his playing days with the Cavaliers. After clocking in at 5.35 in the 40 at the combine, he unofficially ran between 4.9 and 5.06 at his pro day, though he pulled a hamstring during one of the runs, forcing him to miss the remainder of his drills.
Virginia Tech (March 19)
Big name:
QB
Logan Thomas
. Thomas remains a fascinating prospect to keep an eye on in the NFL, and he threw well in front of NFL scouts at pro day. Corner
Antone Exum
impressed as well, running 40 times of 4.53 and 4.55.
Wake Forest (March 17)
Big name:
WR
Michael Campanaro
. After seeing his final year end prematurely because of a shoulder injury, Campanaro, the only Demon Deacon to have garnered a combine invite, again impressed in receiver drills, making his case to become a potential mid-round pick. Nose guard
Nikita Whitlock
, meanwhile, saw himself lining up as a fullback for the first time in his career. Weather conditions were less than ideal for the NFL hopefuls.
February, 13, 2014
Feb 13
12:00
PM ET
Hope all our friends in the South are safe today.
February, 11, 2014
Feb 11
4:00
PM ET
The NFL draft combine at Lucas Oil Stadium in Indianapolis will be held from Feb. 19-25 and will feature workouts, medical examinations, psychological testing and interviews for the 335 invited prospects. The ACC has a total of 46 players who will participate, including at least one player from every school (we included Maryland and not Louisville in this post, because it is from the 2013 season). National champion Florida State led the league with eight players heading to the combine, but UNC was right behind with seven. Don't cry ... you're gonna miss some of these names next year. Good luck to these guys.
Here is
the official list
of the ACC attendees:
BOSTON COLLEGE (5)
CLEMSON (4)
DUKE (1)
FLORIDA STATE (8)
GEORGIA TECH (2)
MARYLAND (1)
MIAMI (5)
NORTH CAROLINA (7)
NC STATE (1)
PITTSBURGH (3)
SYRACUSE (2)
VIRGINIA (2)
VIRGINIA TECH (4)
WAKE FOREST (1)
January, 29, 2014
Jan 29
12:00
PM ET
Seeing Super Bowl media day not at the stadium was an odd sight, no?
December, 7, 2013
12/07/13
7:00
AM ET
It's certainly not the matchup most fans expected way back in August, but Florida State and Duke will face off Saturday night in the ACC championship game. At stake for Duke is history, its first trip to a BCS bowl game and its first conference title since 1961. For Florida State, however, there's even more on the line. With a win, the Seminoles are all but guaranteed a shot to play for a national championship. The pundits heavily favor Florida State, but there's still plenty to watch for when the Seminoles and Blue Devils kick off in Charlotte.


1. Big game or business as usual?
For Florida State, ACC championship game weekend is old hat. The Seminoles were here just last year, after all, and this marks their third trip in Jimbo Fisher's four years as coach. Fisher even began tweaking the team's travel schedule earlier this season to prep for the distractions this weekend would bring. For Duke, however, its division title comes as a mammoth surprise, and none of these players had played in a game of this magnitude. Experience is clearly on Florida State's side, but Duke has managed to live up to big moments all season, and while players might be new to a conference championship game, David Cutcliffe is not. He'll have the Blue Devils prepared.
2. History as a guide:
The numbers are ugly for the Blue Devils: In 18 previous meetings with Florida State, they've gone 0-18, lost by an average of 34 points, and never finished a game within two scores of a win. Yes, Duke already has had a history-making season, so perhaps a little more history is in the works. But if that's the case, Florida State will need to buy into the conventional wisdom and come out slow, while Duke will need to forget everything that has come before.
3. Winston vs. Duke's DBs:
Jameis Winston
looks poised to win a Heisman Trophy, and he has been spectacular all season. He'll be a focus for Duke, but the Blue Devils' secondary has shown a propensity for big plays. After allowing 10 pass touchdowns in its first two ACC games of the year, Duke's secondary has allowed only six more in its next six games, while racking up 12 interceptions.
Ross Cockrell
and
DeVon Edwards
have led the charge, but they've not faced a challenge as immense as Winston. Florida State has four receivers ranked in the ACC's top 11 in yards per catch, and Winston loves going for the big play.
4. Crowder vs. FSU pass defense:
Asked earlier this week about the danger presented by Duke's
Jamison Crowder
, the ACC's leading receiver, FSU safety
Terrence Brooks
smiled. The Seminoles' secondary isn't afraid of anyone, he said, and it will take more than one weapon to beat them. It might sound a bit overconfident, but Brooks has the numbers to back up his boasts. Florida State ranks No. 1 in the nation in pass defense, and its 23 interceptions are tops in the country.
5. Ground gains:
Florida State's backfield rotation is running wild, averaging 9 yards per rush with nine touchdowns in its last three games.
Devonta Freeman
is now just 148 yards shy of rushing for 1,000 yards, and he has been stellar in two previous games against Duke. Meanwhile, the Blue Devils will want to establish the run, too, but might face a tough obstacle in doing so. Florida State's first-team defense hasn't allowed a rushing touchdown all season, and on first down, the Seminoles are allowing just 3.2 yards per carry -- the sixth-best rate in the country.
December, 5, 2013
12/05/13
11:00
AM ET
When Duke went on the road in late October and shocked then- No. 14 Virginia Tech, the Blue Devils did so without converting a single third down. Quarterback
Anthony Boone
threw zero touchdown passes -- and four interceptions. And yet Duke rolled out of Blacksburg having snapped a 42-year losing streak against ranked teams on the road.
The difference? Duke was finally able to win a game with defense and special teams.
[+] Enlarge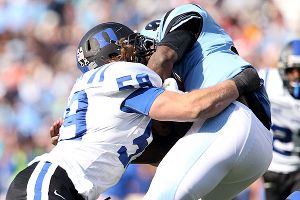 Andy Mead/YCJ/Icon SMIKelby Brown and Duke's defense will face their biggest challenge on Saturday against Florida State.
"To win a defensive game 13-10 is just such a boost of confidence on defense," said linebacker
Kelby Brown
. "It was really encouraging. That's when we showed people this defense is for real. This team is for real."
If Duke is going to have a shot at upending No. 1 Florida State on Saturday in the ACC championship game in Charlotte, it will need to be sharp in every phase of the game. It will have to rely most heavily upon what has become an opportunistic defense, and a special teams unit that has the ability to score and create good field position.
Duke has scored four times on kick returns (two punt return touchdowns and two kickoff return touchdowns), and freshman safety
DeVon Edwards
leads the nation in kickoff return average (32.7).The defense has caused turnovers in 11 of 12 games (including three in the red zone), and enters the ACC title game with 16 interceptions, nine forced fumbles and seven fumble recoveries. Duke is tied for fifth in the ACC with 21 takeaways and the 16 interceptions are the most in the David Cutcliffe era.
"A lot of guys have stepped up into new roles, and our D-line is really experienced now," Brown said. "They're doing a great job up front of allowing the linebackers to fly around and make tackles. That's something, just old-school, 4-3 style defense, the way Boston College has always run it, a great D-line that holds up the line and that's been huge for us. And I think we're the most athletic we've ever been in the secondary. Even though we have some young guys back there, they have speed and they can tackle. It's all kind of clicked from the front line all the way to the back."
Duke, a heavy underdog, knows it has no margin for error. The Blue Devils have never beaten Florida State in 18 tries, and the Noles have won every game this season by at least 14 points. In 2012, Duke's defense was steamrolled by FSU in a 48-7 loss, and many are predicting a similar result. Of all the times these two programs have faced each other, though, only one other time has Duke been ranked -- in 1994, when it was No. 16.
The numbers prove, though, that Duke's defense is the best it's been in over a decade.
Duke is allowing just 23.0 points per game, which would rank as the program's best mark since the 1994 season (22.45 points per game). Duke has 22 sacks this season, and linebackers
David Helton
and Kelby Brown and safety
Jeremy Cash
are the top three tacklers in the ACC.
"





We have a very good offense who can put up points on anybody. We've just got to make sure that we limit people, and the best way to limit people is by making them drive the length of the field on you and not giving up the 50 and 60 yard passes.


"


-- Ross Cockrell, on how Duke's defense can find success against Florida State
Duke's fourth-quarter defense has also been outstanding. It's allowing an average of just 9.1 points in the second half compared to 13.9 in the first half. Duke has surrendered only 3.1 points and outscored opponents 113-37 in the fourth quarter.
"Well, we run better on defense," Cutcliffe said. "First thing you've got to be able to do is get to them to get them on the ground. You can't get them on the ground if you can't run. We run better. We'd better run better in this one because these guys have I think more weapons than anybody in the country."
Starting with Florida State wide receiver
Kelvin Benjamin
.
"We don't have anybody that can line up and match up physically with Benjamin," Cutcliffe said. "He's just a monster and with great skills."
Against Florida's stingy defense last week, Benjamin single-handedly outgained the Gators' offensive output (212 yards to 193). He scored three touchdowns, and had nine receptions. Last season against Duke, Benjamin had three catches for 77 yards.
"Yeah, we've done a great job, I think, defensively," said
Ross Cockrell
, one of the top defenders in the ACC. "But one of the things that we took away from last year was that you can't give up a lot of big plays, especially in the passing game, the deep passes that we gave up. We can't give up those kinds of plays and expect to win ballgames. We know we have a very good team. We have a very good offense who can put up points on anybody. We've just got to make sure that we limit people, and the best way to limit people is by making them drive the length of the field on you and not giving up the 50 and 60 yard passes."
Duke's defense and special teams have been good enough to win the Coastal Division, but they will have to be great to win it all on Saturday.
December, 3, 2013
12/03/13
2:00
PM ET
TALLAHASSEE, Fla. -- It's sort of a running joke among the Florida State defensive backs. It's a confident group -- ranked No. 1 in the nation two years running -- so no one admits when they're overmatched, but they know covering
Kelvin Benjamin
is a tough job, and so they can't help but laugh when someone else tries to do it.
Lamarcus Joyner
, all 5-foot-8 of him, has battled Benjamin for jump balls in practice, but how many corners can combat a 6-foot-5 frame?
[+] Enlarge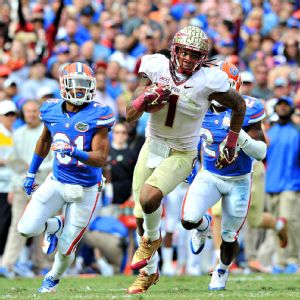 Steve Mitchell/USA TODAY SportsKelvin Benjamin's 12 touchdowns leads Florida State's receiving corps.
P.J. Williams
is tall enough to at least pose a threat on those plays, but then, he has to account for Benjamin's surprising burst of speed, too. How may 6-5 receivers get used on end-arounds, after all?
Terrence Brooks
plays with a unique blend of speed and physicality, but mixing it up with Benjamin isn't exactly fun. A receiver with size and quickness that still likes to hit, to block downfield -- how many players in the country do that?
"It's like it's easy for him," Brooks said. "I don't think they make him anymore in the factories."
This is how it's been since Benjamin arrived at Florida State in 2011, a physical freak of nature who performed such astonishing feats of athleticism and strength on the practice field that the accounts from teammates were often met with skepticism from those who hadn't seen it firsthand. But making it look easy was actually what made life hard for Benjamin.
His first year was a waste. He was overweight, unprepared and redshirted.
The 2012 season represented a big step forward, but still a disappointment. His focus wandered, and his production waned. He caught 30 balls, but he had just 52 receiving yards in the final five games of the season.
This season, however, Benjamin is blossoming into the player his teammates always knew he could be -- a monster few defensive backs are capable of taming.
"Anybody can make mistakes and have a season like [2012] and throw excuses out there," Benjamin said. "I felt like the season just improved me as a player."
Benjamin's improvements began in the weight room. He shed some excess pounds and got into the best shape of his life. He hit the film room, studying the playbook with renewed vigor, knowing a new quarterback was taking the reins of the offense, and he'd have a fresh start and a bigger role. He talked with
Rashad Greene
and
Kenny Shaw
, the veterans of the receiving corps, about finally showing the rest of the world what had so often been confined to the practice field.
"He's a lot more focused mentally than anything," Greene said. "He's always had the ability, the skill, the talent. But the way he's been locked in and just been all in for the team -- he can tell you, he's really focused compared to what he was last year. And it's showing all around."
It's helped, too, that Benjamin's role has increased dramatically.
A year ago, the receiving corps was deep -- a solid mix of veterans and younger players all eager for their share of throws. For Benjamin, however, there simply weren't enough footballs to go around. He'd be on the sideline for long stretches, then his head wasn't in the game when he took the field.
But this offseason, Florida State lost three seniors for the season before fall camp concluded, and that's meant a tight rotation on game days and plenty of throws for Greene, Shaw and Benjamin, who are now all within reach of 1,000 yards.
"A receiver wants to touch the ball as many times as you touch it in practice, and my first season, I wasn't doing that," Benjamin said. "I let that get to me, wanting the ball more and the rotation. This year, we stay on the field until we finish the game. It's just staying in there and having that feeling that consistently you're in the game and you're warm and can go out there and do it."
In last week's win over Florida, Benjamin was constantly in quarterback Jameis Winston's sights. He had a career-high nine catches for 212 yards and three touchdowns. It was the first time a Florida State receiver topped the 200-yard mark in 11 years. It was the eighth-best single-game total in school history, and Winston had predicted it earlier in the week.
"I said, 'KB, you are an unstoppable force. If you go out there and do what you're supposed to do, no one can cover you,'" Winston recalled after the win.
None of it comes as a surprise, of course. Just look at Benjamin, and it's always been obvious he would become a star. There simply aren't other receivers who do what he can do.
Duke corner
Ross Cockrell
said the key is to challenge Benjamin at the line of scrimmage, play physical with him. But really, Cockrell is grasping at straws. Benjamin has five inches and 50 pounds on the Duke corner.
"We'll be working all week on that answer," Duke coach David Cutcliffe said of defending Benjamin. "We don't have anybody that can line up and match up physically with him. He's just a monster and with great skills."
Benjamin has always been a monster, but after three years, Jimbo Fisher has finally convinced him to prepare as if he were a mere mortal. Now those skills are well refined, and Benjamin presents a matchup as perplexing for defenders as any in college football.
And that's when Florida State's own defensive backs can break character and admit, covering the monster can't be done. They know. They've tried.
"Seeing him go against other guys," Brooks said, "we sit there and laugh about it."
December, 2, 2013
12/02/13
3:28
PM ET
Florida State led all schools with seven players on the
All-ACC first team
, including quarterback
Jameis Winston
, running back
Devonta Freeman
and cornerback
Lamarcus Joyner
.

In all, the Seminoles had 17 players chosen to the first, second and third teams as voted on by the Atlantic Coast Sports Media Association and announced Monday. Eleven players were selected from Coastal Division champion Duke, including four on the first team.
Boston College back
Andre Williams
, who leads the nation and set an ACC single-season record with 2,102 yards rushing, was the only unanimous selection to the All-ACC team. Clemson receiver
Sammy Watkins
received 63 votes, while Winston received 61. Duke receiver
Jamison Crowder
, who leads the ACC in receptions with 88 and has returned two punts for touchdowns this season, was the only player selected at multiple positions. Crowder was voted to the first team at receiver made the second team as a specialist.
First team
Offense
QB – Jameis Winston, Florida State
RB – Andre Williams, Boston College
RB – Devonta Freeman, Florida State
WR – Sammy Watkins, Clemson
WR - Jamison Crowder, Duke
WR –
Rashad Greene
, Florida State
TE -
Eric Ebron
, North Carolina
T-
Cameron Erving
, Florida State
T-
James Hurst
, North Carolina
G- Tre' Jackson, Florida State
G-Shaq Mason, Georgia Tech
C-
Bryan Stork
, Florida State
Defense
DE -
Vic Beasley
, Clemson
DE -
Kareem Martin
, North Carolina
DT -
Aaron Donald
, Pitt
DT –
Nikita Whitlock
, Wake Forest
LB -
Kelby Brown
, Duke
LB –
Denzel Perryman
, Miami
LB –
Kevin Pierre-Louis
, Boston College
CB – Lamarcus Joyner, Florida State
CB –
Ross Cockrell
, Duke
S –
Anthony Harris
, Virginia
S –
Jeremy Cash
, Duke
Special Teams
PK -
Nate Freese
, Boston College
P -
Pat O'Donnell
, Miami
SP -
Ryan Switzer
, North Carolina
August, 14, 2013
8/14/13
3:30
PM ET

No. 9. Lamarcus Joyner, DB, Florida State
Previous ranking:
No. 15
Making the case for Joyner:
As one of the top defensive backs in the country, Joyner will be showcasing his versatility this year at corner, where he played during the spring. He spent the past two seasons as the starting strong safety, where he has started 27 straight games, and he is also one of the top kick returners in school history. In a top-10 win over Clemson, Joyner returned five kickoffs for 185 yards, including one for 90 yards. He has played in every game since he arrived at Florida State as a freshman in 2010, and is now the leader of the defense. Joyner has great range because of his speed, which allows him to cover a lot of ground in the secondary. Joyner is on the watch lists this year for the Thorpe Award, Bednarik Award, Nagurski Trophy, Lott Impact Trophy and Paul Hornung Award.
The countdown
October, 26, 2012
10/26/12
9:00
AM ET
Things to keep an eye on when Florida State takes on Duke on Saturday.
[+] Enlarge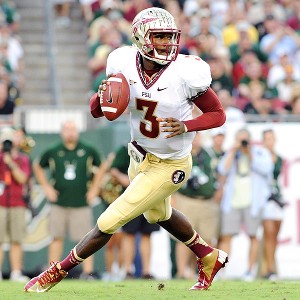 Al Messerschmidt/Getty ImagesE.J. Manuel has been extremely accurate when passing outside of the pocket.
Noles to watch:
1. EJ Manuel.
It's been a Jekyll-and-Hyde season for Manuel depending on the venue. He's been mediocre on the road, throwing just two TD passes in three games, completing 66 percent of his throws and averaging just 230 yards per game. Manuel has been unstoppable at home, though. In five home games, he's completing nearly 75 percent of his throws with eight TDs and averaging 332 yards per game.
2. Tyler Hunter.
After his third fumble of the season on special teams last week,
Rashad Greene
was benched as FSU's top punt returner, and Hunter will now get his chance. But while Greene struggled to hold onto the football, he was also a big-play threat, with two touchdowns already. Hunter provides the same home-run potential, Fisher said, having played on offense through much of his high school career.
3. James Wilder Jr. and Devonta Freeman.
Chris Thompson
's season is over and the burden of picking up the FSU ground game now falls to a pair of sophomores. Both runners are averaging better than 6 yards per carry this season and combined for 119 yards and two touchdowns after Thompson departed last week's game, so there's ample reason for optimism.
October, 25, 2012
10/25/12
9:00
AM ET
In August, it would have been pretty easy to assume this week's game would feature one team in control of its own destiny in the ACC and another looking for help. Of course, who would've guessed the team with its sights set on the ACC championship game would be Duke, and it would be Florida State that was still on the outside looking in?
[+] Enlarge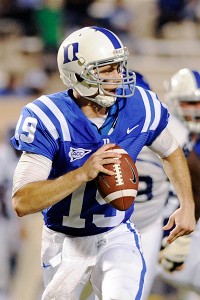 Liz Condo/US PresswireQuarterback Sean Renfree is a big reason why Duke is bowl-eligible for the first time since 1994.
Still, history suggests there's little room for concern for Florida State this week, even if Duke is playing its best football in nearly two decades. But the Seminoles know what can happen when they take an opponent lightly, and the Blue Devils have talent.
So, what are the keys to running up another big win over Duke? We checked in with Blue Devils beat writer Laura Keeley from the Raleigh News & Observer for some answers.
NoleNation: Duke is 0-17 all-time against FSU, has never lost by fewer than 19 points and has allowed at least 44 points in 14 of the 17 previous meetings. Obviously this year's Duke team is the best they've had in a while, but do these Blue Devils really believe they have a chance to knock off FSU?
Laura Keeley:
They do. This is not your Duke team of old, and I present you three different situations as evidence:
1) Wake Forest scored 10 points in the final 2:26 of the third quarter to tie that Sept. 29 game at 20-20. Duke scored 14 straight points and won 34-27 to snap a 12-year losing streak to the Demon Deacons.
2) Duke came out of the tunnel at Blacksburg and built a 20-0 lead against a physically superior Virginia Tech team in the first quarter. That's the second-highest total ever surrendered by the Hokies in the Frank Beamer era, and it took the largest comeback of the Beamer era for Virginia Tech to win.
3) So yes, in the above game Virginia Tech scored 41 unanswered points to win 41-20. But the Blue Devils shook that off and came out and beat UNC 33-30 to end an 8-year losing streak to the Tar Heels and clinch bowl eligibility. The game-winning drive came after Duke CB
Ross Cockrell
failed to corral a loose ball that would have sealed the deal for Duke, but instead UNC RB
Giovani Bernard
scooped and scored and gave UNC the temporary lead.
So, yeah, things are different in Durham this year. That said, the Blue Devils are aware of the monumental challenge Florida State presents and acknowledge that the Noles are bigger, faster and stronger. That's just a fact.
July, 24, 2012
7/24/12
7:58
AM ET
Looking forward to real, live football, NoleNation takes a run through Florida State's 2012 schedule, going game-by-game to find the best storylines and matchups of the upcoming season.
Duke Blue Devils
Saturday, Oct. 27:
Doak Campbell Stadium, Tallahassee
2011 record:
3-9 (1-7). After an embarrassing opening-week loss to FCS opponent Richmond, the Blue Devils responded by winning three straight games in late September and early October to push their record above .500. Then the bottom fell out, and Duke dropped seven straight in ACC play to close out the year, including a 41-16 thrashing at the hands of FSU.
Coach:
David Cutcliffe (15-33, fifth season)
FSU Recruiting Builds On BCS Title Win
ACC SCOREBOARD
Thursday, 8/28
Friday, 8/29
Saturday, 8/30
Monday, 9/1