Florida State Seminoles:

Randy Spetman
June, 5, 2013
6/05/13
8:05
PM ET
Florida State has to get modern in its search for a new athletic director.
Modern ADs know how to connect to fans, to donors, to booster groups. Modern ADs know how to squeeze money out of places where there is no money. Modern ADs come up with innovative revenue streams, to augment the bottom line as programs compete every single day against each other for the biggest budget and, in turn, the biggest facilities.
Randy Spetman was simply not the picture of a modern AD. That is through no fault of his own. Spetman was brought in by another president, during a time of NCAA issues, and was never really seen as a strong leader. Today, athletic departments need strong leaders. Perhaps that is one reason why he is
taking on another role
, as senior advisor to the athletics department.
[+] Enlarge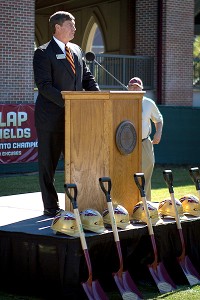 Courtesy of D'Vel PhotographyOne of Randy Spetman's achievements as Florida State AD: breaking ground on a new indoor practice facility.
From the moment he arrived, there seemed to be a general disconnect with the fan base, too. Then when new president Eric Barron arrived in 2010, there was a disconnect between them as well. Spetman was never Barron's guy. When the president and AD do not see eye to eye on many issues, well, you have problems. You kinda got the idea this day would become an eventuality when Spetman only got a one-year extension in February. He remains one of the lowest paid ADs not only in the ACC but in Florida as well.
Spetman, however, was putting together a five-year strategic plan for Florida State, to be presented Thursday at a board of trustees meeting. He believed in the plan, and thought that would give him more time. Give Spetman credit for his accomplishments. Florida State has had no NCAA issues since his arrival, a major plus considering the problems that predated him. He got the indoor football practice facility done. And the teams within the athletic department reached unprecedented heights.
But many times over the past several years, Florida State made headlines for issues a stronger AD may have handled better. And many of those issues surrounded one major problem -- money. The Noles had budget problems; they had home attendance problems; and, of course, they had conference problems caused by board of trustees members who saw more dollar signs in a different neighborhood.
Spetman handled the shenanigans over Big 12 speculation last year poorly, scurrying away from reporters while failing to attack the issue head on. It was Barron who took the lead in making sure the Noles were on board with the recently signed grant of rights, solidifying conference stability, not Spetman.
But that whole episode illustrated a great problem Florida State has faced under Spetman and will continue to face when a new athletic director arrives: The Noles make heaps of cash, yes. But not nearly as much as in-state rival Florida, nor other elite programs the Noles compete with for recruits and championships. Coach Jimbo Fisher has patterned his program after his experiences coaching at LSU and with Nick Saban. But he also knows reality -- he does not have the cash or the resources of a wide variety of those SEC schools.
How then to get there? Finding bigger, better more revenue streams. The best ADs today have mastered that. These days, a background in sales and marketing is almost a must. Having said that, the new AD must also be able to handle the big personalities both Fisher and Barron bring to their respective programs. Florida State needs an athletic director both coaches and Barron can listen to and trust. Fans need to believe in the new AD, too. There never was that belief in Spetman for a variety of reasons.
Essentially, Florida State now needs an AD everybody can rally around for this program to keep moving forward.
May, 31, 2013
5/31/13
5:05
PM ET
TALLAHASSEE, Fla. -- Florida State athletics director Randy Spetman will present a five-year strategic plan designed to address growing concerns about the program's financial and on-field future during a meeting with the school's board of trustees Thursday.
The strategic plan, obtained by ESPN through a freedom of information request, outlines a dozen objectives Spetman hopes to achieve during the next five years that includes renovations to facilities, increased media rights opportunities and a focus on increasing attendance across all sports.
"Recent shifts in conference affiliations from coast to coast threaten a level playing field among Division I programs," Spetman writes in a letter that accompanies the document. "Attendance throughout professional and college sports is on the decline and budget constraints grow greater each year with the annual increases in tuition, room and board associated with athletic scholarships. Our plan will put into practice methods that will address these and other challenges over the next five years."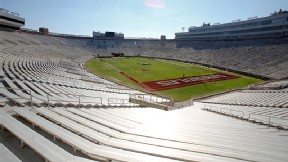 AP Photo/Don Juan MooreMajor upgrades to Doak Campbell Stadium are part of FSU AD Randy Spetman's five-year goals.
The specifics of the plan will be discussed Thursday with board members, and Spetman has declined comment on the plan in advance of the meeting.
In the document, which has already been distributed to board members, Spetman lays an extensive set of goals, which include a focus on improvements to facilities, increased merchandising opportunities, an investment in recruiting and retaining the top coaches and athletes in the country and numerous options for reducing expenses and generating new forms of revenue to maintain "financial integrity while providing resources required for a top 10 athletic program."
Among the most significant aspects of the proposal are proposed improvements to the fan experience at both the Tucker Center and Doak Campbell Stadium. Plans for new seating and access to air conditioned plazas and other amenities are already in the works at Doak Campbell Stadium, and similar plans are being explored for other areas of the stadium. Bathrooms and concessions will also receive an upgrade, according to the proposed plan.
"We've had a team come in and do a full analysis of the stadium and come up with a plan of how we would retrofit the bowl, how we'd make it more fan friendly," Spetman told ESPN earlier this spring. "It's very expensive, and there's a phasing that would have to go along with that. … What we will do before we implement that is to presell the seats to make sure we have it sold and get our investment back. I would say in the next year or two years, you'll see that being moved forward."
Additionally, plans are being developed for a complete remodel of the Tucker center, which would include a dedicated entrance, improved parking, new seating and redesigned concessions. Previous reports suggest renovations to the Tucker Center could cost in excess of $100 million.
In addition to the new expenses, the proposal sets out a series of options for generating new revenue streams by increasing Florida State's marketing, licensing and merchandising opportunities.
Among the most notable considerations are a plan to solicit input from Nike and other retailers for recommendations on increasing merchandising sales, which could include changes to uniforms, sideline gear and logos aimed at making them more "retail friendly."
The plan also puts a focus on building fan engagement with an emphasis on driving attendance. The plan calls for a renewed emphasis by coaches in engaging with the booster club, increase promotion through internal media outlets, including Seminoles.com, and a focus on using social media to engage directly with fans and "identify and aggressively challenge negative perceptions and misinformation."
The fan outreach also includes a concerted effort to schedule marquee opponents in hopes of boosting dwindling attendance. Florida State's home football schedule in 2013 has met with apathy from a portion of the fan base, but the school has already signed agreements for a neutral-site game with Oklahoma State and with a scheduled home date against Notre Dame in 2014. Spetman said earlier this spring that additional high profile non-conference games were in the works.
The entirety of the strategic plan has been developed over the past year, and Spetman notes that it included input from fans, boosters, coaches, athletes, faculty and staff.
But for all the input, no one may have more riding on the reception of the plan that Spetman, whose contract expires in February of 2014.
"One of the agreements the president and I had was, he wanted a strategic plan for the next five years and my vision for that," Spetman said earlier this spring. "We've spent the last year putting that together … to show where we're going to go and give him some items I can be evaluated on. If he's happy with that and where we're going, then we'll talk about how long I'll get to stay."
May, 15, 2013
5/15/13
4:00
PM ET
AMELIA ISLAND, Fla. -- Florida State coach Jimbo Fisher has no problem with quarterback
Jameis Winston
continuing to play both football and baseball, even now that it appears the highly touted redshirt freshman has the inside track to win the starting job.
Though Fisher maintains the quarterback competition remains open, Winston seemingly emerged as the front-runner to win the job following a spectacular spring game and the eventual transfer of veteran Clint Trickett.
"I'm not going to limit what he does," Fisher said Tuesday during ACC spring meetings. "If that's something he helps that team with -- he loves football, he loves baseball and we'll continue to monitor and do the same things we do."
He later added, "You don't put parameters on people just because somebody else didn't do it. Charlie [Ward] did it, Deion [Sanders] did it, Sammie Smith did it. Florida State's had quite a number of them. And [Jameis] continues to do it very well."
Winston juggled both sports throughout spring practice with no problems. He has appeared in 31 baseball games with 26 starts and is batting .293. He also has made 14 appearances as a relief pitcher with a 1.80 ERA.
Fisher has never had a quarterback play two sports. In fact, two-sport athletes are becoming increasingly rare as players become more specialized in one sport.
But Fisher says, "I think the relationship's gone very well. Testing the waters in spring I thought he handled it extremely well and did very well with it. It goes back to the individual. Is he capable of handling it? And he's handled it with ease. He's excelled in both things that he's done."
A few more notes from Fisher:
Fisher didn't want to publicly comment on signee Matthew Thomas, who made headlines last week when he said he wanted out of his letter of intent. Athletic director Randy Spetman told The Tallahassee Democrat the school wouldn't release Thomas. Coaches continue to have discussions with his mom to see whether they can get Thomas to come up to Tallahassee. "We're working behind the scenes and I'm not going to comment publicly," Fisher said.
Fisher also seemed a little surprised that receiver Marvin Bracy decided to quit football to focus on track. "We had a great conversation," Fisher said. "Just he was more undecided about what he wanted to do. I just wanted him to make sure if you're going to go pro track, is it what's best for you? Are you going to maximize the money you can make or the opportunity for your life or what's your education down the road, what's the big picture? I hope he's done that."
March, 7, 2013
3/07/13
5:00
PM ET
Head coaching salaries have been on the rise for years. So have assistant coach salaries, sparking a further separation between the programs that can pay and the programs that cannot.
Therefore, it should come as no surprise that athletic directors have seen their salaries grow as well.

USA Today, which annually compiles head coaching salaries, recently found FBS athletic directors make
an average of $515,000
. That is an increase of more than 14 percent since USA Today last reported on AD salaries in 2011.
The ACC beats that average. Of the
available salaries compiled by USA Today
, ACC athletic directors were set to make an average of $602,829 in 2013. All but two made more than $500,000 -- Kevin Anderson at Maryland ($499,490), and Randy Spetman at Florida State ($350,00).
That doesn't count incoming Louisville athletic director Tom Jurich, who makes a cool $1.4 million -- the highest paid athletic director at a public school. Only nine athletic directors make $1 million or more. The next highest paid public school AD is Dan Radakovich at Clemson, checking in at $725,000.
Boston College and Miami, two private schools, did not disclose figures.
While Spetman's salary has remained the same for the past several years, it still surprises me that the athletic director at one of the most high-profile football programs in the nation is the lowest paid in his league. And one of the lowest paid in the entire state of Florida. Florida AD Jeremy Foley makes more than $1 million; USF AD Doug Woolard makes nearly $500,000; Todd Stansbury at UCF makes just a smidge more ($375,000); and FIU AD Pete Garcia makes $441,832.
I know Spetman has faced his share of criticism, and the Noles have fought through some financial problems. They do pay Jimbo Fisher $2.75 million -- the highest paid coach in the ACC. But something seems off when the ADs at FIU, UCF and USF make more than the guy at Florida State.
Here are is the complete list of AD salaries in the ACC, thanks to USA Today.
Tom Jurich, Louisville: $1.4 million*
Kevin White, Duke, $906,536
Dan Radakovich, Clemson: $725,000
Ron Wellman, Wake Forest: $688,000
Mike Bobinski, Georgia Tech: $625,000
Jim Weaver, Virginia Tech: $621,529
Steve Pederson, Pitt: $596,595
Craig Littlepage, Virginia: $586,750
Daryl Gross, Syracuse: $570,057
Bubba Cunningham, North Carolina: $565,000
Debbie Yow, NC State: $500,000
Kevin Anderson, Maryland: $499,490**
Randy Spetman, Florida State: $350,000
Brad Bates, Boston College: NA
Blake James, Miami: NA
*Louisville expected to join ACC in 2014
** Maryland will depart ACC in 2014
March, 6, 2013
3/06/13
1:08
PM ET
By
ESPN.com staff
| ESPN.com
NoleNation has more coverage of the Florida State Seminoles:
From David M. Hale:
FSU athletics director Randy Spetman has done a lot to retrofit the Seminoles' program while constantly keeping an eye on an uncertain future and a pesky fanbase.
From Corey Dowlar:
Florida State added its seventh commitment of the 2014 class with defensive end Blake McClain.
More from Dowlar

: FSU DE commit Blake McClain had the athleticism, but hitting the weights has added a power element to his game.
December, 2, 2012
12/02/12
2:09
AM ET
CHARLOTTE, N.C. -- In a span of four days last week, Florida State lost three times.
On Saturday, the Seminoles lost a heartbreaker to rival Florida in the final game of the season on their home turf. On Sunday, they lost their leading tackler and star defensive end,
Tank Carradine
, to a torn anterior cruciate ligament. And on Tuesday, they lost their beloved defensive coordinator, Mark Stoops, to Kentucky. Never mind the constant swirl of rumors about head coach Jimbo Fisher following Stoops into the SEC for another head-coaching gig.
"There were a lot of distractions this week," FSU athletic director Randy Spetman said.
[+] Enlarge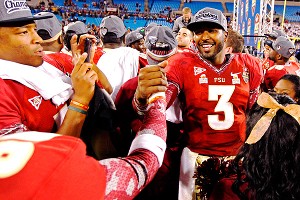 AP Photo/Chuck BurtonFlorida State QB EJ Manuel (3) celebrates the team's first ACC title since 2005 with teammates.
Despite it all, one thing Florida State didn't lose was sight of its goals.
With a
21-15 victory
over Georgia Tech on Saturday in the Dr Pepper ACC championship game, the Seminoles knocked any perceived distractions over like bowling pins. There was no sign of a hangover from the Florida game as FSU jumped out to a convincing 21-6 lead at the half. The news about Carradine and Stoops inspired the defense to a game-changing finish in the fourth quarter, as an interception by
Karlos Williams
sealed the ACC title with about a minute remaining. For a fleeting moment late Saturday night, as confetti scattered in the air and the Seminoles celebrated their first ACC title since 2005, the rest of the college football world was forced to pause and finally let the Noles enjoy themselves.
They earned it.
"We are still ACC champions, and that is one goal," FSU safety
Lamarcus Joyner
said. "We had a lot of goals and we met one of them. We have another one in front of us. That makes greatness, grasping opportunities in front of you."
In order to do that, they had to forget the missed opportunities behind them -- the loss to NC State, the loss to Florida.
There's no question there was a sense of relief from within the program Saturday night. This is a team that began the season ranked No. 3 in the country. The loss to NC State knocked the Noles out of the national title conversation and will continue to haunt them long after this season ends. Five turnovers in a loss to Florida was another statement opportunity squandered. And with Georgia Tech in position to put together a game-winning drive late in Saturday's game, NC State 2.0 looked like a very real possibility.
It was almost as if you could hear the entire city of Tallahassee exhale all the way in Charlotte when Williams snagged that pick.
"Oh man," defensive tackle
Timmy Jernigan
said. "Oh, man. We've been trying to get here for a long time. That's why I thank God for letting us win this game and I thank the seniors for helping this program get back to the top and get back into the national title conversations and winning these ACC championships and Orange Bowls and those types of games. We're Florida State. That's what's supposed to happen. It wasn't nothing miraculous. That's what we're supposed to do."
It wasn't easy, and it wasn't pretty, but it didn't matter.
Give 'em a break. In the end, Florida State is right where almost everyone predicted this summer it would be: heading to the Discover Orange Bowl. While many will continue to lament what could have been, Florida State is staring down what is: the possibility at a 12-2 season with an ACC title and a BCS win.
Not exactly a five-loss Rose Bowl team, now is it?
"I'm extremely happy for our players because I know how hard it is and how much flak they've taken: 'When are you going to be back, when are you going to win a championship, when are you going to do this,'" Fisher said. "... There's a point in time you point back and you look at it and you say, 'That was it.' That's the time that you got over the hump and you got there and you didn't let the circumstances blur your vision, and they did that."
It doesn't always have to be about playing in the shadow of the SEC or comparing what's happening in Charlotte to what's happening in Atlanta. It wasn't time to ask whether Fisher was the right man to replace Bobby Bowden. For once -- just once -- it can be simply about putting a trophy in the case and letting a group of players -- kids -- who have been through a lot enjoy it.
"I'll be extremely proud of it 10, 15 years from now," quarterback
EJ Manuel
said. "I'll be able to say I helped our team get back to where we needed to be as far as the BCS conversation, the national championship conversation and things like that. I want to see greatness from here on out. We have a lot of great players, a lot of great young players, and guys understand what it takes to get to this point, so I don't see us going back to where we used to be. I think Florida State is back in the conversation."
Thanks in large part to the defense, which held Georgia Tech and the nation's No. 3 rushing offense to just 183 rushing yards.
"You didn't want to work this hard for three years and not be able to finish this," Stoops said, "because our program, Coach Fisher and the players deserved this win."
And they deserve to celebrate it -- without any distractions.
October, 3, 2012
10/03/12
5:40
PM ET
TALLAHASSEE, Fla. -- Jimbo Fisher got his wish, and the ACC will move forward with an eight-game conference football schedule, the league announced Wednesday.
Fisher had railed against the proposed nine-game slate, which would severely limit non-conference scheduling for teams like Florida State, Clemson and Georgia Tech, who already play an annual rivalry game against an out-of-conference foe.
With Notre Dame coming on board as a partial member of the ACC -- set to play five games a year against ACC opponents -- another wrinkle was added to the mix, making it financially problematic for member schools who want to maintain seven home games each season for revenue purposes.
[+] Enlarge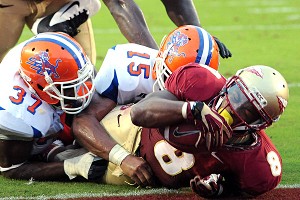 Melina Vastola/US PresswireThe matchup with Savannah State was a lowlight on the FSU schedule this season.
But while the change of course back to the current eight-game slate offers Florida State more flexibility, it also means the Seminoles will need to find at least one more opponent to fill out their 2013 schedule.
Currently FSU has non-conference games against Wofford, Nevada and Florida scheduled for next season, but losing the ninth ACC game opens up a vacancy. Meanwhile, Nevada is hoping to withdraw from its scheduled trip to Tallahassee next season and is working with Florida State to find a viable alternative opponent.
The Seminoles endured similar last-minute scheduling issues this season when West Virginia pulled out of a planned Week 2 meeting in February, forcing FSU to scramble for a replacement. The school eventually settled on Savannah State, an FCS program that won just one game last year. The game had low attendance and FSU won in a route, despite weather putting an end to the contest midway through the third quarter.
With the tepid response to the Savannah State game among fans and questions swirling about how Florida State's lackluster schedule will affect its chances at a national championship, it seems likely AD Randy Spetman will want to avoid scheduling a second FCS foe for 2013, but he said the process of filling out next year's slate is only in its infancy.
"The change in the ACC's schedule plans obviously happened very quickly over the last few days," Spetman said. "We are immediately assessing what that will mean for Florida State, but speculating about potential opponents is premature right now. It is particularly difficult to plan too far in the future without knowing where and when Notre Dame is going to fit into schedules."
The plan for Notre Dame at this point would be for each ACC team to play one home game and one road game against the Irish every six years. When and where the first of those meetings would take place for Florida State remains a mystery.
Things will be a bit simpler in basketball, where the new schedule -- which includes Notre Dame as a full member -- will be an 18-game slate that includes one game annually against every other ACC team. Each team also will play an annual home-and-home series against two partner teams, which for FSU will be Clemson and Miami.
Haskins, McElwain Shine At IMG Regional
ACC SCOREBOARD
Thursday, 9/3
Saturday, 9/5
Monday, 9/7