Florida State Seminoles:

Q&A
November, 29, 2012
11/29/12
9:00
AM ET
For the bulk of Florida State's roster, Saturday's ACC Championship Game will be a new experience -- not because of the big-game environment but because of the offense run by Georgia Tech.
For
Bjoern Werner
, it's the first time he's ever faced an option attack. For
Timmy Jernigan
, it's been since his high school days. Only FSU's most veteran defenders have faced off against Tech before, and few of them saw extensive action back in 2009.
So how much of a challenge will the Yellow Jackets be in this week's ACC title tilt? To find out, we asked Georgia Tech beat writer Ken Sugiura of the Atlanta Journal-Constitution for some insight.
NoleNation: FSU hasn't faced a team like Georgia Tech all season, while Tech is coming off a (rather ugly) game against Georgia, which runs a similar pro-style offense to FSU. Is there any thought among the Jackets that this could be an advantage, or does what happened against Georgia simply underscore that Tech might be outclassed in terms of talent in this game?
Ken Sugiura:
In terms of FSU offense vs. Tech defense, I confess, I don't know. Tech has seen a lot of spread offenses this season and not much in the way of pro-style offenses, so it can't hurt, although I don't think that scheme was the issue Saturday against Georgia. It was more a difference in talent and an inability to get to the quarterback followed by a lapse in effort.
The other way around, I think that could well play to Tech's advantage. Coaches facing Tech invariably talk about the challenge of facing this offense with just three practices to prepare for it. FSU is having to do that while its defensive coordinator's attention is presumably divided. Plus, I don't believe Mark Stoops has coached against an option offense in several years.
November, 8, 2012
11/08/12
9:00
AM ET
Admittedly, a good bit of the luster has worn off what figured to be one of the best matchups of the ACC schedule this season, but Virginia Tech's rocky season doesn't mean Florida State will get an easy win on the road.
The Hokies are 4-0 at home this season, and Logan Thomas and Co. still provide an imposing obstacle for the Seminoles, who haven't always looked particularly sharp on the road.
So, which Virginia Tech team are we likely to see during this week's game? To find out, we checked in with Mike Barber, the Hokies beat writer for the Richmond Times-Dispatch.
NoleNation: After last week's loss to Miami, Virginia Tech's chances for a division title were dashed. What's the attitude among the players now? Have the losses started to take their toll or is Florida State viewed as a chance to salvage the season?
Mike Barber:
Virginia Tech's players had maintained a high level of confidence and good morale in the face of the early season losses, always pointing to the fact that they were still in the hunt for the Coastal title. Thursday's loss to Miami ended that and ended the team's streak of eight straight years with 10 wins. That hit the players, especially QB Logan Thomas, very hard. The talk has shifted to clichés about playing for pride, and extending the 19-year bowl streak, humble goals for a team that opened as the favorite to win the Coastal. But the players do say an upset over FSU would take a lot of the sting out of this ugly season.
NN: Virginia Tech has played much better at home than on the road this season, but the level of competition -- Georgia Tech, Autin Peay, Bowling Green and Duke -- hasn't been as tough either. Has there been real differences in how the Hokies have played at Lane Stadium thus far?
Barber:
I base the difference on the opponents. Tech, until now, has had an easy home schedule. But veteran players, like senior linebacker Bruce Taylor, said the team lacks the intensity it has at home when it plays on the road. Obviously a Thursday night crowd at Lane Stadium for the FSU game will provide a great atmosphere, and Tech is 11-3 at home on ESPN's Thursday night football. Not sure that makes up the talent gap.
NN: The Hokies' up-and-down performance this year has been mirrored largely by Logan Thomas. Why has he struggled so badly at times, and what does he hope to do differently against FSU?
Barber:
Tech's coaches have stood behind Logan Thomas, praising his toughness, competitiveness and effort. But it's hard to argue that he's executed well. Against Miami his miscues came out the worst possible times, throwing a red zone interception in the first quarter, fumbling a third-and-1 snap in the third and missing a fourth-and-1 throw in the fourth quarter. But the truth is, Thomas has missed throws like that all season long. He is playing behind a new line, with new WRs and new RBs, but his accuracy just seems off.
NN: The Virginia Tech pass rush figured to be among the best in the ACC entering the season, but the performance has been mediocre thus far. What's the plan for attacking EJ Manuel this week? Will the Hokies bring the blitz or do their best to keep Manuel in the pocket?
Barber:
After a really slow start, Virginia Tech's defensive line has played well the past three weeks. Against Duke and Clemson, it recorded five sacks in each game. Against Miami it had no sacks but felt like it got great pressure on the Hurricanes' QB and that was a big reason it held Miami to 1-for-12 on third down conversions. FSU has so many offensive weapons, Tech will likely try to get by with rushing three or four defenders and dropping seven or eight in coverage.
NN: What are the two or three keys for Virginia Tech this week if they want to pull the upset?
Barber:
Virginia Tech is a big-time underdog Thursday night against FSU. To pull the upset, it needs to get off to a fast start, something it's struggled with this year. It's important because that will keep the crowd into the game and make Lane an actual advantage. But with the way the team has performed this year, it's also important to give the players reason to believe. X's and O's wise, Tech has to be able to control the ball through the running game, to eat some clock. It also needs to score touchdowns in the red zone. Defensively, it can't give up big plays. A few easy scores to the Seminoles and this game could get ugly in a hurry.
Great info from Mike. If you're interested in reading more of his Virginia Tech coverage, you can find it
HERE
or follow him on Twitter at
@RTD_MikeBarber
.
October, 25, 2012
10/25/12
9:00
AM ET
In August, it would have been pretty easy to assume this week's game would feature one team in control of its own destiny in the ACC and another looking for help. Of course, who would've guessed the team with its sights set on the ACC championship game would be Duke, and it would be Florida State that was still on the outside looking in?
[+] Enlarge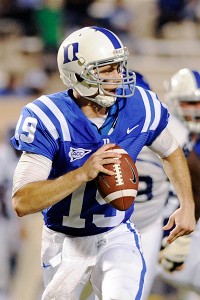 Liz Condo/US PresswireQuarterback Sean Renfree is a big reason why Duke is bowl-eligible for the first time since 1994.
Still, history suggests there's little room for concern for Florida State this week, even if Duke is playing its best football in nearly two decades. But the Seminoles know what can happen when they take an opponent lightly, and the Blue Devils have talent.
So, what are the keys to running up another big win over Duke? We checked in with Blue Devils beat writer Laura Keeley from the Raleigh News & Observer for some answers.
NoleNation: Duke is 0-17 all-time against FSU, has never lost by fewer than 19 points and has allowed at least 44 points in 14 of the 17 previous meetings. Obviously this year's Duke team is the best they've had in a while, but do these Blue Devils really believe they have a chance to knock off FSU?
Laura Keeley:
They do. This is not your Duke team of old, and I present you three different situations as evidence:
1) Wake Forest scored 10 points in the final 2:26 of the third quarter to tie that Sept. 29 game at 20-20. Duke scored 14 straight points and won 34-27 to snap a 12-year losing streak to the Demon Deacons.
2) Duke came out of the tunnel at Blacksburg and built a 20-0 lead against a physically superior Virginia Tech team in the first quarter. That's the second-highest total ever surrendered by the Hokies in the Frank Beamer era, and it took the largest comeback of the Beamer era for Virginia Tech to win.
3) So yes, in the above game Virginia Tech scored 41 unanswered points to win 41-20. But the Blue Devils shook that off and came out and beat UNC 33-30 to end an 8-year losing streak to the Tar Heels and clinch bowl eligibility. The game-winning drive came after Duke CB
Ross Cockrell
failed to corral a loose ball that would have sealed the deal for Duke, but instead UNC RB
Giovani Bernard
scooped and scored and gave UNC the temporary lead.
So, yeah, things are different in Durham this year. That said, the Blue Devils are aware of the monumental challenge Florida State presents and acknowledge that the Noles are bigger, faster and stronger. That's just a fact.
October, 18, 2012
10/18/12
12:33
PM ET
It has been more than a decade since Florida State beat Miami three consecutive times, but the Seminoles can make that happen with a win Saturday in South Florida. Miami, meanwhile, is coming off two consecutive losses and could be playing without its starting quarterback.
So, how big of an advantage does FSU have in this game and what is Miami doing to even the playing field? We checked in with Hurricanes beat writer Susan Miller Degnan of the Miami Herald for some answers.
NoleNation: We've gotten some mixed signals on whether QB Stephen Morris will play Saturday. What's the latest on his injury, and what does it do to Miami's offense if Ryan Williams is under center for the Hurricanes?

Susan Miller Degnan:
Miami's official injury report comes out Thursday afternoon, so we'll find out what the Hurricanes have to say about Stephen's "lower extremity'' injury – aka left ankle. However, unless the report says "out," I have a hunch Stephen will get playing time Saturday, if not start.
Coach Al Golden originally said he wouldn't be able to do anything until at the earliest Thursday, but on Wednesday, Stephen was at practice. He was limited, but I watched him repeatedly practice his dropback steps and then fire away to two alternating receivers. We're only allowed to watch the first 15 minutes of practice, but I learned that afterward he stayed for the entire practice – relaying plays, getting into the huddle and helping Williams and third-stringer
Preston Dewey
.
Keep in mind that Stephen sprained the same ankle three days before the 2010 Sun Bowl game, then replaced an errant Jacory Harris early in the game and ended up throwing for 282 yards and two touchdowns (with a pick). He also ran four times on that bad ankle for 22 yards.
Backup Ryan Williams –- a transfer from Memphis who sat out last season -- is very tall at 6-6, which is good. But he's also the opposite of mobile, which is bad when you have an exceptionally talented FSU defense coming to take you out. Williams has a very nice touch on the ball and good timing. However, his arm isn't nearly as strong as Morris', which the Seminoles know, too.
NN: Duke Johnson's season began with a bang, but he has been held in check the past three games. How much will Miami rely on him with Morris potentially out, and what can Golden do to create some space for the dynamic freshman?
Degnan:
I do believe that Duke is the real thing. He has been suffering from turf toe, which can be a debilitating injury. Not many people realized that Duke did not practice at all last week, but still played. You're right, he has definitely been held in check, and because of the toe, hasn't been on kickoff-return duty lately. Not sure if he'll be back returning kickoffs , because that's one avenue that creates lots of opportunities for his offense. Duke has fabulous vision, and even if it takes some short passes, he needs to somehow get the ball this week.
NN: FSU's passing game struggled against NC State as the Wolfpack pressured EJ Manuel often. Against BC, the O-line held up, and the passing game took off. Given that Miami has just seven sacks in seven games this year, what can the Hurricanes do to get some pressure on Manuel to slow down FSU's passing game?
Degnan:
Good luck with that one. If you can figure out the answer, give defensive coordinator Mark D'Onofrio a call.
NN: Regardless of records or rankings, the energy and emotion always seems high in a rivalry game like this. But coming off two tough losses and potentially without their starting QB, what's the mental state of the Miami players right now?
Degnan:
They're excited, I think, although Al Golden's team is a lot different from the Miami teams of the past. These guys are definitely understated. Not one of them is brash or brazen when being interviewed. But they also seem, at least outwardly, to be buying into Golden's program or "process." He seems to have them pretty focused. And I must say that these guys do not quit during games, which they did at times in the last few years when getting beat (can you say 45-17 vs. FSU at Miami in 2010?).
NN: So many FSU-Miami games have come down to one or two plays making the difference -- particularly on special teams. What do you think will be the keys for Miami to pull off the upset this time around?
Degnan:
Setting up great field position with special teams, a Miami offensive line that gives the quarterback time to deliver the play, creating some opportune turnovers and hoping that someone can pressure EJ Manuel. Sounds like a dream, but in this rivalry, anything can happen.
Great info from Susan. If you want to read more of her Miami coverage -- or get the latest on Morris' injury situation -- you can read it
here
or follow her on Twitter at
@SMillerDegnan
.
October, 10, 2012
10/10/12
9:00
AM ET
A year ago, Florida State allowed its first loss of the season to spiral into three straight defeats. The Seminoles have promised that won't happen this time around, and they'll get a fairly soft first test in Boston College, which is reeling after a 1-4 start to the season.
To find out a bit more about what's ailed BC this season and what the Seminoles will need to do to ensure a better outcome than last week, we checked in with Rich Thompson, who covers the Eagles for the Boston Herald.
NoleNation: A year ago, Chase Rettig threw for just 76 yards against the FSU defense, but he seems to have really blossomed this year. What's been the difference for him, and what has he said about how he'll approach this week's matchup against Florida State?
Rich Thompson:
Chase always had the arm and the football intelligence. He's learned to read his progessions and buy time by stepping up in the pocket. What he lacks in athleticism he makes up for with a confident pocket presence and accurate spirals. TE
Chris Pantale
broke his foot in training camp so Rettig has posted those numbers without a big target over the middle.
Alex Amidon
gives him the deep threat he lacked last season. My fear for Chase this week is that he will get chewed up by ther FSU pass rush. Army dropped him five times last week with a clever blitz package. I'm sure the FSU coaches took notice.
NN: The BC defense allowed more than 500 yards on the ground to Army a week ago, and they rank dead last in the ACC against the run. What's been the game plan this week for slowing FSU's ground game, which ranks as one of the better units in the conference?
Thompson:
Army focuses everything on the run. They should never have gotten that much, but that is what they do. To be fair, DT
Kaleb Ramsey
, DE
Brian Mihalik
and OLB
Kevin Pierre-Louis
were out with injuries. The Eagles rush defense was exposed by
Duke Johnson
in the seaosn opener and people have been running ever since. The real killer stat was the 293 rushing yards Northwestern gained. If FSU establishes a consistent run,
EJ Manuel
will kill them with play action.
NN: Florida State is coming off an ugly loss to NC State last week in which the Seminoles failed to score in the second half. Is there anything B.C. can take from watching that game tape that they can use to their advantage this week?
Thompson:
BC's only hope was a trap game against an undefeated and over confident FSU team. NC State did BC no favors. A riled Seminole Nation was the last thing the Eagles need.
NN: The bad start has already turned up the heat on Frank Spaziani, and with a new athletic director coming on board, his job status looks tenuous at best. What's the mood surrounding the team, and what will this week's performance against a quality opponent mean in the big picture?
Thompson:
The kids like Spaz and they play hard for him. The alumni and the boosters want him gone. His recruiting classes have been a disaster. The new AD has a football background with Big Ten connections. Spaz had one foot out the door after Northwestern. Army pushed him down the stairs. Maryland is the only team they have a chance of beating.
NN: Boston College hasn't won a game in the ACC yet, but they kept things close against Miami and Clemson into the fourth quarter. What do the Eagles need to do this week to be in a position to win the game late against FSU?
Thompson:
BC's only hope is to force a lot of turnovers and they have very few so far. BC can't stop teams from converting on third down. Northwestern (12-of-19), Army (8-of-16) Clemson (10-of-16). FSU will move the chains and burn them with big plays. It is a bigger mismatch than last year.
Many thanks to Rich for the insight. You can read more of Rich's Boston College coverage
HERE
.
October, 3, 2012
10/03/12
1:09
PM ET
Florida State heads on the road to face a reeling N.C. State team that just dropped a heartbreaker to Miami. The Wolfpack are reshuffling their offensive line, trying to find answers for a defense that has been torched by the Hurricanes and Tennessee this season, and still haunted by the memories of last year's 34-0 loss to Florida State.
So, how is NC State planning on staying competitive this year? For some insight, we checked in with David Morrison, who covers the Wolfpack for the Greensboro News & Record.
NoleNation: Jimbo Fisher and EJ Manuel both rave about how talented Mike Glennon is, but he didn't find much success against FSU a year ago. What has Glennon said about last year's meeting, and how's he planning on improving this time around?
David Morrison:
Glennon has said that FSU is the fastest team he's ever faced, before or since. To the point where he wasn't really prepared last year for that speed. He said he'll have a better idea of how much time he'll have to throw this year before the rush gets to him.
NN: David Amerson got plenty of hype after recording 13 INTs last year, but he's been picked on routinely this year, including a pretty bad performance last week against Miami. What's been the difference for Amerson?
Morrison:
Amerson's a very intuitive player that makes his living guessing and jumping routes. When he's right, he comes up with interceptions. When he's wrong, he gets torched. He's been wrong much more often this year and has yet to compensate in his aggressiveness.
NN: Speaking of that Miami game, from a defensive standpoint it was pretty much a disaster for N.C. State. How much do you think the Wolfpack will be looking to tweak from a technical standpoint this week, and what did the outcome do to the team from an emotional standpoint?
Morrison:
It'd be a mistake to change too much schematically in the week leading up to the toughest game of the year. From an emotional standpoint, it has to wear on the defense that, in both of State's losses this year, it has gotten shredded. Saturday's loss bothered the teams' captains enough to call a players only meeting Sunday to make sure everyone is on the same page.
NN: Amerson's flair for INTs was a big help last year, but this season it's been N.C. State's penchant for giving the ball away that has been front and center. Through five games, Glennon has six INTs and the team has seven fumbles lost (and another seven they put on the ground but managed to hang on to). How big of a focus have the turnovers been, particularly going against a defense like FSU's this week?
Morrison:
It's got to be a big emphasis, especially after giving the ball up six times to Miami. Cutting down on mistakes, in general, seems to be the focal point this week. The Wolfpack had an uncharacteristically high amount of penalties and turnovers last week and were still in it. Things could get ugly if Saturday's a repeat of that.
NN: Given what you've seen of N.C. State so far, what do you think are the two or three biggest keys to the Wolfpack pulling the upset?
Morrison:
First, find a way for the piecemeal offensive line to give Glennon enough time against a scary front. Second, keep Manuel in the pocket, because bad things happened when Stephen Morris broke contain. Third, find some way to negate the sizable speed advantage the Seminoles enjoy. Good luck with all three...
A big thanks to David for all the insight. You can read more of his N.C. State coverage
HERE
or follow him on Twitter at
@DavidCMorrison
.
September, 27, 2012
9/27/12
9:00
AM ET
After two impressive ACC wins, Florida State heads out of conference once again for its first road test of the season, though the Seminoles won't go too far from home.
FSU travels to Tampa for the first time in more than 30 years, and four years after one of the most memorable upsets in the program's history, the Seminoles get another crack at
B.J. Daniels
and USF.
To get the lowdown on the Bulls and how they're preparing to handle FSU, we checked in with Tampa Bay Times beat writer Greg Auman.


NoleNation: The win in 2009 seemed like a coming-out party for Daniels, but aside from a handful of highlights here and there, he never seemed to really build on that promise. What has held him back, and what is his frame of mind heading into this game?
Greg Auman:
Daniels had a great first college start, beating FSU in his hometown. He's on pace to be the Big East's all-time leader in total offense, but I think his legacy is limited because he hasn't been able to lead USF to a Big East title -- or really come close to one. He did a great job of lowering his turnovers last year, got some of his running threat back. A game like this is another chance for him to pull off a big upset -- but for USF to keep up with FSU, he has to play well, throwing and running the ball, with zero turnovers. As far as his mindset, he's a very confident player, so while he has a great respect for the defense he's facing, I think he's looking forward to a challenge like this.
September, 19, 2012
9/19/12
10:45
AM ET
By
David Hale
| ESPN Insider
For months, Florida State's soft schedule has had many fans clamoring for a perfect regular season, but the biggest speed bump on the way to that goal comes Saturday.

Clemson enters this game ranked 10th in the nation, sports one of the most dynamic offenses in the country, and the Tigers have beaten FSU in six of the last nine matchups, including a 35-30 win last season.

So, what can the Seminoles do to topple the Tigers?
September, 13, 2012
9/13/12
9:00
AM ET
It's finally time for ACC games to get started, and Florida State's first conference adversary has been a thorn in its side in recent years.

To get the behind-the-scenes insight on Wake Forest and what it will take for the Demon Deacons to topple FSU for the fifth time in seven years, we caught up with Bob Sutton, who covers Wake for the Burlington Times-News. Here's what he had to say:

NoleNation: Wake Forest is a heavy underdog, and the Deacons have barely escaped in their first two games. But they've had a lot of success against FSU in recent years. What's the confidence level like for them heading into this game?


Jameis Winston's Accuser Speaks Out
ACC SCOREBOARD
Thursday, 9/3
Saturday, 9/5
Monday, 9/7