Florida State Seminoles:

Planning for Success
November, 27, 2013
11/27/13
8:00
AM ET
TALLAHASSEE, Fla. — The chase got a jump start last week against Idaho, but
Devonta Freeman
insists he's not really thinking about 1,000.
Sure, the
17-year drought of 1,000-yard rushers
at Florida State remains as popular a topic as ever, and yes, Freeman would love to be the one who finally, mercifully puts the subject to rest. But his big game last week, which significantly buoyed his chances, wasn't about the stats.
"It would mean a lot, but I just feel like if we won a championship, that'd be way better," said Freeman, who is up to 808 yards for the season, needing to average 64 yards per game the rest of the way to reach 1,000. "I'm not about individual goals. I see the big picture, and I want to get to the championship."
Still, Freeman's 11-carry, 129-yard day was a nice reminder that he's still a significant weapon on an offense that hasn't needed the running game to do much more than than salt away the clock down the stretch in recent weeks.
[+] Enlarge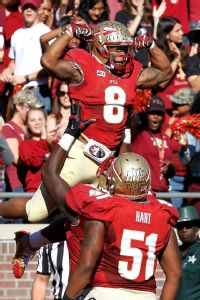 Don Juan Moore/Getty ImagesDevonta Freeman is on pace to become Florida State's first 1,000-yard rusher since Warrick Dunn in 1996.
Like the rest of FSU's starters, Freeman hasn't played but a handful of snaps in the second half for much of the season, and in the two games leading up to Saturday's blowout of Idaho, he'd gotten just 10 total carries.
It's been that way for all three of FSU's tailbacks this season. Each has his niche, but none has garnered a fraction of the spotlight enjoyed by Heisman candidate
Jameis Winston
.
Freeman has been the starter, which would normally mean he gets the bulk of the carries. But the slew of blowout wins have limited opportunities for the starters, and Freeman has just 12 carries in the fourth quarter all season.
James Wilder Jr
. has been the battering ram, leading the team in short-yardage runs. He's converted 10 of 12 third-and-shorts for first downs, but the punishing job has resulted in a shoulder injury and concussion, too.
Karlos Williams
has been the game breaker, averaging 8.5 yards per carry, with nearly one-third of his rushes going for 10 yards or more. But his role has been largely limited to mop-up duty. He's had just 12 first-half carries all year.
Cobbled together, the group has been incredibly effective. Florida State is averaging 6.7 yards per carry this season (not including sacks), which ranks fourth nationally. The Seminoles are on pace to shatter the program record for rushing touchdowns in a season (40) set just last year. The team's rushing record of 3,021 is within reach, too. If FSU maintains its current per-carry average, that would set a record, too.
"I just think everybody's hungry," Freeman said. "Everybody's going out like, 'I might get three carries this week, and these need to be my three carries.' "
And, of course, there's a chance this week's game could help pad all those stats.
It's rare that Florida looks like a pushover at the line of scrimmage, and for the most part, the Gators had been solid against the run this season. In its first five games, Florida allowed just 2.8 yards per carry and three total touchdowns. In its last six games, however, things have fallen apart. The Gators have coughed up an average of 5.1 yards per rush along with 13 touchdowns. The implosion culminated last week when Georgia Southern, an FCS team, racked up 429 rushing yards and won 26-20 without throwing a single pass.
If running the ball is the key to demoralizing Florida again, getting Freeman closer to 1,000 yards becomes a far more realistic possibility.
"To me, if it's in the context of winning and being successful, then it's a great accomplishment," Jimbo Fisher said. "Still, 1,000 yards is 1,000 yards, and that means a lot. That's a plateau that's been set in this sport. If he gets it, I'm happy for him. That means the other thing, we were able to run the football, which I'm all for."
Winston's Heisman Trophy campaign remains in full swing at FSU, and Fisher insists getting Freeman to 1,000 isn't a priority. But given the way Florida's defense has struggled, it wouldn't be a surprise if the Seminoles run the ball early and often Saturday.
Of course, given the direction the two teams are headed, that still might mean Freeman only gets a handful of touches before resuming a comfortable position on the sideline.
November, 7, 2013
11/07/13
8:00
AM ET
TALLAHASSEE, Fla. -- It's not that
Telvin Smith
was worried. After eight games, he's got a pretty good feel for his teammates, and he trusts them.
Still, when Monday's practice wrapped up -- a tough, physical day of drills when nearly everyone looked sharp -- Smith couldn't help but be encouraged. After three weeks of emotional games for Florida State, there was every reason to wonder if the wind might have left the Seminoles' sails. Monday's practice provided a resounding answer.
"It's definitely easier to stay focused when you're having the success we're having," Smith said. "But how long can we do it? That's the biggest thing."
[+] Enlarge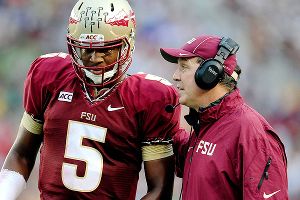 Stacy Revere/Getty ImagesJameis Winston could be the fourth quarterback under the guidance of Jimbo Fisher to be picked in the first round of the NFL draft.
Smith believes he knows the answer, but this week still provides a test.
Wake Forest is 4-5, coming off a shutout loss to Syracuse and down its best player, receiver
Michael Campanaro
, who suffered a broken collarbone in last week's game. After that, Florida State gets a mediocre Syracuse team and lackluster Idaho before finishing the regular season against struggling Florida. It's hardly a schedule that inspires much enthusiasm following two top-10 matchups in the past three weeks.
So the mantra this week at Florida State is all about maintaining the status quo.
"Just staying calm, even-keeled," center
Bryan Stork
said. "You don't have to be so high, be so low. You just have to find the in-between, no matter what happens. It gets easier as it goes on."
The routine gets more familiar, certainly, but the external distractions -- the clutter, as coach Jimbo Fisher likes to call it -- only increase with each impressive win.
In years past, that would've been a concern. It was just two years ago that Florida State traveled to Wake Forest, still carrying the baggage of losses to Oklahoma and Clemson, and played one of its worst games of Fisher's tenure.
But this team is different, the Seminoles insist. There's a focus on the short-term as a building block to the big-picture goals.
"We don't look at the week any differently because we're here to play football, here to win games, here to do what we plan to do," quarterback
Jameis Winston
said. "Our weekly plan is to be the same every week and get better. It's not lowering down our intensity. We don't do that for anybody."
It's the attitude Fisher has hoped for from this team, but this week's trip to Wake Forest remains the first real test of those convictions. The BCS standings, the Heisman Trophy, an undefeated season and immense hype -- those distractions loom ever larger, and Wake Forest looks increasingly like an easy win.
But if the Seminoles are really as good as the pundits believe, tackle
Cameron Erving
said, then Wake Forest is actually a season-defining opponent.
"In games like this, this is what really measures what you are as a team," Erving said. "You have to be mature, you have to know how to handle situations and just be able to focus, and be able to put the same amount of preparation you did for the other games. You respect every opponent, because I've seen in my years here, us be better than teams and still lose. That's not really the thought process, you can't look over any team."
October, 17, 2013
10/17/13
8:00
AM ET
TALLAHASSEE, Fla. -- There were two lasting images following Florida State's emotional 49-37 victory over Clemson last year. The first was of the Seminoles' jubilant celebration on the field in Tallahassee after the clock hit zeroes. The second was of safety
Terrence Brooks
, head hung, watching his teammates from the bench.
It's been more than a year, but as Florida State prepares for this year's showdown against Clemson, Brooks' frustration after allowing two touchdowns in that game still weighs heavily on the senior safety.
"I want to get a little payback," Brooks said. "I hate people scoring on me. I feel like that game last year really threw people off on how I can play, and it makes no sense to me."
[+] Enlarge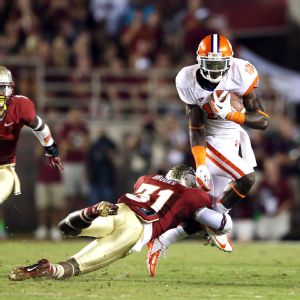 Streeter Lecka/Getty ImagesTerrence Brooks (31) had 12 tackles in Florida State's victory over Clemson last season, but he was down after the game after the Tigers scored on two touchdown passes against him.
The way it all happened remains skewed by perspective -- both for fans and for Brooks.
The reality of last year's game was that Brooks finished with a team-high 12 tackles. He allowed one long touchdown to DeAndre Hopkins, who is now playing in the NFL. He allowed another short TD late in the fourth quarter, with FSU already up big. It wasn't even Brooks' assignment, and he nearly picked off the pass that floated just out of his reach. In the year since, Brooks has established himself as one of the ACC's most consistent defensive backs.
And yet, the perception of fans, Brooks said, is much different.
"It makes me mad that people let that overshadow my whole play," he said. "Plenty of people in history have gotten scored on, and I'm pretty sure they didn't think like that. But it is what it is. Florida State holds a standard, and I understand how people want you to play. I hold a standard to myself that I play better than that. I know I was mad that I gave up the touchdown."
Brooks was mad then, and he's mad now. And that anger has fueled a year of hard work with an eye on redemption.
When Brooks took the field against Clemson last year, it was a new experience. In his first season as a full-time starter, the Tigers' offense was a whirlwind. He hadn't faced a unit that worked at such a rapid tempo, and he hadn't encountered a quarterback as dangerous as
Tajh Boyd
. He paid the price for his inexperience, but he learned from it.
"I hate people scoring on me, and I'm going into this game with a much stronger attitude," Brooks said. "I feel like a totally different player. I'm definitely not how I was last year. I'm going out there to play my game."
For the past year, Brooks' game has been as good as anyone's. He finished last season with 52 tackles -- tops among FSU's defensive backs -- and two interceptions on a unit that led the nation in passing defense. So far this season, he's chalked up 24 tackles and a pick, and he's been the anchor of a secondary that features new starters at every other position, including true freshman
Jalen Ramsey
at the other safety spot.
As much as his performance against Clemson last year stung, it's made him better.
"From that point on, I drew a line and said, 'I'm not going to get scored on again,' " Brooks said. "That started from that game to now, how I've been working. I'm prepared for big games like this, and I plan on having a big game."
Fellow senior
Lamarcus Joyner
likes to hear that confidence, but he said he hopes Brooks hasn't let what happened a year ago define him. Brooks came to Florida State as the three-star recruit alongside touted prospects, and he's always played with a chip on his shoulder, but there's a time to let go, Joyner said.
That time for Brooks might be Saturday, when he finally gets his shot at redemption against Boyd and the Tigers.
"I still know what I can do, and I know I can go out there and play with the best of them," Brooks said. "I feel like I've been showing it this season and really trying to take it to the next level."
October, 3, 2013
10/03/13
8:00
AM ET
TALLAHASSEE, Fla. -- The preparation for Florida State's defense has been monotonously similar through each of its first four games this season. Teams have worked tirelessly to run the ball against the Seminoles, and for a defense eager to get after the quarterback, it's been a bit frustrating.


In spite of four easy wins, the opposition has run the ball 63.1 percent of the time this year -- the ninth highest percentage any team in the country has faced. Up next for FSU is Maryland, and the Terrapins' game plan this year has been eerily similar -- 63 percent runs for the season.
But there's one big difference between what Maryland offers and what Florida State has seen already. The Terps run the ball to set up the pass, hoping to lure defenses into a routine before exploding for a big play.
"They kind of remind me a little bit of Clemson," Florida State linebacker
Christian Jones
said. "They like to do a lot of motion and play action and try to hit you with big plays, just get your eyes out of whack."
That makes this week's matchup a particularly intriguing one on many levels for the Seminoles.
In last week's win over Boston College, the FSU defense struggled to stop the Eagles' power running game and BC scored 34 points. Jimbo Fisher chalked up most of the problems to eye violations -- defenders looking in the wrong place and missing an assignment -- and he's made it a focus in practice this week.
Maryland's offense figures to test how far the Seminoles have come this week, and that test comes just in time for FSU's next game -- against Clemson.
"Getting our stuff right is definitely a priority right now," safety
Terrence Brooks
said. "We see what can happen when we don't do our job and every guy doesn't work together cohesively."
The Terps have a mobile quarterback in
C.J. Brown
and a star playmaker at receiver in
Stefon Diggs
, and both are capable of exploiting defenders who are out of position.
Maryland has racked up its share of big plays, both on the ground (12 runs of 20-plus yards, seventh most in the country) and through the air (30 passing plays of 15 yards or more).
Brown, in particularly, is a dangerous weapon. He's accounted for seven passing TDs and six more on the ground this season, and his mobility makes him difficult to defend. But even after last week's struggles, Jones said Florida State's defense is eager to get its shot.
"A lot of those guys think they can just outrun us but we have an athletic defense," Jones said. "He's athletic and we can't let little plays get out because he can hurt us. But so far we've been doing a good job game planning against him."
Freshman Jonathan Franklin has played the part of Brown on Florida State's scout team, and the speedy quarterback has given the Seminoles' starters a good look at what's in store on Saturday.
Meanwhile, coordinator Jeremy Pruitt has made a point of focusing on the mistakes that cost the Seminoles against Boston College. He's thrown in myriad trick plays at random, keeping FSU on its toes and testing his players to ensure their eyes are trained on their assignments, not the football.
"It's a part of just adjusting as a defense," tackle
Timmy Jernigan
said. "There's never going to be such a thing as a perfect game. You're always going to make mistakes. We just have to do better by getting things fixed before the game starts."
September, 26, 2013
9/26/13
8:00
AM ET
TALLAHASSEE, Fla. -- When Boston College arrived in Tallahassee a year ago, the Eagles were reeling, mired in the doldrums of a season that would end with just one win over an FCS team with an offense that would rank dead last in the ACC -- and 119th nationally -- in rushing.
The result was predictable. Florida State won in a landslide, 51-7. The game was out of hand by halftime, and yet there was one distinguishing bit of unlikely success for the Eagles. When it was over, tailback
Andre Williams
had tallied 104 yards rushing, his second-best total of the season and the first time in 15 games that Florida State allowed a runner to top the 100-yard plateau.
[+] Enlarge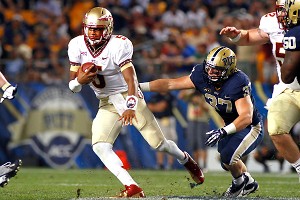 Justin K. Aller/Getty ImagesIn his first season as starting quarterback, Florida State's Jameis Winston has been efficient and accurate.
A year later, Boston College has already matched its win total from 2012, Williams has already had three 100-yard games, and the Eagles are rushing for 50 more yards per game than they did in 2012. But Florida State already knew what they were capable of.
"They're very physical on offense, and a very physical offensive line -- probably the best we've seen so far," coach Jimbo Fisher said. "Andre Williams is very physical, big, breaks tackles and is strong."
It's not that Boston College's offense blossomed into a juggernaut overnight. The Eagles still rank 85th nationally in rushing and 107th in scoring (just 18 points per game), but it's still progress.
Against Wake Forest in Week 2, Williams racked up a career-best 204 yards, demolishing the Demon Deacons defense. His 356 yards through three games puts him on pace to nearly triple his total from 2012.
Against the Seminoles' high-flying offense, the strategy for Boston College is obvious: Run the ball, and keep FSU's offense off the field. That's a philosophy that has safety
Terrence Brooks
excited for the matchup.
"They like to run the ball, and we like to hit," Brooks said. "So we'll see how that works out."
Of course, if FSU is going to win that battle, it will need to play a bit better than it has thus far.
After finishing among the top rush defenses in the nation in 2011 and 2012, Florida State ranks fifth in the ACC so far this season, allowing nearly 50 more yards per game on the ground than it did a year ago. Pitt, Nevada and Bethune-Cookman all managed to find some measure of success on the ground, which exposed some weaknesses on the Seminoles' D -- particularly when it comes to missed tackles.
"Tackling is going to be critical, being physical is going to be critical," Fisher said. "You have to control the lines of scrimmage."
That's been the priority this week, as Fisher has driven home the mantra that too many flubbed plays against Boston College's running game could present significant problems.
Brooks insists the players have gotten the message. The early struggles weren't a sign of weakness, he said, but rather isolated mistakes that are being remedied slowly, but surely.
"A lot of the opponents we've played have done things on our defense because it's our fault, really," Brooks said. "We just need to capitalize on our opportunities and I feel like we should be fine. We're a little shaky right now, but we're getting into it."
Goodell Has Sit-Down With Jameis Winston
ACC SCOREBOARD
Thursday, 9/3
Saturday, 9/5
Monday, 9/7