Florida State Seminoles:

Phillip Sims
August, 27, 2013
8/27/13
9:00
AM ET
TALLAHASSEE, Fla. -- Jimbo Fisher said the decision was agonizing, but the truth is, the Florida State coach had it easy.
Fisher may have debated the merits of both of his quarterback prospects for months before finally tabbing redshirt freshman
Jameis Winston
over sophomore
Jacob Coker
as FSU's starter, but any ambivalence was a result of the Seminoles having two strong options. Fisher couldn't go wrong.
"You're splitting hairs when you really get down to it," Fisher said. "That's not coach talk or anything else. That's the truth. That was a great competition."
If Fisher reveled in the quarterback drama, however, he wasn't alone. More than half the ACC's coaches are getting used to life with a first-year starter at QB, and not everyone has enjoyed the same luxury as Florida State when it comes to picking a winner.
While the preseason favorites -- Clemson and Miami -- share the common thread of stable quarterbacking situations, there's no shortage of question marks across the ACC. Look no further than NC State and Syracuse. Both schools are looking to replace immensely successful quarterbacks, and neither has officially tabbed a starter for the season opener yet.
[+] Enlarge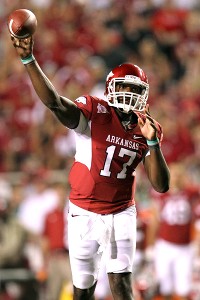 Nelson Chenault/US PresswireIs Arkansas transfer Brandon Mitchell the answer for NC State at QB? We won't know until game day.
This spring, NC State coach Dave Doeren wasn't entirely satisfied with his options, so when fifth-year senior
Brandon Mitchell
transferred from Arkansas, the Wolfpack's quarterback carousel took get another turn. Mitchell is a versatile athlete who probably fits Doeren's offense better than
Pete Thomas
, but that doesn't mean it's an open-and-shut case. Doeren said he's not planning to announce a starter until game day.
At Syracuse, new coach Scott Shafer is planning to let the drama simmer a bit longer, too.
Drew Allen
and
Terrel Hunt
have been battling for the starter's job throughout camp as the Orange look to replace
Ryan Nassib
, and Shafer won't announce a decision until Saturday when Syracuse takes on Penn State.
Life is a bit simpler at Pittsburgh, where
Tom Savage
officially won the job last week. He'll get an up-close look at Winston when the Panthers host Florida State on Labor Day, making the job of preparing a bit more challenging on both sides.
"You know there's some stuff you won't be prepared for, but you try to do the best you can," Pitt coach Paul Chryst said. "As a coach you try to prepare for the unknown — but how do you do that? I don't know."
At Duke and Georgia Tech, there isn't nearly so much mystery. Yes,
Sean Renfree
and Tevin Washington are gone, but their replacements have already offered extended sneak peeks.
The Blue Devils turn their offense over to
Anthony Boone
, who appeared in 12 games last season and made one start against Virginia when Renfree was sidelined. Replacing Renfree's big numbers from 2012 won't be an easy task, but the athletic Boone figures to slide into the new role with ease. The same is true for
Vad Lee
at Georgia Tech. Washington was a key contributor in 2012, rushing for an ACC-best 20 touchdowns, but Lee may be an even better fit in Paul Johnson's triple-option offense. The sophomore appeared in 12 games last season, racking up over 100 yards on the ground against both Presbyterian and North Carolina.
Virginia is excited about its quarterbacking situation, too, which comes as something of a surprise after months of drama. Last season saw a two-man QB battle play out throughout the year, with both
Michael Rocco
and Phillip Sims getting turns as the starter, and when the season ended, both left the program. But this summer, sophomore
David Watford
emerged as the clear favorite, and coach Mike London made it official just two weeks into fall camp.
And if Virginia is happy to have a stable starter for the first time in a long time, Maryland is downright elated just to have a cache of healthy bodies. The Terps' 2012 campaign was sunk by a rash of injuries to its quarterbacks, with four different players lost for the year. Eventually, coach Randy Edsall was forced to turn to linebacker
Shawn Petty
as his only remaining option.
Things are looking much better for Maryland now, where
C.J. Brown
is finally healthy. Brown tore his ACL during fall camp last year, but the injury is completely healed and the athletic senior is eager to get back to work.
Of course, the Terps' trials and tribulations last season offer an easy reminder that even the most settled quarterback situations can unravel quickly. That's a big reason why Fisher was so pleased to see FSU's QB battle remain so close throughout fall camp.
"No matter what you say, you've got to have two guys ready to play," Fisher said. "And I think both guys have shown they can go in and play."
August, 15, 2013
8/15/13
8:00
AM ET
Let's face it: Not too many preseason Heisman lists in recent years featured
Johnny Manziel
, Robert Griffin III or Cam Newton. And while there are plenty of returning stars among this year's Heisman hopefuls, it's always safe to bet on at least one or two unfamiliar faces ending up in New York in December.
Who could rise out of nowhere this year? Let's take a look at some candidates in the ACC.
Jameis Winston, Florida State QB
: There is an awful lot of hype for a guy who has yet to take a college football snap. Then again, Winston was the No. 1 quarterback recruit from the Class of 2012, eclipses 100 mph on the baseball diamond as a Seminoles reliever, throws footballs over fraternity houses and starred in FSU's spring game. The redshirt freshman steps into an ideal situation, surrounded by experienced guys on an offense that is coming off an Orange Bowl win. And, well, he absolutely
owned FSU's media day Sunday
.
Taquan Mizzell, Virginia RB
: The Cavaliers struggled running the ball last season, finishing 96th nationally in rushing yards per game (128.5). They have also said goodbye to
Clifton Richardson
, Perry Jones and Phillip Sims. Enter "Smoke" -- or, as coach Mike London
has called him since a victorious 1-on-1 hoops game, "Mist."
ESPN's No. 9 running back prospect from the Class of 2013 notched 1,231 yards and 39 total touchdowns last season at Bayside (Va.) High, and he figures to make his presence felt early at Virginia.
Anthony Boone, Duke QB
: Yes, Boone is a redshirt junior. But he was behind school record-setter Sean Renfree the past two seasons, as he watched Renfree take Duke to a bowl game last year while receiving spot duty here and there. He relived an injured Renfree and rushed for a go-ahead, fourth-quarter touchdown in a win at Wake Forest, then started a week later in a rout of Virginia. For his career, Boone has completed 53.4 percent of his passes in 22 games for 839 yards with six touchdowns and three picks. He also adds another dimension on the ground, having rushed for 211 yards and six more scores. Boone now has the starting job to himself, and teammates have said there is little indication that they are playing with a first-year starter.
October, 15, 2012
10/15/12
9:00
AM ET
Last week was all out of whack. Virginia Tech restored some normalcy to the league with its win over Duke, and North Carolina did its part by humbling Miami in Sun Life Stadium. That's not to say this pecking order isn't still in flux. The Coastal Division race is wide open, and there are plenty of teams still jockeying for position in the division standings. Here's a look at how the league shakes out at the midway point of the season:
1. Florida State (6-1, 3-1 ACC; LW: No. 1) --
The Seminoles bounced back from their deflating loss to NC State with a convincing 51-7 drubbing of Boston College. They'll get more of a fight this week when they face rival Miami on the road, but on paper, this is another game the Noles should win.
2. Clemson (5-1, 2-1; LW: No. 2) --
The Tigers had a bye week, and they're going to be catching Virginia Tech right when the Hokies might have turned the corner with an historic comeback win against Duke. Clemson owned the Hokies in two wins last year, including the ACC title game.
3. NC State (4-2, 1-1; LW: No. 5) --
The Wolfpack had a bye week to digest their upset of then-No. 3-ranked Florida State and turn their focus to Saturday's trip to Maryland. Quarterback
Mike Glennon
made three fourth-down completions in the fourth quarter last week and will be looking for another important Atlantic Division win.
4. North Carolina (5-2, 2-1; LW: No. 6) --
The Tar Heels got their first road win of the season against Miami, but UNC committed 15 penalties for 140 yards in the 18-14 win over the Canes. It didn't matter in the end because Miami had no answer for running back
Giovani Bernard
, who ran for 177 yards and two touchdowns.
5. Virginia Tech (4-3, 2-1; LW: No. 8) --
The Hokies scored 41 unanswered points in the final three quarters to beat Duke 41-20 on Saturday in the biggest comeback the program has seen under coach Frank Beamer. Virginia Tech avoided a second Coastal Division loss and has some momentum heading into Death Valley.
6. Maryland (4-2, 2-0; LW: No. 7) --
The Terps are the only ACC team still undefeated in league play, and they are leading the Atlantic Division standings. They'll face much stiffer competition when NC State visits on Saturday, but Maryland's defense has kept it in every game this season and is one of the best in the ACC.
7. Miami (4-3, 3-1; LW: No. 4) --
The Hurricanes' rushing defense has been one of its weakest links this season, as Miami is allowing 253.71 rushing yards per game. UNC ran for 272 yards against the Canes, and Florida State has the capability to do the same this weekend.
8. Duke (5-2, 2-1; LW: No. 3) --
The Blue Devils probably wouldn't have dropped so far in the rankings so fast had they played a more respectable final three quarters, but squandering a 20-point lead brought Duke crashing back to reality. The team had a chance at a marquee win for the program, but four turnovers put the bowl bid on hold for now.
9. Wake Forest (3-3, 1-3; LW: No. 10) --
The Deacs had a bye week, and they needed it after losing back-to-back conference games and suspending eight players in the past two weeks. Wake Forest travels to UVa this weekend in a game that will be critical to the Deacs' bowl hopes.
10. Georgia Tech (2-4, 1-3; LW: No. 9) --
It's been a tumultuous season for the Jackets, who fired former defensive coordinator Al Groh last week. Interim Charles Kelly at least had the bye week to make the transition in preparation of Saturday's game against Boston College. The main game plan, coach Paul Johnson said last week, is to simplify things for the defense.
11. Virginia (2-5, 0-3; LW: No. 11) --
Not much has gone right for the Hoos, who have lost five straight games heading into Saturday's matchup against Wake Forest. Virginia is No. 99 in the country in scoring defense, allowing 33 points per game, but has also struggled offensively with quarterbacks
Michael Rocco
and
Phillip Sims
.
12. Boston College (1-5, 0-3; LW: No. 12) --
The Eagles are still looking for their first conference win of the season, and have lost four straight as they head into their third straight road game. The Eagles haven't been able to run the ball or stop the run this season, but the passing game has shown improvement under coordinator Doug Martin.
October, 11, 2012
10/11/12
9:00
AM ET
Another week, another one nobody saw coming. NC State's win over Florida State was an epic upset and an instant classic. It was also another black mark on my record. I finished 5-2 last week for an overall record of 44-11 (80 percent). If I drop below 80 percent this year, I will be very disappointed. I would like to point out, however, that last week I predicted Clemson to win 48-35 and the actual score was 47-31. I should get bonus points for such a close range. Then you guys would be trying to take points away, though, when I'm far off. So we'll just keep it at 80 percent. The margin of error decreases this week with fewer games. Here are your Week 7 picks:
Florida State 42, Boston College 17:
The Eagles are going to be overmatched in this game, plain and simple. Florida State is going to take out its frustrations from last week's loss to NC State, and it could get ugly in Tallahassee. FSU has the No. 7 scoring offense and the No. 7 scoring defense in the country. BC, meanwhile, hasn't been able to stop anybody and allowed three 100-yard rushers in last week's loss at Army. FSU running back
Chris Thompson
will set the tone in the first half.
North Carolina 35, Miami 31:
The Tar Heels are getting it done on offense and defense, now the key is to do it on the road. UNC is 0-2 in road games this year, but it has scored 45 or more points in back-to-back games for the first time since 1993. UNC has the No. 9 scoring offense in the country, and it will be a handful for Miami's struggling defense, which is last in the ACC in scoring defense at 35 points per game. The Canes won't be able to stop running back
Giovani Bernard
and quarterback
Bryn Renner
.
Maryland 21, Virginia 17:
The Hoos have had too much inconsistency from quarterbacks
Phillip Sims
and
Michael Rocco
, and Maryland's defense has quietly become one of the best in the ACC. Virginia has won four of the past five in the series, but Maryland's defense is holding opponents to just 2.3 yards per carry. The Terps rank seventh nationally in rushing and total defense.
Virginia Tech 28, Duke 21:
Make no mistake: Duke can win this game. It would be surprising, though, if Virginia Tech didn't play better at home. The Hokies are always tough to beat in Lane Stadium, no matter what the circumstances, and at this point, their pride is on the line, not to mention bowl eligibility. This one is going to come down to the fourth quarter, but in the end, quarterback
Logan Thomas
will come through in the clutch.
Goodell Has Sit-Down With Jameis Winston
ACC SCOREBOARD
Thursday, 9/3
Saturday, 9/5
Monday, 9/7