Florida State Seminoles:

Peter Warrick
July, 8, 2013
7/08/13
9:00
AM ET
Charlie Ward's credentials are impeccable. He's second in school history in total offense. He was the first Florida State player to win a Heisman. He led Florida State to its first national championship.
In a draft of the all-time greatest Seminoles, Ward's an easy pick at No. 1, right?
[+] Enlarge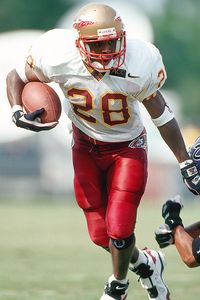 US PresswireWarrick Dunn is Florida State's all-time leading rusher, but is that enough to make him a No. 1 pick in the all-time FSU draft?
Actually, it's not quite so simple. Ward, of course, never played a down in the NFL, so shouldn't future professional stars like Derrick Brooks or Warrick Dunn earn some consideration, too? And while Ward was certainly one of the elite quarterbacks in college football history, it's perhaps Chris Weinke that was the better pure passer, finishing his career with nearly 10,000 passing yards to go with a Heisman and national title of his own. Then there's the men who helped pave the way for those national championships by building Florida State into a powerhouse program -- from Fred Biletnikoff in the 1960s to Ron Simmons in the 1970s, and of course, Deion Sanders in the 1980s.
In other words, when it comes to picking the best players to come through Tallahassee in the past half-century, there's ample room for debate, and that's exactly what we'll be doing at NoleNation this week as we look at our all-time Florida State football team.
Our panel of experts will participate in a draft of Florida State's best players, and we'll analyze the picks. We'll dig into the archives to look at how FSU landed some of those key players on the recruiting trail, and we'll look ahead at which members of the current crop of Seminoles might go down in history as some of Florida State's all-time best.
Of course, to get it all started, we needed to figure out some way of ranking the best of the best, and it wasn't easy. Here are a few of the key debates that raged in advance of our draft:
What's the criteria?
Does Ward get penalized because he didn't go on to professional stardom? Does Walter Jones get extra credit for what he did in the pros, despite spending just a year in Tallahassee? And what's a fair comparison between Biletnikoff and Warrick, who played the same position nearly 40 years apart? When you're splitting hairs between the best of the best, simply finding a standard set of rules to judge them by isn't easy.
Who's at the top?
Never mind finding Florida State's all-time top player. That's an impossible task. Simply narrowing down the list to a top 10 was a painstaking experience, and surely the final results will earn some scorn from fans befuddled about the absence of their personal favorites. When a program spends the better part of two decades in the hunt for a national title, there's no shortage of difference makers.
Offense or defense?
Sure, Ward and Weinke have the Heisman trophies, but should some glamor awards trump all the battered bodies Mickey Andrews' boys left in their wake? From Simmons' rise to stardom in the late 1970s to Sanders ushering in the "Prime Time" era in the '80s to Brooks, Terrell Buckley, Corey Simon, Peter Boulware and a few dozen more defensive stalwarts, there's plenty of cases to be made that the defense was the building blocks for FSU's championships, and the Seminoles' defenders deserve the lion's share of the top spots.
Who comes next?
Even after ironing out a list of FSU's best, finding the next batch of greats for the later rounds of our draft was equally challenging. Who follows Ward and Weinke at quarterback? Once Dunn and Greg Allen were off the board, how do you decide between Sammie Smith, Travis Minor, Larry Key, Greg Jones or a host of other running backs? If Sanders and Buckley were the clear-cut top DBs, when's the right time to jump on Corey Sawyer, LeRoy Butler or Tay Cody?
None of the answers were easy, but this week we'll do our best to put an end to a few of the debates.
October, 27, 2012
10/27/12
7:04
PM ET
TALLAHASSEE, Fla. -- The game was billed as a battle of division leaders, but Duke hardly looked the part Saturday as Florida State dominated the Blue Devils en route to
a 48-7 victory
.


Despite Duke's upstart status this season, little has changed in its rivalry with the Seminoles.
EJ Manuel
threw for 282 yards and two touchdowns,
Tyler Hunter
added a 75-yard punt return for a score and Florida State cruised to its 18th victory in as many tries against the Blue Devils.
It was over when:
James Wilder Jr.
rumbled into the end zone from 1 yard out just 1:50 into the second quarter. That touchdown put Florida State ahead 24-0, and it was already clear that in spite of all the buzz leading up to the game surrounding Duke's sudden resurgence, the Blue Devils simply weren't in the same class as the Seminoles.
Game ball goes to:
Wilder and
Devonta Freeman
. There were plenty of stout performances, from Manuel's long passes to stellar defensive work by
Cornellius Carradine
and
Christian Jones
. But coming into the game, the big question was how Florida State's ground game would respond to the loss of starting tailback
Chris Thompson
, and Freeman and Wilder offered an emphatic answer. The pair combined for 174 yards on 25 carries and scored three times on the ground. Since Thompson's injury, Wilder and Freeman have averaged 6.8 yards per carry.
Stat of the game:
Manuel wasn't asked to do much against Duke, but when he unloaded in the passing game, it was usually for a big play. Manuel averaged 17.6 yards per attempt against Duke -- the highest average of his career. Five of Manuel's eight completions gained at least 30 yards, and he finished with 282 yards passing. In his two career starts against Duke, Manuel has completed just 17 passes, but five have gained 50 yards or more. Meanwhile, Duke's quarterbacks averaged just 3.6 yards per attempt Saturday.
Unsung hero:
Dustin Hopkins
. OK, so neither of his field goals meant a whole lot in determining the outcome, but Hopkins connected on a 56-yard kick with 9:40 to go in the fourth quarter to set the ACC's all-time record for most field goals in a career, eclipsing former Maryland kicker Nick Novak. Hopkins has 15 field goals in his last five games, but the 58-yarder was a career-long for the senior. He's just 10 points shy of setting the NCAA record for most points scored in a career.
Record performance:
Hopkins provided the only ACC record of the day, as Duke's
Conner Vernon
will have to wait to set the conference record for receiving yards. Vernon entered play needing 94 yards to break Peter Warrick's career mark for ACC receivers, but he managed just three catches for 12 yards.
Cause for concern:
It was an easy win for Florida State, but fumbles remained a big problem for the second consecutive game. FSU coughed up the football four times Saturday, with Duke recovering each of them. This comes on the heels of a six-fumble performance against Miami last week. The problems were across the board, too, with Manuel fumbling on a QB run,
Rodney Smith
fumbling after a long reception, Freeman coughing up the football on a running play and Hunter muffing a return.
October, 26, 2012
10/26/12
9:00
AM ET
Things to keep an eye on when Florida State takes on Duke on Saturday.
[+] Enlarge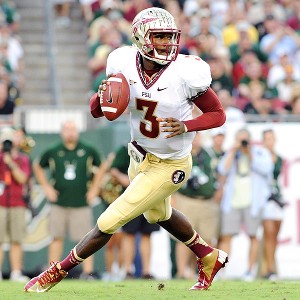 Al Messerschmidt/Getty ImagesE.J. Manuel has been extremely accurate when passing outside of the pocket.
Noles to watch:
1. EJ Manuel.
It's been a Jekyll-and-Hyde season for Manuel depending on the venue. He's been mediocre on the road, throwing just two TD passes in three games, completing 66 percent of his throws and averaging just 230 yards per game. Manuel has been unstoppable at home, though. In five home games, he's completing nearly 75 percent of his throws with eight TDs and averaging 332 yards per game.
2. Tyler Hunter.
After his third fumble of the season on special teams last week,
Rashad Greene
was benched as FSU's top punt returner, and Hunter will now get his chance. But while Greene struggled to hold onto the football, he was also a big-play threat, with two touchdowns already. Hunter provides the same home-run potential, Fisher said, having played on offense through much of his high school career.
3. James Wilder Jr. and Devonta Freeman.
Chris Thompson
's season is over and the burden of picking up the FSU ground game now falls to a pair of sophomores. Both runners are averaging better than 6 yards per carry this season and combined for 119 yards and two touchdowns after Thompson departed last week's game, so there's ample reason for optimism.
October, 25, 2012
10/25/12
9:00
AM ET
Florida State has the best record in the ACC but can't afford a slip-up if it wants to have any chance at a conference title.


Duke leads the Coastal Division and is in control of its own destiny in an unlikely bid for a spot in the ACC championship game.
If it weren't for a history of Florida State dominance in the series, this would certainly have the status as one of the conference's marquee games of the season. Even with FSU installed as a heavy favorite, there are still plenty of interesting storylines to follow.
September, 30, 2012
9/30/12
11:19
AM ET
Saturday's 30-17 win over USF wasn't Florida State at its sharpest, with the defense looking sluggish early, the offense faltering in the red zone, and a special teams mishap providing a spark for the Bulls.
[+] Enlarge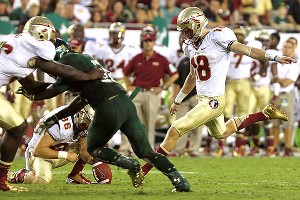 Kim Klement/US PresswireFSU had to rely on field goals more times than it would have liked against USF.
But while the game may not have been the most accurate representation of FSU's potential, there were a few numbers worth nothing.
5.34.
That's Florida State's yards per carry against USF, less yardage lost on sacks. The average is a bit deceptive, however. The Seminoles' ground game was something of a mixed bag Saturday, with 12 of their 38 rushes going for 1 yard or less, and 10 more going for at least 10 yards. The all-or-nothing performances were highlighted by a 44-yard run by
Lonnie Pryor
and two long end-arounds by the receivers, which managed to overshadow the negative plays. USF, which didn't have a single tackle-for-loss against Ball State a week ago, dropped an FSU ball carrier in the backfield 10 times Saturday. That's just four fewer TFLs than Florida State had allowed in its first four games combined.
9.
That's the number of plays Florida State ran inside the USF 10-yard line, with
Kevin Haplea
's 1-yard reception on a third-down pass being the only one that went for a touchdown. The goal-line struggles were a touchy subject for Jimbo Fisher afterward, and for good reason.
EJ Manuel
was 1-of-3 passing on plays inside the 10, missing a wide open
Rodney Smith
in the end zone on one throw. The ground game was even worse. On six rushes inside the 10, FSU tallied a total of 7 yards.
6.
That was the number of receptions made by Florida State's tight ends in Saturday's win, accounting for nearly a third of Manuel's total completions. Manuel has hyped his tight ends dating back to the spring, but Saturday marked the high point for the group in terms of production.
Nick O'Leary
hauled in a career-high four catches, while Haplea grabbed a 1-yard touchdown.
5.
That's the number of completions on eight third-down throws for Manuel in Saturday's win, and they accounted for all but one of FSU's third-down conversions. Overall, FSU moved the chains on just five of 15 third-down tries, but when Manuel threw the ball, the offense looked sharp. Manuel completed passes of 11, 39 and 47 yards on third down, plus the 1-yard throw to Haplea for his lone passing touchdown of the game. Manuel also chipped in with an 11-yard run on third down.
0.
That's the number of punt return yards for Florida State on Saturday. In the first four games of the season,
Rashad Greene
took some risks, which came with some big results (two touchdowns) and some ugly ones (two fumbles). On the whole, though, FSU had been averaging 61.5 punt-return yards per game. On Saturday, it was clear Greene wasn't interested in rolling the dice. Greene had five fair catches on six USF punts, and the sixth was downed by the Bulls deep in FSU territory. It marked the first time the Seminoles didn't have a single punt return in a game since Sept. 24 of last year vs. Clemson. On the upside, Greene did have a 10-yard touchdown run on offense, making him the first FSU player since Peter Warrick in 1999 to score on a reception, a rush and a return all in the same season.
September, 29, 2012
9/29/12
7:52
PM ET
TAMPA, Fla. -- Florida State hasn't marched down the field with ease the way it did during its first four games of the season, but
EJ Manuel
has been efficient,
Rashad Greene
provided the finishing touches on an early touchdown drive and
Dustin Hopkins
has drilled two field goals to give the Seminoles a 13-3 lead over USF at the half.


Stat of the half:
Greene's 10-yard run on an end-around provided the lone touchdown of the first half, and it also provided a nice bit of trivia for the sophomore receiver. The rushing score was the fourth touchdown of the year for Greene, who has also caught a TD pass and returned two punts for scores, too. He's the first Seminoles player to score on a rush, a reception and a return in the same season since Peter Warrick did it in 1999.
Player of the half:
Manuel hasn't provided the same fireworks he did a week ago when he jump-started his Heisman campaign with a big game against Clemson, but the Florida State quarterback turned in a solid first half, completing 12-of-15 passes for 139 yards. Most of Manuel's numbers came over the middle though, with few downfield options against the USF secondary.
What's working for Florida State:
The defense hasn't dominated, but
Xavier Rhodes
' interception late in the second quarter provided one final scoring chance for FSU, and the Bulls haven't mustered much after a strong opening drive.
B.J. Daniels
engineered a 10-play, 62-yard opening drive that ended with a field goal, but the Bulls have managed just 100 yards the rest of the half.
What's not working for Florida State:
The FSU running game was dominant in the first four games of the season, but
Chris Thompson
and James Wilder Jr. have had trouble finding much room to run against USF.
Lonnie Pryor
broke a huge 44-yard run, and Kelvin Benjmain took a reverse for 17 yards. Beyond that, however, FSU has averaged just 2.3 yards per carry, and it was stuffed near the goal line on three straight plays.
Noteworthy:
Cornellius Carradine
leads FSU defenders with six tackles. … Pryor's 44-yard run was the second longest of his career. …
Kevin Haplea
made his second career catch with FSU, an 11-yard reception. … Rhodes' interception was his second of the year and the third overall for Florida State.
Goodell Has Sit-Down With Jameis Winston
ACC SCOREBOARD
Thursday, 9/3
Saturday, 9/5
Monday, 9/7