Florida State Seminoles:

Paul Chryst
December, 6, 2013
Dec 6
12:00
PM ET
November, 25, 2013
Nov 25
11:00
AM ET
The final regular-season weekend is on deck. Time sure flies. So here's one last look at all that went down in the ACC this past weekend.
The good:
The ACC seemingly survived JV week without incident, with Florida State and North Carolina each putting up 80 points, Georgia Tech crushing Alabama A&M 66-7, and Clemson taking care of business against the Citadel with a 56-7 win. Two teams, UNC and Pitt, got to bowl-eligibility, setting up for some great showdowns this coming rivalry weekend.
The bad:
Well, there is always Virginia, which lost by 19 at Miami and remains winless in ACC play. And there is NC State, also winless in ACC play after a 14-point home loss to East Carolina -- which, to add insult to injury,
further declared its place in the Triangle in a season in which it beat both NC State and North Carolina
.
The ugly:
North Carolina's 80-20 win over Old Dominion featured a shortened fourth quarter, from 15 minutes to 10. And none of the Tar Heels' 80 points ended up coming in the final frame. Funny enough, this was actually a 14-13 game after the first quarter. I was at Notre Dame on Saturday, and when the out-of-town scores were announced in the press box, this game was announced: "North Carolina 80, Old Dominion 20. That's football, not basketball."
[+] Enlarge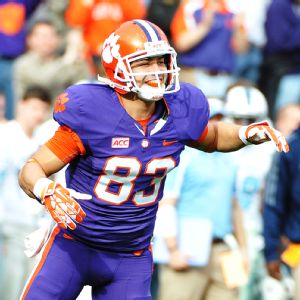 AP Photo/Rainier EhrhardtClemson walk-on WR Daniel Rodriguez, a Purple Heart recipient, caught a TD pass Saturday, providing a heart-warming moment.
The awesome moment:
It came at the 14:10 mark of the fourth quarter, with Clemson already holding a 45-3 lead over the Citadel. Then,
Daniel Rodriguez
caught a 2-yard touchdown pass from
Cole Stoudt
, for his first career touchdown. On Military Appreciation Day, no less. If you're not already familiar with Rodriguez's story,
become so
. Simply amazing.
The icers:
Paul Chryst, bravo. Randy Edsall, not so much. Up 17-16 with 1:03 left and Syracuse facing a fourth-and-8 from the Pitt 36, Chryst called a timeout right as the Orange were about to attempt a game-winning field goal, which was then revealed to be a fake, a fake that looked destined to be good.
Terrel Hunt
then threw an incomplete pass out of the timeout, sealing bowl-eligibility for the Panthers and leaving Syracuse with no other choice but to beat Boston College this Saturday in order to make the postseason. Edsall, meanwhile, called a timeout to ice BC kicker
Nate Freese
's 52-yard game-winning attempt, which hooked left. With new life from Edsall's timeout, however, Freese drilled it, giving the Eagles a 29-26 win at Maryland, their fourth straight victory.
The unconventional two-pointer:
Speaking of BC-Maryland, how about the wild extra-point sequence in the fourth quarter?
Alex Amidon
hauled in a 74-yard touchdown pass for BC with 5:02 left to take a 26-24 lead. But the extra point was blocked, and
Anthony Nixon
ran it back the other way to tie the game at 26. You don't see that every day.
The Heisman hopefuls:
In making your case for why you should win college football's highest individual honor, you can do a lot worse than what
Andre Williams
and
Aaron Donald
did on Saturday. Williams rushed for 263 yards, eclipsing the 200-yard mark for the third straight game. He also got to 2,073 yards on the season, becoming just the 16th player in college football history to reach the 2,000-yard plateau. His 36-yard run set up the game-winning field goal for Boston College. Donald, meanwhile, was named the Walter Camp defensive player of the week award, as the Pitt defensive tackle tallied nine tackles, 3.5 tackles for loss and a blocked extra-point attempt that provided the winning margin in a 17-16 win at Syracuse.
The three-headed attack:
Here's another box-score oddity you don't see every day: Florida State had three different players average better than 11 yards per carry.
Devonta Freeman
carried it 11 times for 129 yards and a touchdown (11.7 yards per carry),
Karlos Williams
ran it 10 times for 114 yards and two touchdowns (11.4 ypc) and
James Wilder Jr
. rushed four times for 85 yards and a score (21.3). The Seminoles had 336 rushing yards on the day, averaging 8.4 yards per attempt.
The Blue Devils:
Where do we start this time? Duke is in the BCS standings for the first time, at No. 24, after getting picked to finish last in the Coastal Division by the media in July. The Blue Devils have now clinched a tie of the division title after beating Wake Forest 28-21, and can win it outright by winning this Saturday at North Carolina. They have tied a school record with nine wins, something they have not done since 1941. And they have won seven straight games for the first time since 1994.
November, 19, 2013
Nov 19
12:00
PM ET
Cam Newton led a game-winning drive, not Tom Brady? Wow, #flipweek continues.
November, 16, 2013
Nov 16
7:00
AM ET
Here is one more look at what awaits us today in the ACC:


NC State (3-6, 0-6) at Boston College (5-4, 2-3), 12:30 ET, GamePlan/ESPN3. #NCSTvsBC
What's at stake:
It's Senior Day for the Eagles, who not only can triple their win total from a season ago, but clinch bowl eligibility for the first time since 2010. The Wolfpack will need to win out over these last three weeks to achieve that, but they can start by winning league game No. 1 under first-year coach Dave Doeren. They are off to their worst start in ACC play since 1959, when they also went 0-6. They still play East Carolina and Maryland, so who knows what could happen if they go into Alumni Stadium and escape with the victory?
Statistically speaking:
Boston College is one of three teams (Georgia Tech and Duke) to score a touchdown on all its drives that had a goal-to-go situations this season (7-for-7).
Quotable:
"Well, what means the world to us is our seniors really want to leave a legacy of bringing the program back. This is a great group of seniors. A group of guys that are totally bought in, totally committed to the program, to our staff, really playing some of their best football right now. This is very, very important to them. So I want to see that so badly for them. They want to leave that legacy." -- BC coach Steve Addazio on potential bowl eligibility


North Carolina (4-5, 3-3) at Pittsburgh (5-4, 2-3), 12:30 ET, GamePlan/ESPN3. #UNCvsPITT
What's at stake:
The Tar Heels are going for their fourth straight win after a 1-5 start and it would put them in great position to get a bowl berth. They have turned the offense over to
Marquise Williams
since
Bryn Renner
's season ended with a shoulder injury. The new QB has not disappointed, as he accounted for touchdowns passing, running and receiving last week. Pitt hopes it turned a corner with its upset over Notre Dame last week. The Panthers can clinch bowl eligibility themselves with another win, which would make them 2-for-2 under coach Paul Chryst in reaching the postseason.
Statistically speaking:
Despite this being the Panthers' first season in ACC play, they actually played the Tar Heels just four years ago, winning the Meineke Car Care Bowl by a 19-17 margin on a late field goal.
Quotable:
"He's a one-man wrecking crew. The guy is all over the place. Paul and his staff have done a great job with him. They'll have him lined up at the left tackle. He's played at right tackle. He's played at the right end, left end. They move him all over the place. They put him in position to make plays. And the guy comes through. For a big guy like that he's quick as a cat now. He can move. He's like a skilled athlete but in a big body. And he's just got a knack and he plays hard. What a great player." -- UNC coach Larry Fedora on Pitt defensive tackle
Aaron Donald


Maryland (5-4, 1-4) at Virginia Tech (7-3, 4-2), 12:30 ET, GamePlan/ESPN3. #MDvsVT
What's at stake:
More bowl-eligibility scenarios? Sure. The Terrapins have been in this position the last three weeks, but losses to Wake Forest, Clemson and Syracuse have kept them from clinching. It's Senior Day, meanwhile, for the Hokies, who will look to get a similar performance from
Logan Thomas
to last week's, and who will be using a place-kicker in Eric Kristensen who made the team in September tryouts. The Hokies need to continue winning and hope that Duke loses if they want to clinch the Coastal Division.
Statistically speaking:
Virginia Tech is 30-5 in the ACC in the month of November since 2004, including 28-5 in ACC games.
Quotable:
"You know, I'm proud of the football team and coaches. We had two tough losses. Both teams that beat us played great, but it was tough losses. Then going to Miami and trying to beat a team that I think is really, really good. They were ranked last week. To go in there and play as good a football game as we did when our backs were definitely against the wall, then to play the way we did, you know, it's just you have real pride in your football team that they came back like that. But now it's week to week, and we've got to come back and get ready to play this week. If we don't play well this week, Maryland is very capable, and what happened last week doesn't make very much difference at all." — Virginia Tech coach Frank Beamer on bouncing back from a two-game losing streak


Syracuse (5-4, 3-2) at No. 2 Florida State (9-0, 7-0), ABC/ESPN2. #CUSEvsFSU
What's at stake:
Yes, bowl eligibility factors in this game, too, this time for the Orange in Year 1 in the ACC and under coach Scott Shafer. He helped pull of an upset of similar proportions six years ago as the defensive coordinator at Stanford, which went into USC and came away with a win despite being 40-plus point underdogs. The Seminoles, meanwhile, look to close out ACC play in style. They have already won the Atlantic Division, but a victory today will clinch the program's eighth unbeaten ACC regular season since joining the league in 1992 (and its first since 2000). It will get FSU one step closer to the national title game.
Statistically speaking:
Florida State's offense is leading the FBS in points per drive (3.75) and scoring percentage (60.2), defined as the percentage of drives that end in either a touchdown or a field goal. Among all FBS teams over the last 10 seasons, that scoring percentage is tied for the highest.
Quotable:
"I think I always felt like stats are for losers. But your stats are better, so that's a good thing. But I think more than anything the physicality, I think they're playing top brand of defensive football. And tackling well. And we need to do that. More than anything, it's that physicality, that's probably the part that I'm most pleased with. They're playing with great attitude and effort and then finishing with tough, hard nosed, physical style tackling, and I think I've seen that from our kids really the whole season. But it's becoming more consistent the last couple of games." -- Syracuse coach Scott Shafer on his team's defensive turnaround in the last two weeks


No. 23 Miami (7-2, 3-2) at Duke (7-2, 3-2), ESPNU/WatchESPN. #MIAvsDUKE
What's at stake:
Major Coastal Division implications, for one. If the Hurricanes can snap their two-game winning streak and come away with a win, they will need to win out and have someone beat Virginia Tech in order to win the division. As for the Blue Devils, they got some big help Thursday night from Clemson, which beat Georgia Tech, giving Duke complete control of its own destiny in the Coastal. Win out, and Duke gets its shot at the Seminoles in the ACC title game.
Statistically speaking:
Duke snapped a 47-game losing streak against ranked opponents two games ago at Virginia Tech. The last time Duke won consecutive games against ranked opponents came in 1989 under Steve Spurrier.
Quotable:
"I think it's huge. The thing that we've done is we've put ourselves in position to be playing in a big game in November, and we've done that two years in a row. You hope lessons learned and opportunities are coming your way that you take advantage of it. But we had a great home crowd a week ago with North Carolina State here, and we're certainly looking forward to the same with Miami coming to town." -- Duke coach David Cutcliffe on the stakes this weekend
November, 11, 2013
Nov 11
9:00
AM ET
1. Florida State (9-0, 7-0; Last week: No. 1):
The Seminoles reinforced their standing as one of the top two teams in the nation with a 59-3 win over Wake Forest, yet another game in which the starters were pulled in the second half. The offense did not have its best rhythm but defense and special teams earn A-pluses for their respective performances. Perhaps most impressive was the way Florida State took care of business without one hint of distraction.

2. Clemson (8-1, 6-1; LW: No. 2):
Look who is sitting pretty for an at-large berth in the BCS? The Tigers were off Saturday, preparing for a Thursday night contest against Georgia Tech, a team that has given them trouble over the years. But if Clemson can beat the Jackets, FCS The Citdael and then South Carolina in the regular-season finale, another Orange Bowl appearance could very well be in order.
3. Miami (7-2, 3-2; LW: No. 3):
We know. It does not seem logical to have the Canes remain at No. 3 after two straight losses. But they are the only other ACC team in the BCS standings (at No. 23). So they stay. For now. But their hold on this spot is precarious to say the least. The preseason favorites to win the Coastal are no longer in control of their destiny after a disheartening loss to Virginia Tech. Two weeks ago, Miami sat unbeaten and ranked No. 7. Now the Hurricanes need help. Big time.
4. Duke (7-2, 3-2; LW: No. 5):
Just when things looked incredibly bleak against NC State, the Blue Devils reeled off 21 straight fourth-quarter points to win decisively.
DeVon Edwards
, with a kickoff return and two interception returns for scores, was honored as the Walter Camp Defensive Player of the Week. Duke has won five straight, the second-longest streak in the ACC behind FSU. A win over Miami this Saturday would vault them to No. 3 in the standings.
5. Virginia Tech (7-3, 4-2; LW: No. 7):
It was gut-check time Saturday in Miami, and the Hokies showed they are not going down without a fight. After ugly offensive performances in its past two losses, Virginia Tech had its best showing in years, essentially doing whatever it wanted in a 42-24 win. The Hokies had a season-high 549 yards and
Logan Thomas
posted his second straight 300-yard game. The last time Tech beat a top-15 team on the road when not ranked was in 1989, a 12-10 at No. 9 West Virginia. We realize the Hokies beat Miami, but they did lose to Duke and BC -- a team not as good as Florida State, the only other blemish on Miami's record.
6. Georgia Tech (6-3, 5-2; LW: No. 4):
Trying to rank the Jackets, Virginia Tech, Duke and Miami could almost be considered an exercise in futility. Georgia Tech lost to the Hokies and Hurricanes, so it makes sense to rank those teams ahead. But they beat Duke early in the season and that should count, too. Georgia Tech has won three straight but has fewer wins than the three teams above. Ultimately, we will know much more about this group after its trip to Clemson on Thursday night.
7. Pitt (5-4, 2-3; LW: No. 8):
Paul Chryst and the Panthers' program picked up a huge win over No. 23 Notre Dame on Saturday, right when they needed it. After a disappointing performance in a loss to Georgia Tech the week before, Pitt was firmly on the bowl bubble. But now, Pitt should have the confidence and momentum to win at least one more and keep its postseason streak alive.
8. Boston College (5-4, 2-3; LW: No. 6):
The Eagles had a harder time than some expected on the road against New Mexico State, but they found a way to win the fourth quarter thanks to the incredible
Andre Williams
. The senior back scored the game-winning 80-yard touchdown and added another for good measure to finish with a single-game school record 295 yards rushing. It was Boston College's first road win this season and continued an exceptional turnaround under first-year coach Steve Addazio.
9. Syracuse (5-4, 3-2; LW: No. 10):
The Orange are also on a winning streak after a 20-3 win over Maryland, inching ever closer to bowl eligibility. Syracuse is now 3-1 against Atlantic Division competition and above .500 for the first time this season.
Jerome Smith
had his third 100-yard game on the year as the Orange gained more than 200 yards rushing for the fifth time this season. Syracuse is 4-1 in those games.
10. North Carolina (4-5, 3-3; LW: No. 9):
Watch out for the Tar Heels, who have won three straight after a 1-5 start and are making a serious push to make a bowl game.
Marquise Williams
impressed in his first start since
Bryn Renner
was lost for the season, and the defense has seemed to turn a corner, giving up an average of 14.3 points per game during this winning streak. Granted, two of those wins have come against the two worst teams in the ACC but you can see progress.
11. Wake Forest (4-6, 2-5; LW: No. 11):
The outcome against Florida State was perhaps worse than some had expected, if only because senior starting quarterback
Tanner Price
was benched after throwing three interceptions. Backup
Tyler Cameron
was not much better, throwing three interceptions of his own. The Deacons have now scored three total points since
Michael Campanaro
was lost for the season. They might not win another game this year, with contests against Duke and Vanderbilt remaining.
12. Maryland (5-4, 1-4; LW: No. 12):
Hard to believe the Terps began the year 4-0 with a Top 25 ranking. The wheels have come off since a 63-0 drubbing in Tallahassee, thanks in part to injuries at key spots on offense and defense. In a 20-3 loss to Syracuse, the offense was abysmal, with 292 total yards and four turnovers. The Terps still have bowl hopes, but given the way they have played in the past three losses, they could just as easily lose out.
13. NC State (3-6, 0-6; LW: No. 13):
We thought there was a chance the Wolfpack would struggle this year with a new head coach, new scheme and a young team. But it is safe to say nobody anticipated they would be 0-6 in ACC play, pulling an oh-fer against in-state teams Wake Forest, North Carolina and Duke. The latest came in a 38-20 loss to Duke, in which NC State could not hang on to a fourth-quarter lead or take advantage of Duke's clearly struggling offense. The Blue Devils had four turnovers. But so did the Wolfpack.
14. Virginia (2-8, 0-6; LW: No. 14):
What else is left to say about the Hoos? They have not even been competitive in their past two losses, falling to Clemson and North Carolina by a combined 104-24.
David Watford
was benched in the loss to the Tar Heels after throwing two interceptions, but it seems a little too late for that now.
November, 9, 2013
Nov 9
7:00
AM ET
Here's one last quick look at what's going on in the ACC this week:
No. 2 Florida State (8-0, 6-0) at Wake Forest (4-5, 2-4), noon, ABC. #FSUvsWAKE


What's at stake:
Plenty for both teams. A win gets the Noles into the ACC championship game and keeps their national championship hopes alive. Wake Forest is nearing must-win territory for bowl eligibility. A loss means the Deacs have to beat Duke (6-2) and Vanderbilt (4-4) to get back to a bowl game. The last time Florida State visited Winston-Salem, Wake Forest won. But both coaches insist things are different this time around. Wake Forest coach Jim Grobe said this Florida State team is the best he has faced in 13 years with the Deacs.
Statistically speaking:
According to ESPN Stats & Information,
Jameis Winston
completes an AQ-high 71.9 percent of his passes on plays in which he is pressured (knockdown or hurried). The AQ average for a quarterback when pressured is 35.8 percent.
Quotable:
"You know the situations and the media hype you get. But like we tell them, the only thing you can control is how you play this week. What's important for us is to continue to play well, reach our goals in the games of getting better each week, learning to prepare each week and getting better as a team." -- Florida State coach Jimbo Fisher.
Virginia (2-7, 0-5) at North Carolina (3-5, 2-3), 12:30 p.m., ESPN3. #UVAvsUNC


What's at stake:
Plenty on the line for the Tar Heels, who are fighting for a bowl berth. Another win would give them three straight after a 1-5 start to the season. A bowl game does not look all that bleak right now, even with
Bryn Renner
out for the season with a shoulder injury. The Hoos are the only team left on the schedule with a losing record, so getting a win here is critical for bowl hopes. A loss means the Tar Heels have to win at Pittsburgh, then beat Old Dominion and Duke. That is doable, but certainly a win against Virginia gives a tad more margin for error.
Statistically speaking:
Virginia safety
Anthony Harris
is quietly putting together one of the best seasons in the ACC. Harris has six interceptions on the season, tied for second in the nation. Those six interceptions are two more than the entire UVa team had in 2012. They also are the most by a UVa safety since Shernard Newby had five in 2001.
Quotable:
"This team has become mature enough to understand the pitfalls of a lack of focus or worrying about what else is going on out there. Now you've got people who want to pat you on the back. If you do, you better watch out. Better just stay the course, keep doing what we're doing, focusing on one game, and let's try to be 1-0." -- North Carolina coach Larry Fedora.
Syracuse (4-4, 2-2) at Maryland (5-3, 1-3), 3:30 p.m., ESPN3. #CUSEvsMD


What's at stake:
Let's stick with the bowl theme. The Terps become bowl eligible for the first time since 2010 with a win; the Orange inch closer to bowl eligibility for the second straight year with a win. One area to watch with both teams is the running game. The Terps have hit a bit of a dip in their last two losses, rushing for a combined 121 yards. Syracuse, meanwhile, has over 180 yards total rushing in three of four ACC games this year and is facing an injury-depleted Maryland D that gave up 247 yards rushing to Clemson.
Statistically speaking:
Talk about extremes with the Syracuse defense. Twice this season, the Orange have shut opponents out, the first time that has happened since 1997. But on the flip side, they have also given up 48 or more points three times this season.
Quotable:
"He's a really good leader and he's a guy that knows the offense, understands it and has experience. So that means a lot to us, and like I said hopefully he can continue to stay healthy." -- Maryland coach Randy Edsall on
C.J. Brown
.
Boston College (4-4) at New Mexico State (1-8), 3:30 p.m., ESPN3. #BCvsNMSU


What's at stake:
Plenty for Boston College. The turnaround in Year 1 under coach Steve Addazio has been impressive. Now the goal he set for his team when the season started is there for the taking -- bowl eligibility for the first time since 2010. Having to travel to Las Cruces, N.M., in the middle of November is not an ideal situation, especially after such an emotional win over Virginia Tech. BC also has been a different team on the road this year, scoring an average of 10.3 points in three losses, so Addazio has to find a way to keep his players focused against a much weaker opponent.
Statistically speaking:
Receiver
Alex Amidon
needs 54 yards to break the school record for career receiving yards. Current BC graduate assistant coach Rich Gunnell set the mark of 2,459 yards from 2006-09.
Quotable:
"There's a tremendous amount of focus right now with our seniors and everybody in this program about just centering in on trying to get win number five, and I think our kids understand, I certainly hope they understand that it's all hands on deck with us. When we win, it's because we are just scratching and clawing, and we're not turning it over, and we don't have a lot of penalties, and we have that kind of team concept. And that's hard to do week in and week out." -- BC coach Steve Addazio.
NC State (3-5, 0-5) at Duke (6-2, 2-2), 4 p.m., ESPNU. #NCSTvsDUKE


What's at stake:
Duke needs to win to stay in the race for the ACC championship game. NC State needs a win to keep its bowl eligibility hopes alive, with games against Boston College, East Carolina and Maryland ahead. The Wolfpack are off to their worst start in ACC play since going 0-6 in 1959. Duke, meanwhile, is off to a 6-2 start for the second straight year, but the Blue Devils hope to avoid the same type of losing streak that dampened the end to the 2012 season. NC State has won 11 of the past 12 meetings, but Duke won the last one in 2009. This is the last meeting between the schools until 2020.
Statistically speaking:
In ACC play this season, Duke is 0-2 at home and 2-0 on the road. Duke joins Clemson and Florida State as the only two teams in the league without a loss away from home.
Quotable:
"We've been in four of the games we've lost in the fourth quarter, whether it was tied and we were down by a touchdown or less, we know we're close, and we're just going to keep grinding and fighting and find a way to win those close games as we fight down the stretch." -- NC State coach Dave Doeren.
Virginia Tech (6-3, 3-2) at No. 11 Miami (7-1, 3-1), 7 p.m., ESPN. #VTvsMIA


What's at stake:
Simply put, the Coastal Division. Virginia Tech needs a win to stay alive and end a two-game losing streak. Miami needs a win to stay in the driver's seat. Virginia Tech remains stingy on defense, ranking in the top 10 in total defense (No. 3), passing defense (No. 1), rushing defense (No. 9) and scoring defense (No. 8). The problem has been the eight turnovers in the last two losses. Miami, meanwhile, must win this game without two of its best offensive playmakers -- running back
Duke Johnson
and receiver
Phillip Dorsett
.
Statistically speaking:
While Miami has one of the best rush offenses in the ACC, Virginia Tech has one of the worst. The Hokies are averaging 3.2 yards per carry, on pace to be their lowest in the last 10 seasons. The Hokies have four rushes that gained 20 yards or more, tied for seventh fewest in the FBS.
Quotable:
"I think this Miami team is really, really good. If you look at them defensively, they're maybe the best defensive team we've played and we've played Alabama." -- Virginia Tech coach Frank Beamer.
No. 23 Notre Dame (7-2) at Pitt (4-4, 2-3), 8 p.m., ABC. #NDvsPITT


What's at stake:
This is almost a must-win situation for the Panthers, who are trying to become bowl eligible for the sixth straight season. After the Irish, Pitt faces an improving North Carolina, has to travel to Syracuse (where it lost last season) and then closes against No. 11 Miami. The Panthers have played Notre Dame tough, though players have said the triple-overtime loss a season ago is in the past. What Pitt needs to do is find its run game and fast. The offensive line play has deteriorated as the season has gone on, hampering both the run and quarterback
Tom Savage
. Pitt has given up a league-high 29 sacks, tied for No. 116 in the nation.
Statistically speaking:
Pitt is on pace for its worst rushing offense since 2005. Right now, the Panthers are averaging 122.5 rush yards per game. In 2005, Pitt averaged 116.8 rush yards per game.
Quotable:
"We haven't been real good running the football. You know, we're certainly working on it, and there are different reasons that have contributed to it. But we need to -- hopefully we can get that squared away because we're a better team if we can do a better job of running the football." -- Pitt coach Paul Chryst.
October, 29, 2013
Oct 29
12:00
PM ET
No. 3 FSU and No. 7 Miami aren't the only teams playing this weekend ya know ...
October, 19, 2013
Oct 19
7:00
AM ET
The most anticipated college football game in the ACC will kick off in Death Valley later today, putting the league squarely in the national spotlight.
That is where the league wants to stay.


Either Clemson or Florida State will remain a national championship contender. The loser has a shot at staying in the top 10, and earning an at-large BCS berth should it win out.
"We are the only league out there that's got three undefeated teams, and to have two of them not only match up and play, but be in the same division, I think it's great," Clemson coach Dabo Swinney said. "I don't have any doubt that regardless of the outcome of this game, Clemson and Florida State are going to be very much in the picture the rest of the year. This is two really good football teams that are going to do everything they can to win this game."
Indeed, for the second straight year both teams face each other ranked in the top 10, with both national championship and ACC title hopes on the line. The winner of this game has produced the Atlantic Division representative in the ACC championship game in each of the last four years, making Florida State-Clemson a burgeoning rivalry.
The high stakes only add to it.
"You have a rivalry, it's usually when both teams are very competitive and both teams have success and it will decide something, and this has definitely become that in my opinion," Florida State coach Jimbo Fisher said.
So who has the edge? Boston College coach Steve Addazio, who faced both teams already this year, has been besieged with that question from the media, friends and even family. Even he is undecided.
"They're really both two outstanding teams. I mean, absolutely justified in the rankings that they have," Addazio said. "They could be No. 1. They're that talented. They're each a little different maybe, but at the end of the day, they've got two powerful defenses, two explosive quarterbacks and teams that are loaded with playmakers. So I just think you're going to see one of the truly outstanding football games of the season. I think it's great for the ACC to have the quality of teams that we have in here, and now you have two of these teams on a national stage.
"I can tell you from my years in the SEC and in the Big Ten and different places I've been that I would put these two teams up against anybody."
This game is the headliner, but there are several others on the ACC slate in Week 8 that will have potential bowl ramifications. Here is a quick look at the other matchups.


Syracuse (3-3, 1-1) at Georgia Tech (3-3, 2-2), 12:30 p.m., ESPN3.
Even though the Jackets have lost three straight, their average of 421.3 yards of total offense ranks as the sixth-highest in school history. Syracuse, meanwhile, is averaging 220.7 yards per game on the ground -- on pace to be the team's best mark since 1998 (228.4). The Orange have posted back-to-back 300-yard rushing games, the first time that has happened since 2003.


Maryland (5-1, 1-1) at Wake Forest (3-3, 1-2), 3:30 p.m., ESPNU.
There is no doubt Maryland has to keep an eye on Wake Forest receiver
Michael Campanaro
, who has two games this season with double-digit receptions. He needs 11 catches to pass Desmond Clark (1995-98) as the school's career receptions leader. Clark holds the mark with 216. Meanwhile, the Maryland run offense will provide a big challenge for the Deacs.
Nikita Whitlock
, who has 11.5 tackles for loss, will be a big key.


Duke (4-2, 0-2) at Virginia (2-4, 0-2), 3:30 p.m., ESPN3.
One team will pick up its first ACC win of the season. One key matchup to watch is Virginia running back
Kevin Parks
against the Duke run defense. The Blue Devils have shown flashes of defensive improvement but have been wildly inconsistent. They had a great showing last week, but coach David Cutcliffe wants to see that type of performance each week. Parks, meanwhile, had his third 100-yard rushing day last week against Maryland, giving him consecutive 100-yard rushing days.


Old Dominion (4-2) at Pitt (3-2), 7 p.m., ESPN3.
The Panthers' run game has come to a screeching halt over the last two weeks, with a combined 31 yards on the ground against Virginia and Virginia Tech. Some of that has to do with the sacks that have lost yardage, but no running back has gone over 31 yards rushing since the win over Duke on Sept. 21. Coach Paul Chryst says there are a few things that can be done schematically to help the Panthers get back on track.
October, 15, 2013
Oct 15
12:00
PM ET
That makes you feel pretty dumb, doesn't it? This thing is literally 360 times more powerful than you. Look at you. You're worthless.
September, 10, 2013
Sep 10
12:00
PM ET
Welcome to the NFL, Chip.
September, 4, 2013
Sep 4
4:00
PM ET
Week 1 was filled with introductions in the ACC, as several fan bases got acquainted with first-year starting quarterbacks.
Vad Lee
led Georgia Tech to a 70-0 romp over Elon,
Drew Allen
was named the starter at Syracuse, NC State's
Brandon Mitchell
played well until he injured his foot, and the
Anthony Boone
era officially began at Duke. None of them, though, made the kind of splash Florida State's
Jameis Winston
did in the Noles' season opener against Pitt.
Winston completed 25-of-27 for 356 yards with four passing touchdowns and one rushing touchdown in the 41-13 win. He set the school's completion percentage record and record for passing yards by a freshman in his first start.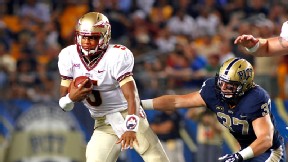 Justin K. Aller/Getty ImagesSeveral ACC schools debuted new QBs, none with more fanfare than Florida State's Jameis Winston.
Even Florida State coach Jimbo Fisher conceded he'd never seen anything like it.
"For a first game, I haven't seen [a performance] of that caliber," he said, "there's no doubt."
For the most part, ACC coaches were pleased with what they saw from their rookies -- or in Pitt's case, their veteran. Senior
Tom Savage
hadn't taken a snap in over two years before he lined up against the Noles at Heinz Field. He completed 15 of 28 passes for 201 yards, one touchdown and two interceptions.
"He was enjoying playing again," Pitt coach Paul Chryst said. "When you sit out that long, sometimes you see it with older guys who get their first start. All of those plays are really appreciated. He was a guy who truly enjoyed playing football again. I loved his demeanor throughout the whole game, when something good happened or something bad happened."
There was bad news in Raleigh, where Mitchell broke his foot after just three series in the first quarter. The Pack will now turn to
Pete Thomas
heading into Saturday's game against Richmond. Thomas replaced Mitchell in the 41-14 win over Louisiana Tech and threw for 212 yards on 15 of 27 passing. NC State coach Dave Doeren said the coaches are going to have to be "a little more creative" with their running game because Thomas isn't as mobile, but that Thomas doesn't have to be a superhero to win games.
"We need him not to beat us," Doeren said. "Just distribute the ball to the right people. Don't try to win the game, just don't lose it. That's something quarterbacks can try to make too many plays when they don't really have to. … Pete can do that. We're looking forward to seeing him take this opportunity and do something with it."
Doeren said the staff is trying to redshirt backup quarterback
Manny Stocker
, and that Stocker's playing time last year "was premature for his growth as a player."
"I just think a year going against our starting defense as the scout team quarterback will really benefit him," Doeren said.
There was a lot of hype and anticipation amongst Syracuse fans about transfer quarterback Drew Allen, but the Orange's offense looked flat in the 23-17 loss to Penn State.
Christian Hackenberg
, the Nittany Lions' freshman quarterback, stole the show, while Allen threw two interceptions and no touchdowns.
"If you just look at the stat sheet, you say, 'boy, we wish we could've done better,'" Syracuse coach Scott Shafer said. "But big picture, I was real pleased with the way Drew played. The things I was most pleased with, he never really was flustered on the sideline. I thought he had good control and command. He kept working towards making the next play go, and we had a few dropped balls in there and a couple of missed routes by the supporting cast, but I liked the way he worked through those situations. I'm looking forward to seeing him getting his second start this weekend against Northwestern."
More news and notes from around the ACC …
Randy Edsall's money quote:
Maryland coach Randy Edsall was asked on Wednesday's ACC teleconference how much he concerns himself with the school's financial struggles and what his role is in trying to raise attendance and sponorships. "That's somebody else's job to worry about the financial problems," he said. "I wasn't the one that got them into those problems." Talk about passing the buck.
'Camp' starts:
Wake Forest standout receiver
Michael Campanaro
missed last week's season opener against Presbyterian with a sore hamstring, but coach Jim Grobe said his top playmaker will be ready to go at Boston College on Friday, the first league game for both schools. "I think Camp could've played last week," Grobe said. "He's been having problems with his hamstring since our third scrimmage. He didn't have a pulled hamstring, but it tightened up and it was sore, and he didn't practice much in the week leading up to the opener. We just felt like it would be not in his best interest and ours to try and play him against Presbyterian, but he's full speed again, and he should be fine against Boston College."
High praise for Ducks:
Virginia coach Mike London knows his defense will have its hands full against No. 2 Oregon -- twofold. "If you get tired enough, you can see double of everything," London said. "They are as good as advertised."
VT RB on the mend:
Injured Virginia Tech running back
J.C. Coleman
(sprained ankles) didn't make the trip to Alabama, but coach Frank Beamer said Coleman is on the mend for Saturday's game against Western Carolina. "I think today is an important practice for J.C. He's back, but exactly how far back he is, I think we need to see yet. He did some things very well yesterday, but today we'll see exactly where he is."
No seats in Sun Life:
Miami coach Al Golden said he's not sure how many recruits will attend Saturday's home game against Florida, but that "it's a who's who from what I understand." In order to accommodate the expected crowd, Golden said 2,000 seats have been added to Sun Life Stadium. "There's no seats left for anybody," he said. "We're running out of seats for former players, high school coaches, recruits, all the way down the line. It's going to be a great atmosphere."
James Wilder Jr. day-to-day:
Florida State coach Jimbo Fisher said Wilder injured his shoulder in Monday night's win over Pitt, but that it's not serious. "He's doing fine," Fisher said. "He'll be day-to-day. He's got a banged up shoulder, but nothing very serious. Give it a little bit of rest, and I think he'll be fine."
August, 29, 2013
Aug 29
10:20
AM ET
The moment is finally here. The season kicks off tonight, as two ACC teams take the gridiron and mark the return of college football. Here is what to keep an eye on this entire weekend as all 14 teams get back in action.
1. Battle in the trenches in Columbia, S.C.
North Carolina will have three new starters on its offensive line Thursday night against No. 6 South Carolina, including two redshirt freshmen. And the Tar Heels will be going up against preseason Heisman contender
Jadeveon Clowney
and the Gamecocks' lethal defensive line. Don't overlook fellow end
Chaz Sutton
, either.
2. Conference debuts.
Pitt and Syracuse play their first games as ACC schools after exiting the former Big East, which the Orange won a four-way share of in 2012. Both schools have the chance to make big opening statements, as the Panthers host defending conference champion Florida State on Labor Day and Syracuse faces a Penn State squad looking to build off Bill O'Brien's successful first year with the program.
[+] Enlarge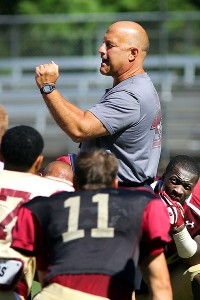 John Tlumacki/The Boston Globe/Getty ImagesBoston College's Steve Addazio is one of the conference's new coaches this season.
3. Trio of first-year coaches.
New BC coach Steve Addazio hosts Villanova, a familiar opponent from his Temple days. Dave Doeren and NC State host Louisiana Tech, which breaks in a new coach of its own in Skip Holtz after Sonny Dykes left for Cal following a 9-3 season. And Syracuse coach Scott Shafer debuts against Penn State in East Rutherford, N.J.
4. QB choices in Jersey and Raleigh.
Two of those new coaches also will be unveiling their starting quarterback choices for the first time, as Shafer sends out either
Terrel Hunt
or
Drew Allen
and Doeren picks
Pete Thomas
or
Brandon Mitchell
. The Orange will be facing a Penn State team that carries the same surprise in its quarterback race between
Christian Hackenberg
and
Tyler Ferguson
.
5. ... Speaking of new starting QBs.
Virginia's
David Watford
will make his first career start against BYU, Duke's
Anthony Boone
takes over the job from Sean Renfree against NC Central, and Florida State and Pitt will both start new signal-callers when they square off on Labor Day, with
Jameis Winston
running the Seminoles' offense and
Tom Savage
handling duties for the Panthers.
6. Pitt's running backs.
Ray Graham is gone. Rushel Shell transferred to West Virginia. And
Isaac Bennett
and
James Conner
have dealt with injuries in camp. Coach Paul Chryst isn't sure how things will shake out Monday, but we likely will see
Rachid Ibrahim
and
Malcolm Crockett
get at least some action given the backfield situation.
7. FSU's defensive backs.
Are too many bodies a good thing?
Nick Waisome
and
Terrence Brooks
started all 14 games last season for the nation's No. 1 pass defense. The crowd also includes preseason All-American
Lamarcus Joyner
, reigning ACC defensive rookie of the year
Ronald Darby
, former five-star prospect
Karlos Williams
and several other strong athletes. New defensive coordinator Jeremy Pruitt has his work cut out for him, although probably not as much as new Pitt quarterback Tom Savage does.
8. Virginia Tech's backfield.
Coach Frank Beamer wasn't kidding when he said the Hokies went from having too many running backs to not enough. Michael Holmes was kicked off the team in July,
Joel Caleb
was suspended this month for the opener against Alabama,
Tony Gregory
suffered a career-ending ACL tear and
J.C. Coleman
's status for Saturday is up in the air because of two ankle sprains. Redshirt freshmen
Trey Edmunds
and
Chris Mangus
are the Hokies' next options after Coleman.
9. "Smoke."
Taquan Mizzell
has earned that nickname despite having never taken the college field. ESPN's No. 9 running back prospect from the class of 2013 has drawn plenty of buzz in Virginia's camp, and he will get a stiff first test against BYU's defense.
10. ACC vs. SEC.
What, you really thought we'd forget this one? Three ACC teams face off against squads from the big, bad SEC, perhaps none with as steep a challenge as Virginia Tech's against Alabama. UNC kicks things off Thursday at South Carolina, and No. 8 Clemson hosts No. 5 Georgia on Saturday night in the headliner of Week 1. The ACC went 1-1 against the SEC in last year's weekend openers, with NC State falling to Tennessee in the Chick-fil-A Kickoff the night before Clemson topped Auburn in the Georgia Dome.
August, 14, 2013
Aug 14
12:00
PM ET
And ... whaddaya know ... Jadeveon Clowney is back at practice!
July, 22, 2013
Jul 22
9:21
PM ET
GREENSBORO, N.C. -- The buzz at Pittsburgh began as soon as the schedule was announced, and Panthers coach Paul Chryst said he knows he'll have his handful when the Panthers make their ACC debut against Florida State.
"They're a well-coached team with good players," Chryst said. "They're worthy of the praise and the accolades they're getting."
Pittsburgh and Syracuse join the ACC this year after moving from the Big East, and Chryst said he's already begun work breaking down his 2013 conference opponents -- with Florida State first up.
[+] Enlarge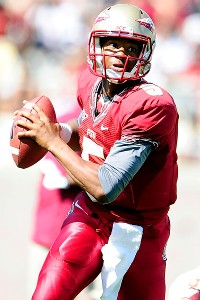 Stacy Revere/Getty ImagesJameis Winston's lack of experience makes it tough for season-opening opponent Pittsburgh to prepare for him.
Of course, the learning curve is made even tougher because Florida State will head to Pittsburgh with a new starting quarterback and a new defensive scheme. That makes preparation nearly impossible.
"You know there's some stuff you won't be prepared for, but you try to do the best you can," Chryst said. "As a coach you try to prepare for the unknown -- but that's kind of, how the hell do you do that? I don't know."
On the other side, FSU coach Jimbo Fisher said he expects his team to benefit from the tough start to the schedule.
"You have a better summer, a better fall camp, more attention to detail quicker," Fisher said. "Ideally you'd like them in a non-conference situation with a significant opponent, but I think it's good."
This marks the first time Florida State has opened its season against a team from a power conference since 2009, when it lost to Miami 38-34.
Benjamin improving:
For all the buzz that's surrounded him for two years in Tallahassee, receiver
Kelvin Benjamin
still hasn't fully realized his potential. But it's that hype that may have hurt him, Fisher said, and Benjamin finally appears ready to turn a corner.
"People thought he had to do the spectacular thing, and he always felt pressure he had to do something special," Fisher said. "You run that drag route, that curl route -- you'll do more by just doing normal, it'll happen for you. That's the thing that's emerged. You see that pressure off him a little bit. He's really relaxing now and playing within the offense and it's getting more consistent."
Benjamin finished fourth on the team with 30 catches and 495 yards last season, but he mustered just 52 yards total in his final five games.
But fellow receiver
Rashad Greene
said he's seen a more focused version of Benjamin this summer, and he's expecting better results when the season begins.
"I can see that he's taken it a lot more serious," Greene said. "He's working a lot more. He's focused. A guy like that with so much ability and that big, you know you've got to respect him."
Coming and going:
Fisher said he doesn't anticipate any significant injury issues when camp opens in two weeks.
Tight end
Kevin Haplea
will miss the season, but Fisher said every other player who underwent surgery this offseason should be ready to go, including
Christo Kourtzidis
, who is likely to take Haplea's spot on the depth chart.
Fisher also said the team is preparing as if receiver
Greg Dent
will not be available. Dent is suspended indefinitely after being charged with sexual assault last month.
Better Freshman Season: Manziel Or Winston?