Florida State Seminoles:

Orwin Smith
December, 1, 2012
12/01/12
7:22
PM ET
CHARLOTTE, N.C. -- It's a beautiful evening here in the Queen City, and the dedicated ACC fans who are here are enjoying themselves.


Let's get to the news first.
B.J. Bostic
will start in place of A-back
Orwin Smith
, the Jackets' leading rusher who injured his ankle in the Duke game and was also sidelined for last week's game against Georgia. Defensively,
Euclid Cummings
will start in place of defensive end
Emmanuel Dieke
. Florida State has not reported any lineup changes.
As for attendance, which is sure to be a hot button topic this year ...
More than 50,000 tickets were sold in advance, according to an ACC official. There are two giant, black, ACC-branded tarps blocking off four upper-deck sections in each end zone, and if the seats are empty, you'll be able to see them on TV, as the majority are Carolina Panthers blue. This year should be an anomaly, though, not a trend for the league championship game (at least ACC officials hope). Last year was great attendance for the Clemson-Virginia Tech rematch, but let's face it: this game has taken the backseat even to other news within the conference this week. Not to mention the Coastal Division was an absolute disaster, with both Miami and North Carolina ineligible to play in this game. Georgia Tech is here by default, and if it loses this game, it will drop to 6-7 and play in a bowl game thanks to a waiver granted by the NCAA.
And yet Georgia Tech is just one win away from playing in the Discover Orange Bowl.
It's the goal for both teams, regardless of how many fans come out to watch tonight.
November, 30, 2012
11/30/12
9:30
AM ET
TALLAHASSEE, Fla. -- An injury relegated
Vince Williams
to the sideline when Florida State last faced off against Georgia Tech's frustrating triple option offense in 2009.
It allowed Williams to skip out on the carnage as Tech racked up more than 400 yards rushing, but he bore witness to the dangers his defense will face Saturday, and the memories have stuck with him.
[+] Enlarge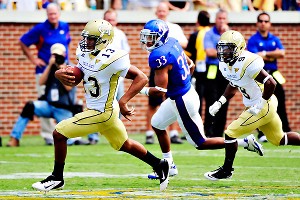 AP Photo/David TulisGeorgia Tech QB Tevin Washington is averaging 9.6 yards per pass and 4.1 yards per rush.
"There was a play [Jonathan] Dwyer broke they cut the defensive end, middle linebacker and safety on one play," Williams said. "I was like, 'Man, that's crazy.' "
Williams is among a select group of FSU's defenders who knows firsthand the challenge that awaits. Only four active members of Florida State's defense played in that game in 2009, and only
Nick Moody
had a significant role.
For everyone else, preparing for the option is a new experience, and Williams said it's as much about forgetting what you've already learned and starting from scratch with a new system.
"Your same keys don't really work for this offense," Williams said. "You're going to have to do a complete overhaul of what you've already learned about football."
Based on last week's defensive performance, that might not be a terrible idea. FSU allowed 244 rushing yards to Florida, the most it had given up since 2009, and the Gators' 5.19 yards per carry was nearly double FSU's season average.
Of course, the Tech offense -- which boasts the fifth-best yards-per-carry average in the country -- provides a far different challenge, and Moody said it's not one Florida State should fear. The triple option offense is unique, but it also leaves room for good teams to succeed on defense.
"It's kind of simplified, actually," Moody said. "You don't have to think about as many possibilities. You can kind of tell what to expect -- it'll be here, here or there."
"Here, here and there" are the A-back, B-back and quarterback -- all of whom can get the ball on any given play. Few other teams run a true triple option, which makes preparing for Tech in just one week a tall task.
The two keys to success revolve around defenders sticking to their assignments and defeating the immense amount of cut blocks that Georgia Tech runs effectively, but few teams practice during the season.
That puts a ton of pressure on the defensive linemen and linebackers to both get up field and control the perimeter.
"You've got to make sure your defensive linemen make a lot of tackles inside the box before a linebacker has to pursue out to the numbers," Williams said.
The triple option doesn't make life easy on the secondary, either. Tech doesn't throw the ball often -- it is attempting the fifth-fewest passes in the country -- but the Jackets lead the ACC in yards per attempt. When they do throw, it tends to be for big yardage because defenses were caught looking for the run.
"It's definitely a game where you have to key in on your keys, read your keys," safety
Lamarcus Joyner
said. "If you're not, you can easily be embarrassed."
That means the responsibility for shutting down Tech's offense won't fall on one defender, but rather on the unit working together as a group. Maturity and patience will be tested Saturday, but Moody said he's already been driving that point home with the myriad teammates who haven't already seen first hand how tough Tech's offense can be.
"Across the board we know we have to take care of our assignment for it to work, to stop them," Moody said. "That's what gets the job done."
November, 30, 2012
11/30/12
9:00
AM ET
TALLAHASSEE, Fla. --
EJ Manuel
walked off the field last week wounded.
His head was woozy and his body beaten after a physical game against Florida, but it was the mental scars that were so evident when it was over. Manuel was beaten, his final home game concluding as one of his worst.
[+] Enlarge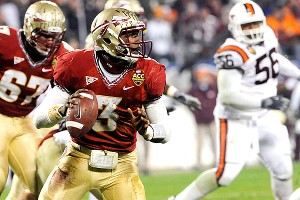 Sam Sharpe/US PresswireEJ Manuel was the starter in FSU's last appearance in tha ACC title game, but threw two interceptions in the loss to Virginia Tech.
Manuel's misery was intense, but it was short lived.
"He's been through this enough where he'll put it behind him because there is a lot to accomplish," Jimbo Fisher said.
Manuel gets his second crack at an ACC championship and his first shot at redemption following the loss to Florida when he takes on Georgia Tech's woeful defense Saturday with a conference title hanging in the balance.
It won't erase the scars of Florida, but it would be an accomplishment no other FSU quarterback has managed in seven years.
"It is a championship game and it hasn't been done here since '05," Manuel said. "You just have to move on, process [the loss] and understand why you made those mistakes. Can't go out there and do that [this] week."
Manuel is making his second ACC championship game start. The first came as something of a surprise against Virginia Tech in 2010, and Manuel managed to impress -- completing 75 percent of his passes and throwing for 288 yards -- but this time he expects even more.
"It's kind of like a second bowl game," Manuel said. "The implications of this game are huge and I understand that, my teammates understand that, so we have to get the job done."
November, 29, 2012
11/29/12
1:00
PM ET
Florida State is in. The Jackets are in. How they got here is a moot point. One of them will be crowned ACC champ on Saturday. Here's a primer for those of you who need to get caught up:
Who:
No. 13 Florida State (10-2, 7-1 ACC) vs. Georgia Tech (6-6, 5-3 ACC)
What:
Dr Pepper ACC Championship game
When:
Saturday at 8 p.m. ET


Where:
Bank of America Stadium, Charlotte, N.C.
TV/Radio:
ESPN
Twitter:
#ACCFCG
The coaches:
Jimbo Fisher:
29-10 (third year) at Florida State and overall
Paul Johnson
: 39-25 (fifth year) at Georgia Tech; 146-64 (16th year) overall
The series:
All games:
Florida State leads 12-9-1;
In bowls and at neutral sites:
First meeting
In ACC play:
Florida State leads 12-2
Last meeting:
Georgia Tech 49, Florida State 44 (Oct. 10, 2009 at FSU)
FSU title game history:
Florida State will be seeking its 13th ACC championship. The Seminoles won or shared the title for the first nine seasons after they joined the conference (1992-2000), and went on to capture the national championship in 1993 and 1999. The Seminoles were also ACC champions in 2002, 2003 and 2005. FSU is making its third appearance in the ACC championship game. The Seminoles defeated Virginia Tech 27-22 in the inaugural event in 2005 in Jacksonville, Fla., and suffered a 44-33 loss to the Hokies in 2010 in Charlotte.
GT title game history
: The Yellow Jackets captured their first of two ACC titles in 1990, when they went on to claim the national championship. Georgia Tech shared the title with Florida State in 1998. The Yellow Jackets are making their third appearance in the ACC championship game since its inception in 2005. Georgia Tech suffered a 9-6 loss to Wake Forest in the 2006 championship game in Jacksonville, Fla. The Yellow Jackets defeated Clemson 39-34 in 2009 in Tampa, Fla., but later vacated the win and the ACC title because of NCAA sanctions.
FSU stat stars
DE Bjoern Werner:
He ranks third nationally and leads the ACC in QB sacks per game with 1.08 and is tied for 15th in total tackles for lost yardage per game (1.50). Werner's 18 TFL this season have accounted for 134 yards in lost yardage. Werner now has 13 sacks this season.
QB EJ Manuel:
He ranks eighth nationally in passing efficiency with a 160.01 rating and leads an offense that averages 41.5 points per game and has scored at least 51 points in four regular-season games.
PK Dustin Hopkins:
He now ranks third on the all-time NCAA FBS scoring list with 456 points. Hopkins trails Travis Prentice of Miami (Ohio) by 12 points for second place all-time. He enters Saturday's game tied for the all-time lead in field goals among NCAA FBS kickers with 87.
WR Rodney Smith:
He has caught a pass in 37 consecutive games, one shy of the school record. E.G. Green (1994-97) holds the school record for most consecutive games with a reception at 38.
Georgia Tech stat stars
RB Orwin Smith:
His 9.43 career yards per carry is the best for any ACC running back who has gained 1,000 or more yards. Smith has 1,830 yards on 194 carries and 20 touchdowns. His 61.2 yards per game leads the team.
QB Tevin Washington:
His 36 career rushing touchdowns are an ACC and school record by a quarterback. Washington leads all active conference players in rushing touchdowns, and his 216 points scored rank seventh. He has improved his completion percentage by more than 12 percentage points (47.1 in 2011 to 59.6 in 2012).
KR Jamal Golden:
He ranks second in the ACC and 10th nationally in kickoff returns with 29.0 yards per runback, including two returns for touchdowns.
LB Jeremiah Attaochu:
He leads the team and ranks third in the ACC with eight sacks in 11 games (.73 per game).
November, 29, 2012
11/29/12
10:15
AM ET
There is one game left before bowl season. So let's take a look at five keys to watch in the Florida State-Georgia Tech ACC title game Saturday in Charlotte.
1. Florida State run D vs. Georgia Tech offense.
Seminoles fans may have felt a little better about this matchup if last weekend hadn't happened. Florida roughed up the No. 1 defense in the nation to the tune of 244 yards rushing, physically dominating up front. That came as a surprise, considering the way the Seminoles had physically dominated just about everybody in ACC play. Now, they have a week to prepare for an offense that has only one thing on its mind -- running the football. Georgia Tech averages 323.3 yards rushing per game and should have leading rusher
Orwin Smith
back and healthy. Smith sat out last week's game against Georgia with a sprained ankle, but indicated this week he will be ready to go against the Seminoles. Meanwhile, Florida State is going to be without All-ACC defensive end Tank Carradine, a huge blow to the defense. Just how Florida State prepares for the option off such a miserable outing last week will be a huge key in this game.
2. Avoiding distractions.
Not only does Florida State have to bounce back from an uncharacteristic performance on defense, but it has to avoid the distractions of this week. Defensive coordinator Mark Stoops was announced Tuesday as the new coach at Kentucky, but he will coach in this game. He has declined all interview requests in order to focus on Saturday, and will not be formally introduced in Lexington until Sunday. All that is well and good, but you cannot completely ignore the distraction of this week, juggling a game plan with life-changing news. We will see how both he and Florida State respond.
3. Georgia Tech defensive consistency.
Georgia Tech's defense has been the biggest problem with the Jackets all season. Coach Paul Johnson fired Al Groh midway through the year, and there just has not been as much consistency as anybody would like. We see good quarters or good halves, but not an entire 60-minute effort. Now, they are coming off giving up 42 points to Georgia and are facing a balanced offense in the Seminoles. Georgia Tech must play a full game on defense in order to have any shot at winning.
4. QB EJ Manuel rebound.
Manuel had his worst game of the season last week against Florida, throwing three interceptions and taking a hit to the head in the fourth quarter that sent him to the sideline briefly. Manuel is good to go against Georgia Tech, but he is going to have to avoid trying too hard to get Florida State its ACC title. Coach Jimbo Fisher said after the Florida loss that Manuel was pressing to make things happen. Florida has a much better defense than Georgia Tech, so he may be able to relax a little more Saturday.
5. Can Georgia Tech pull the upset?
Both teams are coming into the game off demoralizing defeats. Florida State did not exactly look unbeatable and now has to rebound off a deflating loss to in-state rival Florida to focus on winning the ACC title game. The Jackets have won two straight in the series, but they also have lost five straight games to ranked teams. They are going to have to play nearly flawlessly to take down the heavily favored Seminoles and get into the BCS.
November, 29, 2012
11/29/12
9:00
AM ET
For the bulk of Florida State's roster, Saturday's ACC Championship Game will be a new experience -- not because of the big-game environment but because of the offense run by Georgia Tech.
For
Bjoern Werner
, it's the first time he's ever faced an option attack. For
Timmy Jernigan
, it's been since his high school days. Only FSU's most veteran defenders have faced off against Tech before, and few of them saw extensive action back in 2009.
So how much of a challenge will the Yellow Jackets be in this week's ACC title tilt? To find out, we asked Georgia Tech beat writer Ken Sugiura of the Atlanta Journal-Constitution for some insight.
NoleNation: FSU hasn't faced a team like Georgia Tech all season, while Tech is coming off a (rather ugly) game against Georgia, which runs a similar pro-style offense to FSU. Is there any thought among the Jackets that this could be an advantage, or does what happened against Georgia simply underscore that Tech might be outclassed in terms of talent in this game?
Ken Sugiura:
In terms of FSU offense vs. Tech defense, I confess, I don't know. Tech has seen a lot of spread offenses this season and not much in the way of pro-style offenses, so it can't hurt, although I don't think that scheme was the issue Saturday against Georgia. It was more a difference in talent and an inability to get to the quarterback followed by a lapse in effort.
The other way around, I think that could well play to Tech's advantage. Coaches facing Tech invariably talk about the challenge of facing this offense with just three practices to prepare for it. FSU is having to do that while its defensive coordinator's attention is presumably divided. Plus, I don't believe Mark Stoops has coached against an option offense in several years.
November, 26, 2012
11/26/12
1:31
PM ET
Georgia Tech A-Back
Orwin Smith
, who injured his right ankle in the Jackets' Nov. 17 win over Duke and was sidelined for Saturday's loss to Georgia, said he won't practice today, but he will return to practice on Tuesday and hopes to play in Saturday's Dr Pepper ACC championship game against Florida State.
"It's definitely a lot better than last week," Smith said. "... It's still to be determined. I think I will play. We'll have to see how it goes day by day."
Smith, the Jackets' top offensive playmaker, said missing the Georgia game was a game-time decision. He warmed up on the sideline before the game but said "it wasn't up to par to feel like I could contribute in a way that I needed to."
Smith is the team's leading rusher with 673 yards this year and five touchdowns. He is averaging 9 yards per carry. He also has 14 kickoff returns for 267 yards.
Haskins, McElwain Shine At IMG Regional
ACC SCOREBOARD
Thursday, 9/3
Saturday, 9/5
Monday, 9/7