Florida State Seminoles:

Orange Bowl-2012
January, 2, 2013
1/02/13
3:00
AM ET
MIAMI GARDENS, Fla. -- Memo to Florida State fans who want to jump in celebration of the
31-10 Discover Orange Bowl win
against Northern Illinois: Don't jump too high, you might hit your head on Florida State's ceiling.
Because this is it.
This is what you get with back-to-back top-10 recruiting classes, with a roster bursting at the seams with talent, size, speed and depth, and a defense worthy of a national title. You get a flat, disjointed offensive showing against the MAC champs. You get the same inconsistent effort against a lesser opponent that became the trademark of this year's ACC champs. You get a heart attack in the third quarter when it's 17-10 and Northern Illinois is driving with all of the momentum after a predictable onside kick.
Before you start hurling your oranges ...
[+] Enlarge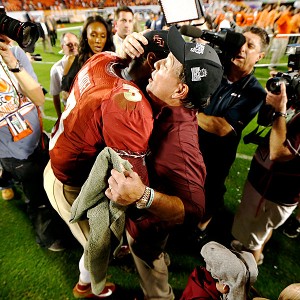 Chris Trotman/Getty ImagesJimbo Fisher got Florida State its first 12-win season since 1999.
Florida State deserves credit for winning 12 games for the first time since the program's unbeaten 1999 season. It deserves a pat on the back for helping the ACC win its first BCS bowl game since 2009. Florida State's defense deserves a vacation, not to mention a few NFL contracts. Florida State and the ACC avoided embarrassment with the Noles' win over NIU. In the end, the conference finished with its first winning bowl record since 2005, including signature wins over USC and LSU. Florida State did what it was supposed to do, it won. But the win left doubts in the process, just as it has all season long.
Florida State needed a touchdown in the final 40 seconds to beat the worst Virginia Tech team the program has seen in 20 years.
Florida State was held scoreless in the second half of the ACC championship game against a 6-7 Georgia Tech team.
Florida State lost to an NC State team that fired its coach and had five turnovers in a bowl loss to Vanderbilt.
It doesn't get any better than the talent that's currently on Florida State's roster. Florida State lost three,
three
, of its best players to injury, including likely first-round NFL draft picks
Tank Carradine
and
Brandon Jenkins
, and leading rusher
Chris Thompson
, and the Noles were still deep enough to win a BCS bowl. They shouldn't have just won this game, though, they should have put Northern Illinois away in the first quarter.
Instead, for 3½ quarters Tuesday night, Florida State reminded fans why this was a lose-lose situation for the Seminoles. Even the most loyal of FSU fans had to be cringing at the offense's bumbling start. In typical FSU fashion, the Noles managed to rack up 534 yards of total offense and convert on only three of 14 third downs.
You think Mark Stoops would be happy if his old defense held its opponent to only 100 yards but gave up 30 points?
"We didn't score points, but we moved the ball," Fisher said. "We had 428 yards in less than three quarters. We just broke the school record this year for total yardage in a single season, the most yardage by an offense in Florida State history.
"I don't know what we were tonight, where it was, but this offense, we've been very proud of it," he said. "… I think we're right there, and I think we had to get on this platform and understand that we have to go win the championship, you have to get in a BCS bowl game and understand all the things that go with it, all the hoopla … but you've got to learn to handle those things to play on the big stage, and these guys did that and showed our young guys that we feel very confident about where we're going and what we're doing and for the future."
Clemson isn't waiting. The Tigers are coming off a thrilling 25-24 win over No. 8 LSU in the Chick-fil-A Bowl. They ended the season looking like the best team the ACC will have to offer in 2013. While FSU put on a middling performance against the MAC, Clemson was arm wrestling the SEC -- and won.
Clemson versus Florida State should again determine the ACC champ next year.
"We've got a heck of a football team coming back," Fisher said.
He had a heck of a football team this year, too, and it gave every reason to believe that this was its ceiling.
January, 2, 2013
1/02/13
1:57
AM ET
By
ESPN.com staff
| ESPN.com
Heather Dinich talks to FSU safety
Lamarcus Joyner
following the Noles' 31-10 win over NIU in the Discover Orange Bowl.
January, 2, 2013
1/02/13
12:49
AM ET
It wasn't exactly the easy win so many predicted, but Florida State's size and speed advantage helped the Seminoles outlast upstart Northern Illinois
31-10
to win their first Orange Bowl since 1996.
Record-setting NIU quarterback
Jordan Lynch
found no room to work, and Florida State's dominant defense showed few flaws in its first game without departed coordinator Mark Stoops, while
EJ Manuel
accounted for 321 yards of offense and two touchdowns to lead the Seminoles.


It was over when:
Xavier Rhodes
forced a fumble from
Da'Ron Brown
on a second-down run with 11:15 left to play in the game. Northern Illinois had just converted a fourth-and-1 and was driving in hopes of cutting FSU's lead to seven, but the fumble was the dagger that ended any hopes of an upset. The play was reviewed, but officials ruled the ball was coming out of Brown's grip before his knee hit the ground, and the Seminoles quickly capitalized on the turnover with a
Lonnie Pryor
touchdown.
Game ball goes to:
Pryor. The senior fullback has toiled in the shadows for four years at Florida State, earning immense respect within the locker room but relatively little fanfare outside it. Tuesday's game was different. While the rest of the FSU running game struggled, Pryor was brilliant. He opened the scoring with a 60-yard touchdown run -- the longest of his career -- and put the icing on the cake with his 37-yard touchdown after NIU's fourth-quarter fumble.
Turning point:
There were plenty, but NIU's two turnovers were killer. The fumble by Brown was the last straw, but a third-quarter interception by
Terrence Brooks
squelched another promising Huskies drive. Brooks picked off Lynch at the FSU 13-yard line to protect a slim seven-point lead.
Stat of the game:
Lynch entered the game as one of the most dynamic offensive players in college football, but he found out yards are far tougher to come by against Florida State. Coming into the game, Lynch had racked up 1,771 rushing yards -- fourth most in the nation -- and was averaging 6.5 yards per carry. But
Christian Jones
,
Telvin Smith
,
Vince Williams
and the FSU linebacking corps was exceptional, hitting him repeatedly and giving him nowhere to run. Lynch had bragged earlier in the week that NIU planned to wear FSU down late, but the opposite was true, and the junior quarterback finished with just 44 yards rushing on 23 carries, while completing just 36 percent of his throws.
Unsung hero:
It's tough to call Manuel an unsung hero, but in a season in which he's earned just as much criticism as praise -- and maybe more -- he wrapped up a five-year career at Florida State with a solid performance. Manuel completed 27 of 39 passes for 296 yards through the air and added another 26 rushing with a touchdown. He missed a few passes -- something his critics will be happy to note -- but he connected on far more. When the FSU offense needed him, he made the throws he had to make. Manuel never lived up to his immense promise at FSU, but he was surely a very good quarterback, and he ends his career as an Orange Bowl champion and winner of four straight bowl games.
What it means:
Northern Illinois shrugged off the legions of doubters and proved an unexpectedly competitive opponent, but in the end, Lynch and the Huskies simply didn't have enough to make a late charge. For Florida State, it was yet another inconsistent performance in a season that has been filled with them. But it was also the school's first BCS win in 12 years, and it marked just the second time in program history that FSU has won 12 games in a season.
January, 1, 2013
1/01/13
10:00
AM ET
Northern Illinois (12-1, 8-0 MAC) vs. Florida State (11-2, 7-1 ACC)


WHO TO WATCH:
The quarterbacks. Northern Illinois quarterback
Jordan Lynch
leads the nation in total yards (4,733) and ranks third in total yards per game (364.08) behind Baylor's
Nick Florence
and Texas A&M's
Johnny Manziel
. FSU quarterback
EJ Manuel
could become just the second quarterback to win four straight bowl games, joining former West Virginia quarterback Pat White. In just his second season as a full-time starter, Manuel is FSU's career leader for completion percentage at 66.8 percent -- which is significantly ahead of No. 2 Charlie Ward (62.3).
WHAT TO WATCH:
Florida State's defensive line vs. NIU's offensive line. Florida State defensive line coach D.J. Eliot was hired at Kentucky as Mark Stoops' defensive coordinator, but Eliot stayed in Tallahassee to help the Noles prepare for Lynch. FSU's defensive line has been one of the best in the country, despite season-ending injuries to star defensive ends
Brandon Jenkins
and
Tank Carradine
, who tore his ACL in the loss to Florida. FSU is No. 26 in the country with 2.54 sacks per game. NIU is tied for No. 16 in the country in sacks allowed with 1.08 per game, a total of 14 all season. FSU defensive end
Bjoern Werner
leads the ACC and ranks seventh nationally with 13 sacks this season.
WHY TO WATCH
: Because No. 13 FSU might actually lose. The Noles are the more talented team, but the No. 15 Huskies will be playing to prove they belong in a BCS bowl. This will be the first BCS bowl game for a member of the Mid-American Conference. It is also the first bowl game between the ACC and MAC. NIU is the only program in the country to win 21 of its past 22 games, and joins Oregon as the only schools with three straight 11-win seasons. The Huskies' seniors are the winningest class in school history with 41 victories. FSU is 1-5 all-time in BCS bowls since playing in the first-ever BCS national championship game (1999 Fiesta Bowl).
PREDICTION:
Florida State 31, Northern Illinois 17: The Huskies will come out fired up and ready to prove they deserved their title as BCS Busters, and they'll keep it uncomfortably close in the first half. FSU fans will prematurely panic, an upset watch will look possible, but then reality will set in. Florida State has too much talent and speed, and the gap will continue to widen in the third quarter. The Noles will win the battle up front, and the defense will fare well in its first game without former coordinator Mark Stoops. The Noles will finish with 12 wins, including an ACC title and a BCS bowl win -- not a bad consolation prize for a team that had hoped to win a national title.
December, 31, 2012
12/31/12
1:00
PM ET
As the youngest member of Florida State coach Jimbo Fisher's staff, defensive ends coach D.J. Eliot said he never lost sight of the fact that Fisher took a chance on him when he hired Eliot from Rice.
Now Eliot is trying to pay Fisher back for that opportunity with a win against Northern Illinois in the Discover Orange Bowl, the last game Eliot will coach with the Seminoles before joining former FSU defensive coordinator Mark Stoops' staff at Kentucky.
[+] Enlarge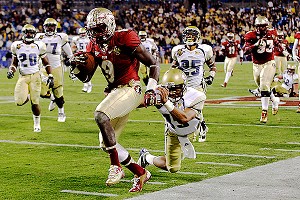 AP Photo/Chuck BurtonKarlos Williams and FSU are ranked No. 2 nationally in total defense heading into the Orange Bowl.
"I always looked at Florida State as a place where they weren't lucky to have me, but I was lucky to have Florida State, and that's the way I approached work every day," said Eliot, who is FSU's acting defensive coordinator for the Orange Bowl. "Coach Fisher took a chance on me. I was a young D-line coach at Rice that did a good job in an interview, so I tried to repay him every single day with my work."
Eliot still has a job to do -- his biggest yet -- but he has already had some on-the-job training for it.
In preparation for the ACC title game against Georgia Tech on Dec. 1, Eliot was in charge of the game plan and called most of the plays because of his knowledge and familiarity with the Jackets' spread option.
Florida State's defense was once again the difference down the stretch, as the Noles held off Georgia Tech for a 21-15 win and the school's first ACC title since 2005. One day later, Stoops left to become the head coach at Kentucky, and he hired Eliot as his defensive coordinator. The Seminoles were left to prepare for Northern Illinois without their top two defensive assistants, but those within the program say it has been a smooth transition during bowl practices. Eliot came back to campus to lead the defense, and Fisher hired two new assistants, defensive coordinator Jeremy Pruitt and defensive ends coach Sal Sunseri.
For Eliot, it was a no-brainer to stick with the Noles through the bowl game.
"My players mean a tremendous amount to me, so I want to make sure that I finish this thing off for them," he said. "They bought in early to what we were doing, and they've been very successful, and they've always respected me and done exactly what I've told them to do. So I want them to know that I was going to be here until the end for them, as well."
Under Stoops, FSU's defense was one of the best in the nation. This season, FSU was No. 5 in the country in rushing defense, No. 6 in scoring defense, No. 2 in total defense, and No. 3 in pass defense. FSU defensive end
Bjoern Werner
said the Noles won't miss a beat with Eliot leading the defense instead of Stoops.
"I always knew he wanted to be a defensive coordinator, and I'm so happy for him that it worked out," Werner said. "I'm so happy he didn't go with coach Stoops, because they were really close. I'm so happy for him and I'm happy that he's staying. He coaches exactly the same way as coach Stoops, so it wasn't a big change for us. They play the same technique and all the same stuff. I'm happy for him, and I can see that he's happy for us that we're doing so good. He's going to leave on a good note."
That's Eliot's game plan, anyway.
December, 30, 2012
12/30/12
2:44
PM ET
By
ESPN.com staff
| ESPN.com

Heather Dinich talks to FSU fullback Lonnie Pryor about the Noles' final practice in preparation for the Discover Orange Bowl game against Northern Illinois.
December, 29, 2012
12/29/12
12:30
PM ET
FORT LAUDERDALE, Fla. -- When Florida State defensive end
Bjoern Werner
came to the United States, he did so with one expectation: "My expectation was to show America that Germans can play football," he said. "I hope I did."
Mission accomplished.
As Florida State prepares to face Northern Illinois in the Discover Orange Bowl, it does so with one of the best defensive lines in the country, a deep group that has maintained its elite play in spite of injuries to NFL-caliber starting defensive ends
Brandon Jenkins
and
Tank Carradine
. Even those within the NIU program have conceded that the Seminoles will have an advantage in speed and have said this will be the best defense they have faced all season. The speed off the edge has been a tremendous advantage for the Seminoles all season, and Werner's presence alone will again be a key factor as FSU faces one of the nation's top quarterbacks in
Jordan Lynch
.
"Jordan is a great player, and we want to give him as much time as possible to make plays because if you give him enough time, he is going to make plays," said NIU offensive lineman
Jared Volk
. "It is really important to us to make sure that he has plenty of time to do those things. We want to make sure that he stays safe and healthy, but I think that's the same thing as every other game; it's not going to change for us. We're going to keep doing what we're doing, which is protect him and make sure that he gets off the field safe."
At 6-foot-4, 255 pounds, Werner is sculpted like a machine, and he has a blunt, no-nonsense personality that reflects his style of play. Of Werner's 40 tackles this season, 18.0 are tackles for loss, including 13.0 sacks. He has seven pass breakups and five quarterback hurries. He had 3.5 sacks against Florida. Those numbers are even more impressive considering the Berlin native played just two years of high school football in the United States.
Now? His picture looms large on the side of the team buses traveling around South Florida this week.
"When we drive through Hollywood with police escorts and my face on the bus, it's pretty funny," he said with a chuckle. "Good publicity."
There has been no shortage of ink on Werner, and his accomplishments continue to grow. Werner is tied for seventh in the nation in sacks per game and is tied for second in the nation for solo sacks with 11. He's one of just four defensive linemen in the NCAA to have seven or more pass breakups. Peter Boulware is the only other player in FSU history to record more sacks (34) in his first three seasons than Werner.
"You have certain players that you can give them a certain amount of information but they can only apply so much, so you have to be careful on who and what you give to certain players," said defensive ends coach D.J. Eliot, who is also FSU's acting defensive coordinator for the Orange Bowl. "But Bjoern is one of those players that he can take in anything you give him. And he can apply it in the game. So he never ceases to amaze me on how much he can improve, and he's done that his whole career. Brandon Jenkins was the same way, and Tank Carradine has played well for me, as well, as well as other defensive ends. But Bjoern is one of those guys that's a student of the game and continues to improve."
Werner said he could never have imagined being where he is now.
"No," he said. "This is just a different world. This is everything I could dream right now, all this hype and not just about me individually. I'm so happy that we're in the Orange Bowl. This was my goal, to be on the big stage, that's why I came to Florida State. I'm so happy that we are here. Hopefully we can leave this thing with a win."
December, 6, 2012
12/06/12
9:11
PM ET
Northern Illinois Huskies (12-1) vs. Florida State Seminoles (11-2)
Jan. 1, 8:30 p.m. ET, Miami (ESPN)
Northern Illinois take from ACC blogger Heather Dinich
: In a matter of hours Sunday, Northern Illinois coach Rod Carey was named head coach and found out by watching ESPN that his first game in that capacity would be against No. 12 Florida State in the Discover Orange Bowl. Carey was hired to replace Dave Doeren, who left to become head coach at NC State.
Carey, who was previously the team's offensive coordinator, said he had no idea the program would be this year's BCS buster. Northern Illinois earned its 12th straight win with a 44-37 double overtime victory against No. 17 Kent State in the MAC championship game in Detroit on Friday. The win catapulted the program into BCS consideration for the first time in school history.
"Things happen for a reason, and here we are," said Carey, a first-time head coach. "It's a tribute to our kids and our players."
The Huskies' offense is led by quarterback
Jordan Lynch
, who leads the country in rushing yards (1,771) and total offense yards (4,733).
Northern Illinois enters the Orange Bowl riding a school-record 12-game winning streak. The program's first BCS bid comes on the heels of back-to-back 11-win seasons in 2010 and 2011. NIU is the only program in the country to win 21 of its past 22 games and joins Oregon as the only two schools with three straight 11-win seasons. The seniors are the winningest class in school history with 41 victories. The Huskies haven't lost since their season opener against Iowa.
"It's the biggest game NIU has been in because it's the biggest stage," Carey said. "It's an earned thing, too."
---

Florida State take from NoleNation's David Hale
: After 11 wins, a conference championship and a bevy of dominant performances, Florida State has made its case to be lumped in with the best teams in the country. But as the Seminoles look for only the second BCS bowl win in their history, the reviews from fans are definitively mixed.
Has FSU turned a corner, marching back to national relevance after its first ACC championship in seven years? Or have the Seminoles padded their résumé in a weak conference without the weekly challenges faced by teams in the SEC or Big 12?
Is this the offense that hit 50 with ease early in the season behind what looked like a Heisman-caliber quarterback or is it the unit that couldn't crack 30 in three of its past four games as
EJ Manuel
struggled through mistakes?
Is this the dominant defense that ranked among the best in the country or is it a unit in turmoil after losing one of its leading tacklers (Tank Carradine) and its defensive coordinator (Mark Stoops)?
The Orange Bowl may not answer all or, perhaps, any of these questions, but that seems to be of little concern for Jimbo Fisher and his Seminoles, who are far happier to simply paint an optimistic portrait of 2012 rather than worry about any perceived shortcomings.
After all, when was the last time a Florida State team came close to such heights -- even during some other dismal years for the ACC? Sure, the season began with hopes of a national championship -- hopes that were derailed by losses to NC State and Florida -- but FSU has moved on.
"We've been trying to get here for a long time," defensive tackle
Timmy Jernigan
said. "Get back into the national title conversations, winning ACC championships and Orange Bowls and those types of games. We're Florida State. That's what we're supposed to do."
For these Seminoles, it was about reestablishing those standards and putting a decade of mediocrity behind them by any means necessary. Some weeks, that meant Manuel and an explosive running game carried the load. Some weeks,
Bjoern Werner
,
Lamarcus Joyner
and a stout defense were at the forefront. And with 11 wins already secured, the final piece to the puzzle will be burying that 1-5 BCS bowl record, too, with an Orange Bowl victory that FSU hasn't enjoyed since the 1995 season.
Goodell Has Sit-Down With Jameis Winston
ACC SCOREBOARD
Thursday, 9/3
Saturday, 9/5
Monday, 9/7