Florida State Seminoles:

noles-pack-100612
October, 7, 2012
10/07/12
2:39
AM ET
RALEIGH, N.C. --
Christian Jones
can hardly count all the times it was over, only to find out that NC State still had life.
[+] Enlarge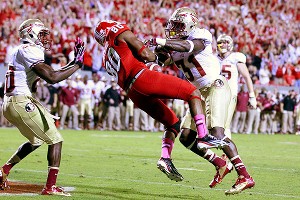 Ethan Hyman/Raleigh News & Observer/MCT via Getty Images Bryan Underwood's game-winning TD reception with 16 seconds left was the last of countless tiny cuts FSU suffered against the Wolfpack.
It was over at the half, when Florida State's defense had dominated. It was over when
Tyler Hunter
thumped
Shadrach Thornton
short of the marker on a fourth-down play with just 2:47 remaining. It was over on any one of the three third-down stops on NC State's final drive that were followed each time by failure on fourth down.
That's what nagged at Jones after it really was over, after NC State pulled off the 17-16 upset of No. 3 Florida State, surely ending the Seminoles hopes for a national championship. There had been so many stops, so many big plays, so many moments when it might have turned out differently -- until it didn't.
"There wasn't much devastating, but those fourth downs, we had an opportunity to get off the field and we didn't," Jones said.
The vaunted Florida State defense never collapsed under the weight of mounting pressure and, defensive tackle
Everett Dawkins
insists, it never caved amid the furious pace of NC State's no-huddle offense in the waning minutes of the game.
This was death by a thousand pin pricks.
October, 6, 2012
10/06/12
11:56
PM ET
RALEIGH, N.C. -- After last Saturday's games,
Mike Glennon
sent a text message to his good friend
EJ Manuel
, predicting an upset.


It was a boastful claim considering NC State had just looked awful in a loss to Miami (Fla), and Florida State was flying high and ranked third in the nation. Manuel was so amused, he shared the message with his defense as a bit of bulletin-board material.
Turns out, Glennon was right.
NC State's senior quarterback led a furious assault on the vaunted Seminoles defense in the second half, rallying the Wolfpack from a 16-point deficit for a
17-16
win.
It was over when:
Glennon hit
Bryan Underwood
for a 2-yard touchdown pass on fourth-and-goal with 16 seconds remaining in the game. It was the third time NC State was faced with a fourth down on the drive, which began after the Wolfpack blocked a late FSU punt. The touchdown tied the game, and the ensuing extra point gave them the lead as NC State knocked off a top-five opponent at home for the first time since 1998, when NC State dumped No. 2-ranked FSU.
Game ball goes to:
Glennon. After being demolished in the first half, completing just 6 of 13 passes for 41 yards with an interception, the senior quarterback was a calm, cool and collected in the second half, delivering one big throw after another. Glennon finished the game 30-of-55 passing for 259 yards and two second-half touchdowns, including the game winner on fourth down with 16 seconds left.
Turning point:
Halftime. The first half was all Florida State, as the Seminoles dominated the line of scrimmage,
Chris Thompson
burned the NC State defense on the ground, and FSU went into the locker room leading 16-0. When the two teams emerged for the second half, it was a brand new ballgame. The NC State defense tormented Manuel, with FSU mustering just five first downs and 101 yards. NC State, meanwhile, sprung to life, quadrupling its first-half output with 257 yards of offense, most of it coming on short passes over the middle that FSU's linebacking corps had no answer for.
Stat of the game:
Four. That's the number of times FSU has started a season 5-0 since its 1999 national championship season, and on all four occasions it lost its next game. The questions will be awfully tough for Jimbo Fisher and the Seminoles to answer after this -- a game it dominated early. A week earlier, NC State allowed an ACC-record 566 yards passing, but Manuel couldn't solve the Wolfpack defense and another season of immense expectations fizzled with an unlikely loss.
Unsung hero:
The NC State offensive line. Missing three starters, the Wolfpack's offensive line stepped up and shut down a rather passive Florida State pass rush. The Seminoles had just one sack, which came early and from a defensive tackle. Fill-in offensive tackles
R.J. Mattes
and
Tyson Chandler
managed to keep
Cornellius Carradine
and
Bjoern Werner
off of Glennon long enough for the Wolfpack quarterback to engineer one strong drive after another in the second half, including three huge fourth-down conversions late.
October, 6, 2012
10/06/12
9:44
PM ET
RALEIGH, N.C. -- The good news for NC State is that it could have been worse. The bad news is that there are no signs the Wolfpack will turn the tide in the second half.


Three Florida State drives stalled and ended with field goals, but the Seminoles' stout defensive front has dominated the line of scrimmage and
Chris Thompson
has already crossed the 100-yard mark on the ground as FSU has jumped out to a 16-0 halftime lead.
Stat of the half:
115. That's the rushing yards for Thompson in the first half. Thompson needed just 11 carries to top the 100-yard mark for the third time this season, as he set the tone for the Florida State offense. The FSU O-line has had trouble protecting
EJ Manuel
, but the running game has had no trouble finding holes, averaging 8.2 yards per carry. Thompson's 115 yards on the ground give him 546 for the year -- just 33 shy of
Devonta Freeman
's team-leading total from a year ago.
Player of the half:
Thompson, but the FSU defensive line can also make a good argument for the honor. Thompson has been the game changer on offense, but FSU's defensive front has tormented
Mike Glennon
, who is averaging just 3.2 yards per attempt. The NC State running game hasn't fared any better, with starting tailback
Tony Creecy
tallying just 21 yards on 10 carries.
What's working for FSU:
Aside from the run game and the defensive front, it's been all
Dustin Hopkins
, who has connected on three field goals for the second straight week. That's good news for Hopkins, who struggled three weeks ago against Clemson, but bad news for an FSU offense which has endured some notable red-zone struggles of late.
What's not working for FSU:
The biggest problem for the Seminoles has been pass protection. Manuel was sacked three times in the first half, a season high. Even when he hasn't been brought down, he's been under pressure. Manuel has fared rather well -- 11-of-15 passing for 117 yards and a TD -- but he hasn't had the time to look downfield as Miami did in exploiting the NC State secondary a week earlier.
Worth noting:
Right tackle
Menelik Watson
has an illness, according to FSU sports information, that sidelined him for the game.
Daniel Glauser
got the start. ...Thompson left the game for a series in the second quarter for treatment on his elbow. He returned to the field, but with the elbow heavily wrapped. ...
Rashad Greene
tied his season high with four catches in the first half. ...
Anthony McCloud
recorded his first sack of the season.
Goodell Has Sit-Down With Jameis Winston
ACC SCOREBOARD
Thursday, 9/3
Saturday, 9/5
Monday, 9/7