Florida State Seminoles:

Nick Saban
January, 31, 2014
Jan 31
5:30
AM ET
The Early Offer is RecruitingNation's regular feature, giving you a daily dose of recruiting in the mornings. Today's offerings: Coaches say things like size and speed are important when determining whether or not they will pursue a recruit, but one ACC head coach has something else that's vital in his team's evaluation process; Les Miles and Nick Saban were in the home of the nation's No. 1 receiver prospect on Thursday.
Overlooked part of evaluation
To continue reading this article you must be an Insider
December, 26, 2013
12/26/13
11:30
AM ET
TUSCALOOSA, Ala. -- Nick Saban will be in the awkward position of having to watch a football game rather than coach one on Jan. 6 in Pasadena, Calif. His
Alabama Crimson Tide
won't play for the VIZIO BCS National Championship, and instead will be forced to watch Florida State and Auburn do battle on center stage.
[+] Enlarge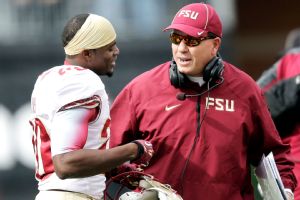 AP Photo/Nell RedmondFormer Nick Saban assistant Jimbo Fisher and former Saban recruit Jameis Winston are proof of the power of "The Process."
But don't weep for Saban and the Tide. Because whatever happens, Alabama benefits.
Should Auburn win, Saban can continue selling recruits on the SEC being the most dominant conference in college football. "Come play in the league with eight straight national titles," his pitch might go. "Come compete in a rivalry game with championship implications," he might say.
But if Florida State wins, Saban can sell something much simpler. "See Jimbo Fisher coaching out there? He was my offensive coordinator at LSU," he could say. "See Jeremy Pruitt leading the Noles defense? I took him from a high school assistant coach to an SEC defensive coordinator," he could flaunt. "Defensive ends coach Sal Sunseri? Offensive line coach Rick Trickett? Wide receivers coach Lawrence Dawsey? Yeah, those were all my guys at one point, too," he could add for good measure.
Saban's process of building and running a football program -- simply dubbed, "The Process" -- has caught hold at a number of programs around the country, but maybe none more so than at Florida State. The similarities between the two schools are staggering: both work out of a 3-4 base defense, both use mainly pro-style sets on offense, both have built through the trenches and both recruit like gangbusters. Even their focus and implementation of off-field physical and mental conditioning are similar as both have employed the services of
sports 'mindset' expert Trevor Moawad
and both try to
stay on the cutting edge
with programs like Catapult Sports.
"Jimbo has done a fantastic job," Saban said of his former assistant in late November. "I always thought Jimbo was one of the best coaches we've ever had to work with on any of our staffs. He did a fantastic job for us. I think he has done a fantastic job.
"If you look at the whole body of work and the way they beat people, they are arguably the best country right now. And they weren't when he went there. They made a significant improvement. He has done a very good job of recruiting and developing the players they do have in the program. They've played really, really well and improved each year he has been there."
Though the Noles may have the flashier quarterback and the higher profile today, Saban shouldn't let you -- or the nation's top recruits -- forget what got them there. Since Fisher took over, the two staffs and the two rosters have been heavily intertwined.
Jameis Winston
, who won the Heisman Trophy this year, signed with Florida State over Alabama in 2012.
Amari Cooper
, who was a Freshman All-American a season ago, signed with Alabama over Florida State in the same year. The list of prospects whose decisions have come down to the Tide and the Noles are too many to count.
It ultimately took three seasons of coaching, recruiting and staffing for Saban to reach his first championship game with Alabama. For Fisher, it took four seasons to get Florida State to the promised land.
Whichever team wins on Jan. 6, The Process, Saban and Alabama come out looking good.
December, 12, 2013
12/12/13
5:30
AM ET
1. The Heisman Trust dictated that when we voted this year, we pledge not to reveal it to the media or our spouses or our bartenders. To which I say, control freak who? All right, have it your way. I read the police report regarding Florida State quarterback
Jameis Winston
, and I didn't like what I read about him. But I sighed, held my nose and cast my vote, and the guy I voted for is going to win. Whoever that might be.
2. The secrecy pledge is a study in chutzpah, asking media members that do nothing but beat the drum for the Heisman 12 months a year not to talk about their individual vote. The Heisman people also just shoved the pledge under the voter's nose as he/she cast the electronic ballot: sign this or else, pal. That's what bullies do. Oh yeah, my second-place vote went to a tattooed quarterback who didn't win a third national championship this year. And if you led the FBS in rushing, I might have voted you third.
3. I have tried very hard not to get sucked into the Nick-Saban-to-Texas vortex, because I think it's a case of Texas people saying what they want to hear, combined with Saban's agent, Jimmy Sexton, roiling the waters on behalf of his client. And did Texas really say that they want to hire a head coach who has won a Super Bowl or a BCS title? If nothing else, that shows a lack of imagination. How many coaches who have won either had done so before that team/school hired them? One: Saban.
December, 11, 2013
12/11/13
2:30
PM ET
Nick Saban's name is sure to come up in every high-profile coaching job that opens until he decides to retire.
That's just the nature of the business when you've had the kind of success Saban has had with four national championships in the last 11 years.
[+] Enlarge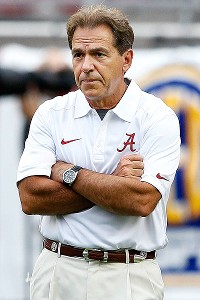 Kevin C. Cox/Getty ImagesAlabama coach Nick Saban has several protégés who are now head coaches, including Florida State's Jimbo Fisher, Florida's Will Muschamp and Michigan State's Mark Dantonio.
He won't be playing for a national title this season, but one of his protégés will -- Florida State's Jimbo Fisher.
In fact, it's been an eventful season all the way around for the Saban coaching tree.
Since we're all into power rankings this time of year, let's roll out the power rankings for the Saban coaching tree coming out of this season. In other words, those guys who have coached under Saban at some point in the college ranks and have gone on to be head coaches either in major college football or the NFL.
1. Jimbo Fisher, Florida State head coach:
We'll go with Fisher at No. 1 on this list since he has the No. 1 Seminoles unbeaten and headed to the VIZIO BCS National Championship game to face Auburn. It's their first trip to the national title game since the 2000 season. Fisher is a finalist for the Eddie Robinson Coach of the Year Award. His Seminoles have been dominant this season. They've won all 13 of their games by 14 or more points and 12 of their 13 games by 27 or more points. Fisher was Saban's offensive coordinator at LSU from 2000-04.
2. Mark Dantonio, Michigan State head coach:
Another finalist for the Eddie Robinson Coach of the Year Award, Dantonio has Michigan State in the Rose Bowl for the first time since the 1988 season and led the Spartans to a school-record 12 wins this season. This will be their seventh straight bowl appearance. Dantonio was Saban's secondary coach at Michigan State from 1995-99.
3. Jim McElwain, Colorado State head coach:
In his second season at Colorado State, McElwain has the Rams in a bowl game for the first time since the 2008 season. They will face Washington State in the New Mexico Bowl. McElwain was a part of two national championship teams at Alabama under Saban as the Crimson Tide's offensive coordinator from 2008-11.
4. Pat Shurmur, Philadelphia Eagles offensive coordinator:
Now in his first season with the Eagles, Shurmur was the Cleveland Browns head coach from 2011-12. He coached under Saban at Michigan State from 1995-97 as the Spartans' tight ends coach.
5. Josh McDaniels, New England Patriots offensive coordinator:
This is McDaniels' second season as the Patriots' offensive coordinator. He was the Denver Broncos' head coach from 2009-10 and was a graduate assistant under Saban at Michigan State in 1999.
6. Will Muschamp, Florida head coach:
After a breakthrough second season at Florida and a trip to the Sugar Bowl, Muschamp's Gators suffered through a dismal 4-8 season this year that was marred by a litany of injuries. It was Florida's first losing season since 1979. The Gators lost their last seven games, including a home loss to Georgia Southern. It goes without saying that Year No. 4 will be a critical one for Muschamp, whose Gators have struggled on offense. Muschamp coached under Saban at LSU as the linebackers coach in 2001 and defensive coordinator from 2002-04. He was also Saban's assistant head coach with the Miami Dolphins in 2005.
7. Derek Dooley, Dallas Cowboys receivers coach:
Now in his first season with the Cowboys, Dooley was the head coach at Tennessee from 2010-12. The Vols suffered through losing seasons all three years and managed just five SEC wins, leading to Dooley's firing. Dooley was the head coach at Louisiana Tech for three years prior to his stint at Tennessee. He coached under Saban at LSU from 2000-04 as tight ends coach and then running backs coach. From there, he went with Saban to the Miami Dolphins and coached tight ends before getting the Louisiana Tech head job in 2007.
December, 11, 2013
12/11/13
10:30
AM ET
TALLAHASSEE, Fla. -- It's not just Auburn standing in the way of a national championship for Florida State. It's history.
For seven straight seasons, the BCS title game has been dominated by the SEC, so when this year's matchup was set, the question for the Seminoles wasn't simply whether they could match up with the Tigers, but whether they possessed the magic formula to finally snap that league's stranglehold on the trophy so many SEC fans now view as a birthright.
[+] Enlarge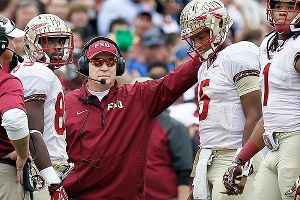 Don Juan Moore/Getty ImagesJimbo Fisher has stockpiled FSU with talent and won several recruiting battles against SEC heavyweights.
But just because the dominance of the mighty SEC provides an easy narrative for this year's championship game, Florida State isn't buying in to the hype.
"It's not the ACC vs. the SEC," cornerback
Lamarcus Joyner
said. "It's Florida State vs. Auburn. It's a bunch of great, talented kids over here vs. great talented kids."
In the wake of Florida State's win over Duke, wrapping up a second straight ACC title and securing the Seminoles' spot in the VIZIO BCS Championship Game, coach Jimbo Fisher was quizzed on how he assembled his such a talented group of players. A longtime assistant at Auburn and LSU and a protege of Alabama's Nick Saban, Fisher never hid his appreciation for how the top SEC programs were built.
When six assistant coaches departed following the 2012 season, Fisher looked to the SEC for replacements. He hired Randy Sanders from Tennessee and stole Jeremy Pruitt away from Saban. Sal Sunseri had spent years coaching in the SEC, too. When Pruitt came aboard and installed a new defense, he sold players on the system by showing them film of Alabama.
Even beyond X's and O's, however, Fisher has worked to instill an SEC culture at Florida State. In February, he told a Minnesota radio station that building his program in Alabama's image was the path to success.
"I went against [Saban] every day in practice for five years," said Fisher, who was Saban's offensive coordinator for five years. "He's done a great job of organizing. He's got the structure. People don't realize he's got the infrastructure really set up.
"That's why we've been able to make our jump at Florida State. We've got our infrastructure set up where we can keep replacing guys, and I think we'll be in that national title hunt every year, just like they are."
Fisher's words proved prescient. After the Seminoles had 11 players from last year's team selected in the NFL draft -- more than any other school -- Fisher simply plugged in talented replacements, and Florida State never faltered.
But now that his prediction has come true, Fisher isn't so eager to tip his cap to the conference that has won the last seven national titles.
"I built our program like I thought we needed to build it to win a national championship," Fisher said. "We don't model ourselves after nobody. We're Florida State, and we do things the way we do them, the way I think you have to play to win a championship. That's the way we tried to build this team."
Fisher can bristle at the comparisons, but it's hardly a slight. And while the culture he's created at Florida State looks awfully similar to what Saban installed at Alabama, the key for the Seminoles on Jan. 6 will be the players Fisher has recruited.
"

Its not the ACC vs. the SEC. Its Florida State vs. Auburn. Its a bunch of great, talented kids over here vs. great talented kids.

"

-- FSU cornerback Lamarcus Joyner
In his four years on the job, Fisher has won his share of recruiting battles going head to head with Auburn, Alabama and Florida. Since 2010, only two programs have finished with top-10 classes every year, according to ESPN's rankings: Alabama and Florida State. And when FSU takes the field against Auburn in Pasadena, all but two members of its starting lineup will be players who spurned SEC offers to play for the Seminoles.
In other words, it's not about how good the SEC players are in the other locker room. Florida State has plenty of talent of its own.
"We always say the opponent has no face," linebacker
Telvin Smith
said. "We're not looking at them and saying, 'Oh, they're Auburn' or 'They come from the SEC.' We're going out there to compete against ourselves."
After seven years of SEC dominance, the challenge Florida State poses this year might finally be enough to end the streak.
Of the last six non-SEC teams to play for a national title (two SEC teams faced off in 2011), Florida State has the most yards per play (7.8), scored the most points per game (53), held opponents to the fewest points (10.7 per game), and compiled the second-best turnover margin (+17). The difference between the Seminoles' yards-per-play and points scored compared with what their defense has allowed this season is nearly double the average of the last six teams to challenge the SEC for a national title.
In other words, Florida State is good, even if it doesn't come from the world's most distinguished conference.
"We're not going to get involved in all this SEC-ACC stuff because we done made it to where we are, and we're not done yet," quarterback
Jameis Winston
said. "We fear no one."
December, 4, 2013
12/04/13
5:30
AM ET
The Early Offer is RecruitingNation's regular feature, giving you a daily dose of recruiting in the mornings. Today's offerings:
Josh Malone
, one of the nation's best receivers, will announce his decision today, so will he be singing Rocky Top, calling the Dawgs or heading to Clemson? In-home visits are taking place all over the country and social media is providing us with an inside look at life on the trail; and we're less than a week away from finding out where the top player in Pennsylvania will end up.
Will Rocky Top be home sweet home?
Four-star receiver Josh Malone, the nation's No. 48 player out of Gallatin (Tenn.) Station Camp, has already signed financial aid agreements with Tennessee, Georgia, Clemson and Florida State, but he will announce his decision at noon ET Wednesday on NBC Sports Network. The
RecruitingNation Hot Board
has Malone projected to select Tennessee. The Volunteers were smart and were the first to use the signing of the financial aid paperwork as a tool in the recruiting process. Because he was technically "signed" UT coaches were able to have regular contact with him. Shortly after, the three other schools followed suit.
To continue reading this article you must be an Insider
November, 1, 2013
11/01/13
5:00
AM ET
1. I don't know who's going to win the Campbell Trophy, sometimes referred to the Academic Heisman, but among the 16 finalists announced Thursday by the National Football Foundation are several players who could be All-Americans. Michigan State linebacker
Max Bullough
, Nebraska guard
Spencer Long
, Oklahoma center
Gabe Ikard
and Georgia quarterback
Aaron Murray
could stand on their athletic feats alone. Turns out they grade out well on days besides Saturdays. My Campbell favorite is Penn State guard
John Urschel
, a graduate student with a 4.00 who teaches math classes.
2. What do you do in an off week? Alabama coach Nick Saban spent his 62nd birthday on, yes, Halloween, doing what he does. "It's a Thursday," Saban told me in an ESPNU College Football Podcast interview. Oregon coach Mark Helfrich ran a midweek practice, with the bonus of the scout team offense and defense facing each other. Then there's Stanford coach David Shaw. He flew to Washington to watch his former Cardinal teammate and close friend Cory Booker sworn in as a U. S. senator from New Jersey.
3. This is the 13th time that Florida State and Miami will play as top-10 teams. That's not so surprising. Here are a few things that are, according to ESPN Stats & Info: it's the first time they have met as top-10 teams since 2004; Miami has won the last four of these matchups and leads them 9-3; and the 'Canes are 4-2 when the lower-ranked of the two. That said, it's safe to say that in none of those six games were the Seminoles three-touchdown favorites. Miami has a big gap to close.
July, 8, 2013
7/08/13
9:00
AM ET
ATHENS, Ga. -- The Georgia coaching staff is looking for another cornerback in the Class of 2014 to pair with ESPN 300 athlete commit
Malkom Parrish
(Quitman, Ga./Brooks County). Its chances improved over the weekend as another ESPN 300 standout
Kendall Randolph
(Tallahassee, Fla./Lincoln) named the Bulldogs as his leader, followed by Florida State and South Carolina.
To continue reading this article you must be an Insider
June, 18, 2013
6/18/13
2:36
PM ET
ESPN is examining each of the nation's top college football programs and projecting what the next few seasons might have in store. We've accounted for Florida State's coaching, talent, recruiting, stability and program clout to find out how the Seminoles stack up, with ESPN's experts ranking FSU seventh in their
Future Power Rankings
.
Here's a quick look at what could change those numbers, for better and for worse:

The Seminoles will rise if:
Jameis Winston
develops into a star.
For Florida State's redshirt freshman, the expectations are already so high that he might never fully reach them, but that's not the standard he should be worried about. When E.J. Manuel made an early push for the Heisman a year ago, Jimbo Fisher famously referred to his quarterback as a "hunting dog" rather than a "show dog," and that's exactly what he'll want from Winston, too.
But while Manuel arrived with an impressive track record and lofty expectations, too, there is something different about Winston, who is already being pegged by some as a future No. 1 overall draft pick. He's got a big arm, good speed and tremendous confidence that sets him apart.
For all his talent, Winston still needs some time to develop on the job, and Fisher's offense isn't designed to allow him to post huge numbers from Day 1. For FSU, the key is for Winston to keep moving forward, and if he does, the next three years could be a turning point for the program.
A lot of other things will have to fall into place, too, if FSU is to take the next step, but Winston will be at the forefront for good reason. After all, in the Seminoles' two previous national championship seasons, they had eventual Heisman winners Charlie Ward and Chris Weinke running the show.
The Seminoles will fall if:
The stability Fisher has built falls apart.
There are more than a few fans eager to point out the flaws in Fisher's first three years on the job, and indeed, ugly losses to teams such as Wake Forest and Virginia in 2011 and NC State in 2012 derailed otherwise promising seasons. But while Fisher hasn't quite fulfilled mammoth expectations, he has managed a major overhaul of the organization by implementing a strict plan for recruiting, coaching and running the program.
Essentially Fisher has tried to follow in Nick Saban's footsteps by not simply coaching the Xs and Os, but working to refine even the most minor aspects of the program. But 2013 brings the first major challenge to that routine, with six new assistant coaches joining the ranks, the departure of a vast amount of NFL talent (11 players picked in 2013's draft), an increasingly arduous schedule on the horizon and a search for a new athletics director looming.
For three years, Fisher has been the captain of a relatively stable ship, but new challenges have arisen. Fisher went outside the box with his hiring of new defensive coordinator Jeremy Pruitt. His refusal to give up play-calling duties led his offensive coordinator and top recruiter, James Coley, to bolt for ACC rival Miami. He faces recruiting challenges from SEC programs with more resources in a time when FSU is trying to find a new leader for its athletics department. Whether Fisher can keep the program on the right path and follow Saban's blueprint for building a champion will be a major question during the next few seasons.
June, 11, 2013
6/11/13
8:00
AM ET
MOBILE, Ala. -- Nearly in the middle of the Florida and Mississippi borders is Mobile, Ala., a port city whose founding can be traced back to French settlers in the early 1700s. Its roots, in other words, run deep. As does the richness of its soil, both in the figurative and literal sense. Football players are born here. Today, the seaside territory of South Alabama and its epicenter, Mobile, represent the key to the recruiting success of many of the top programs in the country.
The Crimson Tide wouldn't have won consecutive championships without holding sway over the region. Though the area lies well below sea level, South Alabama represents the territorial high ground for Nick Saban and the University of Alabama.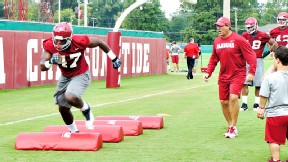 Alex Scarborough/ESPN.comAlabama coach Lance Thompson has long been a recruiting commodity in Mobile.
When Saban arrived at Alabama in 2006, he came in with a plan to first win back Mobile, then the state, and then the country. Looking up and down the roster he inherited from Mike Shula, Saban was struck by the lack of players from South Alabama.
In his first year at UA, Saban sent his best recruiter, assistant coach Lance Thompson, to the area. Thompson helped gain the commitments of three of the top prospects in the region: Foley High star wideout Julio Jones, St. Paul's stud safety Mark Barron and Vigor High super athlete B.J. Scott. Jones and Barron would become All-Americans at Alabama before being taken in first round of the NFL draft. Even Scott, who wound up transferring back home to the University of South Alabama, was signed by the Chicago Bears in late April.
Fast-forward to the present and all three of Alabama's most valuable players -- quarterback
AJ McCarron
, linebacker
C.J. Mosley
and running back
T.J. Yeldon
-- are all from within earshot of Mobile. Right tackle D.J. Fluker of Foley would have been a senior this season had he not entered the NFL draft in April.
"When we came to Alabama we only had one player, Wallace Gilberry, from this area on our team," Saban said at a speaking engagement in the area last week. "Now we have anywhere from 13-15 (players) pretty consistently. We've had, I think, three first-round draft picks from this area, and probably a couple more guys on the team who could be first-round draft picks in the future.
"There's great (high school) programs here and we certainly want to do a great job in our state in terms of recruiting and it just seems that historically there's been a lot of great players from this area. We certainly feel fortunate that we've been able to get some of those players to come to Alabama and it's made a huge difference in the success of our program."
After the top prospect from Mobile signed with Arkansas in 2006 and then Auburn in 2007, the tables turned. Alabama took over and signed the highest-rated recruit from the city all but one time from 2008-11.
But what's happened in the years since shows how other schools have taken notice.
Chris Casher
, the top prospect from the city in 2012, signed with Florida State. And
Jason Smith
, a four-star athlete from McGill-Toolen High, signed with Auburn this February.
Alabama's grip on South Alabama hasn't loosened, but the pull from programs like FSU, Auburn and others has grown stronger, thanks mainly to shifts in the recruiters charged with scouting the area in the past six months. Dameyune Craig, who made a name for himself as a recruiter on the FSU staff, was hired by Auburn's new head coach Gus Malzahn in January; Jeremy Pruitt, who made a name for himself as an assistant coach at Alabama, took the defensive coordinator job for the Seminoles in December; and Thompson, who returned to Alabama last year after a stint at Tennessee, shifted his territory back to where he started in Mobile. The trio is some of the best in the business, and they're all spending much of their time in the same area.
"They're all great guys," Vigor High coach Ashley Johnson said. "...They're great with the kids, interacting with them when they're able to interact with them. They really, really learn them. They don't forget a name, a face. They are really good at what they do."
ESPN 150 defensive end
Justin Thornton
stars at Vigor and has been recruited heavily by all three schools since before his junior season. The four-star prospect recently committed to Auburn, thanks in large part to the connection Craig was able to form.
"When Justin Thornton's mom just had a baby, Dameyune Craig's buzzing me. 'Tell Justin I'm excited,'" said Johnson, marveling at how quickly the coach acted on the news. "They are up and on the know. I don't know when they sleep."
March, 1, 2013
3/01/13
8:20
PM ET
TUSCALOOSA, Ala. -- When the University of Alabama and Nick Saban come calling, all issues with timing are thrown out the window. Less than two months after accepting the job of tight ends coach and recruiting coordinator at Florida State, Billy Napier has agreed to become the new wide receivers coach for the Crimson Tide.
The move comes on the heels of Alabama
hiring Mario Cristobal as its new offensive line coach
less than five weeks after he accepted a position with the University of Miami.
Saban said in a news release that Napier was his first choice to fill the shoes of former UA wide receivers coach and recruiting coordinator Mike Groh, who opted to leave for a
job with the Chicago Bears
.
"We are glad to have Billy back on our staff," Saban said in a statement. "He did an outstanding job when he was with us in 2011 and he was the first call we made when this position opened. He is a sharp young coach and he'll be a great addition working with the wide receivers. We also feel that he will be a tremendous asset to our staff in the recruiting process."
Napier has a familiarity with Saban's system having served as an offensive quality control coach under former UA offensive coordinator Jim McElwain. Napier followed McElwain to Colorado State in 2012 and spent the year with the Rams before accepting the position at Florida State.
"I have a great appreciation for the University of Alabama and the program Coach Saban runs, especially after spending the 2011 season in Tuscaloosa," Napier said in a statement. "From a professional development standpoint, it was the best year in my coaching career.
"When you've been here and seen it first-hand, you know that you want to try and get back to Alabama if that opportunity ever presents itself. I am excited to be back and appreciate Coach Saban offering me the position."
Before his first stop at Alabama, Napier spent five seasons with the Clemson Tigers, becoming the youngest ever coordinator in the program's history in 2009. The 32-year-old Georgia native also served as recruiting coordinator in Death Valley, helping the Tigers to the No. 2 class in the country in 2008, a haul that included
DaQuan Bowers
and
Andre Ellington
.
"He will be a very nice addition to the staff and is a grinder when it comes to recruiting," ESPN senior national recruiting analyst Tom Luginbill said.
Alabama lost a strong recruiter in Groh, who was named the country's top recruiter by Rivals.com and 247Sports. The 41-year-old was instrumental in the Crimson Tide's No. 1-ranked recruiting class in 2012 and 2013. He came to Alabama in 2011 after one season at Louisville coaching quarterbacks. Before that, he spent eight years at Virginia under his father, Al Groh.
January, 8, 2013
1/08/13
11:17
AM ET
Let's face it, things weren't going great for Florida State of late on the recruiting trail. Well, up until Monday night, anyway.
Amidst all of the turmoil that comes with multiple coaching changes -- and the loss of top recruiters at that -- the Seminoles had slipped a little bit. The class wasn't in a position to be in the top five, to which FSU fans have become accustomed in the last few years.
Florida State needed something big, something unexpected and something positive.
To continue reading this article you must be an Insider
Spring Game Wrap-Up
ACC SCOREBOARD
Thursday, 8/28
Friday, 8/29
Saturday, 8/30
Monday, 9/1