Florida State Seminoles:

NFL draft
May, 7, 2014
5/07/14
9:00
AM ET
If you believed the NFL draft narrative surrounding
Terrence Brooks
just three months ago, the prevailing thought was his time would be better served lying along one of the Gulf Coast's sandy white beaches rather than glued to the TV on Thursday and Friday. Beat the weekend beach crowds and wait for his agent to sift through undrafted offers before appraising Brooks, or, if he was so lucky, to let him know which team spent a late-round flier.
[+] Enlarge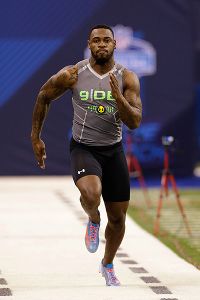 AP Photo/Nam Y. HuhTerrence Brooks' draft status was helped a great deal by his performance at the NFL combine.
Back in early January, the former Florida State safety was likely at best a third-day selection in the NFL's relatively new format that runs from Thursday through Saturday. Fast forward to the eve of the draft, and there is chatter the previously overlooked defensive back could slip into the first round. So, instead of sitting in the sun, he will sit patiently on the sofa with his girlfriend in the Florida beach destination of Destin.
"I expect to be [drafted] really high," Brooks told ESPN.com on Friday. "No clue [which round], but I'm pretty sure it will be kind of high. You never know what could happen [Thursday]."
Brooks' meteoric rise -- no player is moving quicker up perceived draft boards -- did not begin until the 5-foot-11, 198-pound senior left Florida State. Two weeks after the national championship game, Brooks was participating in the Senior Bowl and entered the first step of the postseason draft whirlwind as just the fourth-best Seminoles prospect in Mobile, Ala., working out. There were only four Florida State players at the Senior Bowl. With each defensive drill, Brooks flashed and caught the eye of scouts, coaches and general managers evaluating from along the fences. By the end of the week, Brooks' name was circulating among prominent front office voices.
A month later at the NFL combine, those same coaches and personnel executives were staring at their stopwatches questioning if their trigger finger was premature in stopping the clock. Brooks ran the 40-yard dash in 4.42 seconds, tops among safeties. He also finished first at his position in the vertical (38 inches) and broad jump (119 inches).
From there, Brooks asked NFL teams to double back to his junior and senior film -- he was a cornerback his first two seasons -- and finally give him the honest evaluation he felt was warranted even before the 2013 season.
"Coming from that defense, we have a lot of guys who are dynamic and I got lost in the shuffle, which is not bad because we had a great team," Brooks admits. "A lot of people didn't know too much about me until they saw the tape or combine. Having the chance to go to the Senior Bowl and the combine, it helped my name out a lot."
In a bit of irony, the first Florida State defensive player taken in the draft could be Brooks.
Timmy Jernigan
, previously believed to be a certain first-round pick, is sliding into the second round as he and former Seminoles linebackers
Christian Jones
and
Telvin Smith
all reportedly failed drug tests at the combine. ESPN draft analyst Mel Kiper Jr. lists Brooks as the No. 4-ranked safety and No. 80 overall, fifth among Florida State players.
All Brooks needs is one team to buy into his talent and tape and make him a first- or early second-round pick, a distinction Brooks feels he is "very much worth it."
"I'm in the talk of being one of the best safeties in the country and that's only two years at the position. My upside is a lot higher," he said. "I'm ready for a team to take that chance and leave out the hype and see who the great players really are."
May, 6, 2014
5/06/14
11:50
AM ET
TALLAHASSEE, Fla. -- Church was not a once-a-week affair for Janice Stockton. For a single mother raising three children along the Bible Belt's southern boundary, time spent in church is counted in days rather than hours.
Stockton was strict, too. There would be no sleeping from her children, even during bible studies and choir practices that often dragged deep into the evenings. Midweek services were not all that rare either.
[+] Enlarge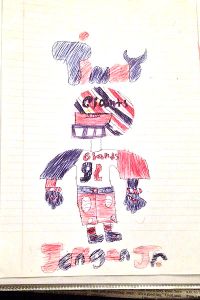 Courtesy of Janice StocktonTimmy Jernigan drew this when he was 7. Fourteen years later he's on the verge of fulfilling his NFL dream.
Naps were banned, but there was never an embargo placed on dreaming.
So,
Timmy Jernigan Jr.
dreamed, and sitting in a church pew during one late-night service, Jernigan transferred his dream to paper, offering Stockton, his mother, a glimpse into the vision that would guide the former Florida State defensive tackle for the next 15 years, all the way to NFL draft, where one team will call Jernigan's name.
"So many things happen in life, a lot of people let go of their dream," Stockton said.
The latest hurdle came days before the draft when reports surfaced that Jernigan produced a diluted urine sample at the NFL combine. But Stockton and Jernigan drew upon the picture once again to keep moving toward Jernigan's ultimate NFL goal.
"I saved that drawing he gave me because, he was told he better not go to asleep in church at 7 years old, and looking at him at 21, that dream is coming to fruition," Stockton said. "He never doubted he would do anything but play in the NFL."
Drawing his dream
Tim Jernigan Sr. passed more on to his son than simply a namesake. Tim Sr. bestowed upon his son a natural gift to play defensive tackle, and those around Jernigan's hometown of Lake City, Fla., regularly seek to find comparisons between father and son. At 2 years old, just as Jernigan learned to string together a few cumbersome footsteps in a row without tumbling, he was entrusted with his dad's patented swim move, and Jernigan found so much success with it "when I watch my film I got a bad habit of going to it."
Worth more than the frame and pass-rushing arsenal was the veneration for the defensive line Jernigan inherited from his father, in particular a reverence for former Giants great
Michael Strahan
.
"My dad put me on Michael Strahan, one of my dad's favorite players," Jernigan said. "Strahan was one guy I looked up to and wanted to be just like."
Jernigan Sr. even called his family in the north to send down a Strahan jersey for his son.
"I used to call him Strahan," Jernigan Sr. said. "He played hard, he got to the football, was relentless and Timmy just fit the bill of him. He was a complete player."
So as Jernigan sat in church that night -- "I still paid attention to the sermon," he contends -- he dreamed of a future, not just a style of play, which would one day draw parallels to Strahan, a Super Bowl champion and first-ballot Hall of Famer. He asked his mother for a piece of loose leaf paper and two pens -- one red, one blue. He began with a helmet, alternating colors enough times to catch the eye of the Oregon Ducks. As he traced the burly shoulders and matched the red socks with the blue cleats, the picture began resembling a second-grader's rendering of Strahan.
He added the No. 92 to the front of the jersey, however Jernigan ended his seminal sketch with his name instead of Strahan's. This was Jernigan's dream, which will become a reality in the coming days.
"It's crazy. Words can't explain it. It's just a blessing having all that hard work pay off," Jernigan said. "It brings back all those memories and those late nights, the extra jump ropes and extra weight room liftings and those summertime days at FSU. To see everything pay off is a beautiful feeling."
[+] Enlarge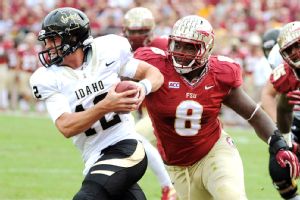 Melina Vastola/USA TODAY SportsFSU DT Timmy Jernigan had 11 tackles for loss and 4.5 sacks last season.
A reminder from mom
While the hope of playing in the NFL never waned, Jernigan's memory of the picture did. He gave it to his mother more than a decade ago and had not seen the picture since that night in church. Stockton held onto it, though, preserving it in a scrapbook documenting Jernigan's rise from high school all-star to college All-American.
"I saved that picture because it's important my children follow their dreams," Stockton said. "… You're not allowed to say 'can't' in my house. It's a curse word. You hold on to dreams and watch it come to life."
Days before Jernigan's pro day on Mar. 18, Stockton flipped through the pages of her book and came across the drawing. She texted her son that she still has what is now famously known as "the picture" within Jernigan's circle. Jernigan was bewildered initially. "What picture?" he answered.
When Stockton sent the image, Jernigan flashed back to that night in church and said that moment more than a decade ago was as fresh in his mind as the day he drew it.
"It spooked me when she showed it to me," Jernigan said. "I remember the exact thoughts drawing that picture, remember like it was yesterday. She knew I had been chasing that dream my whole life."
It marked the last time Jernigan would bury the picture in his memory. It now serves as the background on his phone, a daily reminder of how far he has come but also of a journey that is still in its infancy.
"The team that drafts him is going to get a great player, and all parents might say that, but this kid has never been really pushed to have to go really hard," Jernigan Sr. said. "They've seen the kid play, but there's a whole different gear he can go."
March, 6, 2014
3/06/14
12:15
PM ET
Florida State
set an NFL draft record in 2013 with 11 players selected during the seven rounds. The Seminoles will push for that number again, and they will be off to a good start after Day 1 of the draft, according to one ESPN NFL draft expert.
Todd McShay released his
Mock Draft 3.0

on Thursday, offering his predictions for the first round of the draft, which will begin May 8. For the fourth time in the past five classes, at least one Florida State prospect will be taken in the first round, McShay believes.
It is an Insider post, so only subscribers will be able to get to see McShay's full mock. We will not spoil the surprise, but it should be no shock that to FSU fans that
Timmy Jernigan
and
Kelvin Benjamin
find themselves in the first round. As to where those two land, you will have to be a subscriber to see that.
Both Jernigan and Benjamin declared early for the NFL after their junior seasons. Jernigan totaled 63 tackles, a strong number for an interior defensive lineman, 11 tackles for loss and 4.5 sacks. Benjamin hauled in 54 catches for 1,011 yards and 15 touchdowns.
Regarding Jernigan, McShay writes that "He is very strong and quick versus the run ... and Jernigan could come in and make an impact."
As for Benjamin, McShay has him pegged with a second-round grade but "he's tempting because of his size and catch radius ... [and] he'd be a great red-zone weapon."
April, 29, 2013
4/29/13
9:00
AM ET
TALLAHASSEE, Fla. -- The NFL draft hadn't been particularly kind to Florida State in recent years, but the 2013 iteration was far different.
The Seminoles had 11 players selected between Thursday's first round, when
EJ Manuel
was the first quarterback drafted, to Saturday's final installment, in which six former FSU stars found new homes in the pros. FSU had as many players drafted this year than in the past four seasons combined, and its three first-rounders were the most to come from Tallahassee since 2006.
While that's a major step for coach Jimbo Fisher's program, he insists it's just the start.
April, 26, 2013
4/26/13
9:00
AM ET
TALLAHASSEE, Fla. -- There weren't many mock drafts that pegged
EJ Manuel
as the top quarterback available, but Jimbo Fisher had a hunch his guy would impress a few teams.
Manuel's athleticism made him a popular prospect for teams looking to exploit the option offense, and his strong arm and experience in Fisher's pro-style scheme made him a viable option in more traditional sets. In the end, that was enough to convince the Buffalo Bills to take Manuel with the 16th overall selection in Thursday's NFL draft -- the first quarterback taken.
"You think about the journey, when I was a little kid, the ups and down," Manuel said after the selection. "I'm just so happy."
[+] Enlarge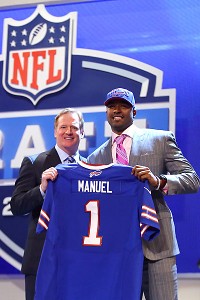 Al Bello/Getty ImagesThe Bills selected Florida State quarterback EJ Manuel with the 16th pick in the 2013 NFL draft.
Manuel's emotions were held in check throughout a rocky 2012 season in which he led Florida State to its first ACC championship in seven years. Throughout the season, Manuel's mother was battling breast cancer, missing several of his games late in the season, but she was on hand Thursday in New York as NFL commissioner Roger Goodell announced his name.
"I knew she was doing what she had to do to get better," Manuel said before the draft. "Football is a special part of my life, but having my mom for a lot longer, that's what's really important to me. I'm just happy she'll be there."
Manuel's surprising early selection is another boon for Fisher, too, who has become a guru for creating NFL quarterbacks. Manuel's predecessor, Christian Ponder, went 12th overall in the 2011 draft, and former protege at LSU, JaMarcus Russell, was a top overall selection in 2007.
"I'm extremely happy for EJ," Fisher said in a statement released by the school. "He's a tremendous young man who has been a great representative of Florida State University. He's worked extremely hard to get to this goal. He's one of the main reasons that this program has been able to get back to national prominence because of the sacrifices he's made through his career as well as his development as a player. I'm extremely happy for him and his family. This couldn't have happen to a better group of people."
Florida State's return to national prominence was on display throughout the first round of Thursday's draft, even after Manuel was selected.
Defensive tackle
Bjoern Werner
went 25th overall to the Indianapolis Colts, while the Minnesota Vikings took cornerback
Xavier Rhodes
with the 26th pick. Both players were juniors who departed FSU a year early.
Werner was pegged as a potential top-five selection late in the season after leading the ACC with 13 sacks, but his stock dipped slightly following an underwhelming performance at the combine.
Rhodes, who came to FSU as a wide receiver before Fisher convinced him to switch to cornerback, might have been a first-round pick a year ago had a bowl-game injury not derailed his plans. He returned for 2012 and helped Florida State's secondary to a No. 1 ranking in the nation in pass defense.
"We were laughing about the day when he didn't want to move over to corner," Fisher said. "He was mad at me for a couple of months. But it's funny how you go back and reminisce when things work out like that."
The three first-round selections were the most for Florida State since 2006, when four Seminoles were taken. They had just three first rounders in the six drafts since.
FSU figures to have at least two more players go in tonight's second round. Right tackle
Menelik Watson
and defensive end Cornelius Carradine are widely projected as early second-round talent.
As many as a half-dozen more Florida State players could fill out the later rounds of the draft, including fullback
Lonnie Pryor
, linebacker
Vince Williams
, kicker
Dustin Hopkins
and defensive end
Brandon Jenkins
.
That would mark a massive shift in Florida State's NFL prospects after a dry spell in recent years. FSU has had just 11 players selected in all in the last four drafts prior to this year.
"Hopefully we can do that every year as we establish ourselves as a program," Fisher said. "We've revamped the type of recruiting we're doing and identified certain types of athletes we thought were difference makers and great kids. We've come a long way."
April, 3, 2013
4/03/13
1:44
PM ET
It's been a turbulent year for former Florida State cornerback Greg Reid, who passed on a shot to enter the NFL draft early last January only to see his Seminoles career come to an end due to off-field issues, and his 2012 season evaporate following a knee injury.
For the past seven months, however, Reid has been rehabbing his knee and his reputation with his sights set on rejuvenating his NFL prospects, and he's been detailing his road to the NFL draft here. Reid's first installment chronicled his workouts at Athlete's Edge near Miami, and in his second diary entry, he writes about the experience of the NFL combine and Florida State's pro day workouts.
***
The last few weeks have been crazy. I've gone from Miami to Indianapolis to Miami to Valdosta to Tallahassee, then finally back to Miami. This is the first chance I've had to update you all since the combine and pro day.
[+] Enlarge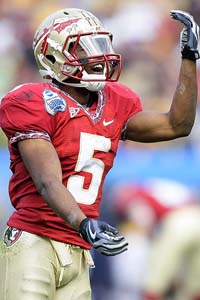 Josh D. Weiss/US PresswireFormer Seminole cornerback and kick returner Greg Reid has been busy auditioning and interviewing for an NFL job.
The combine was a great experience. The best part was definitely meeting the coaches. At first it was a little intimidating. You walk into the room, and you're like, "Man, that's Bill Belichick -- in his hoodie and everything." Then you realize he's just a regular guy. You're in a very relaxed environment, and the coaches were almost like friends. But in the back of my mind, I never forgot I was in Indy for business. The interviews were only 15 minutes, so you don't have that much time to get to know everyone in the room, but I feel like it was enough time for me to make an impression.
Seeing Rex Ryan in person was funny since I'm used to seeing him on TV every day. Mike Shannahan was definitely the funniest coach. When I walked into the room, he asked me if I went to high school at Valdosta or Lowndes, as if he didn't know Valdosta was my biggest rival school. I said, "Come on Coach, you already know, Lowndes!"
I bet most people don't even know football players have to go through hours and hours of written tests at the combine. There were six different testing rooms. Each room had the same hour-and-half to two-hour test. The questions all seemed the same, just in a different order.
It was tough not participating in all the drills because I'm so competitive. It took a lot for me to understand it wasn't worth another possible setback after all I've done to rehab my knee.
I got to catch up with friends from college and high school that I hadn't seen in a while. I also got to meet a lot of new people. When I got back to Miami, I started YouTubing highlights of all the people I met at the combine. It was funny comparing their highlights to my first impressions from Indy.
March, 19, 2013
3/19/13
4:17
PM ET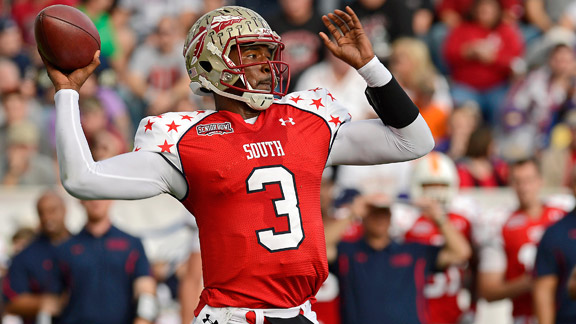 John David Mercer/USA TODAY SportsEJ Manuel's workout at Florida State's pro day Tuesday was on point and helped the quarterback secure an invitation to April's NFL draft.
TALLAHASSEE, Fla. --
EJ Manuel
was eager to wrap up his throws at Florida State's pro day -- not just because he had a host of NFL scouts carefully critiquing each motion, but because he had plans for when it was all over. Today is also Manuel's birthday.
"I just had to knock this out, and now I can go celebrate," he said.
After solid showings at the Senior Bowl and the NFL combine, Manuel already believed he had plenty to celebrate before throwing for scouts today. He has worked his way into the mix of top quarterbacks available, met with more than two dozen teams, and earned an invite to the NFL draft in New York.
"When I got the invite, I was about to cry, really," Manuel said. "That was probably my biggest goal. I know there was a lot being said about me going into it, but I never listened to it. I continue to work hard, did well at the Senior Bowl and the combine, and the naysayers have pushed me to have a bigger chip on my shoulder."
Manuel insists he's not bitter about any criticism along the way, but he said it has pushed him to work harder.
He certainly appeared to help his cause today. Jimbo Fisher watched carefully and said Manuel was accurate on all of his throws and looked sharp in the process.
March, 19, 2013
3/19/13
8:11
AM ET
It's been a while since pro day workouts at Florida State came with quite so much fanfare, but this year's event, which gives former FSU stars a chance to workout for NFL scouts and executives, is chock full of intrigue.
Although more than a dozen former Seminoles will be participating in today's workouts, a few have a bit more to gain (or lose) than the rest. Here's a quick look at which of FSU's NFL hopefuls has the most on the line today.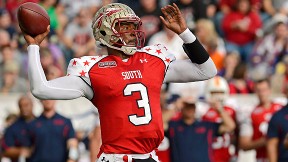 John David Mercer/USA TODAY SportsBig, experienced, athletic EJ Manuel could climb draft boards thanks to a weak quarterback crop.
EJ Manuel (QB):
The names at the top of the draft boards for most teams looking for a quarterback have been shuffled a handful of times throughout the year, and Manuel has largely hovered on the periphery. But while the overall class is considered weak, Manuel could be viewed as a solid investment. He's got the physical tools to warrant first-round consideration, and he's worked for five years in an NFL system at FSU. While he didn't overwhelm observers during the combine, pro day offers a second chance to impress on his home turf. Jimbo Fisher believes a strong performance could have Manuel in the late first, early second-round mix.
Bjoern Werner (DE):
When the season ended, Werner was a hot commodity, with some mock drafts projecting him as a top five selection and, perhaps, the highest drafted Seminole in program history. That enthusiasm has cooled a bit, however, after a mediocre performance at the NFL combine. It's not that Werner was bad, but so much of what he does best is underscored far better in game conditions than a scouting combine. Still, he can make up some of the ground he lost with an impressive day on campus, which could mean quite a bit financially. Last year's third overall pick (the highest Werner's been on draft boards) signed for more than $20 million. The 30th overall pick (where ESPN's Mel Kiper currently has Werner projected) signed for less than $7 million.
February, 22, 2013
2/22/13
9:00
AM ET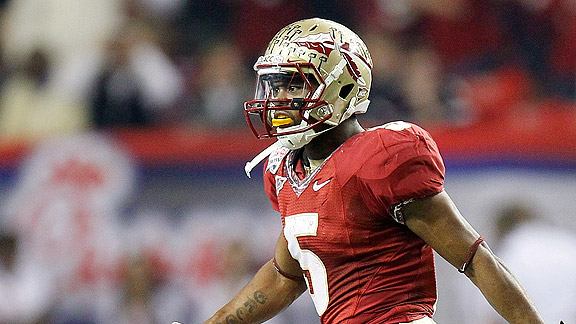 Kevin C. Cox/Getty Images
It's been a turbulent year for former Florida State cornerback Greg Reid, who passed on a shot to enter the NFL draft early last January only to see his Seminoles career come to an end due to off-field issues and his 2012 season evaporate following a knee injury.
For the past six months, however, Reid has been rehabbing his knee and his reputation with his sights set on rejuvenating his NFL prospects. Throughout the next few weeks, he'll be detailing his road to the NFL draft here. Reid's first installment chronicles his workouts at Athlete's Edge near Miami, where he's been preparing for this weekend's scouting combine, where he'll join 10 other former Seminoles and a host of top NFL prospects.
***
Getting the combine invite was unreal. I mean, I'd been working harder than ever before. But when I got that email, I knew I had to seize the moment.
Life has taught me one thing. Nothing is guaranteed. Everything is earned. That's been my whole philosophy through this training process.
I'm from Valdosta, Georgia. ESPN TitleTown, USA. I never thought I'd be waking up every day by the beach in Miami. That's how I know this whole combine thing is real. That, and I don't even mess with the snooze button anymore.
December, 19, 2012
12/19/12
3:11
PM ET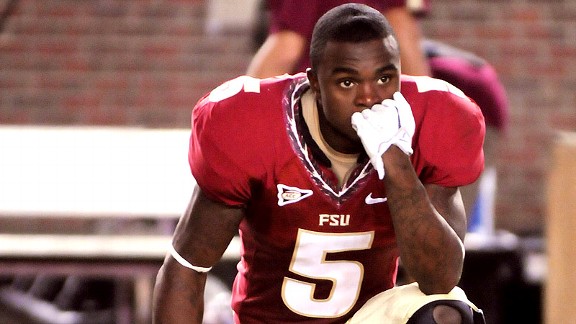 Melina Vastola/US PresswireGreg Reid was dismissed from the Florida State team over the summer, then tore his ACL before what would have been his senior season at Valdosta State.
Former Florida State cornerback Greg Reid said he plans to declare for the 2013 NFL draft, despite missing the entirety of the 2012 season with Valdosta State with a knee injury.
Reid could have applied for a medical redshirt that would have allowed him to return to college next season -- perhaps at a Division I school -- but he said the only destination he would have considered was FSU.
"If I had a chance to go back to a Division I school, of course it would be Florida State, but after [former defensive coordinator Mark] Stoops left and things like that, I think I'm going to declare for the draft and hope for the best," Reid said. "I want to just get my image cleared up and go from there. Train hard, work hard and hope everything pans out."
Reid was a three-year starter for the Seminoles at cornerback and punt returner, but he was dismissed on Aug. 1 for a violation of team rules following an arrest on charges of marijuana possession. It was Reid's third off-field violation.
December, 13, 2012
12/13/12
9:00
AM ET
More than four months remain before the 2013 NFL draft, and everything from the senior bowl to the combine to individual workouts can shake things up significantly between today and the moment when NFL commissioner Roger Goodell steps to the stage to announce his first name in April.
Much of that mystery trickles down to Florida State, which at various times since this summer has had as many as five different players discussed as possible, probable or even definitive first-rounders.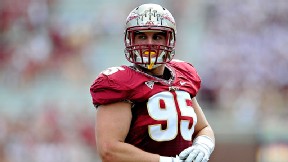 Stacy Revere/Getty ImagesBjoern Werner is likely to be picked high in the first round if he declares for this April's NFL draft.
As it stands at the moment, however, the Seminoles might have just one:
Bjoern Werner
.
Never mind that Werner has yet to announce an official decision on whether he'll forego his senior season at Florida State. That seems a near inevitability after the loss of both his defensive coordinator and position coach, along with his firsthand witnessing of cautionary tales of fellow defensive ends destined for first-round status who later suffered season-ending injuries.
In his first mock draft, ESPN's Todd McShay doesn't simply list Werner as a first rounder, but goes so far as to
project the FSU junior as the third overall pick
.
[The Raiders] would face a tough call between Werner and LSU DE Barkevious Mingo, who has a better natural skill set as a pass-rusher and would give the Raiders a lighter, faster edge rusher. However, Werner is the more consistent player and has a better all-around game.
If McShay's projection proved accurate, it would be the earliest a Florida State player has been selected in the NFL draft since Arizona took Andre Wadsworth with the third overall pick in 1998. Even if Werner slides a few spots -- Mel Kiper Jr.
has him eighth on his big board
-- he'd still be just the third first-round pick out of FSU in the past five years, and the highest overall pick since Peter Warrick (fourth) and Corey Simon (sixth) were selected in 2000.
But what of the rest of the Seminoles' 2013 draft class? Here's a quick look at where the other potential pros might stand.
November, 19, 2012
11/19/12
3:04
PM ET
Editor's note: Later Monday, Brandon Jenkins announced his intention to enter the 2013 NFL draft.
TALLAHASSEE, Fla. -- While the bulk of Florida State's senior class will be playing in the final home game of their careers Saturday, two of the most accomplished seniors remain in something of a holding pattern.
Jimbo Fisher said he's met with both Chris Thompson and Brandon Jenkins to discuss their futures, after both seniors missed extensive playing time this season due to injuries and could be eligible to use a medical redshirt to return in 2013.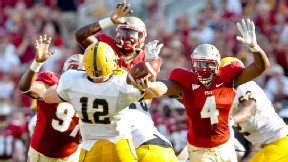 Cal Sport Media via AP ImagesBrandon Jenkins(4) played only a few snaps before being injured in FSU's season opener against Murray State.
Neither player has officially announced a decision, but Fisher said Monday he had a feeling Jenkins would leave, while Thompson wants to return for a second crack at a healthy senior campaign. Still, neither decision is set in stone.
Jenkins suffered a broken foot in Florida State's first game of the season, making him eligible to take a medical redshirt and play again in 2013 if he chooses. Jenkins' injury is healing well, however, and Fisher said it's likely the defensive end will be healthy enough to work out for NFL teams prior to April's draft.
"I expect if he's healthy -- I don't know what he's going to do, but I expect he's going to go," Fisher said. "That wouldn't shock me. And if that's what's right, that's what's right."
Jenkins nearly left a year ago when he was widely expected to be an early round selection in the 2012 NFL draft.
Thompson's situation is more complicated. Because his ACL injury occurred in Florida State's eighth game of the season, he would not be eligible to redshirt. Fisher said Florida State have applied for an exemption, however, based on the fact that Thompson missed significant playing time both this year and in 2011, when he sat out FSU's final seven games with a broken back.
That process begins with an application to the ACC, which is likely to be
denied
. The decision can then be appealed to the NCAA, for which there is little direct precedent. Regardless, Thompson isn't likely to hear a firm decision until well after the season has concluded, making it difficult to make an informed decision in the short term.
"I think if I knew for sure that I would be getting the year back, it would probably be an easier decision on me of which direction I want to take," Thompson said. "But since I don't know yet, I can't make a decision."
Thompson had surgery on his torn ACL two weeks ago, and he said he's tried to put off thinking about his future to instead concentrate on rehabbing the injury.
Even with a potentially accelerated recovery timeline, Thompson would be hard-pressed to be in shape and at full strength in time for the NFL draft, making him a significant risk for any team potentially interested in selecting him.
"I'm not sure if I want to come back or even try to move on right now," Thompson said. "It's still one of those things I've been talking through with my parents, trying to figure out what's the right decision, which direction I should go."
While the future remains murky for Thompson, he said one thing remains clear: He will be playing football somewhere in 2013. After a second straight serious injury, he said he's more confident than ever that he can recover and contribute for someone next season.
"I'm not going to quit," Thompson said. "I see both of these as minor injuries because I know I'm going to come back and play again."
August, 10, 2012
8/10/12
9:30
AM ET
With the start of the 2012 season right around the corner, and loads of potential NFL-level talent on Florida State's roster, NoleNation checked in with ESPN draft expert Mel Kiper Jr. to talk about the top draft-eligible members of the Seminoles team and what they'll need to do this season to secure their status in next year's draft.
NoleNation: With all the talent on Florida State's defense, the guy you seem to like the most is Xavier Rhodes. Do you view him as a sure first-rounder?
Mel Kiper:
I like him. I've got him right now as the 20th best player overall, and of course, he's an underclassman and has eligibility still remaining. He's big, he's got great physical ability, he's a rock-solid kid. He's just a good, good, fundamentally sound corner. He's got super-long arms, was a gifted high school wide receiver, so you know the ball skills are good. He's got it all. He's one of those guys who needs to stay at full strength, and he's a tough kid. But he's got to stay at full strength and go out there and put together the type of year he's capable of."
NN: Pound-for-pound, Lamarcus Joyner might be FSU's best defensive player, but his size is obviously not ideal at safety. How much will that hurt him in the eyes of NFL scouts?
Kiper:
He's not real big. He's one of those compact guys. He's kind of a Bob Sanders type of guy, one of those heat-seeking-missile destroyers who has really good ball skills. He was their second-best defensive player last year. He's rugged and tough, but the question with him is going to be, can he stay healthy? With his rugged, aggressive style, when you get to the pro level and you're only his size -- 5-7, 5-8, 195 pounds -- and you start laying hits on NFL guys -- Bob Sanders did the same thing coming out of Iowa as a second-round pick and couldn't stay healthy. So that's the thing. You've got that vicious, tough, aggressive, hard-nosed, undersized guy -- that's great to have that, but at the end of the day, can you be at full strength and stay out there and be durable?
NN: Two years ago Brandon Jenkins looked to be a potential first-rounder, but his numbers dropped off a bit last season. He was getting more attention from the opposition, but how has that changed his status in terms of the NFL?
Goodell Has Sit-Down With Jameis Winston
ACC SCOREBOARD
Thursday, 9/3
Saturday, 9/5
Monday, 9/7