Florida State Seminoles:

Michael Rocco
August, 27, 2013
8/27/13
9:00
AM ET
TALLAHASSEE, Fla. -- Jimbo Fisher said the decision was agonizing, but the truth is, the Florida State coach had it easy.
Fisher may have debated the merits of both of his quarterback prospects for months before finally tabbing redshirt freshman
Jameis Winston
over sophomore
Jacob Coker
as FSU's starter, but any ambivalence was a result of the Seminoles having two strong options. Fisher couldn't go wrong.
"You're splitting hairs when you really get down to it," Fisher said. "That's not coach talk or anything else. That's the truth. That was a great competition."
If Fisher reveled in the quarterback drama, however, he wasn't alone. More than half the ACC's coaches are getting used to life with a first-year starter at QB, and not everyone has enjoyed the same luxury as Florida State when it comes to picking a winner.
While the preseason favorites -- Clemson and Miami -- share the common thread of stable quarterbacking situations, there's no shortage of question marks across the ACC. Look no further than NC State and Syracuse. Both schools are looking to replace immensely successful quarterbacks, and neither has officially tabbed a starter for the season opener yet.
[+] Enlarge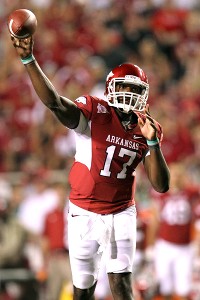 Nelson Chenault/US PresswireIs Arkansas transfer Brandon Mitchell the answer for NC State at QB? We won't know until game day.
This spring, NC State coach Dave Doeren wasn't entirely satisfied with his options, so when fifth-year senior
Brandon Mitchell
transferred from Arkansas, the Wolfpack's quarterback carousel took get another turn. Mitchell is a versatile athlete who probably fits Doeren's offense better than
Pete Thomas
, but that doesn't mean it's an open-and-shut case. Doeren said he's not planning to announce a starter until game day.
At Syracuse, new coach Scott Shafer is planning to let the drama simmer a bit longer, too.
Drew Allen
and
Terrel Hunt
have been battling for the starter's job throughout camp as the Orange look to replace
Ryan Nassib
, and Shafer won't announce a decision until Saturday when Syracuse takes on Penn State.
Life is a bit simpler at Pittsburgh, where
Tom Savage
officially won the job last week. He'll get an up-close look at Winston when the Panthers host Florida State on Labor Day, making the job of preparing a bit more challenging on both sides.
"You know there's some stuff you won't be prepared for, but you try to do the best you can," Pitt coach Paul Chryst said. "As a coach you try to prepare for the unknown — but how do you do that? I don't know."
At Duke and Georgia Tech, there isn't nearly so much mystery. Yes,
Sean Renfree
and Tevin Washington are gone, but their replacements have already offered extended sneak peeks.
The Blue Devils turn their offense over to
Anthony Boone
, who appeared in 12 games last season and made one start against Virginia when Renfree was sidelined. Replacing Renfree's big numbers from 2012 won't be an easy task, but the athletic Boone figures to slide into the new role with ease. The same is true for
Vad Lee
at Georgia Tech. Washington was a key contributor in 2012, rushing for an ACC-best 20 touchdowns, but Lee may be an even better fit in Paul Johnson's triple-option offense. The sophomore appeared in 12 games last season, racking up over 100 yards on the ground against both Presbyterian and North Carolina.
Virginia is excited about its quarterbacking situation, too, which comes as something of a surprise after months of drama. Last season saw a two-man QB battle play out throughout the year, with both
Michael Rocco
and Phillip Sims getting turns as the starter, and when the season ended, both left the program. But this summer, sophomore
David Watford
emerged as the clear favorite, and coach Mike London made it official just two weeks into fall camp.
And if Virginia is happy to have a stable starter for the first time in a long time, Maryland is downright elated just to have a cache of healthy bodies. The Terps' 2012 campaign was sunk by a rash of injuries to its quarterbacks, with four different players lost for the year. Eventually, coach Randy Edsall was forced to turn to linebacker
Shawn Petty
as his only remaining option.
Things are looking much better for Maryland now, where
C.J. Brown
is finally healthy. Brown tore his ACL during fall camp last year, but the injury is completely healed and the athletic senior is eager to get back to work.
Of course, the Terps' trials and tribulations last season offer an easy reminder that even the most settled quarterback situations can unravel quickly. That's a big reason why Fisher was so pleased to see FSU's QB battle remain so close throughout fall camp.
"No matter what you say, you've got to have two guys ready to play," Fisher said. "And I think both guys have shown they can go in and play."
November, 25, 2012
11/25/12
10:15
AM ET
What did we learn in the ACC in Week 13? Glad you asked.
1. SEC > ACC.
And it is not even close. It was a disastrous weekend for the ACC in its head-to-head matchups against the top conference in all the land, going 0-4 on a pitiful Saturday. No. 10 Florida State wanted to prove all its doubters wrong. Instead, the Seminoles were physically manhandled in a 37-26 loss to their in-state rival, No. 4 Florida. No. 11 Clemson wanted to prove this was the year it could get past South Carolina, with starting quarterback
Connor Shaw
and starting running back
Marcus Lattimore
out. Instead, the high-flying Tigers offense had no answers for
Jadeveon Clowney
, and scored a season low in points in a 27-17 loss -- their fourth straight in the series. Meanwhile, Georgia Tech was clobbered by No. 3 Georgia and Wake Forest was walloped by Vanderbilt for the second consecutive season. The average score in those four ACC-SEC matchups was not pretty: SEC 40-19. And it was the first time since 2009 that Clemson, Florida State and Georgia Tech all lost their in-state rivalry games.
[+] Enlarge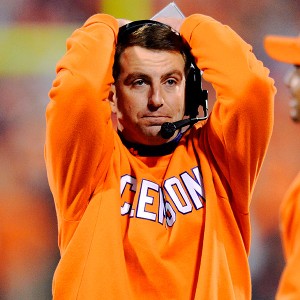 AP Photo/Richard ShiroDabo Swinney and Clemson were manhandled on their home turf by SEC foe South Carolina.
2. Forget about two BCS bowl spots.
That dream of getting two ACC teams into the BCS bowls for a second straight season is now over. Clemson's loss eliminates those chances. The ACC will have to settle for an automatic berth going to the champion of the ACC title game next Saturday between Florida State and Georgia Tech. The truth is, this has been a pretty terrible season for ACC football as a whole. Neither Florida State nor Clemson has beaten anybody impressive. The bottom line is the ACC does not deserve two spots in the BCS this season. Not with the way the league has played.
3. Forget about filling every bowl slot.
With Wake Forest losing, and Miami and North Carolina ineligible while serving postseason bans, the ACC will not be able to fill all its bowl slots this season. As of right now, the ACC has six teams eligible for eight available slots. Georgia Tech is one of those teams eligible. The Yellow Jackets are in a very interesting situation at 6-6. Because they play in the ACC title game, they could very well finish with a losing record. If there are 70 or more bowl-eligible teams, they would have to ask for a waiver from the NCAA to participate in the bowl game. UCLA had its waiver granted last season in a similar situation. If there are not 70 bowl-eligible teams, Georgia Tech might not need to file a waiver based on
revised NCAA bowl eligibility rules
. There are currently 69 bowl-eligible teams, with Pittsburgh and Connecticut vying for eligibility next weekend.
4. Virginia Tech is in.
The Hokies left no room to spare in their quest to make it to their 20th consecutive bowl game. This has been one of the most difficult seasons in quite a while for Frank Beamer and Virginia Tech, but the Hokies found a way to beat in-state rival Virginia for the ninth straight time when
Cody Journell
nailed a 29-yard field goal as time ran out. It was probably fitting that Virginia cost itself a chance to win thanks to a turnover.
Antone Exum
intercepted
Michael Rocco
in the closing minutes, setting up the winning field goal for Journell. Virginia Tech overcame a second-half deficit for the second straight week, and has been as close to living on the edge as a bowl team can be. But the Hokies live on to see another game.
5. Miami: woulda, shoulda, coulda.
I am sure Miami fans have been wondering what could have been after the Hurricanes won a 52-45 shootout with Duke on Saturday. We know now that Miami cost itself a chance to play in its first ACC title game after it self-imposed a bowl ban early last week. The move was necessary with an NCAA investigation ongoing. But I am sure it still hurts the players who never quit on the season, who put in an incredible effort to far exceed any expectations that folks had for them. Miami was picked to finish fifth in the Coastal and ended up in a tie for first with a team that essentially returns everybody next season. Last season, Miami lost the game after a postseason ban was announced. We have seen how far this team has come, maturitywise, this season -- as the Hurricanes refused to give up Saturday and pulled out the win.
October, 15, 2012
10/15/12
9:00
AM ET
Last week was all out of whack. Virginia Tech restored some normalcy to the league with its win over Duke, and North Carolina did its part by humbling Miami in Sun Life Stadium. That's not to say this pecking order isn't still in flux. The Coastal Division race is wide open, and there are plenty of teams still jockeying for position in the division standings. Here's a look at how the league shakes out at the midway point of the season:
1. Florida State (6-1, 3-1 ACC; LW: No. 1) --
The Seminoles bounced back from their deflating loss to NC State with a convincing 51-7 drubbing of Boston College. They'll get more of a fight this week when they face rival Miami on the road, but on paper, this is another game the Noles should win.
2. Clemson (5-1, 2-1; LW: No. 2) --
The Tigers had a bye week, and they're going to be catching Virginia Tech right when the Hokies might have turned the corner with an historic comeback win against Duke. Clemson owned the Hokies in two wins last year, including the ACC title game.
3. NC State (4-2, 1-1; LW: No. 5) --
The Wolfpack had a bye week to digest their upset of then-No. 3-ranked Florida State and turn their focus to Saturday's trip to Maryland. Quarterback
Mike Glennon
made three fourth-down completions in the fourth quarter last week and will be looking for another important Atlantic Division win.
4. North Carolina (5-2, 2-1; LW: No. 6) --
The Tar Heels got their first road win of the season against Miami, but UNC committed 15 penalties for 140 yards in the 18-14 win over the Canes. It didn't matter in the end because Miami had no answer for running back
Giovani Bernard
, who ran for 177 yards and two touchdowns.
5. Virginia Tech (4-3, 2-1; LW: No. 8) --
The Hokies scored 41 unanswered points in the final three quarters to beat Duke 41-20 on Saturday in the biggest comeback the program has seen under coach Frank Beamer. Virginia Tech avoided a second Coastal Division loss and has some momentum heading into Death Valley.
6. Maryland (4-2, 2-0; LW: No. 7) --
The Terps are the only ACC team still undefeated in league play, and they are leading the Atlantic Division standings. They'll face much stiffer competition when NC State visits on Saturday, but Maryland's defense has kept it in every game this season and is one of the best in the ACC.
7. Miami (4-3, 3-1; LW: No. 4) --
The Hurricanes' rushing defense has been one of its weakest links this season, as Miami is allowing 253.71 rushing yards per game. UNC ran for 272 yards against the Canes, and Florida State has the capability to do the same this weekend.
8. Duke (5-2, 2-1; LW: No. 3) --
The Blue Devils probably wouldn't have dropped so far in the rankings so fast had they played a more respectable final three quarters, but squandering a 20-point lead brought Duke crashing back to reality. The team had a chance at a marquee win for the program, but four turnovers put the bowl bid on hold for now.
9. Wake Forest (3-3, 1-3; LW: No. 10) --
The Deacs had a bye week, and they needed it after losing back-to-back conference games and suspending eight players in the past two weeks. Wake Forest travels to UVa this weekend in a game that will be critical to the Deacs' bowl hopes.
10. Georgia Tech (2-4, 1-3; LW: No. 9) --
It's been a tumultuous season for the Jackets, who fired former defensive coordinator Al Groh last week. Interim Charles Kelly at least had the bye week to make the transition in preparation of Saturday's game against Boston College. The main game plan, coach Paul Johnson said last week, is to simplify things for the defense.
11. Virginia (2-5, 0-3; LW: No. 11) --
Not much has gone right for the Hoos, who have lost five straight games heading into Saturday's matchup against Wake Forest. Virginia is No. 99 in the country in scoring defense, allowing 33 points per game, but has also struggled offensively with quarterbacks
Michael Rocco
and
Phillip Sims
.
12. Boston College (1-5, 0-3; LW: No. 12) --
The Eagles are still looking for their first conference win of the season, and have lost four straight as they head into their third straight road game. The Eagles haven't been able to run the ball or stop the run this season, but the passing game has shown improvement under coordinator Doug Martin.
October, 11, 2012
10/11/12
9:00
AM ET
Another week, another one nobody saw coming. NC State's win over Florida State was an epic upset and an instant classic. It was also another black mark on my record. I finished 5-2 last week for an overall record of 44-11 (80 percent). If I drop below 80 percent this year, I will be very disappointed. I would like to point out, however, that last week I predicted Clemson to win 48-35 and the actual score was 47-31. I should get bonus points for such a close range. Then you guys would be trying to take points away, though, when I'm far off. So we'll just keep it at 80 percent. The margin of error decreases this week with fewer games. Here are your Week 7 picks:
Florida State 42, Boston College 17:
The Eagles are going to be overmatched in this game, plain and simple. Florida State is going to take out its frustrations from last week's loss to NC State, and it could get ugly in Tallahassee. FSU has the No. 7 scoring offense and the No. 7 scoring defense in the country. BC, meanwhile, hasn't been able to stop anybody and allowed three 100-yard rushers in last week's loss at Army. FSU running back
Chris Thompson
will set the tone in the first half.
North Carolina 35, Miami 31:
The Tar Heels are getting it done on offense and defense, now the key is to do it on the road. UNC is 0-2 in road games this year, but it has scored 45 or more points in back-to-back games for the first time since 1993. UNC has the No. 9 scoring offense in the country, and it will be a handful for Miami's struggling defense, which is last in the ACC in scoring defense at 35 points per game. The Canes won't be able to stop running back
Giovani Bernard
and quarterback
Bryn Renner
.
Maryland 21, Virginia 17:
The Hoos have had too much inconsistency from quarterbacks
Phillip Sims
and
Michael Rocco
, and Maryland's defense has quietly become one of the best in the ACC. Virginia has won four of the past five in the series, but Maryland's defense is holding opponents to just 2.3 yards per carry. The Terps rank seventh nationally in rushing and total defense.
Virginia Tech 28, Duke 21:
Make no mistake: Duke can win this game. It would be surprising, though, if Virginia Tech didn't play better at home. The Hokies are always tough to beat in Lane Stadium, no matter what the circumstances, and at this point, their pride is on the line, not to mention bowl eligibility. This one is going to come down to the fourth quarter, but in the end, quarterback
Logan Thomas
will come through in the clutch.
October, 1, 2012
10/01/12
9:00
AM ET
Hello, Duke ...
1. Florida State (5-0, 2-0 ACC) –
There wasn't anything spectacular about the Noles' 30-17 road win over South Florida, but it didn't matter. FSU won its first road game, avoided a letdown and is still undefeated. FSU will have a difficult trip to NC State this weekend, but likely got a good wake-up call from the Bulls.
2. Clemson (4-1, 1-1) –
One week after a disappointing loss to Florida State, the Tigers avoided an upset at Boston College despite a respectable performance from the Eagles' offense. Clemson quarterback
Tajh Boyd
and receiver
DeAndre Hopkins
stole the show again without
Sammy Watkins
in the lineup.
3. Miami (4-1, 3-0) –
The Hurricanes are a scrappy young team that keeps finding ways to win. They're in the midst of a three-game winning streak for the first time since 2009, and quarterback
Stephen Morris
seems like he can't miss in each of the past two games.
4. Virginia Tech (3-2, 1-0) –
Ugh. This game could have gone either way in the end, and just when it looked like the Hokies were going to win it, Cincinnati's
Munchie Legaux
threw the game-winning touchdown pass with 13 seconds remaining. The Hokies are now 0-2 against the Big East this year.
5. Duke (4-1, 1-0) –
It's time to give the Blue Devils some credit. You could even argue they deserve to be ranked above Virginia Tech at this point, but I'm still not sold on that move. Duke has a better overall record than the Hokies, and right now, the Blue Devils have got a more potent offense. Duke is off to its best start since 1994, the last time the program went to a bowl game.
6. NC State (3-2, 0-1) –
The Pack had 14 penalties for 100 yards. Six turnovers. Repeat: Six turnovers. Did Miami win, or was NC State its toughest opponent?
7. Wake Forest (3-2, 1-2) –
The Deacs' 12-game winning streak over Duke came to an end, and star receiver
Michael Campanaro
injured his hand in the process. It was a rough weekend for Wake Forest, which is going to need its best effort the rest of the season to get to a bowl game.
8. North Carolina (3-2, 0-1) –
If the Tar Heels weren't playing a winless Idaho team that is statistically one of the worst programs in the country, their 66-0 win might mean something. Instead, it was more of a glorified practice before the heart of their league schedule begins. We still don't know if this team is the one we saw in the first half against Louisville (not good) or the second half (much better).
9. Georgia Tech (2-3, 1-2) –
The loss to Middle Tennessee was like a black X on Paul Johnson's résumé. For the second straight weekend, the Jackets lost at home. They looked unenthused. There was no sense of urgency. And the defense was an open door. Johnson has to make the bleeding stop quickly before this season becomes a disaster.
10. Virginia (2-3, 0-1) –
The Hoos' loss to Louisiana Tech wasn't entirely unexpected considering La Tech had gone on the road and beaten Illinois the previous week and was scoring more than 50 points per game. It still wasn't good, though, for UVa or for the ACC. Virginia needs to put an end to the turnovers and figure out if it's sticking with
Michael Rocco
at quarterback.
11. Maryland (2-2, 0-0) –
The Terps had a bye week but will host Wake Forest this weekend in their first league game of the season. The Deacs are coming off a tough, emotional home loss to Duke and now have to travel to face a team that had a week to prepare.
12. Boston College (1-3, 0-2) –
The bend-but-don't-break defensive strategy broke against Clemson's uber-talented offense, and the Eagles have now lost back-to-back games. It's not going to get any easier, as the next three games are on the road.
August, 31, 2012
8/31/12
2:00
PM ET
Finally! No more waiting. The 2012 season is officially here in the ACC, as NC State will kick off against Tennessee tonight in the Chick-fil-A Kickoff in Atlanta.
This series
ends a countdown of the top 25 reasons to be excited about ACC football this year. There is no bigger reason than …

No. 1: Quarterbacks.
What was once a weakness throughout the ACC should be a position of strength in 2012. There are legitimate Heisman contenders, and players who could collectively or individually raise the profile of the entire league. For the first time in conference history, the ACC had five quarterbacks top 3,000 passing yards in 2011, and all five return -- also a new high for the conference. A total of six quarterbacks return who have thrown for 3,000 or more yards in a season as Duke's
Sean Renfree
threw for 3,131 yards as a sophomore in 2010.
Only Miami, which loses starter Jacory Harris, and Maryland, which lost
C.J. Brown
to a season-ending injury in pre-season camp, does not return its starting signal-caller. But the Hurricanes will start junior
Stephen Morris
(Miami) who has started five games (4 in 2010, one in 2011).
Clemson quarterback
Tajh Boyd
played his way into the Heisman conversation a year ago after the Tigers' 8-0 start, and he could do it again, but so could Virginia Tech's
Logan Thomas
and Florida State's
EJ Manuel
. Don't forget about the Tobacco Road duo of UNC starter
Bryn Renner
and NC State's
Mike Glennon
. Wake's
Tanner Price
, Virginia's
Michael Rocco
, BC's Chase Rettig and Georgia Tech's
Tevin Washington
also all return. There is a wealth of talent at the position and it should be one of the best seasons in recent memory for quarterback play in the ACC.
No. 2:
A national title contender
No. 3
The Discover Orange Bowl
No. 4:
Labor Day
No. 5:
The winningest active coach in college football
No. 6
: The ACC championship game
No. 7
: Florida State's defensive line
No. 8
: Thursday night games
No. 9
: Atlanta
No. 10
: NC State's secondary
No. 11
: SEC rivalry games
No. 12
: Virginia Tech's 10-game winning streak
No. 13
: Florida State vs. Clemson
No. 14
: North Carolina vs. NC State
No. 15
: Unofficial state championships
No. 16
: Talented true freshmen
No. 17
: Unpredictability
No. 18
: ACC vs. Notre Dame
No. 19
: Clemson's offensive playmakers
No. 20
: The ACC's record chasers
No. 21
: Larry Fedora
No. 22
: One of the nation's top rushing offenses
No. 23
: The last season before expansion
No. 24
: Brent Venables
No. 25
: A fresh start at Maryland
August, 30, 2012
8/30/12
9:00
AM ET
Ah, it's that time of year again. The time when you guys get to point and laugh when I am wrong, when you're shocked into silence when I'm right, and when 12 fan bases are convinced I always pick against their team.
I heart predictions, don't you?
As usual, my goal this year is to beat the guys over there in SEC land with a better picks percentage, but they've got a real tough job picking LSU and Alabama every week. Over here in ACC land, we've got a real conference race going on, and the unpredictability is a fabulous excuse for erroneous picks. Speaking of the SEC, I'm going to go out on a limb -- walk a plank, actually -- and say the ACC leaves Atlanta 2-0.
Undefeated … you know, just like my picks? Here we go, 2012 …
Miami 17, Boston College 14:
The Eagles will give it everything they've got in a hard-fought game, but they'll come up short late in the fourth quarter. Miami's speed will be too much for a defense that will sorely miss tackling machine Luke Kuechly.
Clemson 34, Auburn 31:
This has a high-scoring, last-play-of-the-game feel to it, and I'm willing to give Clemson the benefit of the doubt. Losing
Sammy Watkins
is going to hurt, yes, but the Tigers have enough surrounding talent that they'll be able to compensate for his loss with a group effort.
Florida State 66, Murray State 10:
Somehow I get the feeling Jimbo Fisher won't call off the dogs in this one until later in the game. This will be a good chance for the offensive line to get the kinks and jitters out, and for the Seminoles to adjust to life without
Greg Reid
.
Maryland 24, William & Mary 14:
Even with true freshman
Perry Hills
making his debut at quarterback, this is a home game the Terps should still win. It might get uncomfortably close at times, but Maryland has been embarrassed enough already not to let it happen again in the opener.
NC State 28, Tennessee 24:
The Volunteers desperately need this victory, and it should be another down-to-the-wire game, but the Wolfpack will have the edge up front, and quarterback
Mike Glennon
will make enough plays down the stretch to be the difference.
Wake Forest 24, Liberty 10:
This should be a ho-hum game for the Deacs, as long as they're not looking ahead to next week's game against North Carolina.
Florida International 34, Duke 31:
The Blue Devils beat FIU on the road last year, but Duke's injuries have accumulated over the past two months and will be a factor on both sides of the ball.
Virginia Tech 31, Georgia Tech 20:
Did I mention this game is in Lane Stadium? Virginia Tech will come out fired up by its home-field advantage and force a fumble or a turnover that gives the Hokies the momentum early. The Hokies have questions on offense, yes, but it's going to be Bud Foster's defense that is the difference in this game.
North Carolina 38, Elon 10:
Larry Fedora's offense will work just fine in Week 1, but don't expect to see the full repertoire against Elon. This will be a chance for the Tar Heels to work on the execution of new schemes on both offense and defense at game speed, and give them some game film to make corrections and adjustments before the Wake Forest game.
Virginia 24, Richmond 21:
The Spiders, coached by quarterback
Michael Rocco
's uncle, will keep things interesting against the Hoos. The familiarity between the coaching staffs will make this game better than it should be, as UVa coach Mike London was formerly the Richmond coach, and it is his alma mater.
Goodell Has Sit-Down With Jameis Winston
ACC SCOREBOARD
Thursday, 9/3
Saturday, 9/5
Monday, 9/7