Florida State Seminoles:

Markuss Eligwe
June, 18, 2013
6/18/13
9:00
AM ET
Throughout the summer, NoleNation will be counting down the 40 players we're projecting to make the biggest impact on the Seminoles' 2013 season, taking into consideration everything from experience to potential to their spot on the current depth chart.
Next up:
No. 34 Reggie Northrup
Position/class:
Linebacker/sophomore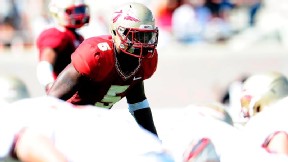 Stacy Revere/Getty ImagesReggie Northrup showed plenty of potential as a freshman.
What he's done:
Northrup's freshman season offered only a brief glimpse at his potential, but it nevertheless made an impact. He had just 10 tackles, but in a rare bit of extended playing time in the second half of FSU's win over Boston College, Northrup put on a clinic. In only a handful of series, Northrup tallied six tackles, including four solo tackles and one for a loss. The performance largely came against Boston College's second team, and the Seminoles were well ahead, but Northrup's prolific outing turned heads and moved him to the top of a deep well of inexperienced linebackers.
Where he's at:
Northrup saw plenty of action last season on special teams and garnered praise as one of FSU's hardest hitters, but he's in a position in 2013 to expand on that role by refining his skill set. Even during his brilliant outing against Boston College, Northrup was hardly putting on a clinic for well-coached technique. Instead, he's spent this spring developing a better understanding of his role rather than relying on his immense natural ability. He'll open fall camp as the No. 2 weakside linebacker, and he'll get the chance to learn behind a potential NFL first-rounder in
Christian Jones
.
What's to come:
As mentioned in discussions of
Terrance Smith
,
Freddie Stevenson
and
Markuss Eligwe
, there are plenty of young, inexperienced talent at linebacker for FSU, but there are relatively few snaps to be shared by them in 2013. Jones and
Telvin Smith
are the veterans, and they'll be on the field a lot. The strongside linebacker position faces an increasingly diminished role in FSU's defense. That means as many as nine reserve linebackers will be fighting for what's left. Northrup isn't guaranteed a lion's share of those scraps, but for now he appears to be in the best position to win them. And if he can add some more substantive experience in 2013, he could be amassing games similar to that Boston College performance with regularity in 2014.
June, 6, 2013
6/06/13
9:00
AM ET
TALLAHASSEE, Fla. -- It's Rankings Week at NoleNation, and each day we'll be counting down the top teams, players and matchups of the 2013 season. Next up, a look at FSU's top 10 freshmen likely to make a major impact.
1. QB Jameis Winston:
No surprise here, but Winston could end up being the single most significant piece to FSU's puzzle in 2013.
[+] Enlarge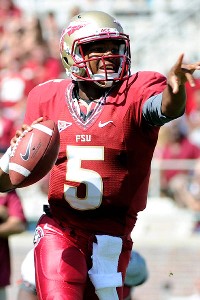 Melina Vastola/USA TODAY SportsQB Jameis Winston could be the significant piece to FSU's puzzle in 2013.
While he still hasn't officially won the job of starting quarterback, that seems a foregone conclusion at this point. The bigger question is how he'll handle the role. His first test won't be easy -- a road date at Pitt -- but he'll have some time to get his feet wet before the Miami and Clemson games that are likely to dictate the Seminoles' place in the ACC race. Will Winston be the potential Heisman candidate so many have predicted, or will he go through the typical freshman struggles? Time will tell, but Florida State has a lot riding on the hope that he'll pick things up quickly.
September, 13, 2012
9/13/12
7:33
PM ET
TALLAHASSEE, Fla. -- Jimbo Fisher expects to have
Menelik Watson
and
Xavier Rhodes
ready for Saturday's game against Wake Forest after the pair of starters missed practice time this week.
[+] Enlarge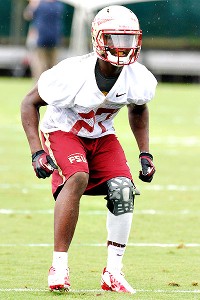 AP Photo/Don Juan MooreFlorida State defensive back Xavier Rhodes is expected to play on Saturday.
Watson injured an ankle during Tuesday's practice and did not work out with the team Wednesday. He was limited during Thursday's drills, but he appeared to be moving well and Fisher doesn't anticipate a need to sit the right tackle Saturday.
"He was out there moving around, took a rep or two, and the ankle is good," Fisher said. "We're expecting him to play."
Fellow junior college transfer
Daniel Glauser
took the bulk of the reps with the first-team offensive line, and Fisher said he wouldn't be concerned about using the backup right tackle against Wake Forest if necessary.
Rhodes missed Tuesday's practice with flu symptoms, but he was back on the field Thursday, laughing and joking with teammates during drills and appearing to be past the illness.
In fact, Fisher said Rhodes has been remarkably impressive this week.
"Xavier has looked as good as he's every looked the last couple days," Fisher said.
The only new addition to Florida State's injury report is linebacker
Markuss Eligwe
, who will not be available this week with a hand injury. Eligwe was already slated to redshirt this season.
Going for Goldman:
Ronald Darby
's quick start in the secondary and the will-they-or-won't-they decisions on redshirts for
Mario Edwards Jr.
and
Chris Casher
have garnered the most attention among freshmen performances thus far, but defensive tackle
Eddie Goldman
continues to make progress, too.
September, 3, 2012
9/03/12
2:16
PM ET
Mario Edwards Jr.
might have been the No. 1 recruit in the nation a year ago, but Jimbo Fisher said the freshman is No. 5 on Florida State's defensive end depth chart, which means he won't get any playing time in 2012.
Fisher said the lack of available reps behind incumbents
Bjoern Werner
,
Brandon Jenkins
and
Cornellius Carradine
led the coaching staff to decide to redshirt Edwards despite a strong performance during fall camp.
[+] Enlarge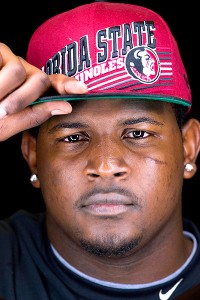 Kevin Jairaj/US PresswireMario Edwards Jr., a top recruit in the 2012 class, will redshirt as a freshman at Florida State.
"You've got three guys that are possible first- or second-round draft pick guys," Fisher said of his depth chart at the position. "To waste a year on a guy for five, six, seven plays a game makes no sense. We can play him five, six or seven plays, but how much do you gain? There's a lot more to lose in our opinion."
Edwards is one of 10 FSU freshmen expected to redshirt this season, but he was the only one not dressed for Florida State's opener against Murray State on Saturday.
Fisher said it was Edwards' decision not to dress, and that each redshirt player is given the choice before each game. Fisher said players might opt not to dress based on family members attending the game or other issues, but he did not offer any indication as to why Edwards, who along with all FSU freshmen is not made available to the media, chose against dressing for the first game of his college career.
"You don't have to dress. We'll have guys that will and guys that won't," Fisher said. "There was a situation last week, and [Edwards] will probably dress this week. But I give every guy their choice on that."
Edwards is the son of former FSU cornerback Mario Edwards Sr., who currently works for the university as a player development coordinator -- an administrative position that works closely with the coaching staff.
While the redshirt for Edwards comes as somewhat of a surprise given the defensive end's hype on the recruiting circuit, Fisher said the decision isn't indicative of any shortcomings Edwards displayed on the field.
"I'm not one bit disappointed," Fisher said. "What we saw on film and what we thought he was, we think he's exactly that right now. He could be even more. He's actually stronger and more powerful than I even realized."
Still, Edwards checked in at nearly 300 pounds upon arrival this summer, and Fisher said he hopes the redshirt season will provide the freshman with an opportunity to shed a few pounds while getting a better grasp on the playbook.
Fisher said Edwards was not upset by the decision, saying the two "had a good conversation" about the redshirt.
In addition to Edwards, Fisher said fellow defensive end
Chris Casher
, defensive tackle
Justin Shanks
, defensive back
Colin Blake
, linebacker
Markuss Eligwe
and receiver
Marvin Bracy
are all expected to redshirt as well.
Bracy has been limited since the spring with a nagging hamstring injury, and Fisher said there's still a chance he could work his way into a smaller role on offense this year, assuming the injury is fully healed now.
"If his hamstring will hold up, we may try to give him four or five things -- the return game and teach him four or five things on offense to get real good at and judge that as we go," Fisher said. "But we've got to do that hopefully this week. I'm anxious to see where he's at -- full, full speed."
Quarterbacks
Jameis Winston
and
Sean Maguire
and kicker
Roberto Aguayo
will also redshirt, along with freshman running back
Mario Pender
, who will miss the season with a groin injury, and senior defensive tackle
Jacobbi McDaniel
, who is still recovering from an ankle injury suffered last season.
September, 2, 2012
9/02/12
12:09
PM ET
Florida State opened its season with a 69-3 win over Murray State in which the running game led a huge offensive performance, the defense looked as dominant as ever and the special teams provided the first touchdown of the game for the Seminoles.
But that doesn't mean it was a flawless performance for FSU all the way around, so we dug into the Week 1 numbers and handed out our position-by-position grades.
QUARTERBACKS
The most noteworthy moment of Saturday's game for
EJ Manuel
was probably his first-quarter interception, which snapped a streak of 128 straight throws without a pick. Of course, the INT was hardly Manuel's fault. The pass was delivered with precision, but
Kenny Shaw
bobbled it into a Murray State defender's hands. Shaw's blunder certainly kept Manuel's nuambers more pedestrian -- 16-of-22 for 188 yards -- but he also hauled in Manuel's lone touchdown throw of the game.
Given the questions surrounding the offensive line and the running game, it's not surprising that Manuel wasn't asked to do a lot as Jimbo Fisher tested his ground game often. But it's also worth noting that eight of the first nine offensive plays of the game for FSU were passing plays -- the sum total of which garnered the Seminoles 47 yards (5.9 yards per play, compared to FSU's game average of 7.9 yards per play). Manuel was also just 1-of-4 for 2 yards on third-down passes, and he converted just one of five third downs he faced in the game -- the lone conversion coming on a QB run.
With FSU rolling in the second half, Manuel didn't stick around too long.
Clint Trickett
entered in the third quarter and looked sharp, completing 8-of-11 passes for 117 yards, including a beautiful pitch-and-catch with Shaw for 40 yards. Trickett's highlight though? That would probably be his shoving match with a Murray State defender after
Debrale Smiley
's touchdown in the fourth quarter. Trickett boasted about bulking up in the offseason, noting that he was lifting weights with the linebackers these days, so he must have been eager to show off his new found moxie.
Jacob Coker
also got in his first career game, too, completing 1-of-2 passes for 16 yards.
Overall, the FSU QBs were 25-of-35 for 321 yards in the game.
GRADE:
B
September, 2, 2012
9/02/12
8:30
AM ET
Florida State began the 2012 season Saturday with a monster 69-3 win over Murray State, with
Lonnie Pryor
racking up three touchdowns,
Rashad Greene
returning the first post-
Greg Reid
punt for a score, and
Bjoern Werner
and the defense absolutely dominating the overmatched Racers.
But whenever 69 points is scored, there are bound to be a few storylines that get overlooked. So with that in mind, here are five newsworthy items and behind-the-scenes tidbits from Saturday that you might have missed.
1. Wilder's big night
After the game, James Wilder Jr. was still carrying around the game ball, promising he'd sleep with it Saturday night.
"I'm not letting it go tonight," Wilder said after the game. "This is going to be my girlfriend tonight."
Wilder said he already had purchased a glass trophy case before the season, waiting to get his first 100-yard game so he'd have a ball to put in it.
Turns out, it didn't take long.
Wilder racked up 106 yards and two touchdowns on 12 carries -- and six more on one catch -- to pace the Seminoles' running game.
What's more, Wilder did it while checking in at a hefty 231 pounds.
Wilder said he usually weighs in at 225 before a game, and his goal had been 222. But Wilder had trouble shedding pounds in recent weeks because he was held out of a number of workouts during practice.
Jimbo Fisher had said they were being cautious with Wilder because of some shoulder soreness suffered during FSU's first full scrimmage. Turns out, Wilder said, it was actually a hip injury that had slowed him down.
Of course, he didn't look too slow Saturday.
But while Wilder's performance certainly was a good one, it's also worth noting he didn't get his first carry until the third quarter, when Murray State's defense was already gasping for breath. In fact, 182 of Wilder's 266 career rushing yards have come in the second half of games against FCS teams.
That certainly doesn't mean Wilder won't be impressive this year. After all, he said, he's molded his game after some great runners -- who just so happen to have been hefty for running backs, too.
"You don't see a lot of backs that big anymore," Wilder said. "But I always watched backs that big -- (Walter) Payton, my father, Earl Campbell. I just feel like, size doesn't really matter. I have the drive to get to the end zone, and that's what's going to get it done."
Granted, all three of those runners had retired before Wilder was born, but after averaging nearly 9 yards a carry, who's going to argue?
August, 26, 2012
8/26/12
11:29
AM ET
Every Sunday, NoleNation will take a look back at the week that was around Florida State, recapping the top stories and shedding a little light on a few that might have fallen between the cracks.
Florida State held its second and final scrimmage of the fall Thursday, and after Jimbo Fisher addressed the team at its conclusion, the mood among the players was clearly different.
"It's game week," quarterback
EJ Manuel
said.
In six days, Florida State's season will be under way, and Manuel and Co. are eager to start playing some real football.
But with the anticipation high and expectations even higher, there are still some questions surrounding this FSU team that Fisher couldn't find answers to during practice, questions that can only be answered through the grind of a full season.
[+] Enlarge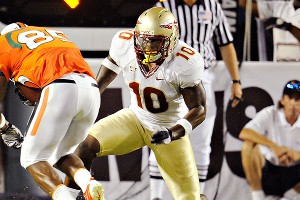 Richard C. Lewis/Icon SMINick Moody's adjustment to strongside linebacker is one of the questions facing FSU's LB corps.
Here are five key issues that still loom over the Seminoles as they get set for Murray State.
1. The battle at right tackle
To hear Fisher tell it, it really doesn't matter which of his two junior college transfers --
Daniel Glauser
or
Menelik Watson
-- wins the starting job here, as both have looked solid during fall practice. But it was also just a year ago that another juco transfer had a supposedly strong fall and opened the season in the starting lineup, and
Jacob Fahrenkrug
's 2011 didn't exactly go as planned. There's a big difference between fall practice and Saturdays in the ACC. The bottom line is that FSU has added talent to the offensive line, but last year's struggles were vast, and there's still very little experience on this year's unit. Glauser and Watson have potential, but the success of the line will largely be defined by how much they turn that potential into production.
2. The experience at punter
As is usually the case during fall practice, the specialists get relatively little fanfare and relatively limited time to perfect their craft in a game-like atmosphere. That's of particular concern when you're tasked with replacing an All-American, as freshman
Cason Beatty
will be this season. Given the level of talent FSU has on defense, it's imperative that Beatty help the Seminoles win key field-position battles and give the defense a chance to shine. If he can't, it will be interesting to see if Fisher gets a bit less conservative on fourth downs.
3. The health at running back
Chris Thompson
and
Devonta Freeman
have both had impressive returns from significant injuries, so there's reason for optimism that last year's running game, which finished 10th in the ACC, can improve. It still sounds as if FSU will go with a running back-by-committee approach in the early going, with James Wilder getting reps in short-yardage and goal-line situations, too. The rotation should also help to keep the backs healthy and fresh and seems necessary since there aren't many options further down the depth chart.
4. The depth at linebacker
Christian Jones
says he loves his new role at weakside linebacker.
Nick Moody
says he's made a smooth transition from safety to the strong side.
Vince Williams
says he and
Telvin Smith
will continue to split time in the middle but insists both players have gotten better. If they're right, this could be a solid unit. If they're wrong, however, it could get ugly. Of every name on FSU's depth chart at linebacker, only Williams and Smith have taken significant reps at their current position, and true freshmen
Reggie Northrup
and Markuss Eligwe could be counted on to play a bigger role than coaches would like if there are any injury issues among the starters. It's a house of cards at linebacker right now, and defensive coordinator Mark Stoops needs to keep his fingers crossed that it doesn't all come tumbling down.
5. The questions at corner
Greg Reid
's departure was probably the biggest story entering fall camp, but
Nick Waisome
and
Ronald Darby
appear to have soothed the bulk of the concerns. Both players have performed well throughout practice, and while neither has officially earned starting role yet, Fisher seems to be pleased with his options. Still, Waisome has little more than a handful of game reps under his belt, and Darby has been on campus for just two months. Will they really be ready to take over for one of FSU's most experienced veterans at a key position on the field?
"They don't have a choice," Manuel said. "Those guys have to step up and we expect them to do that. They understand the situation and I think they're excited about it."
August, 25, 2012
8/25/12
11:15
AM ET
Florida State is a week away from its first game, and while the veterans are counting down the minutes until there is real football to be played, it's getting a bit anxious for the freshmen.

"There are a lot of these young guys that still have a lot of work to do," Jimbo Fisher said. "They need to come on, because we're going to need them. A lot of them are doing good, but we've got to get them game ready."

Unlike last season, when FSU had freshmen in a number of prominent roles -- including four starters on the offensive line -- that need isn't quite so great this season. The advantage of Florida State's depth is that it isn't reliant on inexperienced players at most key positions.

That means Fisher can be somewhat cautious with which freshmen he puts on the field, and that's a decision he'll need to make soon.

"I think quite a few of them will get in there," Fisher said. "Some might be ready, but have a good quality number of guys in front of them, and you want to be careful not to waste a year on 50 plays. We've got to evaluate that, and in the next day or two, we'll make some decisions."

A year ago, 13 of Florida State's 22 true freshmen saw action, including eight as occasional starters. This year, only one freshman, Ronald Darby, appears to be in competition for a starting job, and the overall need for contributors is less. But a look at each player underscores the idea that there aren't many who can't contribute.

Here's our breakdown of which freshman are likely to see action, and which ones could be saddled with a redshirt.


July, 9, 2012
7/09/12
9:01
AM ET
During the final 10 weeks before the season kicks off, NoleNation will march through the depth chart to analyze Florida State's top 50 contributors for the 2012 season. From Austin Barron to Vince Williams, we'll review each player's career, evaluate his role in 2012 and project what might be in store down the road.
[+] Enlarge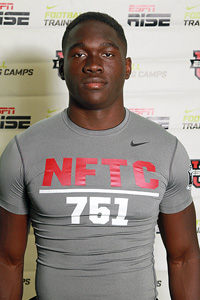 Tom Hauck for ESPN.comFreshman LB Markuss Eligwe figures to earn a long look from FSU coaches in preseason camp.
Markuss Eligwe
Linebacker, Freshman, 6-foot-3, 225 pounds
Looking back:
Markuss Eligwe
played in a 3-4 system at Stone Mountain (Ga.) High School, and he showed the size and athleticism to handle both the inside and outside linebacker spots well. A four-star recruit, Eligwe was wooed late in the process by Cal and Georgia, but landed with Florida State a few days after National Signing Day.
Right now:
Eligwe has good tackling skills in the open field with an innate ability to find the football and deliver a blow. At the very least, that should earn him snaps on special teams this season, but it's also distinctly possible he'll work his way into the mix at linebacker, too. While the front four and secondary appear solid, there's some room for playing time among the linebackers -- and Eligwe's skill set will earn him a long look from the coaching staff during camp.
To continue reading this article you must be an Insider
Goodell Has Sit-Down With Jameis Winston
ACC SCOREBOARD
Thursday, 9/3
Saturday, 9/5
Monday, 9/7