Florida State Seminoles:

Marcus Mariota
May, 13, 2014
5/13/14
5:00
AM ET
1. The disparity of opinion regarding the linemen on the consensus All-America team and what NFL teams thought of them is large. Of the eight offensive and defensive linemen from the All-America team, five were drafted in the fourth round or later. Meanwhile, the two receivers and four defensive backs on the All-American team went in the first 41 picks. It could be that different offenses in colleges call for different skills in line play. But the ability to run and move in space, on offense and defense, is valuable in any scheme.
2. The two best quarterbacks in college football,
Jameis Winston
of Florida State and
Marcus Mariota
of Oregon, had best stay healthy. Winston's backup,
Jacob Coker
, will play at Alabama. Mariota's backup,
Jake Rodrigues
, announced Monday
that he will transfer
. Mariota got hurt last season, and Winston's off-field problems are well-documented. And yet the one-play-away mantra of coaches that applies to every other position doesn't apply at quarterback. What's different? The demands of the position or the egos of the guys playing it?
3. Now that the ACC athletic directors have voted in favor of
keeping the status quo of eight conference games
, the circle is complete. The ACC and SEC point to each other and say, but we're playing them! Yes, four schools are. And Notre Dame will be on five ACC schedules a year. Nine ACC games is doable. Asking fans to pay retail prices for bad opponents -– and with four non-ACC games, there are plenty –- is not right.
October, 7, 2013
10/07/13
10:00
AM ET
TALLAHASSEE, Fla. -- The enthusiasm eventually overwhelms even the most strident purveyors of moderation, which is why it was hard for even Jimbo Fisher to quash a smile after Saturday's 63-0 win against Maryland in which his quarterback somehow managed to astonish a fan base that has come to expect almost anything from him.
There were the five touchdown passes, a career high.
There were the 393 yards, also a career best.
And there was the escape act, as
Jameis Winston
slipped through the arms of a would-be tackler, rolled out of the pocket and
added more salt in an already gaping wound
for the overwhelmed Terrapins.
"It was a tremendous play," Fisher said. "It really was."
Don't expect much more exuberance than that from Fisher, who has worked as hard as anyone to downplay the excitement surrounding Winston since the buzz first began to build this spring, but the seemingly endless series of highlights the redshirt freshman has provided speaks for itself.
In ESPN's latest
adjusted QBR rankings
, Winston ranks sixth, behind a handful of top Heisman contenders, and a closer examination only underscores how good he's been. In games when FSU has trailed, Winston's QBR is 94.5, second best in the nation behind Georgia's Aaron Murray. On third down, Winston's QBR is 99.1, behind Bryce Petty, Johnny Manziel and Marcus Mariota. On passing plays this year, Winston's 97.3 QBR trails only Petty.
Winston has compiled those numbers with remarkable consistency, too. In each of his first five starts, Winston has finished with a QBR of at least 75 (on a scale to 100). From 2008 to 2012, only three other quarterbacks did that in their first five games of a season, according to ESPN Stats and Info, and all three -- Colin Kaepernick, Andrew Luck and Russell Wilson -- are starting in the NFL.
And then, of course, there's the comparison fans have wanted to make since Winston starred in Florida State's spring game. If a Heisman is in Winston's future, it's largely because Manziel blazed that path as a freshman just a year ago.
So how does Winston stack up to Manziel's first five games from 2012?
(* Manziel had 495 rushing yards in his first five games. Winston has just 135.)
The numbers are close enough that even Fisher can't deny that the Heisman talk isn't so far-fetched -- and that's a statement unto itself.
"When we keep winning games," Fisher said of an appropriate time to discuss Winston's Heisman chances. "The Heisman is the team that wins the most games and the best player on that team. We have to keep having success."
Still, that's a big step from Fisher's stance on the award just a year ago.
After Florida State upended Clemson at home behind a stellar performance from EJ Manuel, the FSU QB vaulted to the top of the Heisman predictions. Fisher was quick to downplay the buzz. He compared Manuel to a hunting dog, and he said the Heisman was for show dogs.
In that win over Clemson, Manuel threw for 380 and two touchdowns. Winston has topped 300 yards and thrown at least four touchdowns in all three of the ACC games he's played so far.
Of course, Manuel's numbers -- and FSU's record -- didn't keep him in contention the rest of last season, and Manziel's strong start proved to be just the beginning. Manziel's final eight games of 2012 were staggering: 67 percent completions, 15 passing TDs and 14 more on the ground, 915 rushing yards, and six games with an adjusted QBR better than 90.
The question now, with No. 3 Clemson looming and expectations rising with every dazzling performance, is how Winston will finish.
Matching Manziel won't be easy, but it's also possible Winston is only getting better.
"With the team I have, it's always been easy," Winston said of his strong start. "It's probably slowing down a little bit more, but those guys around me -- I have so many weapons, I think it's always been looking like that out there."
September, 10, 2013
9/10/13
2:00
PM ET
TALLAHASSEE, Fla. -- From the time he left the stadium in Pittsburgh until Florida State's team bus reached the plane that would shuttle the Seminoles back home,
Jameis Winston
's phone was glued to his ear. Everyone wanted a piece of him in the aftermath of his remarkable debut performance, and Winston soaked up the attention.
But if there was any doubt that the sudden burst of national fame was going to change Winston, a brief moment of eavesdropping on his conversations would've alleviated any concerns.
"He was joking around,"
Kenny Shaw
said. "He's still the same."
[+] Enlarge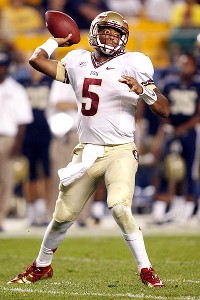 Charles LeClaire/USA TODAY SportsFSU QB Jameis Winston might have done the impossible -- exceeded the already great expectations.
And yet, so much surrounding Winston has changed.
It was
Lamarcus Joyner
who likely summed up Winston's debut best. For months, the hype surrounding Winston grew with exponential force, and when the moment of truth finally arrived, the redshirt freshman quarterback delivered a near flawless performance. It was, as Joyner said, a prophecy fulfilled.
Winston is no longer the redshirt freshman who has never thrown a pass. But if all the expectations were met, and the hype was all proven valid after just one game, what comes next?
"It's a long season," Joyner said, "and he's got to keep on fulfilling the prophecy."
That's a tall order for anyone, given Winston's remarkable debut.
Winston threw 11 straight completions to start the game, and only one of his 27 pass attempts hit the ground. He threw four touchdown passes and ran for another. He turned broken plays into big plays, adjusted on the fly like a savvy veteran. Even after breaking down the film days after the postgame hysteria had faded, Jimbo Fisher couldn't find a significant chink in Winston's armor.
"There are some things to adjust and tweak," Fisher said, "but nothing that was critical."
So that's the standard for Winston as he heads into his second career start, Florida State's home opener against Nevada on Saturday. In Week 1, he was just short of perfect. In Week 2, anything less would feel like a disappointment.
Given the way Fisher worked to temper expectations throughout the offseason, it might seem reasonable he'd be the first to eject the highlight film of Winston's debut and call for a fresh start Saturday.
And yet, if Fisher is supposed to be the voice of reason, he's not offering much of an argument on the side of reserved judgement. Even Fisher admits Winston might just be a special case.
"Everybody's going to stumble," Fisher began to explain after a practice last week. Then he caught himself, pivoted, and suggested the possibility every Florida State fan has been eager to proclaim since Winston's sterling debut.
"You think people are going to stumble, but maybe not," he said. "Maybe they play well all the time, keep things in perspective, remember why they're doing things and stay true to the process."
In fact, Fisher said he has urged Winston not to put the Pittsburgh game behind him, but rather to study it and relive it. The circumstances on the field may change, he said, but the preparation that precedes a game like that shouldn't.
Of course, that's also where potential stumbling blocks are so easy to find. In the wake of his coming-out party on national television, Winston became an instant star -- not just around Tallahassee, but throughout the college football landscape. Suddenly he wasn't just a dark-horse Heisman candidate, but a legitimate contender. Suddenly he wasn't simply a rising star in the college ranks, but as ESPN's Mel Kiper Jr. wrote last week, Winston
already seemed a safe bet as a future first-round NFL draft pick
. And after all that attention, reliving the same routine, locking in on "the process," as Fisher said, becomes increasingly tough.
Except, again, Winston might be that unique case, a player impervious to the spotlight.
"He's been getting attention all his life -- since high school, maybe little league," Joyner said. "Some guys try to be politically correct, try to change things, do too much. Jameis is Jameis. He understands that's what comes with it. The way he's handled it, I'm very impressed."
Winston's QBR against Pittsburgh ranked higher than any other debut against an AQ team in 10 years, but of the next three players on that list, two went on to become first-round NFL picks. Only three other quarterbacks in the past decade had a QBR better than Winston's, regardless of the competition. One of those, Sam Bradford, won a Heisman and was drafted first overall in 2010. Another,
Marcus Mariota
, is a leading candidate for the Heisman this year. It's an elite group, and yet none of them managed a follow-up performance that approached their impressive debuts.
But maybe, just maybe, Winston is different.
"He's going to do even better than he did against Nevada this week," said tight end
Nick O'Leary
. "Hopefully he throws no incompletions this game."
Goodell Has Sit-Down With Jameis Winston
ACC SCOREBOARD
Thursday, 9/3
Saturday, 9/5
Monday, 9/7