Florida State Seminoles:

Kevin Olsen
June, 30, 2014
6/30/14
12:00
PM ET
Miami quarterback
Ryan Williams
has tried to channel his inner Adrian Peterson during his rehab from a torn ACL,
hoping to to start the season opener
against Louisville on Sept. 1 -- less than five months after surgery.
Quite frankly, that would give Williams an even more miraculous comeback than what we saw out of Peterson a year ago in the NFL. And it would give Miami more buzz as a legitimate candidate to win the Coastal Division.
Because let's be honest. Part of the reason Duke, North Carolina and even Virginia Tech are seen as preseason Coastal favorites is because of quarterback uncertainty at Miami. With Williams out of the picture, the Hurricanes will have to rely on either 1)
Kevin Olsen
, a quarterback who has never started a college game
and has shown maturity issues
; or 2)
Jake Heaps
, a transfer quarterback who has been a flop at two previous stops. Add the quarterback uneasiness with continuing questions about the defense, and expectations for Miami run all over the map.
With Williams, though, Miami at least has a stable presence. While it is true he has not started a game since he was a freshman at Memphis in 2010, he has a clear, firm grasp on the offense and coaches have extensively praised the maturity he brings behind center.
There was never any doubt that Williams would return at some point this season. But if he can make it all the way back for the opener, then look out.
Now on to more links:
June, 17, 2014
6/17/14
4:00
PM ET
In a
series last week
, the ACC blog broke down some of the early preseason candidates for several of the conference's top postseason awards. Colleague Matt Fortuna gave a short brief on each of the candidates, listed a few honorable mentions and a SportsNation poll asked readers to vote on which candidate, if any, would win.
We asked for your prediction on who would be the conference offensive and defensive players of the year, offensive and defensive rookies of the year and coach of the year. With just about a week for fans to vote, here are the results from the polls.
ACC offensive player of the year
Results:
QB
Jameis Winston
, Florida State (52 percent), RB
Duke Johnson
, Miami (19), Other (14), WR
DeVante Parker
, Louisville (12), WR
Jamison Crowder
, Duke (3).
Analysis:
Winston is the overwhelming favorite in the poll, and his 33-percentage point lead over second-place Johnson is the widest gap among the five SportsNation polls. That is hardly a surprise, considering the Heisman winner returns and has yet to lose a game as a starter in his college career. Johnson is a reasonable second option, as the Miami running back will play a pivotal role for the Canes as they break in a new quarterback. If Miami can achieve double-digit wins this season, Johnson will be tough to beat.
Write-in votes:
Gauging from the comments section, it seems as if readers had Seminoles running back
Karlos Williams
in mind when voting "other" for the most part. A third-string running back last season, the former five-star recruit will start as a senior in 2014. Many FSU fans are expecting Williams to easily surpass 1,000 yards.
ACC defensive player of the year
[+] Enlarge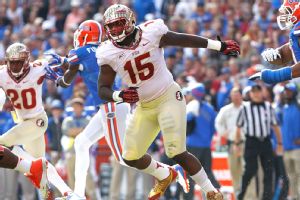 Kim Klement/USA TODAY SportsThere are big expectations for Florida State's Mario Edwards, the No. 1 recruit in the 2012 class.
Results:
DE
Mario Edwards
, Florida State (35), DE
Vic Beasley
, Clemson (34), Other (15), LB
Denzel Perryman
, Miami (13), S
Anthony Harris
, Virginia (3).
Analysis:
Edwards narrowly edged Beasley, who could have been a first-round pick in last month's NFL draft. Edwards, a junior and former No. 1 high school recruit, could be the first defensive lineman taken in next year's draft. However, Edwards' statistics could keep him from winning defensive player of the year. While he certainly could be the most dominant league defensive player, he likely won't have the same sack numbers as Beasley, who had 13 a season ago, or 2013 winner
Aaron Donald
, who registered 11 sacks and 28.5 tackles for loss as an interior lineman.
Write-in votes:
Once again, the FSU voices were heard in the comment section, offering their thoughts on why sophomore defensive back
Jalen Ramsey
is the favorite on the Seminoles' defense. Ramsey is going to fill the void in the backfield left by the departed
Lamarcus Joyner
, a Thorpe Award finalist in 2013.
ACC offensive rookie of the year
Results:
Other (31), QB
Deshaun Watson
, Clemson (26), QB
Kevin Olsen
, Miami (24), RB
Elijah Hood
, North Carolina (16), QB
Mitch Trubisky
, North Carolina (3).
Analysis:
This is definitely a difficult one to predict as there is an inherent unpredictability in the award, much more than any other postseason trophy. Other is probably the safe choice and I tend to agree with the readers. Olsen is a good pick if he is the Canes' starter for the entire season. Watson, who was injured during spring camp, was the top quarterback in the 2014 recruiting class nationally. North Carolina could not afford to miss on Hood, who enrolled early and figures to be featured extensively in the UNC offense.
Write-in votes:
With so many departures on the Clemson offense, one reader suggests redshirt freshman running back
Wayne Gallman
will win the award. He was a four-star recruit in the 2013 class.
ACC defensive rookie of the year
Results:
CB
Mackensie Alexander
, Clemson (36), DT
Keith Bryant
(33), Other (20), DT
Andrew Brown
(6), S
Quin Blanding
, Virginia (5).
Analysis:
Alexander is a smart pick for rookie of the year on defense considering the reputation he had coming to Clemson before the 2013 season. The No. 4 player nationally in the 2013 recruiting class, Alexander redshirted as a freshman. He should get extensive playing time this upcoming season, though, and he has arguably the best defensive line in the ACC in front of him, which could force rushed and errant throws in his direction that are prime for interceptions. With the loss of
Timmy Jernigan
at defensive tackle for FSU, the Noles certainly will need someone at the position to step up. It remains to be seen if Bryant will be that person, and a strong summer would definitely help his cause as the Noles open up preseason camp in a little more than a month. Both Blanding and Brown are sleepers, especially if the Cavaliers can reach bowl eligibility.
Write-in votes:
One commenter agrees with Fortuna that Florida State redshirt freshman linebacker
Matthew Thomas
could win this award. Thomas was spectacular in spring drills and could be a starter for the Noles this season.
ACC coach of the year
Results:
Jimbo Fisher, Florida State (40), Dabo Swinney, Clemson (26), Other (22), Larry Fedora, North Carolina (7), Paul Chryst, Pittsburgh (5).
Analysis:
The safe bet in the conference is to go with Fisher or Swinney. The two have Clemson and Florida State in a league of their own within the ACC. Both are coming off BCS bowl wins but have holes to fill on their 2014 teams. Swinney needs to overcome the losses of his starting quarterback, running back and star receiver. Fisher loses defensive leaders Jernigan, Joyner and Telvin Smith. I thought Fedora would receive more votes, considering the Heels are one of the favorites to win the division.
April, 29, 2014
4/29/14
11:30
AM ET
Clemson coach Dabo Swinney didn't want to do it.
When he met with former quarterback Chad Kelly on the Monday following Clemson's spring game, Swinney said his original plan was to suspend Kelly -- not dismiss him from the team entirely -- but the meeting "just didn't go well."
"There's just certain things you can't tolerate, and that's just the bottom line," Swinney said. "It wasn't a good meeting. It was a simple decision that was made. He moved on and we moved on."
So did more than half the ACC this spring, to a new era of quarterbacks.
Cole Stoudt
's tenure began swiftly at Clemson, ending what was one of the most intriguing quarterback competitions in the ACC and capping a spring that was filled with quarterback news throughout the conference.
[+] Enlarge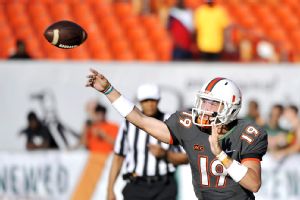 Steve Mitchell/USA TODAY SportsKevin Olsen became Miami's first-string quarterback when Ryan Williams tore his ACL.
At Miami, quarterback
Ryan Williams
tore his ACL, leaving
Kevin Olsen
the undisputed starter heading into summer camp.
At Duke, Brandon Connette announced his decision to transfer to the West Coast, leaving
Anthony Boone
in an unfamiliar role of being the lone leader.
Boston College named Florida transfer
Tyler Murphy
its starter, Syracuse reaffirmed
Terrel Hunt
as its starter,
Justin Thomas
is the main man at Georgia Tech,
Will Gardner
took the lead at Louisville and
Chad Voytik
became the obvious choice at Pitt.
What began as a position up for grabs in the ACC is largely no longer a mystery, as many schools determined their starting quarterback this spring, or at least had separation occur -- if not by performance, then by default. While most of the quarterbacks throughout the league are still unproven (six schools don't have any starting experience returning to the position, and four schools brought in transfers to help), many enter summer camp at least sure of where they stand on the depth chart.
"I had my meeting with the coaches before all that happened, and I felt comfortable with where I was," said Stoudt, who will make his first career start in the season opener at Georgia. "They said I was going to be the guy and everything. I know there were some things that happened, but I'm happy with the situation, and I'm happy I'm the guy going into fall camp, so it's exciting."
Nine of the 14 schools in the ACC will introduce a first-year starting quarterback this fall. Of the 11 teams that entered spring with quarterback competitions, eight found answers -- or at least had an obvious front-runner emerge.
At Miami, Williams had distanced himself from Olsen through his decision-making and accuracy, but the torn ACL meant an instant promotion for Olsen. Still, coach Al Golden said his confidence in the position remains high.
"I think we're not going to change what we do," Golden said. "We need to do a really good job of establishing the running game, keeping it simple, doing what we do best. Getting into more third-and-manageables. We were in way too many third-and-longs last year to possess the ball and convert. Clearly the two young men we have here on campus right now can do it. The two coming in will also have an opportunity to compete."
[+] Enlarge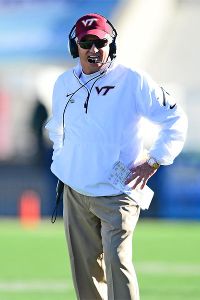 Andrew Weber/USA TODAY SportsVirginia Tech coach Frank Beamer is still looking for a starting quarterback to emerge.
The only three schools that didn't come close to naming a starter this spring were Virginia Tech, Virginia and Wake Forest. It's not a stretch to say that the Hokies' hopes of returning to the ACC title game hinge on having a dependable quarterback emerge, and as one of the premier programs in the Coastal Division, it will continue to be one of the most-watched storylines of the summer. Those within the program have been eagerly awaiting the arrival of Texas Tech transfer
Michael Brewer
and true freshman
Chris Durkin
. The staff has made it perfectly clear they won't name a starter until those two are added to the competition this summer.
"The big question really is the quarterback," coach Frank Beamer said. "I think
Mark Leal
,
Brenden Motley
and
Andrew Ford
all have had their moments. Some of it's good; some of it's not as good as you like. I think Michael Brewer coming in, Chris Durkin coming in, will enter into the competition there. We'll see how that ends up. But that's certainly the critical question for our football team right now."
The critical question for the rest of the conference becomes how these new starters will perform when it counts. Now that most of them have earned their starting jobs, there's pressure to keep them.
"I've said that if we were to play tomorrow, [
Will Gardner
] would run out there as our starter," Louisville coach Bobby Petrino said. "… There will certainly be competition for it in the fall. He'll have a chance to go out each day and prove that he's either the better quarterback, or someone passes him by."
More often than not, the ACC's new quarterbacks were able to prove it this spring.
April, 11, 2014
4/11/14
3:00
PM ET
Lots of mail this week. Thanks to everybody who wrote in. Now to some questions ...

theschnauzers writes:
Re:
the Miami offense
with
(Kevin) Olsen
and
Duke (Johnson)
. I wouldn't underestimate Kevin Olsen in this situation, which I think both you and Heather are doing in your recent articles and blog entries. There are those of us who felt that if all other things were equal it was likely Kevin might have been the starter before season's end; what is clear is that unlike Morris and Harris, Kevin does read the defense and the plays, and based on all reports about the two closed scrimmages, he has done as well as
Ryan Williams
did before the injury in the second scrimmage, and Golden has used the words "exceptional" and "excellent" to Kevin's performance in the second half of that scrimmage. Guess we'll know more after the "spring game" Saturday, but I am among those U alumni who have confidence Kevin will step up and get the job done.
Andrea Adelson:
Here is my point of view on Olsen. He is a terrific talent, and we could very well be underestimating him. But during my visit down to Coral Gables three weeks ago, I was not given any indication that the competition between Olsen and Williams was particularly close. Williams was clearly going to start, and Olsen still had a lot of learning to do to even really push Williams. The fact there was no "real" competition before Williams got hurt speaks more to where Olsen stands, in my opinion. Yes, Miami started giving Olsen more reps with the first team and he handled them nicely. But there is no denying that Williams had an edge both in terms of maturity and game experience. That could be a factor for Miami this year.
---

Ted in Lexington, Ky., writes:
I think Wake Forest pulled off a steal in getting Dave Clawson. He turned around three programs, but this year I am scared because (1) Wake is so young; (2) our nonconference schedule is rough, especially Sept. 13 at Utah State. They knocked off Northern Illinois in the Poinsettia Bowl. If Wake Forest wins six, Dave Clawson should be the ACC Coach of the Year.
Adelson writes:
I also like this hire. I think most impressive is the fact he won at smaller schools that have a similar type of profile as Wake Forest, the smallest school in the ACC. That should absolutely give Deacs fans hope for the future. But I agree 2014 might not be the year Wake goes back to a bowl game. Not only are the players young, they are learning entirely new schemes and have depth issues at several positions. Utah State will be a very tough game, but so will going on the road to play ULM, which beat the Deacs a year ago. If Clawson can scratch out six wins, he should be mentioned for national coach of the year given what he has to work with this year.
---

Kevin Portale in Louisville writes:
I just read your article
on the Cards
. I really enjoyed it. It was short and to the point. Since Louisville is new to the ACC, how well do you think their chances are to be in the top three of the conference?
Adelson writes:
Thanks, Kevin. At this point, I think there is a gap between Louisville and Florida State/Clemson but no real gap between the Cards and everybody else in the league. Despite the changes, this is a team that should still have an opportunity to win every game it plays. After talking to players, watching practice and spending time with the staff, I still think Louisville finishes third in the Atlantic. But given the difficulty of the schedule and some of the personnel losses the Cardinals have to overcome, I am not sure this team ends the season ranked in the Top 25.
---

Alex in Syracuse writes:
Why do you think Pitt will be so good and expect nothing from Syracuse? If
Aaron Donald
doesn't block an extra point, if (Paul) Chryst doesn't barely get a timeout in, Syracuse would have had eight wins last year and Pitt does not even make a bowl game. Syracuse was a pretty good program only a little over a decade ago and then went through a down period. They're coming back up now, why doesn't anyone care or see this happening?
Adelson writes:
I think you are making an assumption here that because I think Pitt has a chance to win the Coastal, I expect nothing out of Syracuse. One does not really correlate with the other. Pitt is in a much more winnable division and has an easier nonconference schedule than the Orange, which is why my expectations might be slightly higher. I thought Syracuse did a nice job toward the end of last season but it's hard to overlook how the Orange got blown out by the top two teams in the division. I do think they should be a bowl team this year given what they return on offense, but they are not quite ready to compete for a division title.
---
Tim in Christiansburg, Va., writes:
re:
ACC dream games
. I understand all the love for FSU. I can see UT/Duke and the Petrino bowls. Clemson/Oregon would be exhausting to watch. But think outside the box a little. What sets college football apart is what happens off the field as much as on the field sometimes. The pageantry and hoopla that surrounds college football is what makes it so unique. That being said, what about VT/Texas A&M? These are the only two public schools with regular students that maintain on campus cadet corps that feed directly into the military. VT always marches out the cadets prior to the game for the national anthem. They are an important part of every home game, as they should be. Some military alum flies a billion dollar plane overhead. Skipper roars. Now multiply that by two. Plus the game would be pretty good, too. The first two were.
Adelson writes:
Add it on the list!
April, 9, 2014
4/09/14
12:00
PM ET
What a year for UConn hoops.
March, 24, 2014
3/24/14
12:00
PM ET
January, 3, 2013
1/03/13
5:35
PM ET
By
RecruitingNation staff
| ESPN.com
Black Team offense
Quarterback:
Christian Hackenberg
(Penn State)
Running back:
Alvin Kamara
Receiver:
Alvin Bailey
(Florida),
Robert Foster
(Alabama),
Damore'ea Stringfellow
(Washington)
Tight end:
O.J. Howard
(Alabama)
Offensive tackle:
Darius James
(Texas),
Denver Kirkland
Offensive guard:
Grant Hill
(Alabama),
Joas Aguilar
(Texas A&M)
Center:
Hunter Bivin
(Notre Dame)
Captains:
Kelvin Taylor, Hunter Bivin, Robert Nkemdiche, Ben Boulware
Black Team defense
Defensive end:
Robert Nkemdiche
,
Elijah Daniel
Defensive tackle:
Greg Gilgmore
(LSU),
Kennedy Tulimasealii
(Hawaii)
Inside linebacker:
Ben Boulware
(Clemson)
Outside linebacker:
Alex Anzalone
(Notre Dame),
Matthew Thomas
Safety:
Keanu Neal
(Florida),
Leon McQuay III
Cornerback:
Vernon Hargreaves III
(Florida),
Tarean Folston
(Notre Dame)
Black Team special teams
Long snapper:
Tyler Kluver
(Iowa)
Kicker/punter:
Sean Covington
(UCLA)
White Team offense
Quarterback:
Kevin Olsen
(Miami)
Running back:
Keith Ford
(Oklahoma)
Receiver:
Laquon Treadwell
,
Ryan Green
(Florida State),
Jalin Marshall
(Ohio State)
Tight end:
Hunter Henry
(Arkansas)
Offensive tackle:
Derwin Gray
(Maryland),
Dorian Johnson
(Pittsburgh)
Offensive guard:
Patrick Kugler
(Michigan),
David Dawson
(Michigan)
Center:
Scott Quessenberry
(UCLA)
White Team defense
Defensive end:
Carl Lawson
(Auburn),
Joey Bosa
(Ohio State)
Defensive tackle:
Henry Poggi
(Michigan),
Kelsey Griffin
(South Carolina)
Inside linebacker:
Reuben Foster
,
Yannick Ngakoue
Outside linebacker:
Trey Johnson
Safety:
Max Redfield
,
Antonio Conner
Cornerback:
Gareon Conley
(Ohio State),
Shaq Wiggins
(Georgia)
White Team special teams
Long snapper:
Brendan Turelli
Kicker:
Ryan Santoso
(Minnesota)
Punter:
Shane Tripucka
Captains:
Ryan Green, Hunter Henry, Patrick Kugler, Reuben Foster
Goodell Has Sit-Down With Jameis Winston
ACC SCOREBOARD
Thursday, 9/3
Saturday, 9/5
Monday, 9/7