Florida State Seminoles:

Jordan Lynch
December, 26, 2013
12/26/13
9:00
AM ET
1. With great fanfare 19 years ago, Joe Paterno of Penn State became the first coach to win every major bowl (Rose, Sugar, Orange, Fiesta and, for you oldsters, the Cotton). With a lot less fanfare, Bob Stoops of Oklahoma has a chance to match Paterno if the No. 11 Sooners can figure out a way to knock off No. 3 Alabama in the Allstate Sugar Bowl. Stoops is 0-1 in the Sugar; Oklahoma lost to LSU a decade ago in the BCS Championship Game.
2. Speaking of Paterno, one of his favorite methods of scouting recruits was to watch them play basketball. It gave him a different measure of their athleticism and competitive spirit. Florida State coach Jimbo Fisher, in discussing Heisman Trophy winner
Jameis Winston
's prowess as a pitcher, told the Associated Press recently that he loves seeing recruits play another sport. This flies in the face of the 12-month-a-year commitment that is expected of most kids today. Here's hoping Fisher's message breaks through.
3. Watch the San Diego County Credit Union Poinsettia Bowl Thursday night when Northern Illinois has the ball. The Huskies have Heisman third-place finisher
Jordan Lynch
at quarterback and led the Mid-American Conference in every major offensive statistic. Utah State led the Mountain West in every major defensive statistic. In fact, the Aggies are the only MWC team to win by shutout this season. Utah State defeated Colorado State, 13-0, on Nov. 23.
January, 2, 2013
1/02/13
12:49
AM ET
It wasn't exactly the easy win so many predicted, but Florida State's size and speed advantage helped the Seminoles outlast upstart Northern Illinois
31-10
to win their first Orange Bowl since 1996.
Record-setting NIU quarterback
Jordan Lynch
found no room to work, and Florida State's dominant defense showed few flaws in its first game without departed coordinator Mark Stoops, while
EJ Manuel
accounted for 321 yards of offense and two touchdowns to lead the Seminoles.


It was over when:
Xavier Rhodes
forced a fumble from
Da'Ron Brown
on a second-down run with 11:15 left to play in the game. Northern Illinois had just converted a fourth-and-1 and was driving in hopes of cutting FSU's lead to seven, but the fumble was the dagger that ended any hopes of an upset. The play was reviewed, but officials ruled the ball was coming out of Brown's grip before his knee hit the ground, and the Seminoles quickly capitalized on the turnover with a
Lonnie Pryor
touchdown.
Game ball goes to:
Pryor. The senior fullback has toiled in the shadows for four years at Florida State, earning immense respect within the locker room but relatively little fanfare outside it. Tuesday's game was different. While the rest of the FSU running game struggled, Pryor was brilliant. He opened the scoring with a 60-yard touchdown run -- the longest of his career -- and put the icing on the cake with his 37-yard touchdown after NIU's fourth-quarter fumble.
Turning point:
There were plenty, but NIU's two turnovers were killer. The fumble by Brown was the last straw, but a third-quarter interception by
Terrence Brooks
squelched another promising Huskies drive. Brooks picked off Lynch at the FSU 13-yard line to protect a slim seven-point lead.
Stat of the game:
Lynch entered the game as one of the most dynamic offensive players in college football, but he found out yards are far tougher to come by against Florida State. Coming into the game, Lynch had racked up 1,771 rushing yards -- fourth most in the nation -- and was averaging 6.5 yards per carry. But
Christian Jones
,
Telvin Smith
,
Vince Williams
and the FSU linebacking corps was exceptional, hitting him repeatedly and giving him nowhere to run. Lynch had bragged earlier in the week that NIU planned to wear FSU down late, but the opposite was true, and the junior quarterback finished with just 44 yards rushing on 23 carries, while completing just 36 percent of his throws.
Unsung hero:
It's tough to call Manuel an unsung hero, but in a season in which he's earned just as much criticism as praise -- and maybe more -- he wrapped up a five-year career at Florida State with a solid performance. Manuel completed 27 of 39 passes for 296 yards through the air and added another 26 rushing with a touchdown. He missed a few passes -- something his critics will be happy to note -- but he connected on far more. When the FSU offense needed him, he made the throws he had to make. Manuel never lived up to his immense promise at FSU, but he was surely a very good quarterback, and he ends his career as an Orange Bowl champion and winner of four straight bowl games.
What it means:
Northern Illinois shrugged off the legions of doubters and proved an unexpectedly competitive opponent, but in the end, Lynch and the Huskies simply didn't have enough to make a late charge. For Florida State, it was yet another inconsistent performance in a season that has been filled with them. But it was also the school's first BCS win in 12 years, and it marked just the second time in program history that FSU has won 12 games in a season.
January, 1, 2013
1/01/13
10:00
AM ET
Northern Illinois (12-1, 8-0 MAC) vs. Florida State (11-2, 7-1 ACC)


WHO TO WATCH:
The quarterbacks. Northern Illinois quarterback
Jordan Lynch
leads the nation in total yards (4,733) and ranks third in total yards per game (364.08) behind Baylor's
Nick Florence
and Texas A&M's
Johnny Manziel
. FSU quarterback
EJ Manuel
could become just the second quarterback to win four straight bowl games, joining former West Virginia quarterback Pat White. In just his second season as a full-time starter, Manuel is FSU's career leader for completion percentage at 66.8 percent -- which is significantly ahead of No. 2 Charlie Ward (62.3).
WHAT TO WATCH:
Florida State's defensive line vs. NIU's offensive line. Florida State defensive line coach D.J. Eliot was hired at Kentucky as Mark Stoops' defensive coordinator, but Eliot stayed in Tallahassee to help the Noles prepare for Lynch. FSU's defensive line has been one of the best in the country, despite season-ending injuries to star defensive ends
Brandon Jenkins
and
Tank Carradine
, who tore his ACL in the loss to Florida. FSU is No. 26 in the country with 2.54 sacks per game. NIU is tied for No. 16 in the country in sacks allowed with 1.08 per game, a total of 14 all season. FSU defensive end
Bjoern Werner
leads the ACC and ranks seventh nationally with 13 sacks this season.
WHY TO WATCH
: Because No. 13 FSU might actually lose. The Noles are the more talented team, but the No. 15 Huskies will be playing to prove they belong in a BCS bowl. This will be the first BCS bowl game for a member of the Mid-American Conference. It is also the first bowl game between the ACC and MAC. NIU is the only program in the country to win 21 of its past 22 games, and joins Oregon as the only schools with three straight 11-win seasons. The Huskies' seniors are the winningest class in school history with 41 victories. FSU is 1-5 all-time in BCS bowls since playing in the first-ever BCS national championship game (1999 Fiesta Bowl).
PREDICTION:
Florida State 31, Northern Illinois 17: The Huskies will come out fired up and ready to prove they deserved their title as BCS Busters, and they'll keep it uncomfortably close in the first half. FSU fans will prematurely panic, an upset watch will look possible, but then reality will set in. Florida State has too much talent and speed, and the gap will continue to widen in the third quarter. The Noles will win the battle up front, and the defense will fare well in its first game without former coordinator Mark Stoops. The Noles will finish with 12 wins, including an ACC title and a BCS bowl win -- not a bad consolation prize for a team that had hoped to win a national title.
December, 28, 2012
12/28/12
9:00
AM ET
DISCOVER ORANGE BOWL

Florida State (11-2, 7-1) vs. Northern Illinois (12-1, 8-0)

Where: Miami
December, 28, 2012
12/28/12
9:00
AM ET
Florida State has a chance to win its first Orange Bowl since 1996, and most fans are viewing this year's game as an easy victory for the Seminoles, who take on the BCS busters from Northern Illinois.
On paper, it's a clear mismatch. The Huskies -- champions of the Mid-American Conference -- only played two teams from an automatic-qualifier conference, losing to 4-8 Iowa and beating 1-11 Kansas. Florida State is bigger, faster and stronger. But in BCS bowls, the mid-majors have a history of successfully sneaking up on their more nationally known competition.
So, to see if Northern Illinois is capable of pulling off a surprise, we checked in with Huskies beat writer Steve Nitz of the DeKalb Daily Chronicle for some insight.
[+] Enlarge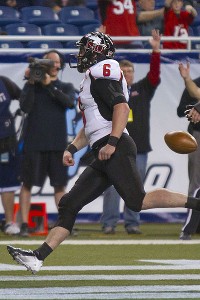 Cal Sport Media/AP ImagesJordan Lynch has combined for 43 touchdowns rushing and passing and will present a challenge for Florida State's defense.
NoleNation: We've heard plenty of talk about Jordan Lynch, and the numbers certainly speak for themselves -- 24 passing TDs, 19 rushing -- but FSU fans haven't seen a ton of him. What makes him so effective, and is his skill set one that could translate well against a bigger, more athletic defense like Florida State's?
Steve Nitz:
Jordan Lynch is a great runner, and he's a threat to break off a long touchdown run every single time he touches the ball. However, he can throw effectively as well, something he may very well have to do against Florida State with how well the Seminoles stop the run. Florida State's defense will be the best unit he has seen all year, and I do think Lynch will be able to run the ball well. We'll just see how well his offensive line blocks for him.
NN: Obviously Lynch has been the focal point in the run up to the Orange Bowl, but how good is this NIU defense? Who are some players Florida State fans should be watching for?
Nitz:
I've said it all season, this group has been very underrated. Lynch and the offense get a ton of credit, and deservedly so, but the Huskies' defense is leaps and bounds better than it was a year ago.
The Huskies can pressure the QB with players such as defensive ends
Alan Baxter
(9.5 sacks) and
Sean Progar
(8.5 sacks). I also think NIU is strong, although undersized, at the linebacker spot with
Tyrone Clark
(82 tackles) and
Jamaal Bass
(76 tackles) on the outside.
Cornerback
Rashaan Melvin
led the Mid-American Conference with 17 pass break-ups, and safety
Jimmie Ward
led the Huskies with 90 tackles.
December, 13, 2012
12/13/12
9:00
AM ET
The ACC is looking for its first winning bowl record since 2005 and will have six opportunities this season to help its cause. ESPN.com is taking a look at the best- and worst-case scenario for each team going bowling. Here's a look at what could happen in the ACC:
Duke

Best case:
Duke wins. Look, getting to a bowl game for the first time since 1994 was huge, but it has been even longer since the program has actually won a bowl game. A win against Cincinnati in the Belk Bowl would give Duke its first bowl win since 1961, when Duke beat Arkansas in the Cotton Bowl.
Worst case:
Duke's defense allows its fifth straight opponent more than 40 points, and the ACC Coach of the Year goes 6-7.
Virginia Tech

Best case:
Quarterback
Logan Thomas
plays an interception-free game, the Hokies get their running game going, Virginia Tech beats Rutgers for its first win of the season against a Big East team, and coach Frank Beamer announces he will hire a new offensive coordinator.
Worst case:
The Hokies' offense continues to look as anemic as it has all season, the program suffers its first losing season since 1992, and Beamer decides not to make any changes to his staff after an 0-3 finish against Big East teams.
NC State

Best case:
Quarterback
Mike Glennon
plays four quarters like he did the final drive against Florida State, and the Pack has something positive to build on heading into the offseason with first-year coach Dave Doeren.
Worst case:
The Pack's mediocre rushing defense has no answer for All-SEC running back
Zac Stacy
, interim coach Dana Bible loses his first game as a head coach, and the ACC takes another punch in the gut from the SEC.
Georgia Tech

Best case:
Paul Johnson has a reason to celebrate. The Jackets coach has lost all four bowls he has coached with the program. He could win his first if Georgia Tech's defense looks like it had a month to prepare for
Matt Barkley
, the offense controls the clock with sustained drives, and the team wins the turnover battle.
Worst case:
The Jackets secondary gets burned repeatedly by USC All-American receiver
Marqise Lee
, Johnson drops to 0-5 in bowl games, and Georgia Tech decides to follow Maryland to the Big Ten.
Clemson

Best case:
ACC 1, SEC 0. Clemson beating LSU in the Chick-fil-A Bowl would do wonders for both the program and the ACC. The offensive line wins the battle up front and keeps LSU at bay in time for quarterback
Tajh Boyd
to work his magic.
Worst case:
The Tigers lose the game
and
their offensive coordinator
and
their quarterback. Chad Morris goes to Texas Tech, Boyd leaves early for the NFL draft, and receiver
DeAndre Hopkins
follows.
Florida State

Best case:
Florida State cruises, quarterback
EJ Manuel
looks like he did against Clemson -- not Florida -- and the defense stifles highly touted quarterback
Jordan Lynch
.
Worst case:
The Noles lose to Northern Illinois. Nuff said. Well, that and Jimbo Fisher's entire staff leaves for the SEC.
December, 6, 2012
12/06/12
9:11
PM ET
Northern Illinois Huskies (12-1) vs. Florida State Seminoles (11-2)
Jan. 1, 8:30 p.m. ET, Miami (ESPN)
Northern Illinois take from ACC blogger Heather Dinich
: In a matter of hours Sunday, Northern Illinois coach Rod Carey was named head coach and found out by watching ESPN that his first game in that capacity would be against No. 12 Florida State in the Discover Orange Bowl. Carey was hired to replace Dave Doeren, who left to become head coach at NC State.
Carey, who was previously the team's offensive coordinator, said he had no idea the program would be this year's BCS buster. Northern Illinois earned its 12th straight win with a 44-37 double overtime victory against No. 17 Kent State in the MAC championship game in Detroit on Friday. The win catapulted the program into BCS consideration for the first time in school history.
"Things happen for a reason, and here we are," said Carey, a first-time head coach. "It's a tribute to our kids and our players."
The Huskies' offense is led by quarterback
Jordan Lynch
, who leads the country in rushing yards (1,771) and total offense yards (4,733).
Northern Illinois enters the Orange Bowl riding a school-record 12-game winning streak. The program's first BCS bid comes on the heels of back-to-back 11-win seasons in 2010 and 2011. NIU is the only program in the country to win 21 of its past 22 games and joins Oregon as the only two schools with three straight 11-win seasons. The seniors are the winningest class in school history with 41 victories. The Huskies haven't lost since their season opener against Iowa.
"It's the biggest game NIU has been in because it's the biggest stage," Carey said. "It's an earned thing, too."
---

Florida State take from NoleNation's David Hale
: After 11 wins, a conference championship and a bevy of dominant performances, Florida State has made its case to be lumped in with the best teams in the country. But as the Seminoles look for only the second BCS bowl win in their history, the reviews from fans are definitively mixed.
Has FSU turned a corner, marching back to national relevance after its first ACC championship in seven years? Or have the Seminoles padded their résumé in a weak conference without the weekly challenges faced by teams in the SEC or Big 12?
Is this the offense that hit 50 with ease early in the season behind what looked like a Heisman-caliber quarterback or is it the unit that couldn't crack 30 in three of its past four games as
EJ Manuel
struggled through mistakes?
Is this the dominant defense that ranked among the best in the country or is it a unit in turmoil after losing one of its leading tacklers (Tank Carradine) and its defensive coordinator (Mark Stoops)?
The Orange Bowl may not answer all or, perhaps, any of these questions, but that seems to be of little concern for Jimbo Fisher and his Seminoles, who are far happier to simply paint an optimistic portrait of 2012 rather than worry about any perceived shortcomings.
After all, when was the last time a Florida State team came close to such heights -- even during some other dismal years for the ACC? Sure, the season began with hopes of a national championship -- hopes that were derailed by losses to NC State and Florida -- but FSU has moved on.
"We've been trying to get here for a long time," defensive tackle
Timmy Jernigan
said. "Get back into the national title conversations, winning ACC championships and Orange Bowls and those types of games. We're Florida State. That's what we're supposed to do."
For these Seminoles, it was about reestablishing those standards and putting a decade of mediocrity behind them by any means necessary. Some weeks, that meant Manuel and an explosive running game carried the load. Some weeks,
Bjoern Werner
,
Lamarcus Joyner
and a stout defense were at the forefront. And with 11 wins already secured, the final piece to the puzzle will be burying that 1-5 BCS bowl record, too, with an Orange Bowl victory that FSU hasn't enjoyed since the 1995 season.
December, 6, 2012
12/06/12
5:00
PM ET
Florida State coach Jimbo Fisher said he isn't sure yet who he's going to hire as his next defensive coordinator -- or defensive ends coach for that matter -- but he is absolutely certain the defense is going to face one of the nation's better quarterbacks when the Noles line up against Northern Illinois'
Jordan Lynch
in the Discover Orange Bowl.
FSU will face the MAC's Offensive Player of the Year while in the midst of a major defensive transition. Not only will FSU's defense need a game plan for Lynch, the staff is also trying to figure one out for itself. Fisher said a defensive coordinator might not be hired until after the Orange Bowl, and the Noles also have to replace defensive ends coach D.J. Eliot, who followed Mark Stoops to Kentucky as his defensive coordinator.
[+] Enlarge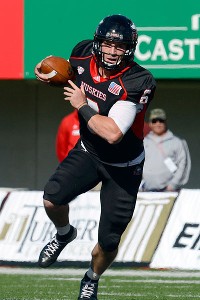 Mike DiNovo/US PresswireNorthern Illinois QB Jordan Lynch, who leads the nation in total offensive yards, certainly has the attention of FSU's Jimbo Fisher.
"We aren't sure who we are going to get, but some of the coaches will come back and coach in the game. I know D.J. Eliot will, and Mark may even come back and help in preparation," Fisher said. "We have had great talks and when the dead period starts we've even talked about having him come back and helping us prepare, so we may not fill the position until after the Orange Bowl. So we'll have to wait and see, but D.J. will definitely come back in that game and help coach in that game also. He's going to be the defensive coordinator at Kentucky, that's a great opportunity for him. We're very happy for him, so those guys will all come back and help us prepare and coach, and we'll address that after."
Right now, they have to address Lynch.
Lynch has rushed for over 100 yards in each of NIU's past 11 games, an NCAA record. He leads the nation in both total offensive yards (4,733) and total rushing yards (1,771). NIU ranks ninth nationally in both scoring offense (40.8 ppg) and rushing offense (250.2 ypg). The Huskies topped the MAC in rushing offense, total offense, scoring offense and passing efficiency.
Fisher said it's going to take the entire defense to slow Lynch down. Not that FSU's defense hasn't risen to the occasion before. The Seminoles rank second in the nation in total defense, allowing just 253.8 yards per game, and rank 14th nationally in scoring offense with 39.9 points per game.
That was with Stoops on the sideline, though.
"You're going to have to do it as a group," Fisher said. "We're going to have to have a great team effort. The guy can throw it, he can run it, he has weapons around him and we're going to have to be very sound in everything we do and we'll have to mix things up, give him multiple looks and do different things. But we'll get into that as we go, but we know he's a great player and they've done a tremendous job not only as an offense but as a football team."
The Huskies are the first MAC school to play in a BCS bowl or the Orange Bowl. It is the first time a MAC school has faced an ACC school in any bowl game. First-year NIU coach Rod Carey said he doesn't expect playing on the big stage to affect Lynch's ability to perform.
"I think he's the same player he was a week ago when we were playing, I don't think that's going to change," Carey said. "It better not, he's been pretty good. He's a tough kid, we run him, but he can throw it, too. But that doesn't define Jordan. What defines Jordan is how he leads and being the good teammate and above all, the good person he is. So I sure hope it doesn't change."
Goodell Has Sit-Down With Jameis Winston
ACC SCOREBOARD
Thursday, 9/3
Saturday, 9/5
Monday, 9/7