Florida State Seminoles:

Johnny Manziel
November, 24, 2013
Nov 24
1:40
AM ET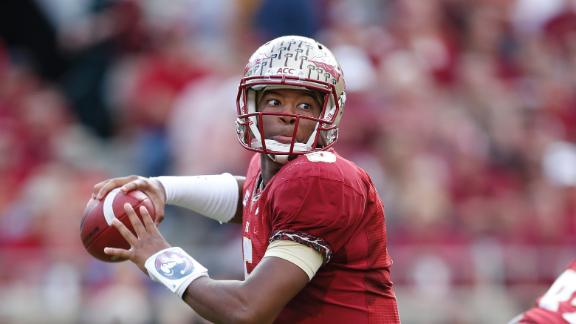 TALLAHASSEE, Fla. -- The stands were sparsely populated by the end, a small contingent convinced either by obligation or morbid curiosity to wait out the inevitable.
When Florida State scored its ninth touchdown of the day,
Kenny Shaw
wondered if it was time to call off the dogs. After the 11th, he wondered if the Seminoles might make a push to score 100.
After it was over, Jimbo Fisher was asked if he'd ever been on a team that scored 80, as Florida State did in an
80-14 win
over Idaho on Saturday. Actually, Fisher said, he once quarterbacked a team that scored 82.
"I guess we've got to step our game up a little," FSU QB
Jameis Winston
responded.
Eighty points and more work to do. That's the elite strata where Florida State resides on the field these days, and Saturday was a crown jewel in a dominant season.
Shaw,
Devonta Freeman
and
Karlos Williams
all topped 100 yards. The defense picked off four passes and scored twice. As he has in four of the past five games, Winston made just a cameo in the second half, and yet he still threw for four touchdowns, pushing his season total to 32 -- one shy of Chris Weinke's school record.
[+] Enlarge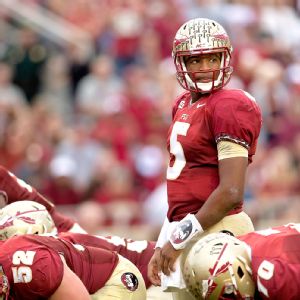 Cal Sport Media via AP ImagesDespite the storm brewing off the field, Jameis Winston remained as focused as ever on it.
After Texas A&M's
Johnny Manziel
struggled in a loss to LSU, Winston's strong outing (14-of-25 for 225 yards and four touchdowns) should've secured him a massive lead in the Heisman race with just two games remaining, too, but that's where life for Florida State stops being so easy. There is a whole set of messy questions still lingering away from the game itself that complicate everything about what's to come.
The investigation into sexual-assault claims leveled against Winston will bleed into a third week, state attorney Willie Meggs told the Associated Press on Saturday, saying he likely wouldn't make a decision on whether the Florida State quarterback would be charged with a crime until after Thanksgiving. But as Meggs bides his time, the rest of Tallahassee buzzes with questions and rumors and innuendo.
Before the game, fans debated the next step in this legal drama as they guzzled beers and grilled burgers. When Winston took the field for Florida State's first offensive series, he earned a massive ovation from the crowd, though Fisher chalked it up as a routine greeting for the Heisman candidate. After it was over, only a small contingent of Florida State's roster was available to media -- a measure instituted by the school to avoid any quotes that might be misconstrued by a horde of reporters parsing every last word. And, as has been the case before each of Winston's public comments since the news of the investigation first broke, FSU staff offered a concise reminder that he would talk only about football, even if the football was a complete afterthought in the wake of yet another blowout win.
On the field, there's little left to discuss. Florida State is as good as any team in the country.
Off the field, the illicit details of an alleged 11-month-old encounter have led to an enigmatic legal battle that is the talk of college football.
"The football field is a sanctuary to me," Winston said. "And it's like that for all my teammates. I can feel it. On that field, everything is zoned out, clear the mechanism, we focus and we're out there to get a victory."
The victory came easily, as so many have this year. Florida State has won each of its games by at least two touchdowns, scored 40 points or more in all 11 contests and outscored its three nonconference opponents by a combined 196-27.
Saturday's game was more about a celebration of the senior class, which took the field in front of the home crowd for the final time. It also was another referendum on Winston's focus, and he continues to show nothing of any private worries during his public appearances.
In that context, the 80-point afternoon was an appropriate conclusion to Florida State's home slate. This was a senior class that arrived amid turbulence, as legendary coach Bobby Bowden was pushed out the door following the 2009 season and Fisher took the reins. It's a group that signed on with Fisher amid one storm, then weathered numerous others along the way.
"We've been through this years in and years out," Shaw said. "You're going to go through what championship teams go through. We're trying to stay upbeat, continue on the same schedule, play like everything's normal."
Things aren't normal, but those distractions haven't altered Florida State's march toward the BCS championship game.
When it was over, Shaw was asked when he might stop to reflect on his four years at Florida State. On a day when so much debate raged among those away from the field, Shaw offered a far more succinct approach.
"Probably after Pasadena," he said.
November, 12, 2013
Nov 12
11:00
AM ET
TALLAHASSEE, Fla. -- There was little to dissect of another easy win for Florida State, so the topic at Jimbo Fisher's weekly news conference Monday quickly turned to his handling of a blowout.
With a big lead, a reporter suggested, there was little sense leaving quarterback
Jameis Winston
in for the fourth quarter.
"Or the third quarter," Fisher interjected.
[+] Enlarge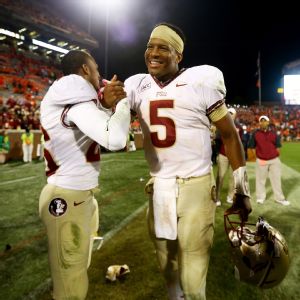 Streeter Lecka/Getty ImagesBecause FSU has been winning easily, Jameis Winston has spent a lot of time on the sidelines.
Indeed, Winston's recent outings have been brief, and in two of his last three games, he took a seat on the bench after just one drive in the third quarter. It's a light workload for the current Heisman frontrunner, and while the easy wins allow for some second-half relaxation, those margins present their own set of concerns.
Start with Winston's Heisman campaign. The postseason award fits firmly in the category of "clutter," and Fisher warns about such distractions daily. But it's also true that a Heisman Trophy brings a certain amount of prestige, and even the regimented coach understands it's a rare opportunity.
"It's clutter," Fisher said, "but it's good clutter."
Winston's numbers through nine games more than warrant his status as favorite for the honor, but his workload doesn't exactly provide opportunities to pad his stats. In Florida State's 59-3 win over Wake Forest on Saturday, Winston threw for a career-low 159 yards, and he didn't complete a pass for more than 18 yards.
"I think we got the ball two times in the second quarter, so you can't judge how we were playing," Winston said.
Therein lies the problem. For one 10-minute stretch of action, Florida State's offense ran just four plays, but thanks to a stellar defensive effort, the Seminoles added 28 points to the scoreboard.
It's the paradox of success for Winston: He's too good to be playing in the fourth quarter, which might hurt his chances of being rewarded for his success with a Heisman.
Winston's top competition for the Heisman is last year's winner, Texas A&M's
Johnny Manziel
. With one additional game under his belt, Manziel has accounted for nearly 4,000 yards of offense and 39 touchdowns -- both numbers far outpacing Winston's totals. But opportunity has played a big part of Manziel's resume, with the Texas A&M quarterback accounting for a far greater percentage of his team's plays in the second half this season than Winston has.
Winston's abridged appearances late in games haven't helped his stats, but Fisher said voters should understand the context.
"I think they see who's in control, and it's how you play when you play -- the quality of your play," Fisher said.
How Florida State has played with a big lead lately also is something of a concern. When Winston has settled into a rhythm, he has been excellent, but too often in recent weeks, consistency has been tough to find.
Winston helmed just five drives against Wake Forest that started on the Seminoles' half of the field. Those drives ended with two touchdowns, a punt, a fumble and an interception. After Winston's final throw -- a pick on a pass forced into tight coverage because the quarterback wanted his reserve tight end to get his first catch of the year -- Fisher was livid.
"We had some times we've got to be a little smarter," Fisher said after the game. "As soon as you start to press this game, it bites you. Whatever is there, read it take it. That's it."
Knowing his time on the field was limited, Winston tried to do too much. His receivers didn't help. There were three crucial drops, and
Christian Green
fumbled away what would have been a big catch. Focus was wavering, and that won't be tolerated.
"When [the defense] is getting turnovers and scoring touchdowns like that, sometimes it's hard," Winston said. "But I've got to do a better job of commanding the team and leading us down there on those drives."
Fisher breathed fire on the sideline and after the game, but really, it's hard to be too upset with a 56-point margin of victory.
"I acted like I was unhappy," Fisher said. "I want to keep them on edge."
That's the balance going forward. Florida State is a heavy favorite again this week, and that figures to continue through the end of the regular season. Winston's fourth-quarter work likely will remain limited, even with backup
Jacob Coker
now out with a knee injury. The offense will have to learn to adjust to a haphazard workload, and the Heisman voters might need to dig a little deeper to appreciate Winston's place in the box score.
That's all fine for now, Fisher said, just as long as his offense is prepared for a tight second half when it finally comes.
"There are some things we can improve on," Fisher said. "From a focus concentration point you've got to be able to do that. We're learning."
November, 8, 2013
Nov 8
11:00
AM ET
TALLAHASSEE, Fla. -- The playful chiding started around campus the day after the game. Students stopped
Jameis Winston
, stood a few feet back, then asked if he could see them.
The joke quickly caught on in Florida State's locker room, too.
Rashad Greene
, the Seminoles' star receiver who has hauled in 45 catches, including eight touchdowns, from Winston this season, pestered his quarterback about his eyesight.
"Man, you can't see," Greene told him.
[+] Enlarge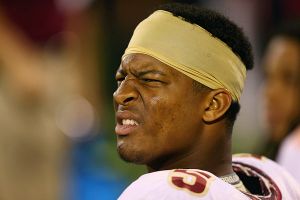 Streeter Lecka/Getty ImagesWhile everyone focused on Jameis Winston's squinting, the Florida State QB doesn't even look twice at all the attention.
Winston grinned, then offered the obvious retort.
"How do I see you down the field then?" Winston replied.
The Heisman hopeful laughed off all the jokes this week, but the mere fact that a few on-field squints caught on camera during last week's win over Miami garnered national attention underscores just how big the spotlight is on Winston these days.
The truth is, Winston has been squinting toward the sideline for the past four years, and it hasn't affected his game much. In high school, a contact popped out mid-game, and he finished up with just one. He completed all but four passes, his father, Antonor, said.
Since then, the squinting has been little more than a quirky side effect of Winston's competitive spirit. He'd rather take an extra look toward the sideline to get the play from his coach than miss any of the action because a lens was scratched.
"He's a different cat," Antonor Winston said. "Jameis is the type of guy that, if one of those contacts come out, he doesn't want to be going to the sideline with people wanting to know what's wrong. He doesn't want to come out of the game. He'd rather win and can't see."
But for Winston, the latest headlines have less to do with his eyesight than the bubble he's been living in since his exceptional debut against Pittsburgh on Labor Day.
In the 10 weeks since that game, Winston has become a national celebrity, and virtually anything he says or does is liable to garner national attention. There was the preseason hoopla when he
repeated a reporter's question about "Manziel disease,"
and a mini-drama erupted from media wondering if Winston had insulted Texas A&M quarterback
Johnny Manziel
. There was Winston's
quip about a Nevada player's haircut
that quickly made the rounds on Twitter and became its own Internet meme. The
pregame speeches
, the postgame interviews -- it's all news simply because Winston said it.
"That's one thing, my face has always been shown," Winston said. "If you see the other players, they squint for the sideline, too. People say I squint worse, but if you're squinting, you're squinting."
Winston actually visited an optometrist on Monday --
complete with a photo on Twitter as evidence
-- but he said that was a coincidence, an appointment scheduled long before the Miami game. And if he was somewhat defensive about his vision, he certainly wasn't upset at all the attention.
"It's just life, man," Winston said. "Sometimes people can change things into big things. But that's fun things. There's nothing bad about that."
That mindset is a distinct departure from Manziel's response to the media frenzy that surrounded him after his Heisman win a year ago. Manziel was photographed at fraternity parties, interviewed while attending NBA games, mobbed in public places around Texas A&M's campus. In June, Manziel responded to all the attention with a tweet saying he "
can't wait to leave College Station
."
For Winston, however, life in the fishbowl hasn't been nearly so stressful.
"It doesn't bother Jameis a bit," Antonor said.
Winston countered the vision concerns by insisting reporters pick out distant signs for him to read. He followed up on the attention given to the Nevada player's haircut by seeking out
Brock Hekking
after their Sept. 14 game and introducing himself. For all the cameras continuously surrounding him, Winston hasn't tempered his personality much.
He's always wanted the big stage, and all the attention comes with the job.
"When you're an elite guy like that, you've got people that want to follow you," running back
Devonta Freeman
said. "And when you say great things, people are going to follow."
Still, the spotlight can be harsh at times, and Fisher said Florida State works to prep its players for that reality. Programs are developed and guest speakers are brought in to educate players on dealing with the media, handling success, shrugging off failure.
In spite of all that training, though, Winston hasn't changed much. He laughs and jokes and shows off when he feels like it, still deflects as much attention to his teammates as he absorbs.
That's been the true test of his character, Fisher said.
"Success reveals more about somebody than failure. Who you really are continues to show when you have success," Fisher said. "He's exactly the same guy."
October, 29, 2013
Oct 29
11:00
AM ET
No. 3 Florida State is set to meet No. 7 Miami in yet another Top 10 matchup for the ACC. Miami is the final ranked team on the Seminoles' regular-season schedule, leaving us to wonder whether the Hurricanes actually are the Seminoles' toughest remaining opponent on the road to an unbeaten season.
Heather Dinich and Andrea Adelson debate that very question.
Heather says: Miami on Saturday
[+] Enlarge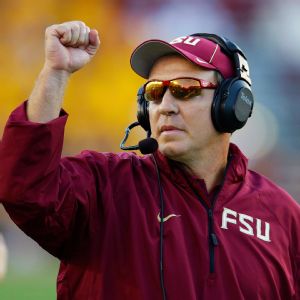 AP Photo/Stephan SavoiaCoach Jimbo Fisher and the Seminoles defeated Miami 33-20 last season.
It's not going to get any more difficult than this.
No. 7 Miami is the biggest obstacle still standing in the way between the Seminoles and an undefeated season.
A road trip to Gainesville you say? Psh. Even the Canes beat the Gators -- and that was when Florida was good.
Everything Miami has -- or, more accurately, hasn't -- done this season is a moot point. The key is that the Canes have done enough to set up a top 10 showdown between two undefeated rivals in front of an ESPN College GameDay crowd. Florida State is going to get Miami's best shot -- and the Seminoles know it. Not that Florida won't be aiming for that same bullseye, but Miami is simply a better team than Florida and has proven it in head-to-head competition.
The Gators have lost back-to-back games against ranked opponents. They're 4-3 and dropped out of the rankings in Week 8 after losing to Missouri, 36-17. They've also lost to Florida State in two of the past three seasons. This is a Florida team that's projected to go to the BBVA Compass Bowl right now -- a freefall from last season's Sugar Bowl appearance. Eight players have suffered season-ending injuries since summer camp, including starting quarterback
Jeff Driskel
, and the team's top defender,
Dominique Easley
. The Gators rank 12th or worse in the SEC in scoring, passing, rushing and total offense.
By comparison: Virginia Tech ranks No. 110 in the country in total offense -- right behind Florida.

Unlike the Gators, Miami can move the ball. The Canes are No. 19 in the country in scoring offense. They've got one of the most productive running backs in the country in
Duke Johnson
. And the defense is averaging 3.14 sacks per game -- a huge improvement from last year, when Miami averaged just 1.08 per game.
If Florida State can get past the Canes on Saturday, the most difficult stretch of the season will be behind the Noles. The ACC -- the entire country for that matter -- has been waiting for this rivalry to be relevant again.
Now it's Florida's turn to wait.
Andrea says: at Florida, Nov. 30
Florida does not appear to be a tough opponent today, not with all the injuries that have taken a preseason Top 10 team and turned it into an also ran.
But this will undoubtedly be the toughest test on the remaining Florida State schedule. First, this game will ultimately define the Florida season, especially if the Gators lose to Georgia this weekend. Should Florida State come into the regular-season finale against Florida unbeaten, then you can be assured the Gators would love nothing more than to wreck any shot Florida State has at winning a national championship. Laughable?
Rewind to 1997, when double-digit underdog Florida beat No. 1 Florida State 32-29, denying the Noles a shot at the title. It is true that 1997 Florida team is better than this 2013 Florida team but, nonetheless, upsets in rivalry games do happen. And they have happened in this series.
Secondly, and most importantly, Florida presents much tougher matchups for the Seminoles. The Gators rely on a power ground game, and the Florida State defense has been built to best defend a different type of offense. Linebacker
Terrance Smith
confirmed that point, saying after the NC State win, "I feel our defense is kind of made for the spread." Against power run teams like Boston College and even Bethune-Cookman at times, the Florida State defense had its share of struggles. The Noles gave up 392 total rush yards in those two games.
There is no doubt Florida will have the best defense Florida State has faced this year, despite the injuries. That includes the all-important secondary, where Florida features future Freshman All-American
Vernon Hargreaves III
. He is tied for the SEC lead in passes defended and tied for second in the league with three interceptions.
Opposite him,
Loucheiz Purifoy
is one of the best cornerbacks in the country. Through the first seven games this year, opposing quarterbacks have completed just 47.5 percent of their passes on this Florida secondary -- good for No. 5 in the nation. Quarterbacks are averaging just 5.5 yards per attempt, which is No. 4 in the nation. Coach Will Muschamp is a defensive guru. Perhaps he can devise a plan to slow down
Jameis Winston
. That is what Florida did last year to
Johnny Manziel
(173 yards passing, one total touchdown).
Third, all the pressure in the world is going to be on Florida State to beat an overmatched rival. Everybody expects Florida to roll over. Florida State has done well handling pressure all season, but what it will face in this game is nothing compared to Death Valley. The finish line will be in site, against a bitter in-state rival that has won seven of the last nine games in the series. Simply put, no matter the record, Florida is not NC State. Nor is it Wake Forest or Syracuse.
Florida will be a tough out. The toughest out on the remaining slate.
October, 7, 2013
Oct 7
10:00
AM ET
TALLAHASSEE, Fla. -- The enthusiasm eventually overwhelms even the most strident purveyors of moderation, which is why it was hard for even Jimbo Fisher to quash a smile after Saturday's 63-0 win against Maryland in which his quarterback somehow managed to astonish a fan base that has come to expect almost anything from him.
There were the five touchdown passes, a career high.
There were the 393 yards, also a career best.
And there was the escape act, as
Jameis Winston
slipped through the arms of a would-be tackler, rolled out of the pocket and
added more salt in an already gaping wound
for the overwhelmed Terrapins.
"It was a tremendous play," Fisher said. "It really was."
Don't expect much more exuberance than that from Fisher, who has worked as hard as anyone to downplay the excitement surrounding Winston since the buzz first began to build this spring, but the seemingly endless series of highlights the redshirt freshman has provided speaks for itself.
In ESPN's latest
adjusted QBR rankings
, Winston ranks sixth, behind a handful of top Heisman contenders, and a closer examination only underscores how good he's been. In games when FSU has trailed, Winston's QBR is 94.5, second best in the nation behind Georgia's Aaron Murray. On third down, Winston's QBR is 99.1, behind Bryce Petty, Johnny Manziel and Marcus Mariota. On passing plays this year, Winston's 97.3 QBR trails only Petty.
Winston has compiled those numbers with remarkable consistency, too. In each of his first five starts, Winston has finished with a QBR of at least 75 (on a scale to 100). From 2008 to 2012, only three other quarterbacks did that in their first five games of a season, according to ESPN Stats and Info, and all three -- Colin Kaepernick, Andrew Luck and Russell Wilson -- are starting in the NFL.
And then, of course, there's the comparison fans have wanted to make since Winston starred in Florida State's spring game. If a Heisman is in Winston's future, it's largely because Manziel blazed that path as a freshman just a year ago.
So how does Winston stack up to Manziel's first five games from 2012?
(* Manziel had 495 rushing yards in his first five games. Winston has just 135.)
The numbers are close enough that even Fisher can't deny that the Heisman talk isn't so far-fetched -- and that's a statement unto itself.
"When we keep winning games," Fisher said of an appropriate time to discuss Winston's Heisman chances. "The Heisman is the team that wins the most games and the best player on that team. We have to keep having success."
Still, that's a big step from Fisher's stance on the award just a year ago.
After Florida State upended Clemson at home behind a stellar performance from EJ Manuel, the FSU QB vaulted to the top of the Heisman predictions. Fisher was quick to downplay the buzz. He compared Manuel to a hunting dog, and he said the Heisman was for show dogs.
In that win over Clemson, Manuel threw for 380 and two touchdowns. Winston has topped 300 yards and thrown at least four touchdowns in all three of the ACC games he's played so far.
Of course, Manuel's numbers -- and FSU's record -- didn't keep him in contention the rest of last season, and Manziel's strong start proved to be just the beginning. Manziel's final eight games of 2012 were staggering: 67 percent completions, 15 passing TDs and 14 more on the ground, 915 rushing yards, and six games with an adjusted QBR better than 90.
The question now, with No. 3 Clemson looming and expectations rising with every dazzling performance, is how Winston will finish.
Matching Manziel won't be easy, but it's also possible Winston is only getting better.
"With the team I have, it's always been easy," Winston said of his strong start. "It's probably slowing down a little bit more, but those guys around me -- I have so many weapons, I think it's always been looking like that out there."
October, 5, 2013
Oct 5
10:39
PM ET
By
ESPN Stats & Information
| ESPN.com
Stacy Revere/Getty ImagesJameis Winston had five passing touchdowns against Maryland.
Jameis Winston
has Florida State on its way possibly to its best season of the 21st century.
The redshirt freshman has been quite impressive in his first five games as the Seminoles' starting quarterback.
Winston had five passing touchdowns against Maryland, the most by a Florida State quarterback since Christian Ponder had five in 2009 against Georgia Tech.
Winston now has 17 passing touchdowns, the most by anyone in a player's first five career games over the past 10 seasons.
Winston joins Boise State's Kellen Moore as the only FBS players over the past 10 seasons with a QBR of at least 75 in each of their first five career games.
In three ACC games, Winston has a 93.6 Total QBR, has completed 76 percent of his passes, and is averaging 360 passing yards per game with 13 passing touchdowns and one interception.
Heisman hopeful
How does Winston compare to past Heisman winners in their first five games of the season? He has more touchdowns responsible for (passing and rushing touchdowns) than
Johnny Manziel
(2012) and Cam Newton (2010). And he has fewer turnovers (two) than any of the past three Heisman winners –- Manziel, Robert Griffin III (2011) and Newton.
The rout was on
Winston's superb play led the Seminoles to a dominant victory over No. 25 Maryland 63-0.
Florida State's 63-0 win over Maryland is tied for the largest margin of victory over a ranked team since the AP Poll began in 1936. In 1997, UCLA beat No. 11 Texas, 66-3.
It's the largest margin of victory by any team in an ACC conference game.
It's also the largest shutout win ever by Florida State over a ranked team.
The 5-0 Seminoles are idle next week before clashing with undefeated No. 3 Clemson on Oct. 19 at Death Valley.
September, 3, 2013
Sep 3
9:00
AM ET

The first week of college football is in the books, and it's time to see where we think all 14 SEC teams stack up in our weekly power rankings:
1. Alabama (1-0; LW: 1):
OK, Alabama isn't perfect. Contrary to what
AJ McCarron
said, the offensive line looked ugly for most of the night in Alabama's win over Virginia Tech. It has to get better in a hurry. But when your defense and special teams are clicking like they were on Saturday, who needs offense?
2. South Carolina (1-0; LW: 4):
Two players I've been saying to keep an eye on since the spring:
Mike Davis
and
Shaq Roland
. Both looked pretty good, especially Davis, in that opening win, and both will be fun to watch this weekend. The defensive front looked great, but can someone please give
Jadeveon Clowney
some vitamin C and an extra Gatorade?
3. LSU (1-0; LW: 6):
Don't sleep on these Tigers. They're undervalued, but were very impressive in their 37-27 victory over a ranked TCU team in their own backyard. The defense still looks fast, and the offense racked up nearly 450 yards behind some explosive plays. The return of running back
Jeremy Hill
should make this team even better.
4. Texas A&M (1-0; LW: 2):
Johnny Manziel
looked good when he was actually playing football Saturday. He went through his progressions and didn't think "run" first. But his antics have to stop (just ask Kevin Sumlin), and that defense has to get much, much, MUCH better before Alabama rolls into town in two weeks.
5. Florida (1-0; LW: 5):
It doesn't look like the Gators will miss much of a beat defensively after they suffocated Toledo and that uptempo offense. The offense? Well, it did look more polished and the passing game actually moved down the field, but the Gators were very vanilla. Expect that to change against Miami.
6. Georgia (0-1; LW: 3):
We knew the defense would struggle against Clemson's high-octane offense, but the Bulldogs looked really bad in the tackling department. This group has to go back to the basics, and that isn't a good thing with physical South Carolina coming to town this weekend. Also, that offensive line has to protect
Aaron Murray
better because
Todd Gurley
can't do it all himself on offense.
7. Ole Miss (1-0; LW: 8):
The future certainly looks bright in Oxford, Miss., but this program is hoping the present is just as bright. The Rebels kicked off the college football season with an electric, back-and-forth win over Vanderbilt. This offense looks built to go the distance, but depth is still a major concern. Health is key.
8. Vanderbilt (0-1; LW: 7):
The Commodores lost a heartbreaker to the Rebels at home, but this team still looks as explosive as it was last year. The defense has some things to clean up, but defensive coordinator Bob Shoop should make sure that happens.
Jordan Matthews
has star status, but not having
Chris Boyd
on the other side of him hurts the offense.
9. Auburn (1-0; LW: 9):
The Tigers had quite a fun opener. Both the offense and defense were up and down, but it had to be nice for Gus Malzahn to see his running game put up 295 yards on Washington State. The pass defense has some work to do and injuries won't help.
10. Missouri (1-0; LW: 11):
The 58-point, 694-yard performance from the Tigers' offense looked more like what people in Columbia, Mo., expected to see more often last year. Granted, it was against Murray State, but that sort of outing will build some confidence within this group. It was good to see
James Franklin
and
Henry Josey
on the field and healthy again.
11. Arkansas (1-0; LW: 13):
By looking at the box score, you'd think Bobby Petrino's offense was back in Fayetteville, Ark., after the Hogs put up 522 yards on Louisiana-Lafayette. The Hogs could run and pass, and the defense held the Ragin' Cajuns to just 274 yards. The Hogs still have a couple of cupcakes to face before things get interesting at Rutgers.
12. Tennessee (1-0; LW: 12):
We really don't know what to take from Tennessee's thumping of a very overmatched Austin Peay team, but the Vols looked to have some real legs in the running game. How long that will last is a mystery, but it was a good start. Things get tougher this weekend when Western Kentucky and Bobby Petrino visit Rocky Top.
13. Mississippi State (0-1; LW: 10):
That was a bad offensive performance by the Bulldogs in their 21-3 loss to Oklahoma State. Mississippi State was 2-for-16 on third downs and
Tyler Russell
threw for only 133 yards against a defense that ranked 113th nationally in pass defense last year. The Bulldogs held the Cowboys to just 146 passing yards, but allowed nearly 286 rushing yards.
14. Kentucky (0-1; LW: 14):
That was not the opener Mark Stoops wanted or needed. The Wildcats looked overmatched against Western Kentucky and are still struggling mightily to find playmakers in the passing game. What had to really upset Stoops was that his defensive line, which was supposed to be this team's best unit, didn't get enough pressure up front and allowed the Hilltoppers to rush for more than 200 yards.
August, 14, 2013
Aug 14
8:01
PM ET
TALLAHASSEE, Fla. -- Jameis Winston made headlines this week claiming he hoped to avoid "Manziel disease," a reference to the off-field issues surrounding Heisman winner Johnny Manziel, and in the process the Florida State quarterback got a firsthand lesson on how tough the media scrutiny can be.
Winston's comments only followed a question from a reporter who used the "Manziel disease" phrasing, but when the FSU quarterback repeated it in his answer, the quote gained national attention and made the rounds on Twitter and other social media outlets.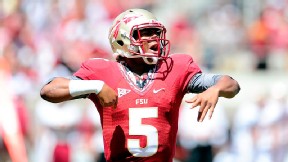 Stacy Revere/Getty ImagesJameis Winston's comments on Johnny Manziel's situation earned the redshirt freshman quarterback scrutiny this week.
Florida State coach Jimbo Fisher said he wasn't upset with Winston and understood his quotes were attributed without the proper context, but he said it should be a good lesson to the highly touted quarterback that everything he says will be scrutinized.
"I always tell him, 'Are you getting attention or are you talking for a purpose?' " Fisher said. "There's two different ideas there. Sometimes when you're young, you like for people to listen to you. Just make sure you're doing it within your personality, but you're talking for a reason. And remember you're representing you, your family and your organization."
Winston, who has earned attention as a top recruit and star in the making during the past year, was the star of Florida State's annual fall media day session Sunday, entertaining a throng of reporters for about 15 minutes. When a reporter asked what would happen if he got "Manziel disease" amid all the hype, Winston offered a lighthearted reply.
"If I get Manziel disease, I want every one of you all to get your mikes and start slapping me on the head," he joked.
Winston quickly added that he'd heard only good things about Manziel, and that he saw many similarities between them -- making Manziel's off-field troubles a good reminder of what can happen when the spotlight is on him.
"It's good to see things like that because he's a great guy, he's like me -- he's fun, he's outgoing," Winston said. "But sometimes when all eyes are on you, you can't do certain things."
The prompt reaction to his "Manziel disease" quote underscored that lesson, Fisher said.
Winston has not been made available to the media since the comments, and while Fisher said he didn't feel his quarterback had done anything wrong, he could choose to limit Winston's interaction with the press going forward.
Winston is currently battling sophomore Jacob Coker for the Seminoles' starting quarterback job. The team scrimmaged for the first time in fall camp Wednesday, but Fisher said he's still not close to tabbing a starter for Florida State's opener at Pittsburgh.
July, 31, 2013
Jul 31
9:00
AM ET
Throughout the summer, Nole Nation will be
counting down the 40 players
we're projecting to make the biggest impact on the Seminoles' 2013 season, taking into consideration everything from experience to potential to their spot on the current depth chart.
Next up:
No. 3 Jameis Winston
Position/Class:
QB/RFr.
[+] Enlarge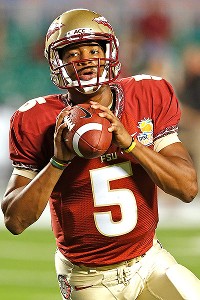 Joel Auerbach/Getty ImagesAfter months of hype, Florida State's Jameis Winston is set for his Monday night debut at Pittsburgh.
What he's done:
The list of accomplishments for Winston thus far are impressive. He's garnered immense attention as a high school quarterback. He's been the top-recruited quarterback in the country. He's garnered a massive cult following after video surfaced of him throwing footballs over fraternity houses. He's been praised as perhaps FSU's top cheerleader throughout the 2012 season -- home and away. He's generated buzz from teammates for his impressive practice performances. He's battled two more veteran quarterbacks throughout spring practice and come out on top. He's starred in this year's spring game, throwing a touchdown past two-time All-ACC defender
Lamarcus Joyner
on his first throw. He's touched 100 mph on the radar gun in baseball games as one of FSU's top relief aces. In fact, the only thing Winston hasn't done so far is actually throw a pass in a college game.
Where he's at:
Jimbo Fisher's final evaluation is the only one that matters, and he has yet to officially name Winston his starter, but for all intents and purposes, that seems a done deal. Winston was the clear winner during spring practice, and his biggest competition, junior
Clint Trickett
, transferred to West Virginia soon after practice concluded.
Jacob Coker
will still push Winston for the job -- a competition that actually figures to be better than what Coker mustered this spring with an injured foot -- but at this point, it would take a major upset for anyone other than Winston to be taking the first snaps of the season. The bigger question for most fans at this point is what Winston will do with those snaps, and the expectations are immense. While Fisher has cautioned restraint, more than a few fans are already dreaming of Heisman trophies and national titles.
What's to come:
Winston doesn't seem particularly concerned about the high bar of expectations. Heck, he's put them on himself. He's already balanced football and baseball and compared his longterm ambitions to that of
Deion Sanders
and Bo Jackson. But whether he's ready to step in and star as a freshman remains to be seen. Just last year, a redshirt freshman QB won the Heisman, and
Johnny Manziel
might be the comparison Winston will hear the most. But the more appropriate measure might be that of
EJ Manuel
, who had an strong season in 2012 but was marked by inconsistency along the way. Winston figures to hit a few bumps in the road, too, as he learns on the job, but his confidence and talent are virtually unmatched, and he's got a strong supporting cast around him. If he can approach Manuel's production from last year, it will have been a successful debut. If he can exceed them, Florida State just might end up being a bigger contender for a conference and national championship than many are currently projecting.
June, 26, 2013
Jun 26
9:00
AM ET
This week, Nole Nation is digging into
the most hotly debated topics of the summer
at Florida State in an effort to separate fact from fiction as the Seminoles get set for the 2013 season.
Next up: The quarterback
[+] Enlarge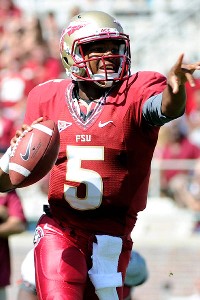 Melina Vastola/USA TODAY SportsJameis Winston seems like he's ready to handle big expectations from Day 1.
Fact or Fiction:
With talented freshman
Jameis Winston
at quarterback, Florida State's offense can be even more dynamic than it was under EJ Manuel.
The case for:
Even before he has taken a snap in a college game, there's little need to make a case for why fans should be excited about Winston. The redshirt freshman already has the college football world buzzing after entering the spring third on the depth chart and ending it as a niche choice for a Heisman.
Winston has a big arm, good speed, a strong physique and obvious leadership skills. In other words, he's everything a coach like Jimbo Fisher could want in a quarterback. He sizzled during FSU's spring game, completing 12 of 15 passes against a first-string defense while throwing two touchdown passes. In the aftermath, Fisher was asked to compare Winston to his old quarterback, and the answer was intriguing.
"Jameis is a very talented young man," Fisher said. "He and EJ are different. EJ might run a little better and be a hair bigger. I think Jameis throws the ball a little better overall."
In other words, from Day 1, Winston might be a better pure passer than his predecessor, who just so happened to be the first quarterback taken in this year's NFL draft. It's no wonder fans are already so excited.
Of course, there was plenty of hype surrounding Manuel when he arrived at Florida State, but he ended his career amid a reasonable amount of criticism, because he so frequently failed to come up with the big play when FSU needed it most. He won a lot more than he lost, but he never threw more than 23 touchdown passes in a season, and he had only four career 300-yard passing games against FBS opponents.
But as Fisher said, Winston is different. He's more accurate already, and while Manuel's confidence appeared shaken at times under the weight of a demanding head coach, Winston seems to relish the expectations. And more importantly, Winston might have a better supporting cast in 2013 than Manuel ever did. A veteran, healthy offensive line and a cast of skill-position players that includes
Rashad Greene
,
Nick O'Leary
,
Kelvin Benjamin
,
Devonta Freeman
and
James Wilder Jr.
should make the job a lot easier.
The case against:
The obvious concern in 2013 is that, for as much talent and potential as Winston clearly has, the bottom line remains that he's still a freshman. There's a big difference between chucking a few long passes in a spring game and doing the same against Florida's defense in November, and even last season's Heisman-winning freshman,
Johnny Manziel
, had a few growing pains along the way (against Florida, for example).
Moreover, expanding the offense isn't so much about Winston's ability as
it is about Fisher's play calling
. For all the criticism of Manuel at times, only three other teams in the country averaged more yards per play last season than Florida State. The reason the results weren't more impressive overall is because the Seminoles ran just 67 plays per game offensively -- nearly 12 fewer plays per game than Texas A&M. That's Fisher's game plan -- a pro-style, methodical approach -- and it's not likely to change regardless of who is under center.
And while the talent surrounding Winston is impressive, the versatility of FSU's offense has taken a hit this offseason. Tight end
Kevin Haplea
will miss the year with an ACL tear. Speedster
Marvin Bracy
left to pursue a track career. Veteran receiver
Greg Dent
is suspended indefinitely while facing sexual assault charges. Those losses will only make the offense less dynamic.
In the end, Manuel was among the top 15 quarterbacks in the country in completion percentage, yards per attempt and QB rating in 2012, and that's an awfully high bar to exceed.
Verdict:
Fiction
There's no denying Winston's star potential, but projecting he'll exceed Manuel in Year 1 is a bold call. Manuel was very good, and while Winston eventually might be great, there's a learning curve to the game.
More importantly, perhaps, is this is Fisher's offense, no matter who is under center. He's going to call his game, and while Winston's skill set may allow Fisher to dig deeper into the playbook occasionally, it's unlikely he's planning to rewrite any of it. And perhaps as significant, in every other instance that Fisher has had a new starter at quarterback since he's been at FSU, the team has run the ball more and thrown less. Comparing Winston to Manziel might be fair when it comes to talent, but the systems in which they'll work are completely different.
It would be a surprise if Winston does't end the season with an impressive highlight reel -- but compiling one that's even better than Manuel's 2012 performance would be a huge accomplishment.
May, 24, 2013
May 24
9:00
AM ET
Each season brings with it new expectations, and a handful of Seminoles will bear the brunt of the pressure to perform in 2013. We're counting down the top 10 FSU players being counted on the most to help the Seminoles live up to expectations.
No. 1: QB Jameis Winston
2012 performance:
Winston's first season in Tallahassee was all about building the hype. The prized recruit from the 2012 class redshirted, but he still managed to generate plenty of excitement. The video of him throwing a football over a fraternity house, the images of him enthusiastically celebrating touchdowns on the sideline during games, his impressive turn on the baseball field, the hype from analysts projecting him as a future No. 1 overall draft pick -- Winston had about as much buzz as a player can command while not actually playing.
[+] Enlarge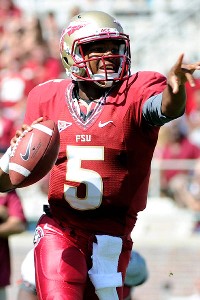 Melina Vastola/USA TODAY SportsJameis Winston is already a campus star and he hasn't even taken a snap in a varsity game.
Pressure point:
Recruiting stud with immense hype takes over a veteran offense on a contending team -- that's pretty much a perfect recipe for pressure in the college game. Of course, Winston hasn't seemed to mind much. He already managed to shine during the pressure-packed QB competition this spring while concurrently playing on the baseball team, but the spotlight will only get brighter as the season approaches. And for good measure, Winston's likely first start will come in a hostile road environment, on national TV, against ACC newcomer Pittsburgh.
If he succeeds:
All the muted enthusiasm currently swirling around FSU becomes unabashed excitement, and the Seminoles would quickly vault back into the national title conversation. Clemson has been the early favorite in the ACC for good reason, but Florida State has every bit as much talent and experience on offense. The X-factor is at quarterback, where Clemson has a Heisman hopeful and FSU has the newcomer. But there are plenty of fans already pegging Winston as the next
Johnny Manziel
, and if he even comes close to the Texas A&M star's 2012 performance, Florida State could be in for a special season.
If he fails:
It's hard to even define what failure would be for Winston, given the immense hype he's received already. If he turns in a typical season for a redshirt freshman -- an inconsistent learning experience -- many fans will view it as a massive disappointment. Even if he matches the statistics posted last year by fifth-year senior EJ Manuel, it might not be enough to satisfy the buzz. And that could be the biggest issue for Winston to overcome. With a veteran offense around him, he needs to be consistent, if unspectacular. If he worries about living up to the expectations and, in turn, makes too many poorly timed miscues, it could significantly damage his growth as a quarterback and FSU's hopes for an ACC title.
Projection:
All that hype surrounding Winston is there for a reason. He's special. His talent is obvious, his football smarts were on display this spring and his personality -- fun, enthusiastic and immensely competitive -- perfectly arms him for the spotlight he's going to be playing under. Still, the bar Manziel set a year ago is an awfully high standard, and one made even tougher in Jimbo Fisher's more restrained system. Winston will find success in 2013, but even Manziel had his struggles in the early going. The highs for Winston this season could well eclipse Manuel's work a year ago, but there will be a few ugly moments, too. The key will be ensuring progress each week, with an eye toward the Oct. 19 date with Clemson to have him clicking on all cylinders.
January, 23, 2013
Jan 23
9:00
AM ET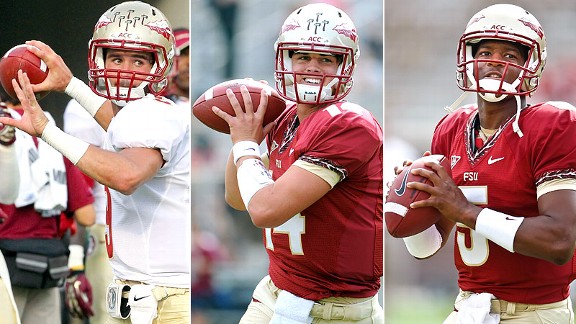 Icon SMI, US Presswire, Cal Sport Media via AP ImagesClint Trickett, Jacob Coker and Jameis Winston will compete to be the next Florida State quarterback this spring.
Now that the dust has settled from a prolonged coaching search and the departures of a few key juniors, the attention of Florida State fans will no doubt turn to what promises to be the dominant storyline from now until -- well, really, there's no end in sight.
For Jimbo Fisher and the Seminoles, the next few months (at least) will be all about the quarterback, and in what might be both a blessing and a curse, there is no shortage of contenders for the job.
To continue reading this article you must be an Insider
November, 30, 2012
11/30/12
9:00
AM ET
TALLAHASSEE, Fla. --
EJ Manuel
walked off the field last week wounded.
His head was woozy and his body beaten after a physical game against Florida, but it was the mental scars that were so evident when it was over. Manuel was beaten, his final home game concluding as one of his worst.
[+] Enlarge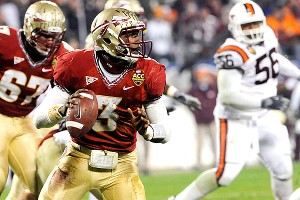 Sam Sharpe/US PresswireEJ Manuel was the starter in FSU's last appearance in tha ACC title game, but threw two interceptions in the loss to Virginia Tech.
Manuel's misery was intense, but it was short lived.
"He's been through this enough where he'll put it behind him because there is a lot to accomplish," Jimbo Fisher said.
Manuel gets his second crack at an ACC championship and his first shot at redemption following the loss to Florida when he takes on Georgia Tech's woeful defense Saturday with a conference title hanging in the balance.
It won't erase the scars of Florida, but it would be an accomplishment no other FSU quarterback has managed in seven years.
"It is a championship game and it hasn't been done here since '05," Manuel said. "You just have to move on, process [the loss] and understand why you made those mistakes. Can't go out there and do that [this] week."
Manuel is making his second ACC championship game start. The first came as something of a surprise against Virginia Tech in 2010, and Manuel managed to impress -- completing 75 percent of his passes and throwing for 288 yards -- but this time he expects even more.
"It's kind of like a second bowl game," Manuel said. "The implications of this game are huge and I understand that, my teammates understand that, so we have to get the job done."
Auburn Fan Hopes To Cash In